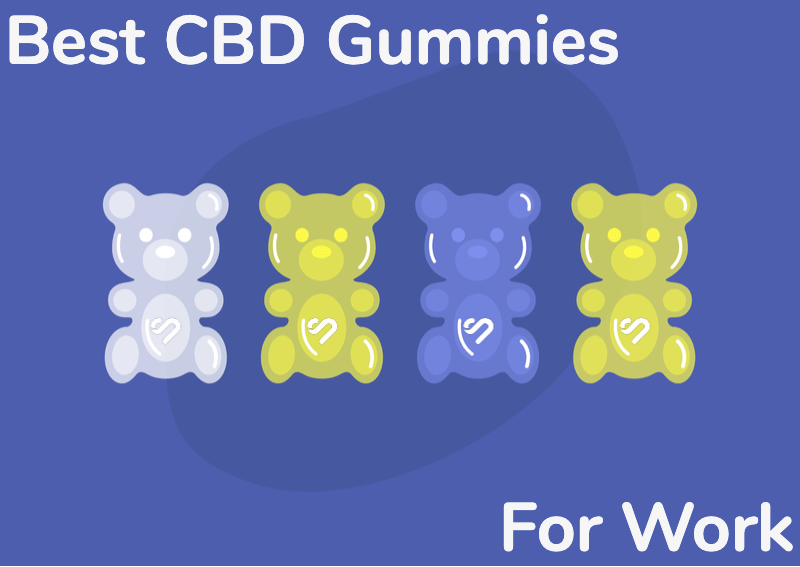 Cannabidiol (CBD) is becoming more popular than ever before. Lots of fads fade in the light of day, but the more people use CBD, the more they like it.
Workplace stress affects everyone, but since CBD doesn't get you high, it's being talked about as the "drug you should use at work." What are the best CBD products to take at work, however, and what are the best ways to use CBD on-the-job?
Let's start by answering some of the questions you already have about using CBD at work:
What are CBD gummies?
In brief: Chewable, tasty CBD edibles that are easy to use at work.
More detail: The best CBD gummies combine non-intoxicating cannabidiol with delicious ingredients to make taking CBD tastier and more fun. Some CBD gummies are organic or vegan, and these products are among the most convenient options for daytime CBD use.
Will CBD gummies get me high?
In brief: No, CBD is non-intoxicating.
More detail: Unlike THC, which primarily bonds with the CB1 and CB2 receptors, CBD has an entirely different way of working in your body. While flooding the CB1 and CB2 receptors with cannabinoids causes intoxication, the subtle ways that CBD operates in your system do not.
Are CBD gummies full of sugar?
In brief: Not always.
More detail: While it's certainly possible to find true junk food in the CBD industry, many brands make a point of only using natural, safe ingredients and keeping the sweeteners to a minimum. Part of the fun of taking CBD gummies is the taste, but a sugar crash is the last thing you need mucking up your day.
What kinds of CBD do hemp gummies contain?
In brief: Isolate, broad-spectrum, or full-spectrum CBD.
More detail: Full-spectrum CBD is the least processed option, but it might contain up to 0.3% THC. Broad-spectrum CBD has been distilled further to remove the THC entirely, though an odd molecule or two might remain. Isolate CBD is also sometimes contaminated with tiny amounts of THC, but this crystalline extract contains 99%+ pure cannabidiol molecules.
Want to become a better professional in just 5 minutes?
Page Contents (Click To Jump)
CBD Research & Testing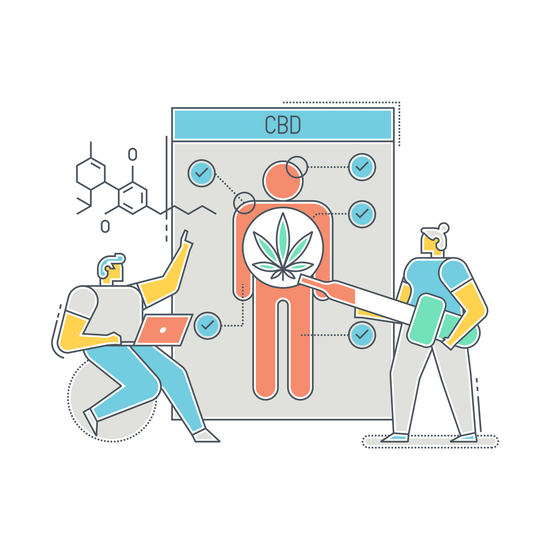 CBD used to be on the fringe, but no longer. There's lots of research now available on CBD products, and we encourage you to visit independent sites like Project CBD for more information on CBD studies.
These days, CBD products have to be thoroughly tested to make sure they're safe, but it's also just as important to know how your employer might test you for CBD use. Let's cover all the questions you might have about CBD research and testing in this section:
Does CBD help you work?
In brief: The relaxing effects of CBD gummies might help you concentrate on the job and gain more productivity.
More detail: Research indicates that CBD might be a powerful neuroprotective antioxidant, which means that this cannabinoid could help you maintain mental clarity throughout the day and get the job done. There are a lot of stresses that press down on you during a given workday, and using CBD can provide natural relief without any intoxicating effects getting in the way of your focus.
If you work a desk job, then you understand the pain that sitting behind a keyboard for days on end can bring. From back pain to neck pain to inflammation in your hands, CBD appears to provide natural pain relief throughout your body by reducing inflammation and soothing your nerves.
Job stress can even get to the point that you develop heart disease, which is where the reported cardiovascular effects of CBD come into play. While more rare, plenty of workers also experience seizures on the job, and this medical condition can occur at the worst times.
CBD originally became popular due to its incredible benefits for certain types of childhood epilepsy, and it appears that epileptics all across the spectrum can gain from this non-intoxicating cannabinoid. For healthy people, the neuroprotective effects of CBD have wide-ranging, subtle benefits.
Why does CBD product testing matter?
In brief: Not all CBD products are the same quality, and picking the wrong option might do more harm than good.
More detail: Some CBD brands pay more attention to quality than others. Since the FDA and other regulatory agencies haven't yet ruled on CBD, you can't rely on consumer protection laws when you buy hemp products.
Good CBD companies, however, provide third-party, independent lab reports that verify the potency and purity of their products. Companies that provide lab testing are more likely to make high-quality, safe CBD products.
Can you get drug tested for CBD?
In brief: There are no drug tests specifically for CBD, but being aware of local laws and regulations is still a good idea.
More detail: Using CBD at work can be fun and fulfilling. Is CBD legal at work, however, and is using CBD at work a good idea based on the current regulatory and testing situation within the hemp industry?
Depending on where you work, your employer might not be able to prevent you from using CBD. As long as the CBD you're using isn't from marijuana (meaning it contains less than 0.3% THC), then it's no different from any other hemp product—not illegal.
Using CBD from marijuana, however, could potentially get you in trouble. In states that have legalized recreational marijuana, for instance, CBD products are often available that contain more than the federal legal limit of THC. Not only are these products federally illegal, but taking CBD products with high levels of THC could take all the fun away from your job instantly.
THC remains an illegal drug, and plenty of employers still test for THC use. At concentrations under 0.3% THC, it's extremely unlikely that hemp-based CBD products could ever cause you to fail a drug test. Marijuana-based CBD products, however, are just as likely to make you test positive for pot as reefer itself.
CBD Benefits, Effects, and Consumption Options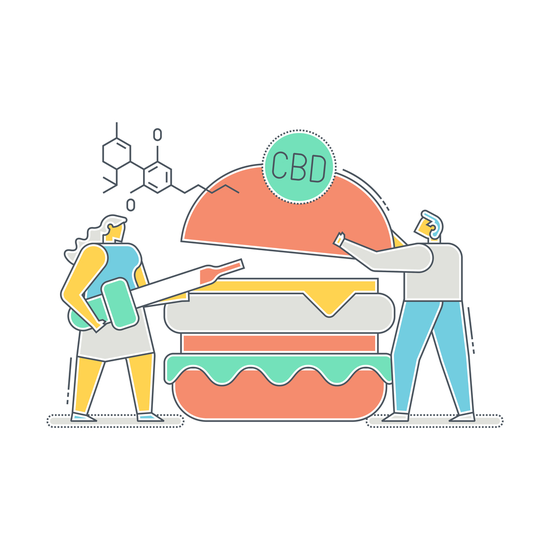 CBD is the cannabinoid that you can use during every stage of your workday. Whether you work in an office or remotely, this non-intoxicating cannabinoid won't get in the way of your focus or drive, so learn how to use CBD during the morning, noon, and night portions of your average day at work:
Morning – (Breakfast)
In brief: You don't need a sugar crash first thing in the morning. Try some sugar-free CBD gummies from Smokies—made with GVB Biopharma CBD.
More detail: You might even be avoiding your morning coffee these days. After all, everyone's trying to live clean lives, and the morning is one of the most sensitive times of the day.
Smokiez offers three flavors of CBD gummies that don't contain any sugar whatsoever. Instead, these gummies contain natural sweetener ingredients like lycaisn and xylitol. The consistency of these CBD edibles is just like a soft candy or a fruit snack, so popping two Smokiez gummies in your mouth on the way to work will feel as natural as breathing and can be found at sharpstoneusa.com.
Noon – (Midday/Post Lunch Energy Boost)
In brief: Suck on some Smokiez Watermelon CBD Hard Candies Throughout the day to enjoy some slow-dose CBD incognito.
More detail: Unlike after a caffeine crash, CBD won't make you feel unreasonable sleepiness. This cannabinoid is the perfect substance to boost your workday during the lunch hour, but you might not want anything too heavy after your meal.
There's nothing better during your post-lunch email catchup than sucking on a couple of watermelon-flavored hard candies from Smokiez. Lemon and Green Apple flavors are also available, but Smokiez Watermelon CBD Hard Candies offer the most delicious and refreshing taste for boosting the middle of your workday.
Night – (Unwind/Relax)
In brief: Take two tasty WYLD CBD Raspberry Gummies as a tasty nightcap.
More detail: WYLD CBD gummies contain real fruit, which is exactly the kind of wholesomeness you need to get good rest. Every productive workday starts with a good night's sleep, so invest in your immediate future with a boost of natural CBD.
By reducing oxidative stress and soothing your nervous system, CBD might be able to get rid of all those annoying thoughts that keep you up at night. Tomorrow's problems will wait for tomorrow—enjoy the night by sinking into some WYLD CBD.
How To Dose CBD At Work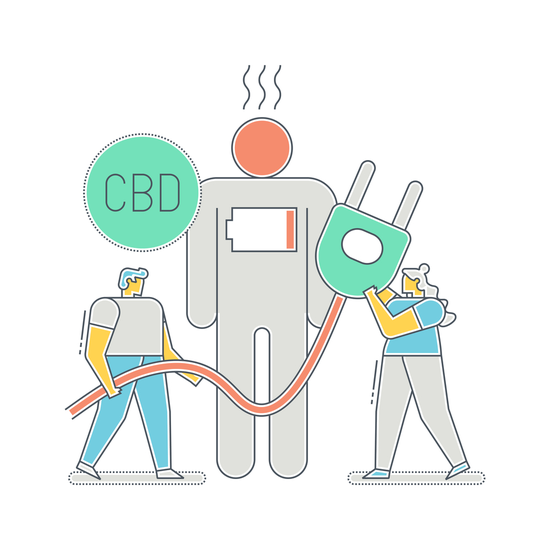 Can I take CBD in the daytime? Absolutely. Unlike THC, CBD won't derail your entire day or make your coworkers worry. Learn all the dos and don'ts of how to dose CBD at work in this section:
Can CBD help with stress at work?
Stress can start at the beginning of your work day, or it can gradually accumulate as more and more events occur in the office. Whether it's at the beginning of a stress attack or you've felt under pressure all day, it might be the right time to reach for those CBD gummies you've stashed away in your desk drawer.
There isn't any official recommended dose of CBD for stress, but generally speaking, around 25-100 milligrams should be enough to beat the brunt of your stress and give you a chance to breathe. Smokiez CBD Gummies, for instance, come in 25mg and 50mg options, and you won't want to chew up just one. These gummies offer the perfect dosage for indulging in a stress-busting snack whether the pressure hits you after lunch or in the late hours of the day.
Can CBD help with anxiety before a meeting?
Daytime CBD use might be just the thing if you've got a big meeting coming up and you feel underprepared. No matter how ready you might be, pre-meeting anxiety is a real thing, and you might even be tempted to take a shot of "liquid courage" before heading through the conference room doors.
Rather than risking your job with a suspicious smell on your breath, try non-intoxicating CBD instead. CBD won't mess with your head like drugs or alcohol, but it might give you that surge of self-assurance and confidence you need to get through the meeting intact. Who knows—your newfound chilled-out attitude might also turn you into the meeting's epicenter of ideas and creativity. Just make sure you share the secret to your success with your coworkers before you disperse.
CBD At Work Benefits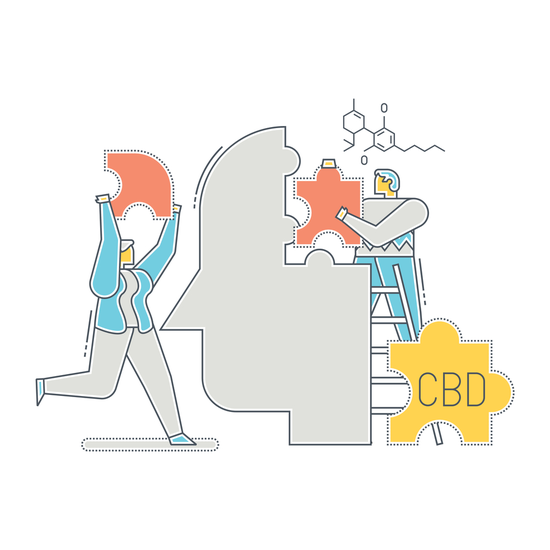 There's no denying it: CBD is the cannabinoid that's perfect for doing at work. You won't get high from CBD, but that's only one of the benefits offered by non-intoxicating hemp. While many types of cannabis remain illegal, CBD is on the up-and-up, and the industry is rapidly evolving to produce products that truly make you feel good about yourself on the inside and out. Let's wrap things up with some of the most impressive benefits of using CBD at work:
Legal hemp
Don't worry about failing a drug test at work for CBD. First of all, there aren't even any drug tests that screen for CBD, and even if there were, CBD is not an illegal drug.
Is CBD legal at work? Most experts agree that CBD is now legal in the United States. It has been separated from THC under federal law, and efforts are underway to bring the international CBD industry into the mainstream.
Lifestyle boost
While this cannabinoid started getting super-popular back in 2018, there's still nothing old about CBD. With plenty of new products coming out all the time, CBD is the perfect lifestyle product for declaring your commitment to the future of natural health.
There's no better way to declare that you're on top of trends by embracing CBD, but there's nothing that shows you're a savvy customer than choosing the right CBD products while the rest of the herd falls for wannabes.
Reliable products
The CBD industry has come a long way in the last few years. The market used to be filled with half-baked products sold by former (or, in some cases, current) drug dealers, but the overwhelming popularity of CBD has pushed a more professional approach to hemp.
Companies like GVB Biopharma deliver industry-leading quality and purity, offering premium white labeling services for all CBD products.
To get the workplace to fully embrace CBD, this cannabinoid needs to be made as sleek and professional as your office. Snacking on CBD gummies throughout the day is a great way to fight anxiety, deal with stress, and make work more fun, and by offering better consistency and reliability, the latest generation of CBD products are finally ready for mainstream acceptance in the workplace.
What has been your experience with CBD gummies at work? Share your thoughts in the comments below.