Have you ever felt that fat-free snacks leave you feeling…unfulfilled?
Get Your Free Healthy Snack Recipes Downloadable
They don't have to!
We're breaking the stigma of fat-free snacks by giving you a list of delicious quick bites that shy away from fat but still leave you feeling full and energized. The next time you're in a pinch and need something to eat stat, try one of these fat-free snacks that are both nutritious and delicious.
Want to become a better professional in just 5 minutes?
Health Benefits of Fat-Free Snacks
Good health and dietary fat have shared a tumultuous relationship for decades. Contributors to the British Medical Journal lamented this relationship, asking…
"Are dietary fats "villains," are they benign, or are they even "heroes" that could help us consume better overall diets and promote health? And, which dietary fats fit into which category?"
The experts still have plenty of research to do before we consumers have a straightforward answer to this question. However, we do know that certain kinds of fats—especially saturated fats, synthetic trans fats, and hydrogenated fats—have been associated with cardiovascular disease and spikes in bad cholesterol levels. 
Fats have gotten a bad rap in recent years. But the truth is, not all fats are created equal. In fact, some fats are actually good for you. The key is to choose the right kind of fat-free snacks and to eat them in moderation.
Plus, the United States 2015 – 2020 Dietary Guidelines advise consumers to limit saturated fats and trans fats, with the goal of getting less than 10% of their daily calorie intake from saturated fats.
And that's why fat-free snacks deserve a place of honor in any overall health and wellness strategy. 
Fat-Free Snacking 101
If you want to become a pro fat-free snacker, then you can learn from the experience of those who've come before you. Here are some tips from people who've experimented with fat-free snacks and shared their knowledge with the world.
Substitute strategically
Take some of the fat away from your favorite recipes with expert "swaps." This helps you fill the void left by your favorite snacks with fat-free options to satisfy your cravings.
Please note that many of these swaps remove just some, not all, of the fat from your favorite dishes.
Try sorbet instead of ice cream

Try nonfat yogurt instead of sour cream

Try Neufchatel cheese instead of cream cheese

Try part-skim or fat-free cheese (cottage, ricotta, or mozzarella) instead of regular cheese

Try bran flakes instead of granola

Try egg whites instead of whole eggs

Try mustard instead of mayonnaise

Try cucumber on sandwiches and salads instead of avocado
Think of flavor before fat
Fresh fruits and vegetables

Herbs and spices

Vinegars

Fruit juices
Avoid high-fat items
Butter

Dairy

Fatty meats

Oils

Animal products

Sausages

Fried foods

Sweets

Nuts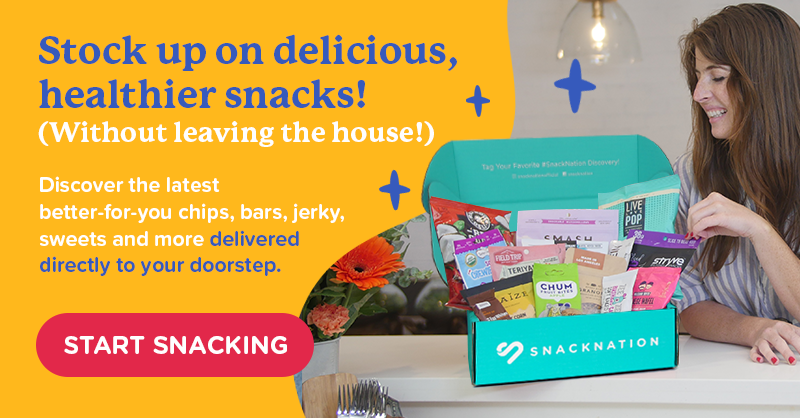 Grab and Go Fat-Free Snacks
Save some time on label-reading by knowing about the fat-free grab-and-go snacks you can pick up at grocery and convenience stores around the world. These snacks have big flavor and zero fat, and they won't leave you feeling empty.
Go Organically Fruit Medley Fruit Snacks
Lots of real fruit goes into these chewy fruit snacks. They're sweet, flavorful, and packed with plenty of vitamins. They're also United States Department of Agriculture certified organic. The only thing they're missing? Fat!
Flavor profile: Sweet and fruity

Replaces: Fruit tarts
Real fruit is always fat-free, and these real fruit yo-yos showcase "fatless" fruit in a delightfully snackable way. They include pure, delicious fruit, no funny business, and no fat.
Flavor profile: Sweet and fruity

Replaces: Fruity pastries
Cherries have too much natural goodness to spend all their days baked into fatty pies and pastries. This bar highlights the rich natural flavors of sweet red cherries.
Flavor profile: Sweet and fruity

Replaces: Cherry pie
You Love Fruit Mango Fruit Strip
Rich, juicy, and flavorful mango does not travel well. The good ones have far too much juice to enjoy on the run. Can you imagine that sticky mess? This fruit strip puts the glorious flavor of mango at your fingertips to enjoy whenever you wish.
Flavor profile: Sweet and fruity

Replaces: Mango sticky rice
Get Your Free Healthy Snack Recipes Downloadable
Craize Sweet Corn Toasted Corn Crisps
These delicate, yet crunchy, crisps walk the fine line between "chip" and "cracker." The yellow corn rounds make an elegant base for fat-free toppings, including fresh salsa or even sliced fruit. Please note that these crisps do have 0.5 grams of fat
Flavor profile: Savory

Replaces: Buttery cornbread
That's It Apple Pineapple Fruit Bar
An apple and a pineapple walk into a bar and…
That's it! No punchline here; just a delicious fat-free bar you'll want to take with you everywhere.
Flavor profile: Sweet and fruity

Replaces: Pineapple upside-down cake
Old Dutch Fat Free Pretzel Sticks
The fat-free pretzel is a healthy snacking staple. These pretzel sticks embody all the qualities that make pretzels great: golden-brown outside, flecks of briny salt, and that pretzel-specific crunch.
Flavor profile: Savory

Replaces: Fatty chips
Bare Snacks BBQ Sweet Potato Chips
Chipaholics unite! Bare makes their clean chips by baking—without oil—naturally delicious sweet potatoes until they're perfectly crispy. The BBQ flavor contrasts nicely with the potato's natural sweetness.
Flavor profile: Savory

Replaces: Fried BBQ chips
Some people see bananas as nature's favorite fat-free dessert. Bananas have tons of natural sweetness and an incredibly creamy texture that lends itself perfectly to desserts. Even just dried and sliced, they make a satisfying and simple snack.
Flavor profile: Sweet

Replaces: Pound cake
This posh snack puts fat-free french green beans at your fingertips for snacking pleasure anywhere and any time.
Flavor profile: Savory

Replaces: French fries
Oh Snap! Pretty Peas Pickled Snap Peas
Pickled snap peas provide an explosion of flavor that will keep you from missing the richness of fattier snack options. (You'll probably also get more nutrients from this snack than you would get form fattier options!)
Flavor profile: Savory and tangy

Replaces: Deep-fried pickles
GoGo Squeez Apple Raspberry Lemon Twists
This squeezable fruit may be marketed to kids, but there's no reason you can't enjoy it, too! These handy squeeze packs provide a burst of sweet, sweet energy that's always age-appropriate.
Flavor profile: Sweet

Replaces: Lemon snack cakes
Nancy's Organic Nonfat Yogurt Maple
Nonfat yogurt with a kiss of maple flavor provides the kind of richness and sweetness you crave in fatty foods. Don't treat that mindless craving to an unhealthy snack; try this leaner option instead.
Flavor profile: Sweet

Replaces: Pancakes
Make-at-Home Fat-Free Snacks
These recipes relay some crucial fat-free cooking tips, techniques, and strategies. Perfect and adapt these processes, and you'll master making tasty, fat-free treats at home in no time.
BrandNew Vegan Fat Free Potato Chips
Everyone needs a solid fat-free chip recipe in their back pocket! This classic recipe returns perfectly crispy chips. Plus, you can make this snack in the microwave!
Flavor profile: Savory

Replaces: Fatty potato chips
Roasted Potato Skills with Fat-Free Cottage Cheese
First make roasted potato skins without using oil:
Scrub, score, and bake a few potatoes at 400 degrees Fahrenheit for about an hour (or until they're soft.)

Cut the potatoes in half and scoop out most of the fluff, saving it for a different recipe or a different snack.

Return the skins to the oven and bake at 450 degrees Fahrenheit for about 10 minutes on each side.

When the skins are as crisp as you want them, remove them and let them cool.
Mix up a filling of fat-free cottage cheese (or ricotta), lemon juice, black pepper, thyme, and green onions. Dollop this filling into each skin and enjoy!
Flavor profile: Savory

Replaces: Loaded potato skins
Get Your Free Healthy Snack Recipes Downloadable
Mary's Busy Kitchen Fat Free Hummus
We love the flavors and protein-rich health benefits of classic hummus. If you're trying to watch your fat intake, then make this fat-free version of your favorite Middle-Eastern dip. Pair it with fresh sliced veggies.
Flavor profile: Savory

Replaces: Sour-cream based dip
Cucumber Slices + Melon Pico de Gallo
Melon and cucumber make an impossibly fresh and juicy combination. Try out this chef-worthy snack to impress your friends with your fat-free cooking skills.
Flavor profile: Spicy

Replaces: Chips and a fatty dip
Celery Sticks Stuffed with Curried Cauliflower Salad
Whip up a simple curried cauliflower salad by tossing 1 tablespoon of curry powder (or fat-free curry sauce) into a cup of raw cauliflower florets. Stir in a squeeze of lime juice, some chopped carrots, a handful of cilantro, and some raisins if you like that sweet-and-salty vibe.
Let the flavors of your salad meld in the refrigerator. When it tastes strong enough for your liking, put it on some fresh celery sticks and eat immediately.
Flavor profile: Savory

Replaces: Celery and blue cheese
Fat Free Vegan Kitchen Crispy Air Fried Black-Eyed Peas
If you have an air fryer, then you have the equipment necessary to turn black-eyed peas into crunchy, snackable morsels.
Flavor profile: Spicy and smokey

Replaces: Pork rinds
Fruit Salsa + Melba Toasts
Tangy fruit salsa and wholesome melba toasts make a light and healthy snack that's easy to put together and absolutely delightful to eat.
Flavor profile: Sweet

Replaces: Fruity cookie bars
Kirbie's Cravings Microwave Egg White Omelette* Substitution needed
An omelet can definitely be a snack food when you can make it in the microwave! This recipe does include some cheese, so substitute fat-free cheese to make this snack as close to fat-free as possible.
Flavor profile: Savory

Replaces: Fatty deviled eggs
Carrots + Chipotle Salsa
Sweet carrots pair perfectly with smokey chipotle. Use carrot sticks or carrot rounds as your dippers—either one works beautifully.  
Flavor profile: Spicy

Replaces: Chips and queso
What are your favorite fat free snacks? Let us know in the comments below!