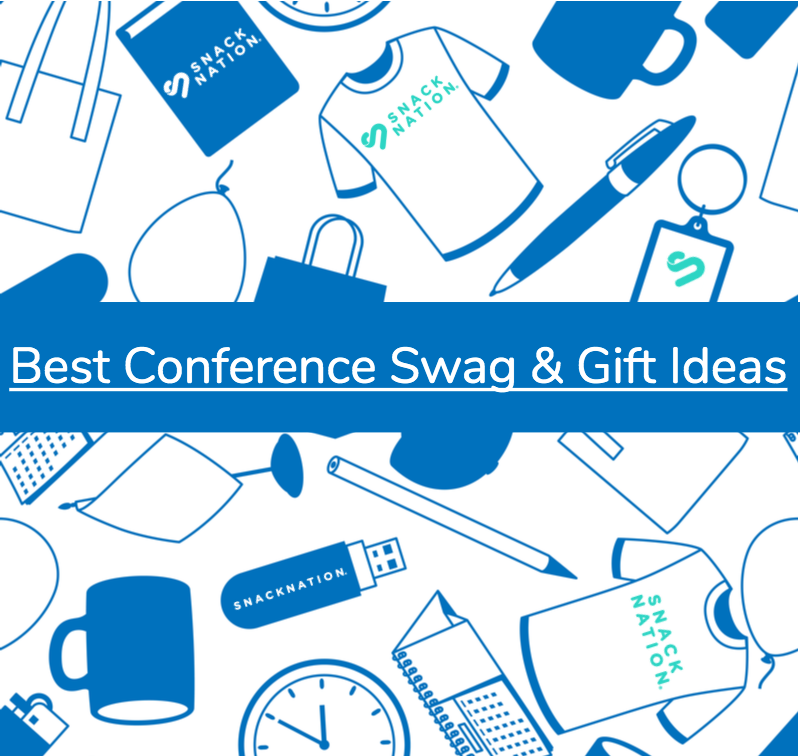 Stuff… We… All… Get… SWAG.
Conferences and trade shows are so critical to practically every industry that even in the midst of the pandemic, companies are looking to turn these in-person events into virtual events. Top-notch speakers, networking opportunities, and last but not least, conference swag giveaways and promotional items work in tandem to ensure that trade shows and conferences can't be missed.
That also means that with loads of attendees and companies vying for attention and brand recognition, it takes a little extra to leave a lasting impression.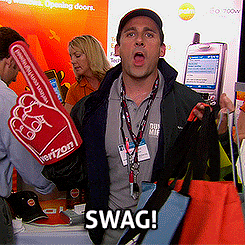 Becoming a sponsor and getting a table or a booth at a professional conference is a great first step towards getting your company noticed. But conference swag and branded gifts will keep your business in the minds of the attendees long after the event is over. In fact, according to the Advertising Specialty Institute, the majority of people hold onto promotional products for an average of eight months.
In that same ASI study, the researchers also found that 63% of the more than 100,000 Americans surveyed pass on their conference giveaway products once they are done using them and 85% of consumers remember the brands who gave them swag.
The good news is that this means your brand recognition is multiplied every time you give away merch at these events — but there's a caveat. Some swag ends up in the trash, other company swag is cherished for years. So what makes someone decide it has value? Well, it's mostly a matter of quality.
85% of people claim that a promotional product prompted them to go into business with an advertiser
Click To Tweet
We've compiled a list of the best conference swag and gift ideas for 2023. Browse through it and pick out a few to leave a lasting impression at the next big industry event!
Pro-Tip: The production time can vary depending on the time of year — usually, you'll receive your conference gifts within a couple of weeks, but keep in mind that holidays may delay your order, so plan 1-2 weeks ahead.
Want to become a better professional in just 5 minutes?
Page Contents (Click To Jump)
In-Person Conference & Trade Show Swag Ideas
"For when you misplace your life"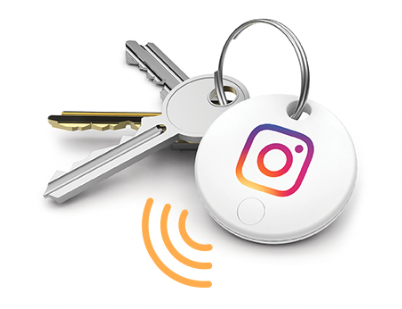 Spot is totally reliable, even when recipients aren't sure where to look. Two-way finding helps locate both their phone and the Spot itself if it goes missing, and Find Mode kicks into action to sound an alarm from the Spot device in order to hone in on its location.
Even better, if recipients start forgetting things often, Tether Mode can come to the rescue—it will send an alert before they leave behind whatever item it's tethered to!
Price: $18.53
Where to get it: Spot Bluetooth Finder
"For the eco-friendly user"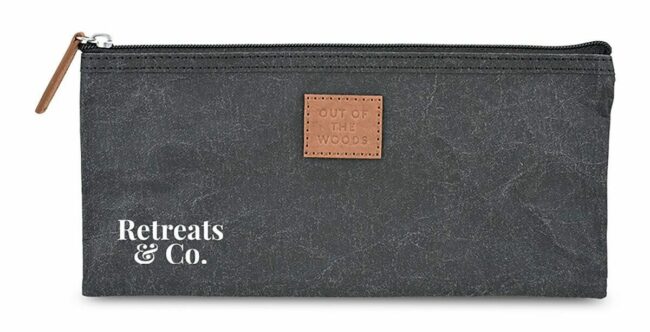 The Out of The Woods Zip Pouch is made from recycled materials and is both environmentally sustainable and useful. It is perfect for storing small items like pens, chargers, and other gadgets. Aside from being eco-friendly, this pouch is super lightweight and durable too – making it a great conference swag giveaway.
Price: $20.09
Where to get it: Out of The Woods Zip Pouch
"For the coffee lover"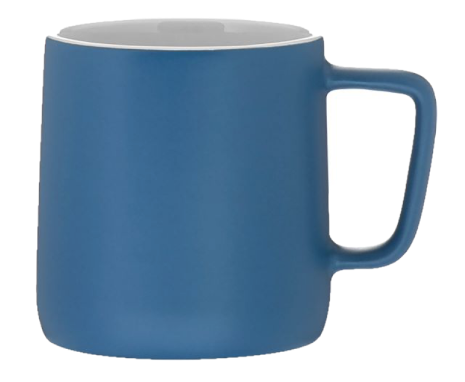 The 12oz Oslo Mug has a matte exterior and a glossy interior. The best part is the high-quality stoneware that is customizable and comes in different colors.
Price: As low as $12.29
Where to get it: Oslo Mug
"For the on-the-go person"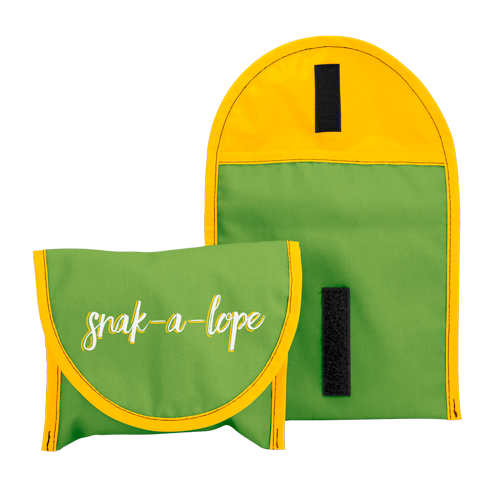 This bag is designed to keep lunch organized and fresh until mealtime. It is reliable and easy to carry around. Recipients won't have to deal with soggy bread, crushed chips, or stale snacks anymore. The Snak-A-Lope is machine washable, and spacious enough to fit full sandwiches and snacks.
Price: $11.91
Where to get it: Snak-A-Lope Reusable Sandwich Bag
"For the tech-savvy attendee"
This practical phone stand will help attendees enjoy their virtual experience by keeping their phones in a comfortable viewing position. This convenient and compact stand can fit into almost any pocket or bag, and with the flat design, the phone is sure to be perfectly supported when attendees want a break from having it in their hands.
Price: $5.94
Where to get it: MiniStand: Miniature Phone Stand
"For digital nomads"

The Cable Quack keeps cables neat and tidy with slots for placing cables in their correct position and magnets for holding them in place. It's great for a desk, a night stand, or a table at any cafe a remote worker might find themselves working at.
Price: $4.57 to $5.00
Where to get it: Cable Quack
Pro-tip: Always get a sample sent to you before committing to a bulk purchase to see how your branding looks on the physical product
"For the eco-conscious consumer"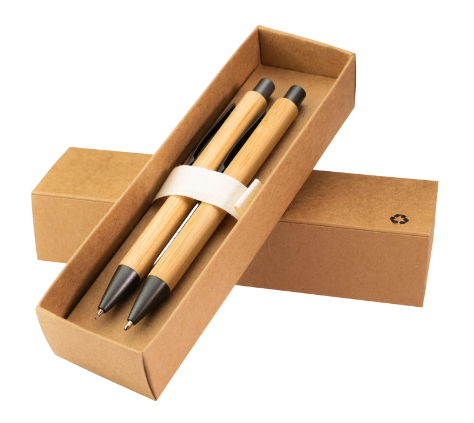 Ideal for executive boardrooms, office desks, or simply as a stylish addition to any home, this two-piece set comes with both a ballpoint pen and mechanical pencil featuring 100% eco-friendly bamboo barrels. Plus, both pieces are packaged together in a sleek paper box that is as inspiring as it is environmentally conscious.
Price: $7.63
Where to get it: Bambowie Bamboo Gift Set
"For movers and shakers"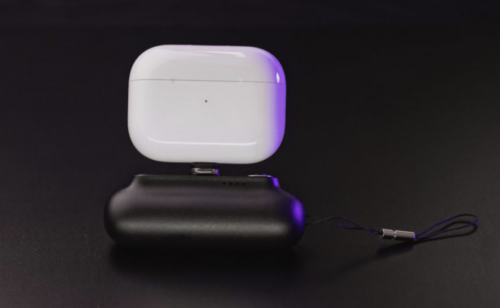 This wireless charging power bank is ideal for salespeople and others who use their phones throughout the day and find themselves out and about. This tech item has 3 rotating magnetic connectors to charge all your devices, including smartphones, tablets, headphones, cameras, and more. Additionally, this branded product is so small that it can fit in your pocket or purse
Price: $42.39 to $47.66
Where to get it: Wireless Charger
"For the neat and tidy"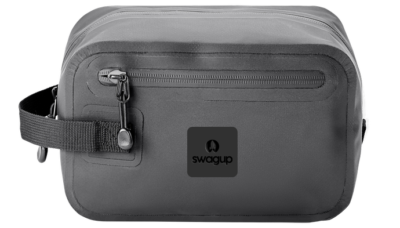 Waterproof Toiletry Case is a great waterproof travel case that will keep your luggage neat and organized so work vacations can be more fun and less chaotic. Enjoy no mess and less stress with the Waterproof Toiletry Case.
Price: $19.26
Where to get it: Waterproof Toiletry Case
"For the laptop lover"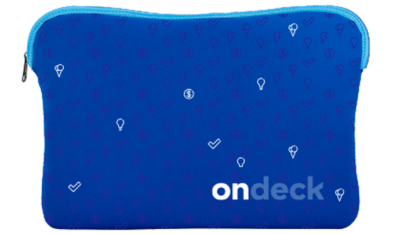 Juggling between meetings or multitasking while holding onto your laptop? Worry no more! The Neoprene Laptop Sleeve will keep your laptop safe from any damage. You can even customize the color of the neoprene and zipper.
Price: $10.61
Where to get it: Neoprene Laptop Sleeve
"For mixing business with pleasure"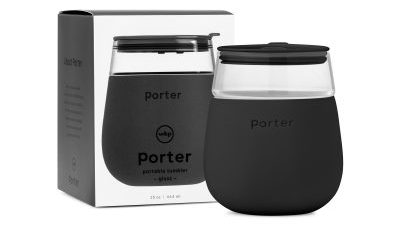 The Travel Porter Glass is the perfect fusion of fancy, classy, and functional. Made from high-quality glass wrapped in silicone matte, these glasses work for situations ranging from outdoor picnics and adventures to wine and cheese nights.
Your employees will appreciate them because they will instantly know and feel they received a gift of real worth. As an added bonus, this branded gift idea is dishwater safe, BPA free, and has plenty of room for your company logo on the center of its back panel.
Price: $29.54 to $37.97
Where to get it: Travel Porter Glass
"A thoughtful token of appreciation"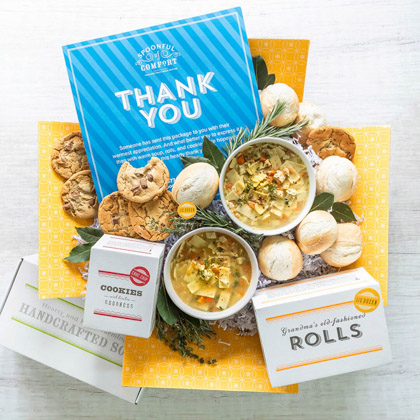 Make every conference event memorable with this special Thank You Kit. This delicious bundle is sure to make an impression! Inside, recipients will  find homemade-style soup, dinner rolls, cookies and a serving ladle – all carefully crafted by experts. 
Your colleagues, teams, and clients will feel pampered and appreciated with this care package which has everything they need for an unforgettable meal. This thoughtful conference swag gift idea is exactly what they need to boost morale and make their day just a little bit brighter. 
Price: $120
Where to get it: Thank You Kit
"For day one conference heroes"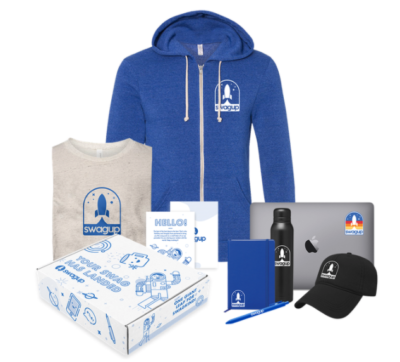 Let's say goodbye to the little knick knacks you pick up at a conference and lose within a day. Let's step into the world of quality swag products that transform conference swag into a lasting and impactful leave behind that conference attendees will hold onto forever.
Conference participants will love carrying all their belongings in their new customized tote bag, cozying up in the super-soft t-shirt, and staying hydrated with their stylish new water bottle. This conference pack will make it seem like you own and operate your very own company swag store for employees and clients.
Price: $109.27
Where to get it: The Starter Pack
"For organizers"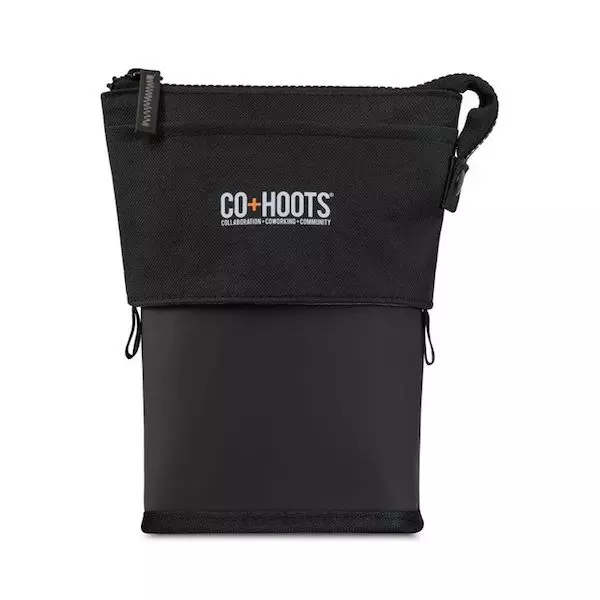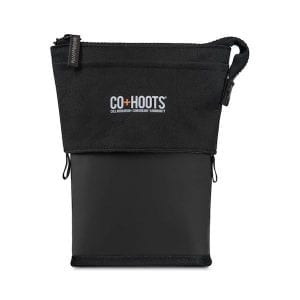 The Travel Pencil Case is great for Type A personalities who need a place for every item. Fortunately for them, this polyester pouch has plenty of room for accessories, comes with a zippered main compartment, lined interior, and a slash pocket for business cards and other valuables.
Plus, the tabs on each side will let your employees or team members pull the top down into an easy-to-use supply cup and the structured bottom keeps the case stable so items don't spill out. For best use, pack cords and electronics into this handbag-sized branded pencil case.
Price: $8.58 to $26.07
Where to get it: Travel Pencil Case
"For the fashionable"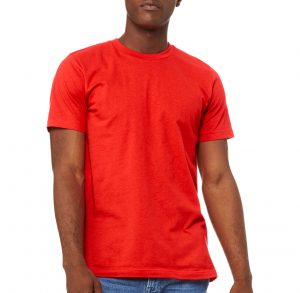 Wearable swag is one of the best ways to show love to your employees and clients while also getting a little free advertising! The Bella Unisex Jersey Tee is 100% Airlume cotton, pre-shrunk, side-seamed, and comes in the full range fo sizes from extra small to extra large. Your employees and clients will be proud to rep your startup in this branded t-shirt.
Price: $11.42 to $36.28
Where to get it: Bella Unisex Jersey Tee
"For office parties"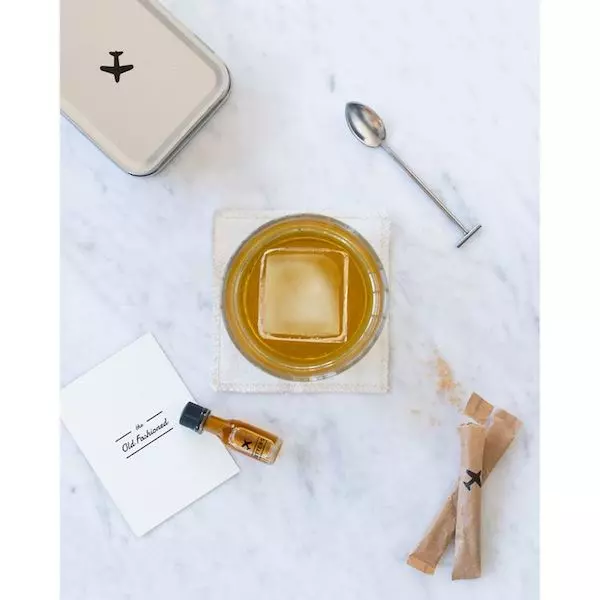 The Old Fashioned Cocktail Kit comes equipped with everything your employees, coworkers, or event attendees need to make its namesake drink — an old fashion. The tray, stirring spoon, TSA-friendly travel-sized whiskey, and glass can be engraved with your company logo to add your brand to this Mad Men-esque promo product.
Price: $26.01 to $33.29
Where to get it: Old Fashioned Cocktail Kit
Virtual Conference & Trade Show Swag Ideas
The best virtual conference swag ideas provide immediate value to the recipient by giving them something they want to use right away.
"For remote employees"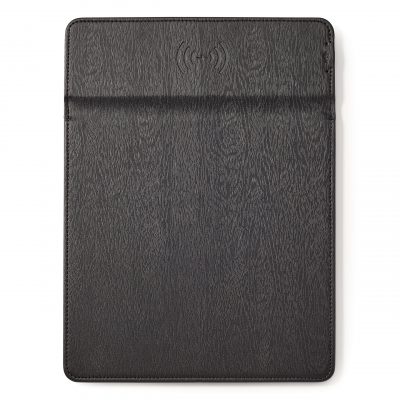 The charging mouse pad has an integrated wireless charging dock for rapid wireless charging. The mouse is not included, but employees and potential clients will be thrilled with the style and the function of this top notch virtual conference gift. Your logo can be laser engraved or imprinted via 4-color process on this branded promo product.
Price: $22.59 to $34.44
Where to get it: Charging Mouse Pad
"For a sleek and sophisticated gift"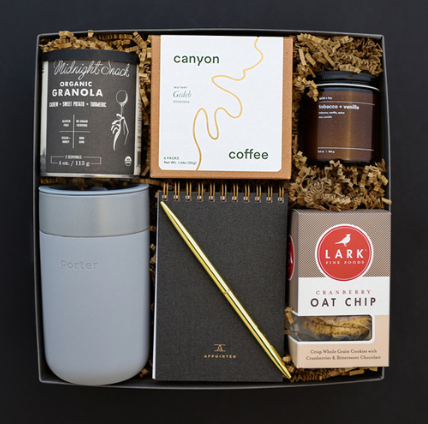 This collection of luxurious items is perfect for corporate gifting and will make your colleagues feel special. This kit contains a mini vanilla and tobacco candle, coffee that's roasted to perfection, granola for an on-the-go breakfast, cookies from Lark that cannot be resisted, an elegant 12oz Porter mug, notebook for all those important ideas and plans, plus a gold pen because everybody needs one! 
All these items come nestled into a signature gift box that will give your employees and clients the gift of productivity and make important tasks even more enjoyable.
Price: $155
Where to get it: Office Essentials
"For extra privacy"

The WebCam Cover 1.0 gives laptops the ultimate privacy and security protection. Some laptops may not be able to fully close with this cover, but it's super thin and has a double-sided adhesive that works on all devices. To top it off, the WebCam Cover fits laptops, computers, monitors, smart TVs, and external webcams.
Price: $2.93 to $3.31
Where to get it: WebCam Cover
"For powering up"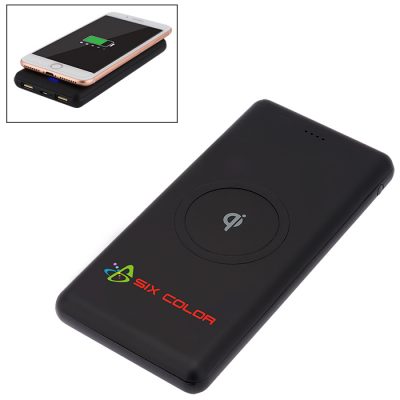 The Qi Power Bank is a super-powered lithium polymer battery with an ABS plastic shell and a customizable metallic gold metal backing. Since you're already participating in a virtual conference, chances are this is close to the perfect gift for the occasion because it's especially useful for remote workers. Your logo can be digitally printed or laser engraved on this swag gift, which will easily fit inside a carry-on or work backpack.
Price: $50.36 to $66.33
Where to get it: Qi Power Bank
"For fitness lovers"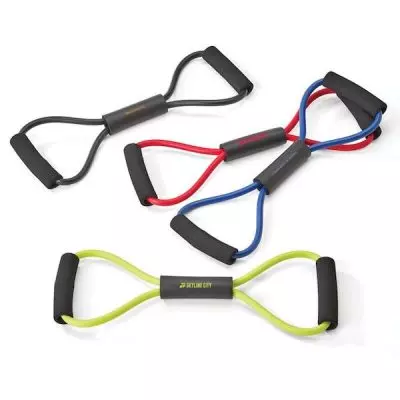 These foam grip resistance bands will be especially appreciated by the fitness lovers at the company. Not only that, but studies have proven the benefits of a healthy company culture — better employee satisfaction, less stress, and greater productivity. Also, these resistance bands are easy to take on the road! They come in black, red, blue, and green and your logo can be silk screen printed on them. Keeping health and wellness top of mind is a proven way to generate ROI.
Price: $3.96 to $5.63
Where to get it: Resistance Band
"For team leaders"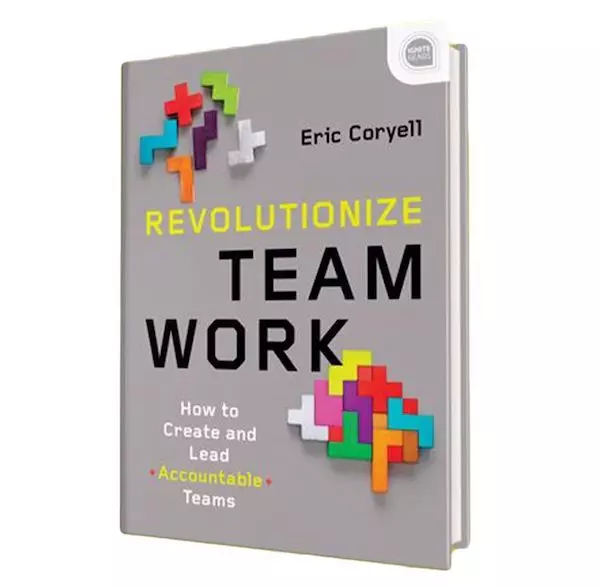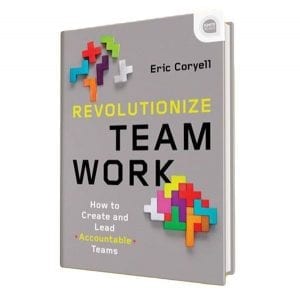 The central theme around Revolutionize Teamwork is how to create and lead accountable teams. Whether your company is looking to scale or is sitting pretty right where it's at, in order to continue to thrive, you'll need an all-hands-on-deck approach. That's where this hit book comes in. Coryell gives specific examples of leadership techniques to use and avoid as well as exercises to gear your team up for success.
Revolutionize Teamwork teaches leaders how to drive forward, maximize their role, and merge the employee mindset with the entrepreneurial mindset. At just under 130 pages, this conference gift idea is also a quick, yet worthwhile read.
Price: $14.87 to $34.46
Where to get it: Revolutionize Teamwork
Trade Show Giveaways For Events
"Make a lasting impression at your next conference"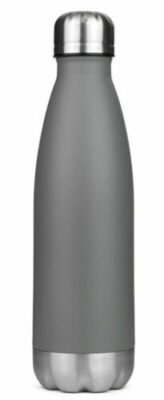 This sleek, stainless steel bottle is ideal for any work-related event or corporate gathering. It features double-layer vacuum insulation which keeps cold drinks cold and hot drinks hot for hours. Plus, its stainless steel lid features a threaded seal that helps provide an extra layer of temperature control. The stylish finish makes it a great gift item to hand out to colleagues and conference attendees.
Price: $16.19
Where to get it: Classic 17oz Insulated Bottle
"Showcase your brand anywhere, anytime"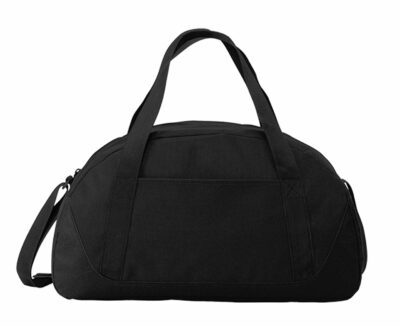 This spacious bag allows you to store all of the essentials: both big and small. The primary compartment effortlessly fits everything without compromising room, while the front pocket provides easy access to smaller items such as keys, a phone charger, or snacks.
Price: $13.56
Where to get it: Port Authority Dome Duffel
"The perfect, on-the-go organizing tool"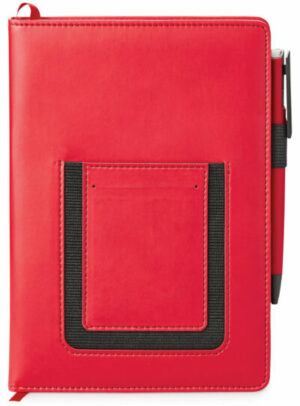 One of the best things to give away at a booth is a journal. Not only does The Pocket Journal look great, but it's also a perfect way to organize your notes, plans, and ideas without taking up too much space in your bag or purse. With such a convenient item at your disposal, it will be easier than ever before to stay on top of tasks or take important notes wherever and whenever they come up.
Price: $18.71
Where to get it: The Pocket Journal
Cheap Promotional Items & Inexpensive Swag Products For Conferences
"Your ultimate business sidekick"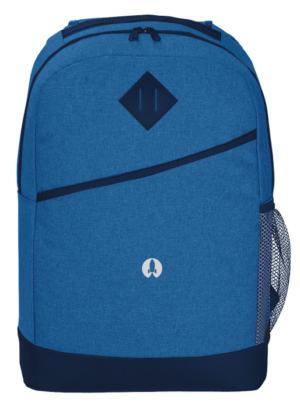 This backpack is perfect for your next conference or corporate event. Featuring a large front pocket with a hook and loop closure, you can securely store whatever items you need for the day. The adjustable straps are padded for added comfort and convenience, and the web-carrying handle makes it easy to grab and go. Plus, the side mesh pockets provide extra storage, so you can easily keep small belongings close at hand.
Price: $27.15
Where to get it: Classic 90's BackPack
"Keep track of important dates in style"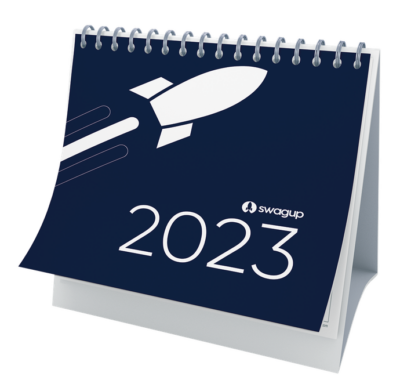 The Custom Desk Calendar is a unique and creative twist on calendar swag. This desk calendar adds a special personal touch with an opportunity to customize it with your company logo. It fits perfectly in any workspace, making it the ideal conference swag item for staff, customers, and partners alike.
Price: $6.74
Where to get it: Custom Desk Calendar
"Relax outdoors in style"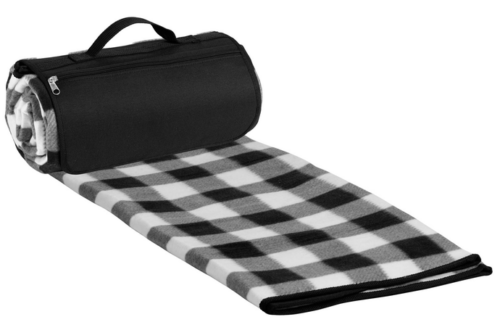 This comfortable and waterproof picnic blanket is made of cozy polyester material that is lightweight yet durable, and it rolls up easily into a compact size. Plus, it features a zippered pocket flap to store small items while you're relaxing.
Price: $18.85
Where to get it: Picnic Blanket
In-Person Conference & Trade Show Gift Ideas
"For dreamers"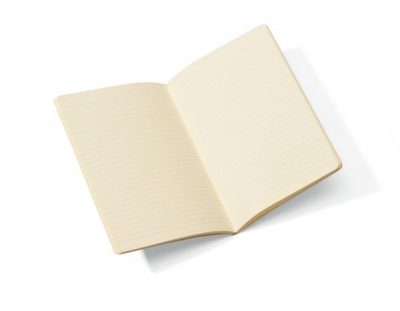 The Moleskine Volant Journal is a great HR conference gift idea to send attendees off with something they are likely to use regularly. In fact, the Moleskine Volant Journal can be used right away because they can start taking notes during the panels. Likewise, employees and teammates will love these handy-dandy ivory paper journals.
The acid-free, detachable sheets also guarantee these pages will remain usable for a long time without messed up binding. Your logo can easily be screen printed onto the spine and the front cover of this branded journal. The Moleskine comes in two different shades of blue, rose red, and slate grey.
Price: $10.63 to $66.31
Where to get it: Moleskine Volant Journal
"For elegance and chic in the office"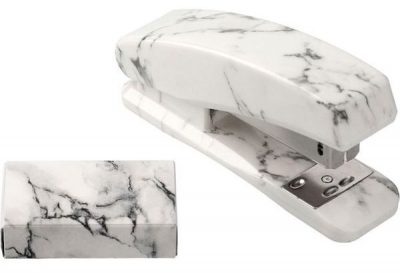 This four piece faux marble desktop set will have your employees feeling like bosses. The Carrara Desktop Set includes a stapler, stable refills, a pen cup, and a notepad. Your logo can be debossed, which keeps in line with the elegant, marbleized look of the collection. One of the best things about giving this as a gift is that it's completely affordable despite its luxury aesthetic.
Price: $14.17 to $20.89
Where to get it: Carrara Desktop Set
"For music lovers and adventurers"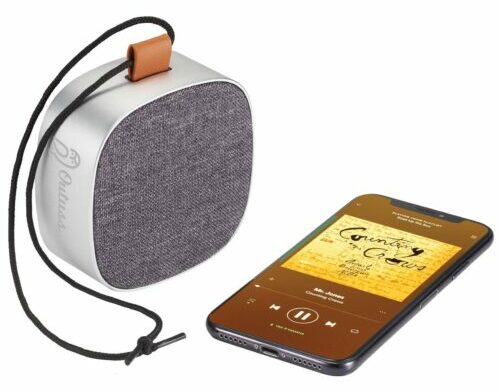 This waterproof, dust-proof, and shock-proof speaker is perfect for any kind of weather and every mood. You really can't go wrong with a solar-rechargeable wireless speaker. Employees and clients alike will be thrilled to play their favorite tunes under the sun, in the rain, or at the office party on this 5-watt Bluetooth speaker. It has about 20 hours of battery life, takes roughly 2 ½ hours to charge via USB and 12 hours via solar, it has an M8 screw hole on the bottom for a bike mount, and it includes a USB/micro-charging cable, strap, and an audio cable. Last, but certainly not least, this branded promotional product has a 33-foot operating range, a built-in mic for hands-free calls, and an AUX line-in cable.
Price: $39.62 to $88.89
Where to get it: Waterproof Speaker
"For healthy living"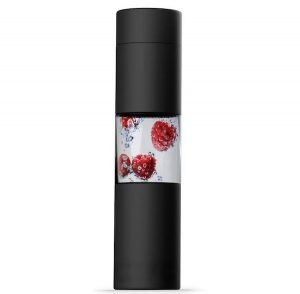 Your employees can simply fill the middle section of the Asobu Flavour U See with their favorite flavors, add water, and they'll be able to enjoy a refreshing taste all day long. This 16 ounce branded water bottle is made of Tritan, has a double-wall stainless steel insulation, and metallic finish, which gives it a chic look.
Whether your employees are out and about or in the office, the Asobu will keep them hydrated and ready to grind. They can easily add blueberries, cucumbers, mint, lemons, lime, grapefruit or whatever ingredients they can imagine. Infused water has never tasted better.
Price: $24.36 to $90.09
Where to get it: Asobu Flavour U See
"For taking precautions"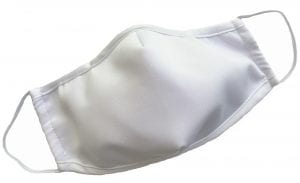 Getting your employees face masks serves a two-fold purpose: It's likely to keep them healthier and if they're healthier, they'll be happier and more productive. Protection doesn't need to look like something out of Mad Max. That's why we recommend this promotional swag company's face mask for breathability and style.
The inner barrier is designed for replaceable PM 2.5 carbon filters and the inside pocket is made out of 100% cotton with an outer layer of lycra. All of that is really just to say that these virtual conference gifts are reusable, washable, and uber-reliable. Cloth face masks aren't designed to be guaranteed prevention, but in the middle of COVID or the next pandemic, they are going to reduce the likelihood of breathing in and out airborne pathogens.
Price: $10.87 to $14.87
Where to get it: Swag.com Face Mask
"For an extra reminder"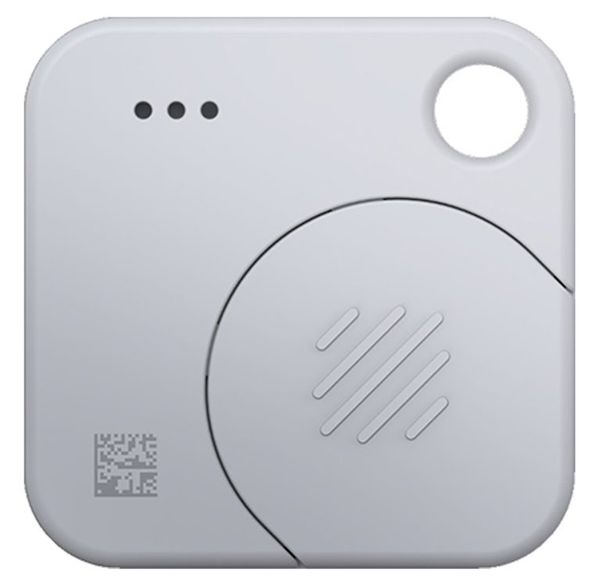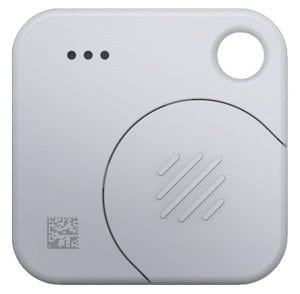 The Custom Tile Mate conveniently attaches to purses, keys, and any other item clients and potential customers might otherwise lose track of regularly. Within a 200-foot range, the Tile will ring via Bluetooth when triggered by a smartphone or other mobile device. The Tile will then let the user know the particular location of the lost items. Plus, this incredible promo product is water-proof!
Price: $24.84 to $51.50
Where to get it: Custom Tile Mate
Virtual Conference & Trade Show Gift Ideas
A great virtual conference gift idea helps unify teams and make employees and clients feel happier at home. If you deliver value, they'll value your brand.
"For plant lovers"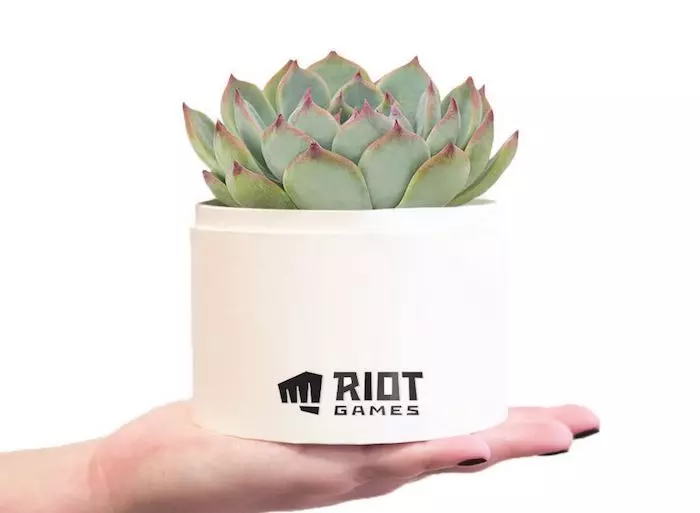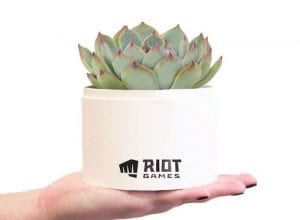 The Petite Zebra Plant comes with a 4-inch Haworthia succulent. This ready-to-display plant will add color and life to the workplace — whether employees are commuting or working from home. The cylinder gift box also serves as a chic planter and has a decorative ribbon. This eco-friendly promotional product includes a water dropper and care instructions to help recipients develop their green thumb.
Price: $34.37 to $46.79
Where to get it: Petite Zebra Plant
"For all-nighters"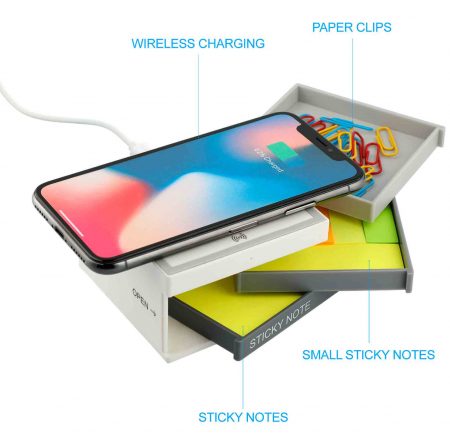 Employees, clients, or teammates can put all of their important items in this Charging Desk Organizer. This hyper-functional conference gift keeps desks clean and organized with the necessities in one place. It's compatible with all Qi-standard wirelessly-charged phones and it can be magnetically attached so it's not likely to be knocked over or to fall over. As a bonus, the LED indicator lights up when a device is being charged and it comes with a USB cable. Your logo can be laser or heat engraved to add the finishing touch on this incredible branded charging desk organizer.
Price: $17.50 to $68.54
Where to get it: Charging Desk Organizer
"For the active and the introverts"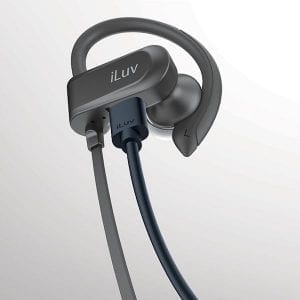 The iLuv Splash-proof Earbuds are ergonomically designed with a double-locking pair of angled in-ear tips and ear hooks to keep them in place. The design is exactly what makes them excellent for running, hiking, or grooving to music during the workday. These earbuds are water, splash, and sweat-proof, have a built-in mic, and are compatible with voice programs like Google Assistant and Siri. The iLuv Splash-proof Earbuds are an easy way to infuse the office with extra life and a lot of fun, which will in turn, take your company culture to new levels.
Price: $40.36 to $49.24
Where to get it: iLuv Splash-Proof Earbuds
"For thrifty hustlers"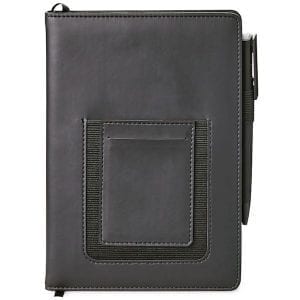 Nothing says digital nomad quite like a journal with a phone holder on the front. The Pocket Journal has nearly 200 perforated, ivory-lined pages, date features for daily journaling, an elastic pen loop, a space on the front for debossed or printed logos, and an RFID-protected card slot for credit cards. Could it be used as a wallet-journal hybrid? Yes, actually. Plus the Pocket Journal comes with a ballpoint pen, so employees can start using it right away.
Price: $13.10 to $28.22
Where to get it: The Pocket Journal
"Keep your team fueled"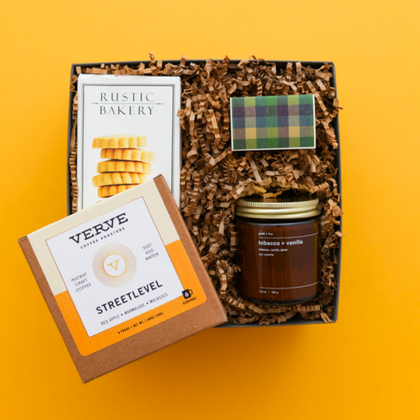 This exclusive bundle brings together the perfect combination of coffee, cookies, and a candle to treat taste buds and senses alike. Inside this delightful gift box, recipients will find  Craft Instant Coffee – designed to make them feel energized – sweet and buttery treats to delight their palette; Tobacco & Vanilla Soy Candle with its subtle yet progressive scent; as well as Green Plaid Matches.
Thank your conference attendees for joining you with this unforgettable gift box idea! Not only is it a great way to express gratitude, but it will also lighten up their day. Packed full of treats and goodies, they will be delighted by what's in store.
Price: $68
Where to get it: Coffee, Cookies + Candles 
"For better mornings and pre-workouts"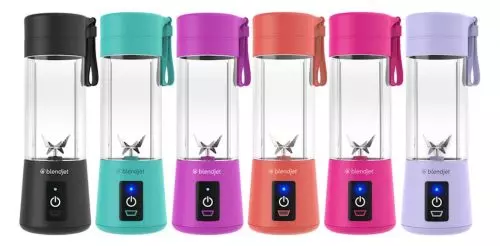 The BlendJet Portable Blender gives employees or attendees of the corporate event a chance to make their favorite shakes, smoothies, margaritas, or juices on the road or in the comfort of their homes. This stainless steel, BPA free 12oz drinkware can blend 8-12 beverages on a single charge by plugging into any USB port. Its built-in strainer gets rid of excess pulp and it's easy to clean.
Price: $42.31 to $69.45
Where to get it: BlendJet Portable Blender
"For the happy-go-lucky"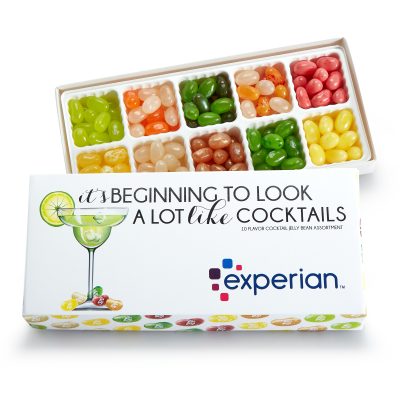 What better gift to give your employees or conference attendees this holiday season than candy cocktail inspired garnishes? Bid adieu to 2020 with one the most sought-after conference gifts. This 3 section gift box includes sugar coated lemon slices, chocolate Martini olives and sugar coated twist of Lime, and it can have a label with your custom full color artwork on it as a cherry on top. What's even cooler is that all the candy is non-alcoholic and your employees or clients will pass the Breathalyzer test! Cheers!
Price: $27.34 to $33.55
Where to get it: Candy Cocktail Jelly Beans
Conference & Trade Show Swag Giveaway Ideas
An effective piece of trade show swag is an item that is cost-effective to make and purchase while still providing enough value that trade show attendees will want to hang on to it long after the trade fair is over. Striking that balance with a useful and high-quality giveaway item will set your brand apart.
"For morning coffee"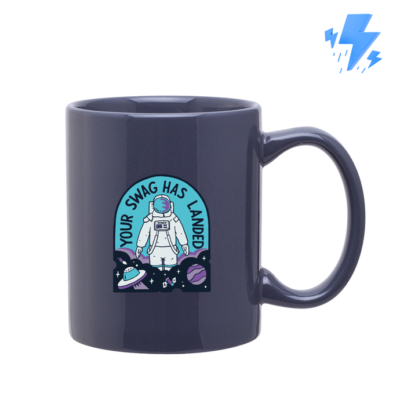 Kicking off your tradeshow on the right foot is a very important part to finding success from hour one. One of the no-brainer ways to appeal to your potential client and customers is to give them something you know they will enjoy. Like an OG coffee mug for them to enjoy their favorite morning beverage while attending the trade show or business gathering. This traditional, 11 oz, stoneware mug features both glossy interior and exterior will make your logo truly pop when they first lock eyes on this piece of trade show swag.
Price: $6.65
Where to get it: The Traditional Mug
"For doodlers and note-takers"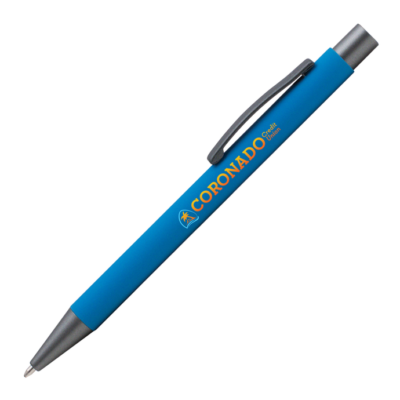 The Lauderdale Softy is a durable click action pen that features a trendy rubberized finish barrel, allowing you to write in comfort in any position. Using a smooth writing high capacity cartridge, this piece of tradeshow swag is available in Black ink or Blue ink.
This high quality pen is an affordable trade show gift idea for virtual conferences, in-person conferences, and tradeshows. Your company logo can be laser engraved on it as well for a lasting impression.
Price: $1.94
Where to get it: The Lauderdale Softy Pen
"For planners"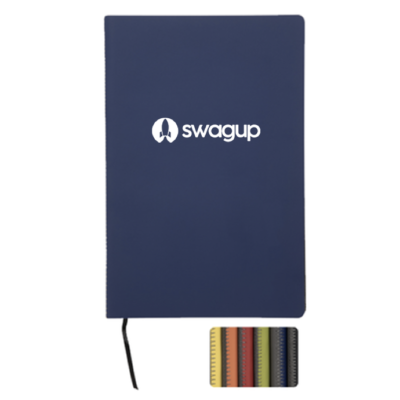 Tired of losing track of your phone? With the Orlando journal, you don't have to waste a minute of your busy day looking for your phone anymore. Two-tone because the back comes in grey and the binding is stitched to match the front cover color. Take this notebook to your business meetings, leave it in your car for notes or write your daily meditations in it. It really is a perfect item for a planner who needs to write things down in the moment.
Price: $6.79
Where to get it: The Orlando
---
What Makes The Best Conference Swag & Gift Idea?
These 5 traits should be considered when selecting the best conference swag for your upcoming in-person or virtual event:
Memorable — Does the conference swag actually help people remember your brand?
Quality — Is it made of material that gives people the impression that they've received something of value?
Sharable — Is the promo product an item that the individual would be proud to gift to another?
Creative — It is fun and outside-the-box instead of the same ideas other vendors are using
Durable — Is the gift going to last for years?
To get the best return on investment, ask your recipients to subscribe to your email newsletter or complete another relevant business action like filling out a survey. Most of the time, they will be happy to help. The other thing you want to be sure of is that the corporate gift ideas are items they'll want to keep like electronics, clothing, and anything for children.
---
People Also Ask These Questions About Conference Swag Ideas
Q: What do you give out at a conference?
A: You can give out coffee mugs, t-shirts, water bottles, and any free stuff you can think of. The goal, however, is to make sure whatever you give away will actually be kept.
Q: What is the difference between a conference swag and gift idea?
A: The difference between conference swag and a gift idea is that swag is usually something an employee or a client might wear or possess with the central idea of also adding to brand recognition. A gift idea is something that provides value and doesn't necessarily need to be a branded product.
Q: How can I send swag for a virtual conference?
A: Most swag items takes weeks to produce and ship. For quality and speed, check out Swag.com or Caroo.
Q: What are the most popular giveaways at a conference?
A: Cups, gift cards, tote bags, stickers, keychains, reusable water bottles, plastic water bottles, toiletry, and lanyards are commonly given away at conferences. However, the goal is to stand out, so perhaps consider what will be kept by attendees long after the conference ends. Spend a little extra for quality on items like swag bags and electronics.
Q: Can I send gifts out for a virtual conference?
A: Of course, but it works best if you've collected addresses to send the promotional items and event swag directly to.
Q: Can I buy conference gifts in bulk?
A: Yes, and buying conference gifts in bulk is often the most cost-efficient way to order.
Q: How long does it take to receive gifts for my conference?
A: Generally two weeks, but it can run longer depending on a number of factors.