Throughout the past few years, custom swag packs have been blazing a trail of popularity across the business world.
Startups to major corporations are getting in on the trend. Branded company swag has evolved and become a fantastically fun way to promote company pride and connect remote and hybrid workforces.
"Branded swag helps to promote the company to outsiders, and also gives workers a sense of shared identity."
There are many versions of where the word "swag" originated from. One version explains that it's an acronym for "stuff we all get." Makes sense, considering we've probably all left a conference (or ten) with an armload of stuff we all got… but no longer have. Coffee tumblers, bumper stickers, coasters, t-shirts. The list goes on and on. Why did we toss these giveaways?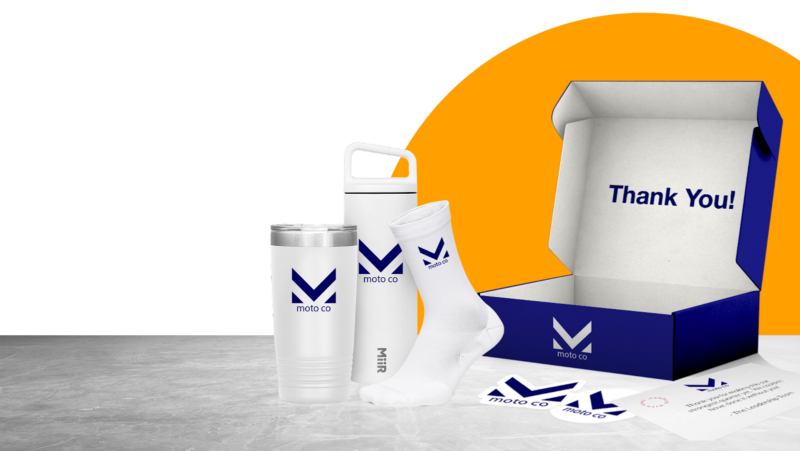 Sometimes because it's the same "stuff" we already had from three other companies. When the pen cup in our office holds a montage of colors, caps, clickers, and company logos, the last thing we need is another pen. But oftentimes, they just weren't things we could actually use. How many of those bumper stickers made it onto your bumper?
We're here to tell you… employee swag has come a long way!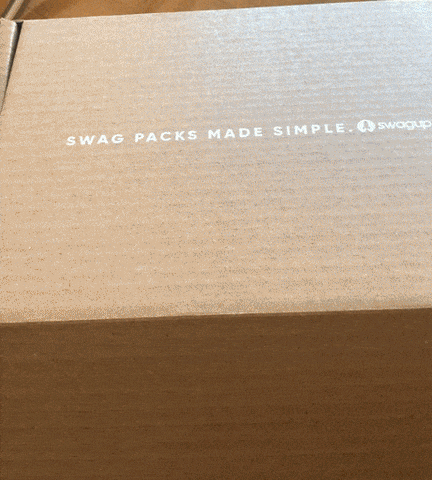 Branded swag kit companies are getting more and more creative, not just with their products, but their branding abilities as well. Your company name and logo can be displayed on just about anything. This means more options for you to choose from for stellar custom swag kits for your employees.
Bold brands. Broad varieties. Big impact. Welcome to custom swag boxes in 2023.
Still not sure which swag pack is right for your team? We've got 17 amazing custom swag box suggestions to tighten up your swag management and get your teams geared up with some prideful promotional items.
Want to become a better professional in just 5 minutes?
List of Branded & Custom Swag Boxes For Work
A one-stop shop for custom swag to create a fully branded experience.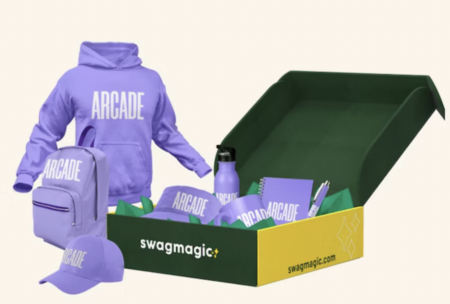 With a custom-designed swag box, businesses can tell the story of their brand in an engaging and memorable way. Stylish eco-friendly mugs, tech gadgets and other items will make employees look forward to coming into the office or the next meeting. With this unique approach, businesses can stand out from the crowd and leave a lasting impression.
Best for: Employee Gifting and Events
Where to order: Create a Swag Kit
Fun and unique boxes for every theme.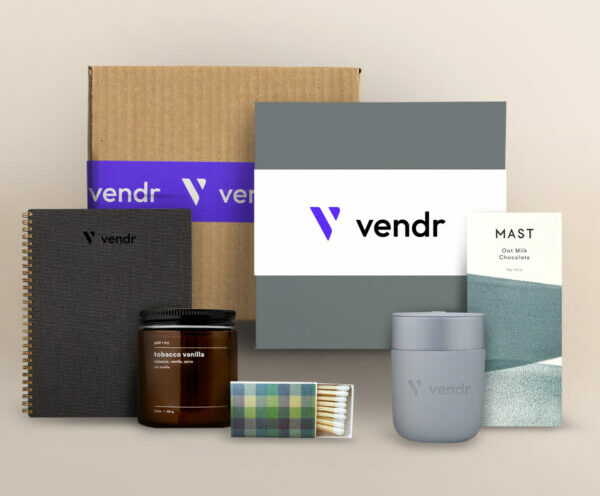 Looking for killer swag and unique options? Look no further! Teak & Twine has tons of swag staples PLUS fun additions like candy, coffee, blankets, and even confetti. The Teak & Twine team works one-on-one with clients to build custom swag boxes based on any theme. You just name an idea, and they'll figure out the rest! Plus, the team operates out of their own fulfillment facility, so they handle everything from start to finish like sourcing products, all branding details, and shipping logistics.
Best for: Employee Gifting and Events
Where to order: Fully Custom Swag Box
The perfect swag box to make any event stand out.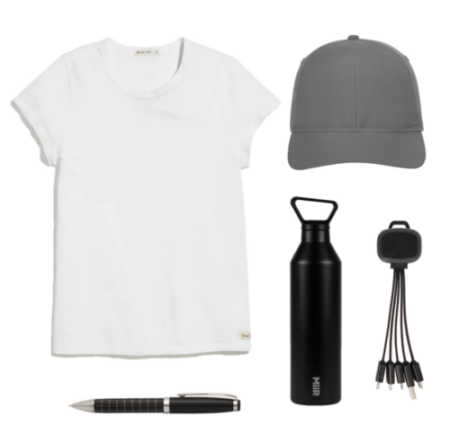 For meetings, conventions, and events near or far, the Conference Swag Box offers something special to attendees. This box can include any kind of promotional item that the company would like to include in a conference bag – from custom notebooks to mugs with the company logo – all branded with the organization's logo or message.
Best for: Clients
Where to order: Conference Swag Box
A custom swag box of comfort sent straight to their home office.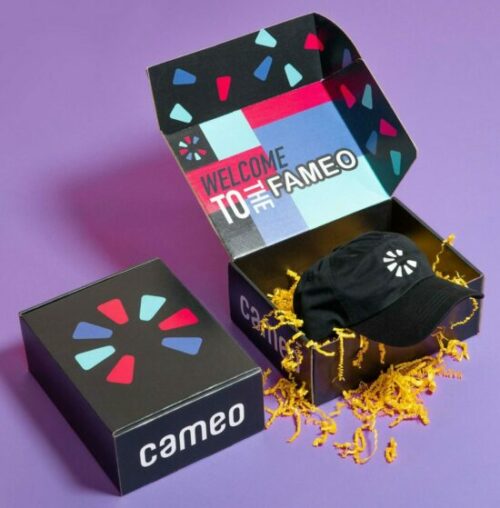 The Remote Employee Starter Kit is a comfy, cozy swag box idea for those team members, putting in their days from their home offices. A little comfort goes a long way. Ship a box of warm and fuzzy to say "thanks" to your remote teams, near and far.
Best for: Employees
Where to order: Remote Employee Starter Kit
For delivering a warm welcome.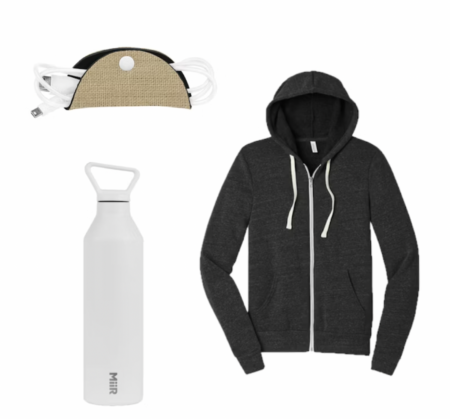 The Onboarding Swag Box is the perfect way for companies to welcome new team members and set them up for success. It's filled with branded items that give the newest hires everything they need—from office supplies to a company T-shirt. This swag box helps make their first day feel extra special.
Best for: Employees
Where to order: Onboarding Swag Box
Packing lunch and saving the environment, one swag box at a time.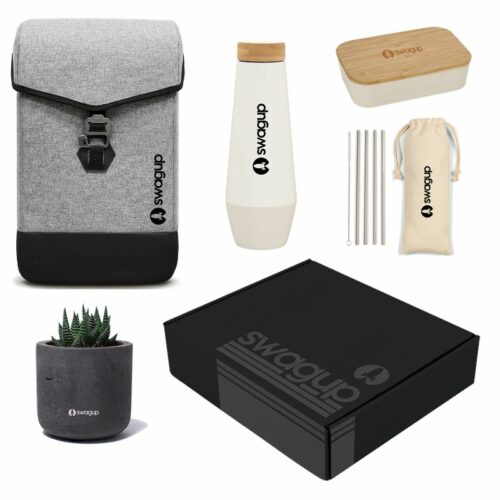 The Eco-Friendly Custom Swag Box is a sustainable and responsibly sourced swag kit, full of items to make being on the go a whole lot easier. The Solgaard Shore-Tex Daypackback is made entirely from recycled ocean plastics. That means each pack that's sold, Solgaard can remove up to five pounds of ocean plastic! From the bamboo lunch box and metal straws to the stainless steel water bottle, everything is reusable and/or recycled. You can feel good about giving this box and they can feel good about using all the products inside.
Best for: Teams
Where to order: Eco-Friendly Custom Swag Box
The goodies can still be the best part of your team event, even if it's virtual.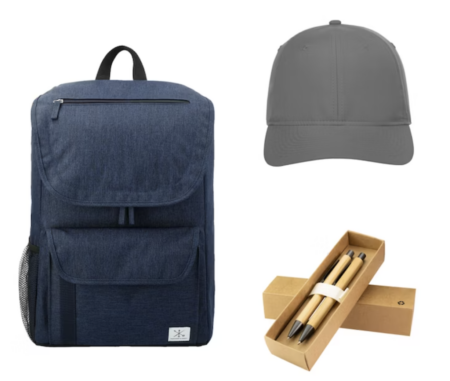 The Recognition Box is an ideal swag box to show employees how much their hard work and dedication is appreciated. This thoughtful gift includes a selection of company-branded items like mugs, pens, or notebooks. In addition, a personal note can be added to the box to make it more personalized. Employees are sure to be touched by this gesture and feel truly valued for all that they do.
Best for: Teams
Where to order: Recognition Box
The goodies can still be the best part of your team event, even if it's virtual.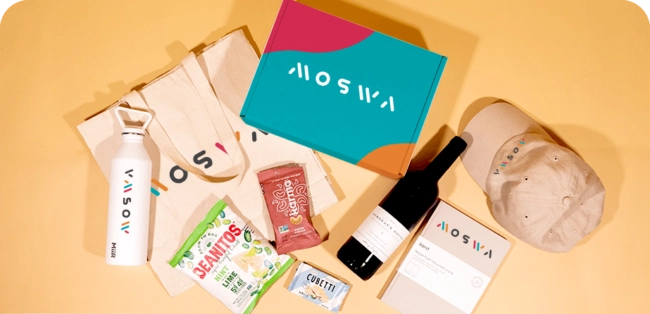 The Virtual Event Branded Swag Box is fully customizable, with branded swag items your teams will love (and use). Create custom swag bags to send to your employees for virtual conferences, team building events, or just because it's Tuesday and you wanted to make them smile. Add a little fun and flavor to any virtual event.
Best for: Conferences
Where to order: Virtual Event Branded Swag Box
A branded swag box to cultivate a culture of health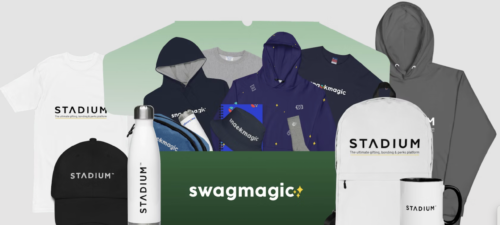 Help team members reach their wellness goals with a branded swag box that promotes a healthy lifestyle. Each kit could include an insulated water bottle, and other items to encourage physical activity and well-being.
Best for: Employees
Where to order: Healthy Living Swag Kit
Don't just rep your company… rep your company with pride.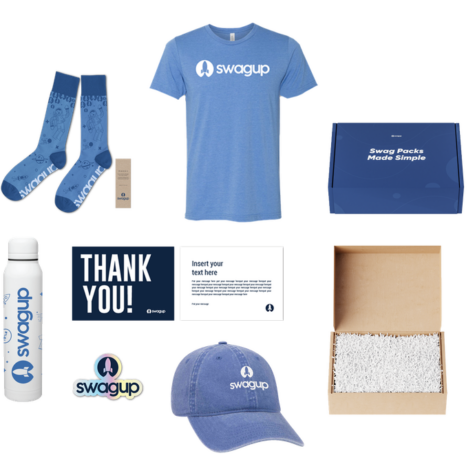 The Rep Your Company Swag Box is a full plate of branded swag for in or out of the office. Great for your in-person teams as well as those working remotely. Customize the boxes to add a little extra flare for your employees. Hey, why not bulk order these bad boys for some great onboarding welcome gifts?
Best for: Bulk orders
Where to order: Rep Your Company Swag Box
Show you care for your team members with a gift set of self-care.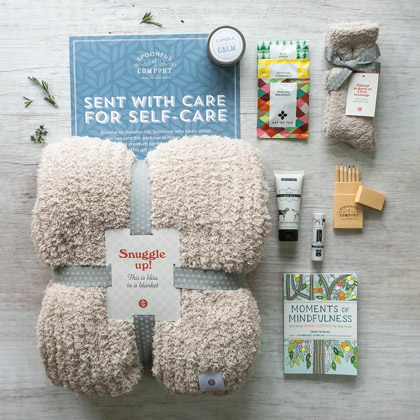 The Relaxation & Self-Care Box is a much-appreciated sloooooooooow down kind of swag box. Full of feel-good items like goat's milk hand lotion and a pair of plush socks, it delivers a heaping helping of appreciation and mindfulness in a box. And don't even get us started on the fizzy bath bombs and sinfully soft sherpa blanket.
Best for: Employee appreciation
Where to order: Relaxation & Self-Care Box
A branded box-o-bliss.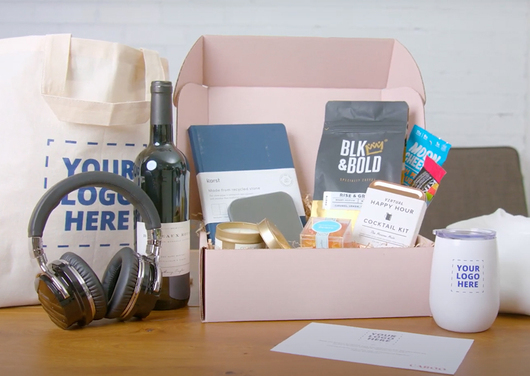 The Swag Welcome Boxes are carefully curated and thoughtfully packaged by a company that employs people with special needs. Each branded swag box comes packed full of mindful products and tasty provisions to welcome your new employees. Customize your new-hire welcome kits with a great selection of newbie necessities. A journal, headphones, and some premium coffee sounds pretty warm and welcoming too.
Best for: Onboarding
Where to order: Swag Welcome Box
Fuel for the body and the mind.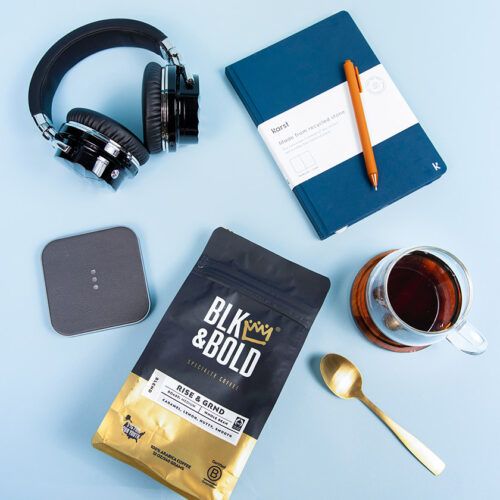 The Rise and Grind Swag Box is a great holiday gift for your team members. You can customize the contents based on their interests to deliver a perfectly personalized swag box. Make a lasting impression on your employees at your next corporate gift-giving holiday. Or maybe, create a new office holiday – why wait on the calendar to tell you when to give your employees something nice?
Best for: Holidays
Where to order: Rise and Grind Custom Swag Box
The custom swag box made to level up their home office.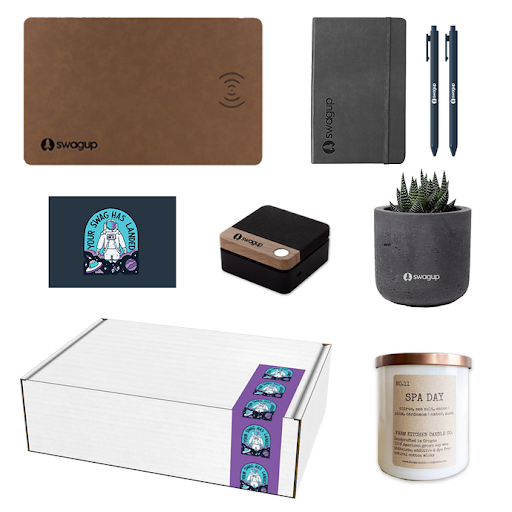 The Home Office Branded Swag Box is a customized compilation of home office goodies and gear. From succulents and scented candles to tech gadgets and tasty treats. Know your audience (i.e. employees) and surprise them with a box of essentials for their at-home workspace.
Best for: Employees
Where to order: Home Office Branded Swag Box
Make sure they're set up with swag even if their office has wheels under it.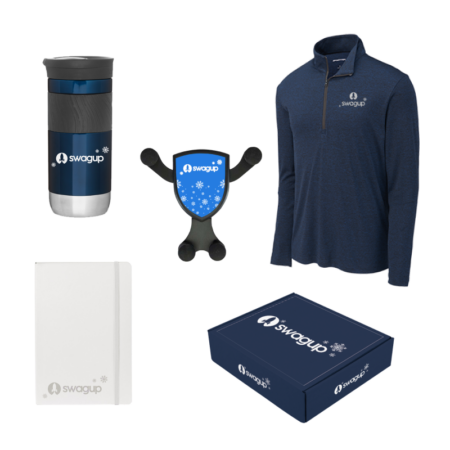 The Road Warrior – Branded Travel Swag Box is built for your on-the-go employees. Not every employee wears a suit and tie. And not all offices have four walls and a whiteboard. They're out there representing you. Make their jobs on the road safe and effective by sending them into the field with branded gear that's not only fashionable, it's also functional. This swag pack is also a great startup swag idea for your new employees who have that entrepreneurial spirit and are putting in long hours to make your dream a reality.
Best for: Teams
Where to order: Road Warrior – Branded Travel Swag Box
Employee appreciation isn't one size fits all.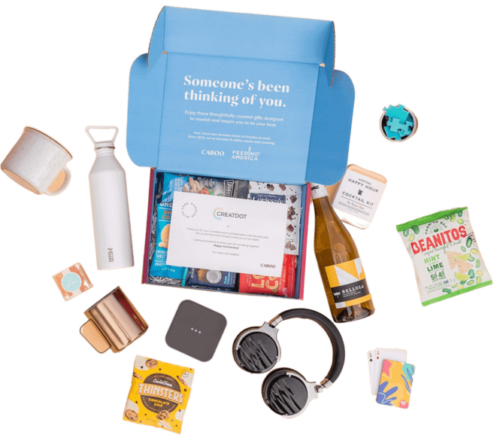 The Employee Appreciation Box is a fully customizable swag box, with options to please everyone. From wines and drinkware to healthy snacks and games, choose from a fantastic menu of luxury options to thank them for their hard work. Personalize your appreciation and promote your company pride, all in one box.
Best for: Employee appreciation
Where to order: Employee Appreciation Box
Support your clients AND your community!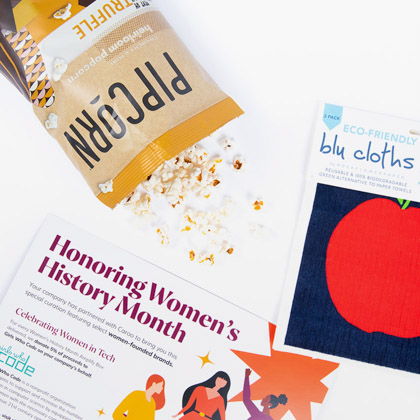 The Support A Cause Branded Swag Box showcases the products of some amazing women and BIPOC-founded brands. With each box that's shipped, meals are donated to feed families in need and 5% of the proceeds go to the Equal Justice initiative. Amplify your client relationships with healthy, high-quality treats and products that support a much bigger purpose.
Best for: Clients
Where to order: Support A Cause Branded Swag Box
Conclusion
Custom branded swag boxes aren't just a cool way to show your employees they're part of the team. They are filled with quality items that aren't only good for use IN the office. Y
our remote and hybrid employees are using and wearing these promotional products while out and about, walking around in the world, making them automatic ambassadors for your company. Plus, you get a little free advertising, which is another swag-a-licious benefit!
We've all had that job where they gave away super sad swag at an event or conference. The pens dried up after a page or two. The lanyard unlatched and our name tag went MIA sometime before lunch. The keychains broke before we even got to our car.
We basically went home at the end of the event with a company-branded tote bag full of custom-branded garbage. Eventually, we got tired of looking at it and inevitably heaved it in the trash where it belonged.
Lesson? Those products had no impact.
They created no connection between our company and us as an employee. They were a poor attempt at engagement and ultimately made no positive impact on the company culture. Who still drinks from the insulated coffee mug that doesn't keep your coffee hot (or cold) and has a lid that doesn't seal, just because it shows off your company logo?
We'll wait…
---
People Also Ask These Questions About Custom Swag Boxes
Q: What is a custom swag box?
A: A custom swag box is a creatively curated gift box of useful and unique products, customized to represent your business. The content options are endless, from outerwear and high-end tech items to savory snacks, corporate gifts, and happy hour cocktail kits. Whatever your industry, there's a custom swag box made for you, your employees, and your mission.
Q: Can I add my logo to a branded swag box?
A: You can add your logo to a branded swag box. That's what makes it branded! Swag boxes offer thousands of products that can be custom branded with your company name, logo, and other options, depending on the products.
Q: How many items can go inside of a custom swag box?
A: How many items can go inside of a custom swag box depends on where you order your swag. Some companies offer a few high-dollar items. Others are completely customizable and allow you to build them with as many branded products as you want. For more ideas, refer to this list.
Q: What makes a swag box successful?
A: What makes a swag box successful is choosing items that your employees can use. They don't need trinkets with the company logo, they appreciate useful items. Products that help in their jobs, tech gadgets, and self-care items are all great examples of successful swag box ideas.
Q: Can I send a custom swag kit to multiple addresses?
A: You can send custom swag boxes to multiple addresses to reach your remote employees. Many companies also offer international shipping so you can be sure to swagify ALL your employees without them having to leave their homes.
Q: How much does a custom swag box cost?
A: How much a custom swag box costs depends on the brands, the quality of the products, and how many goodies you want to pack into it. Some of the simpler swag boxes can cost around $25 while the higher-end luxury boxes can cost a couple hundred.