Employee monitoring software comes in all shapes and sizes, meeting a variety of business needs and goals. Before we dive in, let's just clear the air: 
Using employee monitoring software does not mean that you lack trust in your employees. 
You might want to use employee monitoring software because you recently faced a devastating data loss due to a security breach. You might need an easy way to track hourly employees' time. You might just want to better track priority projects and initiatives that are crucial to your company's 5-year growth trajectory.
Here are just some applications of employee monitoring software. (You'll notice that "spying" does not make the list.) 
Security 

Time tracking 

Productivity logging 

Payroll 

Vacation tracking 

Performance evaluating 
Want to become a better professional in just 5 minutes?
Plan Your Rollout Communications Carefully 
When you decide to start using employee monitoring software, be sure to plan your communications carefully. If you roll it out stealth-mode and employees find out, the backlash could be disastrous. 
Work with your communications teams or specialists to ensure you communicate the software rollout with timeliness and sensitivity. Be sure to explain the company-facing and employee-facing benefits and reiterate that everyone still has leaderships' trust. 
On a more practical note, the software might require employee cooperation on a daily basis, so it's also critical to make sure everyone knows how to use the software. Otherwise, the rollout could be a total bust. 
Employee Monitoring Software for Your Team 
Employee monitoring software solutions come in all shapes and sizes. Before you get started in your browsing, make sure you pinpoint the most important thing you want from the tool. Some solutions focus on protecting data leaks while others prioritize reports that could help optimize efficiency. And of course, some tools do it all! 
Page Contents (Click To Jump)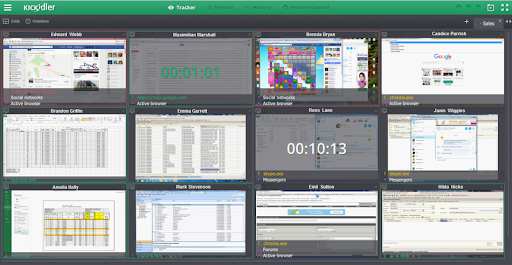 Kickidler is focused on direct monitoring of employees, that is why it is impossible to cheat the program. Moreover, Kickidler provides powerful tools for employee time tracking and analyzing their effectiveness. With the latest 2022 update automatic notifications of violations and a self-monitoring interface appeared in the program, this made it more democratic and autonomous.
Standout features:
Real time screen monitoring
Indexable Screen Recording
Self-monitoring interface
Why people love it:
That's what a verified user say about Kickidler in one of the reviews on the Capterra resource:
We needed online browser of monitors of employees to be able to always see who's busy with what at the working computer. After short search we've decided on the Kickidler program, because we considered it the most convenient program for this purpose.
ActivTrak calls itself a "behavior analysis solution." This tool focuses on using data to uncover key insights or challenges that have deep significance for teams hoping to increase productivity or efficiency. 
Standout features: 
Customized tracking schedules 

Intuitive dashboard 

Advanced risk scoring
Why people love it: 
It delivers critical insights in an easy-to-use interface. According to one PCMag reviewer, 
"ActivTrak brings a nice price and an easy interface to the table, but it also offers great monitoring wrapped in a layer of analytics that make it less a watchful eye and more of a Google Analytics dashboard for your office. A solid Editors' Choice pick that'll pleasantly surprise many business operators and employees."
Veriato has solutions for a variety of business types and sizes. The company never provides data in a vacuum. They gather data and also help their customers figure out what to do with it. 
As their About Us page says, this company wants to "provide companies with visibility into, and understanding of, the human behaviors and activities occurring within their network, making them more secure and productive." 
Standout features: 
Daily activity reports 

Screen recordings 

Customized alerts 
Why people love it: 
It presents log data in an actionable format. Here's what one customer said in a data-leak case study: 

"Everyone in IT is used to standard logs that are difficult to go through. Cerebral did not present anything like that. I was taken aback at how good Cerebral is at what it does, and also that it does it without the computer user being aware."
Focusing on thwarting insider threats, ObserveIT makes user activities transparent so companies can detect risks and mitigate them before they become serious problems. 
Standout features: 
Rapid, real-time threat detection 

Robust threat response options 

Convenient integrations 
Why people love it: 
It helps reveal vulnerabilities clients didn't know existed.
A satisfied customer from one of ObserveIT's case studies said, 
"We started out with some major blind spots around insider threat. With ObserveIT, we have dramatically improved visibility into user activity on our systems."
SolarWinds offers a suite of product options that aim to tackle IT management challenges. Their employee experience solution focuses on enhancing employee happiness and productivity.  
Standout features: 
Server and application monitoring 

Network performance monitoring

Scale to companies of any size 
Why people love it: 
It's an all-in-one security solution people can count on. 
"Being able to have one point to go to definitely helps speed up resolution. We're able to track down issues faster having SolarWinds than our other solutions," said one loyal customer. 
Splunk helps companies turn data into insights. The tool leverages machine learning to make data, at any scale, tell a story to inform business objectives with the ultimate goal of enhancing efficiency and security and saving you money. 
They even have a handy calculator that allows you to estimate how much money you might save using Splunk. 
Standout features: 
Real-time insights 

User and entity behavior analytics 

Open development platform 
Why people love it: 
It brings data into one place and makes it searchable, saving analysts loads of time. 
Here's a testimonial from a company that used Splunk to implement "real-time enterprise-wide infrastructure monitoring." 
"I've been in IT management for over 20 years and I've never seen a product that does this. This is the first time I've been truly able to do heterogeneous, up-and-down-the-stack monitoring of my IT environment because Splunk has all the data and allows me to search it all in the same way." 
Use your data to not only find sensitive information, but also to make sound decisions on how to handle it. The tool's insights could help you avoid the next big data breach that gets splashed on the news to the horror of consumers. Netwrix offers many solutions, including insider threat detection and user behavior analytics. 
Standout features: 
Classifies structured and unstructured data 

Endless integrations 

Single view of risks along with risk scores 
Why people love it: 
It makes data logs easy to understand and act on. 
Here are key takeaways from several glowing customer viewers: 
It saves time by avoiding the need to look at multiple logs 

It enables the seamless monitoring of user activity 

It helps secure large amounts of data 

It sorts through volumes of info no human could manage 
Sumo has the system of monitoring systems and removing threats down to an efficient T. The tool collects and aggregates data, searches for threats, visualizes risks, and helps users take action. 
Standout features: 
Query-based analytics

Sharable dashboards 

Flexible pricing model 
Why people love it: 
It offers security benefits that spill over into other business areas. 
A team at Pokemon Co. International loves how SumoLogic helped them enhance their security and build an agile team. 
Teramind summarizes its raison d'etre with a simple formula on their homepage: 
"User activity monitoring + data loss prevention = Teramind." 
They offer solutions for nearly any industry, for a variety of use cases.
Standout features: 
Real-time alerts on non-compliant actions 

Customizable employee-monitoring reports 

Automated risk detection
Why people love it: 
Customers love that the tool is easy to use and how it makes employee monitoring a simple strategy to enhance productivity.
Interguard has all your employee monitoring needs covered, whether you want to monitor remote employees, prevent idle time, or just proactively monitor computer activity.
Standout features: 
User behavior analytics 

Productivity reports and insights 

Enables employee investigations 
Why people love it: 
It's a well-rounded employee monitoring solution customers can install and begin using fast. 
Even with all its robust features, this tool requires only 3 simple steps to download and start using.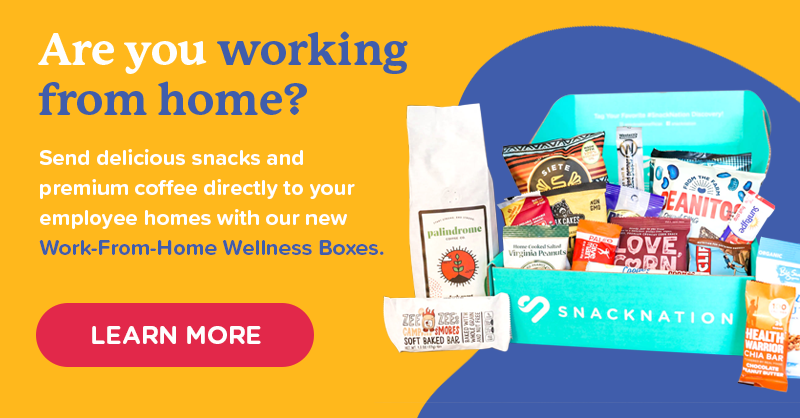 This well-rounded, all-in-one employee monitoring tool helps companies preserve productivity, security, and data. 
This solution can monitor computer running time, user active working time, keystrokes, clipboard activities, screen-shots, print jobs, and more. 
Standout features: 
Extensive reporting 

Flexible monitoring 

File encryption 
Why people love it: 
One customer said iMonitor was the "most all-in-one monitoring solution I ever found."
StaffCop, as the name suggests, enforces security "law" at companies via comprehensive employee monitoring, including email monitoring, chat monitoring, and process monitoring. 
When the monitoring returns something suspicious, the tool also enables the appropriate blocking strategies. 
Standout features: 
24/7 technical support 

Messaging intercept 

Keyword data filtering 
Why people love it: 
The dedicated technical support team. (They even answer questions through online chat.)
WorkPuls marries employee monitoring to time tracking to optimize company productivity. The tool completes automatic time mapping and reallocates work to employees behind the scenes based on who has bandwidth.
Standout features: 
Periodic screenshots 

Verified attendance 

Project budgeting 
Why people love it: 
It doesn't require training to be useful. 
Customers love the tool's intuitive nature: 
"Pretty intuitive for our management, allows team leaders to manage their own departments, and lets employees fill in their own time spent on meetings and workshops," says one happy customer.
Monitor employees, manage assets, automatically update or patch applications, and deploy antivirus and malware software using one robust tool. 
Manage devices from any location and even customize exactly what you need to monitor to achieve optimal security at your organization.
Standout features: 
Web access monitoring 

Set policy controls 

External device management 
Why people love it: 
It has a lot of features and the rollout is seamless.
Here's one reviewer's take: 
"This software is top selling asset management, user activity monitoring, audit solution with a lot of features to protect and manage the endpoints. It is easy to deploy and no noticeable impact on endpoints' performance. It is a rare solution to have this many features."
Available in on-premise and cloud deployment options, Berqun's angle on monitoring involves a measurement tool we all know and love: scoring. The system calculates employee scores based on time spent on productive or disruptive applications and websites. 
Standout features: 
Office monitor TVs 

Robust customer support 

Transparent mode deployment 
Why people love it: 
The support group makes using the tool as easy as possible.
Berqum walks clients through every aspect of the tool's setup, making it incredibly easy to get started. 
An employee efficiency tracking platform (EEP), this tool helps people with work days involving lots of travel. The solution gives employees an easy way to clock in and out, find the best routes, claim expenses and more—all while they're on the go. 
Standout features: 
Leave management

Task management features 

Real-time employee activity notifications 
Why people love it: 
It's a versatile solution that can do pretty much anything. 
The solution has features that help employees in a wide range of industries become more efficient. For example, Track O Lap can help agricultural clients minimize false reporting and improve efficiency while simultaneously helping e-commerce companies better route their fleets and reduce fuel costs. 
This time-tracking solution provides insights into employee activities that allow it to double as an employee monitoring tool. Managers can view times in terms of projects, clients, and tasks and then make smart decisions about reallocating time and resources. 
Standout features: 
Automated email reminders for timesheets 

Alerts triggered by preset time limits 

Data visualizations 
Why people love it: 
It helps eliminate the temptation to micromanage. 
Here's one employee review:
"Using Toggl is helping us get a handle on our time allocation for different customers and projects. Before we had no idea of what people were spending their work time on — I had to check in on that all the time. Now I can just focus on the important things, instead of micromanaging." 
Clever Control comes with a handy remote interface managers can use to monitor activity anywhere and any time, including when they're away from the office. This solution emphasizes the do-it-yourself nature of their product. Anyone can set it up in minutes without an information technology professional on site.
Standout features: 
Secure remote monitoring 

Hidden mode for invisible investigations 

Remote uninstallation capabilities 
Why people love it: 
It makes quick remote check-ins a breeze. 
One client says:
"For me CleverControl is almost perfect. I have to travel a lot for my business so I am away from my employees a lot. Now I can check on my staff from anywhere without distracting them from work. Time management in the office improved drastically." 
We hope you enjoyed our list of the best employee monitoring softwares for your office! Let us know what you think in the comment section below.