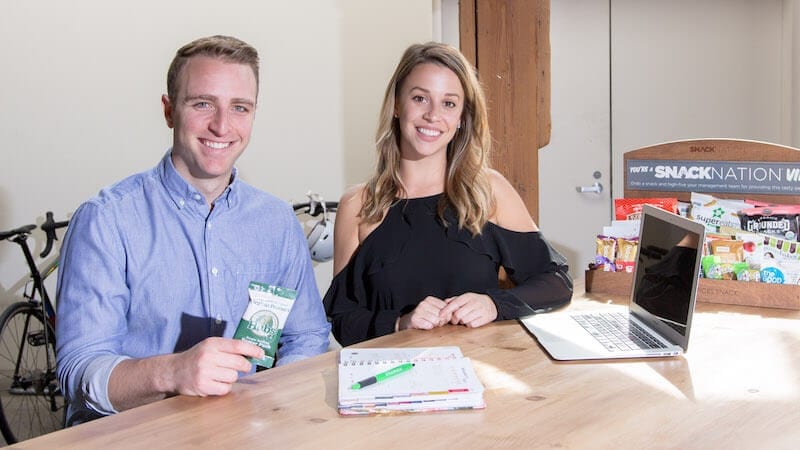 Having healthy snacks in your meetings could make your weekly get-togethers more productive.
When we're hungry, our brains don't have enough of the energy and nutrients needed for optimal focus. Plus, eating unhealthy, processed foods can make us sluggish, creating even more problems for concentration. In short, our cognitive performance can be made or broken by food.
Make sure attendees are able to give your meeting their full attention from start to finish by providing a variety of healthy meeting snacks.
We've pulled together some options below that meet all the criteria for ideal meeting snacks:
Healthy
Energizing
Easy to eat
Leaves no "finger residue "
Memorable
Universally lovable
Delicious
1.GoMacro Everlasting Joy Bar
Couldn't all meetings use a dose of everlasting joy? This delicious bar doesn't just provide your attendees with good vibes; it also offers 10 grams of protein, 3 grams of dietary fiber, and 15% of the recommended daily value of iron. Attendees will leave your meeting feeling satisfied mentally and physically.
Talking Points: These bars are made of 100% plant-based ingredients, including almond butter and organic puffed brown rice.
2. Rhythm Superfoods Organic Carrot Sticks
Reimagine the classic carrot stick with a salty snack people will love. Attendees will be amazed that a snack made from just carrots (the only ingredient in the "naked" flavor) can be as tasty and crunchy as a potato chip. 
Talking Points: Make sure everyone knows what the package says: These carrots are dried, not fried. 
3. Unreal Dark Chocolate Crispy Gems
The Unreal brand has perfected the art of better-for-you candy. Their Dark Chocolate Crispy Gems are made from organic dark chocolate with 72% cacao, organic quinoa, carrot juice, beet juice, and lots of other good ingredients you'll recognize.
Talking Points: This do-gooder candy brand does their best to buy fair-trade certified ingredients whenever possible.
4. Gouda Moon Cheese
Most of your meeting attendees have probably never enjoyed a cheese plate during a work meeting. Well, it's time they started. Capture all the deliciousness of a restaurant cheese board with Gouda Moon Cheese. The dried cheese snacks do not require refrigeration, so they're a no-fuss snack that's also impressive.
Talking Points: These snacks are 100% cheese and nothing else.
5. Made in Nature Italian Espresso Coconut Chips
Pack your conference rooms with a snack that has flavor reminiscent of an Italian cafe and a crunch that rivals the crispiest potato chips. Meeting attendees will be delighted to skip the instant coffee machine and head straight for the snacks. 
Talking Points: These chips are non-GMO Project Verified.
6. Epic Bars
Hungry associates who are trying to watch their sugar intake will thank you for providing savory Epic Bars. The bars feature quality meat: bison, beef, chicken, bacon, salmon, and venison. Epic uses only carefully sourced, humanely raised, organic meats complimented with wholesome nuts and seeds.
Talking Points: Epic Bars are gluten-free and paleo-friendly.
7. Redd Chocolate Superfood Energy Bar
Tell meeting attendees they can have superfood chocolate, and they'll love you forever. (They'll also attend all your meetings.) The Chocolate Superfood Energy Bar includes 10 grams of protein, a kick of caffeine, and a boost of superfood nutrients from goji berries, amla fruit, maqui berry, and more.
Talking Points: The bars are sweetened with healthy stevia extract.
8. Harvest Snaps Black Pepper Snapea Crisps
Put many bags of these crisps into your rooms, because people will fight over them. The healthy, plant-based crisps taste light and wholesome, but they have tons of craveable flavor. One serving gives meeting attendees 8% of the recommended daily value of iron. 
Talking Points: The primary ingredient in these unforgettable snacks is green peas.
9. Eat Your Coffee Peanut Butter Mocha Bar
Packed with non-GMO whole foods, like peanut butter, organic dates, and gluten-free oats, the Peanut Butter Mocha Bar zaps hunger. Plus, thanks to organic fair-trade coffee beans and green coffee bean extract, the bar provides a jolt of caffeine to make creative ideas flow during your meeting.
Talking Points: The bar delivers the same caffeine content as one cup of coffee
10. Kettle Pipcorn Mini Popcorn
Kettle Pipcorn Mini Popcorn is made from small corn kernels with soft hulls that won't get stuck in anyone's teeth. You can snack on popcorn during a meeting without needing to check your smile for kernel skins. 
Talking Points: This snack is sweet, but it has only 4 grams of sugar per serving.
11. Barnana Coconut Banana Bites
Everyone will love getting all the sweet flavor of candy in a healthier, non-GMO treat packed with beneficial potassium. The perfectly sized bites are naturally gluten-free, and eating them will leave you feeling refreshed instead of overly full. Barnana bites transport attendees to a tropical island where good ideas flow like coconut water. 
Talking Points: The bites are made with only two ingredients: organic bananas and organic coconut.
12. Ocean's Halo Almond Seaweed Strips
This snack is perfect for people who can't choose between a sweet and salty snack. Made from strips of seaweed infused with sliced almonds, Ocean's Halo provides a memorable experience attendees will forever associate with your company's meeting.
Talking Points: The strips include an eclectic mix of ingredients, such as seaweed, red pepper extract, and green tea extract.
13. Quinn Snacks Classic Sea Salt Pretzels
If you think all pretzels taste like cardboard, then you haven't tried these above-average treats from Quinn. These snacks are anything but boring, and unlike many packaged snacks, they're made with whole ancient grains and delicious non-GMO ingredients.
Place them in a bowl and see how many people ask you where you got the amazing pretzels.
Talking Points: The pretzels contain no corn starch or soy lecithin.
14. The Cookie Department Awaken Baked Cookies
Supplement a packed meeting agenda with deliciously energizing Awaken Baked cookies to make any meeting a productive and unforgettable experience. These cookies have the same caffeine content of a cup of coffee, and they're made right in the USA from locally sourced ingredients.
Talking Points: These eco-friendly cookies are made with sustainably sourced palm oil.
15. Jackson's Honest Crunchy Sweet Potato Grain Free Puffs
Filled with nutrient-rich root vegetables, peas, and cassava flour, these crunchy Sweet Potato Grain Free Puffs trump many other savory snacks you can find in conference rooms. The light puffs are made using organic coconut oil and a perfectly light sprinkling of sea salt. Plus, the snacks contain no rice or corn—a big plus if your associates are picky about their grains.
Talking Points: One serving of puffs has only 140 calories and lots of fiber.
16. Ag Standard Dark Cocoa and Fleur de Sel Almonds
These Dark Cocoa and Fleur de Sel Almonds offer something for health nuts and anyone with a decadent sweet tooth. The conversation-starting nuts have a unique, rich flavor that meeting attendees will buzz about.
The almonds are coated with cocoa, instead of a layer of milk chocolate, so you enjoy a powerful chocolate flavor without getting the same nap-inducing calorie bomb.
Talking Points: The nuts are flavored with Valrhona cocoa, kosher fleur de sel sea salt. (Anyone who hears those ingredients will be impressed.)
17. Vegan Rob's Probiotic Cauliflower Puffs
Any health foodist entering your conference room will be delighted to find Vegan Rob's Probiotic Cauliflower Puffs. Made with sorghum and cauliflower powder, the puffs are dusted with a nutritional yeast vegan cheese that tastes just like the real thing.
Talking Points: The probiotics in these crunchy snacks support healthy digestion.
18. MadeGood Apple Cinnamon Granola Minis
The granola bar makes a steadfast, universally loveable snack, and now you can provide a bite-sized version that's ideal for casual meeting snacking. These granola bites have lots of apple-pie flavor, but the fiber and vitamins they contain will rev you up instead of weighing you down.
Talking Points: One serving of the minis contains the nutrients of a serving of vegetables.
19. Forager Project Vegetable Chips
Even people who don't typically "do" chips might be willing to give these nutrient-dense vegetable chips a try. The green triangles are made from pressed vegetables and greens, including cucumber, kale, and spinach. 
Talking Points: These snacks look like corn chips, but they're absolutely corn free.
20. Lesser Evil Oh My Ghee! Popcorn
Open the taste buds to new flavors, and you'll open the mind to new ideas. We can't imagine a better way to kick off a productive, open-minded meeting! This unique popcorn has all the rich, distinct flavor of ghee, which is clarified butter.
Ghee provides a rich flavor snackers crave, but it's believed to be easier to digest.
Talking Points: This particular organic popcorn is the first to have organic grass fed ghee.
21. Bear Naked Peanut Butter and Honey Granola Bites
These bites turn universally loved granola into a convenient finger food that's perfect for brainstorms and status meetings. The touch of honey in these bites will satisfy a sweet tooth; the bites make the perfect stand-in for a typical cookie tray. 
Talking Points: These bites contain real ground vanilla beans.
22. SmashMallow Meyer Lemon Poppy Seed
Stocking a room with snackable marshmallows will help make your meetings both playful and productive. These light marshmallow are pretty and easy to share, and they have all the lemon and poppy seed flavor of everyone's favorite muffin.
Talking Points: The marshmallows are made with 100% organic sugar.
23. Bare Snacks Sea Salt Beet Chips
These snacks add crunch and color to any meeting. They don't have any oil; they're simply dried to be delightfully crunchy.
Talking Points: The snacks contain only beets and salt.
24. Sahale Grab & Go Mango Tango Almond Trail Mix
Individually packaged trail mix makes the ideal meeting snack. It's delicious, energizing, and perfectly portioned. You also don't have to worry about too many hands reaching into one bowl, so you can skip the hand sanitizer display.
Talking Points: Sweet mango and spicy chipotle make a delightful flavor combination.
25. Kala Simply Peppered Roasted Fava Beans
Skip the chips and serve crunchy roasted fava beans instead. These snacks are perfectly crisp and perfectly seasoned. Everyone will be pleasantly surprised when they think they're reaching for a bowl of nuts and they find crispy beans instead.
Talking Points: One serving has 22% of the recommended daily value of fiber.