Sure, Coachella might already be a distant (hazy) memory, but the summer music festival season is far from over. In fact, it's only just beginning. From Stagecoach (April 30th) to Austin City Limits (October 13-15), there's no shortage of bands to fall in love with, randos to crush on, sunglasses to lose, and sunburns to get before it's all said and done.
One rookie mistake you should take care to avoid this year – rolling to your favorite fest without a bevy of delicious snacks to sustain you through all those long, hot summer days and nights.
(Plus, no self-respecting festival vet would ever pay for overpriced festival food.)
So whether you're an Electric Daisy Carnival kind of girl or Oregon's Pickathon is more your speed, here are three snacks you can't do without this festival season.
Pirate's Booty White Cheddar Rice & Corn Puffs
It's a known fact that pirates prefer their cheddar like their rum – aged.
That's why the swashbucklers over at P-Booty created this flavor packed masterpiece.
Their White Cheddar puffs are baked, certified gluten free, and altogether wholesome snacks. But don't let their lack of artificial colors, flavors, or preservatives make you think for a second these are kids stuff. They come through in the pinch, and punch above their weight in the flavor department.
Perfect for: a burst of energy right before you come out of mosh retirement for that Jawbreaker reunion set at Riot Fest in Chi-town.
Grab the Gold Snack Bar
Grab the Gold makes a gluten free, balanced protein snack bar that tastes like a chocolate peanut butter oatmeal no-bake cookie
What it doesn't have: gluten, high fructose corn syrup, preservatives, trans fat, dairy.
What it does have: 11 grams of balanced, high quality protein, 7 grams of fiber, and DAT FLAVOR THO.
Grab the Gold is a delicious chocolate peanut butter oatmeal no-bake cookie that packs a serious dose of fiber and protein to keep you full while you soak up the atmosphere at your fest of choice. It's hard to believe that these were created by founder Danielle Ontiveros when she was just 16 years old.
Did we mention they're vegan?
Perfect for: taking in a golden sunset with Mumford & Sons as your soundtrack at the uber laidback Hangout Music Fest in Gulf Shores, Alabama.
Cookie Department Snapback Ginger Cookie
The Cookie Department makes functional fare from simple, all-natural ingredients with naturally occurring benefits.
Take their Snapback Ginger (a personal favorite). They've combined natural detoxifiers like cayenne pepper, black strap molasses, and ginger to create the ultimate functional gingersnap.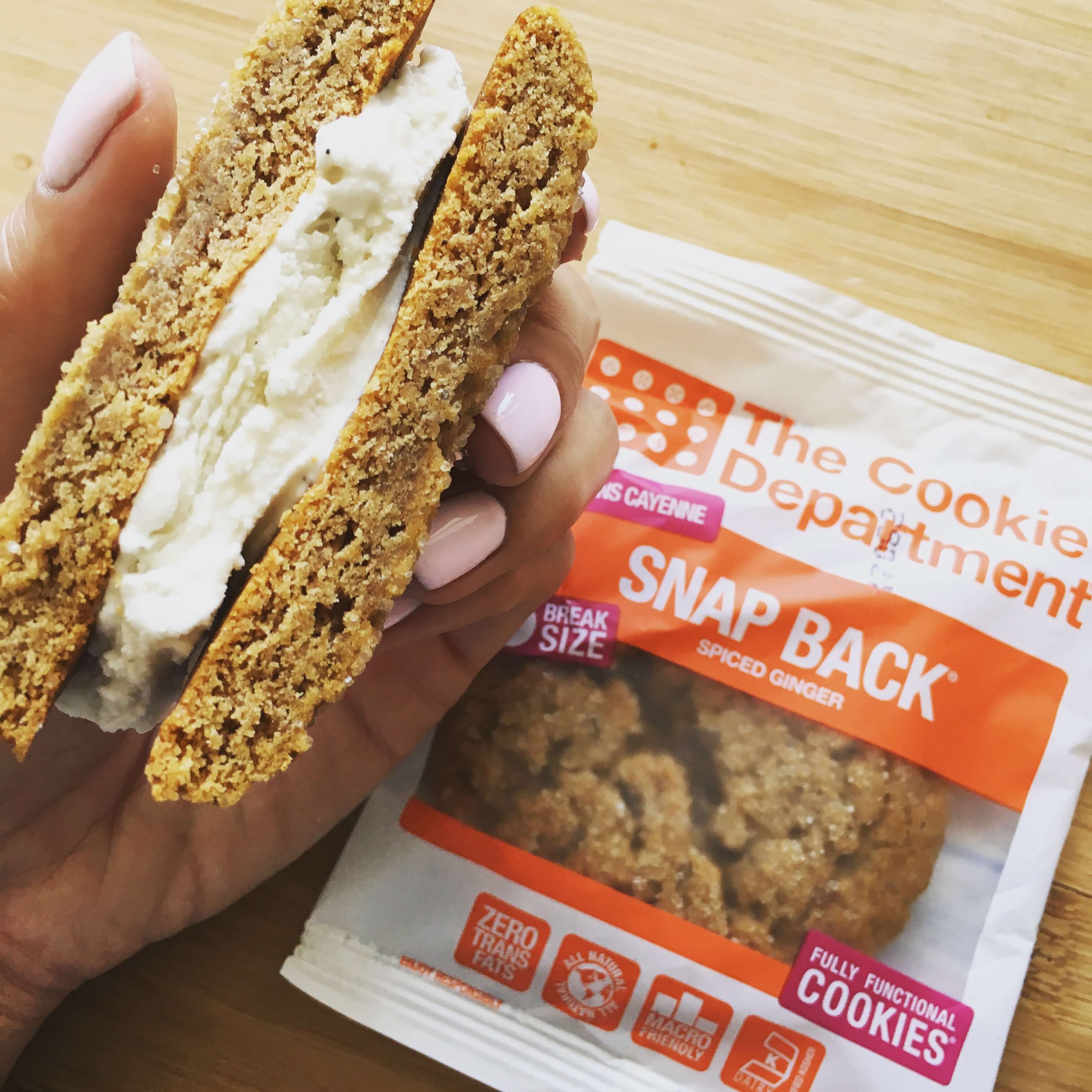 Plus, these tasty treats are non-GMO, locally sourced, and contain ZERO artificial ingredients.
Perfect for: rocking your illest snapback and chilling out to some Frank Ocean, Tribe Called Quest, and Solange at this year's FYF Fest in Los Angeles.
Tell us in the comments what your favorite Music Festival snack is!