Last Updated on
SnackNation Debuts Data-Fueled "Insights Awards"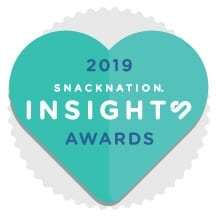 The tech-enabled snack delivery co. names the best snacks in the U.S., based on proprietary community data
February 11, 2019
CULVER CITY, CA – February 11th, 2019 — SnackNation, the better-for-you snack marketplace known for introducing emerging brands to hundreds of thousands of customers each month, is launching the first-ever data-driven snack awards.  The SnackNation Insights Awards aggregate millions of proprietary data points and customer insights from 2018 to decide the country's most popular snacks in the following categories:
Best Packaging

Best Bar

Best Jerky & Meat

Best Chip & Crisp

Best Puff

Best Sweet

Best Fruit

Best Nut Mix
The winners will be announced February 20, 2019 via a follow-up release, with physical awards to be presented at the 2019 Natural Products Expo West in Anaheim, CA, which expects to exceed last year's record-breaking attendance of 85,000.  SnackNation's proprietary data platform SnackNation Insights offers product intelligence gathered from millions of consumer insight data points to empower CPGs with the knowledge to understand consumer preferences and behaviors.
"The SnackNation Insights Awards are a great way to showcase our data capabilities while celebrating all of the emerging brands that are working hard to bring better-for-you foods to consumers across America," said SnackNation CEO and Co-Founder Sean Kelly. "We're helping brands better understand the end consumer and improve upon their products, leading them to scale more quickly, get into more consumers' hands and maximize their overall impact."
"These awards are just a sneak peek at what we plan to do with SnackNation Insights," said Aihui Ong, SVP of Technology at SnackNation. "Our goal is that this platform will soon be able
to predict category winners and trends across CPG in addition to the ever-increasing category of snacks."
About SnackNation:
SnackNation is a tech-enabled snack delivery service that serves today's most innovative, best-tasting, and emerging CPG brands to high-value consumers at their most engaged moments. SnackNation exists to inspire more conscious food decisions. Founded in 2014, the company curates and delivers great tasting, better-for-you snacks to half a million people, both at home and in thousands of member offices nationwide – places like Microsoft, MailChimp, Soothe, and many more. SnackNation is committed to helping families facing hunger, and has donated more than five million meals to Feeding America. SnackNation was named the 24th fastest-growing private company by Inc. Magazine and the third fastest growing company in LA county by the Los Angeles Business Journal.  SnackNation has offices in Los Angeles and Chicago, to learn more, visit SnackNation.com.