Toss out your Aunt Edna's famous potato salad recipe and don't even think about attempting that double-fried chicken again. Food like that belongs at your mom's picnic. It's time to simplify your summer picnic strategy…and we've curated a list of healthy and delicious treats to help you do just that.
This list will set you up for a summer of zero-prep, no-fuss picnics. After all, why should you waste your time slaving over elaborate treats that will inevitably melt in your car? These healthy, drool-worthy snacks make it so fast and easy to plan a summer picnic, you'll have plenty of energy left for an envy-inducing Instagram photo shoot.
Beanitos Original Black Bean Chips
Save your family-sized bag of brittle tortilla chips for Taco Tuesday and reach for chips that crush your appetite instead of teasing it. Beanitos Original Black Bean Chips are made from…you guessed it: delicious, nutritious, beans. One serving of these crunchy triangles has 20% of the fiber recommended for most diets. So what? Fiber keeps you full and helps manage cravings. Plus, these power chips pack five grams of protein per serving. We even love what they're made without, namely corn, gluten, trans fats, preservatives, genetically modified organisms (GMOs), and MSG.
Throw these into your bag along with some homemade pico de gallo, and you have everything you need for a low-stress waterfront picnic.
Belgian Boys Cookie Butter Mini Cookie Stache
No one can judge you for playing with your food at a picnic; it's an unspoken, golden rule. And trust us, you're going to want to play with these outrageously tasty mustache-shaped cookies. The cookie-butter based Mini Cookie Stache from Belgian Boys is kosher, vegetarian-friendly, non-GMO, and authentic to the max—this treat is actually made in Belgium.
The cookies even give you a good reason to snap a few selfies of your adorably mustachioed mug: the social awareness campaign, You Rock It, We Give It. When you tag a pic of yourself "rockin' the stache," you can also tag your favorite charity to put them in the running for a sweet donation from the brand.
Betty Lou's Maple Oatmeal Probiotic Bite
Get all the delectable, comforting goodness of your grandmother's oatmeal cookies without logging the kitchen hours or racking up the guilt. Betty Lou's Maple Oatmeal Probiotic Bites have only 100 calories and four grams of sugar, but they satisfy like a decadent dessert. These bars even have prebiotics and probiotics to support your digestive health.
Betty Lou's started when a concerned mother decided to remove refined sugar from her family's diet. We couldn't be more excited that she took on this noble endeavor. You'll taste the love in all of the brand's offerings.
Chomps Original Flavor Beef Stick
You could spend a few hours shaping beef into patties, finding a cooler, running out to get ice, and then running out again to get the charcoal and matches you forgot. You could spend the best hours of your picnic scraping something…unclassified…from the shared grill your picturesque park promised would be clean. Or you could skip all that and grab Chomps Original Flavor Beef Sticks. They provide all the flavor you desire from picnic grilling, and they're made from healthy non-GMO 100% grass-fed beef (from New Zealand no less). Unlike other jerkies, these paleo-friendly sticks don't contain nitrates, nitrites, or antibiotics. And they never require grills, meat thermometers, or condiments; you can get them ready by popping open a neat little package.
Diabolo Dragon Fruit Plum French Soda
Heat up your summer picnic with a beverage worthy of everyone's favorite Game of Thrones player, the Mother of Dragons. Okay, so maybe Diabolo's Dragon Fruit Plum French Soda doesn't really have anything to do with dragons, but it's certainly a soda fit for a queen. Each can contains a lightly sparkling symphony of dragon fruit and Satsuma plum flavors and provides almost all the vitamin B12 you need in a day.
Hi I'm SkinnyTM Sweet Onion Quinoa Sticks
Hi I'm SkinnyTM Sweet Onion Quinoa Sticks look a little like french fries, and taste equally delicious, but that's pretty much where the similarities end. These crispy delicacies are made from superfoods quinoa and chia seeds. They deliver 12 grams of whole grains per serving…and they're vegan, gluten-free, and non-GMO. They'll bring a craveable crunch to your summer picnic festivities, and 30 sticks (that's 30 satisfying crunches) will set you back only 140 calories, so you won't feel an ounce of guilt. So sit back, relax, and enjoy some oniony goodness. Oh, and these sticks are light in weight and calories, which means they leave plenty of room in your stomach for a healthy dessert.
Hubs Home Cooked Salted Virginia Peanuts
No matter where our snacking adventures take us, we always come back to good old peanuts…and Hubs Home Cooked Salted Virginia Peanuts set the gold standard to which all other peanuts aspire. Hubs uses the finest Virginia peanuts and cooks them in the style pioneered in 1954 by the company's founder, Dot Hubbard. These premium legumes provide more than amazing flavor; they're filled with folate, niacin, and phytosterol beta-sitosterol, a compound that might fight cancer.
As an added bonus, Hubs packs their peanuts in an adorable vintage-style tin that will look too cute on any picnic table or blanket.
Inko's Hint' O'Mint Tea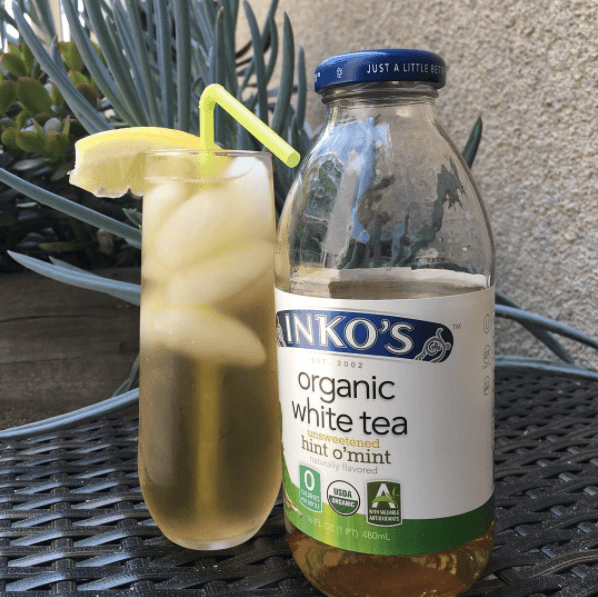 If you're planning a picnic on a hot summer day, then take a page from the crew in The Great Gatsby and cool off with some refreshing minty beverages. Inko's Hint' O'Mint Tea has far fewer calories than a mint julep, doesn't required any muddling, and won't impair your ability to drive even a tricky vintage roadster. Inko's refreshing concoction features a blend of premium white teas, a zip of ginger extract, and just the right dose of tingly, exhilarating mint. We dare say you might even feel criminal when you peek at the nutrition label and find out you're dodging the clutches of both sugar and calories while enjoying some seriously bold flavor.
Julie's Real Cinnamon Vanilla Bean Grain-Free Granola
This granola makes the perfect provision if your picnic spot (maybe in a secluded woodland Xanadu) requires a bit of hiking. A handful of Julie's Real Cinnamon Vanilla Bean Grain-Free Granola will give you all the energy you need for your trek, and it's so delicious, the idea of eating the rest of it when you arrive at your destination will make the time fly.
As consumers, we have nearly endless choices when it comes to our granola. But one bite of Julie's Real will turn any snacker into a loyal customer. They use real vanilla beans (yes, real beans and not extract), organic honey, and coconut oil to create granola that treats your taste buds as well as your body.
This delicious granola is, in our opinion, a bargain at any price, but Julie decided to sweeten the deal exclusively for readers of this blog. Save 10% on a 12-pack of grain-free granola by entering the coupon code "snacknation17" at checkout when you order from their site. 
RXBAR Mixed Berry
If your picnic plans include any kids (even big kids, if you know what we mean), then these colorfully wrapped, nutritious treats will save the day. There's an RXBAR for pretty much every need, and the RXBAR Mixed Berry does not disappoint. This snack has a colorful wrapper like any old candy bar, but it's stuffed with good stuff to give both kids and adults a dose of long-term energy…not just a jolt of sugar.
The bars contain egg whites, dates, nuts, strawberries, raspberries, and blueberries, ingredients that create a bold flavor that laughs in the face of added sugar. Any stomach, young or old, will be satisfied by each bar's seven grams of protein.
We have a feeling these snacks will turn you into an absolute picnic pro. All you need now is the perfect basket and a kitschy gingham tablecloth…