In a world of push notifications, emails, texts and phone calls, a camping trip can do wonders to help you disconnect. From hiking to spending quality time with friends and family, a single camping trip can be the perfect mind and body reset to help you feel relaxed, refreshed and recharged. But a health-boosting camping trip goes far beyond the planned activities – what you eat matters too! In this article, we're sharing our favorite camping tips, recipes and healthy camping snacks to help you come back from your outdoor adventure feeling better than ever.
Want to become a better professional in just 5 minutes?
5 Science-Backed Benefits of Camping
1. Camping May Aid In Preventing Cancer
Spending time in the great outdoors – forests, specifically – may stimulate the production of anti-cancer proteins. A study conducted in Japan took a look at those who practice "Shinrinyoku" or forest bathing and found that those who enjoyed a short, leisurely trip to the forest experienced a boost in cancer-fighting proteins that lasted more than 30 days after the trip!
2. Camping Can Reverse Mental Fatigue
If you've ever felt overwhelmed and exhausted just by looking at your to-do list, you may have experienced mental fatigue. Instead of overworking your mind in an attempt to power through, turn to nature for a boost! Studies show that looking at natural beauty can evoke feelings of awe, giving you the mental boost and rejuvenation you need to get inspired.
3. Camping Helps Lower Blood Pressure
If just looking at a beautiful nature scene has been proven to help calm and relax, it's no wonder that the real thing is even more effective! Studies show that breathing in the fresh air and taking in nature can reduce stress by more than 15% and lower blood pressure by just over 2%.
4. Camping Can Improve Short Term Memory
Surprisingly enough, getting lost in the beauty of nature can actually help you recall more. In one University of Michigan study, students were given the same memory test before splitting off into two groups. One took a walk through a leafy arboretum, the other down a city street. When they came back to retake the test, those who strolled among the trees did almost 20% better than they had the first time!
5. Camping May Boost Creativity
The beauty of nature has been the inspiration behind landscape portraits for centuries, and for good reason! Spending time in nature has been proven to boost creativity by up to 50% according to a recent study. Who knows? A leisurely camping trip may have you coming back with new creative ideas that you can show off at work or implement at home.
3 Essential Camping Cooking Tips
How you prep for cooking outdoors may vary based on the dishes you expect to make, what amenities are available at your campsite and how long you expect to be camping. No matter what your outdoor cooking adventure has in store, here are some helpful tips for any camping chef.
Save Space with Meal Prep
Chances are you've already planned which meals and ingredients you need. Take it one step further and measure out ingredients ahead of time and pack items for each meal together. This not only keeps ingredients organized and easy to grab, but also saves precious space.
Stay Efficient with Multi-Use Cookware
As you meal prep, determine what pots and pans you will need to prepare your dishes. If one of your meals requires cookware that will sit there the rest of the trip, consider swapping the recipe for something simpler and equally delicious. We recommend cast-iron skillets and dutch ovens for their versatility and durability.
Be Prepared with Grab-and-Go Options
On days when adventures end up taking longer than expected, and you find yourself back at the campsite later in the day, don't keep everyone hungry with meals that require a lot of cooking time. Keep pre-packaged snacks on hand that are made with real, delicious ingredients so you can fuel up fast. 
Grab-and-Go Healthy Camping Snacks
Save time and energy with grab-and-go no cook camping snacks that are perfectly portioned and made with delicious, clean ingredients that keep you fueled for any adventure! These four snacks are classic campfire favorites made healthier. Plus, they're SnackNation-approved for their real ingredients and no added chemicals.
Dried fruit is a delicious, naturally sweet & healthy snack that's perfect for any camping trip. It's easy to stash in any daypack and there's no mess involved. RIND's fruit snacks are no exception, and their Tropical Blend combines delicious flavors like bittersweet orange, pineapple and tangy kiwi! Did you know that a fruit's peel is the most nutritious part? RIND keeps the peel on their dried fruit snacks making them high in fiber, antioxidants and Vitamin C.
Why we love it: A sweet, sun-dried fruit snack with nothing added. By keeping the peel, RIND helps eliminate food waste and boost nutrition!
Chips are a tempting camping snack staple since they're easy to share around the campfire and can be enjoyed as a snack or garnish fireside dishes. Swap typical potato chips for a better-for-you option that's bursting with flavor with Beanfields bean chips! They're loaded with more fiber and protein than your typical snack and their Pico de Gallo and Nacho flavors are bursting with flavor. Plus, they're gluten-free, non-GMO and vegan.
Why we love it: Beanfields makes it easy to satisfy chip cravings with a better-for-you option full of flavor and added nutritional benefits.
Jerky is a tried and true camping snack because it's small enough to fit in any camping bag, it's shelf-stable and it's the perfect fuel after an action-packed day. While most jerkies are made with pork and beef, Old Wisconsin Turkey Sticks are just as high in protein without the extra calories and fat. Plus, they're gluten-free with no MSG.
Why we love it: Old Wisconsin Turkey Sticks are a unique, high-protein snack with real ingredients and fewer calories than traditional beef and pork jerky.
Oatmeal is a perfect breakfast before any day of hiking but between warming the water and washing your dishes the prep time can add up. Munk Pack's Acai Flax Oatmeal Squeeze packs all of the hearty benefits of oatmeal into an easy BPA-free pouch that's easy to toss. Plus, they add antioxidant-rich acai berry and flax seeds for added fiber and omega-3s. Whole grain, gluten-free and vegan, it's perfect for those that can't wait to get on the trail.
Why we love it: Munk Pack Acai Flax Oatmeal Squeeze lets you skip the extra work and still get a delicious, fiber-rich oatmeal breakfast with added antioxidants and all-natural ingredients.
Most-Loved Camping Recipes
Your campsite may not have the same luxuries as a fully-stocked kitchen, but that doesn't mean you have to sacrifice flavor when cooking! Make-ahead snacks, tin-foil recipes and a cast-iron skillet can be your best friends when it comes to making high-quality camping cuisine. Here are some of our favorite recipes for each:
 Make-Ahead Bars
3-Ingredient Cereal Bars
These cereal bars by The Big Man's World are vegan, gluten-free and oil-free! Simply combine your favorite cereal or granola, your preferred nut butter and a better-for-you sweetener like organic maple syrup or brown rice syrup for a sweet, chewy treat that can easily be stored in your daypack. After a long hike, the healthy monounsaturated fats from the nut butter and satisfying cereal grains provide the perfect pick-me-up that keeps you going.
Superfood Granola Bars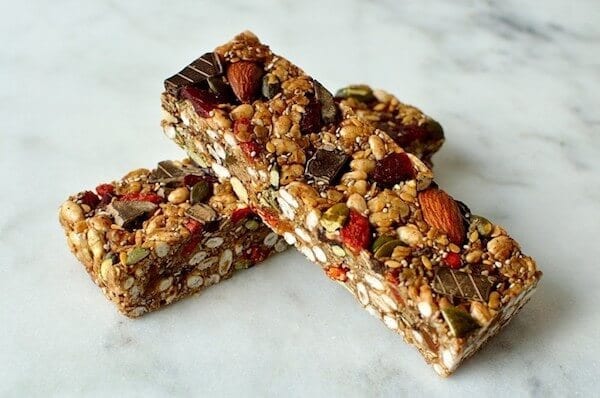 Harness the power of superfoods ahead of time! These make-ahead bars by Domestic Gothess combines power-packed ingredients like chia seeds, goji berries and coconut oil for a bar that's vegan, dairy-free and loaded with clean-ingredient protein. Whip them up in 30 minutes and add a little dark chocolate for some well-deserved decadence.
Allergy-friendly Sunbutter Bars
Another favorite from The Big Man's World, these Sunbutter Granola Bars are the perfect energy-boosting snack, even for those allergic to nuts. It's made with sunflower seed butter, a great source of protein and Vitamin E, and shredded coconut for a hint of sweetness. All you need is one bowl and 10 minutes to whip up these delicious, allergy-friendly bars.
Tin Foil Recipes
Salmon and Potato Packets
Did you know that salmon is one of the best sources of omega-3 fatty acids? This beginner-friendly recipe from Averie Cooks combines all the health benefits of salmon with warm, hearty potatoes for a delicious, healthy campfire meal. With only 5 minutes of prep time, it's the perfect quick-and-easy recipe after a long day of adventures.
Sweet Potato Taco Packets
This Sweet Potato Taco Foil Packet recipe from Mel's Kitchen Cafe is easily adaptable for vegetarian campers. Simply omit the ground turkey and you have a no-mess foil packet loaded with spinach, sweet potato and flavorful taco seasoning!
Chicken Fajita Packets
Spice up your campfire dinner with this Chicken Fajita Foil Packet recipe from Real Housemoms! With less than 10 ingredients and just 30 minutes of prep time, this simple chicken and veggie recipe still delivers tons of flavor thanks to the homemade mixture of spices.
Cast Iron Recipes
Sweet Potato, Kale and Shrimp Skillet
You don't need to bring the whole kitchen to make this delicious sweet potato, kale and shrimp skillet recipe by Primavera Kitchen. It calls for just 4 ingredients and it's gluten-free, low-carb and paleo!
Fiery Campfire Veggies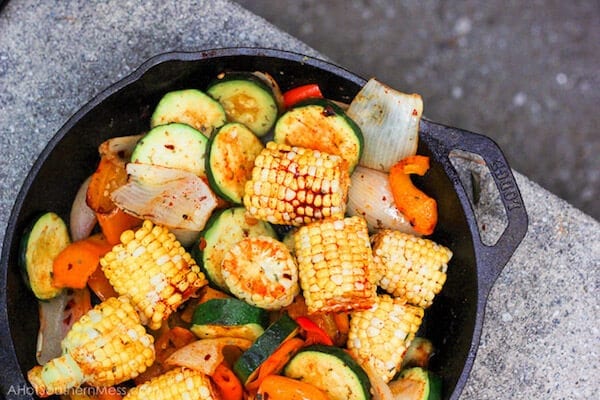 Bring the heat with this roasted vegetable recipe from Bless Her Heart Y'all. This recipe combines fresh, nutrient-rich veggies with spicy sriracha and red pepper flakes for a spicy, flavorful side dish that's bound to keep campers warm.
Peach Honey Pizza
Freshly-baked pizza and the great outdoors make for a winning combo thanks to this Peach Honey Pizza recipe from Little Family Adventure. It combines fresh peaches rich in Vitamin-A, sweet manuka honey and greek yogurt for a sweet, guilt-free spin on a savory classic.
3 More Ways to Enjoy the Outdoors
If you've never gone camping or feel overwhelmed by the idea of taking time to get away, there are still ways you can enjoy the great outdoors! Start with small steps that help you reap the benefits of nature and work up to a full-on outdoors adventure.
This Week: Go For a Walk
You don't need an entire camping trip to reap all of the science-backed benefits of the great outdoors. Even a quick afternoon walk is enough to feel a quick mood boost! One study found that participants who took an afternoon walk during their lunch break were immediately more enthusiastic, less tense, and generally more relaxed than the days they didn't take a stroll. Block time for a solo walking break if you're looking to disconnect, or plan a walking meeting with a colleague or friend and share the rewards! If you're feeling the need for fresh air, chances are your deskmate is too.
This Month: Plan a Group Hike
What's more fun than exploring nature? Doing so with friends! Plan a day filled with fresh air, stunning views and light exercise with none other than your favorite pals. And finding the perfect trail? Easy! Search for popular trails in the area or use an app like AllTrails to plan your daytrip adventure. You can even browse by difficulty level or distance for a hike that's perfect for novice hikers and experts alike. Don't forget to pack water, sunscreen and your favorite better-for-you snacks to stay fueled all day long!
This Year: Go on a Nature-Fueled Vacation
If you're not quite ready to plan a camping trip but still want to appreciate nature, opt for something less rugged! Plenty of national parks, forests and nature destinations are well-populated with lodging, from high-end hotels to rustic cottages. Fill your day with activities like hiking or kayaking that allow you to fully disconnect and take in the surroundings, and rest easy knowing you have a comfortable room to come back to.
So where will go on your next adventure? No matter where you find yourself in the great outdoors, be sure to stay fueled and hydrated with delicious, clean ingredient snacks.