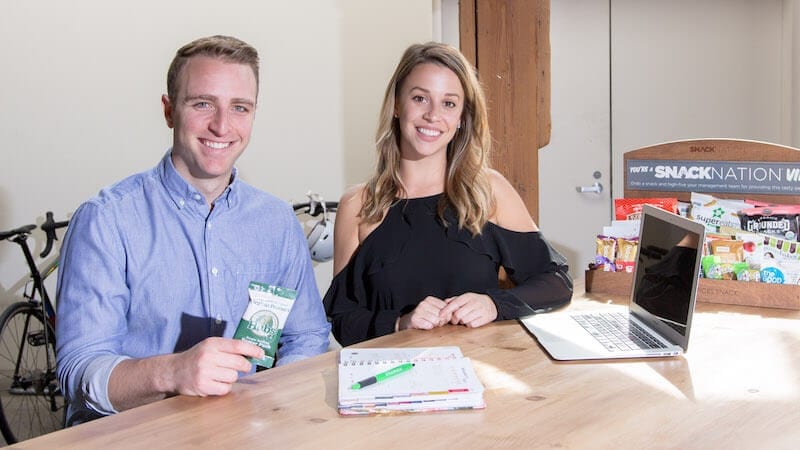 Forget everything you thought you knew about packaged snacks…
Get Your Free Healthy Snack Recipes Downloadable
Sugary cookies, fattening potato chips, and salt-bomb beef sticks are not the only items that come wrapped for your convenience. There are plenty of healthy packaged snacks out there, too!
Companies, both new and old, are pulling out all the stops to bring you convenience, flavor, and nutrition in ridiculously handy packages. Snack your way through this list of healthy packaged snacks to feel good all day, every day.
Want to become a better professional in just 5 minutes?
Page Contents (Click To Jump)
1. 40% Off Healthy Packaged Snacks
Do you want healthy packaged snacks shipped to you every month? For a limited time you can get 40% off your first Love With Food Deluxe Snack Box! Plus – for every box you purchase they'll donate a meal to a local food bank on your behalf. Get 40% OFF your first box here!
Deluxe Snack Box Unboxing Video:
2. Nothing But The Fruit – Real Pressed Fruit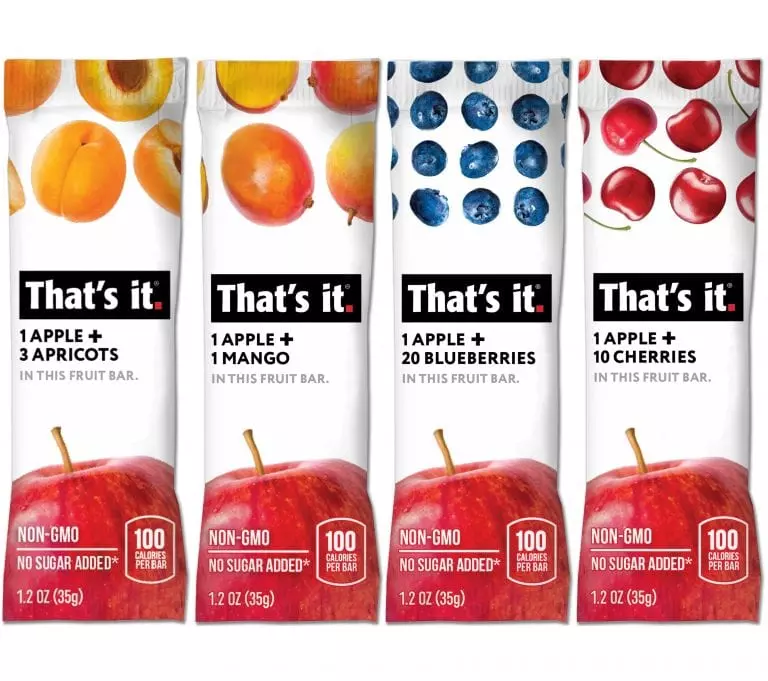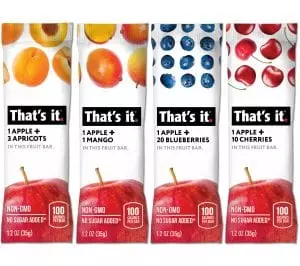 You can probably guess what's inside these healthy packaged snacks—nothing but fruit that's pureed into two fruit servings in a delicious, chewy bar. That's it.
These fruit bars are so much healthier than other bar options, made without added sugar or other weird stuff. These snacks are also naturally vegan and gluten-free.
 Get Your Free Healthy Snack Recipes Downloadable
3. Stacey & Mom Lotus Root Chips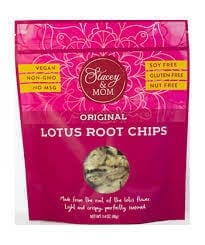 These healthy packaged snacks deliver lotus root in chip form, providing you with a rare and nutritious treat as well as the chance to try the nutrient-dense lotus root, which you might be hard-pressed to find anywhere else.
These powerhouse vegan chips are free of genetically modified organisms (GMOs), nuts, soy, gluten, and monosodium glutamate (MSG). They provide 7% of your recommended daily value of fiber and 15% of your recommended daily value of iron.
4. Krave Black Cherry Barbecue Pork Jerky
Krave is revolutionizing the world of packaged meat snacks. Their Black Cherry Barbecue Pork Jerky sounds like something you would find at a high-end smokehouse, and it tastes just as good as you would expect.
In addition to good taste, this jerky is actually good for you. It's made of pure and simple ingredients and has no strange additives. One serving has only 80 calories.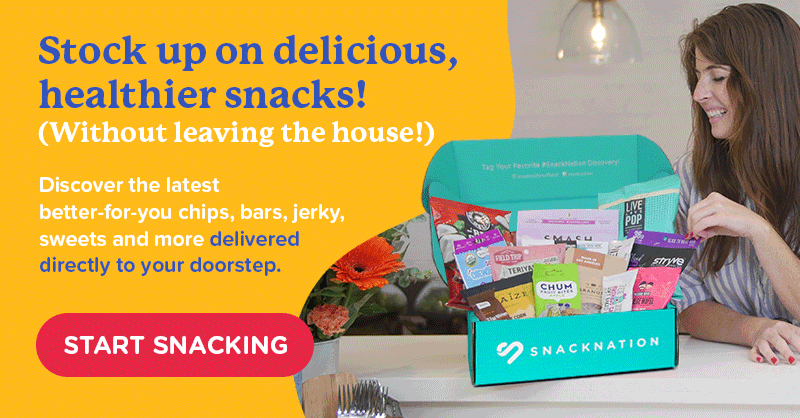 5. GoMacro Everlasting Joy Bar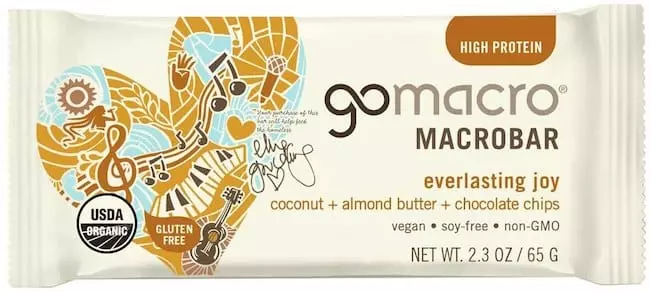 This healthy snack bar provides all the childlike joy of a candy bar in a better-for-you package.
It features coconut, almond butter, chocolate chips, and pea protein, and it gives you 12% of your recommended daily value of fiber and 20% of your recommended daily value of protein. The bar is also vegan, non-GMO, and free of soy.
6. Rhythm Superfoods Kale Chips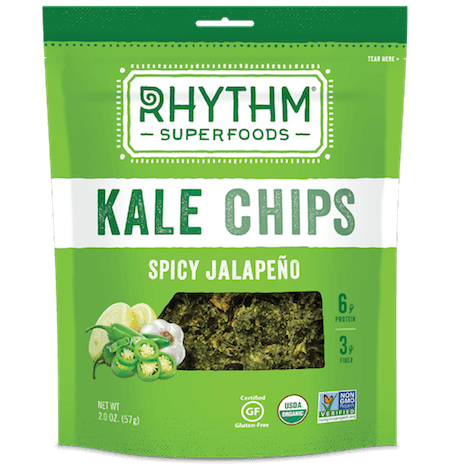 Pass on those greasy potato chips and go for kale chips instead!
Rhythm Superfoods makes it easy by providing healthy packaged kale snacks in lots of cravable flavors, including ranch, honey mustard, and zesty nacho. The chips are dried instead of fried, making them low in fat and high in nutrients, including vitamin A, vitamin C, and iron.
Get Your Free Healthy Snack Recipes Downloadable
7. Matt's Munchies Fruit Snacks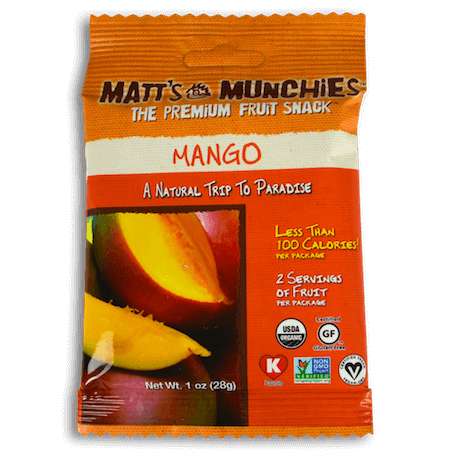 The founder of Matt's Munchies invented his fruit snacks to fulfill a dream of finding the perfect snack for a healthy lifestyle.
Matt's Munchies fruit snacks steer clear of anything artificial, a simple truth you'll be able to taste in any of the delicious fruit flavors they sell. The snacks are also naturally vegan and USDA-certified organic.
8. Beanfields Nacho Bean and Rice Chips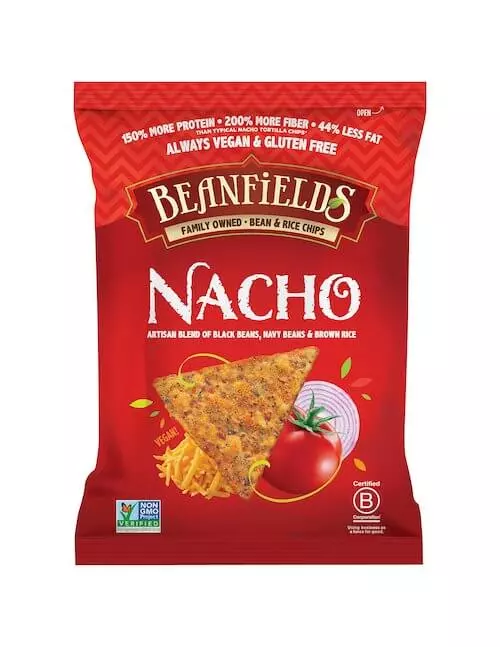 We're so glad Beanfields started packing wholesome beany goodness into tasty chips filled with good things, including fiber, protein, and iron.
There's no corn in these chips, a rare and pleasant feature to discover in a packaged snack. Munch on these chips alone or with your favorite salsa for a feel-good snack with enough good stuff to fuel your day.
9. Pirate's Booty Veggie Snacks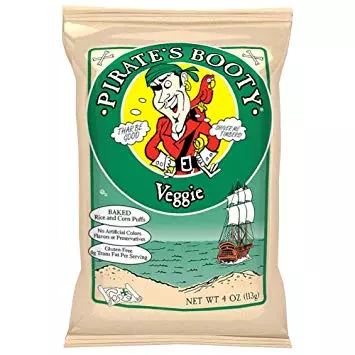 Your favorite corn puffs collide with veggies in Pirate's Booty Veggie Snacks. These tasty puffs are non-GMO Project Verified.
They're free of artificial colors, flavors, preservatives, and gluten, and one serving has only 130 calories.
 Get Your Free Healthy Snack Recipes Downloadable
10. Seven Sundays Muesli Cereal
Seven Sundays packs all the nutrient-rich goodness of muesli, a beloved Swiss mix of grains, nuts, and fruits, into a pretty package for our healthy snacking enjoyment.
The muesli contains no gluten or refined sugar, and is made of 100% whole grains. Pour yourself a bowl and enjoy the delicious taste any time you need a healthy dose of fiber and energy.
11. Skinny Pop Naturally Sweet Popcorn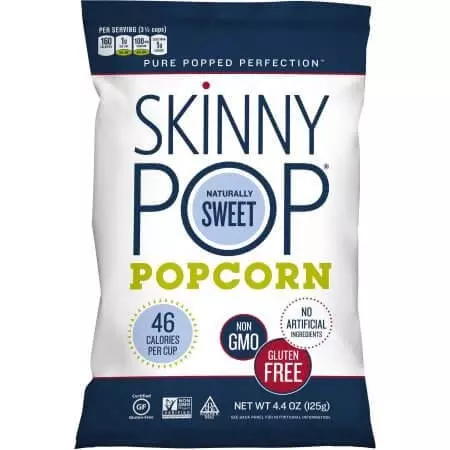 Light and filled with fiber, popcorn makes a great healthy snack. Skinny Pop offers pre-popped, packaged corn that tastes as fresh as any homemade variety.
Their Naturally Sweet flavor has just a kiss of sugar to bring out the natural sweetness of the corn and satisfy any cravings you might have for sweeter, less healthy snacks, like cakes and cookies.
This delectable popcorn has less than one gram of total sugar per serving.
 Get Your Free Healthy Snack Recipes Downloadable
12. Off the Cobb Sweet Corn Tortilla Chips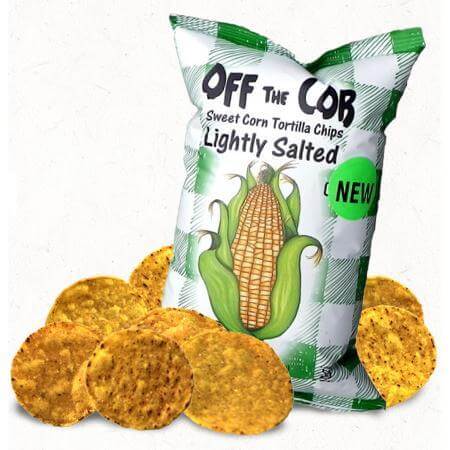 These healthy packaged tortilla chips capture all the wholesome flavors of corn on the cob.
Made with organic ground whole corn, sunflower and/or safflower oil, and sea salt, these chips have a robust sweet and salty crunch that doesn't even need any dip or salsa to count as a well-rounded snack.
Off the Cob uses only non-GMO corn to ensure each chip is filled with the finest golden grains available.
13. Unreal Dark Chocolate Crispy Gems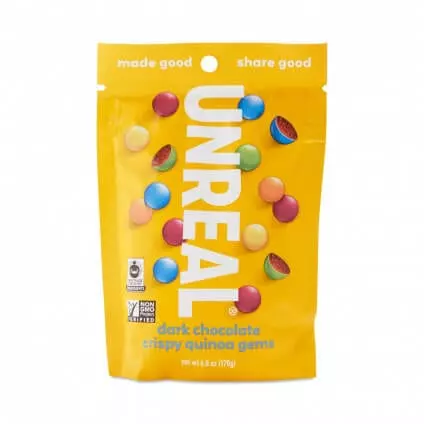 The trailblazers of the Unreal brand were inspired to make candy out of the "good stuff" when their parents refused to let them have the "bad stuff." We're so glad their parents were strict.
This brand has perfected the art of better-for-you candy. Their Dark Chocolate Crispy Gems are made from organic dark chocolate with 72% cacao, organic quinoa, carrot juice, beet juice, and lots of other good ingredients you'll recognize.
They also do their best to buy fair-trade certified ingredients whenever possible. Now that's how you make wholesome candy!
14. Go Raw Raspberry Vinaigrette Salad Snax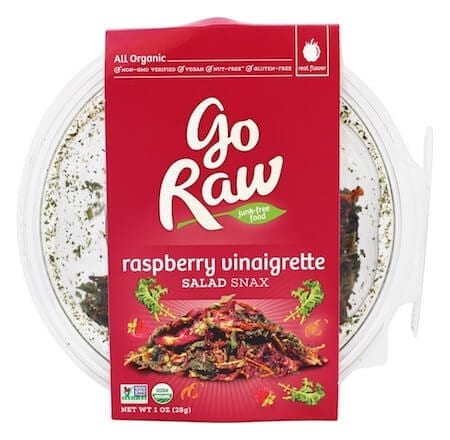 Don't you hate it when you just want a salad, but you're too busy to get one? Well good news: Go Raw Salad Snax puts all the goodness and flavor of your favorite salad at your fingertips—to enjoy in the car, on the run, at your desk, or anywhere else.
Go Raw tosses together salad ingredients, including kale, cabbage, spinach, carrots, and seasonings, and gently dries the mixture. Then they package it for your snacking pleasure.
15. Yomms Crunchy Joy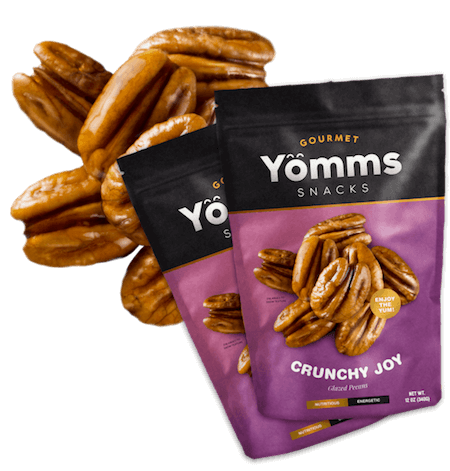 Thinly sliced and glazed, Yomms special pecans deliver pure joy and good health in one colorful package. Yomms doesn't use artificial colors or flavors in their snacks—the premium pecans they source don't need any additives to taste amazing.
 Get Your Free Healthy Snack Recipes Downloadable
16. Nature's Bandits Blueberry Apple Veggie Fruit Sticks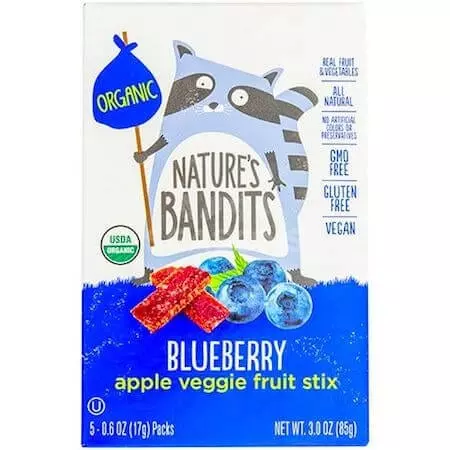 Make like a bandit and steal Mother Nature's best un-kept snacking secret—fruit! Nature's Bandits Blueberry Apple Veggie Fruit Sticks are made with the purest fruit and vegetable ingredients, including kale powder and purees of apples, blueberries, cherries, pumpkins, and carrots.
These snacks have intense fruit flavor that will satisfy your sweet tooth.
17. Hawaiian Sweet Maui Onion Rings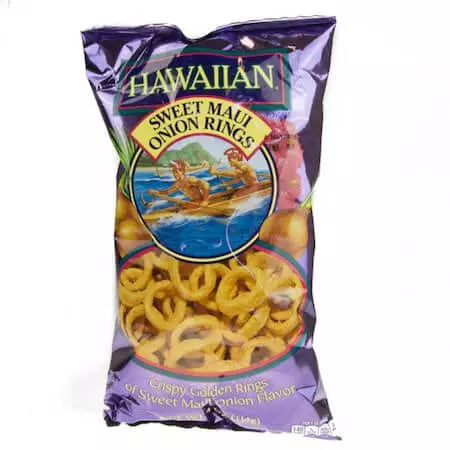 Fulfill your cravings for fatty fried onion rings with Hawaiian Sweet Maui Onion Rings, a better-for-you packaged snack made from corn, potato, wheat, and lots of drool-worthy seasonings.
One serving has 6 grams of fat, 130 calories, and enough delicious flavor to stop an entire luau in its tracks.
18. Skinny Dipped Dark Chocolate Raspberry Almonds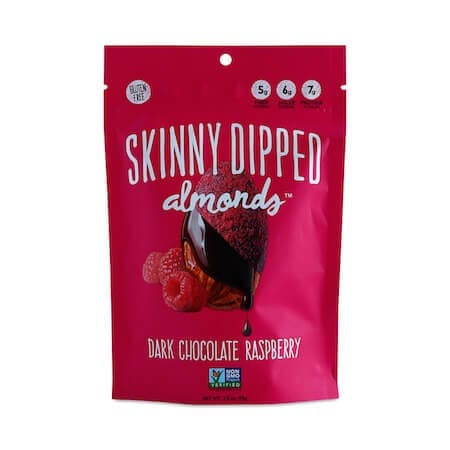 While almonds and dark chocolate are healthy enough snacks, most chocolate-covered almonds available have more chocolate than almond.
Skinny Dipped is changing that up, covering their premium almonds in a light layer of dark chocolate that compliments the nut's naturally delicious flavor instead of concealing it.
The Dark Chocolate Raspberry flavor adds a tart berry zing to the rich mix of almonds and chocolate to create one unforgettable healthy snack.
 Get Your Free Healthy Snack Recipes Downloadable
19. Made in Nature Cranberry Pistachio Figgy Pops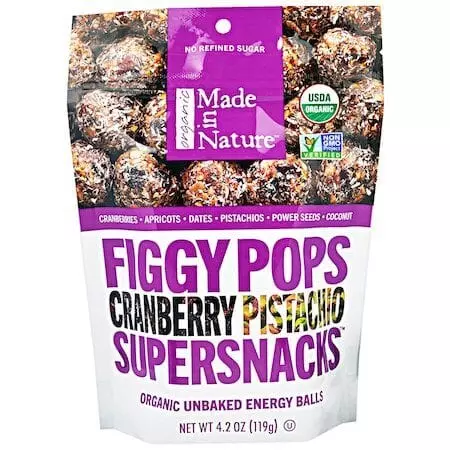 Figgy Pops are delightful balls made from figs, seeds, nuts, spices, and a variety of other fruits.
The bites are sweet and almost cakelike, but they contain absolutely no added sugar. The Cranberry Pistachio flavor brings tart cranberries and rich pistachios to the mix to create a flavor sensation even a pastry chef would drool over.
One bite and you'll want to ask, "Are you sure there's nothing bad in this?"
20. Sahale Grab & Go Korean Barbeque Almonds Glazed Mix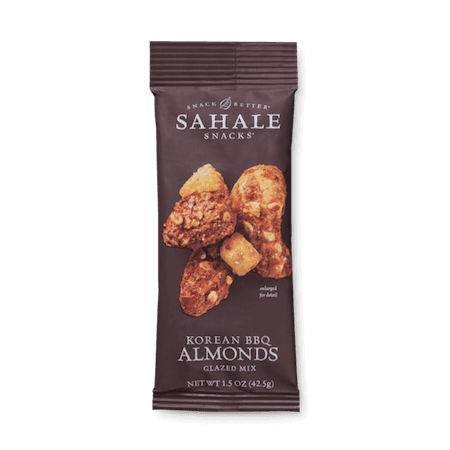 This perfectly portioned snack mix features cashews and almonds infused with the flavors of your favorite Korean barbeque sauce.
Add dried pineapple and toasted sesame seeds to the mix, and you've got all the flavors and nutrition of a complete meal in a super-convenient package.
21. Skratch Labs Ginger & Miso Anytime Energy Bar

This savory energizing bar delivers tons of stuff that's good for you and nothing extra.
It features a delicious nut-and-seed butter blend, coconut nectar, red miso, candied ginger, savory shiitake powder, and lots of other real ingredients.
The flavorful, plant-based ingredients deliver sustained energy to help you power through or finish off your day in style.
22. TERRA Original Sea Salt Vegetable Chips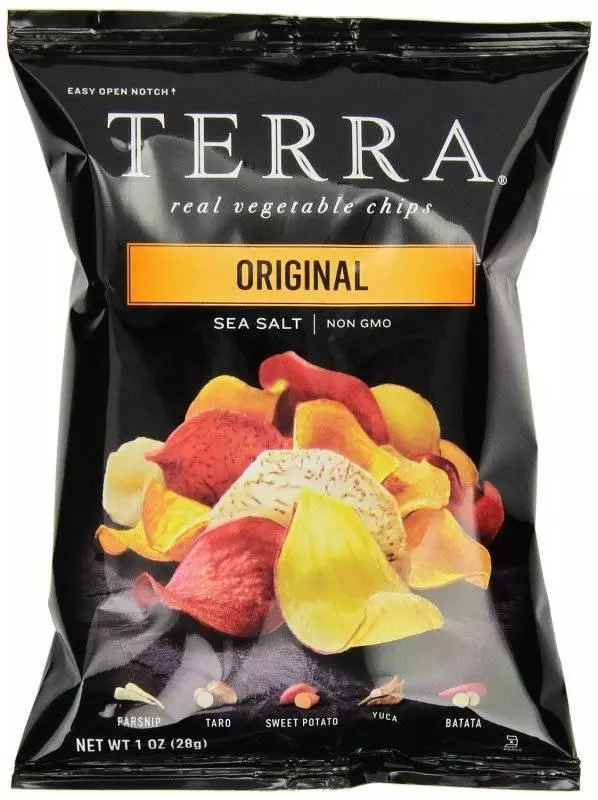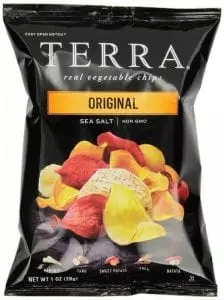 Delicious and healthy potato chips are popping up on grocery shelves, snack gift boxes, and just about anywhere you find people who love to snack.
Terra's Original Sea Salt Vegetable Chips have lots of nutritional value all with the same potato chip crunch. These delicious chips include a perfect blend of yuca, sweet potato, parsnips, taro root and batata. The chips are then lightly dusted with sea salt to enhance the wonderfully natural flavors of the vegetables.
Get Your Free Healthy Snack Recipes Downloadable
23. Grab the Gold Peanut Butter and Jelly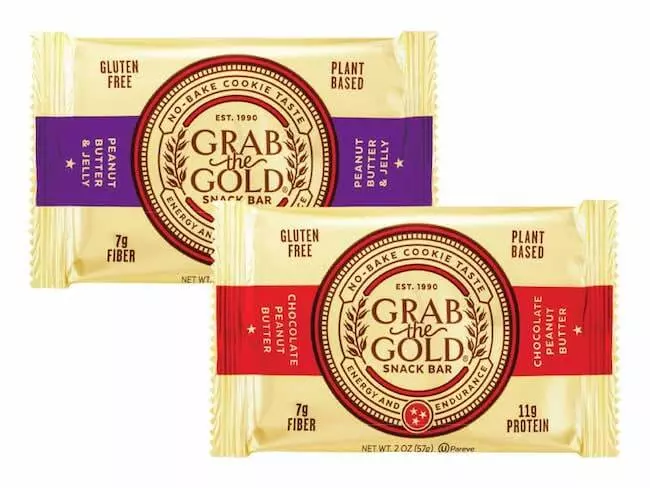 This packaged snack has all the flavor of peanut butter and jelly and all the energizing power ingredients of your favorite protein bar.
Packed with 11 grams of protein and 7 grams of fiber, the Peanut Butter and Jelly snacks are made with organic oats, rich peanut butter, non-GMO soy flour, and lots of other good stuff. Eat one anytime you need a food-based boost to carpe diem.
24. Go Organically Tropical Fruit Snacks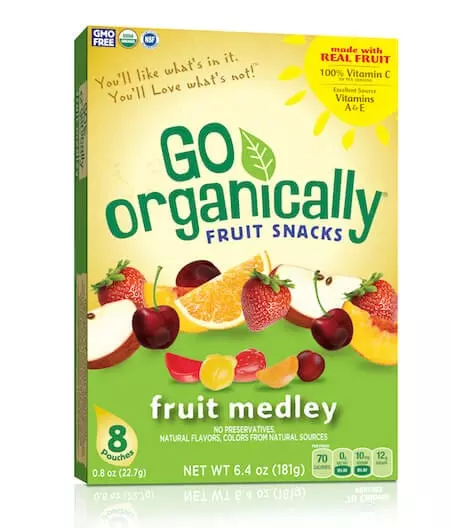 These fruit snacks are exactly as honest as they seem.
They have no preservatives or artificial colors and flavors, and they're created simply to highlight the real-fruit flavors of tangerine, strawberry, kiwi, mango, pink grapefruit, and pineapple.
One serving of these fruit-forward gems has only 70 calories.
25. Eden Foods Tamari Almonds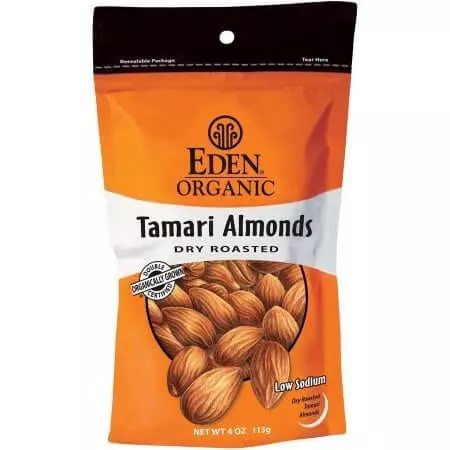 Organic tamari soy sauce boosts the flavor of already-delicious premium almonds. This packet provides the perfect portion of good-for-you almonds with unmatched savory flavor.
Despite all the salty goodness of these almonds, they're still low in sodium. Keep these pouches everywhere you need to be prepared for cravings.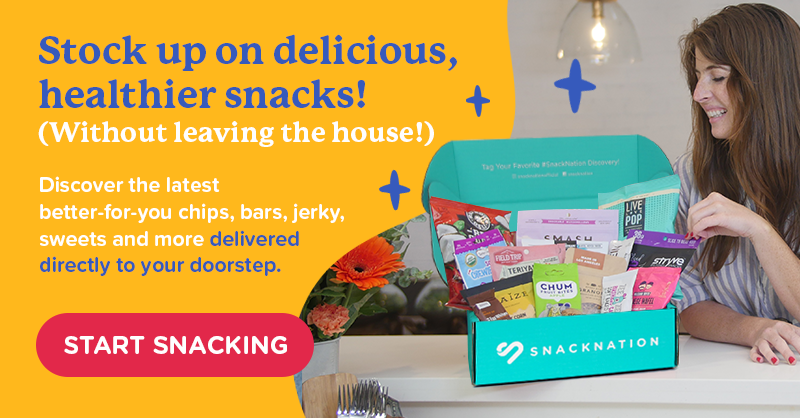 26. Turbana Plantain Chips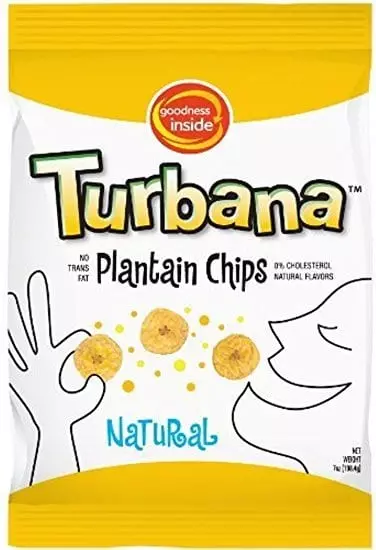 Sweet and salty plantain chips make a perfect alternative to greasy potato chips.
Plantains are naturally and deliciously sweet and nutritious. Turbana makes their chips with just-harvested plantains that are lovingly hand-peeled and prepared to make these delightful packaged snacks.
27. Taos Mountain Maple Praline Bars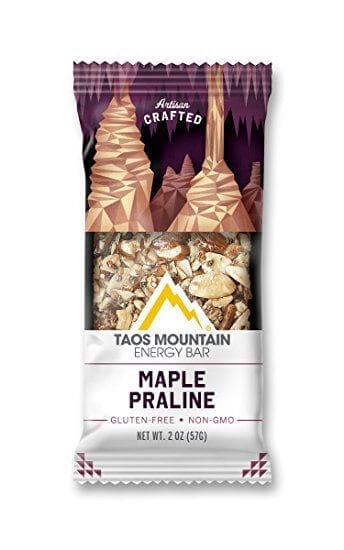 This sweet, artisan-crafted bar has more grams of protein than grams of sugar. It's made with only the best ingredients, including almonds, pecans, coconut sugar, and chia seeds.
Taos Mountain takes bars seriously, lab testing each new recipe before it hits the market. So basically, this bar is scientifically proven to be absolutely delicious.
Get Your Free Healthy Snack Recipes Downloadable
28. Living Intentions Activated Sprouted Trail Mix – Spicy Mango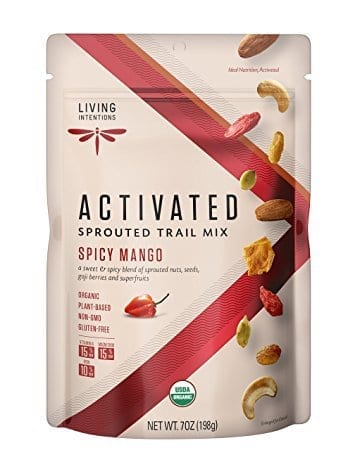 Sprouted almonds, pumpkin seeds, and sunflower seeds blend perfectly with mango, habanero, and goji berries to make this no-nonsense packaged trail mix.
Living Intentions uses sprouted nuts because of their active enzymes, which are believed to aid in digestion and boost energy. This organic mix is also packed with vitamin A, magnesium, and iron.
Tossed together in a convenient package, this mix is good for snacking both on and off the trail.
29. Manitoba Harvest Original Hemp Heart Bites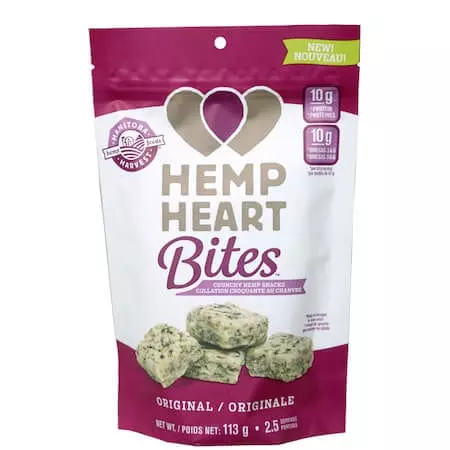 If you've been sprinkling your hemp hearts in yogurt and on salads, you might be thrilled to find out that you can eat them in super-healthy, conveniently packaged bites.
These delightful bites add a touch of vanilla, brown rice syrup, and cane sugar to superfood hemp hearts to create a bite-sized square that's easy to eat.
30. Barnana Organic Crunchy Banana Brittle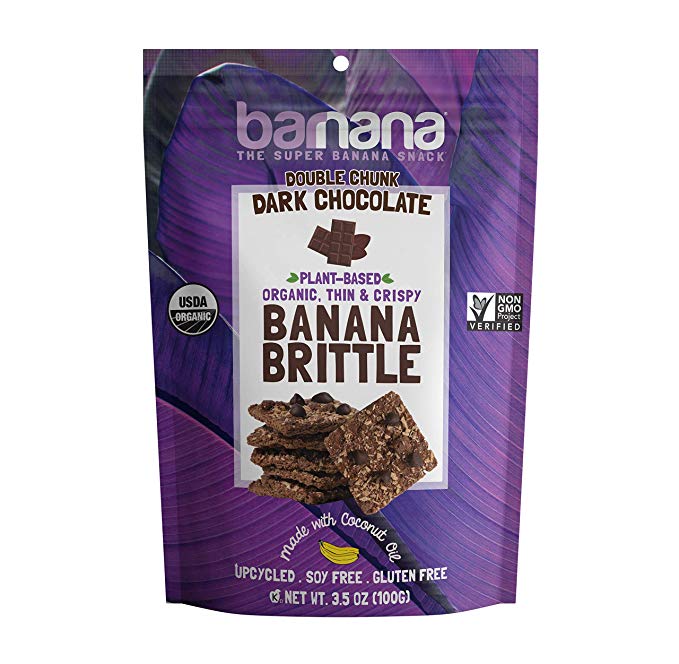 This banana brittle might taste like it came straight from the candy aisle, but it has so much more good for you stuff than any chocolate delight. Made from sustainably upcycled bananas, this brittle contains the right amount of crunch and sweetness in each bite.
Go ahead and have a one, or two, or six. You deserve it, and this one happens to be really good for you.
(PS – Don't miss out on 40% OFF your first Deluxe Box  of delicious & healthy snacks!)