Company culture means more than great happy hours, sweet company swag, and fancy perks. Company culture consists of the norms that govern behavior and decision making within your org, and is reflected in the overall vibe and personality of the company. Underpinning it all are the values that drive employees to work toward a mission.
It can be tempting for some business leaders to downplay the importance of culture in the grand scheme of things. But there's a strong business to be made for the importance of culture.
In a compelling pieces by cultural authority Great Place to Work®, the group demonstrates that companies with high-trust cultures enjoy improved business performance in key metrics. We're talking –
Above-average stock market returns
Below-average turnover rates
More innovative products and services innovations 
So how do you improve your own company culture? Imitation is one of the best ways to learn, so take some pointers from these amazing company culture examples. Find some strategies you like and figure out how to make them your own.
Want to become a better professional in just 5 minutes?
Culture summary: Treehouse builds a culture of happiness and flexibility by allowing most of their employees to work remotely
What makes it special: Employees feel connected even though they rarely see each other.
How they maintain it:
Recruiters hire for culture fit rather than location and convenience.
Everyone trains in effective meeting techniques to keep web conferences concise and valuable.
Leadership promotes trust by demonstrating trust.
Workers stay connected through messaging services, like Slack.
Culture summary: Rustic Cuff keeps employees loyal with a culture that prioritizes work-life balance.
Rustic Cuff CEO Jill Donovan tells Tulsa World:

"I want anyone on my team to look at coming to the office as their joy, not their job. I've found that when employees don't have to choose between work and home their loyalty is beyond what I could ever ask for otherwise." 
What makes it special: Rustic Cuff's nurturing culture makes employees feel special.
This Glassdoor review says it all:

"Rustic Cuff was without a doubt the best employer I have worked for in my life. The culture was outstanding and the management at all levels was excellent. There is a real emphasis placed on maintaining a healthy work-life balance, and those in charge make sure to build relationships with everyone who works there. Even in the midst of the Christmas season, by far the busiest time of the year, management still made sure that everyone was taken care of because they knew that satisfied employees make for productive employees."
How they maintain it:
They prioritize work-life balance from the top down.
Employees' daily work involves building relationships.
Culture summary: Arts Council England turns a bunch of separate offices into "one confident organization" by promoting partnerships and collaborations.
What makes it special: The unification of different regional boards made employees feel like part of something bigger than themselves or their offices—a cohesive organization that helps enrich lives through artistic experiences.
How they maintain it:
Leadership enforces a collaborative culture.
Individuals develop core competencies that support deeper partnerships.
A cross-departmental culture group works to build cultural enthusiasm throughout the company.
Real-time staff communications inform employees about cultural progress and changes.
4. New York Presbyterian Hospital
Culture summary: New York Presbyterian Hospital cultivates a culture of respect, dedication, and passion where employees know they're important to the entire organization.
What makes it special: The hospital's care for employees, who care for patients, creates its own momentum. Patients describe a level of care that they can sense when they enter the hospital.
How they maintain it:
Leadership shows appreciation that mirrors the staff's remarkable dedication to patients.
They offer enriching initiatives, including generous tuition reimbursement programs, that help employees thrive and grow in their careers.
Culture summary: Tower and Company promotes sharing and empathy through storytelling. 
What makes it special: A culture of storytelling enables deep human connections across the company.
How they maintain it:
They hold storytelling workshops as a way to connect employees.
They encourage storytelling that examines the why behind the work and makes employees proud of what they do.
Culture summary:
Sift Science's CEO and co-founder, Jason Tan, summarizes his company's culture with this philosophy:

"Life's too short not to work with people you can learn from, solve tough problems with, and have fun with."
What makes it special: Employees remember to have fun and stop sweating the small stuff.
How they maintain it:
They established a solid company purpose and make sure everyone knew about it.
They keep a sense of humor.
Everyone has fun together.
Leadership makes sure everyone feels comfortable sharing and communicating
7. Applied Predictive Technologies (APT)
Culture summary:
APT CEO, Anthony Bruce, says this about company culture:

"Building a great company culture starts with recruiting world-class talent and then fostering an environment of training, mentorship, feedback, and collaboration in which team members will quickly grow, develop and succeed. Most importantly, it requires listening to team members about opportunities for the Firm to improve and acting on their ideas. Bringing people with different perspectives and diverse backgrounds together in an inclusive environment fuels innovation, and that has been the top priority at APT since its founding."
What makes it special: Opportunities for connecting are built into the company culture, so employees connect organically and no one is left behind; camaraderie isn't reserved for the most outgoing employees.
How they maintain it:
Diversity groups (APT Pride, APT's Women's Leadership Network, and APT's Latin Network) keep the company inclusive.
Employees enjoy plenty of professional development and training opportunities.
Philanthropic contributions promote goodwill.
Employees connect through multiple collaborations and problem-solving initiatives, including outings and engineering challenges.
Culture summary: Clipper City Brewing builds a company culture to support their mission:
"To sail new brewing horizons, guided by the winds of traditions, and driven by the quest for adventure."
Their company values pursue principled innovation over following trends, and they choose to keep growth in check to maintain quality output.
What makes it special: The company's slow-growth strategy creates an environment that gives employees the breathing room to focus on excellence and creativity.
How they maintain it:
All senior managers provide input on all new projects to keep innovation flowing.
Managers constantly challenge staff to break the mold on innovation and quality
Leadership favors slow growth over rapid expansion to maintain the best-possible product.
Employees aren't afraid to eliminate plans and strategies that don't work.
Culture summary:
Heinan Landa, Optimal Networks CEO, says:

"We have intentionally created a unique culture that combines unwavering integrity, laser-focus on customer service, technical expertise, and a heavy dose of fun. The result is a highly engaged, committed, and fulfilled team."
What makes it special: The emphasis on employee recognition makes everyone on the team feel special.
In fact, one Glassdoor Review says,

"They do as much as they can to show their appreciation for their employees."
How they maintain it:
They hire with an emphasis on culture fit.
They recognize staff for innovation and integrity.
They value creativity.
Culture summary:
Alliance Solutions Group CEO, Aaron Grossman, says,


"At Alliance Solutions Group, we believe an optimized culture within a business is directly correlated with an organization's ability to attract and retain top talent. Not only that, but a healthy culture is aligned to organizational growth, too."
What makes it special: The company's family-style environment nurtures talent that sticks around and helps the company grow.
How they maintain it:
They adhere to core values that guide employees to:
Take responsibility for outcomes
Leverage others
Be givers, not takers
Choose courage over comfort
Culture summary: Budget Dumpster's culture makes the company feel like one big family.
What makes it special: Employees grow with the company and feel invested in outcomes.
How they maintain it:
Managers hire for attitude and personality.
They encourage employees to develop skills through special projects.
They prioritize work-life balance.
Employees receive ample feedback.
 Culture summary: JVC Broadcasting's culture is centered around employee growth.  
John Caracciolo, JVC Broadcasting's President and CEO, says:

"We try to take the people that come to us and give them an opportunity to grow here."  
What makes it special: Employees take ownership in the company's success and stick around to improve the business as they gain new skills.
How they maintain it:
Management makes sure employees find careers, not simply jobs, within the company. (Many employees are former interns who found plenty of room to grow and develop.)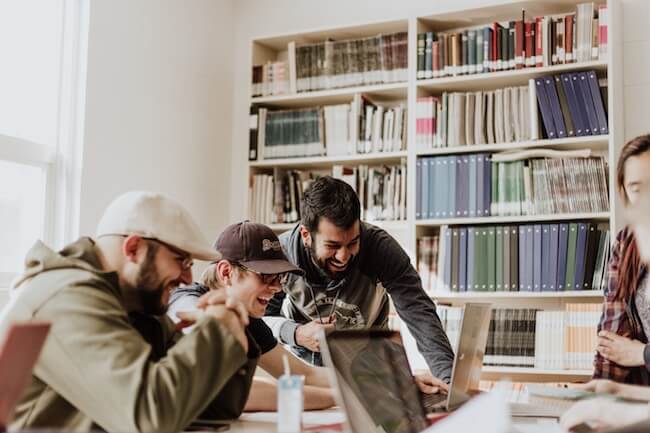 Culture summary: Premium condiment maker Sir Kensington says their real secret ingredient is their people.
The team says:

"Our secret ingredient is people. Our work is teamwork. We foster a supportive environment where our team works with a sense of purpose, potential, and play."
What makes it special: The company's vibrant, playful personality makes work meaningful and fun for employees. 
How they maintain it:
They foster employee pride in all they do.
Management maintains a patient growth strategy to preserve integrity.
Everyone focuses on building relationships.
14. AdaVolt (formerly KalpTree Energy)
Culture summary: This high-tech battery company supports a culture where a thirst for innovation overcomes the crippling fear of failure.
What makes it special: Employees enjoy downtime to help their creativity flow.
How they maintain it:
Entrepreneur says AdaVolt promotes culture by encouraging three key competencies:
Collaboration
Persistence
Results
Culture summary: HeyOrca builds a strong, people-centric culture based on a series of core values.
What makes it special: Adhering to a strong set of values keep teams cohesive, even as work demands shift.
How they maintain it:
They hire people who embody their core values, so they can count on everyone to:
Be ambitious, yet humble.
Be resourceful.
Focus on execution over perfection.
Debate and commit.
Culture summary: Medium focuses on building a sustainable company and not just a product.
Medium says:

"We're building a company, not just a product. That means we put a ton of thought into how we structure, how we interact, and how we build. Experimentation is encouraged at Medium, and we do it a lot. Sometimes we don't get things right, and that's okay too. Failure is seen as an opportunity for growth."
What makes it special: The company experiments to keep fresh ideas and energy flowing.
How they maintain it:
Internal workshops support employees' personal and professional growth.
They value diversity and inclusion.
They enforce trust and respectful communication.
Employees receive constant feedback.
Culture summary: AIM Consulting's culture focuses on passion, and the company believes relationships are the key prerequisites and indicators of success.
What makes it special:
One employee comment says it all:

"Our whole team believes in what we do, and it shows in the effort we put into our work."
How they maintain it:
They encourage passion.
Leadership makes it clear they expect innovation.
Everyone stays on the same page by focusing on customer success above all else.
They recognize and reward great work.
18. Blue Rock Energy
Culture summary: Blue Rock Energy's culture runs on employee ideas. Employees are encouraged to pursue ideas and take ownership.
What makes it special: Employees feel empowered.
How they maintain it:
Open-door policies make employees feel valued and nurtured.
Management advocates for employees.
Employees invest and connect in the community.
Culture summary: Action Environmental Group's culture involves higher stakes than most company cultures. The company collects and recycles waste using a fleet of trucks, and their culture depends on safety and reducing incidents and employee injury.
What makes it special: By building a culture of safety, the company improves morale and reduces risky behavior.
How they maintain it:
They invest in safety monitoring and training to enforce their all-encompassing core value: safety.
Culture summary: Winner of the 2017 Gold Business Culture Achievement Award, XPO Logistics cultivates a culture of trust.
What makes it special: Teams trust each other and share a sense of purpose.
How they maintain it:
The company's culture of trust is built on dedication to several core values that inspire employees to be:
Trustworthy
Responsive
United
Committed
Safety focused
Entrepreneurial
Which of these cultural practices do you plan to try out at your company? Let us know in the comments.