Unique and cool office supplies address many common workplace doldrums.
Our Favorite Cool Office Supplies And Gadgets: 
From grey walls to blandly colored carpets, a pop of color or a splash of humor can help liven up an otherwise dull office.
After all, a bad case of the Mondays can't get you down when you pull your tape out of a smiling otter tape dispenser or scope out the cool new office wall art.
So if you don't have the time, money, or energy to face a complete office remodel (or if you just want to make buying cool office stuff a little bit more fun), try investing in some unique office supplies to brighten things up instead.
From cute and quirky to funny and novelty, here's a list of 37 unique office supplies that'll liven up your office!
(Note: we've included the price of each item and will update pricing as often as possible)
Want to become a better professional in just 5 minutes?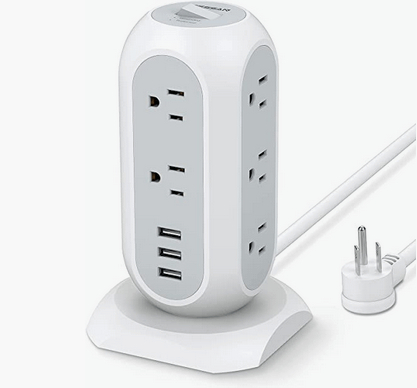 This Outlet Tower came highly recommended from The Assist (a free email newsletter for modern professionals) that proves to be a complete game changer for your work space. Whether you're at home or in the office, the Outlet Tower is a must-have for anyone who needs to keep their devices charged and ready to go.  
Price: $29.99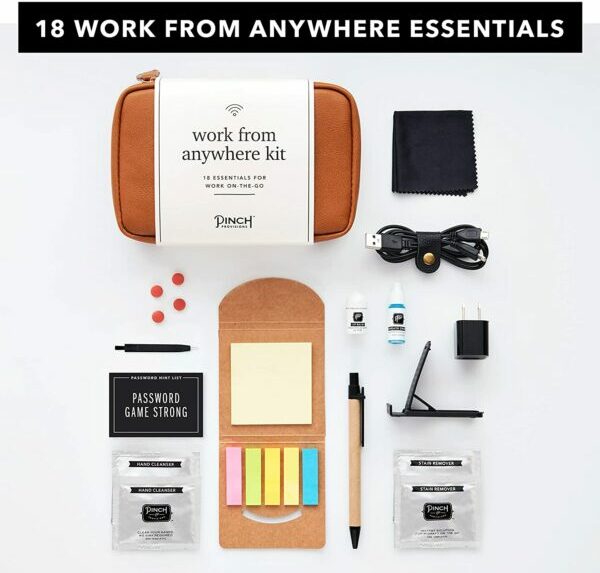 This Work from Anywhere Kit is a curation of office supply products that help you stay productive and get things done no matter where you are. Whether you're working from home or your favorite cafe, this kit will help you to work harder and smarter – wherever you are. 
Price: $35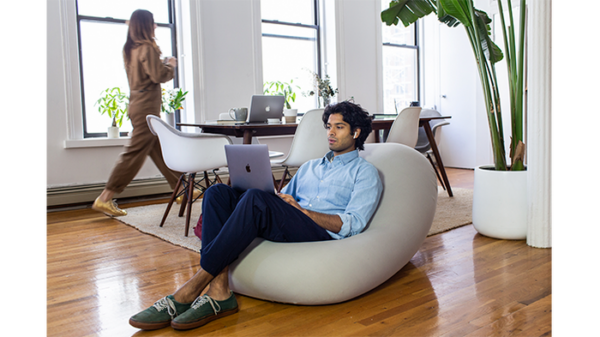 Revitalize your workforce with an office gadget that is both functional and relaxing. Melt away in the MoonPod while you send emails or Zoom calls with the team. There is no better way to work in the modern workplace.
Zen might just be the most valuable office resource you could ask for. This customizable set cultivates calm with geometric zen designs you get to color in.
Just look at this little critter: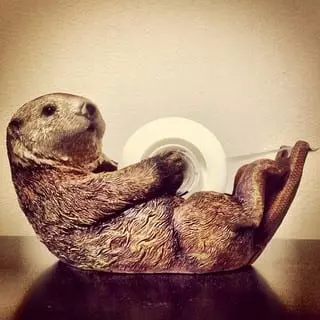 Here's what one person had to say after they bought their otter tape dispenser:
If you're frantically tossing a presentation together for an emergency meeting and feeling just a little frantic, this little guy should put things in perspective.
Price: $15.79
6. Remote-controlled vehicles
Tired of emails? Clip your memos onto an RC vehicle for an epic delivery to Dave down the hall. You could even take a cue from these McClaren employees and host a Friday afternoon grand prix made from an office-supply track.
Prices Vary
7. Healthy Snacks
Think snacks don't qualify as a supply you need for your office? A recent survey found that while only 16% of offices offer free snacks for their employees, 67% of employees with access to free food reported being "very" or "extremely" happy with their current job.
How many post-it notes have you met that can make employees happy, healthier, and more productive?
Since we know healthy snacks supply your office with a lot of joy, we put them on this list.
8. Pens that nobody will want to borrow
Don't you love it when you let your coworkers borrow your pens only to realize that you have none left?
These pens by PaperJunkie promote some hilariously named businesses: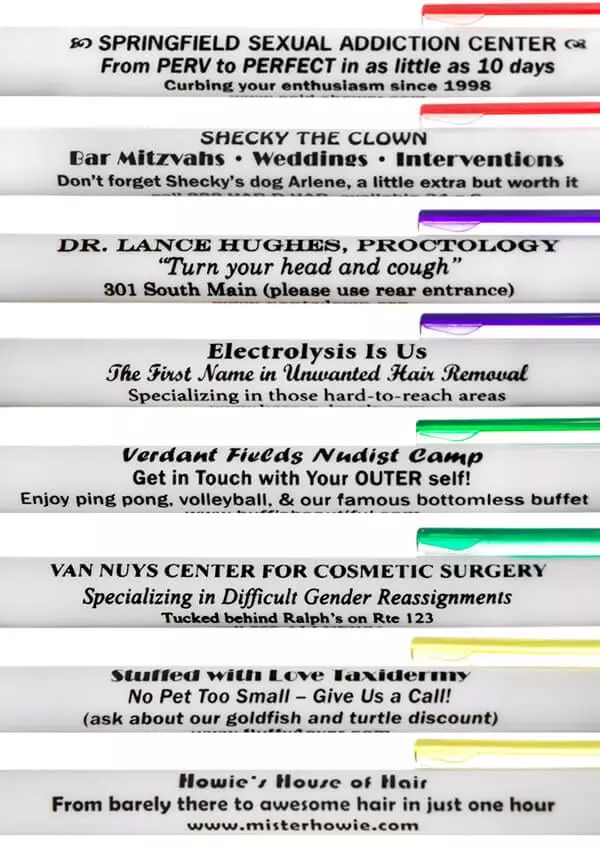 They're guaranteed to provide a couple of laughs and make you the least popular person from whom to borrow pens.
Price: $6.99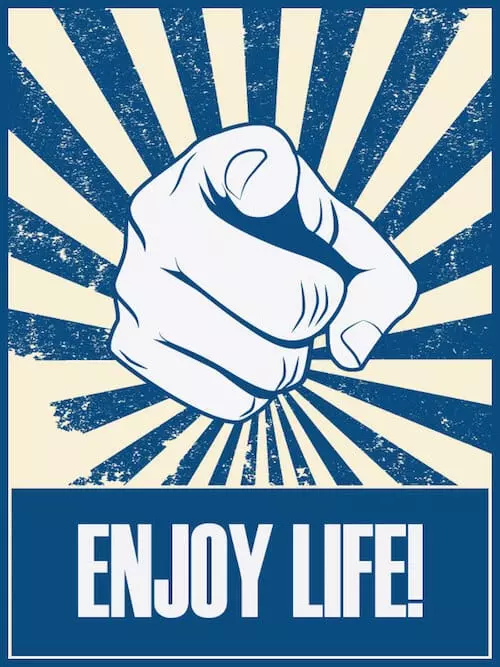 Motivational posters for the workplace can be a great idea. You could take the funny route or check out Brit + Co's list of 21 motivational posters you'll actually want in your office for some great options.
10. An extra hand
Featured on this blogger's favorite things list, sometimes you just need an extra hand on your desk to help hold your other supplies on your desk: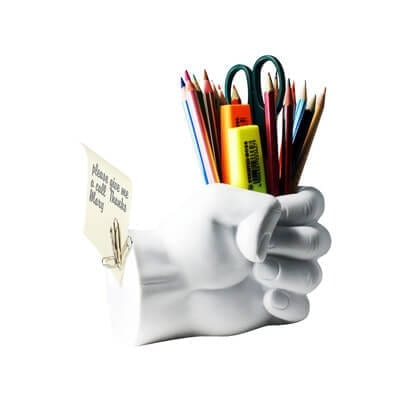 If disembodied hands freak you out, any pencil holder can do the same job.
This handy set comes loaded with supplies (including a note pad and a pen cup) and offers an elegant style. The marble design elevates the aesthetic of any office space, and as if that weren't enough, you can get Swag.com to print a custom design on the supplies.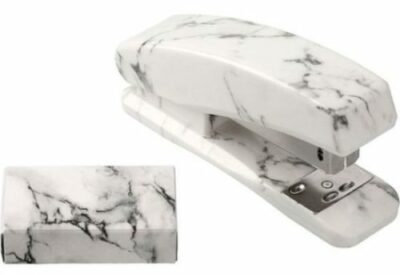 Price: $13.27 and up 
12. DIY zen gardens
Take an afternoon to have a DIY zen garden workshop for your employees. Tons of bloggers have easy instructions for personalized zen gardens—like this colorful one from Dream a Little Bigger:
Price: ~$20
13. Awesome wall calendars
If you work in an office, knowing the date is usually a good idea. You need to date your documents, countdown to vacation, and keep track of the next holiday on the horizon.
But if you work in an office, you also know how hard it can be to keep track of the date. Here are some DIY wall calendar ideas that will make life just a little easier.
Prices Vary
14. Peel and stick googly eyes
Just wait until Bill walks into his office and finds his computer staring at him—then you'll see why peel and stick googly eyes make it onto this list!
Since we're human, we frequently assign human attributes to inanimate objects…it just feels good! Why not give that natural tendency a helping hand? This site has the perfect sticker packs for a completely silly face.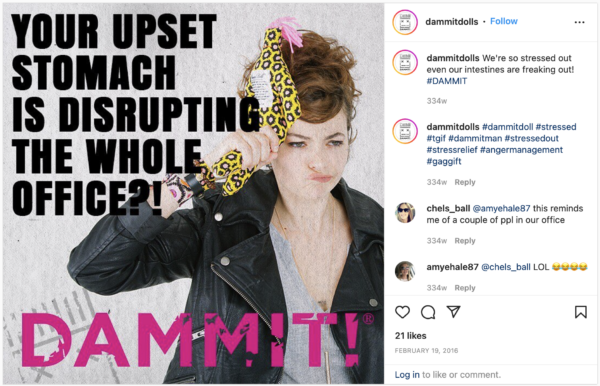 Have you ever felt so frustrated at work that you wanted to just throw something against the wall? Of course not, neither have we…
In case you do ever fall victim to that type of frustration, a better outlet might be the Dammit Doll. Grab one of these dolls, and hurl it around to relieve workplace stress. Hey, that's what they're made for!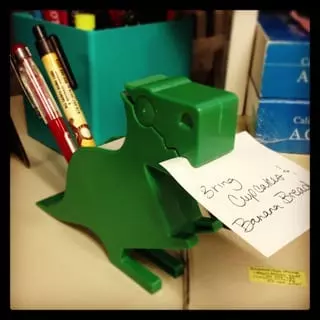 5 stars and 290 reviews (at the time of this writing) makes the dinosaur desk organizer a must-have office supply.
Price: $12.99
Bonus: Emoji stickers
Help your team express themselves with our most beloved universal communications symbol – emoji stickers.
Price: $12.00
17. Tomato timers
This handy little tool typically found in a kitchen can help you transform that boring little task you've been dreading into a game.
Can you finish up before the timer rings?
It could also provide a fun way to make good on your resolution to practice the Pomodoro technique once and for all.
Price: $3.59
18. A solar-powered rainbow maker
A rainbow is one fail-proof way to make the dreariest office more fun. People sing about them, chase them, taste them, and more. To summarize, they make people happy.
Check out the solar-powered rainbow maker here.
Price: $31.99
19. A posture monitor
Our friends over at Lumo created a device called Lumo Lift.
You simply place a small sensor on your shirt that gently vibrated when you begin to slouch in your chair. They also have an app that tracks your posture, steps taken, and distance traveled over the course of a day.
Pretty sweet if you ask us!
Price: $79.99
Even if you don't have anything to put in this portfolio yet, it will look professional and sophisticated resting on your desk or tucked under your arm. You can even get Swag.com to deboss or screenprint this folio with your own custom design.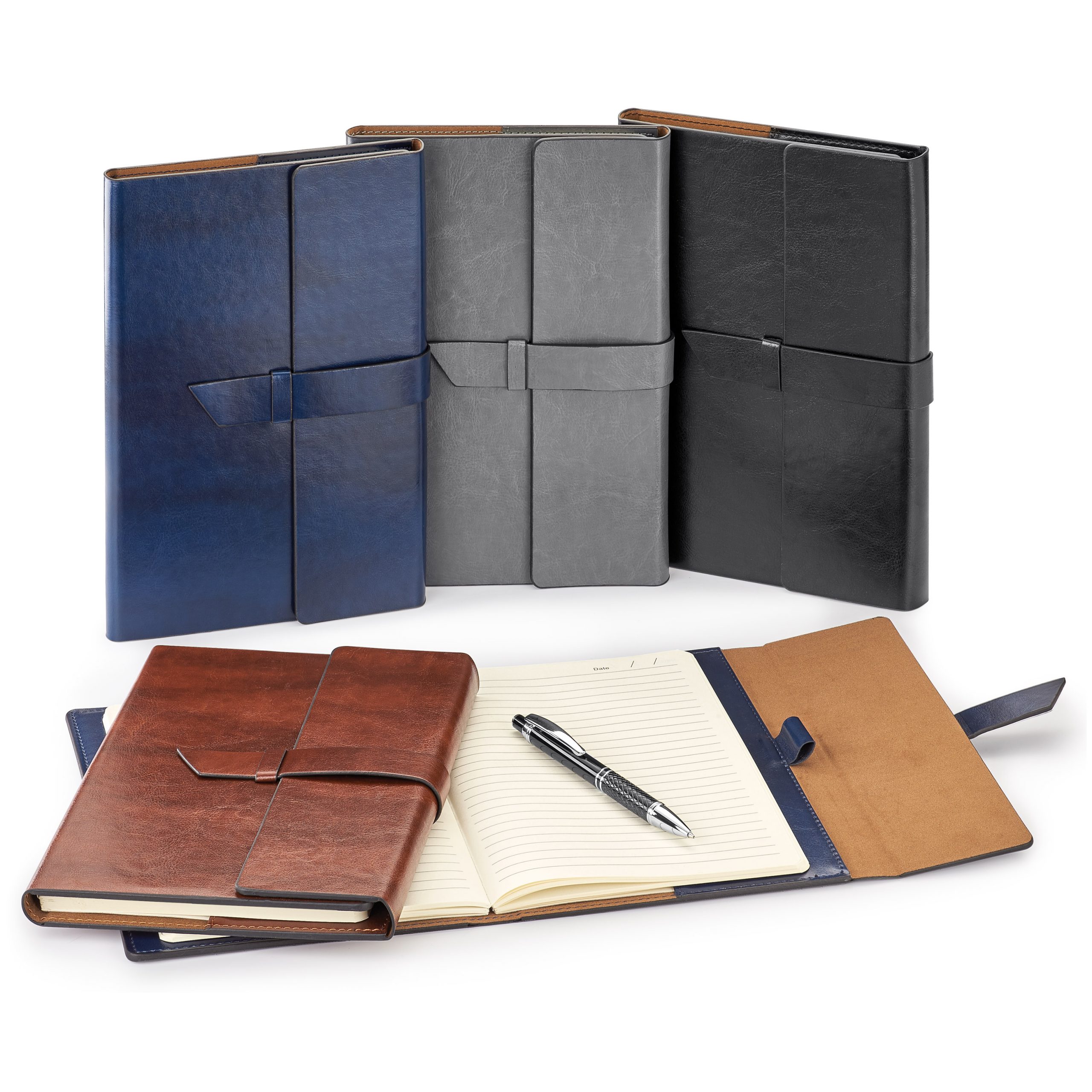 Price: $17.79 and up
21. Kind pencils
It's pretty cool to know that your products are better for the environment. That's why every major brand has been racing to offer "greener" and more environmentally friendly versions of their goods.
These recycled paper pencils are not only a modern office supply, they also save trees in the process and cut back on deforestation. Check them out!
Price: $6.00
22. A supply of stability balls and resistance bands
Employees want more options to improve their health and lifestyle. Keeping some stability balls and resistance bands are a low-budget way of providing just that.
Your team will love getting some extra movement in…and they'll enjoy some serious health benefits. Check out this combo pack listed on Amazon.
Price: $25.88
23. Color-coordinated office supplies
Need one quick rule to make ordinary office supplies more fun? Try bright colors.
These cool office accessories from Poppin in shades like orange, pink, and lime green.
Prices Vary
24. Undercover games
Not quite as frivolous as a regular table tennis set, these notebooks become paddles and a net whenever the time for a game is right.
Finally, you can have a heart-pumping game of table tennis…and still take notes diligently when the boss walks in.
Price: $20.00
25. Plants
This is less of an office supply and more of a necessity for a cool office.
While this office decoration may require a bit of upkeep, it will be completely worth it once you see how much nicer your work area has become. The folks at SnackNation understand the wellness benefits of plants, which means our office is filled with greenery.
While not every plant may be the best choice based on price and required care, a bit of research can help you find the right choice for your desk or work area. You can also take a quick trip to your local garden center to ask a professional.
For more reasons to get your first office plant, check out this list of office plant benefits on the CIPHR blog (Hint: it includes reduced stress, greater productivity, and even softened ambient noise).
Prices Vary
26. Legos
Since they open the mind to creativity, building blocks have a place in every office. If you wait long enough you might even be able to buy The Office themed Legos. Toys don't get more office-appropriate than that.
Prices Vary
27. Personalized anything
Business cards, mugs, post-its…if you can name it, you can personalize it on Swag.com. What's a more unique office supply that are special for each person?
Deck out your office and boost employee morale with office supplies that scream your company culture.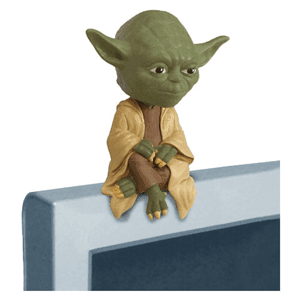 These guys keep you company all day long. And if anyone asks, you can say they're helping you be more productive… definitely not toys.
Price: $15.00 and up
29. A palm-sized portable speaker
Toss it, share it, and take it with you everywhere. The latest models of tiny portable speakers can make any office space more fun.
Jam out on Friday afternoons, lighten up a morning meeting, or even enjoy some easy classical listening during your afternoon coffee break.
Price: $29.00 and up
Don't you sometimes wish you had a magic wand that could transform hard copies into digital files? Would you settle for a pen instead?
This model scans physical items like pictures and text blocks—then makes them digital on a USB!
Price: $49.95
31. These Super Mario Bros wall decals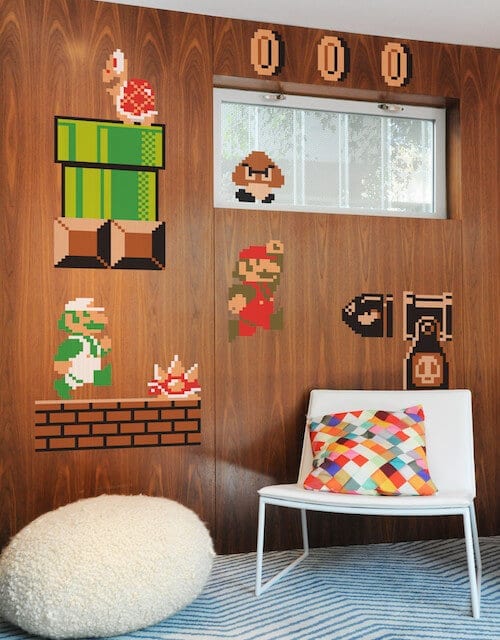 Stick these on any wall of the office for a pop of nostalgia.
Price: $75.00
32. Surface Skins from Blik
What's just as important as office supplies? The tables you put your office supplies on when you're ready to do some amazing work.
Brand new office tables can run up a pretty penny, but these surface skins will rejuvenate any boring office surfaces for a remarkable price.
Price: $42.00 and up
33. Books
Find books that relate to your company mission, that develop specific skills, or encourage creative thinking. Nothing else can offer so many educational and inspirational things in one small package!
You could even start a tiny library in your office where employees can share books that inspire them.
Prices Vary
34. Patterned Wall Tiles from Blik
Just like the surface skins in #31, these patterned wall tiles make it easy to add pops of color and interest to your office without the investment or struggle of paint and wallpaper.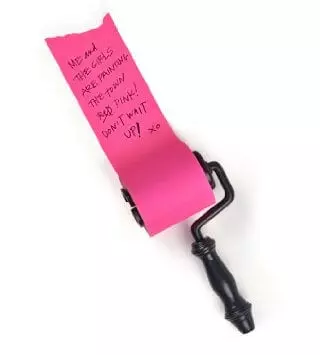 Roller notes could be the most fun way to leave someone a note…ever.
Price: $10.00
36. Cool trash cans
Trash cans are a necessary part of office life, and really, life in general. Since you need them, why not make the ones you stock in your office awesome?
This list of the 10 coolest cans from Oddee should give you the perfect start. These models expand, they contract, they even open via infrared sensors. These are not your father's trash cans.
Prices Vary
37. Vintage fountain pens
Transport employees to a simpler time of briefcases, typewriters, and of course, ridiculously fancy pens. These pens make the office fun, even if you only use them for show!
Price: $24.00
Bonus: A desktop party pack
This handy party pack will make sure you never be caught without the ingredients for an impromptu office party again. It's good to know you always have the tools to make employees feel special…right in your desk drawer!
Price: $8.99
So as you can see, cool office supplies really can make an office shine!
What unique office supplies do you use to perk up your office? Comment below to add your ideas to our list!
Free download: Get a PDF version of The 2017 State of The Office Manager Report. We surveyed 402 Office Managers to uncover 10 takeaways you can use to hit your goals and overcome challenges in 2017. Plus learn what other Office Managers are getting paid (and how you can earn more)!