We all know how hard it can be to eat healthy at work. The constant supply of sugary, trans fat loaded healthy snacks for work sitting on the breakroom table requires too much willpower to avoid.
In addition to day-to-day availability, several other factors can lead to unhealthy work snacking, including:
Stress eating (which is worsened when you factor in all the cortisol)
Groupthink kicks in when your coworkers are eating unhealthy or overeating
Between anniversaries, promotions, and farewells, the celebrations never end — and neither does the free food
So we reached out to 49 health experts (i.e. nutritionists, dietitians, fitness coaches, doctors, and healthy lifestyle bloggers) and asked them one question:
What are your favorite healthy snacks to keep at the office (or wherever you work) and why?
We wanted to know plain and simple the healthy work snacks they recommend. You see, the easiest way to stay healthy at work is to have healthy options readily available. This way, instead of reaching for junk food next time you and your coworkers are feeling "hangry" or stressed out, you'll reach for the good stuff.
After all, the easiest way to stay healthy is to have healthy snacking options readily available to grab around the office or in the office snack station.
Try out SnackMagic to provide healthy snacks to your employees! Perfect of the office kitchen, remote employees, and care packages!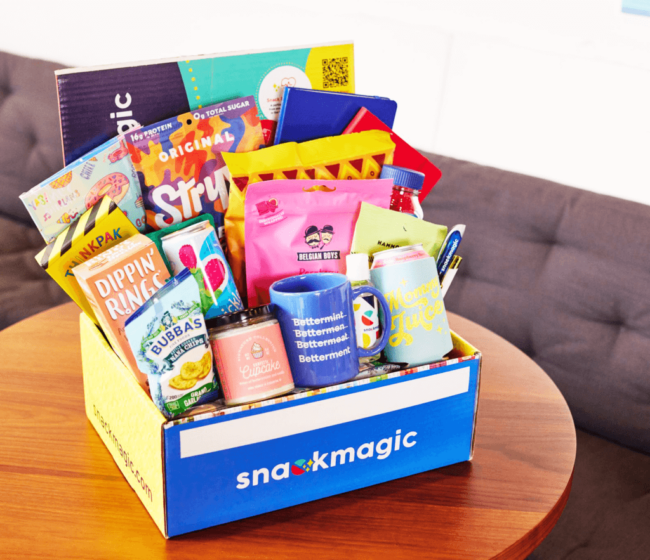 That being said, let's get right into the top 10 expert-approved healthy work snacks for the office (plus, a bonus of 5 healthy snack delivery services for work)!
Top 10 (Recommended) Healthy Work Snacks For The Office
"Minimally processed, maximally delicious"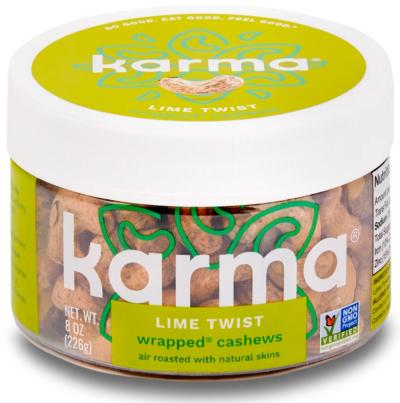 These air-roasted, oil-free cashews burst with a tangy, zesty lime flavor for a taste that matches its high nutritional value. Lime Twist Wrapped Cashews include their natural skin, which provides anti-oxidant levels similar to blueberries!
Why we love this healthy office snack for work: Next time your employees or coworkers want to eat a whole lot of something without a whole lot of guilt (or any guilt, really), have these Lime Twist Wrapped cashews sitting handy in the office kitchen or breakroom. Besides this citrusy delight, Karma Nuts offers several other distinct flavors like matcha, peri peri, turmeric, and coco-dusted — all of which boast the nutrient-rich skins, vegan-friendly ingredients, and uniquely irresistible flavors!
How to get it for my office: Try out the Lime Twist Wrapped Cashews. Or talk to the experts at SnackNation to find them in a curated snack box!
"It's nutty how good they are"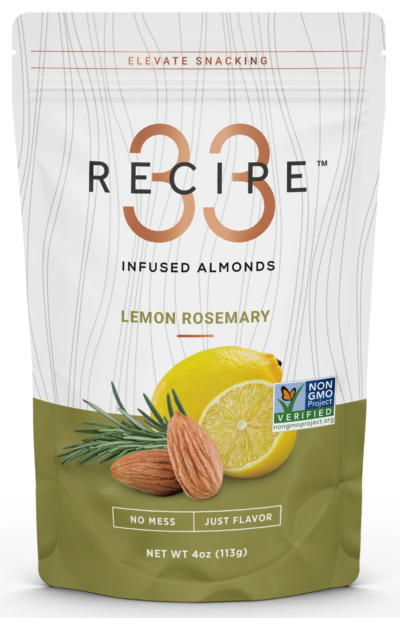 Specially infused with real lemon and real rosemary, these zesty, fragrant almonds are primed to leave a flavorful impression on you and your coworkers. Disclaimer: you may have to keep them behind lock and key in the breakroom or else they'll be gone by the end of each day since they're scientifically proven to be the perfect snacking food.
Why we love this healthy office snack for work: In addition to Lemon Rosemary, Recipe 33 has loads of other nutty flavors such as black truffle, cinnamon vanilla, garlic dill, and smoky serrano!
How to get it for my office: Try out the Lemon Rosemary Almonds. Or talk to the experts at SnackNation to find them in a curated snack box!
"Your favorite Mexican-inspired dessert health snack"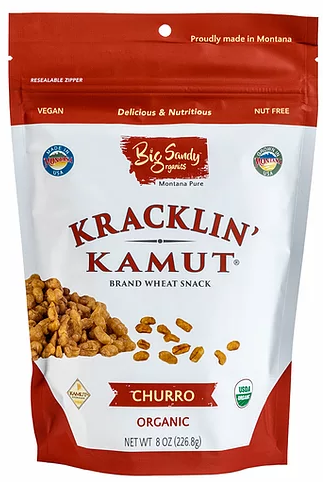 Churro-Kracklin' Ancient Grain Snacks are the ultimate nutritious office snack packed with fiber, protein, magnesium, zinc, vitamin B1, and vitamin B3. This ancient grain treat is perfect for adding extra crunch to yogurts, salads, and soups!
Why we love this healthy office snack for work: This polyphenol-rich snack is GMO-free, organic, and outrageously delicious with a churro twist! The combo of can sugar, cinnamon, and ancient sea salt will keep your coworkers munching on them without worrying about poor nutrition.
How to get it for my office: Try out the Churro-Kracklin' Ancient Grain Snacks. Or talk to the experts at SnackNation to find them in a curated snack box!
Want to be a workplace hero? Try surprising your employees with care packages filled with healthy snacks delivered straight to their homes in a Work-From-Anywhere snack box:
"A delicious spin on the classic chocolate chip cookie?"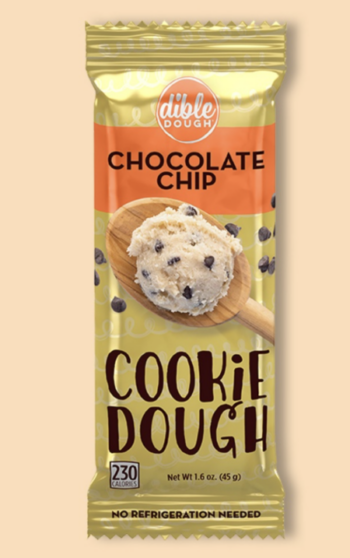 The team at Dible Dough has created a sweet treat bar that tastes just like your favorite cookie dough without any of the preservatives, artificial flavorings, and other no-no ingredients.
Why we love this healthy office snack for work: It doesn't have to be refrigerated so you can leave these bars right out in the office kitchen for employees to try when they need a little pick-mu-up!
How to get it for my office: Try out the Chocolate Chip Cookie Dough Bar. Or talk to the experts at SnackMagic to find them in a curated snack box!
"For picante perfection"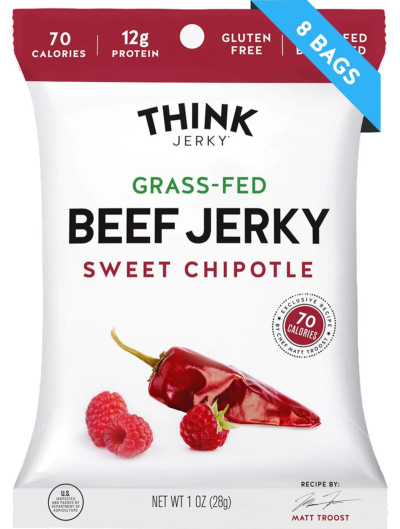 Love that smoky chipotle flavor? Sweet Chipotle Beef Jerky is the perfect protein heavy work snack for you and your team. This gluten-free, low-fat, grass-fed jerky is filling, nutritious, and sweet peppery delicious.
Why we love this healthy office snack for work: In addition to Sweet Chipotle Beef Jerky, Think Jerky has tons of other flavors — all of which are handcrafted by Michelin Star Chefs to hit just the right spot. Our pros also recommend trying the Mandarin Teriyaki.
How to get it for my office: Try out the Sweet Chipotle Beef Jerky. Or talk to the experts at SnackNation to find them in a curated snack box!
6. Honey Sesame Spread
"The sweetest, smoothest spread around"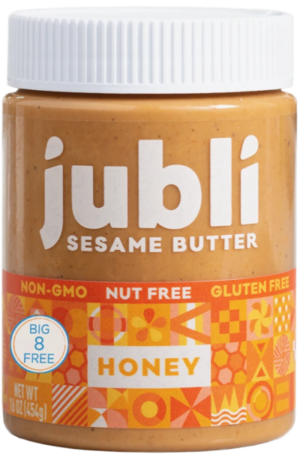 Honey Sesame Spread will probably end up being your new office equivalent to nutella — you know, the kind of spread people want to add to everything. Whether your coworkers are making sandwiches or dipping apples, bananas, and other fruits in it, Honey Sesame Spread is here for the win!
Why we love this healthy office snack for work: This gluten-free, plant-based nut spread alternative is one half of Jubli's amazing options — the other is an equally delicious Cocoa Sesame Spread. You can't go wrong with either of these expert-approved extra-smooth spreads.
How to get it for my office: Try out the Honey Sesame Spread. Or talk to the experts at SnackNation to find them in a curated snack box!
"The allergy-friendly snacking solution"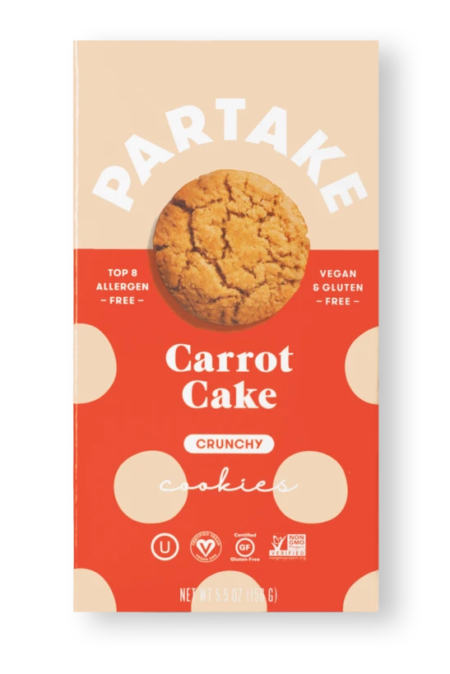 Partake gets its name as a company because of the founder's daughter who was diagnosed with severe food allergies as an infant. This meant it was hard to find healthy snacks that were safe and enjoyable for her. Partake lets everyone, well, partake in the yumminess!
Why we love this healthy office snack for work: These allergy-friendly Crunchy Carrot Cake Cookies taste like real homemade carrot cake! But it gets even better: Crunchy Carrot Cake Cookies are made with carrots, oats, cinnamon, and rosemary for all-natural perfection. The fact that Partake is black and woman-owned and supports opportunities for people of color, is just the icing on the cake!
How to get it for my office: Try out the Crunchy Carrot Cake Cookies. Or talk to the experts at SnackNation to find them in a curated snack box!
"For berry, berry fruity flavors your coworkers won't forget!"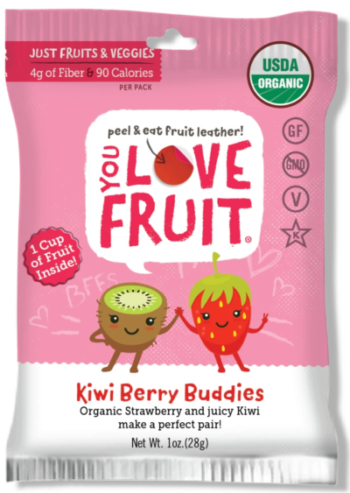 You Love Fruit is the all-natural fruit snack brand for healthy office eating. It's like eating real fruit condensed into a few bites bursting with flavor! While they have a variety of flavors such as Supergreen & Kiwi, Superberry, and Passion Fruit Power Pals, our experts selected Kiwi Berry Buddies for popular appeal!
Why we love this healthy office snack for work: This sweet pairing of strawberry and tangy kiwi combined with fiber-rich mango is a fan favorite. All of their snacks are made using tree-ripened fruits, which are pressed into all-natural fruit leathers to preserve every bit of nutrition and goodness.
How to get it for my office: Try out the Kiwi Berry Buddies. Or talk to the experts at SnackNation to find them in a curated snack box!
"S'more than enough to satisfy your coworkers"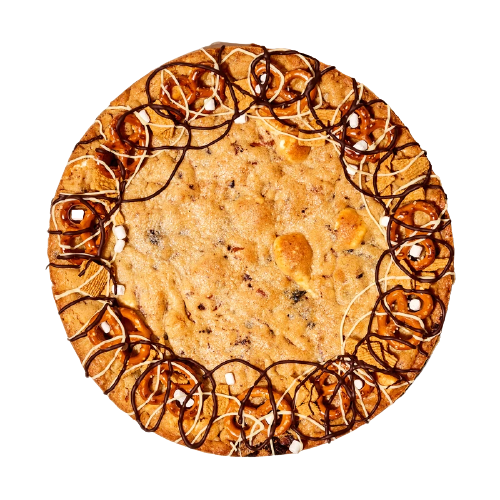 With all of these healthy snacks our experts covered, we were reminded that you have to have a cheat meal every now and then. That's where the S'mores on S'mores Kit comes in handy!
Why we love this healthy office snack for work: The S'mores On S'mores Kit is the campfire classic in a kit. A giant vanilla cookie cake with fudgy brownie chunks, gooey marshmallows, crunchy graham crackers, and salty pretzels. As for how you s'more it — that's totally up to you and your coworkers! As a bonus, this female-founded company was named "one of the most exciting bakeries" in the country by Bon Appetit Magazine and heavily contributes to Cookies for Kids' Cancer, Autism Speaks, and several other philanthropic efforts.
How to get it for my office: Try out The S'mores On S'mores Kit. Or talk to the experts at SnackNation to find them in a curated snack box!
"The only rings your office champs really need"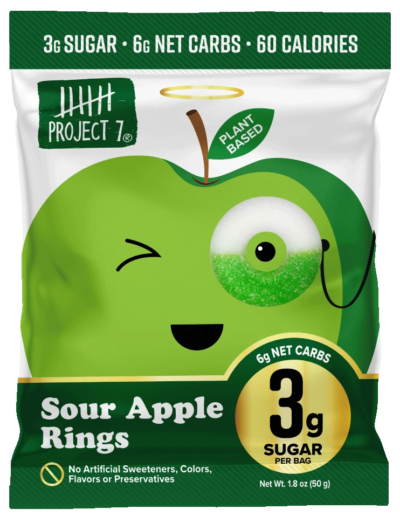 Low Sugar Sour Apple Rings are a keto-friendly answer to those sugary cravings! With just 3 grams of sugar per bag and 6 times the fiber, these plant-based treats are as good for your digestive system as they are delicious.
Why we love this healthy office snack for work: Low Sugar Sour Apple Rings are a childhood delight — mindlessly chewable and irresistibly delicious. Additionally, these tasty treats help people suffering from food scarcity, a lack of clean drinking water, and a lack of shelter.
How to get it for my office: Try out the Low Sugar Sour Apple Rings. Or talk to the experts at SnackNation to find them in a curated snack box!
"Real fruit juices for real snacking joy"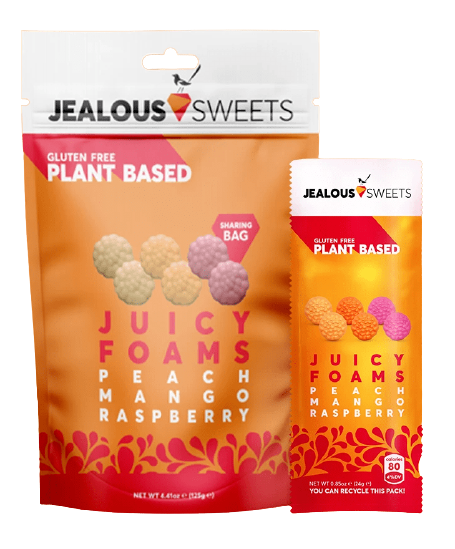 Juicy Foams are soft, chewy plant-based foams made from real fruit juices!
Why we love this healthy office snack for work: Jealous Sweets has a whole plethora of delicious options, but the Juicy Foams stand out for the mix of peach, raspberry, and mango flavors!
How to get it for my office: Try out the Juicy Foams. Or talk to the experts at SnackNation to find them in a curated snack box!
Get Your Free Healthy Snack Recipes Downloadable
5 Best Healthy Snack Delivery Services
Healthy snack delivery services are company solutions that bring the nutrition straight to your home — or office! Now, you don't have to worry about trips to the store, which means you'll be saving time and be a hero to your snack loving teammates or employees.
"The best snacks and sips, delivered in a variety of wonderful ways"

This monthly curation of flavorful snacks can be delivered directly to your office or your employees' homes. SnackMagic constantly updates their snack catalog to offer the best new snacks on the market.
3 Standout features:
Build your own snack box
Perfect for individuals and families
Offers snack options for employees with allergies, dietary restrictions, and personal preferences
One happy user wrote the following review for SnackMagic:
"The team loved it! Thought it was really cool to choose different items that they normally wouldn't try or buy in a grocery store." — Laure Berry, Trane Technologies
How to get started: Start building your own snack box or choose from their curated selection with SnackMagic.
"The number one office snack provider"

SnackNation was purposefully created to service offices by fueling their employees with the leanest, cleanest, most delicious snacking possible. On top of that, SnackNation also finds new ways to improve the all-around employee experience with custom branded products and items.
3 Standout features:
State-of-the-art employee care platform
Trendy snack curation
Ease-of-use and consulting
One happy user wrote the following review for SnackNation:
"Three words when I think of SnackNation: healthy, tasty, and affordable!" — WPromote
How to get started: Become a citizen of SnackNation.
"Your personal snacking concierge"


Caroo is your personal snacking concierge for one-of-a-kind snack and product curation and delivery! The world's first software-enabled employee care platform for today's flexible enterprise is designed to deliver snacks, but even more than that, it's created to make people feel cared for.
3 Standout features:
Top healthy food brands
Custom curation
Bulk deliveries for small to large companies
One happy user wrote the following review for Caroo:
"We just got Caroo and it's the bomb. At first I thought the healthy products were going to taste like cardboard, but after trying some of the items, they actually tasted BETTER than the junk food we have in the office." — My Subscription Addiction
How to get started: Get in touch with Caroo.
Minely Taloian (Talent Acquisistion Specialist at Logix) also shares her experience of opening a Caroo Amplify Box:
"Fast shipping, quality products"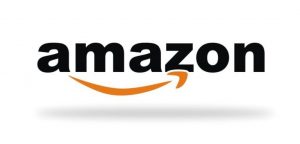 Amazon, the internet juggernaut, happens to have some of the most incredible healthy snack options. The best part is that your specific wants and needs are about a click away and with Amazon Prime, your snacks will arrive in a matter of a few days or less.
3 Standout features:
A wide variety
Constantly updated products
Comprehensive snacks
One happy user wrote the following review for Amazon:
"A large majority of consumers (89%) are more likely to buy products from Amazon than other e-commerce sites. Ninety-six percent of all Prime members agree." — Forbes
How to get started: Create your own snack boxes with individual snacks or ready-made snack boxes.
"For cost-conscious shoppers"

CostCo is the ultimate bulk shopping store. If you need a whole lot of something for a good price, CostCo is a rock solid solution. Whenever your office is low on foods and you're looking to stock the company fridges, it's worth seeing what CostCo has to offer!
3 Standout features:
Bulk packaging
Massively discounted prices
Convenience of all in-one-go shopping
One happy user wrote the following review for CostCo:
"Selling everything from engagement rings to groceries, Costco is the master at giving shoppers the best bang for their buck." — Business Insider
How to get started: Most people know about the stores, but you can also get CostCo items online here.
Read on to discover each expert's top healthy snacks for work…
Here's a quick summary of the top 5 healthy office snacks (as voted on by 49 experts!):
Fruit (15 votes)
Nuts (12 votes)
Nut Butter, Veggies (tied at 7 votes)
Protein Bar (6 votes)
Yogurt (5 votes)
They break down why it's their favorite and the health benefits of each. Plus there are some really interesting & healthy snacks that taste good that you may not have considered before.
But first…
Here are the most popular healthy snacks at work, as voted on by our readers.
Vote on your favorite healthy office snack below (and see how others voted):
1. A handful of nuts and string cheese

My favorite healthy snacks for work are a handful of nuts and string cheese. Keeping it low carbohydrate will not slow you down and the high protein will satisfy you until your next meal. Plus, the healthy fats in nuts will add an added dose of needed nutrition to your day.

Twitter: @HappynHealthyRD
Mix it up: Gold Superfood – tastes just like a spiced latte when mixed with your favorite hot nut milk or oat milk.
2. Greek yogurt with almonds
Greek Yogurt with blueberries and almonds! One of my favorites!

Twitter: @dolvett
Mix it up: Try Greek yogurt with bananas and walnuts, strawberries and chopped pistachios, or mangos and macadamia nuts. Green juice is a great compliment to any Greek yogurt breakfast combo – will provide the additional nutritional benefits needed to start off the day strong ?. 
3. Low sugar packet of oatmeal with nut butter
Michele Promaulayko, Editor in Chief of Cosmopolitan
If I'm pretty hungry and know that 10 almonds isn't going to cut it, I'll throw a high-quality, low sugar packet of oatmeal (such as Nature's Path Hemp Plus) into a mug, pour in some hot water and then mix in a tablespoon of nut butter. As long as there isn't added sugar, I like the nut butters that come in little packets because I don't trust myself around a jar! This is also my go-to plane snack because the ingredients travel well.

Another one of my favorite good snacks to eat at your desk: roasted chickpeas—they pack fiber and potassium and are easy to make at home. You can add whatever spices you like, such as cinnamon, cumin, or cayenne.
Mix it up: Try these other oatmeal stir-ins: applesauce, hemp hearts, or no-sugar vanilla yogurt.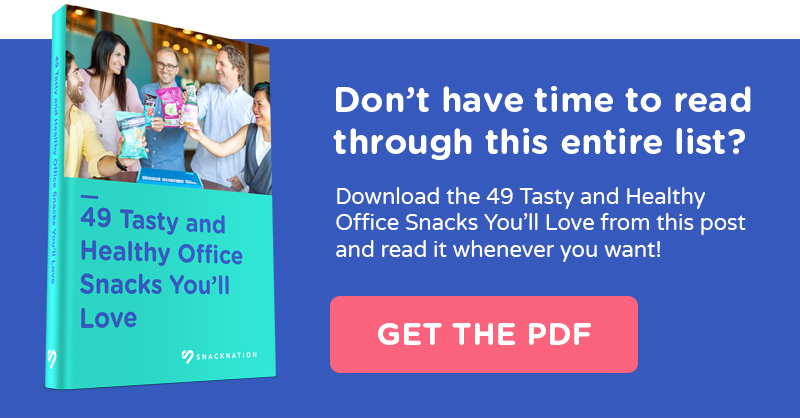 4. Nature's Path Qi'a bar, Manitoba Harvest hemp heart bites, Nibmor dark chocolate, Justin's nut butter

I don't recommend picking a single "favorite" snack as a key to satisfying you and your body is giving it what it needs and that includes what you want- give it savory when you want sweet and typically you go find sweet later. What I look for is something that hits my 4 pillars on the Better Nutrition Simplified Plan – quality, quantity, nutrient balance, and frequency.

Some healthy snack ideas might be a sweet treat Nature's Path Qi'a bars or Manitoba Harvest hemp heart bites with a Daily Greens renew, or a pit workout smoothie like my Chocolate Milk 2.0 featuring Symbiotics to optimize lean body mass and gut health, or I grab an Earthbound Farms Power Meal or when traveling I make Natural Calm magnesium with brassica tea (the glucoraphanin is a potent detox enabler) and have Nibmor dark chocolate (70-80%) with a packet of Justin's peanut or almond butter.

Twitter: @ashleykoff
Mix it up: If you like Qia bars, then try Elemental Superfood Seedbars, Wella Organics Bars, or Ohi Superfood Bars.
5. A piece of fruit with a handful of nuts
The perfect snack in my opinion is a piece of fruit along with a handful of nuts. I prefer to eat the fruit first, then the nuts. The fruit provides a balanced amount of healthy carbs and fiber, while the nuts provide fiber, healthy fats and a decent amount of protein. I find this combination to be incredibly filling, without too many calories.

Twitter: @AuthNutrition
Mix it up: Try these fruit and nut combinations: pears and hazelnuts, plums and pine nuts, or blood orange and pistachios.
6. Raw almonds, seaweed snacks, Larabars and kombucha
I have raw almonds, fruit, seaweed snacks, Larabars, and kombucha in my office. When I'm eating, I make it a priority to pair something with protein with something with fiber at every meal. That helps me control the amount of insulin my body produces. The major weight loss makes my body very sensitive to high glycemic foods, so I have to avoid them.

But when I really want to be naughty I eat organic corn chips and dip them in half an avocado. And what do I eat when I'm NOT being careful at all? Vosges dark chocolate with bacon. Dear Lord, I would LOVE if she went organic.

Twitter: @bookieboo
Mix it up: If you love seaweed snacks, then you should try wasabi peas, Nora Tempura snacks, Savory Wild Portabella jerky.
7. Dried mango, dried apple, dried pear, and dried banana

My favorite healthy office snack is unsweetened dried fruit! It lasts a long time, it's easy to eat and it's filled with natural deliciousness. Dried fruit is high in fiber and nutrient dense. Plus, dried fruit is a great source of energy when you need a little pick-me-up at work because they contain little to no fat while also containing a significant amount of calories.

Some of my favorite dried fruits to keep on hand are dried mango, dried apple, dried pear, dried banana and for a special treat, dried bananas covered in dark chocolate.

Twitter: @tedisarah
Mix it up: Try some dried veggies along with your dried fruit. Try dehydrated red peppers, tomatoes, and beets.
8. "Sturdy" fruits with homemade trail mix
My favorite healthy are fruit and homemade trail mix. For fruit, I like "sturdier" fruits that can be shelf stable for a few days like apples, pears, oranges, and stone fruits like peaches/plums/nectarines.

For my homemade trail mix I use 1/4 cup of high fiber cereal, 1/4 cup of Original Puffins, 1/4 cup of Kashi Heart to Heart, 1 tbsp Cashews, 1 tbsp almonds and 1 tbsp walnuts. I mix it all together and keep it in a ziploc bag – and it's a great accompaniment to fruit when my mid-day munchies come around!

Twitter: @pickyeaterblog
Mix it up: Try swapping the nuts in this homemade recipe for shredded coconut.
9. Dark chocolate nuts & sea salt KIND Bar
I'm a huge Greek yogurt fan – I mix in some nuts and dried cranberries. My other regular choice of healthy foods are raw veggies with a Wholly Guacamole packet – so yummy and satisfying. I also love KIND bars – the Dark Chocolate Nuts & Sea Salt is my favorite!

Twitter: @chrisfreytag
Mix it up: If you like these Kind bars, then you should try Fody dark chocolate sea salt bars and NuGo Dark bars. 
10. Almonds, dried fruit, and mini chocolate chips
For me, the perfect snack is the right mix of carbs, protein, and fat. It also is sweet and satisfying. I typically make my own trail mix on Sunday night's and prepackage them into resealable plastic bags [1/2 cup portions]. The trail mix usually includes almonds [protein], dried fruit [carb], and mini chocolate chips [fat].

While there are plenty of good store bought trail mixes, I like being able to control the sodium and calorie content of my own mix.

Twitter: @MomNutrition
Mix it up: Try walnuts, cranberries, and white-chocolate chips; pistachios, dried blueberries, and carob; or peanuts, chopped apricots, and yogurt drops.
11. Protein shake and fruit
When it comes to snacking at the office (or even on-the-go) we keep it simple and easy to implement! I take my protein shaker with the whey powder already inside and simply add water when I'm in need of a boost.

Combine that with a piece of fruit and you not only get some quality protein (that you are in probably need of anyways) but also an energy boost via your fruit which makes for the perfect office breakfast idea and helps with getting past the dreaded mid-afternoon slump!

Twitter: @DIYactive
12. Low carb nuts like macadamias, pecans, almonds, and hazelnuts
My favorite healthy snack to keep at the office is nuts. They contain healthy fat and protein, which keep you full and satisfied until your next meal. Nuts are also high in fiber yet low in net carbohydrates (total carbohydrates minus fiber).

They're rich in the minerals magnesium, zinc, and selenium. And, of course, they're absolutely delicious! A one-ounce serving (about 1/4 cup) contains 160-200 calories, depending on the type of nut.

If you're following a low-carb lifestyle, try to choose nuts that are lower in net carbs (macadamias, pecans, almonds, hazelnuts) rather than higher-carb varieties (cashews and pistachios). Salted or unsalted? Raw or roasted? The choice is yours, based on your preferences and nutrition-related goals.

Twitter: @lowcarbrd
Mix it up: Add some low-carb vegetables, such as broccoli, to the mix to round out your snack. These kinds of vegetables can not only be part of your next healthy office snack, they are also full of nutrients and vitamins. 
13. Carrots, 1-2 ounces of nuts, and dark chocolate
My favorite snack to have in the office varies depending on what my or a client's current health goal is. If my goal is weight loss, which is true as I am still shaking the baby weight from my second child born this summer, I'd pack large organic carrots.

Having a portable, healthy carb and crunchy snack like this will help me follow true hunger. Having something healthy like carrots prevents me from eating something out of boredom, stress or thirst.

Other ideas include portioned 1-2 ounce nuts (I love the raw almonds sold at Trader Joe's). These are great snacks if I know I have 5-7 hours between my lunch and dinner. And lastly, dark chocolate. This is a great thing to have on hand in an office where treats, baked goods and birthday cakes are debuted all too often.

A healthy treat like dark chocolate can be a good swap for something dessert-like without derailing health goals. Of course baked goods are fine to have when a client or myself really want it, but it's also good to only indulge when those things are really worth it.

Twitter: @kellyoc
Mix it up: Dip raw carrots in green salsa to add flavor without adding any calories.
14. Hummus, raw veggies and a green smoothie
I have a couple regular work snacks in my rotation (hummus and raw veggies, a green smoothie, the occasional Think Thin bar), but right now I'm loving a brown rice cake spread with a a thick layer of Justin's almond butter. Justin's makes these adorable single serving packs, and if you keep a bag of brown rice cakes in your desk/office kitchen, you can throw it together whenever you start to fade.

The combo of protein, healthy fat and fiber gives you a great energy boost and keeps you full for a couple hours. If you work from home like I do, try adding a drizzle of raw honey, some hemp seeds or sliced bananas.

Twitter: @serenagwolf
Mix it up: Try different versions of Serena's rice cake snack by topping your rice cake with goat cheese, tahini, or guacamole.
15. Cottage cheese topped with blueberries, rasberries and sprinkled with cinnamon
The snack I'm hooked on right now is a couple of brown rice cakes topped with almond butter accompanied by Greek yogurt or cottage cheese topped with blueberries, raspberries, or other fruit and sprinkled with cinnamon. So good, filling, and keeps me satisfied till my next meal!
Mix it up: Try cottage cheese mixed with orange segments and sprinkled with turmeric or cottage cheese topped with apple chunks and nutmeg.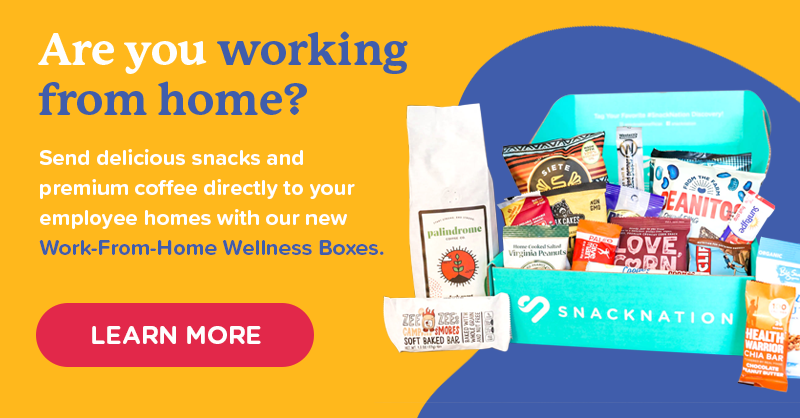 16. Homemade trail mix with nuts, seeds and chocolate chips
A home made trail mix with nuts, seeds and chocolate chips – for healthy fats to keep me full and a little hit of chocolate to prevent going for less healthy chocolate bars!

Twitter: @lauraagarwilson
Mix it up: Try pumpkin seeds, cashews, and dark-chocolate covered blueberries.
17. Mary's Gone Crackers with homemade beet hummus or tzaziki

I love Mary's Gone Crackers! They're packed with healthy seeds and fiber and taste great with some homemade beet hummus or tzaziki. Compared to most gluten free crackers they seem minimally processed – they're even varying sizes!


Twitter: @PhoebeLapine
Mix it up: If you like these crackers, then you should try Kashi 7-grain crackers or Crunchmaster crackers.
18. Quest Nutrition bars

One of my favorite healthy desk snacks would be a Quest Nutrition Bar. They taste amazing and the macros are fantastic for my goals.

Twitter: @FITaspire
Want more on Quest? Hear co-founder Tom Bilyeu talk about the origins of this life-changing bar on the Brand Builder podcast.
Mix it up: If you like Quest, then you should try GNC Total Lean® bars or MusclePharm organic protein bars.
19. Fresh cut pineapples, apples, mango, kiwi and peaches
My favorite healthy snack is fresh fruit. It may sound simple, but fresh cut pineapples, apples, mango, kiwi, peaches and more are my faves. I also love blending up mini smoothies. And also avocado toast.


Twitter: @lunchboxbunch
Mix it up: Squeeze some pineapple or citrus juice onto your fruit to get a little extra flavor.
20. 2% Greek yogurt and cottage cheese
My favorite healty snacks to keep at work are 2% greek yogurt and cottage cheese. I like these options because I can buy snacks for the office at the beginning of the week and stock the fridge for a convenient mid afternoon pick me up that's protein packed and will keep me fueled until dinner time. I usually pair these dairy proteins with fresh berries for sweetness and seeds for texture and fiber.

Twitter: @kristinalaruerd
Mix it up: Add a splash of maple water or spoonful of no-sugar jam to your dairy for an extra boost of flavor.
21. Coconut oil
My current favorite healthy snack is actually pretty odd, but I would have to go with coconut oil. I am busy with patients certain days for literally 12 hours straight so many times I don't have time to snack. If I have a quick tablespoon of coconut oil and some cold brew, I stay full and mentally sharp for hours.

This is a super quick way to get a huge pop of energy as quick as possible. I stock up on eXo, Mammoth and Bricks bars for times in between when I have the moment to chew!

Twitter: @thepaleofix
Mix it up: Add coconut oil to your oatmeal or fruit bowl to give yourself a regular fix.
22. Dark chocolate, fruit, and leftovers
My snacks are dark chocolate, fruit, and leftovers. Mostly leftovers.

Twitter: @pauljaminet
23. Roasted chick peas and roasted broad beans
My favorite healthy snack is a toss up between roasted chick peas and roasted broad beans. Both are packed with protein and fiber to help balance blood sugar and sustain energy levels. They are also non-perishable, a big plus during warm weather months.

I have no financial affiliation with either company mentioned – just my preference after tasting many brands.

Twitter: @LaurenPincusRD
 Mix it up: Trying roasting peas, corn, kale, and carrots as well.
24. Cashews, apples and baby carrots
My favorite snack for the workplace is a bag of raw nuts. Cashews are my favorite because they pack lots of protein but don't get me all bloated unlike peanuts. Not to mention how delicious they are 🙂

I also like to keep apples and baby carrots around but those have a more limited shelf life.

Twitter: @winwinfood
Mix it up: Add your raw nuts to a bowl and spritz them with water or lemon juice before sprinkling on a seasoning of your choice. The water will help the seasoning stick to the nuts without roasting.
25. Beech-Nut baby food
Believe it or not, I eat a lot of baby food as a healthy to-go snack. Parents are very discerning about what their kids eat and since the kids don't make the buying choices for themselves baby snacks are generally more healthy than adult ones, including the low end brands, which can be convenient if you're not at a high-end health food store.

My favorite brand is Beech-Nut, and all their choices have a clean ingredient stack and usually have a decent vegetable component to them as well. They only cost about $1/bottle so it's a very easy and convenient way to eat healthy food on the go!

Twitter: @HealthKismet
26. Celery sticks with peanut butter and raisins
My favorite healthy snack is one that my mom introduced to me when I was a wee lass. Ants on a log! They are celery sticks with peanut butter spread in the groove and raisins lined up one after the other. Fun, simple AND nutritious!


Twitter: @HeadHealthNut
Mix it up: Try celery sticks with almond butter and currants or celery sticks with hummus and sun-dried tomatoes.
27. Small bag of raw nuts and an apple
My favorite snack to have on hand is a small bag of raw nuts and a piece of fruit, like an apple. I like to have healthy fats and fruit with fiber to keep me feeling full for a long time. Plus it's easy to carry around with my anywhere I go.


Twitter: @thefithousewife
 Mix it up: Try bringing a handful of seeds and a snackable vegetable, such as celery sticks
28. Homemade snack bars
I actually make my own homemade snack bars, which combine a good mixture of fat and protein and complex carbs to keep me satiated and energized throughout the day.

Here's the recipe:

Ingredients:
-1 cup nut butter (I prefer almond)
-1 egg
-1/4 cup honey or maple syrup
-3 cups of mix-ins (I usually combine sesame seeds, chia seeds, ground flax, hemp seeds, pumpkin seeds, coconut flakes, raisins, chocolate chips, walnuts and sunflower seeds) but feel free to go nuts (pun intended!)
-1/2 tsp vanilla
-1/2 tsp cinnamon
-1/2 tsp baking soda
-1/4 tsp salt

1. Preheat Oven to 350 degrees (F).
2. Comine all ingredients in a food processor (or strong blender) until thoroughly blended.
3. Measure out 1/4 cup scoops and put them onto a greased baking sheet.
4. Bake for 12-15 mins.
5. Let cool and enjoy!

Twitter: @soundbodylife
Mix it up: Swap out your choice of nut butter and mix-ins for a different snack every time.
29. Protein shake made from Gnarly Vanilla Whey, sunflower seed butter and 1/2 banana
My go to favorite healthy snack is a protein shake using Gnarly Vanilla Whey, sunflower seed butter and 1/2 banana.

It's been my daily snack pretty much every day forever. Sorry it's not very original, but I keep a single serving blender at my office and blend a shake up every single afternoon around 3:00 pm. This helps keep me full while I teach back to back classes.

The banana keeps the shake nice and thick, the protein and fat (from the seed butter) helps to keep me full since I don't get to again until I get home around 9:00pm.

On the rare occasion that I don't get a shake, I love Quest Bars and I am a sucker for trail mix. I try not to keep it around because who can stick to a single serving size?

Twitter: @femininemuscle
Mix it up: Skip the seed butter for a lighter smoothie.

30. Protein balls, home-made granola bars and protein cookies
My kitchen is my office..so I struggle with trying not to snack on everything I make!

I try to have pre-made healthy snacks to eat at work like protein balls, home-made granola bars, and protein cookies in my freezer for a grab on the go snack or for something small after a workout. I love having snacks that I've made ready-to-eat because I know that they are made with whole/real ingredients!

I am also a big fan of dipping fruit and veggies into my favorite nut butter, because who doesn't love sweet and salty?

Twitter: @FitFoodieFinds
Mix it up: Keep things interesting by dipping homemade granola bars in yogurt, peanut butter, or apple butter.
31. Organic oats, sunflower seeds, shredded coconut, protein powder, cinnammon, almonds and cacao powder
My favorite healthy snack is my homemade granola which I make with organic oats, sunflower seeds, shredded coconut, protein powder, cinnamon, almonds and cacao powder. I like it because it contains a ton of minerals, protein, fiber and healthy fat. Other go to snacks are a cup of mixed almonds and walnuts and a green apple.

Twitter: @RegainWellness
Mix it up: Hold the cinnamon, coconut, and cocoa powder and make this treat savory by adding seaweed flakes, Chinese five-spice powder, and dried wasabi peas.
32. Vega Bars and Pink Lady apples

I actually don't work in an office as I'm a full-time nomad (coffee shops are kind of my office, I guess). But, when I'm driving long distances I usually carry both Vega Bars and Pink Lady Apples.

Twitter: @wtfveganfood
33. Nuts, especially cashews
Anne-Sophie Reinhardt, Anne-Sophie
My favorite snack at the office are nuts and specifically cashews. They provide me with energy and good fats and are an easy snack to have handy. Plus, they are great for your mind.

Twitter: @theannesophie
34. Quest Bars
One of my favorite snacks is a Quest Bar. 20g protein, 15g fiber, gluten-free, no added sugar, and no artificial anything.

Twitter: @dandefigio
35. Perky Jerky

One snack that goes anywhere and everywhere is Perky Jerky. The downside is that vegetarians/vegans are left out of the snacky goodness. But for carnivores, the 1 oz packets (60-80 calories) are a protein loaded gift. We typically have the Original Turkey Jerky daily. Other, bigger eaters, may opt for a 2.2 oz packet.

Another perk for office workers is that it won't go bad. Summary: satisfying, tasty, good nutrition profile esp. for the Original Turkey, travels well, keeps well.

Twitter: @healthytravel
36. Goodnessknows snack squares
It's all about the quality and calories of the snack that matters – make them less than 200 calories and make sure they contain real ingredients. That's why I love these new goodnessknows snack squares. They're made with whole nuts, real fruits, and toasted oats, in delicious dark chocolate so it delivers on both taste and nutrition.

Best of all from a nutritionist standpoint is the pre-portioning- each 150-calorie bar is divided into four perfectly portioned squares – allowing every family member to eat the amount that's right for them. Plus, they contain no artificial colors, flavors or sweeteners.

I also am a huge fan of the classic apple or celery and peanut or almond butter. You're never too old to make ants on a log!


Twitter: @onesmartbrownie
37. Sriracha flavored almonds and Harvest Soul Tropical Fusion Juices

I find almonds to be the easiest way to curb hunger pains without the guilt! Today there is so much variety when it comes to selecting this tasty snack. I often mix unsalted roasted almonds with raisins and stash them either in my gym bag or car. However I have made a few new discoveries that have switched up snack routine!

Recently while traveling I stumbled upon Sriracha flavored almonds from Blue Diamond, the idea that healthy food has to be bland can't be further from the truth!

Another new discovery are Harvest Soul Tropical Fusion juices, these are an organic chewable line of juices that include almonds! In addition to almonds the juice includes Goji Berries, Golden Berries, Pumpkin Seeds, Raspberries and Blueberries. Each bottle contains a high amount of fiber making it perfect for that mid-afternoon slump.

Twitter: @NadiaMurdockFit
My favorite snack are Quest Bars! They're great on every level – taste, convenience, and nutrition (20g protein, 1g sugar, high in fiber). My favorite flavor is the Mint Chocolate Chunk.

Twitter: @mikedonavanik
39. Beef stick, almonds and dried fruit
My go-to balanced snack is a beef stick, almonds and dried fruit, because I can keep it in my desk, purse or even in my car and it's "PFC balanced," meaning it contains protein, healthy fat and nutrient-dense carbohydrates resulting in balanced blood sugars, moods and consistent energy levels all day long!

Twitter: @dietitiancassie
40. Natural jerky and dried berries
My favorite snacks are smart combinations that help balance blood sugar (i.e. provide your body with consistent energy). I love good quality, natural jerky and a dried berries as a quick, portable option. Another favorite is hard boiled eggs and sliced cucumber, both sprinkled with lemon pepper. Cut bell peppers with hummus, yogurt dip or miso tahini dip (all of which are really easy to make yourself) are also favorites.


Twitter: @EatSimply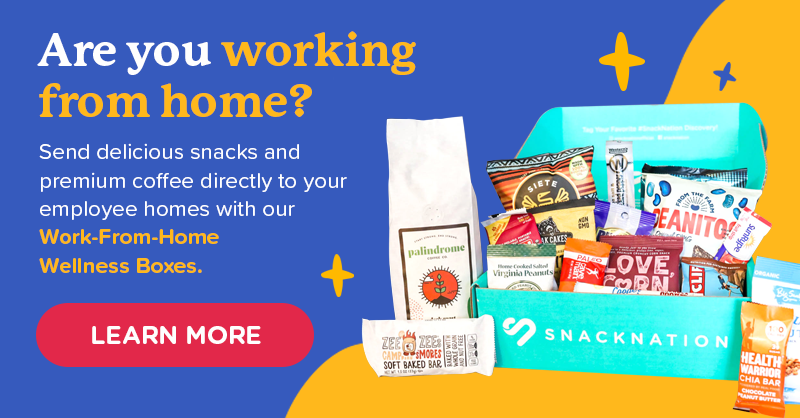 41. Medjool dates stuffed with nut butter and topped with maldon sea salt
I love to eat superfoods such as medjool dates (pit removed) stuffed with some nut butter and topped with some maldon sea salt. It is salty and sweet but but balanced in fibre and healthy fats to keep me going to dinner. Perfect afternoon pick me up!

Twitter: @lynseylovesfood
Mix it up: Try stuffing Medjool dates with feta cheese or pieces of jerky to make a savory snack.
42. Greek yogurt with almonds and raisins
Being a work at home woman I spend many hours at my desk and my tip is, don't eat at your desk. Eating at your desk while working causes mindless eating, which can lead to over eating or eating things that are not healthy because you are not really thinking about what you are snacking on. 

I like getting up and stretching my body, then taking a short walk outside with the dogs and snacking on a handful of almonds, or sprinkling some almonds and raisins in my Greek yogurt to enjoy while on my walk. I even enjoy a handful of granola mixed in my yogurt on occasion.

Another snack I enjoy is a bowl of berries (raspberries, blueberries and grapes). What I do allow at my desk is water. I drink water all day, every day. Don't forget that getting up and stretching is so important when you work from home and sit all day.


Twitter: @livingsmartgirl
Mix it up: Try topping your Greek yogurt with chickpeas, olives, and cherry tomatoes to make a savory yogurt treat.
Lately, my favorite healthy vegan snack has been sushi. I've rediscovered it and I love it, since it's flavorful, easy to grab on the go and easy to snack on. My newest favorite is this hearty omelette and eggplant sushi. Chickpea omelette and crispy pan-fried eggplant make such a wonderful combination. It's rather filling, too, so you can have it as a main dish sometimes. Just pack some soy sauce or tamari as a side and you're good to go.
My current favorite snack is my super easy 2 ingredient frozen yogurt! It keeps us cool, is super healthy and really easy to make!

Twitter: @veggiesdontbite
45. Everything Bacon
My favorite snack is Everything Bacon! It's salty, crunchy, fatty and satisfying. I like to make a big batch once a week. The recipe is from my cookbook Made Whole. It keeps it in an airtight container or stasher bag in the fridge.  I snack on a few pieces between meals or pair with some avocado or greens for a mini meal!

What is Everything Bacon? It's basically bacon smothered in seeds and seasonings and crisped to perfection.
One of my favorite snacks to have on hand for whenever I get hungry during the day is these Black Bean Brownies, because they're quick to make and so ridiculously good! They can knock out even the strongest chocolate craving!
47. Energy Balls
I love energy balls, especially my Healthy Oatmeal Cookie Energy Balls as they are a quick source of energy, nutrition, taste like a treat, but are made with whole food ingredients, and they don't need to be refrigerated! Just make ahead and keep in a tupperware on your desk for an easy burst of nutritious energy.

Twitter: @NutritionITK
48. Veggies and Homemade Dip
My favorite snack at the moment is veggies with hummus or guacamole for dipping. I've been loving carrots, cucumbers and jicama with guacamole this summer. Sometimes I'll even roast the jicama and to make jicama fries.

Twitter: @EatingBirdFood
49. Double Chocolate Chip Cookies
My favourite snack are these Double Chocolate Chip Cookies as they're secretly healthy, perfectly satisfying and super delicious. They travel well and keep their taste and texture for a good few days so they're great for carrying around on the go.

Twitter: @rhiansrecipes
Bonus: IQ Bars
Keto, vegan and paleo-friendly, IQ BARs live up to their namesake by packing in six nutrients shown to promote healthy brain function.
Don't let this bar's brain-boosting properties fool you: they taste great, too. Specialty flavors like Matcha Chai Hazelnut, Cacao Almond Sea Salt and Blueberry Lemon Sunflower are all equally delicious ways to enjoy this snacks' 6g of plant protein.
Free Download: Download this entire list as a PDF. Easily save it on your computer for quick reference or print it for future office snack ideas.
People Also Ask These Questions About Healthy Office Snacks
Q: How can I get healthy snacks delivered to my office?
A: Let's face it, packing your car with snacks in bulk for your office takes time, energy, and a big trunk. Take all the guesswork out of snacks for your breakroom and office by investing in a monthly snack box provider that handles the logistics and keeps your staff properly stocked with healthy and delicious snacks.
Q: What are some healthy snacks for work?
A: We asked the experts about snacking at work and they let us know that the easiest way to stay healthy at work is to have healthy options available to staff. That way we reach for the good stuff when we're "hangry" in the afternoon or need a quick pick-me-up before a meeting. Natural foods like fruits, nuts, and high-protein snacks top the list of the expert-preferred healthy office snacks.
Q: How can I send healthy snacks to my remote employees?
A: You can't run into your remote employees at the watercooler. But you can provide them with a stash of healthy and unique snacks via a work from home care package. A great way to ensure your remote employee has enough to keep the tank well-fueled, while keeping them engaged and connected to your company's mission and values.
Q: What are the best office snacks?
A: With so many employees going into your office, you are bound to have a group of people who have different taste preferences and even some staff members with allergies and dietary restrictions. Choosing healthy snacks is always going to be the best options since they will give your team members a boost of energy at work and avoid that sluggish feeling employees get when they eat unhealthy snacks and fast food. A few classic types of office snacks include jerky, nuts, trail mix, energy bars, veggie snacks and fruit snacks
Even More Healthy Snacks
We don't know about you, but we can never get enough healthy snack ideas. In fact, we've spent years researching and writing about the best healthy snacks out there, creating handy lists of wholesome go-to treats. We made these lists because we're passionate about good-for-you snacks, and more importantly, because we love giving you the resources you need to find feel-good snacks whenever and wherever hunger strikes, and strike it will; according to the United States Department of Agriculture, 90% of Americans have at least one snack a day. Luckily, with smart snacking options, you can snack every day and still feel like your best self.
Browse our snacking roundups below to find something healthy to eat in any situation—to satisfy any craving and to fit the parameters of a variety of special eating plans. Are you trying to go vegan and finding it hard to resist a buttery cookie?
Are you shocked and appalled that all your old favorite snacks contain gluten? (Yes, some flavored potato chips actually contain gluten!) Do you think it's impossible to find low-calorie snacks that actually taste good? Our lists can help you out!
Conclusion
There's little doubt that you can find some great new healthy office snacks after checking out the recommendations on this list. Which one are you going to stash at your desk and what tips do you have on how to eat healthy at work? Let us know in the comments below.