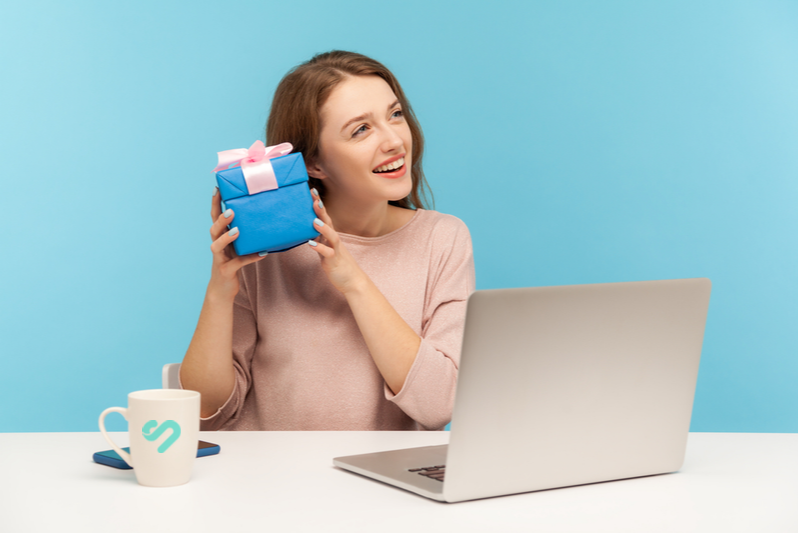 Every team needs to be organized and operate as a unit.
Without the diligence, hustle, skill set, and thoughtfulness of the administrative assistant, most companies would wind up in complete disarray. And yet, administrative assistants are often the unsung heroes of the workplace.
That's exactly why we scoured the internet and curated this list of incredible gifts for your office's most valuable player. Now, it will be easier than ever to find just the right gift to show your administrative assistant how much you appreciate their energy, hard work, and everything else they do!
These gift ideas are ideal for the administrative assistant that deserves a great gift.
This post includes the following gifts for administrative assistants:
Personalized gifts
Self-care gifts
Fitness gifts
Crafts and home gifts
Subscription boxes
Gift baskets
Plus, a variety of other gifts will make your administrative assistant's life easier, more fun, or add an extra dose of joy to their year.
Let's dive into the 25 best gifts for administrative assistants in 2023!
Want to become a better professional in just 5 minutes?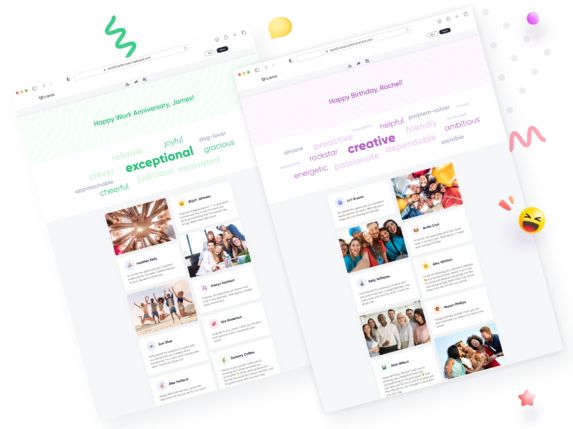 A digital care card is a thoughtful and personal way to show gratitude toward an administrative assistant. It's an ideal way to express thanks for things like taking on extra work, assisting with a major project, or simply managing the daily chaos. With the option to add your own customized message and emojis, it makes the gesture even more meaningful.
Where to find it: Care Cards
Sending a care card to a recipient can boost their morale and uplift the workplace environment. Consider pairing the message with a digital gift card or a care package to make them feel even more special.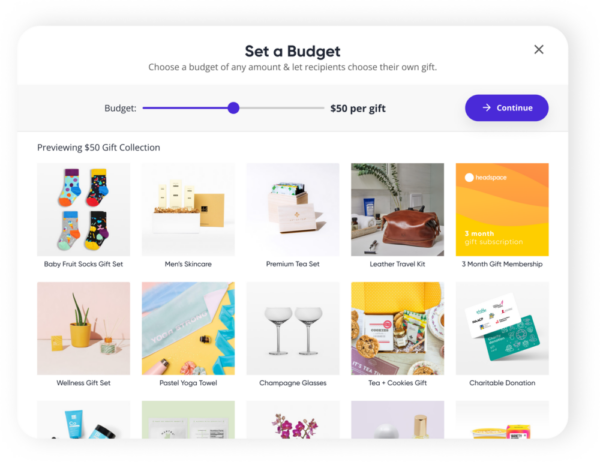 With Recipient Choice, the process is simple: choose a budget of any amount, and your administrative assistant can select the perfect gift from a wide selection. The gift can be anything from useful technology to a personal treat, tailored to the recipient's individual preferences.
Where to find it: Recipient Choice
This gift-giving method ensures that the recipient will receive a gift they truly enjoy. Whether they wish to indulge or select something practical, this gift will make them feel appreciated.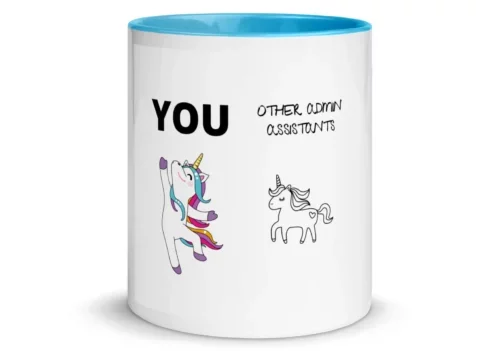 Is the executive assistant in your life a one-of-a-kind mystical magical unicorn?
Do they get the job done with flying colors?
Where to find it: Admin Assistant Mug
These magical creatures run on coffee and this vivid print mug will power them through the day!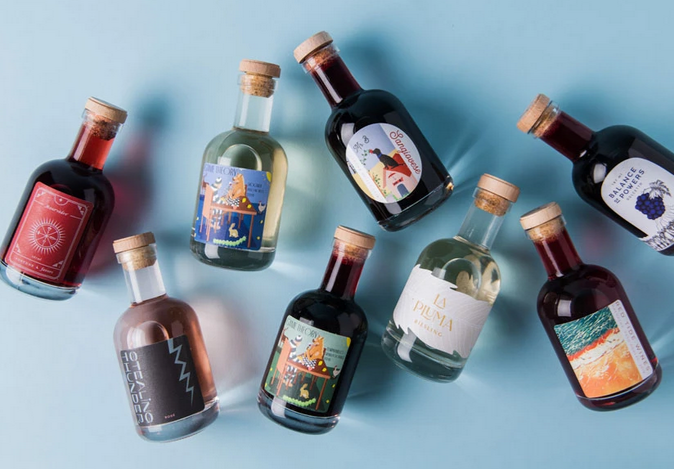 This wine box provides a trip through California wine country from the comfort of your own home.
Where to find it: California Wine Mixer
Loaded with eight varieties of wine in this gift box, your AA can try them out in mini bottles that are perfectly sized for wine tasting. Whether they are drinking with friends, celebrating the end of another work week, or at-home on a weeknight — this gift is a wine lover's best friend.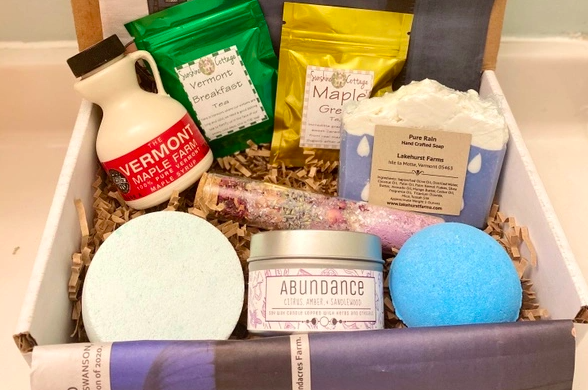 The Buy Local Box comes with a minimum of six self-care artisanal products that are purposefully selected to give the recipient emotional, spiritual, and social wellness. Each product is chosen from Vermont small local businesses.
Where to find it: Buy Local Box
This employee or coworker appreciation gift is ideal for people who care about the environment and supporting mom and pop companies. If your administrative assistant has ever mentioned going to the farmer's market or craft shows on the weekends, this could be a big winner!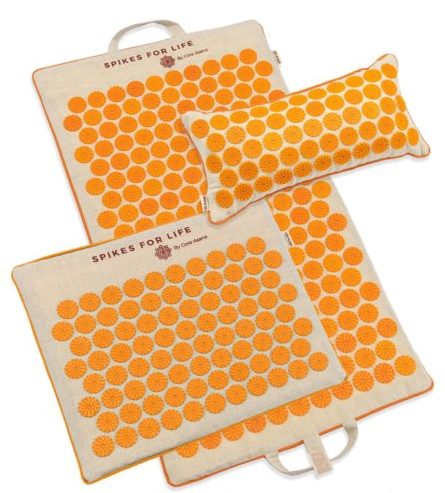 Sitting in a chair all day is not the best for your health. That's why the Acupuncture Mat can go a long way towards helping your administrative assistant. If anything, their body will thank you. This dual acupressure mat and pillow set is therapeutic for muscle soreness, insomnia, pain, and stiffness.
Where to find it: Acupressure Mat & Pillow Set
With natural coconut fiber filling for full-body and neck support, your administrative assistant will be comfortable even as the plastic points target pressure points and rejuvenate the body.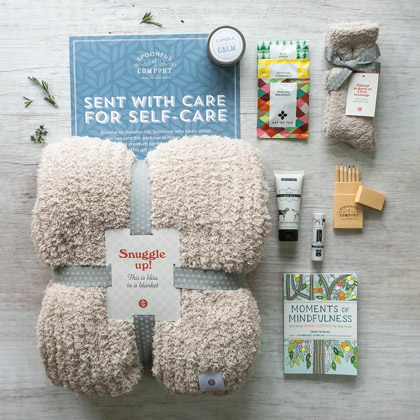 The Deluxe Spa Day is, well, like having a spa day in a gift box. This Administrative Professionals Day idea is easy to order, sent to your admin, and let them relax after a busy week at the office!
Where to find it: Deluxe Spa Day
This care package spa gift features naturally handcrafted bath salts infused with lavender essential oils, an eco-friendly mulberry silk eye mask, handcrafted signature flowery soy candles in a glass jar, and lavender serenity moisturizing hand lotion.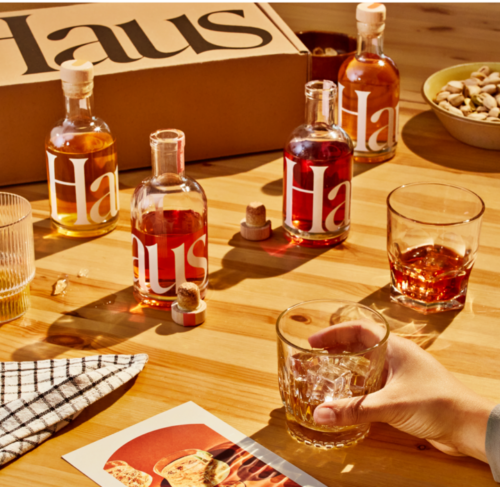 This cocktail kit is a customizable box of four 200ml bottles of delicious low-AV aperitifs. With each flavor sized for 2-3 drinks, your administrative assistant will get to experience a gift that keeps on giving.
Where to find it: Haus Sampler Kit
Perfect to sip on the rocks or mix up in a cocktail, they will be able to try four flavors without worrying about the hangover. Haus is committed to creating a cocktail with clean ingredients, minimal sugar, and a delicious taste.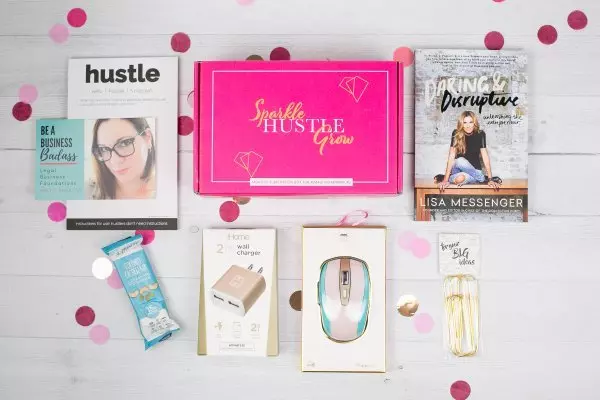 For boss babes and go-getters, you may have just stumbled on the coolest gift on this list! If your administrative assistant is the kind of person who listens to podcasts on the way to work, they will be thrilled to unwrap this coworker appreciation gift.
Where to find it: Sparkle Hustle Grow
With monthly personal development and business books, office supplies, tech gizmos and gadgets, and business training from experts, your administrative assistant will get the edge they want in life with these excellent office gifts. After all, there's a reason Forbes, POPSUGAR, and USA Today have featured the #BestBusinessExpenseEver!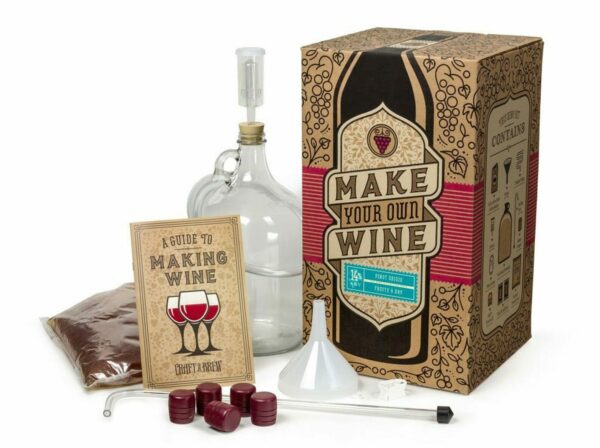 Wineries are cool and all, but having a winery in your kitchen is even cooler. As it turns out, winemaking is as simple as it is natural and it's made easier with the Merlot Wine Making Kit. Add yeast to grape juice and let it ferment in the right conditions and voila.
Where to find it: Merlot Wine Making Kit
This kit comes with every piece of equipment and the ingredients you need to make a gallon of full-bodied Merlot Wine.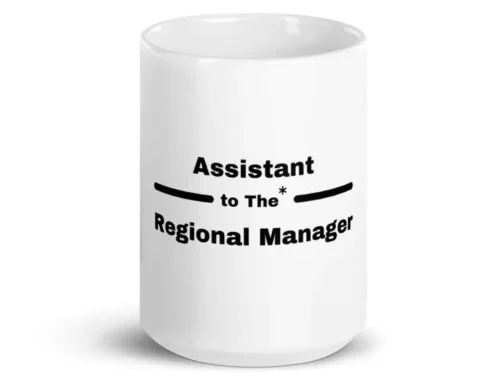 The Assistant-to-The-Regional-Manager Mug is perfect for your ever-loyal administrative assistant. Fans of the long-running white-collar comedy The Office will recognize this Michael Scott tongue-in-cheek joke.
Where to find it: Assistant to The Regional Manager Mug
Dishwater safe and large enough to keep this vigilant Assistant-to-The-Regional-Manager fueled with coffee.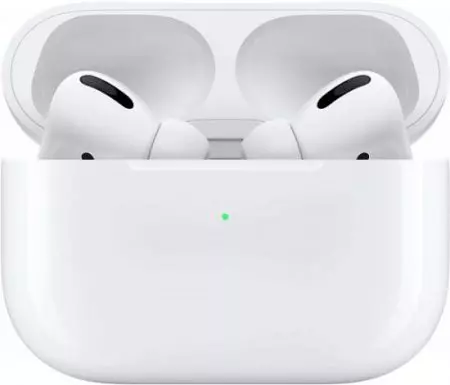 Apple AirPods Pro are sweat and water-resistant, cancel out noise for full sound immersion, are easily compatible with Apple devices, and come with a wireless charging case, which gives 24-hours of battery life! They can help them step up their work-from-home set up with a gift they will want to use every day.
Where to find it: Apple AirPods Pro
The chances are, your administrative assistant is on the go quite a bit, so this is something they will end up using every single day.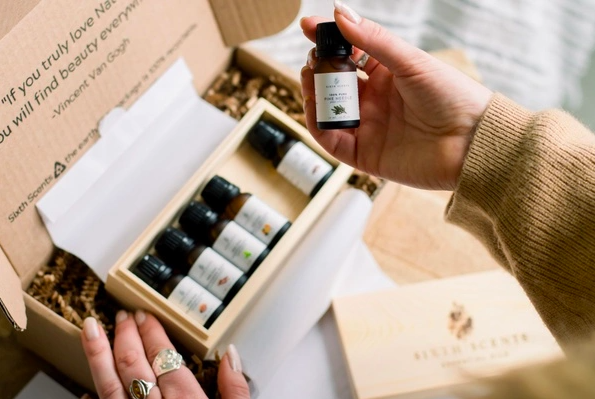 These days, essential oils are popping off on social media and really all over the place. New studies are coming out regularly showing that it's more than woo woo and pseudoscience — authentic oils have tangible benefits!
Where to find it: Sixth Scents
Each month, the recipient of this essential oil subscription will receive 100% paraben and sulfate-free pure oils. Sixth Scents are made in the USA with globally and sustainably sourced cruelty-free essential oils!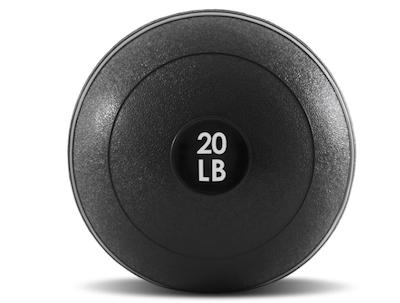 For a total body workout, there's no better item than the Classic Slam Ball. One of the best things about the ProsourceFit Slam Medicine Ball is that it's compact, uncomplicated, and works well in any size apartment or home. Whether your administrative assistant wants to get a quick pump between a Zoom call or before morning coffee, the medicine ball gets the job done.
Where to find it: Classic Slam Ball
Additionally, these weighted balls come in 5, 10, 15, 20, 25, 30, and 50 pounds so your administrative assistant can go lighter for more of a cardio workout or heavier to improve strength!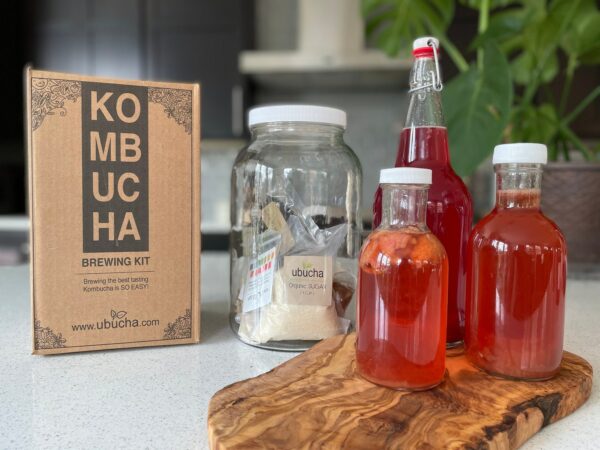 For the hipster or simply the lover of all things natural and holistic, the Kombucha Brew Kit is the perfect gift. This sweetened probiotic kombucha comes with a 1-gallon glass jar, black tea and cane sugar, and instructions for getting the drink ready for consumption in just two weeks.
Where to find it: Kombucha Brew Kit
Plus, once your administrative assistant understands how to brew kombucha, there's no limit to how many batches they can do!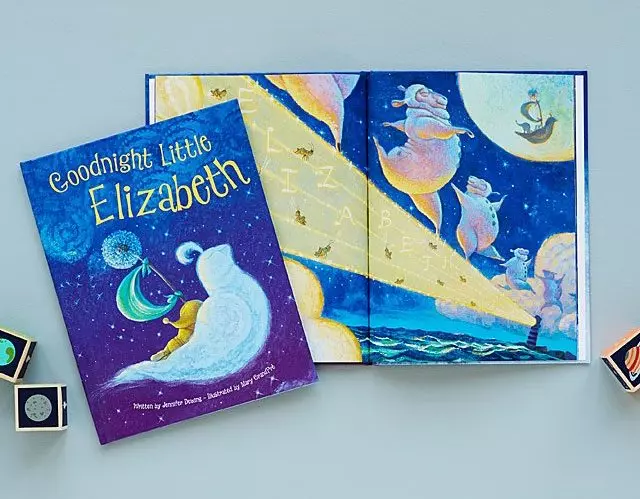 Out of all of the gifts on this list, the Personalized Goodnight Little Me Book is perhaps our favorite for administrative assistants with families. With stunning illustrations by Jennifer Dewing, their little one is sure to fall in love with this custom children's book.
Where to find it: Personalized Goodnight Little Me Book
If the beautiful illustrations weren't enough already, you can add their child's name to the cover, throughout the story, and the illustrations. This lyrical story is designed to help them have the sweetest of dreams.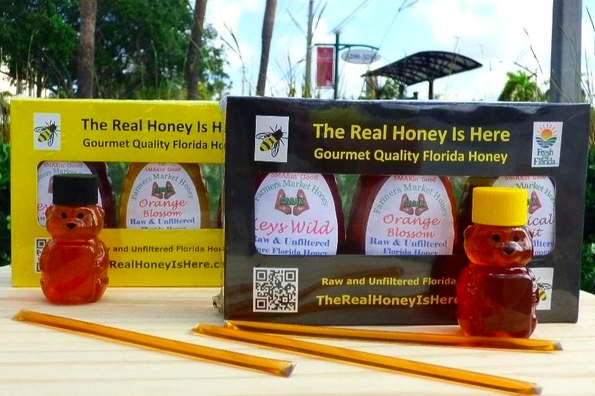 The Real Honey is Here Box features 3 seasonal bottles of seasonally rotating raw and unfiltered honey. Honey of this quality is usually only found at local farmer's markets, however, you can have it sent to your executive assistant's front door through a monthly subscription!
Where to find it: The Real Honey is Here Box
This extra-sweet coworker appreciation gift also happens to be healthy unlike those unnatural sugar candies.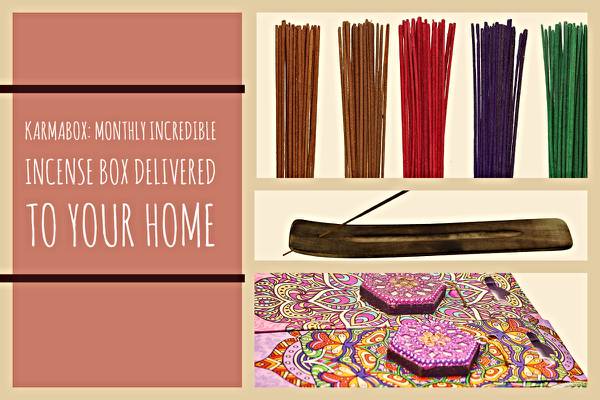 The Karmabox is incredible for anyone wanting to protect their space and energy. These hand-rolled fragrances help foster relaxation, creativity, and mindfulness through proper stimulation.
Where to find it: Karma Scents
You can choose between the small, medium, or large Karmabox, which contains 10 brands of incense, 3 incense burners in various styles, and 5 other incense-related items each month. With the large package, your administrative assistant will receive at least 300 sticks!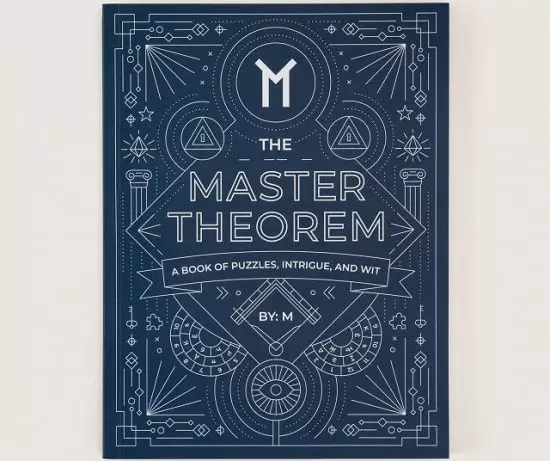 Does your admin love logic puzzles? Do they enjoy crossword and sudoku-type challenges? If so, then this brain-busting book is an excellent gift that will leave them bewildered.
Where to find it: Master Theorem Book of Puzzles
The Master Theorem Book of Puzzles contains 40 unique puzzles invented by the enigmatic figure known only as M. In fact, M is rumored to be a secret society of geniuses who mastered puzzles, ciphers, and code-breaking. But perhaps, your administrative assistant will be the one to crack M's true identity. Get back to us on that one!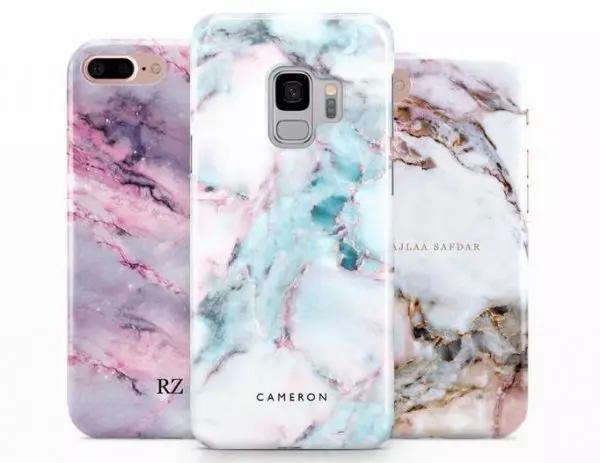 This Personalized Marble iPhone Case is like receiving a card just for you — except in a much nicer, more high-quality form! The custom case can be altered by writing a name or particular word on it.
Where to find it: Personalized Marble iPhone Case
The pink and blue marble also gives it a chic aesthetic!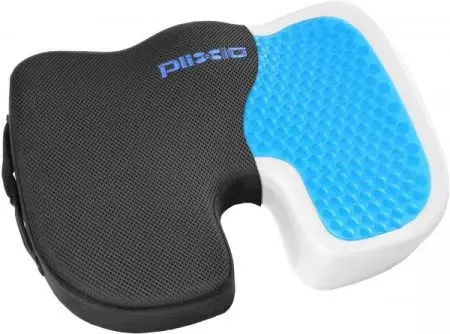 Administrative assistants are the backbone of a company. Unfortunately, this also means your admin's actual backbone has a lot of pressure on it. That's where the ergonomically-designed Memory Foam Chair Pillow comes into play. This gel cushion aids great posture and proper spinal alignment.
Where to find it: Memory Foam Chair Pillow
Whether your administrative assistant works remotely or comes into the office, the Memory Foam Chair Pillow is going to make them more comfortable and so much happier on a day-to-day basis!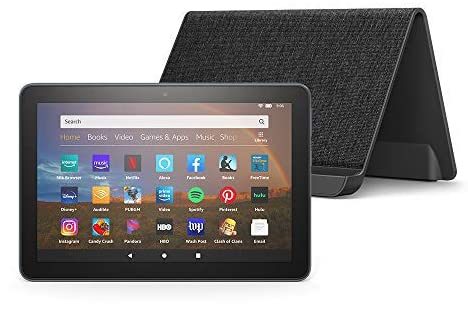 If your administrative assistant loves reading and good stories, the Amazon Kindle gives them a mobile library of books! The Amazon Kindle comes with a wireless charging dock, all-day battery life, and the ability to also enjoy apps like Hulu, Netflix, TikTok, Instagram, and much more.
Where to find it: Amazon Kindle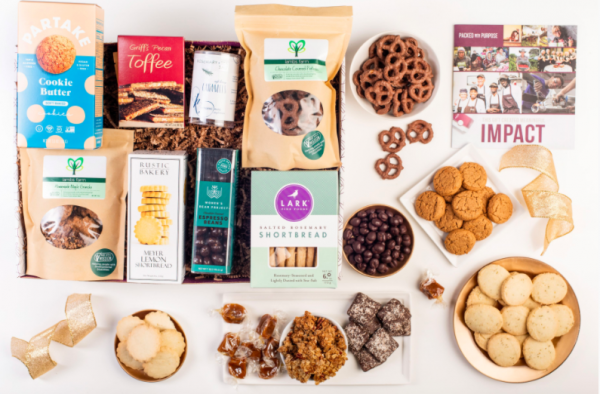 Does your hardworking admin have a sweet tooth? Look no further than A Sweet Thanks. This Goldilocks level of just right perfection is a selection of handcrafted dipped pretzels, divine artisan caramels, delicious cookies, and all-natural granola.
Where to find it: A Sweet Thanks
One of the things recipients of this appreciation gift seem to enjoy the most is that there's enough to share with friends and family or they can relish and delight in these goodies over time.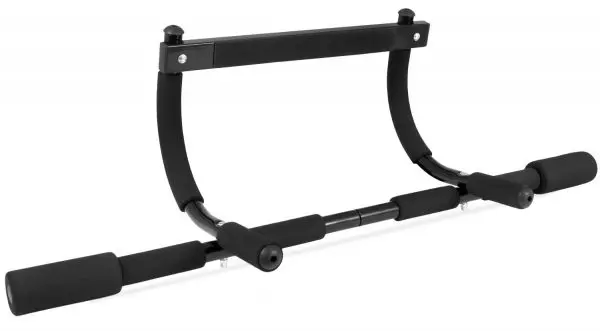 Does your administrative assistant enjoy working out? Well, one major addition to their home workout routine could be this super sturdy Multi-Grip Lite Pull-Up Bar. Built by ProsourceFit, this cushioned foam grip pull-up bar is designed to improve chest, back, shoulders, abs, and arm strength and fitness.
Where to find it: Multi-Grip Lite Pull-Up Bar
Your administrative assistant will relish the fact that between calls and emails, they can do dips, pull-ups, sit-ups, leg raises, and other exercises on this easy-to-setup stainless steel home workout equipment. Plus, it attaches right to their door frame!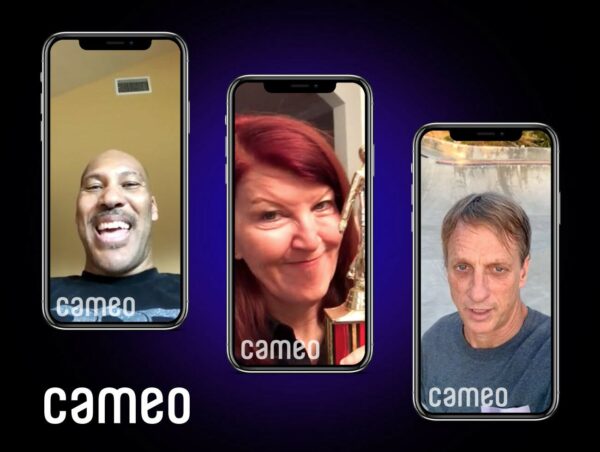 With Cameo, you can get your administrative assistant a personalized video from their favorite character in The Office, a professional athlete, or a reality tevelvision star. These personalized video messages enable you to bring a unique gift that your assistant will save and cherish forever.
Where to find it: Book A Celebrity Video with Cameo
There is nothing cooler than their favorite celebrity saying their name and a couple of facts about them. Make sure to put a couple of personal facts about the person you are recording the video for. It is so cool when the talent mentions facts about them – really emphasizes personalization.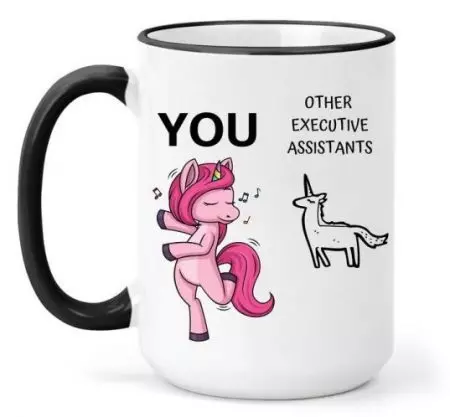 Is your executive assistant one of a kind? This Executive Assistant Unicorn Mug is a fun way of telling them you love their individuality and you don't think there's anyone who could do what they do.
Where to find it: Executive Assistant Unicorn Mug
This handmade ceramic mug keepsake also comes with a no-break shipping guarantee!
---
People Also Ask These Questions About Gifts for Administrative Assistants
Q: How much should I spend on an administrative assistant gift?
A: Considering that your administrative assistant is crucial for business operations, there isn't really a set dollar amount on how much you spend on their gift. However, it's important that they feel cared about, so whether the gift costs $50 or well into the $100+ range, it's a wise investment back into human capital.
Q: What kind of gift should I get for Administrative Professionals' Day?
A: The primary factor when it comes to purchasing a gift for Administrative Professionals' Day is the individual's personality and passions. While you could always give gift cards, basic coffee mugs, totes, sticky notes, mouse pads, or other desk accessories, you want to make sure that whatever you give them feels personalized.
Q: What is a unique gift for an administrative assistant?
A: A unique gift for an administrative assistant is something that feels just for them; a thoughtful gift, not a last-minute checkout. Of course, the best way to achieve this is by gifting them a personalized employee appreciation gift.