Given the sheer popularity of the keto and paleo diets, there's arguably no better time than now to be a carnivore.
Seriously. Meat eaters should rejoice at the number of snack options available to them these days.
Why the sudden boom in meat-based snacks? Well, beyond the muscle-building properties, essential nutrients and low-carb benefits of a meaty diet, we now know that a high protein diet goes hand in hand with staying full longer.
Get Your Free Healthy Snack Recipes Downloadable
However, meat-lovers do face a particular challenge when it comes to snacking.
That is, finding healthy meat snacks that don't take forever to prepare.
For starters, not all meats are created equally health-wise – not by a long shot. Think about it. Red meat. White meat. Cured meat. Dried meat. Meat-eaters are spoiled for choice, but choosing healthy options can be overwhelming without nutritional guidance.
Meanwhile, sticking to meat-based snacks day after day can be tough for those of us on a tight schedule.
Hey, we get it. That's why we put together this list of healthy meat snacks for those of us who are meat-obsessed and those who simply want to add a little extra protein to their snacking regimen. Regardless, this list is a solid starting point!
Want to become a better professional in just 5 minutes?
Grab-and-Go Meat Snacks 
Healthy meat snacks don't necessarily need to be prepared fresh or break the bank. Below are some prime options you can bring with you on-the-go, some of which don't even require a cold-pack.
Jerky and Meat Sticks 
Perhaps the best most popular grab-and-go option, jerky and meat sticks are delicious and require absolutely no prep. You can find them in a variety of flavors to keep your tongue guessing.
Jalapeno? Teriyaki? Sweet BBQ? That doesn't even scratch the surface of what's out there today.
Similarly, there are tons of options in terms of what types of meat you can find. Beef and pork are popular, but turkey jerky and bison are quickly gaining a loyal following among snackers.
In addition to the diversity of meats and flavors, jerky allows you to enjoy a quick meat snack throughout the day without leaving your desk or fighting over the office microwave.
Nuggets and Bites 
You might be able to find chicken nuggets or steak bites at the store, but we recommend prepping them at home (more on that later).
These healthy meat snacks are ideal from an on-the-go breakfast or pick-me-up during the afternoon.
Bear in mind that you do need to keep your bites fresh, or you run the risk of  illness. There's nothing wrong with letting your meat snacks cool down, but try not to let cooked meat sit out for more than two hours.
Bacon snacks 
"Bacon" and "healthy meat snacks" might not seem like they belong in the same sentence, but hear us out!
Bacon is indeed high in fat, but when eaten in moderation can keep you satisfied and curb savory cravings. Due to its high salt content, bacon keeps well and can be used to supplement other dishes beautifully.
For example, some bacon bits can totally transform an otherwise boring salad. Bacon-wrapped dates are another surprisingly tasty snack. If you've never had them, take the leap and try the sweet and savory combo. If you're concerned about heart health, these days it's easy to find turkey bacon which may not have the same flavor but is better for you nutritionally.
Tuna 
Let's give seafood some love!
Tuna is incredibly low in calories while still packing some serious protein per serving. Another bonus of tuna is that it can indeed be eaten at room temperature and comes in a variety of flavors, not unlike jerky. It can likewise be eaten on its own, served with crackers or sit atop a salad.
Of course, we can't mention tuna without talking about mercury.  How much tuna can you safely eat per week? Conventional wisdom tells us that somewhere between 12.5 and 14.5 ounces per week is generally considered "safe." If nothing else, limiting your tuna intake gives you all the more reason to employ a variety of healthy meat snacks throughout your week.
Deli Meat Snacks 
Roast turkey? Roast beef? Roast chicken? The choice is yours!
Deli meats might get a bad rap, but they're good to go as long as you're actually getting them fresh from the deli. You'll notice that most pre-packaged deli meat has an ingredient list that looks like something ripped from a science textbook. Additives and added sodium should ideally be avoided, which is why we recommend you choose fresh if possible.
Salmon 
The health benefits of salmon such as its richness in omega-3s are well-documented. Not unlike canned or packaged tuna, you can enjoy salmon by itself or as the centerpiece of a veggie-based meal.
Salami snacks 
Salami pairs wonderfully with cheeses and is a small, grab-and-go meat snack that'll fit in any lunchbox or purse. Much like deli snacks, just make sure you mind the quality of your cut of meat.
Sushi 
Many supermarkets and grocery stores sell various varieties of sushi that you can take with you to work. Whether you're getting it from the store or making it at home, sushi is packed with complex flavors and represents yet another way to sneak in more veggies and protein into your diet.
Chicken Salad 
Chicken salad is a surprisingly versatile snack that's made much healthier when prepared with yogurt or vinegar rather than mayonnaise. Great to eat on whole wheat bread, crackers or just on its own.
Crab
Don't knock it until you try it! Whether you can get the real deal or the imitation variety, crab sticks are perhaps the easiest, frill-free way to enjoy seafood.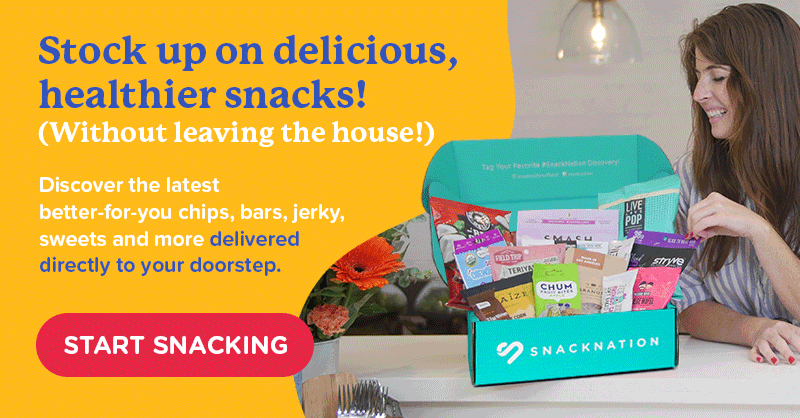 Marvelous Meat Recipes to Try 
The beauty of being a meat eater is that there's no shortage of recipes and flavor combinations to try. Although almost all restaurants are carnivore-friendly, oftentimes the best and most cost-effective meat meals are the ones you whip up at home. Here are some healthy meat snacks and meals to experiment with.
Get Your Free Healthy Snack Recipes Downloadable
Guilt-Free Salt and Pepper Crispy Chicken Wings 
This recipe from Jo Cooks is shocking flavorful for only requiring five ingredients. Its better-for-you quality lies in the fact that they're baked rather than fried.
Even so, this recipe offers up a tasty crunch that'll make you second-guess how they were prepared! This particular recipe doesn't even need a sauce, but feel free to pair these with a hot sauce or mustard if you're looking for a little kick.
Easy Homemade Jerky 
Ever wonder how jerky is made? It actually pretty straight-forward, try it for yourself!
This recipe from Yummly takes you through the specific, step-by-step process of how to cook, season and dehydrate your own healthy meat snacks.
Yes, it does take multiple days to complete the process. That said, but it's totally worth and makes expensive meats last longer.  This is also true if you can find a good cut of jerky-friendly meat on sale.
Chicken Satay with Homemade Peanut Sauce
For newbies to grilling, marinated chicken is pretty hard to mess up. This Asian-inspired dish from AllRecipes is perfect for pairing with rice and veggies. As noted by the recipe, don't be put off by the fish sauce: the end-resulting flavor is undeniably delicious!
Citrus Shrimp Rice Bowls 
Shrimp is surprisingly healthy and diverse meat that's great for the grill, too. This dish from Bon Appetit offers some intense flavor thanks to its sweet vinaigrette and a slew of peppers. This same dish and seasoning would also work brilliantly with chicken, steak or pork if you aren't much of a seafood fan.
Turkey Spinach Sliders
If you're skeptical of turkey burgers versus regular beef, this recipe from Epicurious will be enough to change your mind.
Getting more veggies is always a good idea for the sake of nutrition and keeping you full: this recipe's added spinach does just that. These thick burgers taste like something you'd get from your favorite restaurant minus the guilt.
Homemade Steak Bites 
That Low Carb Life offers up this simple steak bite recipe that could be your next dinner or something to snack on at work. These bites don't require a sauce and pair wonderfully with fresh veggies.
Side note: if you don't typically eat a lot of steak, err on the side of preparing your meat well-done and then work backward in terms of rareness next time you cook.
Skinny Tuna Spread 
Tuna salad is absolutely delicious, but not always considered a healthy snack.
The good news for tuna lovers? This recipe from Not Enough Cinnamon uses Greek yogurt and mustard to kick up the flavor factor while keeping calories low. Try it on a sandwich or on its own.
A Note on Red Meat vs. White Meat 
There's a lot of debate surrounding red versus white meat and how much meat is "ideal" to eat on a daily basis.
There really is no "right" answer here. Although red meat might have a bad reputation, there's no denying its overall nutritional value. In fact, many of our healthy meat snacks listed above are made from red meat.
The takeaway here? For any type of diet, moderation and variety are the key to success.
We recommend switching between beef, chicken, pork and fish on a regular basis for the sake of your health and keeping your diet interesting.
And hey, there might be some weeks that you don't eat meat at all: it's not of the end of the world! If you're worried about eating too much meat, consider swapping it out for some other high-protein options from time to time. From tofu and Greek yogurt to eggs and quinoa, there are other ways to meet your protein needs without, well, meat.
Get Your Free Healthy Snack Recipes Downloadable
Health Tips for Carnivore Snackers 
We at SnackNation are all about healthy snacking. Keeping your well-being in mind, here are some quick health tips for meat-lovers and anyone who's looking to pack more animal-based protein into their diet.
Don't Forget Your Fruits and Veggies! 
Having a bit of color on your plate is always a plus, especially if you're making meat a staple of your diet. For reference, the American Heart Association recommends up to five servings of vegetables and four servings of fruit per day.
Trying to stick to low carb or keto? Prioritize filling, green veggies like broccoli or spinach which go with just about any meat dish. Starchier veggies like corn and sweet potatoes are fair game, too. As far as fruits go, apples and bananas are simple, mess-free options you can bring to work.
Yes, the Quality of Your Meat Matters 
We said it already but remember that the quality of your meat matters!
Pay special attention to additives and nitrates that often come in cheaper, heavily processed meats you'd find pre-packaged at the store. Specifically, sodium nitrates in meat correlate with a higher risk of heart disease. In short, you get what you pay for.
When in doubt, try to buy fresh meat directly from a deli counter or butcher rather than preservative-filled, pre-packaged fare.
Get Adventurous! 
Trying different types of meats does double duty- diversifying your diet while also introducing you to new flavors. Meat-eaters might feel like they only have a few options to choose from, but this couldn't be further from the truth.
Have you ever had bison? How many varieties of fish do you eat on a week-to-week basis? Who knows: your favorite meat might be just around the corner but you'll never know until you give something new a shot!!
What Healthy Meat Snacks Are on Your Plate?
As we said, it's a great time to be a carnivore.
Meat can most certainly be part of a balanced diet, granted you're keeping your diet diverse and are mindful of your nutritional needs.
And hopefully, our list of healthy meat snacks gave you some protein-packed meal ideas for the home or work. If you want even more options, claim your first SnackNation box to see what we offer for the meat-lovers in your office!