Don't you think the new you deserves a treat?
Before you cringe, you should know we're not talking about the cake, cookie, and ice cream variety. We're talking about better-for-you snacks, healthy treats that nurture the new you—the one that's been owning 2018 so far.
We know that resolutions and lifestyle changes can be hard to maintain after the initial shine of the challenge wears off. That's why we love the snacks in this list. With these treats on hand, you'll be prepared to satisfy your cravings and stick to your New Year goals.
If you're craving cookies, try:
Super Yummys™ Dark Chocolate Coco Yummys
There's a reason these snacks are called Yummys, and we bet you can guess what it is. (Hint: they're totally delicious.) The makers have a passion for creating healthy snacks that celebrate tropical flavors and ingredients, including lush coconut and dark chocolate.
Treat factor: Chewy, dense, creamy, and sweet, these better-for-you treats have everything your wild, indulgent side craves, especially when you're trying to be good. The delectable coconut base is covered in caramel and drizzled with dark chocolate to create a snack that's like a cookie and truffle in one.
Better-for-you factor: Your body will love Coco Yummys as much as your taste buds. Antioxidant-rich dark chocolate provides a boost of iron, copper, magnesium, and manganese. Plus, the snacks are made without genetically modified ingredients, gluten, artificial colors, artificial flavors, soy, and high-fructose corn syrup.
Ready for the best part? One Yummy has only 60 calories and 7 grams of sugar, and the individual wrappers make it easy to practice self control. Snack away!

If you're craving greasy chips, try:
Harvest Snaps Lightly Salted Green Pea Crisps
Move over potatoes! Peas have taken over the snacking spotlight. Harvest Snaps presents peas like you've never seen them before—as crispy snacks that will make you forget chips ever existed.
Treat factor: Lightly Salted Green Pea Crisps are mouthwateringly savory and crispy, and they satisfy your most persistent cravings for less-healthy cheesy poofs and greasy potato chips. They prove that big, palatable crunches come in tasty green packages that just so happen to be healthy.
Better-for-you factor: The primary ingredient in these crave-worthy treats is whole green peas. (If your mom ever begged you to finish your peas, call her up and tell her the good news.) The crisps are baked instead of fried, and their savory flavor only takes up 2% of the recommended sodium intake. They also bring to the table (or that cozy couch) dietary fiber, iron, potassium, and calcium.
If you're craving candy, try:
Justin's Dark Chocolate Peanut Butter Cups
Justin's blends organic ingredients to make grown-up peanut butter cups worthy of your sophisticated, health-conscious self. Don't worry—the peanut butter cups of your childhood can't blame you for ditching them.
Treat factor: Organic peanut butter. Luscious fair-trade dark chocolate. Need we say more? Justin's Dark Chocolate Peanut Butter Cups marry sweet and salty flavors like no other peanut butter cup on the market. Kiss your candy cravings goodbye; this cup's rich flavors will stifle your inner sugar monster so you can get back to being a boss.
Better-for-you factor: Honest, organic ingredients provide sweetness without making you feel guilty and gross later on. The dark chocolate coating is a level-up from less-healthy milk chocolate, and the peanut butter inside actually provides 4 grams of protein.
If you're craving chocolate, try: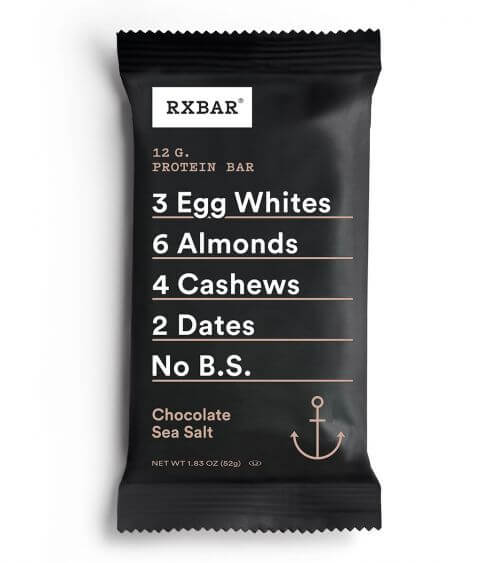 When your snack lists its ingredients in bold type right on the package, you know what's inside has just gotta be good. Every RXBARⓇ provides a healthy dose of honesty in a world full of shady ingredients. The brand's dedication to simplicity provides goodness you can taste and feel in your body.
Treat factor: Think of the Chocolate Sea Salt Bar as your favorite chocolate bar…after it's been through boot camp. Although the snack is packed with nutritious ingredients, the luscious dark chocolate flavor definitely steals the show. As you snack, you might just forget that what you're eating is way more than a frivolous indulgence.
Better-for-you factor: This pure and simple blend of egg whites, nuts, and other real ingredients provides 12 grams of protein to energize your day and 5 grams of fiber to fill you up. The bar also has calcium, potassium, and iron. And that sweetness you taste comes from dates. That's right, there's no added sugar in these babies.
If you're craving buttery popcorn, try: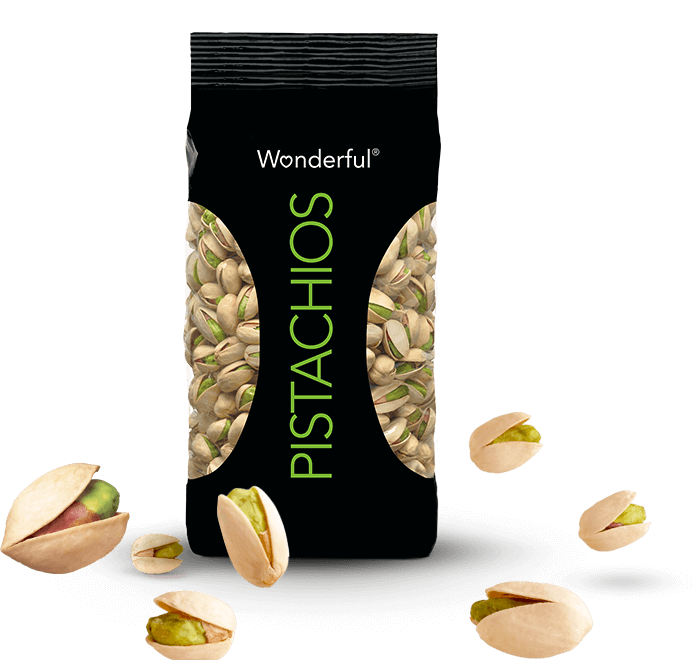 WonderfulⓇ Pistachios are inspiring the world to "get crackin." Their manufacturing processes highlight the simple, yet extraordinary flavor of this delightful nut. These pistachios are so worth cracking a shell (or 20) to enjoy.
Treat factor: No salt, salt and pepper, sweet chili—no matter what variety you choose, you'll discover these roasted pistachios are packed with Flavor. (Yup, that's a capital F.) The hearty and healthy nuts have a buttery, melt-in-your mouth quality that feels blissfully indulgent. You'll even start to enjoy cracking open those cute little shells.
Better-for-you factor: A serving of pistachios has 6 grams of protein, 3 grams of dietary fiber, and a perfectly portioned dose of good-for-you polyunsaturated and monounsaturated fat. Pistachios also have plenty of vitamins and minerals you might be excited about, including iron, thiamin, vitamin B6, copper, and manganese. And just a little bit of these nuts goes a long way; one serving will keep you going for hours.