Gifts for the Office Manager (OM) should be as multitasking, versatile, and fabulous as the recipient. The same old standbys simple won't do. (This is the person who keeps your office running as well as a Tokyo train system, after all!)
Show the Office Managers in your life you appreciate everything they do by passing on thoughtful gifts for Office Manager bliss.
Free Bonus: Get a PDF version of The 2018 State of The Office Manager Report. We surveyed 572 Office Managers to uncover 10 takeaways you can use to hit your goals and overcome challenges. Plus learn what other Office Managers are getting paid (and how you can earn more)!
Want to become a better professional in just 5 minutes?
Gifts for Office Manager: The Organized Office Guru
You probably know at least a few of these people; their desks are immaculate, their files are perfectly color-coded, and they make it all look effortless. Appearances can be deceiving! Help the most organized OM you know stay that way with an assortment of thoughtful gifts that help them organize everything and anything.
Any office supply aficionado (what organized office guru isn't?) will appreciate environmentally friendly and aesthetically pleasing pencils made from recycled paper instead of fallen trees.
Why they'll love it: Useful, better for the environment and doubly serves as chic desk decor.
A suite of office supplies in the Office Manager's favorite color
Most organized Office Managers love color coding and color coordination. Give the OMs in your life a personalized selection of office products in their favorite colors. Companies like Poppin make it easy to find nearly any office supply in nearly any color.
Why they'll love it: 

A selection of gifts in their favorite color shows you take a personal interest in their making their gift unique. 
Anyone who loves organizing probably knows one can never have enough binder clips. Get some fancy clips to make this office supply more gift-worthy.
Why they'll love it: Giving a fresh makeover to their most common tools will serve as a daily reminder that you appreciate their work.
Organized people love labeling. It's just a fact of life. Give the Office Manager in your life a label maker so they can do what they've always wanted to do but never dared to actually do: Label absolutely everything!
Why they'll love it: 

The highly organized Office Manager feels a sense of satisfaction when things are put together and in their (labeled) place. 
Washi Tape
You can use washi tape for just about everything: marking and organizing files, coding paperwork, adding things to the walls, and so much more. Plus, washi tape comes in a variety of prints and colors so your OM can keep their organizing rituals bright and interesting.
Why they'll love it: Colors are a natural mood-booster and the variety of prints will give your OM an opportunity to get creative.
With adjustable drawer organizers, your OM can organize and reorganize again and again; these handy tools adjust to perfectly compartmentalize any space.
Why they'll love it: 

Drawer dividers are one of those products you don't realize are essential until you have it. Any tidy OM will appreciate the grid-like organization of their handy supplies. 
Everyone with files and papers to organize needs an organization tray that expands and contracts according to storage needs.
Why they'll love it: 

An accordion file organizer undoubtedly makes life easier and your OM will be glad to have an improved way of organizing. 
Gifts for Office Manager: The Office Manager About Town
This person loves experiences—not objects that create clutter or high-tech gadgets that create confusion. Give your Office Manager about town the gift of memories and experiences that happen outside the office.
Museum Membership
A museum membership will help your OM pick up a culture fix. Memberships usually come along with discounted or free admission and tons of other benefits, such as free parking and merchandise deals.
Why they'll love it: If the museum is nearby, chances are your OM already frequents it. Now, they can go again and again at a lower fee!
Gift Card to a Yelp Top-Rated Restaurant
A glorious meal makes the perfect gift for anyone, especially stressed Office Managers who could use a two-hour vacation to foodie land.
Why they'll love it: If the restaurant lives up to the hype, they'll be in for an indulgent evening of delicious food, accommodating service and great memories. Who wouldn't love that?
Theater or Concert Tickets
A weekend of quality entertainment might be just what the doctor order for the hard-working Office Manager in your life.
Why they'll love it: It's not every day that someone gets to experience the unique atmosphere of live music. Your OM will be glad to mix things up and break up their routine.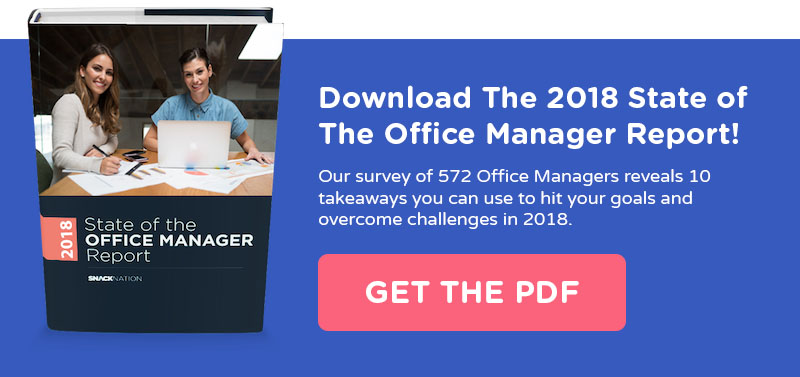 A Cool Class
Classes will please curious and ambitious Office Managers. Nowadays, there's a class to cater to nearly any interest, from cooking to calligraphy.
Why they'll love it: Most OMs are naturally eager to learn so a class that allows them to have fun and learn a new skill is an afternoon well spent.
Gifts for Office Manager: The Tech-Savvy Team Player
This person always has the latest, greatest, sleekest tech bling on hand. These tech gifts will put a smile on your favorite tech-savvy OM's face.
Tile devices let you connect to an app and track all of your important things. It's perfect for busy on-the-go Office Managers who also happen to love technology.
Why they'll love it: Efficiency is key for Office Managers and nothing saves time like knowing where all your important belongings are located.
If you have a big budget or you're doing a group gift for your tech-loving OM, then Bose frames make an excellent gift. These chic sunglasses transport the wearer into an audio experience like nothing else out there, including your wireless earbuds.
Why they'll love it: Part of the excitement for tech-lovers is being the first to try out new innovations. These Bose Frames are only a few months old and have yet to reach mainstream consumers.
Wireless Charging Stand
A wireless charging stand will save your Office Manager's sanity on those days when a phone charger is impossible to find. This gift might also make the OM's desk even more of a hub of activity as people stop by to take in a charge.
Why they'll love it: 

With a to-do list longer than a supermarket receipt, Office Managers can rarely spare a second. With a wireless stand, they can place their phone and race to their next office fire.  
A subscription to Wired magazine
A tech-savvy Office Manager will love delving into Wired's monthly explorations of technology in work and culture. Plus, the beautiful covers make amazing desk decorations.
Why they'll love it: 

A magazine subscription is the gift that keeps on giving. Plus, it doubles as a conversation starter at their desk!
Gifts for Office Manager: The Book Worm
When this person doesn't have a book to bring in for work breaks, she might just call in sick. Here are some titles that will please the Office Manager slash bookworm in your life.
Essentialism: The Disciplined Pursuit of Less
This book will give your favorite Office Manager the mental tools necessary to cultivate and master the invaluable art of focus. Who doesn't need to learn how to focus on only the important things in life?
Why they'll love it: Your OM may already be practicing Essentialism without knowing it! This book will lay it all out so they can boost their productivity even more.
Drop the Ball: Achieving More by Doing Less
This book will help anyone, especially do-it-all Office Managers, let go of feeling the need to do it all or have it all.
Why they'll love it: With requests coming from all angles, this book will help OMs find the best way to prioritize and reduce their stress in the process.
Joyful: The Surprising Power of Ordinary Things to Create Extraordinary Happiness
What gift could be better than the gift of joy? This title will delight your Office Manager, or really anyone else on your to-gift list.
Why they'll love it: By focusing on something that benefits them in and out of the office, you'll be able to show you care about their happiness even when they're off the clock.
Gifts for Office Manager: The Office Foodie
This Office Manager always asks questions when you go out to eat. When it's time for the office party, this OM makes a dish people talk about for weeks. The gifts below will satisfy any office foodie you know.
Your Office Manager slash gourmand is always bringing the most amazing leftovers into the office. Help your hungry coworker store and preserve gourmet treats with sustainable, washable, and reusable wraps.
Why they'll love it:

With fun prints and artisanal designs, their gourmet lunches will finally have the accessories to match. Plus, they'll be a trendsetter among the drab plastic containers! 
Mastering the Art of French Cooking
This grand dame of all cookbooks will keep any foodie happily cooking away for months, maybe even years. The beautiful book also doubles as must-have home decoration and conversation piece.
Why they'll love it: Any foodie knows about French cuisine's esteemed reputation. Now your OM will be able to impress dinner guests with the same fine dining.
Mortar and Pestle Set
Any aspiring chef will love the idea of grinding whole spices into culinary powders. Throw in some gourmet chilies to round out this gift.
Why they'll love it: A great gift is one the recipient would never think to buy for themselves. This one small gift will elevate their dishes for years to come.
Foraging Tour
If you live in a place that offers foraging tours, then you should definitely consider booking one for the culinarily adventurous Office Manager in your life. A foraging tour will help your OM make a memory that will last forever.
Why they'll love it: The likelihood that your OM has foraged for their own groceries before is pretty slim. Give them a completely unique experience that will leave them with lifelong memories.
A no-nonsense apron
Grab a heavy-duty apron with tons of pockets, the kind of apron that can withstand splashes of all the different sauces your foodie OM will no doubt be making.
Why they'll love it: Some chefs see putting on the apron as a ceremonial part of the cooking process. If your OM feels the same, they'll be glad to have the best of the best.
Tasting journals, like the ones from 33 Books, Co make it easy to taste foods and beverages like a professional. The pages come preprinted with graphics and words that walk anyone through mindful and critical tasting. (This should be a breeze for your food-loving OM.)
Why they'll love it:

 The best memories ought to be recorded and if your OM is a true foodie they'll be glad to relive all their favorite dishes.
Free Bonus: Get a PDF version of The 2018 State of The Office Manager Report. We surveyed 572 Office Managers to uncover 10 takeaways you can use to hit your goals and overcome challenges. Plus learn what other Office Managers are getting paid (and how you can earn more)!
What's the best gift you've ever received? Let us know so we can pay it forward with gift inspiration to make everyone smile.