Delicious sugar-free snacks give anyone with a sweet tooth the power to do the impossible: Eat less sugar while still satisfying pesky cravings.
Get Your Free Healthy Snack Recipes Downloadable
Consider this list a resource for anyone who…
A) Wants to find smarter choices to replace some sugar in their sweet treats
Or
B) Has to steer clear of sugar for their health
Please note that when we say sugar-free throughout this post, we're talking about snacks that don't have any traditional table sugar or cane sugar—the white crystals found in processed sweets. Many of these snacks contain other kinds of sugar from sugar alcohols, natural fruit, and more.
Want to become a better professional in just 5 minutes?
Sugar-Free Snacks and Your Health
Sugar tastes delicious, and it's also nostalgic! Most can remember having sugar-filled treats on holidays, birthdays and special occasions. 
Unfortunately, enjoying sweet treats every day or with every meal might contribute to some health problems:
How to Eat Less Sugar
Sugar may be unhealthy for you in excess, but some people find it so delicious that the consequences don't seem to matter. The good news is that many people struggle to keep their sugar consumption in check…which means there's plenty of advice from experts on reducing the amount of sugar you eat.
The American Heart Association recommends:
Sweetening your treats, breakfasts, and baked goods with fruit instead of sugar

Using spices and flavor extracts to add interest, instead of sugar, to foods

Adding only some of the sugar recipes recommend

Diligently checking labels for "added sugars"
You can also target areas of your lifestyle you think have nothing to do with your diet. Getting plenty of sleep may help you control your sugar intake, as studies suggest a lack of sleep may stimulate cravings for rich foods.
When in doubt, you can take some decision burden off yourself by following the U.S. government's recommended dietary guidelines.
Tip! Think about other areas of your life where you exercise restraint and control. Let's use money as an example. Most people find it easy not to spend money they don't have. It's just not there.
Channel this discipline by budgeting your sugar intake. You can even make it tangible with fake currency.  
Establish your "sugar budget." (Most

experts recommend

6 teaspoons per day for women and 9 teaspoons per day for men.)

Know your conversions. Most food labels list sugar in grams. One teaspoon equals about 4 grams of sugar. So your practical sugar budget is about 24 grams per day for women and 36 grams per day for men.)

Make sugar currency. Cut coins or bills from paper and label them in teaspoons or grams.

As you eat, put some of your currency in a jar or just throw it away.

When you run out of sugar currency, you're done eating sugar for the day.
Get Your Free Healthy Snack Recipes Downloadable
The Sugar-Free Snacker's Manifesto
If you love mantras, then a sugar-free mantra might help you focus your sugar reduction efforts. Try adapting one of these or one of your existing favorites.
For example:
"What can I do that adds to my life instead of just adding to my next 30 seconds?"
When sugar cravings strike and you really want something sweet, experts agree fruit is your best option. Try dates, raisins, figs, berries, pears, and really any other delicious fruit. Fruit-based purees and jams and sauces, such as applesauce, with no added sugars can also bring a big sweet reward to your treats.
*This collection of snacks was designed to empower readers to choose the best snacks for their own personal goals and lifestyles. None of the information was provided or reviewed by health professionals and should not substitute for medical consultations and advice.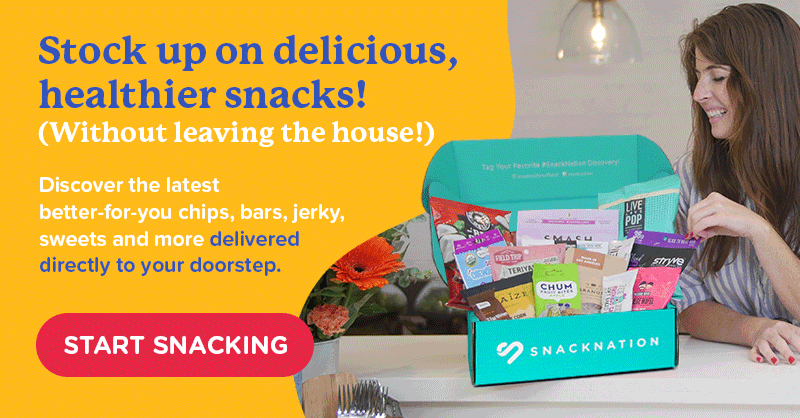 Grab-and-Go Sugar-Free Snacks
When you really need something sweet and you don't have time to whip something up, grab-and-go snacks save the day.
1. Rowdy Bar Sunflower Butter N Berries Energy Bar
Natural sugar content:

9 grams
Tasting notes:

Rich, yet tart, with the perfect amount of sweetness
Replaces:

Peanut butter cups
Berries and sunflower-seed butter provide that richness and sweetness you want in a dessert. Plus, you get nutrients along with this bar while other desserts might provide only emptiness.
Natural sugar content:

14 grams
Tasting notes:

Fruity and sweet with a hint of chicory root
Replaces:

Fruit pies and tarts
This bar tastes as good as cherry pie, but it has a fraction of the sugar. Grab one to bolster your willpower against sugary temptation.
3. Know Foods Chocolate Chip Better Cookies
Natural sugar content:

19 grams of allulose sugar
Tasting notes:

Sweet wholesome homemade flavor
Replaces:

Other chocolate chip cookies
This cookie features allulose instead of traditional sugar to reduce the net carbs in your cookie. Customers love the result. One reviewer even says these cookies are their "favorite sugar-free option that [they've] tried."
Natural sugar content:

9 grams
Tasting notes:

Lightly sweet with a hint of nuttiness
Replaces:

Chocolate-covered nuts
Nature offered us a decadent gift in the form of nuts. Nuts have satisfying fat that stops cravings and helps us steer clear of sugar. These tigernuts (also known as nookon or chufa) have a rich flavor that will not disappoint.
5. Dark Chocolate Catalina Crunch
Natural sugar content:

0 grams
Tasting notes:

Deep, rich, and chocolatey
Replaces:

Dark chocolates
Chocolate cereal without the sugary price tag may seem too good to be true, but this crunchy delight will make you a believer.
6. Suntella: Sugar-Free Chocolate Spread
Natural sugar content:

0 grams
Tasting notes:

Smooth and hazelnutty
Replaces:

Chocolate frosting
Chocolate and hazelnut flavors mingle in a spread that tastes beautiful on bananas and other fresh fruits.
7. Sejoyia Lemon-Pie Coco-Roons
Natural sugar content:

15 grams
Tasting notes:

Light and lemony with a rich rush of coconut
The richness of coconut and cashews make this better-for-you dessert a satisfying feast for the senses.
8. Adonis Turmeric, Orange, and Brazil Nuts Bars
Natural sugar content:

2 grams
Tasting notes:

Spicy, tart, and nutty
Rich orange and spicy turmeric will keep your taste buds so busy they won't even have time to demand sugar.
Get Your Free Healthy Snack Recipes Downloadable
9. Wildway Fruit & Nut Snack Mix Salted Chocolate Truffle
Natural sugar content:

11 grams
Tasting notes:

Decadent truffle meets fresh and fruity
Replaces:

Caramel truffles
When chocolate truffle flavors come mixed with good-for-you nuts and fruits, you don't have to feel guilty about anything.
10. Go Raw Choco Chunk Coconut Crisps
Natural sugar content:

7 grams
Tasting notes:

Sweet and creamy yet earthy and nourishing
Replaces:

7-Layer coconut bars  
The marriage of coconut and chocolate creates a rich combination that satisfies even the most demanding sweet tooth.
11. Voortman Sugar-Free Almonette Cookie
Natural sugar content:

0 grams
Tasting notes:

Pure, simple, and sweet
Real almonds give these sugar-free cookies the kind of flavor dessert connoisseurs crave.
12. Elan Snacks Sugar-Free Nut Granola
Natural sugar content:

0 grams
Tasting notes:

Crunchy, clean, and just sweet enough
Sugar-free granola gives you a little bit of sweetness and provides plenty of nutrients. So you get a kick of pleasure while doing your body good.
Natural sugar content:

1 gram
Tasting notes:

Lightened up banana bread
Replaces:

Sweet breads and cakes
Unhealthy sweet breads, muffins, cakes, and breakfast pastries offer no temptation when you have one of these sugar-light cakes on hand.
Make-at-Home Sugar-Free Snacks
Learn how to make sugar-free snacks at home to empower all your best dieting intentions. You might also alter your idea of what makes a dessert. (Hint: It's not measuring cups full of butter and white sugar!)
14. Keto Chocolate Mug Cake from Green and Keto
Replaces:

Sugar-dense mug cakes
Keto cake you can make in a mug? Enough said!
15. Low-Carb Triple Chocolate Zucchini Muffins from Real Balanced
Zucchini boosts the nutrient content in these delicious muffins.
Get Your Free Healthy Snack Recipes Downloadable
16. Ricotta + Sliced Figs + Toasted Hazelnuts
Replaces:

Ice-cream sundaes
Toss all these items in your favorite artisan bowl for some indulgence that will leave you feeling revitalized.
17. Sugar-Free Keto Low-Carb Granola Bar Recipe
Make a big batch of your own granola bars to make sure you're always getting the best of the best.
18. Yacon-Sweetened Cookies from A Dash of Compassion
The sweet, sweet roots of the yacon plant give these cookies unforgettable flavor.
19. Cottage Cheese + Raspberries
Sweetened by:

Raspberries
Replaces:

Sugar-packed parfaits
Creamy cottage cheese and sweet raspberries give your taste buds a treat while providing protein, vitamin C, vitamin K, and more.
20. Cashew Cardamom Date Balls from Simply Taylor
Blend a bunch of wholesome ingredients together to make a "batter" that forms into perfectly sweet balls that offer you energy and bliss.
21. Almond Butter Banana Cookies from Living Well Kitchen
Replaces:

Rich peanut-butter cookies
Almond butter and bananas make a beautiful combination in the form of a cookie.
22. Two-Ingredient Cookies from Pure Ella
Bananas and oats make a go-to cookie you can eat any time of day.
23. Raw Mini Mascarpone Berry Cakes from Texan Erin Baking
Sweetened by:

Dates and maple syrup
Replaces:

Strawberry shortcake
Fancy enough for company, these pretty berry cakes get their sweetness from fresh fruit and maple syrup.
Get Your Free Healthy Snack Recipes Downloadable
24. Flourless Cinnamon Pecan Cookies from My Whole Food Life
Cinnamon, pecans, and dates make magic when blended together and briefly baked. (Your home will smell amazing!)
25. Two-Ingredient Banana Coconut Cookies from Fresh Planet Flavor
Here's a banana-sweetened cookie option for coconut lovers! These cookies taste amazing and give you 12% of the recommended daily value of filling fiber.