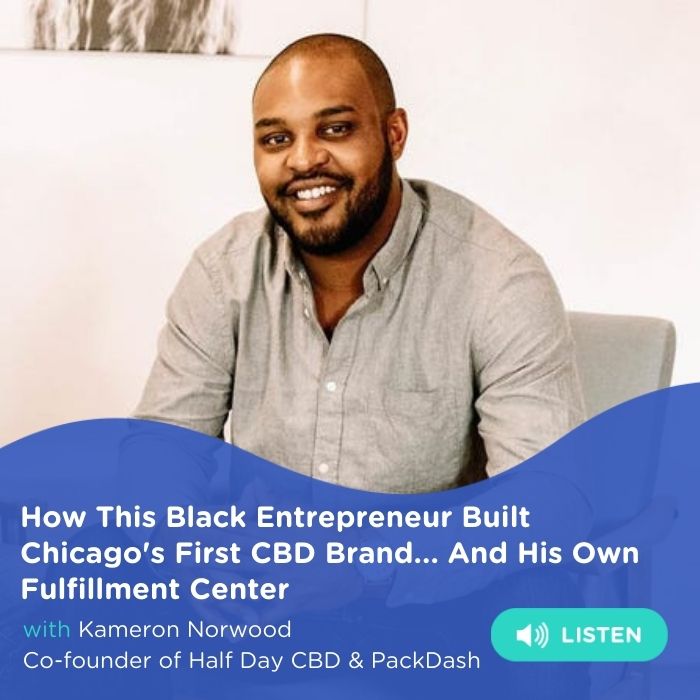 When Kameron and his coworkers needed natural relief from their high-stress corporate jobs, Kameron developed Half Day CBD, Chicago's first-ever CBD brand.
When COVID-19 halted Half Day CBD's booming event activations at Chicago's popular music festivals, Kameron and his team pivoted to e-commerce.
And when nightmarish 3PLs and fulfillment centers threatened his online customers' experience, Kameron decided to build his own 3PL. Who does that?!
Where people see challenges, Kameron sees a new opportunity to build a life-changing brand. Not once, but twice.
In this inspiring episode, Kameron Norwood, co-founder of Half Day CBD and PackDash, reveals the surprising secrets and tested strategies that helped him navigate the stigmas of cannabis, launch his first brand and build an ecosystem to support it. Get ready for a crash course in hustling, being resourceful, and never letting roadblocks get in the way of your success.
Links
Connect with Jay Hirsh on LinkedIn
Have an idea for the show? Drop us a line! Brandbuilder@snacknation.com.
Join our Exclusive Facebook Group!
What's your biggest takeaway from the episode? Join our invite-only, private Facebook group just for Brand Builder Community members, where you can connect with fellow entrepreneurs and founders, crowdsource ideas, share best practices (or lessons learned), and get your most important questions answered. Join now!
Facebook.com/groups/brandbuilderpod
Brand Builder is produced by Caroo.