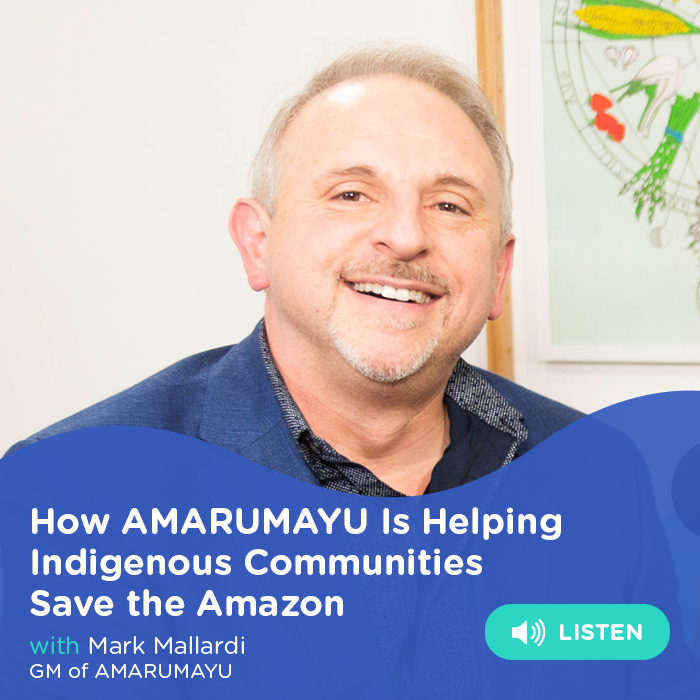 CPG veteran and insights guru Mark Mallardi is taking on a new challenge: build a brand from the ground up…and save the rainforest in the process.
Mark has decades of experience helping emerging brands scale using data and insights. Today, he's channeling that knowledge into AMARUMAYU, a newly launched line of superfruit juices.
The stars of the show are Camu Camu and Buriti, two immunity-boosting antioxidant-rich superfoods found deep in the heart of the Peruvian Amazon. 
AMARUMAYU relies on a bio-economic model of preservation. By creating a viable commercial market for the sustainable harvest of Camu Camu and Buriti, the brand helps ensure the survival of the surrounding ecosystem. 
For this to work, AMARUMAYU must adhere to a set of "wild-harvest" best practices that include never harvesting from felled trees and leaving a percentage of fruit on the vine for the area's wild fauna. 
Another key to the success of this model is the close cooperation of local indigenous communities. Mark and his Peruvian counterparts have marshaled an impressive network that includes Peru's Ministry of the Environment, local NGOs, and the Peruvian Indigenous People's Chamber of Commerce. 
AMARUMAYU just launched exclusively on Amazon (where else?), and Mark walks us through they novel ways they're reaching customers at a time when sample and trial is so limited. 
Mark also talked to us about how the survival of the Amazon rainforest is connected to the overall health of the planet, what it takes to harvest in a protected national park, and why this product was the right opportunity for him to become a true brand builder.
Links
Join our Exclusive Facebook Group!
What's your biggest takeaway from the episode? Join our invite-only, private Facebook group just for Brand Builder Community members, where you can connect with fellow entrepreneurs and founders, crowdsource ideas, share best practices (or lessons learned), and get your most important questions answered. Join now!
Facebook.com/groups/brandbuilderpod
Brand Builder is produced by Caroo.