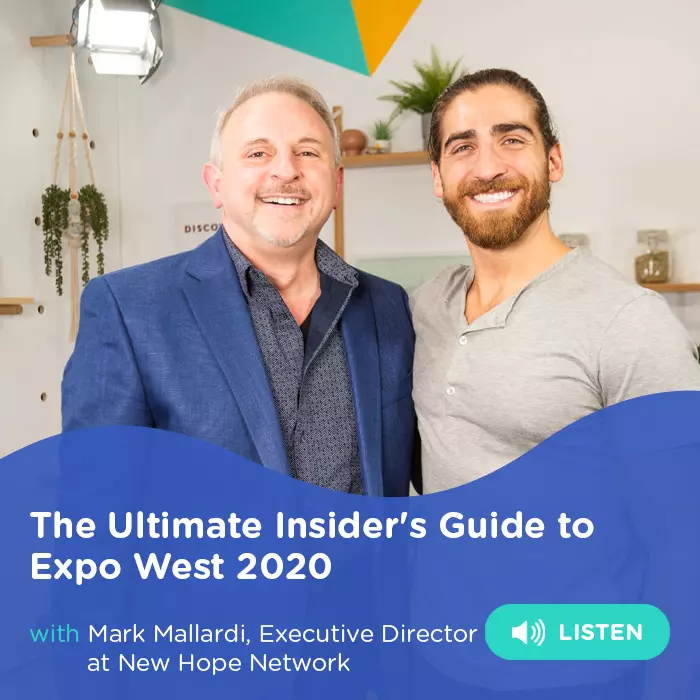 Not to alarm you, but… Expo West is less than two weeks away.
Of course, if you're listening to this podcast, you're probably well aware of that fact. 
Because if you're in the natural foods and CPG space, it's sort of taken as a given – the Natural Products Expo West is a big deal. A very big deal. 
The numbers help tell that story. 2020 is on track to be the biggest Expo ever. We're talking: 
90,000 attendees

3,700 exhibitors

20,000 new products debuted
But is Expo West right for your brand? And how do you make sure you make the most out of the show? What are the insider secrets to make Expo work for you? 
To answer all these questions and more, we talk to Mark Mallardi, Executive Director of Strategic Development at New Hope Network  (the organization that holds Expo West each year). 
We're calling this episode The Ultimate Insider's Guide to Expo West 2020.
We go in-depth on everything from how to successfully walk the floor, to the top trends Mark expects to see at this year's show, to the big question – the value of a show like Expo for your brand. 
Links
Join our Exclusive Facebook Group!
What's your biggest takeaway from the episode? Join our invite-only, private Facebook group just for Brand Builder Community members, where you can connect with fellow entrepreneurs and founders, crowdsource ideas, share best practices (or lessons learned), and get your most important questions answered. Join now!
Facebook.com/groups/brandbuilderpod
Brand Builder is a co-production of SnackNation and ForceBrands.