Need an executive gift for a CEO who has it all? We suggest trying something you can't get in any store, something one-of-a-kind—your own unique brand of thoughtfulness. Because when it comes to someone this impossible to shop for, it really is the thought that counts. CEOs are usually the ones giving gifts to their employees, but now it's time for you to take control.
Here's a list of the best executive gifts CEOs will never forget (or throw away) even if it seems like they already have everything they could ever need or want.
Want to become a better professional in just 5 minutes?
If your CEO is health conscious…
What makes it memorable: Mugs are useful and customizable. You can get a mug with the CEO's initials, name of the company/businesses' slogan (or favorite saying), as well any image you want! A personalized mug will surely put a smile on your CEO's face.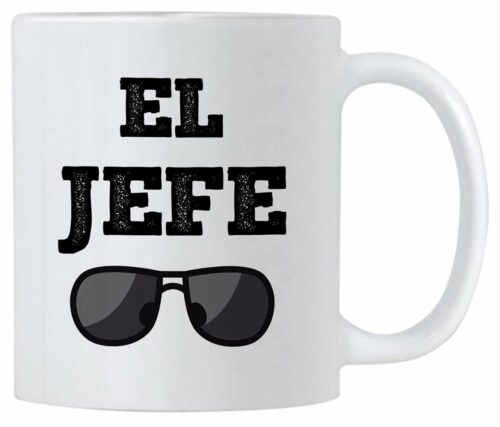 What makes it memorable: The customization, duh. If your CEO is a little on the picky side, he or she might be a bit hard to shop for. You can gift Executives boxes full of hard-to-find unique items to all the busy professionals in your life. Build your own care package or let them pick their own premium gift straight from the Caroo gifting platform.

What makes it memorable: Your CEO has probably used every premium yoga mat available, but they've probably never used one designed by their team with a custom design or message meant just for them.

What makes it memorable: This functional, practical gift lets your boss show off some style during the daily gym visit. This gift option gives you a chance to get personal in picking out the design, and it also gives you a chance to deliver a gift that will make your CEO's life easier and more fun.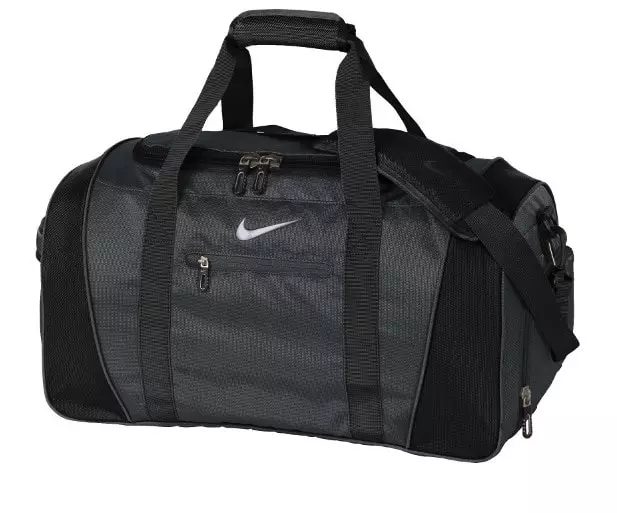 What makes it memorable: Happy Hour has never been easier thanks to Ohza. Carefully mixed with premium sparkling wine and real fruit juice, Ohza offers the classic mimosa and sangria recipes everyone knows and loves but with 80% less sugar and 60% fewer calories than ones made at home or ordered out at the bar. With over eight flavors to choose from, these better-for-you bubbly bevs are dressed to impress.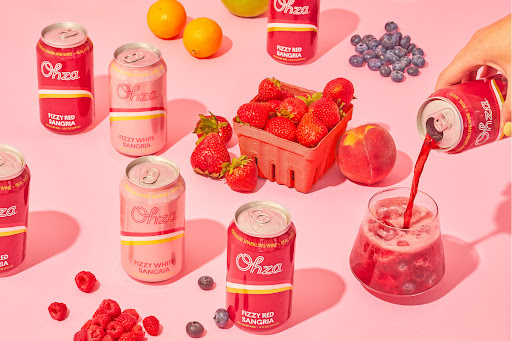 What makes it memorable: Health conscious CEOs probably already do quite a bit of meal planning, and they'll love organizing their culinary ventures and grocery lists in this pretty planner, especially if they digitally organize all their other tasks. Using a tangible planner will turn meal planning into a more satisfying ritual.
What makes it memorable: Your CEO might just start welcoming clients with a traditional matcha tea ceremony. The set provides relaxation and invigoration in one, giving busy CEOs a hands-on way to take a soothing break while simultaneously doing something that feels calming, yet productive. This starter kit is perfect for novices.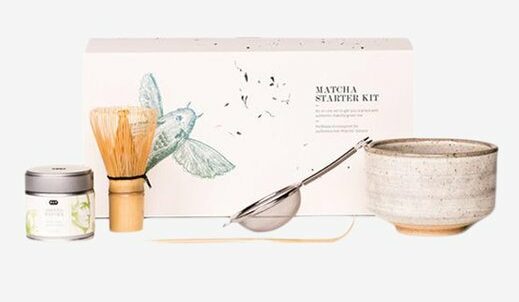 What makes it memorable: Any health conscious person struggles to find a way to eat salad on the go without making a mess. This environmentally friendly solution makes your CEO's life easier and healthier. Plus, these lunch containers are sleek and stylish enough for any boardroom lunch meeting.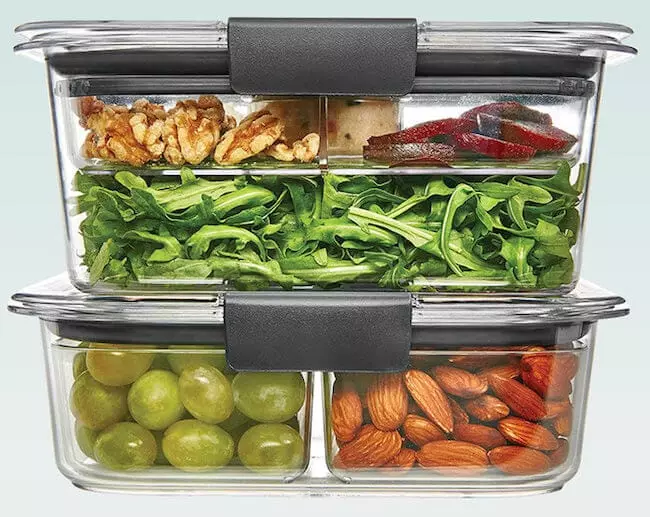 What makes it memorable: This gift is a great two for one as it packs 40 ounces of hydration while doubling as a perfect muscle aid. This water bottle will give your health-conscious CEO a easy way to stay loose during a long day in the office. They'll be thanking you for helping them hit their hydration goals each day!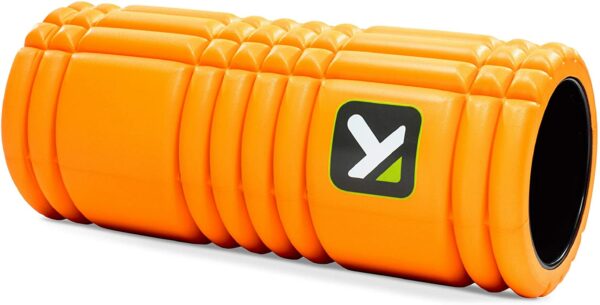 If your CEO is sophisticated…
What makes it memorable: Never let your CEO arrive with a wrinkled suit again. With this nifty garment duffle, they can easily place their formal clothing in the garment compartment, roll it into its duffle shape, and zip it up with whatever else they need inside.

What makes it memorable: If your CEO is a whiskey lover this decanter doubles as a useful office piece while showcasing beautiful glasswork.
What makes it memorable: This wine box is packed with 8 impressive wines in by-the-glass bottles that a wine drinker may have never experienced. This always-evolving flight lets them brag about tasting wines like a unique German Gewürztraminer, a bold Barbera, and a medium-bodied Mourvedre in the same night and without ever leaving home.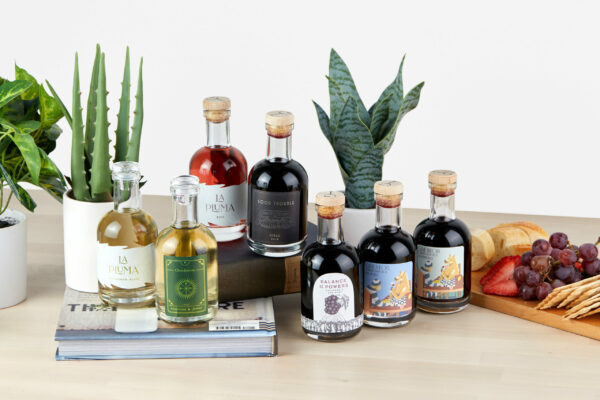 Free Guide: 6 Gifting Mistakes To Avoid
What makes it memorable: This custom art mug is like walking into an art gallery — or rather, holding it in their hand. A sophisticated CEO will appreciate having a piece of art history printed on this high-quality coffee cup. Plus, the energetic yellow petals and the rich red irises of the sunflowers will add a much-needed brightness to the day.
The bold yellows of the petals and red of the irises contrast perfectly with the turquoise background of this remastered sunflower painting!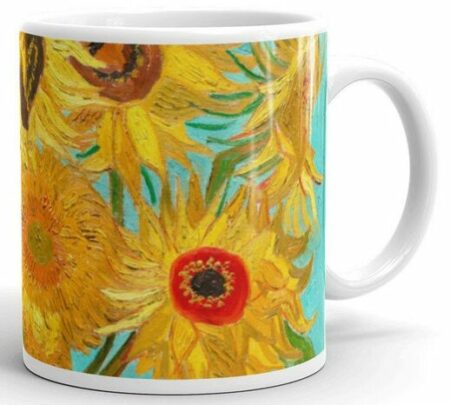 What makes it memorable: Give your CEO's finest scotch, rye, or bourbon the attention it deserves with this eye-catching setup, crafted by the Parma, Italy-based master glassmakers at Luigi Bormioli. Set on a pine wood tray from Marcellin, this set not only preserves liquor but is a beautiful statement piece for their office.

What makes it memorable: Does your CEO take notes in meetings, keep a planner and love organization? Then a subscription to CLOTH & Paper from Cratejoy is the perfect present. Your CEO will appreciate the stylish stationery that arrives each month and they'll "take note" of the thoughtful person that sent it to them while planning the company's future!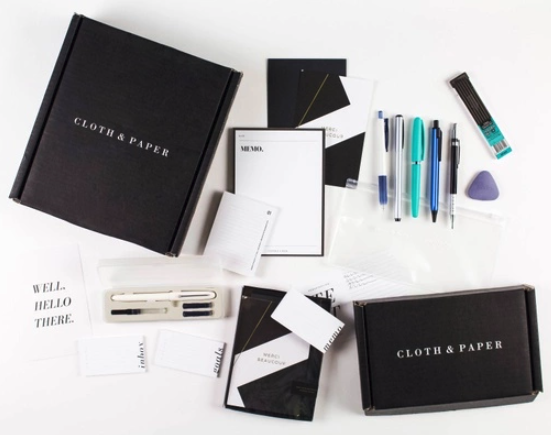 What makes it memorable: Let's face it, CEOs and bosses are a unique breed. So why not help them discover a way to experience some fun new flavors on their staple dishes. Roaming Radish Box from Cratejoy helps your favorite executive cook a new meal each month by combining regular pantry ingredients with new, hand-crafted and exotic flavors to take classic dishes up to a new level. It's the perfect way to keep them happy and you as a "top shelf" employee!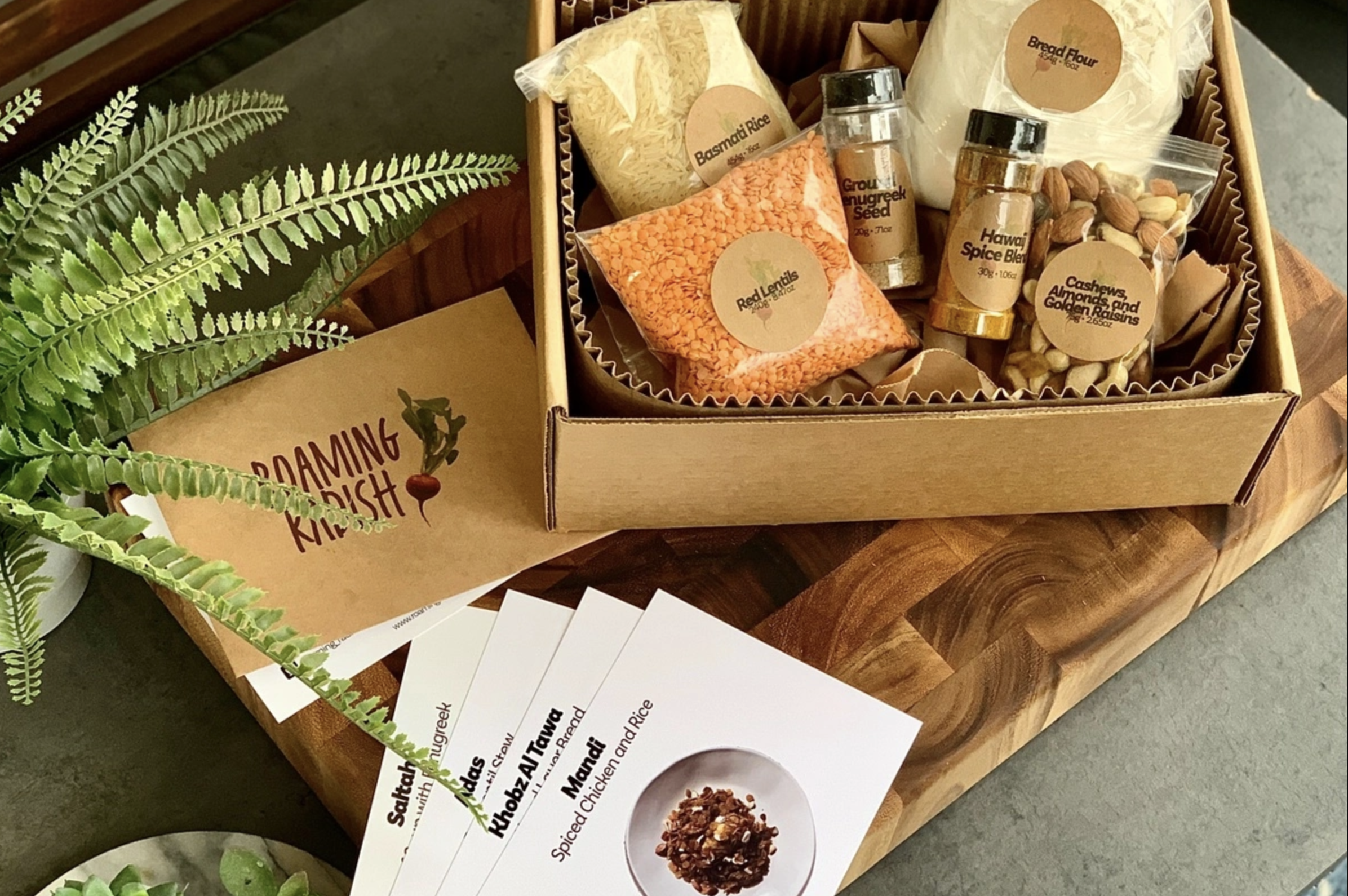 What makes it memorable: Give your top brass a tabletop bar that's sure to attract "oohs and ahhs" over its portable bartender kit fit snugly in a decorative box. With bar accessories including stainless steel gadgets, glass ice bucket, bar mat and cutting board, your CEO will be fully kitted for any cocktail.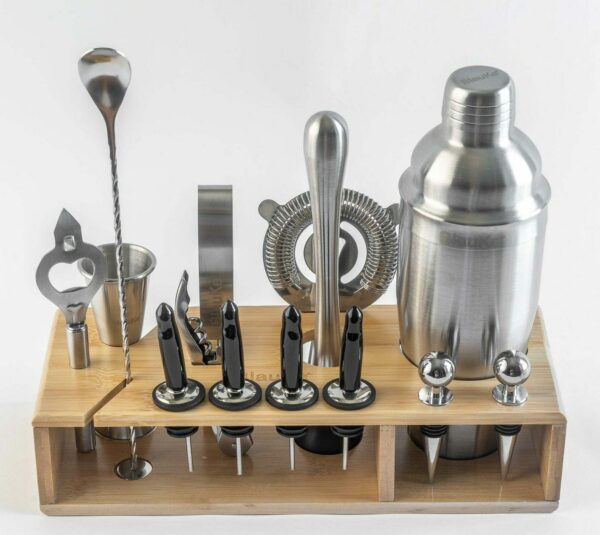 If your CEO is outdoorsy…
What makes it memorable: The Gustav Klimt iPhone Case is a stunning art print that symbolizes fulfillment and happiness. Think of it as a good luck charm that also happens to be ideal for an outdoorsy CEO since it can keep their phone safe from scratches, water, and other potential risks that stem from the natural elements.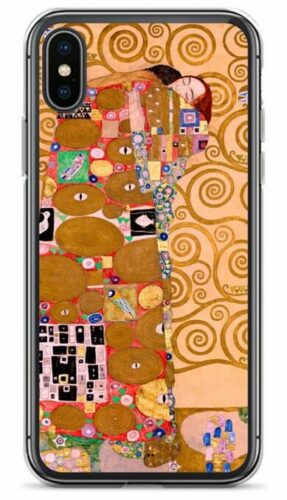 Free Guide: 6 Gifting Mistakes To Avoid
What makes it memorable: This phenomenally cooler will get your CEO through every kind of weather and every kind of terrain. Combine that lasting durability with the addition of your company logo, and you've got a gift that will stand beside your CEO for years of outdoorsy memory-making.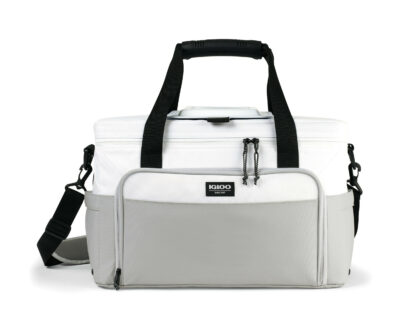 What makes it memorable: You can claim any gift "keeps on giving," but when you're giving a portable water purifier, that hyperbolic statement is 100% true. Whether it's on the trail, in a kayak, or on a climb, this gift will keep on giving your CEO clean water. Go Zero water purifiers feature a one-press filtration system that removes viruses and filters particulates to provide clean water anywhere—anytime. Your CEO will thank you while hiking, musing about how awesomely handy your gift is.
What makes it memorable: This collection of wilderness musings will touch any outdoorsy CEO's heart. John Muir explored the West when it was still wild, and his work helped preserve some of our most stunning natural spaces. According to the National Park Service, John Muir played a critical role in creating the Yosemite, Grand Canyon, Kings Canyon, Petrified Forest, and Mt. Rainier National Parks. His essays will help any busy CEO reconnect with the wonder of nature. What gift could be more memorable than that?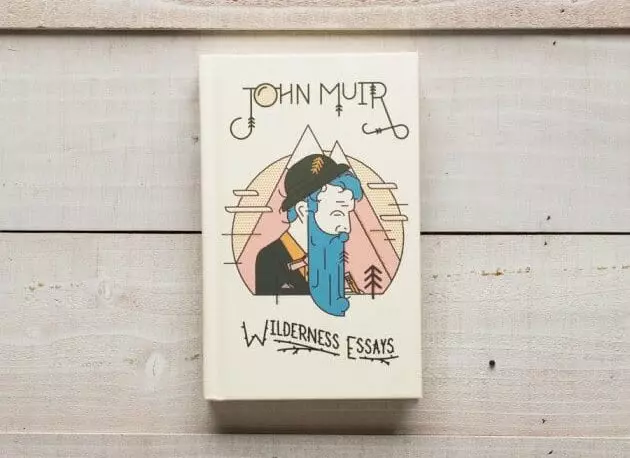 If your CEO is tech-friendly…
What makes it memorable: The Katsuyama Laptop Sleeve is a lightweight laptop sleeve to keep your CEOs computer snug and safe. With a peaceful image of Mount Fuji, an internal padded zipper, and a faux fur lining, this laptop case is water, heat, and oil-resistant, and it infuses their life with a subtle touch of zen from the painting and the knowledge that their computer is safe.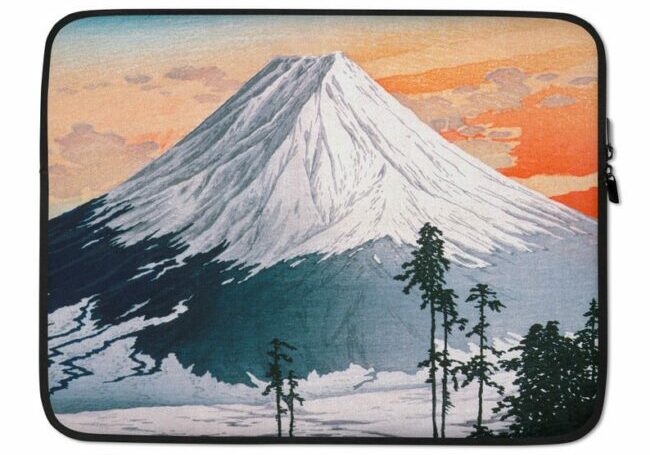 Free Guide: 6 Gifting Mistakes To Avoid
The gift: The newest Apple technology 
What makes it memorable: With new gadgets such as the Apple Watch and the AirPods Pro, your CEO will love these high quality products that help boost their productivity. Also, if they already own an Apple computer, these useful tech accessories connect easily via bluetooth so they never miss a beat during a busy day in the office.

What makes it memorable: This portable game console is a no-brainer for any CEO who likes to take a break with a quick game. The Switch Lite's size and game library sets it apart from other gaming systems, so your CEO will be endlessly entertained as they embark on their next quest.

What makes it memorable: This smart mug will deliver the perfect cup of coffee to your motivated CEO with its temperature control design. Make any heat changes from your smartphone and customize presets so that each day and each cup is exactly how you like it.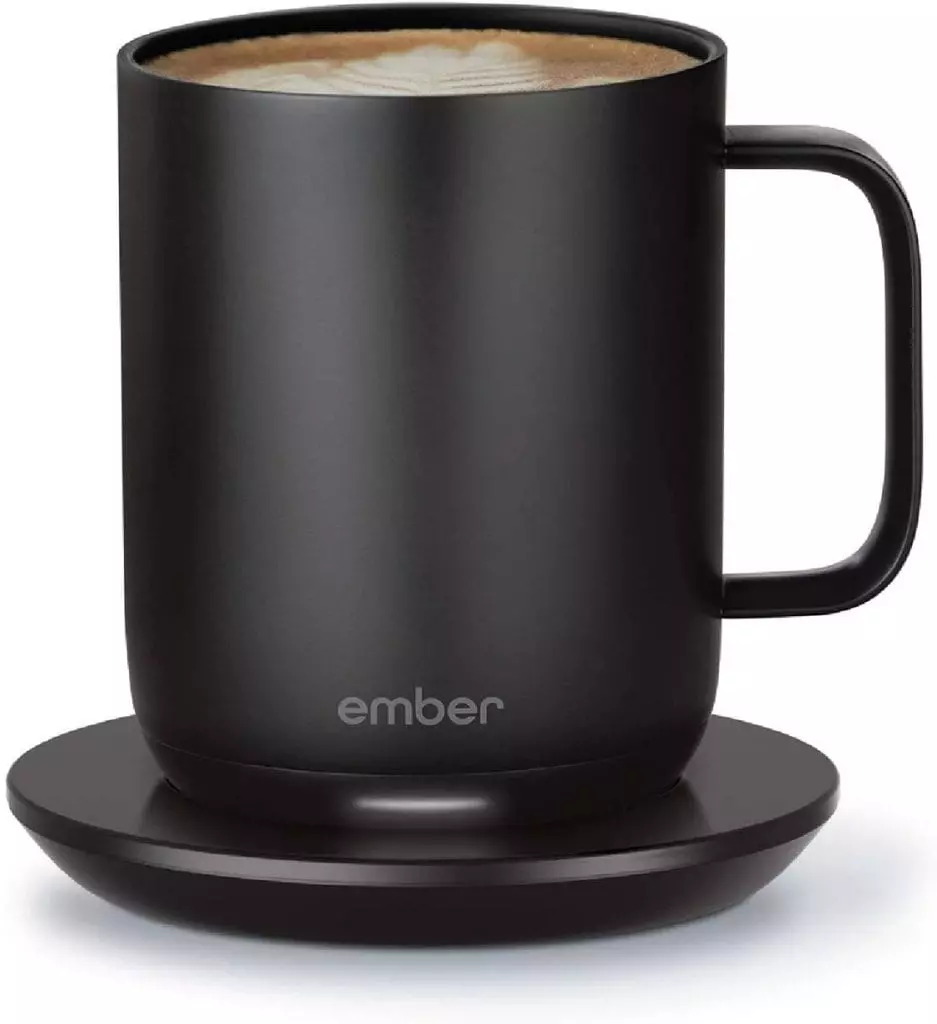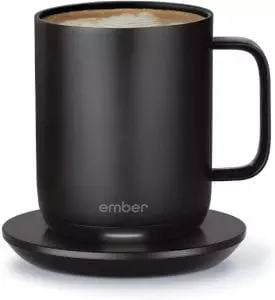 If your CEO is playful…
What makes it memorable: Any playful CEO probably already has a fidget spinner. Go old school with the original toy for fidgeters—a Bop It. The toy speaks commands, and you have to pull, twist, and bop as fast as you can to obey them. Five minutes with the Bop It would make a great presentation warm-up for any CEO.

Free Guide: 6 Gifting Mistakes To Avoid
What makes it memorable: If your boss has a sweet tooth, or simply likes to snack then this dessert box is an excellent way to let them try new delectable sweets. Each month a selection of 8 hand baked treats will arrive with a new holiday or seasonal theme to delight any CEO's taste buds and help put you on their fast track to success.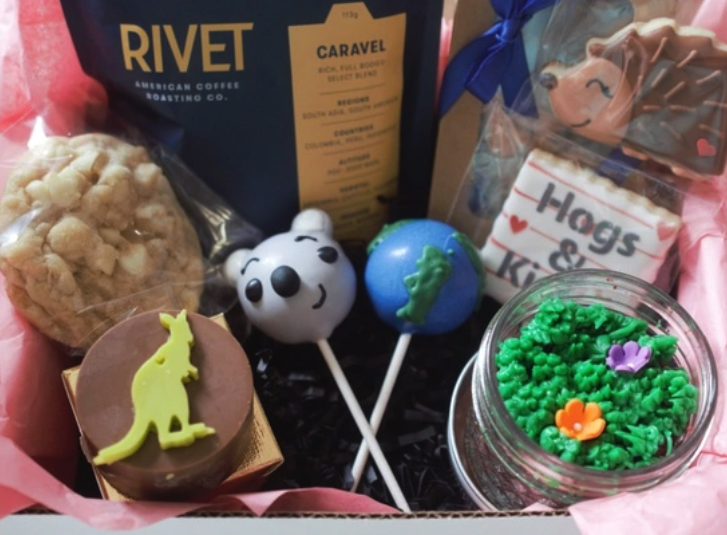 What makes it memorable: Your fun-loving CEO will love turning heads as she sails around your open office space, dishing out high fives and smiles to everyone on your team.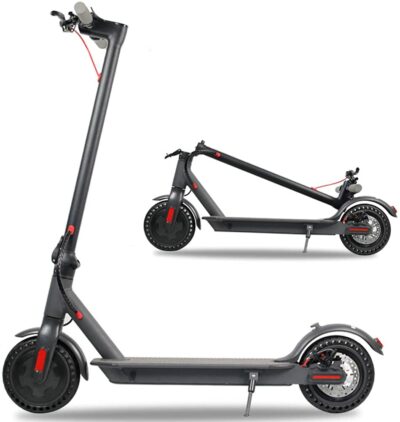 If your CEO is planet conscious… 
What makes it memorable: This guide will help your CEO plan his garden and execute his plan.  It includes easy-to follow instructions on how to choose plants for any area of interest or taste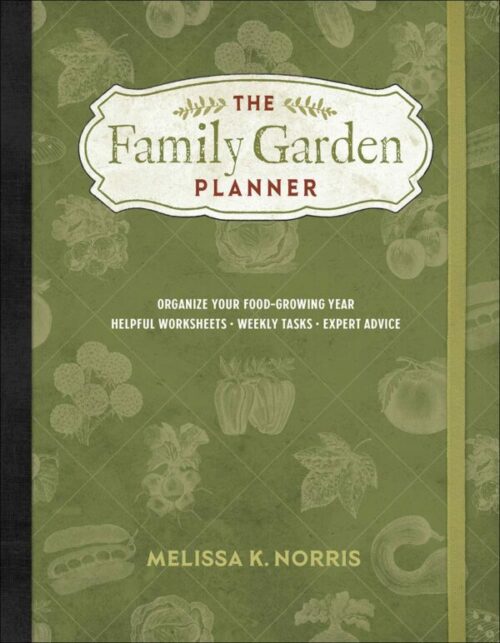 Free Guide: 6 Gifting Mistakes To Avoid
The gift: Build a swag box with reusable metal straws and other planet-conscious goodies.
What makes it memorable: You get to select everything that goes into your custom box, and your CEO will never forget the thought you put into curating a selection of products they'll love. 
What makes it memorable: With the ability to recharge devices using the power of the sun, your CEO can stay connected anywhere while taking strides to keep the old carbon footprint in line. Solar chargers haven't quite gone mainstream, so using one will also make your CEO an eco trendsetter.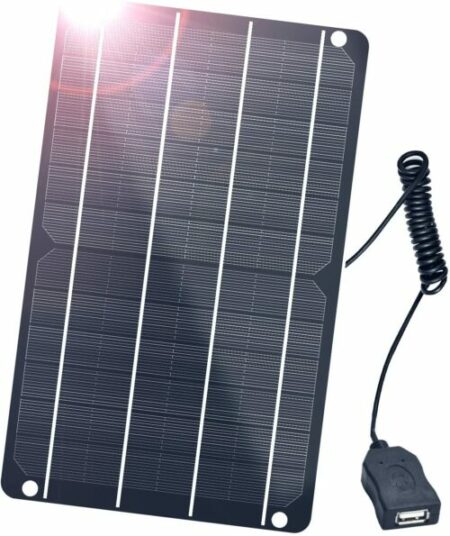 What makes it memorable: A gift from the Nature Conservancy gives your CEO more than just a token of your thoughtfulness. It also makes your CEO part of some real action in protecting animals, lands, and waters. For example, a sea turtle nest gift offers far more than an adorable plush; it also helps preserve sea turtle habitats.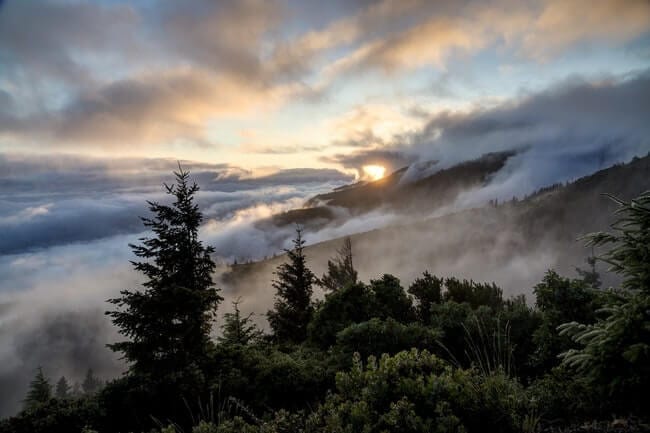 What makes it memorable: Your CEO will never forget how you gave a garbage gift and we mean that in the best possible way. If your planet-conscious CEO isn't already composting, then this gift will provide just the push necessary to inspire a major reduction in garbage production. And if your CEO already has a compost bin, then they can use this one in the office!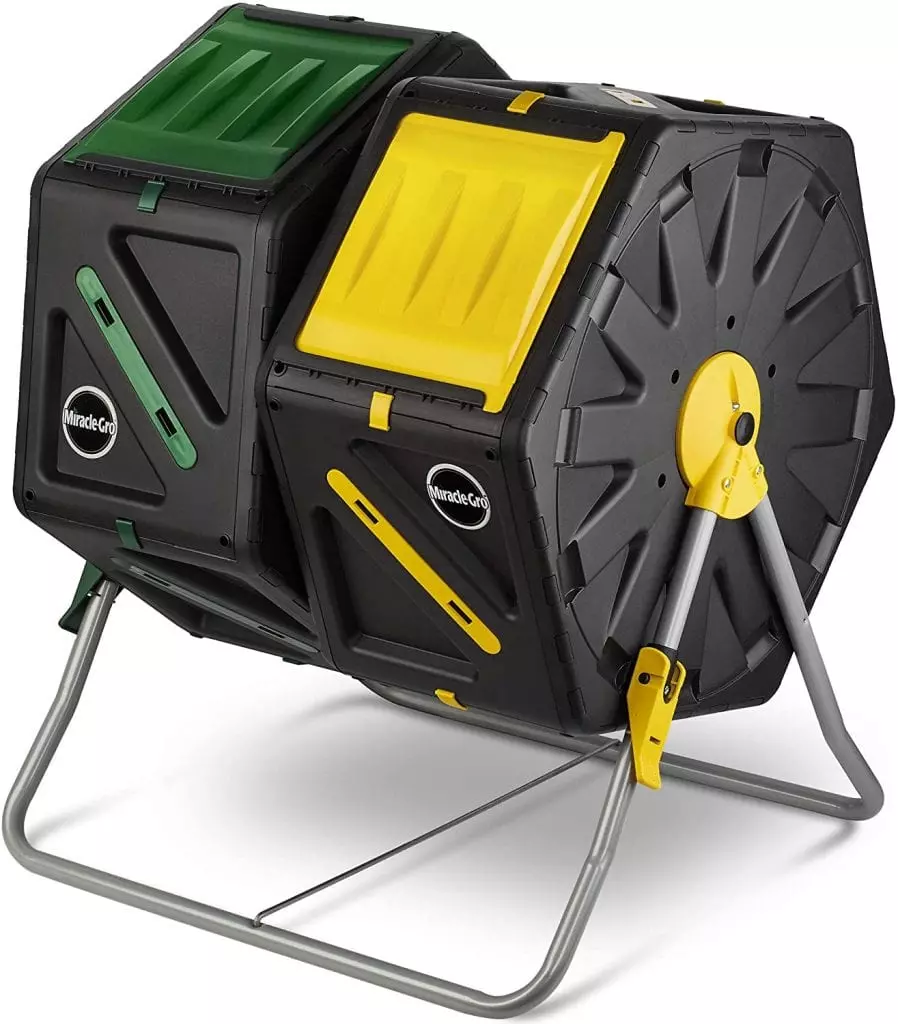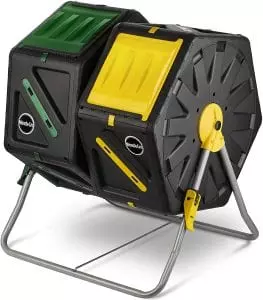 What makes it memorable: Enriched with shea butter, sweet almond oil, and aloe, this moisturizing hand cream is the gift that keeps on giving. Travel size bottles make it a breeze to use anywhere and your CEO will be able to find their favorite out of the six different fragrances.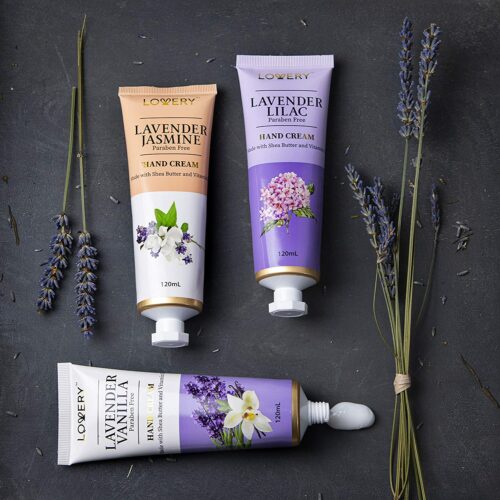 If your CEO is spiritual… 
What makes it memorable: A spiritual CEO needs an outlet to express themselves. That's why The Rock of Salvation Journal is about as close to a perfect gift for a spiritual CEO as you'll find. This art-covered journal can help keep their thoughts organized; give them a place to write down notes, goals, new ideas, and dreams; and will inspire them with beautiful imagery on the front and back cover. With 140 pages, your CEO will also have more than enough room to write for the rest of the year.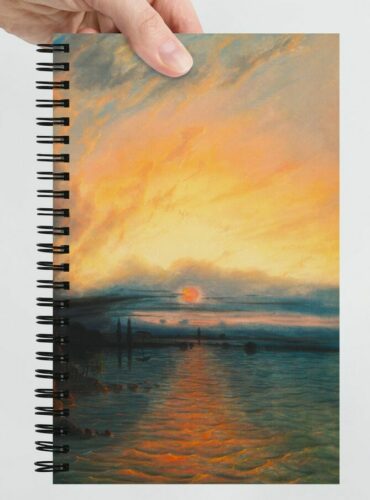 Free Guide: 6 Gifting Mistakes To Avoid
What makes it memorable: If your CEO likes to enjoy a long-term project, this bonsai tree starter kit can help them learn the patience and reward of cultivating your own bonsai garden. No experience is needed to start your journey to growing your own indoor garden.

What makes it memorable: These singing bowls include a dual surface pencil grip mallet perfectly sized to produce heavenly sounds that quiet the mind. Your CEO can access their more spiritual side from their office or wherever they go to relax and put their mind at ease.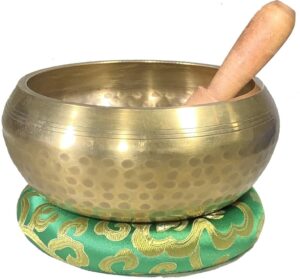 What makes it memorable: If your CEO is looking to wash away negative energy and replace it with positive energy, this smudging set will be an excellent gift for them. They will be able to cleanse and purify any space with sacred white sage and drive away bad energy with a smoldering palo santo stick. Rather than just giving them just one item, this all-in-one kit can deliver a wonderful experience for your CEO to enjoy when they need it most.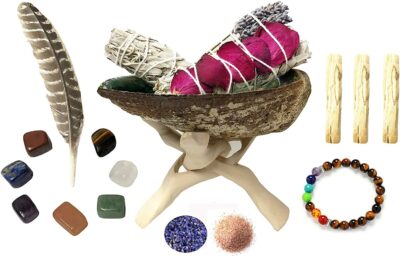 If your CEO is geek chic…
What makes it memorable: This geek chic desk light will make your CEO feel like they are from a galaxy far, far away.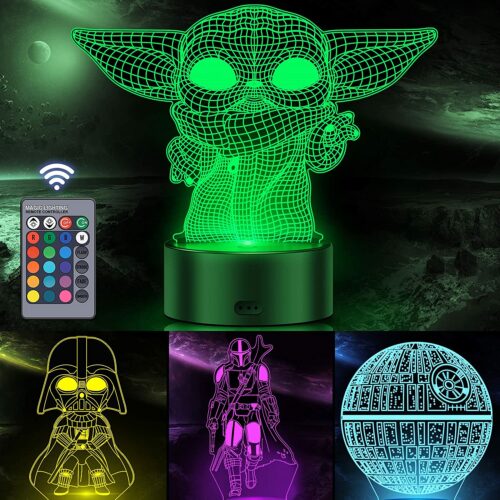 Free Guide: 6 Gifting Mistakes To Avoid
What makes it memorable: A handy e-reader with a customized design provides hours of read-anywhere delight that makes standing in line, sitting on trains, or riding up elevators an unforgettable, story-rich experience. Also, this e-reader's quality and practicality makes it a delightful gift to present at your CEO's next birthday celebration.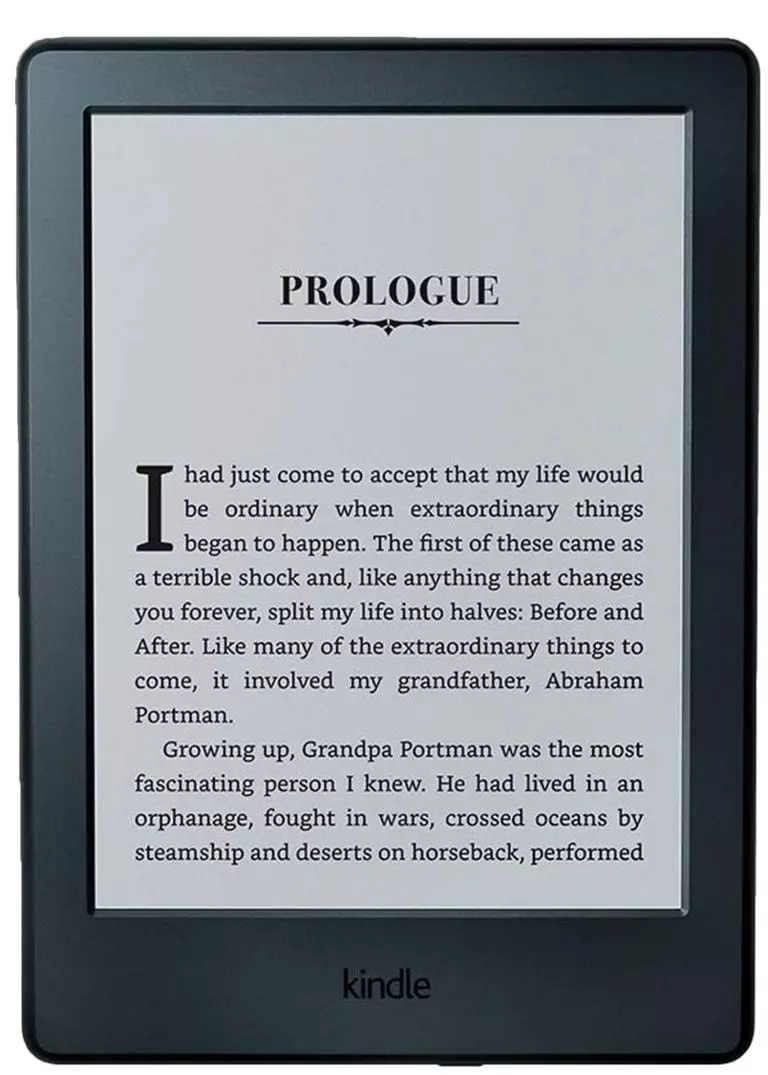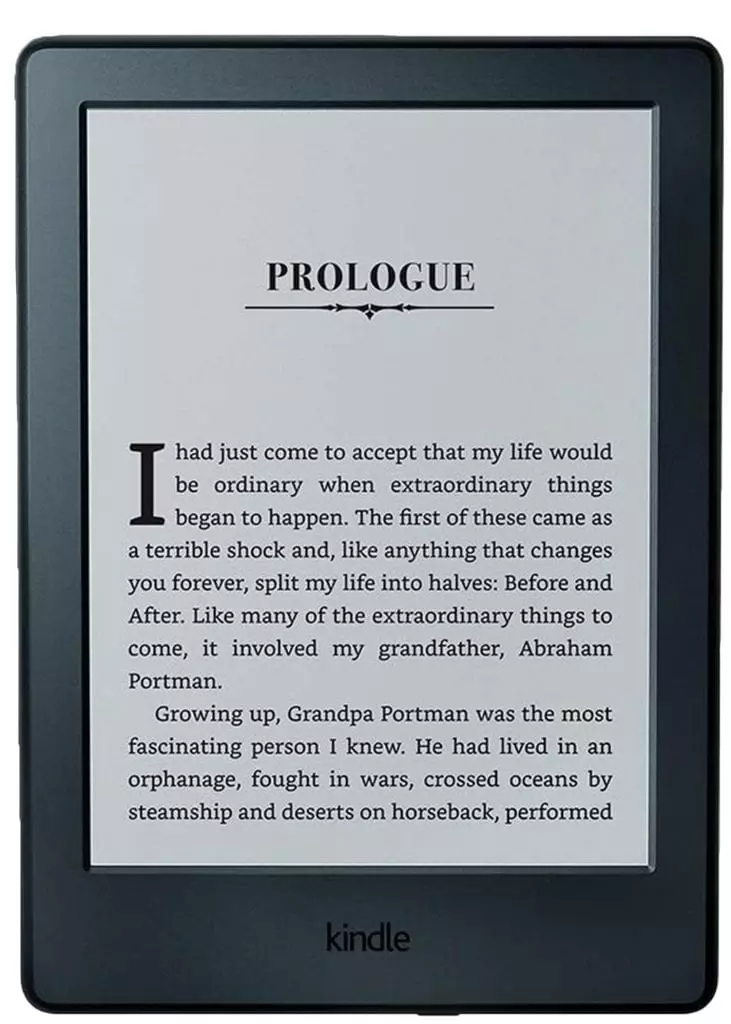 What makes it memorable: Your geek chic CEO will love a beautiful bag that also holds all the books. Your CEO will no longer have to pack books with food and electronics and risk tragic spills, tears, and irreversibly bent pages. Plus, the design on these totes is just subtle enough to inspire curiosity and impromptu conversations.
What makes it memorable: A pin this subtle will allow your CEO  to take a little geek along for any occasion, even the most stuffy of investor meetings. Without bright colors or distracting text and logos, the pin avoids upsetting any Muggles who aren't keen on the world of wizardry.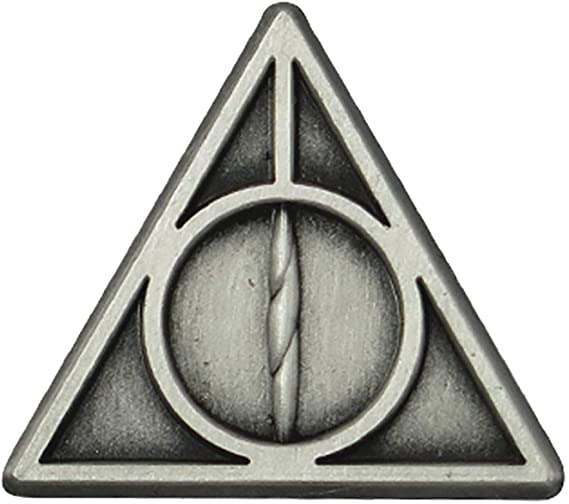 What makes it memorable: Playing with toy bricks will help any CEO connect with the inner geek kid within. Plus, these challenging sets are for grown-ass geeks only, offering building challenges that capture impressive landmarks from the Statue of Liberty to the Great Wall of China. If your CEO keeps the geek on lock—no worries. These worldly structures are desk-appropriate in all settings.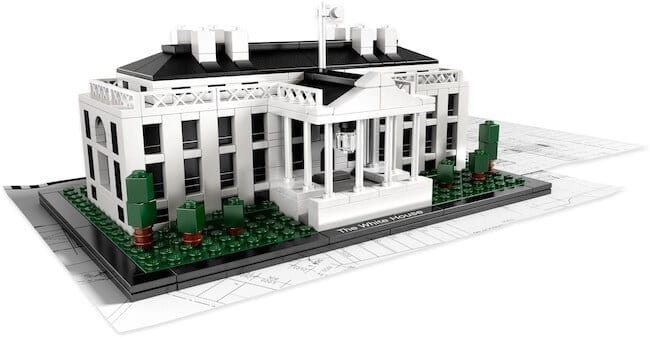 The gift: The Sandman by Neil Gaiman
What makes it memorable: Getting your CEO a comic book is a bold move—and a memorable one at that. It screams to your CEO's stifled inner geek, "See, I really know you." This gift might even make your CEO comfortable enough to confide in you about some geekier leanings. Bonding points!

Bonus: Generally awesome gifts for all CEOS
What makes it memorable: It's a Bob Ross Chia pet! Need we say more?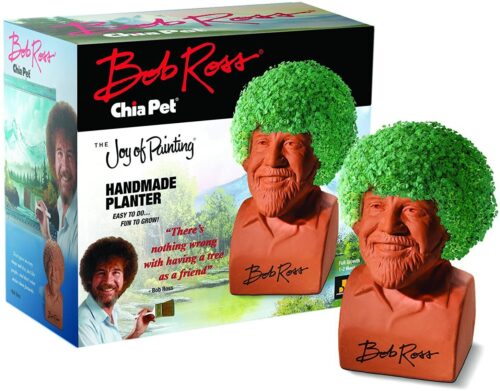 What makes it memorable: This business gift is the perfect way to memorialize any casual inside joke. It will bring a little humor to your CEO's desk, and let's face it, who doesn't love that?

What makes it memorable: Wine may be a "safe" standby, but there's a good reason for that. Most people love it, and it won't gather dust because it will be gone soon enough. Add a little extra thoughtfulness to your wine gift with a custom label you design with your CEO in mind.
The gift: A handwritten note and a homemade treat
What makes it memorable: This gift works every time. It demonstrates impeccable thoughtfulness and a great deal of effort, even if your cookies aren't as perfect as you want them to be or your note isn't as profound as you had hoped. This gift is pretty much guaranteed to warm your CEO's heart.
The gift: A surprise party!
What makes it memorable: Team up with the whole office to scrap the gifts and throw an unforgettable surprise party instead. No one ever forgets a surprise party.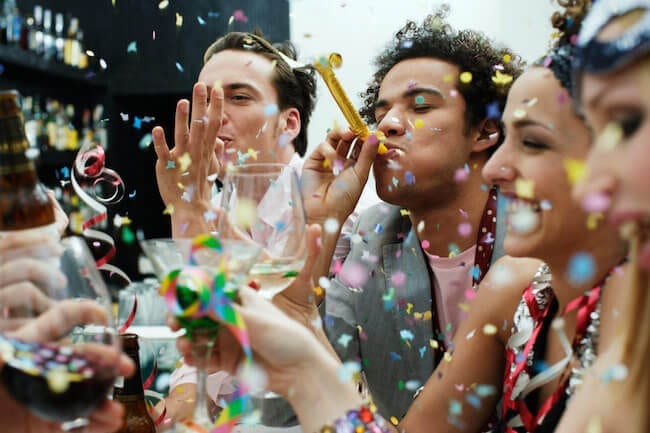 Tip: Take lots of pictures at the surprise party, and voila—you have a gift (a framed picture) for your CEO next year.
What's the most thoughtful gift you've ever received? Help us all elevate our gifting game by posting why you loved the executive gift in the comments below.