So you've been tasked with throwing your offices' next big par-tay.
Whether it's Employee Appreciation Day, a Halloween spooktacular, or the annual holiday bash, throwing the perfect office party is a lot of pressure.
Not only do you have to provide something for everyone, but fun social event ideas need to be new and different. Your co-workers don't want the same old work party year after year, and staying one step ahead of their expectations is a major challenge.
To make matters worse, you've got to do it within budget (which is usually smaller than you want it to be). That's why we've come up with this cheat sheet – 29 ideas to help you throw the ultimate office party.
In addition to themes for the staff party, we've included a couple of ideas here to help make whatever party you're throwing even better (see #11 and #25). So without further ado, let's party!
1. Office Party Mini-Festival
Why book one virtual experience when you can let your team choose among multiple event options? Build your own unique office party with Confetti!
Step 1: Select from an exclusive menu of preferred corporate event providers
From celebrity tarot card readers to world class chocolate tastings, Confetti has a wide variety of vendors perfect for any occasion. All of Confetti's offerings can be customized and tailored to your needs, whether you're making your own unique drink with expert mixologists (Marketing Dept. Mules anyone?) or getting creative with a dance class to learn your favorite music video moves (Harry Styles inspired classes have definitely become a thing).
Step 2: Set up the event for your organization by simply sharing a link
What better way to optimize for engagement and minimize your costs than letting YOUR attendees decide! Your very own branded landing page allows your team to select only the sessions they are interested in and Confetti only charges based on who attends. Talk about a win-win for your budget.
Step 3: Sit back & enjoy the event
No need to worry about delivery logistics or endless back-and-forths with vendors, Confetti streamlines everything for you. They'll make sure everything goes seamlessly by handling everything from calendar invites to video conferencing, you just focus on having fun!
Book your Confetti mini-festival for your next epic office party here.
Who murdered Neil Davidson? *Cue suspensful music*
If you are looking to spice up your next office party with a new activity for your organization, we recommend checking out Outback Team Building's Virtual Clue Murder Mystery.
Using video conferencing software alongside Outback's proprietary app, your group will split into teams, examine clues, review case files, and channel their inner detectives as they race against the clock to solve the mystery of who had the means, motive, and opportunity to murder Neil Davidson.
Who are the sleuths in your office? Is there a secret Sherlock in HR? You might just find out with this virtual office party idea that teams have sworn is a fun and new activity to try out in 2021.
Nothing brings a team together like a scavenger hunt: the fun, the interaction, the problem solving, the friendly competition – it's the perfect team builder. Through a mobile app and/or browser, individuals and teams can participate in a scavenger hunt app that has them snapping photos, taking videos, answering questions, scanning QR codes, providing feedback and more.
Better yet, the app provides real-time interaction features like a leaderboard and photostream to keep teams connected during the hunt. This works great for a day out or you can leave it open for a week (or longer) for longer engagement.
The modern day "office party" has taken a lot of different forms in the past year. Good news is that Scavify has you covered no matter what your "office" consists of these day. Have a totally remote office? No problem. Have a fully in-person office? Great! Have a hybrid office with some people in office and some working from home? Scavify will make it feel like one big office party.
The team at Anheuser-Busch went on their own office party hunt and their response tells it all,
"Thank you! We had such a wonderful time and received amazing feedback. Several of our senior leaders said it was the best event they had ever participated in with AB – which is quite a compliment! Thanks for all of your help and responsiveness. We really had a wonderful time!"
Take the stress out of planning a whole office party by setting up a demo with Scavify. They also offer an online office party version that has participants compete remotely for the scavenger hunt crown. Find more information here.
4. Healthy Breakfast Party for the Office
Who says the party can't start before noon? Treat your peeps to some healthy breakfast options like Acai smoothie bowls or a Bulletproof Coffee bar to get the party started right. You can often negotiate with local healthy breakfast vendors (like juice bars or coffee shops) for group discounts – they benefit from the exposure to potential new customers, while your team gets to nosh on their delicious healthy breakfast fare. Do it as a surprise to reward your employees and fuel a productive day, or use it to kick off celebrations later in the day.
5. Put Your Game Faces On
Game on! Just because offices are moving into remote settings doesn't mean they should forget about office party fun. Let's Roam's Virtual Team Building Events swirl collaboration, connection, communication, competition, and excitement together for an online event that outranks all others on the "fun-meter". You've got a team full of winners, but only a few will taste sweet sweet victory.
With games like charades, trivia, and Pictionary, Let's Roam's Virtual Team Builders are packed with truly hilarious moments that let everyone in the office show off. Who knew that Karen was a natural actor? How did David learn all that obscure video game trivia? Did Becky go to art school? Virtual team builders help remote teams get to know each other in a whole new way.
6. Spirit Day
This idea involves encouraging employees to dress in their favorite team gear – no matter what the sport. This was a big hit when we tried it at SnackNation HQ. Our Spirit Day happened to coincide with the start of College Football, so there was a lot of football attire, but there were also sports represented from across the sporting world, including rugby, hockey, and baseball. The day culminated in a football viewing party with pizzas, beer (duh), and an award ceremony for the most spirited sports fan.
7. Virtual Mixologist Through Sourced
The pandemic has taken almost everything online – including office happy hours. Working from home is great until you forget to celebrate your work accomplishments with your team. But fear not…Sourced Craft Cocktails has come up with a way to celebrate from the comfort of your own home (with cocktails). Sign your team up for a Sourced Social Series, and deliver custom cocktail kits to the door to create a virtual party that is an interactive online experience curated for just you and your team.
Standout features:
Pick out cocktail options to add to your team's menu
Sourced will create a custom webpage for your team to select their cocktail choice and provide their home address for delivery
Sourced will deliver the selected cocktail kits to your team's homes the day of the event
A Sourced bartender will host the first 15 minutes of the web conference, explaining how to mix the drinks and offering tips on the best way to make/enjoy premium cocktails
Sourced will turn over the remaining time to the party hosts to toast your achievements
Great for happy hours or holiday parties
Tip: Mocktail options also available here for those wanting a non-alcoholic drink. Sourced delivers to Los Angeles, San Francisco, Chicago, Miami, Washington DC, New York City, Dallas and Austin.
8. Office Olympics
During the most recent Rio Olympics, it seemed like the entire world was coming down with an acute case of Olympic fever. We tapped into the Olympic spirit with our own version of the Office Olympics, a day of fun featuring events like interoffice biking, snack gymnastics, and snack-themed skit competition. One of the funniest of the in-office corporate event ideas. Don't feel like you have to wait two years for the next Olympics to come around before planning your own version of the Office Olympics. Get creative and utilize fun office games that you can do in different parts of the office. The Olympic spirit is in all of us, just waiting to come out.
Remember being a kid? Limitless energy and enthusiasm. Now that you are an adult (and working) it can feel like that mystical time has ended… Until…
This company helps bring out the inner child in you again while also fostering an environment to build lasting bonds with your fellow employees (win/win in my book).
Not all office parties need to be indoors… This is one of those corporate events that will get people moving and loving every minute of it!
Side-Note: They also have a digital version for remote employees here.
10. Flashback to Your Favorite Decade
Corporate party ideas don't have to be boring. Combining the fun of costume parties with the irresistible appeal of nostalgia, decade theme parties are as close to a sure thing as it gets. To throw one, just pick a decade. Guests should come dressed in fashions from the era and be prepared to dance to period-appropriate music. The 60s, 70s, and 80s are all great options, but let's face it, they've been done. Here are a few unique ideas that will surprise and delight your team.
90s One word: flannel. The 90s were a magical time when grunge was king, music came on these strange, shiny discs, and Chandler Bing was the voice of a generation. For shasion, shoulder length hair, chokers, and doc martens are all a must. (Did we mention flannel?) Definitely don't skimp on the music – 90s music is awesome. Of course you need classics like Nirvana, Pearl Jam, and Alice in Chains, but don't forget that the 90s also brought back pop in a big way. Make sure to mix in Spice Girls, Hanson, and Mariah Carey for an authentic 90s experience.
(18)90s You can't go wrong with a standard 90s bash, but for a truly unique experience, why not party like it's 1899? So how do you celebrate 1890s style? Elaborate mustaches, bowler hats, and bowties are musts for men, while women can feel free to rock parasols, crimped bangs, and puffy sleeved dresses. For inspiration, check out Gilded Age figures like Czar Nicholas II, Oscar Wilde, or the iconic New York City newsies. This was also the era of ragtime, so make sure you have you come correct with your music selections. There are several fantastic period-correct ragtime compilations on Spotify.
2000s If your office is stocked mostly with Millennials, you might have to go for a decade they actually remember – the 2000s. Yes, your ought-y party will be a blast from the recent past. Fashions include cargo shorts, camo (everything), cowboy shirts, ringer tees, and bootcut jeans (with a white belt, of course). Nokia cellphones and generation 1 iPods are necessary accessories. Popular music in the 2000s was all about the explosion of rap and R&B. 50 Cent, Missy Elliot, Eminem, Nelly, R. Kelly, and Justin Timberlake are all safe bets. On the rock side, the pop punk and emo scenes were in full swing, so Blink-182, New Found Glory, Fall Out Boy and the like.
11. Play Games & Share Some Drinks
Yep, there's nothing quite like steaks and skeeball to bring an office together. Dave and Busters has it all – great food, an epic bar, flat screens, and a bevy of new and classic arcade games for your team to go nuts on, including crowd favorite pop-a-shot. The best thing is that D&B's specializes in corporate social event ideas. Their event planning pros can help you every step of the way. Big office? Not a problem – they can accommodate any size group up to 2,000 people.
Is your team remote? No worries! Unboxed Experiences by City Brew Tours Beer and Cheese Pairing is a great way to share a drink with your coworkers even if you can't be in the same room.
12. Around the World Potluck
Celebrate your team's diversity with a potluck that honors cuisines from team's home country or state. It's a great way to learn more about the people you work with everyday. Bangkok-based task management software company Taskworld is a big fan – they recently described a variant of this party idea in our team building rundown.
13. Murder Mystery Outing
Take your team out to a night of intrigue and interactive fun with a murder mystery dinner. These dinner theater events have been around since the early 80s, are in most major cities, and continue to be crowd pleasers. Actors are mixed in with the dinner guests, and the show begins before the audience even realizes it. Everyone will want to know – whodunnit? You can also plan a virtual murder mystery party if you are looking to engage with your team members from the comfort of your own home.
Pro-Tip: Gather your "Crime Junkie" remote team members and collaborate virtually to crack the case of deadly crime in the Virtual Clue Murder Mystery office party activity.
14. Game of Thrones Party
When you play the game of thrones, you win or you die. But when you party like Game of Thrones, everyone wins. HBO's addicting medieval/fantasy series has legions of fans, for whom every new episode is a must-watch corporate event idea. Capitalize on this fervor by throwing your very own GOT themed work party. Break your office up into the four major houses – Stark, Lannister, Baratheon, and Targaryen – and have everyone dress to represent their house. A quick refresher on each house:
Stark

Sigil: Direwolf
Color: Gray/white
Motto: "Winter is coming."

Lannister

Sigil: Lion
Color: Gold
Motto: "Hear me roar!"

Baratheon

Sigil: Stag
Color: Black/yellow
Motto: "Ours is the fury."

Targaryen

Sigil: Red dragon
Color: Red
Motto: "Fire and blood."
Get official GOT apparel and accessories from HBO or from the legions of fansites. And don't forget to provide refreshments – Cooperstown, NY-based Ommegang Brewery has a line of GOT styled ales that will do the trick nicely.
Who doesn't love swag? Seriously… who…? Well, come on down and play the price is swag!
Here's the idea:
Step 1: design/order 10-15 (depending on your party size) pieces of unique swag here
Step 2: at the start of the party, assign everyone a number
Step 3: choose the first piece of swag and randomly pick 4 numbers to start things off
Step 4: present the piece of swag and have those 4 people take turns bidding on the price of that swag item
Step 5: the individual that is the closest to the price wins and gets to keep that piece of swag!
Step 6: rinse and repeat…
(official rules for The Price is Right can be found here)
Trust me… this game gets out of control for all the right reasons!
These are some of our favorite items to play this game with at SnackNation:
16. DIY Photobooth
Photobooths are always a hit at parties and weddings – but they can definitely get expensive. Don't have the budget to rent a top of the line booth for your next corporate event? No problem. You can make one in just a few easy steps.
Step 1: Create a Backdrop.
The options here are endless. Hang a strip of butcher paper from a pipe frame for a cheap and easy backdrop, or decorate to the theme of your party. The only limit is your creativity.
Short on time? You can also order an affordable custom backdrop from places like JJ's.
Step 2: Get some props
Pick up some props at a local party store to inspire hilarious poses. Novelty hats, fake mustaches, signs, and wigs are all good bets.
Step 3: Take photos!
There are a few easy options here as well. For high-quality photos, use a DSLR and designate a photographer for the night.
For instant gratification, purchase a polaroid.
If you're pulling things together last minute, just have your guests use their cell phones and upload their pics to social media. (Don't forget a hashtag!)
Here we are have a little too much with our DIY photo booth during our St. Patrick's Day party this past March:
17. Slow-Mo Video Station
As Dave Chappelle once demonstrated, everything is funnier in slow motion. So why not elevate your photo booth game with a slow-mo video capture? Most cell phones now come with slow-mo capabilities. If yours doesn't, there are plenty of apps that will help you achieve the desired effect. Like the regular photo booth, props are key – you want your guests to interact in hilarious ways. Once you capture everything, edit the footage together for a hilarious slow-mo mega cut. We set up a slow-mo video station at a recent office event, and the final result was a huge hit. Skip to about 17 seconds in this video to see the footage of this epic corporate event idea.
18. Take 'em Out to a Ballgame
America's past time always makes for a great outing. The pace is just slow enough to allow your employees to relax and mingle while they take in the night air and munch on some nachos. If you don't have an MLB team nearby, consider a Minor League game. Minor League clubs are notorious for their ridiculous stadium food and wacky fan giveaways.
19. Celebrate Your Company's Anniversary
Have a big company milestone coming up? Don't miss an opportunity to celebrate with the people who matter most – your employees. Use the date of your first hire, your first sale, or of your incorporation and celebrate it annually. It will provide a great time to both celebrate your accomplishments, recognize and reward individual achievements, and reflect on the state of the business.
20. Obscure Holiday Party
Sure, you probably have an annual office holiday party. You might even celebrate St. Patrick's Day or Cinco de Mayo. If you're really good, you celebrate Employee Appreciation Day (first Friday of March). But what are you doing for National Unicorn Day (April 9th)? Or Pi Day (March 14th)? There's no shortage of fun, silly, and/or absurd holidays to celebrate. And you should consider celebrating at least one of them. Why? Simply put, sometimes it's just really fun to get the entire office excited about something… a bit ridiculous. Here are few lesser known holidays to get your creativity flowing:
National Hat Day – January 15
Squirrel Appreciation Day – January 21
Random Acts of Kindness Day – February 17
Employee Appreciation Day – first Friday in March
Pi Day – March 14th
Manatee Appreciation Day – March 30
Unicorn Day – April 9
Earth Day – April 22
Bike to work day – May 20
Talk Like a Pirate Day – September 19
International Coffee Day – September 29
21. Office Awards Banquet
The Office may have perfected this concept with the Dundies (named after fictional middling paper company Dunder Mifflin), but that doesn't mean you can't give it a go. Start with the award categories. In addition to naming an employee of the year, create awards for company superlatives for your best dressed, friendliest, most inspirational, most creative, and most outgoing employees. It can also serve as a great time to reflect on the employees you work side by side as a retirement party or going away party idea for a departing member of the team. Once you have the categories, make custom certificates, trophies, or traveling trophies and present them at an awards dinner. Make it black tie and include a step and repeat for extra fun.
22. Food Truck Rodeo
Here's a fun fact: people love food trucks. The reasons are simple – they're a unique and easy way to bring brand new gourmet food experiences right to you. Cater your next party with two or more local food trucks. This mobile culinary trend has been hot for the last decade or so, and isn't going anywhere. You can find gourmet, healthy, and affordable food trucks in just about every city. (We're big fans of the Green Truck here in LA.) You can often negotiate an affordable price if the exposure for the food truck will result in repeat business.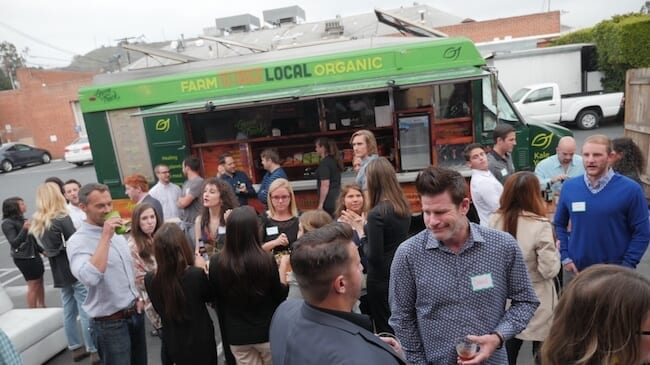 23. Outdoor Movie Night
When the weather warms up, there's nothing quite like settling down on a picnic blanket and enjoying a classic movie under the stars. For a successful movie night, organize a double feature around a theme – sports movies, 80s classics, or horror flicks are all great places to start. If you have a big outdoor space, you can easily set up an outdoor movie theater. If not, contact your city about setting up in a local park. Projectors, speakers, and screens can be rented together. Don't forget the most important thing – the popcorn! We here at SnackNation are huge fans of Pipcorn's awesome mini popcorn snacks.

24. Rent an Epic House on Airbnb
Reward your team for their hard work by taking them out of the office. Double the value by including some brainstorming or team building exercises. Offsites have the advantage of taking your team out of their routine. They'll be more creative, more open to inspiration, and primed for reflection. You can often find great deals on mansion-esque vacation rentals on Airbnb – especially off season. We've used the service to hold offsite parties in Venice, Big Bear, Malibu hear in California.
25. Office Talent Show
Give your employees a chance to shine by holding an office talent show at your next office get-together. You'll be surprised at the secret talent your employees keep hidden. (Turns out, our office happens to be packed with an abundance of musicians.) You can hold this one at your office, or up the ante by renting out a local bar with a stage. Here are some talent-show tips to inspire your planning process:
Boost participation by sending personal invitations to performers.

If you've heard rumors that Will plays the saxophone, Marie has a knack for making balloon animals…or that JJ is trying her hand at standup comedy, then send those people personal invitations to perform at the talent show. The talent will be flattered to get this personal attention, and they'll be more likely to participate than they might be if you simply sent a blanket invitation. (They might be too shy or think volunteering would make them seem arrogant.) 
Accommodate quiet office environments with a talent showcase.

The showcase could be structured more like a "gallery viewing." where people can display works of art, pictures of themselves performing, crafts they've made, and more. This takes some of the stressful pressure of performing in front of a group off of participants.    
Pick random themes that have nothing to do with existing talent.

For example, you might host a show to see who is the best kazoo player. The idea is that everyone performing has equally low experience with the selected skill. This makes for good laughs, and it makes the event more casual. Participants don't have to worry as much about impressing people or being seen as a show-off. 
Boost the fan-fare by bringing in some filler acts.

Hire actual performers to heighten the sense of ceremony at your talent show. Maybe you have a juggler perform in between every 3 employees or a barber-shop quartet singing before and after the show.  
26. Hatchet Throwing
Ok, so this idea is pretty much limited to denizens of the tri-state area, but it's too good not to include. Want to blow off some steam? Got an axe to grind? Then you, my friend, need to head to Stumpy's. Stumpy's Hatchet House in Eatontown, New Jersey made history this year when they opened their doors as the first and only hatchet throwing facility in the United States. Stumpy's is the perfect (and only) place to bond with co-workers by hurling diminutive sharpened axes at wooden targets. Need we say more? Stumpy's specialize in private parties in corporate events, so hit them up the next time you need a truly unique celebration idea.
27. Scavenger Hunt
Not only are Scavenger Hunts seriously fun, but they'll help boost camaraderie, teamwork, and problem solving skills. There are organized scavenger hunts popping up all over the place, but you can also choose to go the DIY route using an app like Scavify. If you're having a hard time imagining what an adult scavenger hunt looks like, then Scavify comes to the rescue again with a whole list of amazing ideas for grown-up scavenger hunts, including:
Photo-based scavenger hunts where employees escape to the streets of your city to try to take as many photos on a pre-established shot-list as possible. (Photos challenges include staging the famous Abbey Road album cover and posing with certain types of cars.) 
People-based scavenger hunts where you complete the hunt by finding people in the office who've had specific life experiences. 
Nostalgia-based scavenger hunts that are perfect for a virtual happy hour where participants recreate and relive famous movie and television moments from the past.
28. Create a Custom Instagram Filter
Instagram has about 1 billion monthly users. Tap into Instagrams's rapid popularity by creating your own custom filters for your corporate office event. The process is simple: just come up with a design, upload to the third-party app of your choice, and upload to your profile, and voila – your party now has it's very own custom Instagram experience. Bonus benefit – your guests will publicize your awesome party to their network, which will help with recruiting.
29. Host a Food-Pairing Potluck 
Revamp the classic office potluck idea by making it a healthy food-pairing potluck.  Here's how:
Figure out what foods/beverages you want to pair. Here are some ideas: 

Healthy snacks and healthy smoothies 

Green juices and green veggies 

Fruits and nuts

Carbs and proteins 

Have people sign up to bring one or the other 

Create tasting sheets so party-goers can write down the pairings that work 

Post the pairings so other people can try, and maybe even post the most popular pairing in your office newsletter 
Bonus: Bring in a Dance Instructor 
A regular old party becomes absolutely unforgettable with the addition of a dance instructor. The instructor can come in for an hour, teach everyone a dance, get everyone pumped up, and then leave to allow the merriment to continue. 
You can find a dance instructor to match any style: salsa, ballroom, square, line, hip-hop, interpretive, and so much more.  Don't know any dancers? No problem!  Dance Teacher Finder was designed specifically for helping people find local dancers that also know how to teach their skills. You can also search GigSalad, Upwork, and Thumbtack for dance instructors for hire near you.  Don't forget to hire or designate a photographer to capture the magic this brings to your office party!   
Bonus: Have a Board Game Marathon Party 
This idea works kind of like a potluck, except not everyone who attends the party needs to bring a board game; they just have to play!  Here's how to set it up to avoid chaos: 
Have people sign up to bring games 

Select a space to accommodate the number of guests you expect 

Set up a card table for each game on the sign-up sheet. (If you have a large party, set up a table for half the number of games on the sign-up sheet and then switch out the games after 1 hour.) 

Assign each game a color and set aside a piece of matching paper for each. 

Divide the number of guests you expect by the number of games you have to play. Cut that many cards or circles out of the paper you set aside. For example, if you have 30 guests and 10 games, then you'll need 3 colored pieces for each game. 

Give attendees their color assignments as they arrive so they know which game they'll be playing.
Bonus: Karaoke Night
Not talented? Not a problem! You can still bask in the spotlight with Karaoke, the ancient art of butchering popular music. Trust us, Karaoke is tons of fun. Look into booking a local Karaoke bar for your next team outing.
Remember that episode in The Office when they play the murder mystery game? Well, not every murder mystery needs to end in a finger gun stand-off… unless… of course… it HAS to…
In all seriousness, Hunt A Killer has been designed to flex your team's creative muscles while adding valuable cultural kudos in the process. Hunt A Killer aren't only tons of fun, they also augment team building and problem solving – because if you ever hope to see the outside world again, you'd better start working together!
Free Download: Download a list of our most epic office party ideas. Easily save it on your computer for quick reference or print it out the next time you want to plan a fun corporate event for your coworkers.
People Ask These Questions About Office Party Ideas
Q: How do I throw an office party in 2021?
Q: Are there any good games to play at a work party?
A: Playing games with your team at a work party is an excellent way to fuel some friendly competition with the people you spend a good chunk of your weekdays with. A good strategy to increase involvement is to give employees a few options to join a game that suits them. While you have a table playing cards, you can start a board game in the corner and fire up a gaming console on a work TV. Giving people options can make the party more fun for everyone as they can bond over a game that they are interested in playing.
Q: What are some party ideas for work to bond outside of the office?
A: It depends on where your office is located. There may be a great new bar or restaurant that has opened up down the street that you can try out with some coworkers. Or plan an office field trip to a cool place in your city that people may have not been to before. Choosing an activity that a lot of employees can get behind is also crucial, so attending a ballgame or singing karaoke at a karaoke bar can be great things to do on a Friday night after work.
Office How To's Resources: