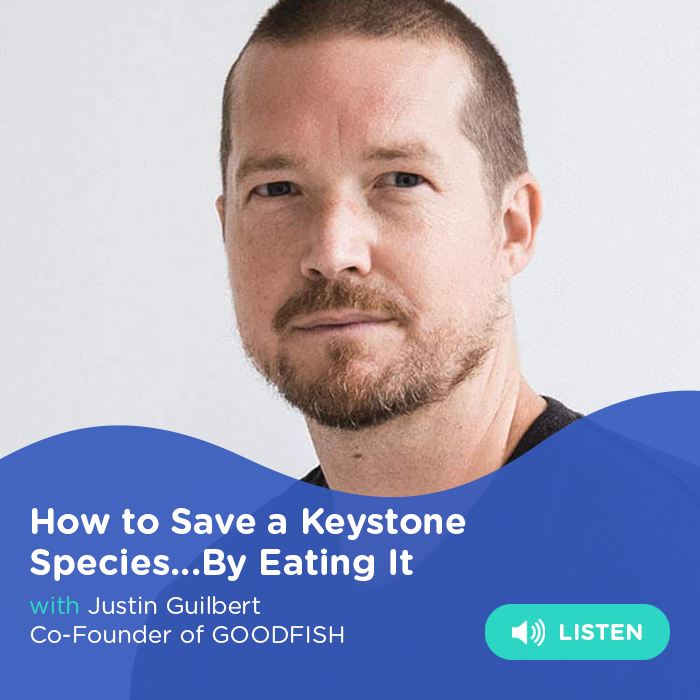 When you think about it, Salmon are a magical fish. 
They famously swim upstream to the freshwater tributaries of their birth to spawn. Along the way, they become a vital food source for dozens of land animals. After they reproduce and die, their bodies fertilize trees hundreds of miles from the open ocean habitat where they spend most of their lives. 
Without salmon, entire ecosystems would collapse. Yet their fate hangs in the balance. 
Social entrepreneurs Justin Guilbert and Douglas Riboud came up with a radical idea to save them. 
What if the best way to preserve this keystone species… is to eat it? 
That's the idea behind GOODFISH, the first 100% traceable Wild Alaska Sockeye crispy salmon skins. 
So how does this make any sense? GOODFISH sources their salmon skin from one of the most sustainable, well-regulated fisheries anywhere in the world in Bristol Bay, Alaska. The idea is to raise awareness and create a market that supports a sustainable supply chain. 
And GOODFISH is poised to pull it off. They've created a modern, joyful brand around a great tasting innovative product. A serving of these crispy, snackable skins packs 7g of high quality protein, 2600mg marine collagen, and 800mg of omega 3 fatty acids. 
GOODFISH is a brand new product, and the first of its kind. But it's also the flipside to Justin and Doug's other venture, Harmless Harvest, the beloved coconut water brand that saw major investment from Danone in 2018. The way Justin describes it, the two brands are part of one ongoing project inspired by deep ecology and constructive capitalism.
Links
Join our Exclusive Facebook Group!
What's your biggest takeaway from the episode? Join our invite-only, private Facebook group just for Brand Builder Community members, where you can connect with fellow entrepreneurs and founders, crowdsource ideas, share best practices (or lessons learned), and get your most important questions answered. Join now!
Facebook.com/groups/brandbuilderpod
Brand Builder is a co-production of SnackNation and ForceBrands.