Cravings for salty foods usually come along with a lot of baggage, like fat and carbohydrates.
We're thinking oily pizza, greasy chips, and fat-laden fried meats. You can snack better than that!
Leave that devitalizing baggage in the past and munch on plant-based, healthy salty snacks that satisfy your cravings without the guilt.
These 37 healthy salty snacks deliver all the savory flavors you crave in better-for-you packages.
Want to become a better professional in just 5 minutes?
1. Love With Food Healthy Snack Subscription Boxes
Do you want tasty & healthy snacks delivered every month?  For a limited time, Love With Food is offering 40% off your first Deluxe Snack Box! Plus – for every box you purchase they'll donate a meal to a local food bank on your behalf. Get 40% OFF your first box here!
2. Grilled Eggplant and Cilantro Dip on Endive
Meaty eggplant is extremely satisfying. Grilled and blended with cilantro, eggplant becomes as tasty and elegant as any pate. Plus, it's easy to make following this recipe from the Healthy Green Kitchen. Serve the eggplant on crisp, fresh endives to make a well-rounded snack.
3. Tomato Chips
The cook behind Running to the Kitchen makes these delectable tomato chips in the microwave. A healthy chip recipe this fast and easy leaves no room (and no need) to grab for a bag of greasy potato chips. Keep some tomatoes on hand to be prepared!
4. Grilled Artichokes
Grilled with lemon and parsley, robust artichokes make a light and healthy stand-alone snack you'll want to make every day. And it's okay if you do, because this recipe from Camille Styles couldn't be easier to follow. This snack is even elegant enough to share with special guests.
5. Roasted Eggplant with Cilantro Almond Salsa
Broiling takes the rich flavors of eggplant to incredible new heights. Top the broiled bits with cilantro almond salsa for a healthy snack any chef wood swoon over. Get the recipe and instructions from Food52.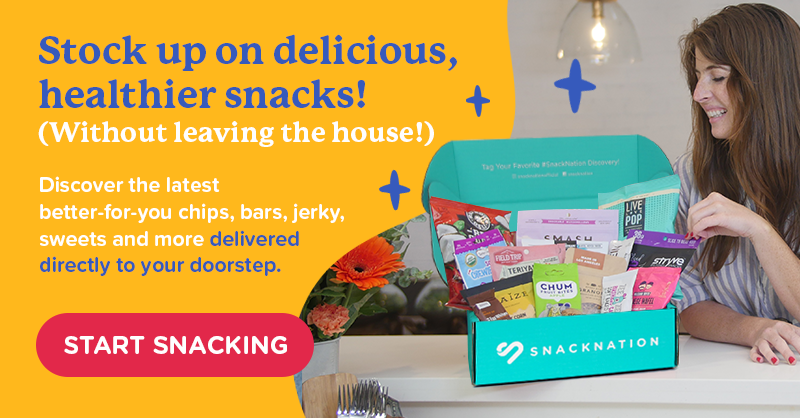 6. Marinated Beets
Absorbent beets taste good with any marinade you choose. We recommend whisking up lemon juice, white vinegar, and white or black pepper. Drop in cubes of red or golden beets and let them soak for a few hours or overnight. The acid in this snack will help stop your cravings in their tracks.
7. Spicy Marinated Tomatoes
Slice some cherry tomatoes in half and drop them in a sealed container. Cover the slices in a marinade made of one part hot sauce, one part vinegar, and just a pinch of sugar. The tomatoes will soak up the savory spice in no time.
8. Hummus-Stuffed Mini Peppers
Dollop some nutrient-rich hummus into sweet mini peppers to make this picture-perfect salty snack from Eating by Elaine. If you're short on time, you can use healthy pre-made hummus instead of making your own.
9. Spirulina Popcorn
By itself, popcorn has a pretty solid nutritional scorecard. It's low in calories and fat, but it's also packed with filling fiber. This Goop recipe adds spirulina, a dried algae rich in sea minerals, to popcorn to create a boosted snack that puts a smile on your face.
10. Salted Panko Avocado Slices
Get a fix of nutritious and filling unsaturated fat by making the glorious avocado into a quick and easy snack.
Just pit and slice an avocado, sprinkle the slices with salt and pepper, and press the slices one by one onto a wide plate covered in panko breadcrumbs. The result is a simple crunchy snack with lots of flavor and goodness.
11. Figs + Feta Cheese
Slice up some fresh figs and top them with feta slices or crumbles. The super salty feta cheese compliments the sweet figs to make a savory snack with tons of nutrients, including vitamin A, potassium, and protein.
12. Kimchi Bites
A little bit of high-flavored kimchi goes a long way, making it a perfectly satisfying salty snack. Posted on the Kitchn, this recipe for kimchi-stuffed cucumbers can be made with pre-prepared kimchi if you're short on time.
13. Pickled Asparagus
Pickled anything makes a perfect healthy salty snack. Brine adds serious flavor to vegetables, and serious flavor will keep you satisfied and stop you from reaching for less-healthy snacks.
This Fermented Food Lab recipe for pickled asparagus will get you looking at the green spears as snacks as well as side dishes.
14. Spicy Jicama Sticks
 Jicama is crunchy, starchy, and juicy. Sliced into sticks, it makes a snack with a bit more oomph than matchstick carrots. Juicy jicama holds seasonings perfectly, so you can flavor your sticks any way you like. We recommend some sea salt, cumin, and lime juice.
15. Raw Radicchio Tacos
Thick and crunchy radicchio leaves make perfect taco shells. Grab a rich red leaf and fill it with a scoop of canned black beans, a sprinkle of chopped walnuts, and a few cilantro leaves.
16. Stuffed Radishes
Firm radishes are perfect for slicing and stuffing. When filled with garlicky pea hummus and just the right hint of parmesan, radishes take on gourmet heights. Get the recipe and instructions on Community Table.
17. Blender Falafel
Leave it to the Blender Girl to create a blended falafel recipe that's healthy, savory, and filling.
18. Cheezy Kale Crackers
Rawmazing turns kale, flax, and almonds into crackers that will up your plant-based snacking game. These crackers have more nutrients than boxed crackers, and they're perfect alone or with your favorite cracker toppings.
 
19. Raw Seaweed Crunchies
If you have a dehydrator, you can make your own seaweed snacks filled with sea minerals. This recipe from the Rawtarian uses cashews, raisins, and nori seaweed to create a crunchy snack unlike anything you've ever tasted.
20. Raw Vegan Stuffed Mushrooms
Here's another dehydrator recipe that tastes like an appetizer from a gourmet restaurant.To make these plant-based snacks, Amanda Nicole Smith stuffs mushrooms caps with a mixture of seeds, herbs, and aromatics. Then she dehydrates the treats until they're ready to eat.
21. Veggie Sticks
With a dehydrator and a few simple ingredients, including nori sheets, beets, bell peppers, and pumpkin seeds, you can make Flo & Grace's veggie-based "slims." The snacks satisfy your cravings for processed meat sticks while providing you with way more nutrients.
22. Raw Avocado and Flax Crackers
The Nourished Caveman dehydrates a mixture of flax, avocado, kale, and onion to create crackers that make you believe in your ability to make delicious, plant-based crackers. You may never buy boxed crackers again.
23. LesserEvil Popcorn
The LesserEvil brand is on a mission to:
"…make our world less evil by creating deeper connections with people, the planet and real, organic food."
They put only the best ingredients, from organic corn kernels to grass-fed ghee, into their wholesome popcorns. Whether you're craving popcorn with classic butter flavor or some cheese-dusted kernels, LesserEvil has a flavor to satisfy your hunger.
24. Harvest Snaps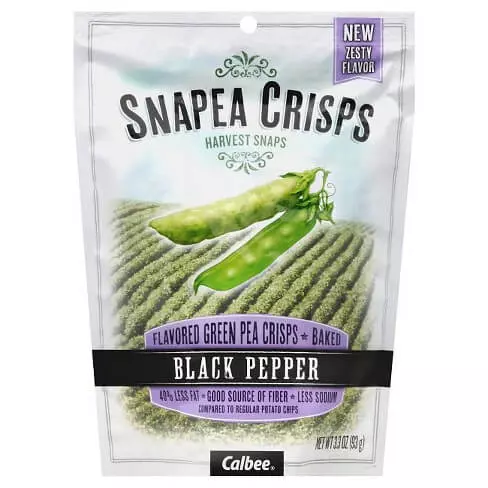 Harvest Snaps makes crunchy, savory, and wholesome plant-based snacks. They make their signature crisps from green peas, red lentils, or black beans, and they offer a variety of amazing flavors.
Green Pea Wasabi Ranch, Red Lentil Tomato Basil, Black Bean Mango Chili Lime…take your pick!
25. ROSTED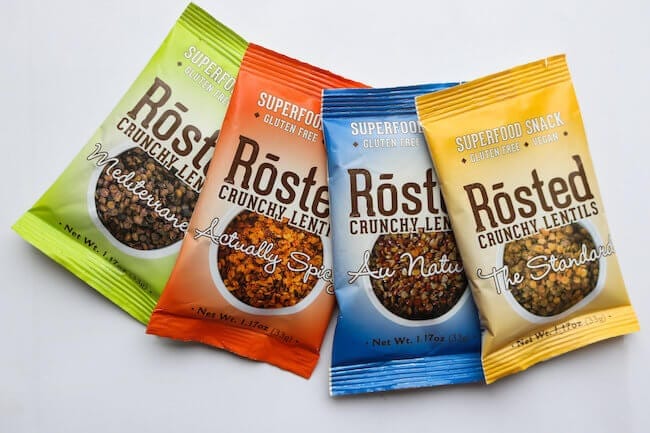 Snackable lentils might just qualify as a miracle in the world of plant-based salty snacking, and RŌSTED has perfected the lentil snack.
The brand roasts lentils to perfection to make crispy, flavorful lentils that are perfect for eating alone or for adding to soups, side dishes, and salads.
The snacks come in cravable flavors, and they're low in calories and fat, yet high in protein and fiber.
26. Navitas Naturals Turmeric Tamari Almonds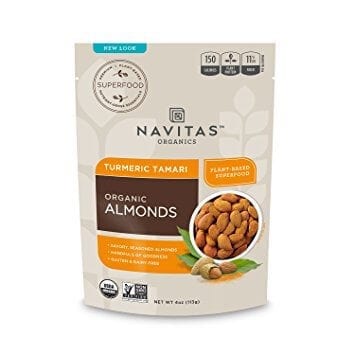 Nativas pure and simple almonds get a dose of zippy flavor from spicy golden tumeric and savory tamari. With so much incredible flavor, this plant-based snack satisfies your salty cravings as well as an entire takeout meal.
27. Brad's Crunchy Kale Chips: Naked
Everything that goes into these kale chips is pure, simple, and good for your body.
To make these crispy, crunchy, plant-based snacks, Brad's starts with superfood kale and adds in sweet red bell peppers, sunflower seeds, lemon juice, chickpea miso, Himalayan salt, and other beneficial ingredients.
These salty snacks are also vegan, non-GMO Project Verified, and organic. To summarize, you can feel good—no great—about eating them.
28. Lightened-Up Mexican Street Corn
Make a better for you version of elotes, or Mexican street corn, by combining fresh or frozen sweet corn, lime juice, a dollop of greek yogurt, and some slivered smoked almonds for crunch.
29. Way Better Chipotle Barbecue Purple Sweet Potato Chips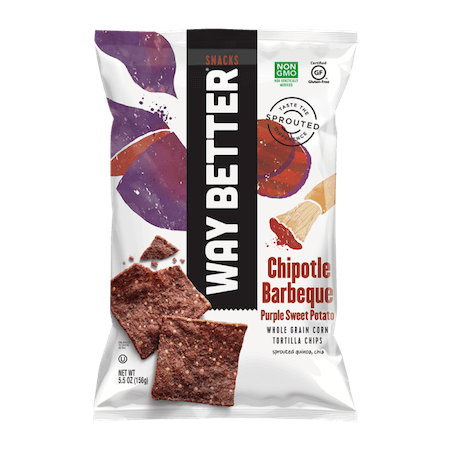 The Way Better brand highlights the delightful flavors of the purple sweet potato in these unforgettable chips. The brand combines non-GMO stone ground whole corn, rich purple sweet potatoes, a sprouted seed-and-grain blend, and other tasty and good-for-you ingredients to create a plant-based chip that annihilates your cravings for barbecued ribs.
30. Rhythm Superfoods Organic Sea Salt "Carrot Sticks"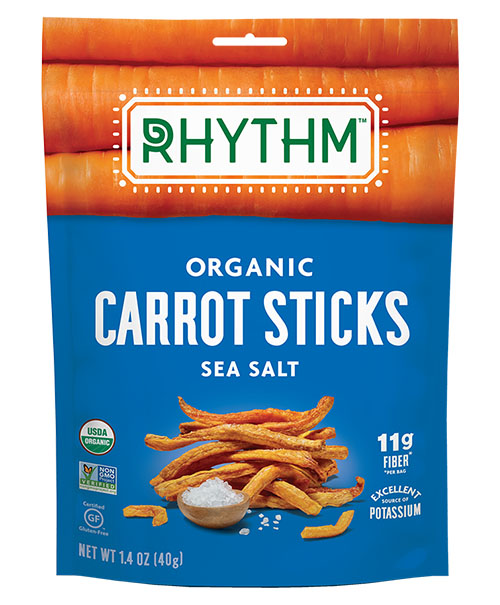 These snacks are simply seasoned and dried carrot sticks. The concept seems so obvious, but the flavor-filled result will blow your mind.
These vegan, gluten-free sticks have a light and addictive crunch. They're packed with fiber and beta-Carotene, and you can munch down a whole serving for only 150 calories.
31. Vegan Rob's Beet Puffs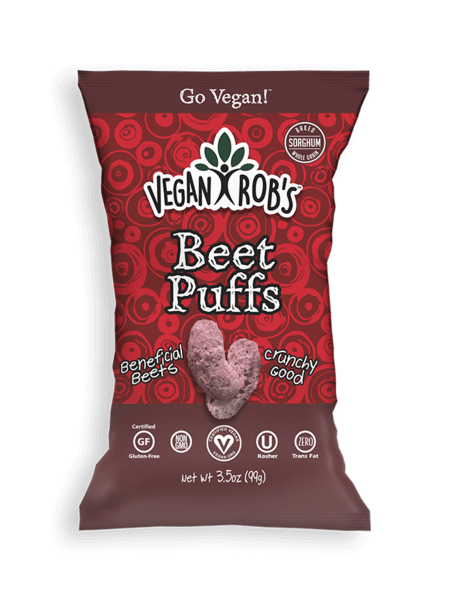 Made with whole grain sorghum flour and beet powder, Vegan Rob's light and savory puffs have everything you want in a plant-based snack. They're crunchy, full of flavor, and vegan of course. One serving satisfies your salty snacking needs with just 140 calories.
32. Sugar Snap Peas and Almond Butter Dip
Step 1: Grab some fresh snap peas. You don't have to do anything to them because these fresh green beauties are already crunchy and ready to eat.
Step 2: Put two tablespoons of unsweetened almond butter in a microwave-safe bowl. Add a splash of soy sauce, sesame oil, and hot sauce. Stir everything up and heat for about 40 seconds.
Step 3: Dip the peas into the almond-butter concoction to fill yourself up on 100% plant-based fuel.
33. Easy Tzatziki Salad
Matchstick some fresh cucumbers and toss them in a bowl with lemon juice, dill, cherry tomatoes, sea salt, and a scoop of greek yogurt. Stir everything together and eat it up. Boost your snack by adding on some olives, sun-dried tomatoes, or nuts.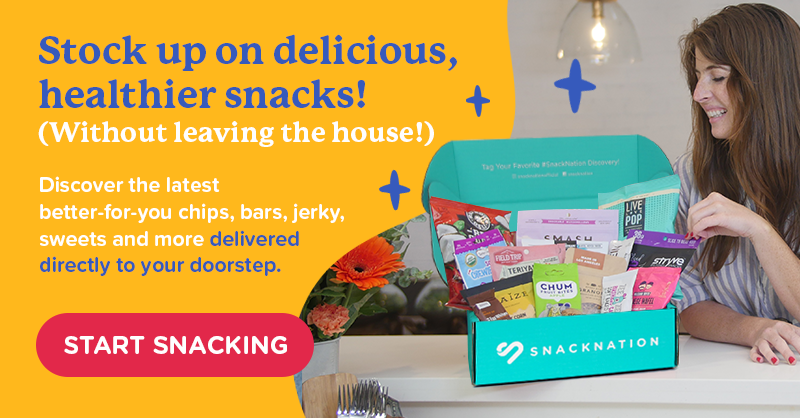 34. Shortcut Zucchini Mac and Cheese
Vegan mac and cheese sauce, the kind made from soaked cashews, takes time, time you don't have when you need a snack fast.
Hack your favorite vegan cheese sauce for a quick snack by popping half an avocado, two tablespoons of cashew butter, 1 tablespoon of nutritional yeast, and a teaspoon of mustard into a blender.
Process until creamy and then salt to taste. Pour over some spiralized zucchini and sundried tomatoes. (Simple sliced zucchini works if you don't have a spiralizer.)
35. Hippeas Pepper Power Organic Chickpea Puffs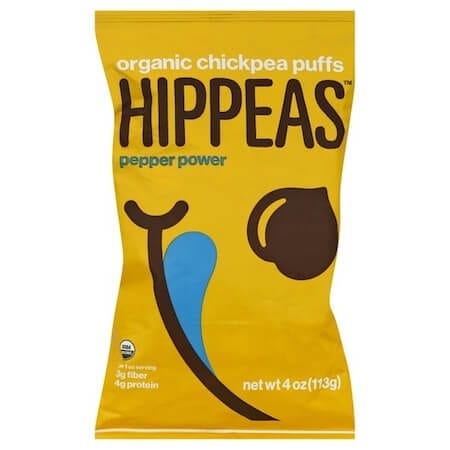 Hippeas are kind of like a cheese puff, except it's made with wholesome chickpeas instead of fatty cheese. These snacks are baked and never fried. They have tons of fiber, and they're vegan, gluten-free, organic, and filled with plant protein.
One taste of these puffs, and you'll be able to envision a future where the noble chickpea surpasses corn as the number one ingredient in our favorite snacks.
36. Oloves Basil and Garlic Green Pitted Olives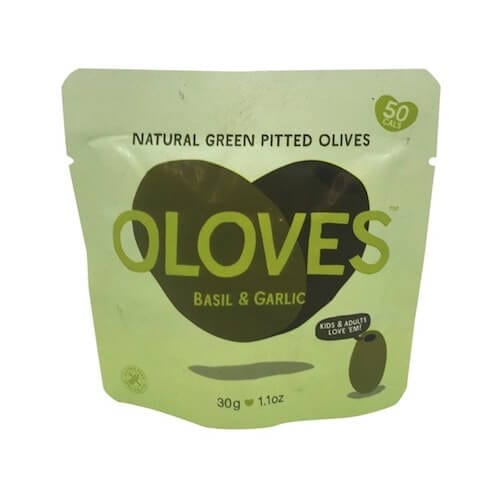 Olives have escaped from jars and cans and made their way into convenient pouches for our plant-based snacking convenience.
Oloves snackable olives are packed fresh and juicy with some seasonings, oil, and vinegar. One serving has just 50 calories and so much briny flavor, you won't feel peckish until it's time for your next meal.
37. Birds Eye Steamfresh Premium Unshelled Edamame
Steamed edamame is a standby appetizer at your favorite sushi joint, and we see no reason why it shouldn't be a standby snack in your home.
Birds Eye makes handy bags you can steam right in your microwave. Just pop in your green pods, wait, then toss them into a bowl with some coarse sea salt. Add some toasted sesame oil or even toasted sesame seeds if you're feeling fancy.
What's your favorite healthy salty snack? Let us know in the comment section below!
(PS – Don't miss out on 40% OFF your first Deluxe Box  of delicious & healthy snacks!)
Additional Resources: