Employee engagement is the level of involvement, passion, joy, and commitment employees feel toward the company they work for.
You're likely aware of how important employee engagement is for the emotional well-being of the individuals on your team, but putting real effort into it is even a demonstrably wise business investment.
In a hurry? These are some of our favorite HR-approved employee engagement software platforms this year:
Promoting a positive company culture not only makes the workplace more enjoyable — it also impacts the bottom line, leading to lower turnover, organic recruitment, and greater profitability.
Yes, you read that correctly! But don't just take our word for it.
According to Gallup's employee engagement survey, highly engaged teams are 21% more profitable than disengaged teams, which cost U.S. companies $550 billion per year. As it turns out, even the data shows that one of the smartest investments a company can make is in the happiness and well-being of its employees.
When employees feel cared about by their employer, the connection helps them return the love and boost their productivity. Engaged employees actively look for ways to make the company more efficient and profitable.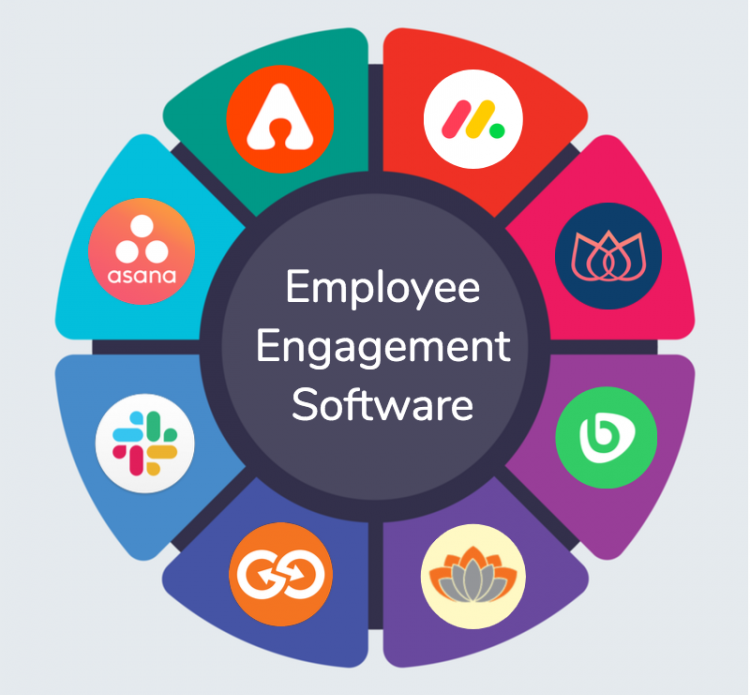 Here's the thing though, employee engagement is an ongoing process for employers. It starts from day one to wherever your business journey takes you.
"When people are financially invested, they want a return. When people are emotionally invested, they want to contribute." — Simon Sinek
Click To Tweet
To help you cultivate a fun, happy, and safe company culture, we've spoken with our trusted human resources specialists and tested a wide range of employee engagement tools. In the end, we've narrowed down our list to the best employee engagement software platforms for you to check out!
Want to become a better professional in just 5 minutes?
Page Contents (Click To Jump)
Best Employee Engagement Software Platforms
Employee engagement shows up in all aspects of a business — for better or worse. Whether you are in an office or working on a remote team, there are a variety of areas of work that involve an engaged team to succeed. Each employee recognition software has particular strengths, so now it's just a matter of figuring out which one best suits the needs of your company.
Employee Engagement Software For HR
---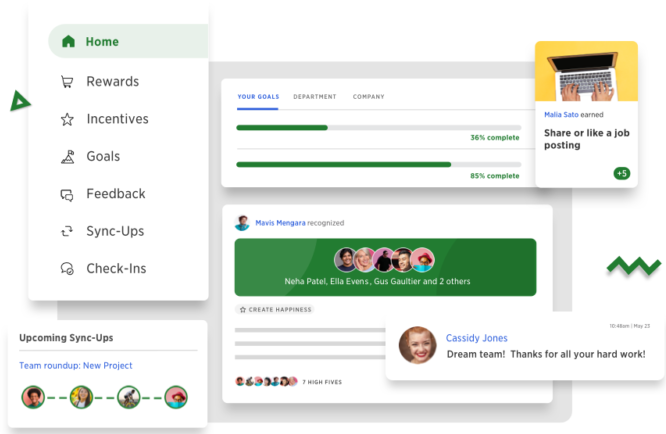 WorkTango is a remarkable employee engagement platform with real-time feedback, rewards, recognition, a social hub, seamless integrations, and much more. While there's a heavy emphasis on peer-to-peer, there are also ways within the platform for the employer and management to encourage employees and treat them with perks. This virtual HR department is sure to improve employee performance and workplace culture.
3 Features We Love About WorkTango:
Social Hub — This is the virtual water cooler where all the talk happens
Coaching and Manager Reports — Instead of employees being left in the dark, they'll know what's going on in real-time so they can pivot and adjust accordingly based on real-time performance reviews and check-ins
Analytics — This includes leader reports and deeper insights
Price: The Basic, Plus, and Enterprise plans are priced at $3 and $5 respectively, while Enterprise varies depending on the size of the company. Learn how to get started here.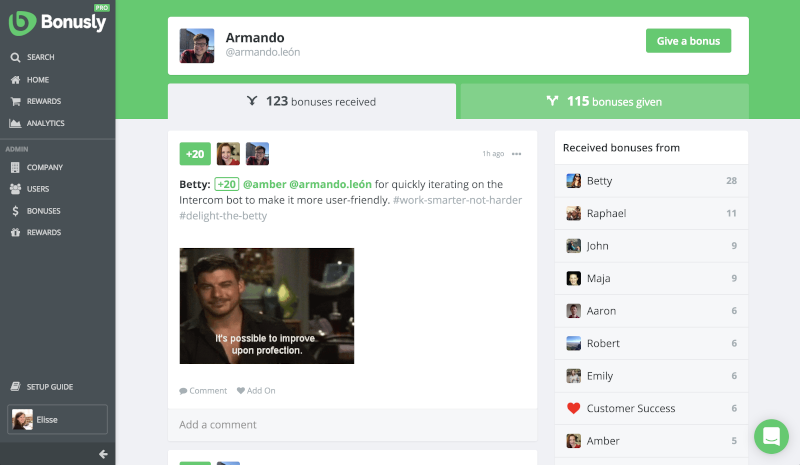 Bonusly is a fun way to keep employees on their toes and improve retention and productivity throughout your company. This peer-to-peer recognition platform allows everyone in the company to reward each other. Over time, the small bonuses on this reward gateway add up to meaningful, connection-forming rewards, actionable insights, and employee communication.
3 Features We Love About Bonusly:
Data and Analytics — Provides metrics on everything from the amount of rewards each department has given out to the amount of recognition employees earned
Rewards Catalogue — This feature lets employees redeem their bonus points for rewards like gift cards and branded backpacks
Hashtags — Hashtags, gifs, and memes give the platform a social media feel that encourages team buy-in and daily use
Price: Bonusly pricing starts at $3 per month for each user. They don't have a free version, but they do offer free trials here.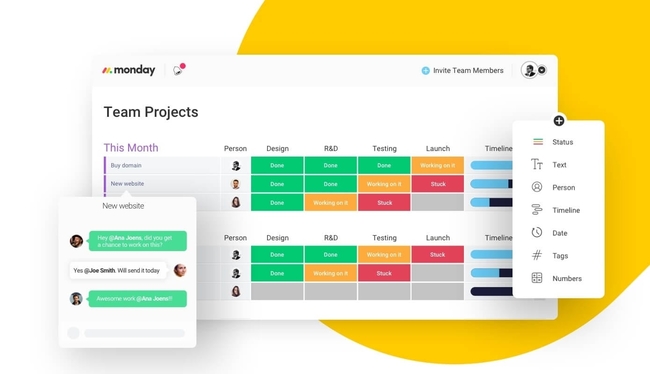 monday.com is an uber-powerful resource management software for executing and planning projects. What makes monday.com crucial for team success is the visibility into workflows, analytics and real-time insights for key projects. Plus, this talent management platform consistently produces new integrations and updates.
3 Features We Love From monday.com:
Time Tracking — Allows team members to see how much time has been spent on various aspects of projects
Timeline Views and Integrations — There's no better way to keep the team in sync and accountable than tight coordination, which is exactly what you get through this feature
Automated Notifications — The notifications can be used as reminders to reduce time and errors and the color-coordinated design of the platform ensures your employees will use it
Price: $8-16+ per user per month. View monday.com pricing details. Free trial? Yes. Get started here.
Employee Engagement Software For Recognition
---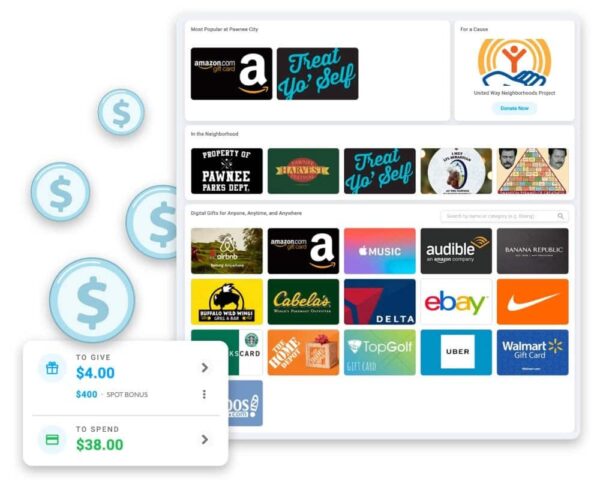 Motivosity is a leading engagement platform that recognizes that the best teams are often busy and feel like they can't dedicate time and resources to their culture. Luckily, they build a tool that is easy to adopt, fun to use, and puts employee engagement at the forefront of your team dynamic.
Their system breaks down engagement into four main areas for them to support:
Connect → Offer some help to build your team into a community
Recognize → Build recognition into your daily tasks
Lead → Turn managers into leaders
Listen → Give your employees a voice to make crucial decisions
3 Features We Love About Motivosity:
Transparent reporting — Their platform nicely lays out how employees are being recognized at your company
Personality widgets — Offer new employees a resource where they can get to know their colleagues' interests, passions, and roles at the business
Gift card library — You can choose from an enormous library of gift card options when it becomes time to redeem your recognition points.
Price: Their most popular pricing model starts at $5 per person/month but can be scaled up or down based on which features you want. Click here to find detailed pricing options.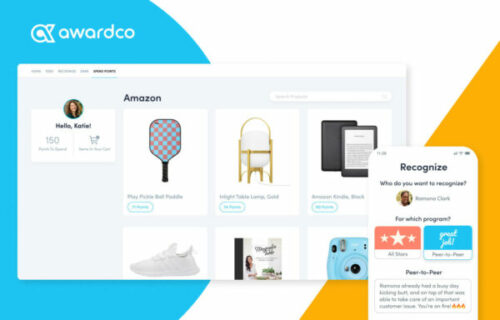 Awardco is a reward program for the modern business. Rather than stopping at gift cards or company swag, their versatile engagement platform offers a library of gift options that range from tickets to events, hotel stays, charitable donation options, and access to the millions of products available on Amazon. The folks at Awardco understand that choice is one of the best parts of recognition, so letting your employees choose the right gift can make all the difference.
3 Features We Love About Awardco:
Automated incentives — You can free up your day by letting Awardco manage a robust incentive program where employees can feel encouraged to hit goals, complete tasks, and participate in company initiatives
Company initiatives — You can build programs and challenges to support your HR and culture leaders at your organization. Whether it is a wellness program, volunteer event, or a monthly team goal, you can build these programs directly into Awardco to make sure everyone is being recognized
Company Value tie-in — When choosing what you want to recognize your peers for, you can highlight a specific reason, action they took, or company value they embodied to let them know directly. Awardco adapts to your company so that no two Awardco platforms are exactly alike
Price: For accurate pricing, explore Awardco for more information.
Employee Engagement Software For Feedback
---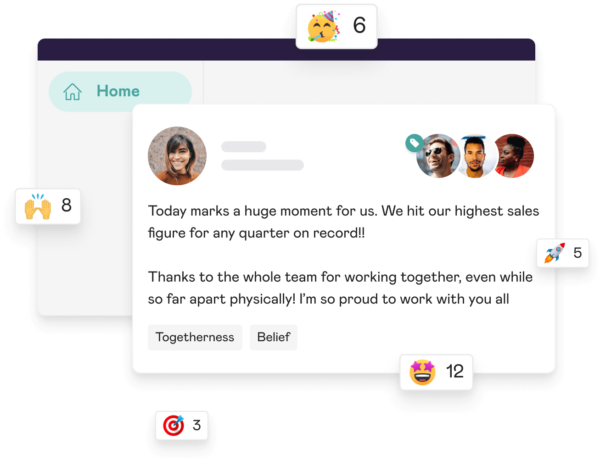 Mo is a company culture software that boosts engagement from day one. With a huge catalog of customizable awards, this tool makes it possible to engage with your distributed team on a weekly (or daily basis). From Weekly Highlights where employees share wins and pieces of good news to meaningful rewards with real gifts and incentives — this platform offers a lot without a steep learning curve.
3 Features We Love About Mo:
Moments – Social posts that encourage employees to communicate by showcasing wins, life updates, and all sorts of meaningful aspects of company culture
Insights — Managers and people leaders can gain valuable feedback with an easy-to-use dashboard to understand which engagement activities are working and the ones that are not
Milestones – Keep the team updated with company news, team updates, and celebrations based on big milestones. From birthdays and anniversaries to company success, Mo has become the place employees go to stay informed.
Price: Starter version begins at $3 per user per month with a premium version that offers advanced features for $5 per user/per month. Talk to Mo and get started today!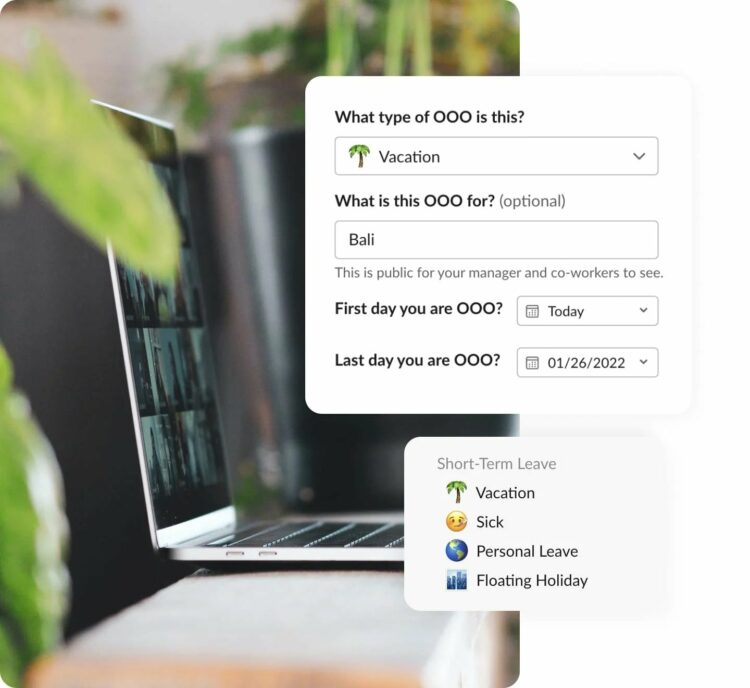 Deel's collaboration plugins work with your Slack app integration, so you don't have to adopt new software to build collaboration and culture for your online teams.
Your people will find it easier to adopt, Deel given the low learning curve. They also won't have to go back and forth between multiple systems!
Easily manage PTO, referrals, onboarding, 1-on-1s, and more with Deel's plugins for Slack!
3 Features We Love About Deel:
Collaboration — Boost bonds between coworkers by creating special interest groups, conversation starters, and meeting roulettes
Structured 1-on-1s — Helps managers and team leads prepare, run, and track 1-on-1s, without having to leave Slack
Pulse surveys — Create pulse surveys to gauge feedback and create a culture where employees feel seen and heard.
Price: Get started by scheduling a 30-minute product demo or explore package solutions and prices on the Deel website.
8) Empuls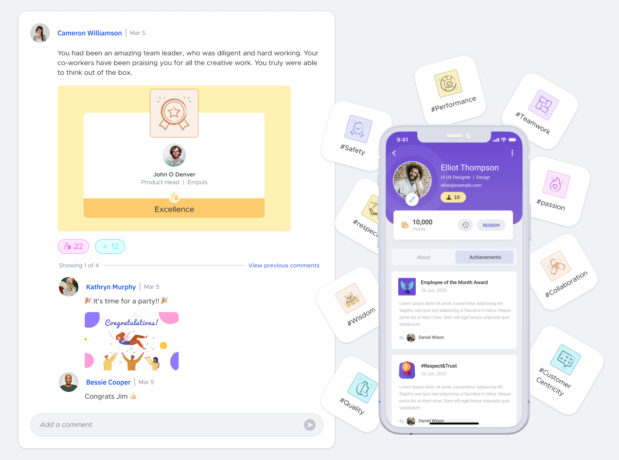 Empuls is a holistic employee engagement solution that helps to improve company culture and brings the entire digital workplace to life. People leaders use Empuls to help bring teams together, eliminate silos, provide a voice to every employee, and build a culture of appreciation throughout the organization.
3 Features We Love From Empuls:
Employee pulse — Comes packed with inbuilt surveys, employee NPS, and qualitative feedback to know what your employees think and feel from time to time
Peer to peer recognition — Enables your employees to experience moments of praise or appreciation through peer-to-peer and social recognition
Built-in gamification to drive adoption — Helps you leverage the use of milestones, badges, leader boards, goals, and awards to not only gamify the experience but also increase engagement holistically
Price: $2.50 per user per month. It comes with a 30-day DIY free trial. The friendly UX makes it easy for any organization to get started within 60 minutes.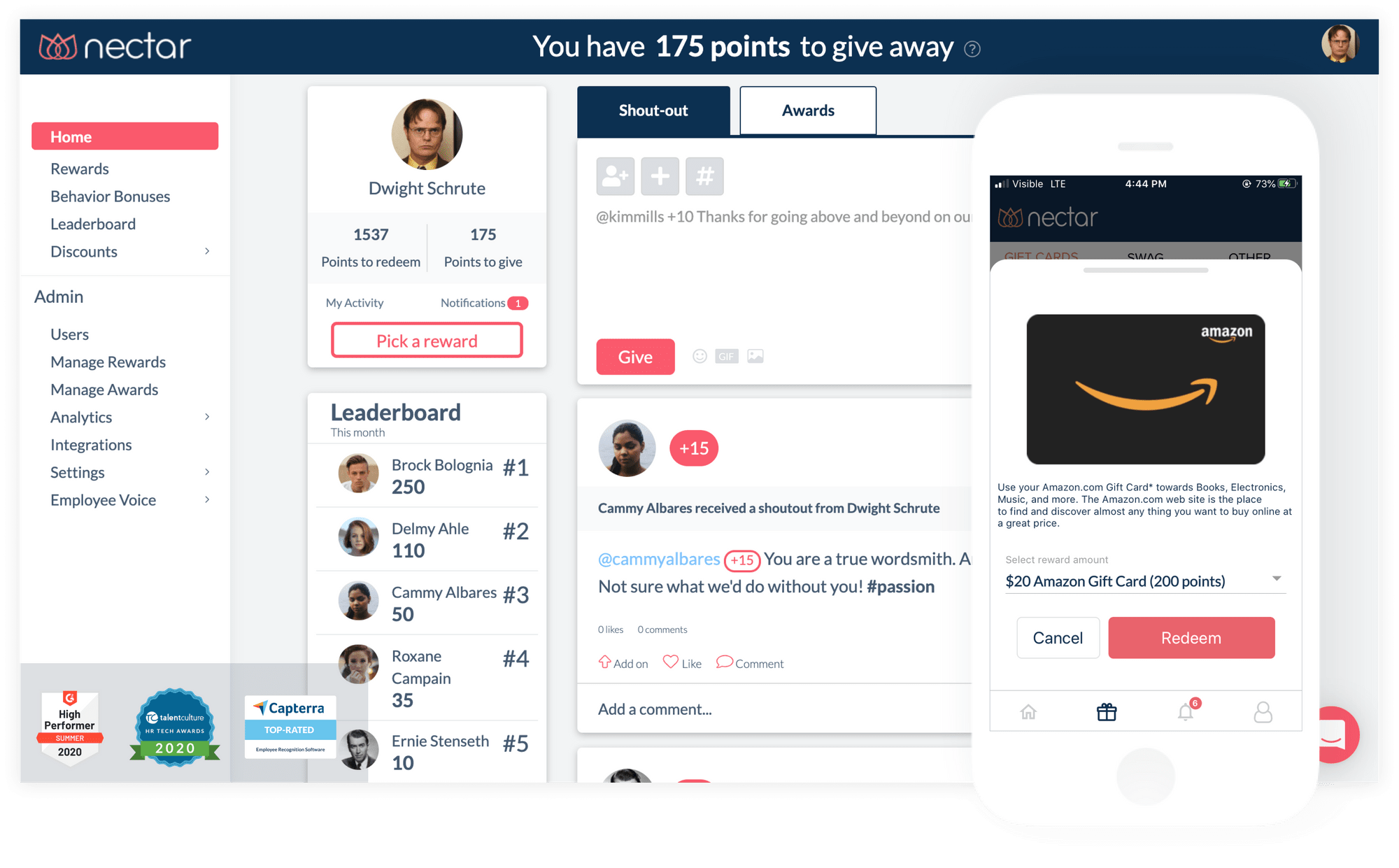 Nectar is a cost-effective employee engagement and recognition platform that helps drive connections across your workforce to make employees feel like family. Streamlined rewards include digital gift cards and on-demand swag.
Here's the cherry on top: With Nectar, organizations pay per user and aren't locked into any type of contract. We recommend this employee engagement software for medium to large-sized companies in that 50-1500 employee sweet spot.
3 Features We Love From Nectar:
Peer-to-Peer Recognition — It's one thing to hear it from management, but we love that employees can also reward each other for their hard work in this employee engagement software platform
Wellness Challenges — Create wellness challenges and instantly reward employees who participate
On-Demand Swag — Swag used to require upfront costs, a storage closet, and shipping. Nectar gives you an on-demand swag storefront that ships branded items directly to employees as soon as they order it
Price: Companies only pay when their employees actually use it, so it's never an unused, wasted expense. Nectar is contract-free and doesn't cost a penny to implement. There's a free version to get started and the Standard plan is $2.50 per user per month. See the pricing plan here.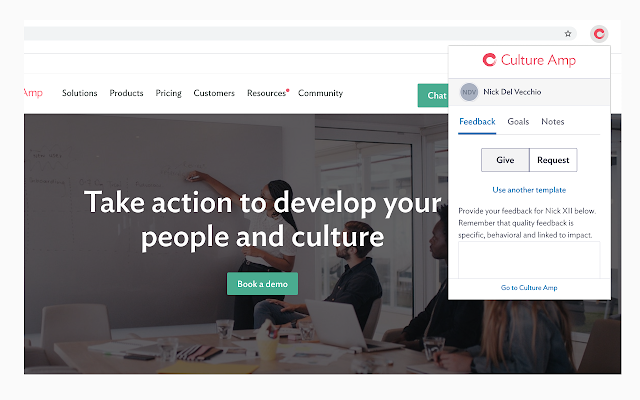 Culture Amp is an elite culture-building platform that helps companies amp up their employee retention, pride, commitment, and performance. One of the chief elements Culture Amp has in its favor is that its design is conducive to positive, constructive feedback, so employees always have an idea of what they're doing excellently and what they could improve upon — and employers can keep their finger on the employee pulse.
3 Features We Love About Culture Amp:
Negative Feedback Management — This feature helps employers be aware of their level of positivity and constructive feedback versus negative
Performance Management — Helps employees self-manage and report to their teammates
Benchmarking — The reporting and management features let employees and employer alike know exactly how the work is coming along
Price: Starting from $3,300 per year, pricing plans are three-tiered: Self-starter for organizations with 50-200 employees; Standard for organizations with 200-2,000 employees; and Enterprise for larger organizations with more than 2,000 employees. See pricing plans here.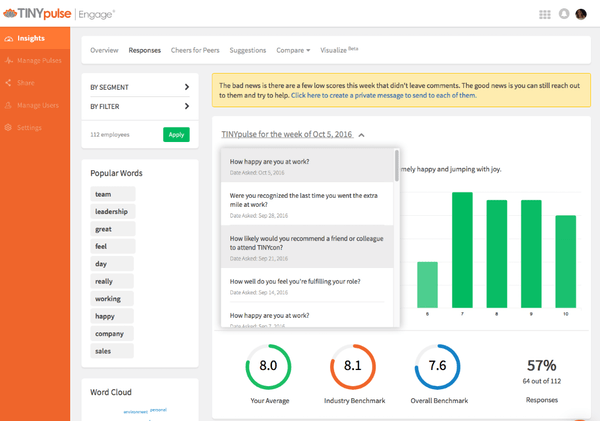 TinyPulse was created because its founders heard from businesses that there was a business need that traditional engagement tools weren't meeting. Other survey tools were too complex and actually slowed things down between gathering and taking action on employee feedback, which could take anywhere from months to an entire year. Fortunately, this intranet-based employee engagement tool succeeds in their mission of getting actionable information with survey questions. With this HR software, employers can read employee thoughts and feedback in real time.
3 Features We Love About TinyPulse:
Rapid Surveys — Lets you send a quick, one-question pulse survey to your employees each week on whatever platform they are working
One-on-one Coaching — Offers employees one-on-one coaching
Anonymous Suggestions — Enables employees to offer anonymous suggestions, which is ultimately how you'll receive the most truthful and best feedback
Price: Pricing for TinyPulse begins at $3 per month for each user for existing customers and $5 per month per user for standalone customers. TinyPulse is the best bang for your buck compared to Qualtrics, Peakon, Officevibe, and other platforms.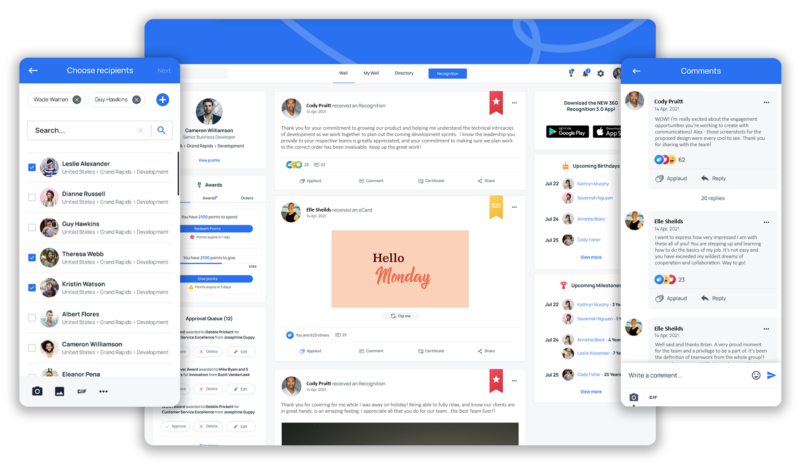 Terryberry aims to put employee engagement at the forefront of your company's mission to provide a great place to collaborate, connect, and do your best work. Their powerful platform offers a range of employee engagement features from social recognition to robust employee wellness programs.
Additionally, Terryberry recognizes that a winning engagement program provides valuable metrics and analytics to identify what is working at your organization and which areas can be improved upon.
Terryberry's Be Heard solution allows managers to generate surveys and gain insights into the effectiveness of their employee engagement strategies.
3 Features We Love From Terryberry:
360 Feedback — Super easy to receive feedback from customers, clients, and employees to learn what is working and recognize employees who are making an impact
Healthy Workplace — Wellness goals and weekly challenges connect employees even when remotely distributed
Personalized Awards — Offers a reward platform with a vast selection of merchandise for every lifestyle from thousands of top brands while letting managers personalize awards for anniversaries, achievements, or career milestones
Price: With so many available features, Terryberry currently offers three different plans — Core, Plus, & Pro — for teams to choose from. This is a custom recognition solution that will work with you to create the perfect system. For more details, contact Terryberry to learn pricing details and features.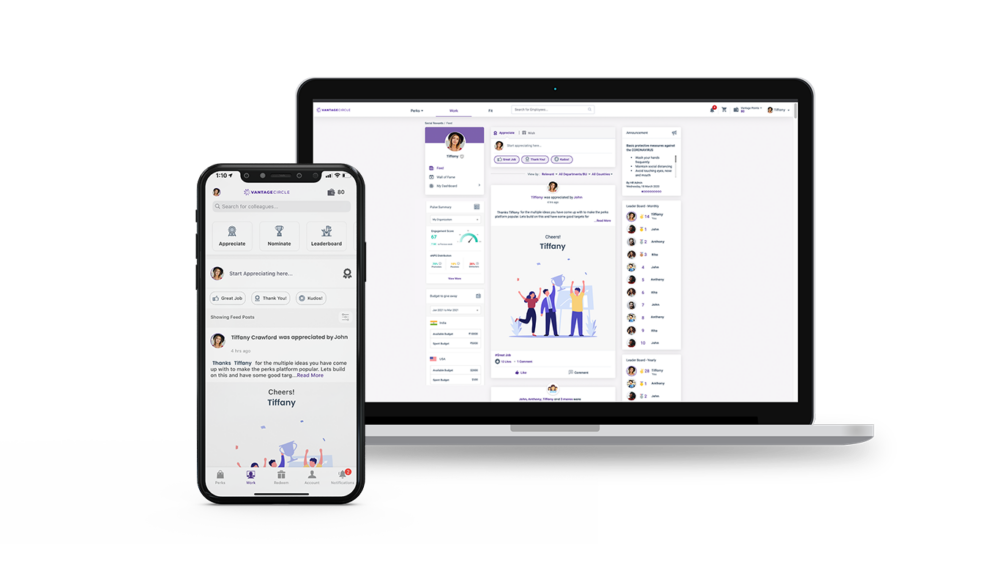 Vantage Circle is an all-in-one cloud HR software that combines four powerful AI and SaaS-based solutions to help companies engage their people in a meaningful way. With features like an employee rewards system, feed engagement score, on-spot recognition, social recognition feed, and more- Vantage Circle is designed to meet the complete engagement needs of diverse companies.
3 Features We Love About Vantage Circle:
Deep Analytics — Real-time admin and manager dashboards help track employee trends, behaviors, and engagement metrics.
Intelligent Frameworks — While the Standard of Living Index framework enables equal and instant rewarding of global employees, the AIRe framework combines Appreciation(A), Incentivization(I), and Reinforcement(R) to deliver more impactful recognition.
Built For Teams — Peer-to-peer recognition, cross-channel integrations, and multi-device accessibility make it easier than ever for even remote teams to engage and appreciate one another.
Price: Vantage Circle pricing begins at $3 per month for each user and comes with a free trial.
Employee Engagement Software For Team Building
---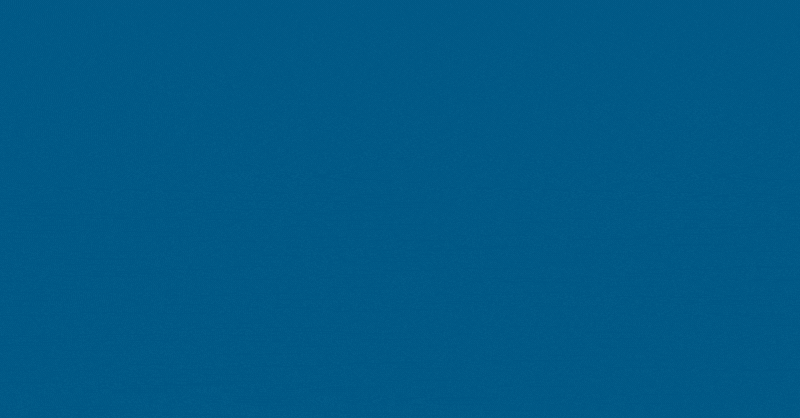 Outlook Team Building provides managed activities and training modules to amplify positive culture. Whether you want team building activities, group training, development solutions, or consulting solutions, Outback has it all.
3 Features We Love From Outback Team Building:
Immersive Experiences — These team-building activities bring employees closer than ever by solving unique challenges together
Professional Event Coordination — The app actually provides event coordinators to ensure that you get the most out of each planned activity
Location Independence — The app is designed to encourage participation from employees regardless of location
Price: With events that range from $8 – $40 per person, Outback Team Building will do everything in its power to plan a memorable virtual team building activity for your group. Request a quote here.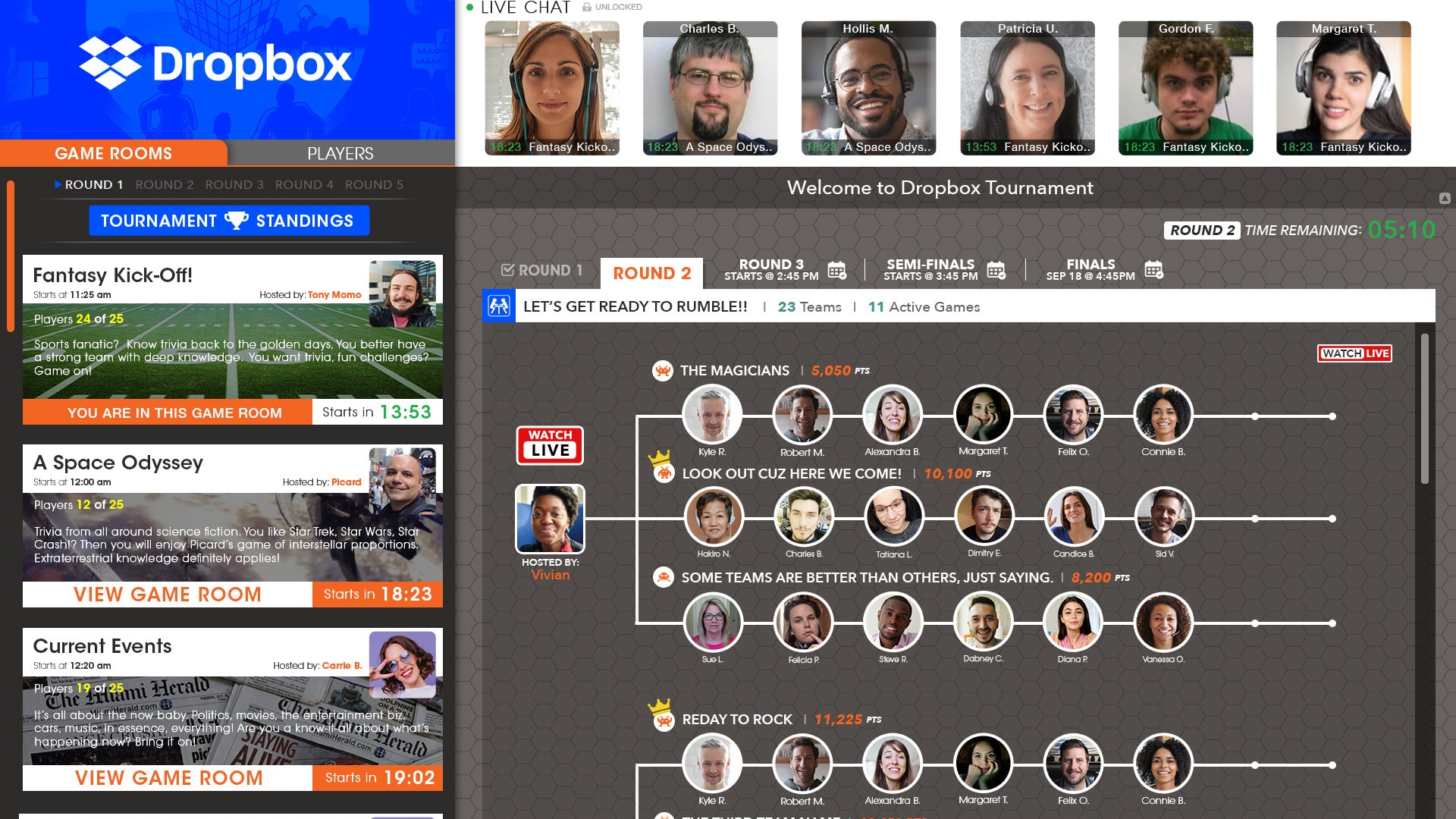 The Go Game is fully customizable and perfect for remote workers. It's designed for anything from groups of 1,000 attendees to small teams. With a suite of fun games, video and chat components, shared experiences, and much more rolled into a dynamic all-in-one platform, The Go Game is sure to increase employee engagement, satisfaction, wellness and retention.
3 Features We Love From The Go Game:
Hosts and Planners — The Go Game provides highly-trained hosts and planners for events
Video Conferencing — It's incredible video-conferencing supports large scale events
Team Building Sessions — These sessions boost creativity and problem-solving for your team members
Price: Request a quote here. They don't offer free trials, but they do offer free demos.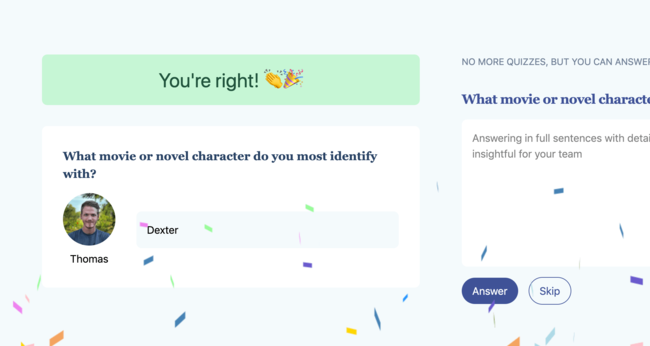 This scheduled virtual team building quiz gets delivered straight to your employees' inboxes. In the same way that video games have taken over the world, to stay competitive as an employer you have to gamify the workplace. Well, that's exactly what QuizBreaker does.
3 Features We Love From QuizBreaker:
Short Quizzes — These 3-minute sharable, customizable quizzes are employee engagement ideas designed to keep employees sharp and engaged
Gamification — The notifications and attention-grabbing functionality ratchets up the competition and gives employees that dopamine hit
Automation — The scheduling functionality gets everyone on your team into a rhythm and gives them something to look forward to throughout the week
Price: Free trial? Yes, get started here.
Employee Engagement Software For Collaboration
---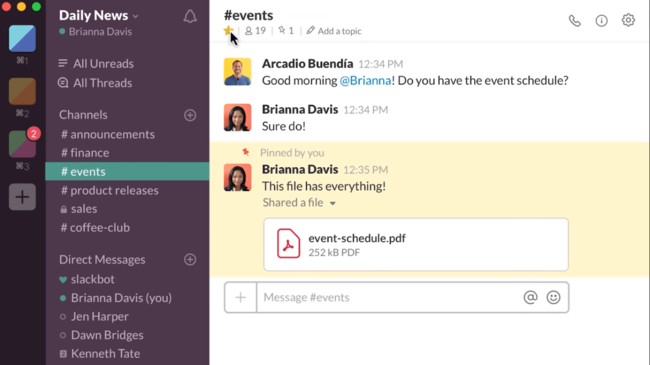 Slack is among the most popular employee engagement software for good reason. The easy-to-navigate interface allows team members to create channels and stay up to speed at all times. These separate channels make it incredibly simple to hop from one department to another and get in touch with anyone from the graphic designers to the social media specialists. Plus, Slack can be used as a mobile app.
3 Features We Love About Slack:
Instant Messaging — Users can instant message each other, which is vital in the fast-paced modern work environment
File Upload — Team members can upload images and other files straight to the platform
App Integration — With an app browser, team members can go through and add more than a dozen employee engagement apps into their workflow, such as Asana, Google Drive, and Trello
Price: Slack has free options, as well as, two tiers of paid plans: Standard and Plus. Standard costs $8 per person per month, or a few cents more than $80 per person annually. Plus costs $15 per user per month or $150 per person annually.
Pro-Tip: For more ideas, explore SnackNation's guide to the Best Slack Apps for productive teams and organizations. The apps available in this breakdown cover everything from company culture to project management.
Assembly provides companies with a virtual community in which they can offer perks and social recognition to enhance and improve their company culture. Your employees will be giddily hopping onto this platform to see whose attention their work has caught!
3 Features We Love From Assembly:
Calendar — Public anniversary, birthday, and holiday notifications make every day a celebration
Reward System — Employees can earn a wide variety of rewards, such as expense-covered classes, lunch with the CEO, gift cards, or branded swag to get them extra excited about coming to work
Core Values Sidebar — The sidebar lets employees know what the most in-demand skills are within the company, so they can game plan accordingly
Price: You can start with a free trial (no credit card required) by scheduling a demo. For premium features, the pricing is based on cost per employee, which is about the price of a bottle of water for each employee ($0-$3 per user each month).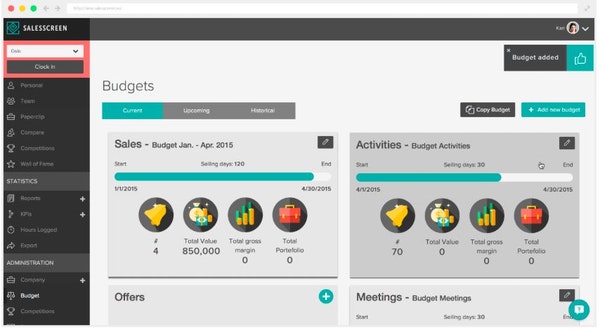 SalesScreen turns selling into a team effort through motivational tools and templates. Now usually when you think competition, you don't necessarily think collaboration, but that's exactly how SalesScreen works. Employees compete against each other in a way that benefits the whole and at the end of the day, iron sharpens iron. SalesScreen is great from the onboarding process through the entire employee lifecycle. In the end, the competition aspect will also benefit the customer experience and get employees ready for the sales frontlines.
3 Features We Love About SalesScreen:
CRM Integration — Integrates with relationship managers, which is a particularly useful feature for salespeople
Competitions — Sets up amazing competitions, challenging teams and their members against each other
Leaderboards — Measures the performance of the employees and the teams
Price: The trial is free, however, for additional pricing info, request a quote here.
Employee Engagement Software For Company Culture
---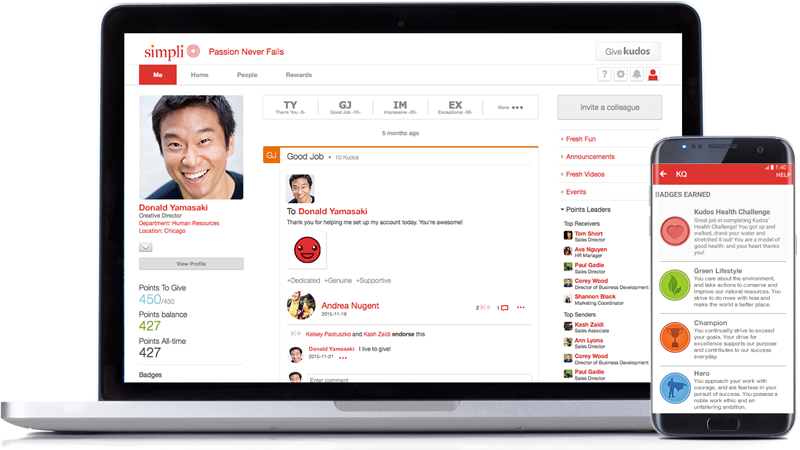 Kudos is your one-stop destination for peer-to-peer recognition and people analytics. It integrates easily with solutions like Microsoft Teams and Slack, so you're just one step away from upgrading your tech stack to a powerful, best-in-class employee engagement tool.
Kudos is ideal for organizations with 500+ employees, but it offers just the right amount of customizability for specific needs.
3 Features We Love About Kudos:
Measurable peer-to-peer messaging — Kudos can help you measure the impact of nomination programs and automated employee milestones. Know exactly when and how often you've recognized your employees for a job well done
People and culture analytics — Kudos Analytics will help you evaluate rewards vs. values demonstrated, helping you keep a finger on the pulse of team morale and enthusiasm
Near-perfect client satisfaction scores — Kudos is serious about the quality of support they deliver judging by their client satisfaction scores. Access support via the chatbot, email, support center, or live phone agents when you need them
Price: Connect with the Kudos team directly to learn about pricing options.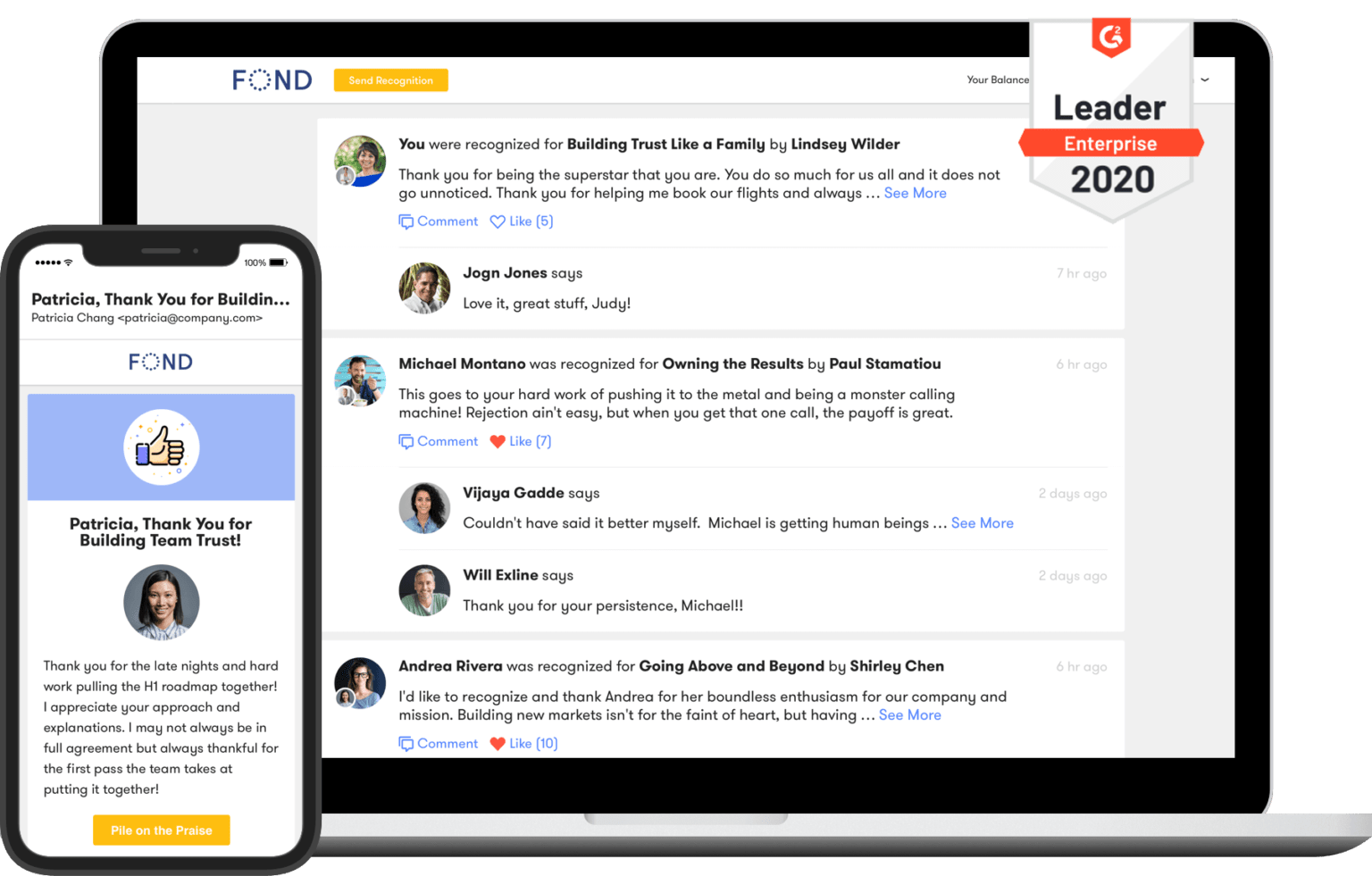 Fond is an especially great option for companies that have an international workforce due to its multilingual capabilities. Additionally, Fond's customizability allows companies to incentivize employees in pretty much any way they can dream up.
3 (+1) Features We Love From Fond:
Employee Recognition — Gives this software a social media feel, making it easy to generate buzz
Family Sharing — Provides the employees a way to share perks with the people they care about even outside of the company
Multiple Languages — This feature sets Fond apart in the sense that employees can go across apartments and communicate overseas and in other languages
Custom Rewards — Curate a catalog that fits your culture with options like branded swag, unique experiences, and charitable donations
Price: While Fond doesn't offer free subscriptions, it does offer free demos so you can hit the ground running! Request a quote here.
Employee Engagement Software For Time Management
---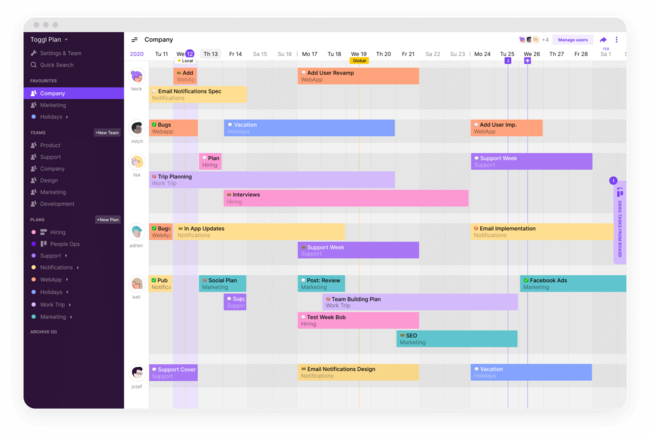 Are you looking for a better workflow management? Is the mundane job of scheduling and managing tasks frustrating you?
With Toggl Plan, project management is easier and more fun than ever. This employee engagement solution helps employees seamlessly plan projects, estimate timelines, assign tasks, insert milestones, and even provide feedback for new hires and vets alike. Toggl Plan enables teamwork with a set of easy-to-use project management tools to improve the employee experience. Without the need to watch long tutorials, employees can instantly start using this convenient platform. This practical visual planning tool is best for small and medium businesses and takes a major workload off your HR team.
3 Features We Love About Toggl Plan:
Colorful Interface – Tasks can be set and scheduled by creating a neat color-coded timeline of the work to be completed which keeps employees motivated
Drag-and-Drop Boards – The drag-and-drop interface makes planning flexible by easily editing task positions and length, adding notes and much more that can be seamlessly shared with colleagues
Chrome Extension – Makes it easy to add tasks to Toggl Plan from any website you might be currently working in
Price: With the pay-per-user system, Toggl Plan's pricing ranges from a free personal plan without premium features to $8 per person for monthly billing for premium features and larger teams. Toggl Plan offers a two-week-free trial of premium features which is initiated by default with account creation.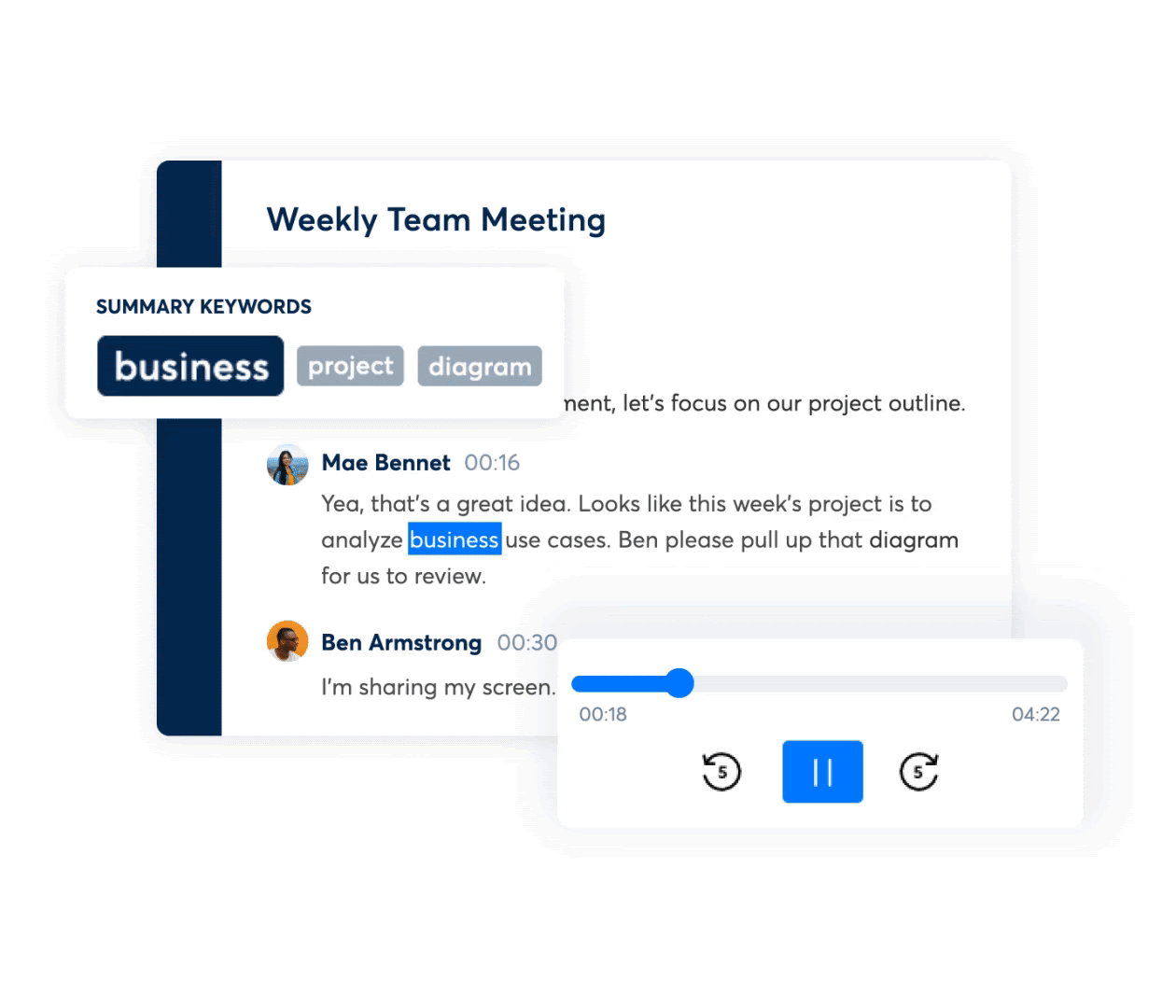 Otter.ai is an enterprise-ready artificial intelligence SaaS to boost collaboration and internal communication by generating notes for interviews, meetings, and presentations. Otter will save your team time by allowing its members to focus on the conversations and other tasks instead of note taking.
3 Features We Love From Otter.ai:
Speech Transcription — Saves your team time by masterfully transcribing meetings and other conversations
Zoom Integration — The software integrates seamlessly with Zoom, allowing participants on the call to have their words transcribed as if a professional note-taker is sitting in the room
Otter for Teams — They offer various tools, but this one is designed for multiple users
Price: Otter for teams costs $12.50 per month. Check here for pricing.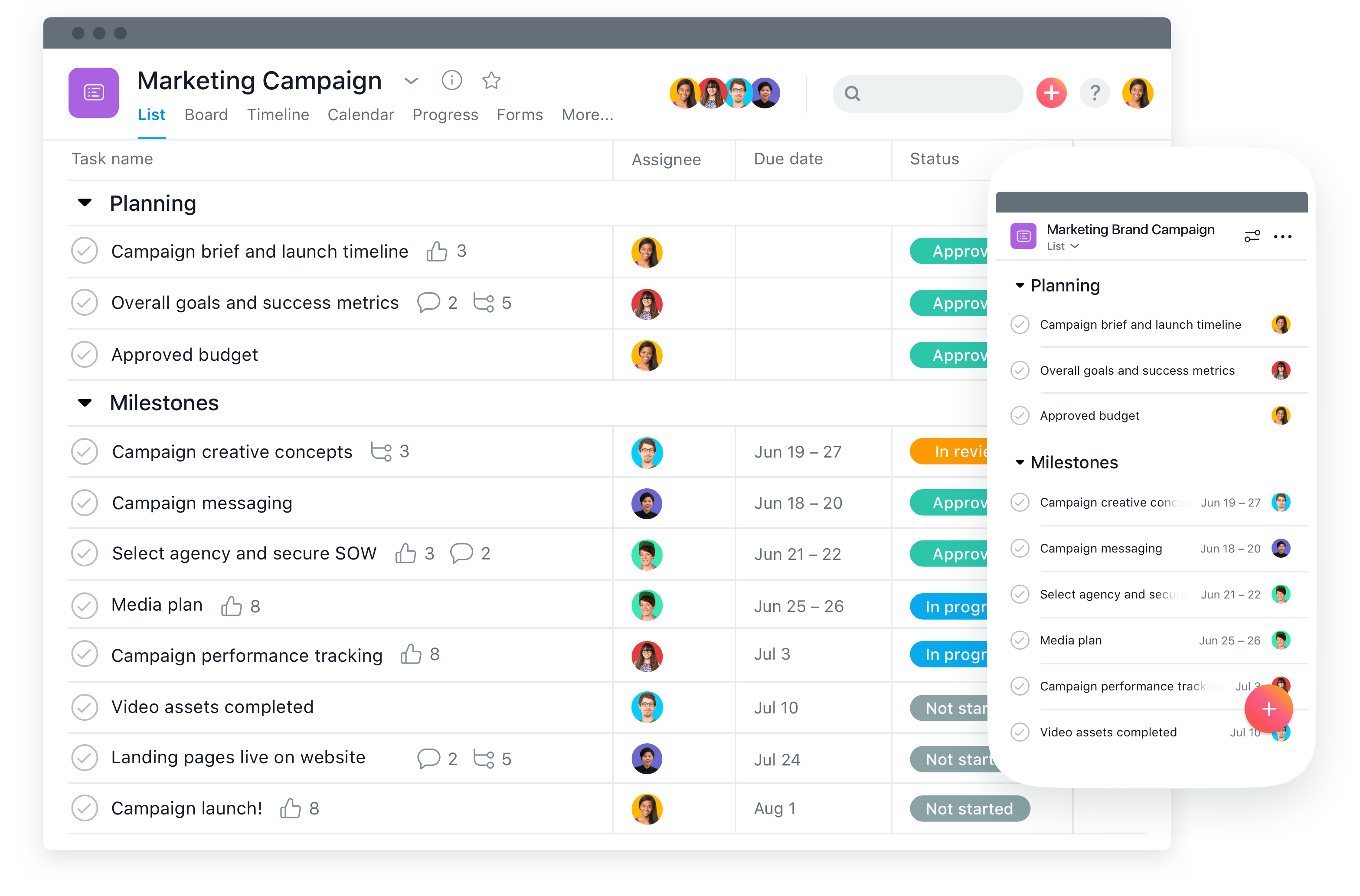 Asana delivers schedules, assigns tasks to collaborators and colleagues and has a web app that allows users to attach files as well as create tasks for team members. Through this employee engagement software, users can also design workspaces and assign, arrange, accompany, and schedule the details of a project. Asana has a reputation for massively boosting employee satisfaction.
3 Features We Love From Asana:
Tasks — Team members can reply to the tasks with a CTA
Portfolios — Allow you to monitor the progress of tasks in real time
Workload — Gives you an idea of how much work teams have across departments
Price: Asana is free for up to 15 people. However, Premium and Business cost $10 and $24 per member each month respectively. Check pricing here.
---
What Is Employee Engagement Software?
Employee engagement software is a type of application that companies use to improve talent retention and job satisfaction. The objective is to leverage the power of technology to boost productivity and efficiency in a quantifiable way.
Employee engagement software should include training tools, recognition and incentives for employees, surveys and feedback, a notification system, a performance evaluation system, and system integration with the appropriate business tools such as HR tools, email marketing, and customer relation software.
Benefits of Employee Engagement Software
Increased retention — Employees are more likely to stay because they feel emotionally invested in the company
Stronger company culture — The team remains in sync and grows closer
Increased communication — Employees can communicate more effectively even across departments
Easier to get employee feedback — Built-in feedback features allow the employer to put their finger on the pulse of the company
Increased productivity — With better incentives, communication, and overall company culture, employees will take initiative and look for better practices
---
Expert Advice & Useful Tips For Choosing The Right Employee Engagement Tool
1) Create a 30 Day Roadmap 📆
These engagement tools provide a ton of features that managers can use to improve engagement across their organizations.
However, this can create confusion with so many options at your fingertips.
Start with a clear goal or set of goals you want to achieve in the first month of using your tool. This will allow you to properly vet the platforms to determine which option fits your needs.
2) Meet with Key Stakeholders 🤝
It is recommended to engage with the key stakeholders within your organization before selecting the appropriate engagement software.
This may include your HR department, department heads, executives,  and employees who will be using the tool daily. By including stakeholders in the selection process, you can gather input from these individuals to understand their requirements and preferences.
Also, Involving stakeholders during this stage of the process will increase buy-in so that when it comes time to launch the platform across your team or the entire organization — you already have some champions to encourage participation.
3) Prepare Important Questions to Ask Before Your Demo❓
Many of the best employee engagement solutions on the market utilize 30-minute or sixty-minute demos to walk managers through the platform, describe key features, and provide reasons for you to choose their platform.
During this sales pitch and tutorial meeting, managers will have an opportunity to ask important questions about the platform.
Preparing these questions ahead of time can ensure you do not waste your time with tools that are not a good fit or cannot provide the level of customization that your business is looking for.
Based on how they answer these questions, managers can get a better sense of which engagement tool fits with their unique business case. After all, each company will require a slightly different experience — the best software for employee engagement can tailor their platform to provide ROI from day one.
---
People Also Ask These Questions About Employee Engagement Software
Q: What is an employee engagement platform?
A: An employee engagement platform is a tool that helps businesses better connect with their employees. It is a cloud-based software application that allows businesses to communicate with employees through different channels, such as email, social media, and instant messaging. The platform also provides a way for businesses to collect employee feedback and measure employee engagement levels.
Q: Can I use employee engagement software for my small business?
A: Yes, employee engagement software can be used by businesses of all sizes. Choosing the best employee engagement software for small businesses should take into account the needs of your company, such as the size of your team, the type of communication channels you need, and your budget.
Q: What are the best software platforms for employee engagement in 2023?
A: The best software platforms for employee engagement increase retention, productivity, and efficiency through accountability, rewards, and social recognition. Some of the most successful employee engagement software includes peer-to-peer gifting, feedback tools, and features that enhance communication among team members. Here are some of the best rated ones out there.
Q: Is there free employee engagement software that I can try out?
A: Most of the employee engagement software on this list and elsewhere offers a free trial, so companies can see if the platform serves their needs before subscribing. Many of the software platforms offer free trials so you can test them out to see if they are a good fit for your organization.
Q: What tools do I need for my employee engagement program?
A: For the best results for employee engagement programs, it's wise to invest in software that includes: instant messaging, a safe way for employees to offer feedback, recognition for rewards, and a social aspect to improve company culture and build relationships across departments.
Q: What software tools can I use to engage my remote employees?
A: Some of the most engaging software tools for remote employees possess features that make them feel included in the office. One of the most important elements for their engagement is that they know how important they are and can give and receive feedback and other communication.
Q: What makes a great employee engagement software?
A: Great employee engagement software promotes a positive company culture, where every employee has a voice, a platform to provide feedback to the employer, and feels their input is respected.