Finding the best gifts for remote team members is becoming increasingly more difficult and managing the logistics of shipping remote employee gifts is an even taller order.
In a hurry? These are some of our favorite remote employee gifting platforms to send your appreciation anywhere in the world:
With the rise in remote work culture, we've seen since the pandemic, it's clear that a hybrid workplace is here to stay.
In Buffer's 2022 State of Remote Work survey, they found that a whopping 97% of respondents would recommend remote work to others. Additionally, when asked if their company was planning on permanently allowing some amount of remote work, 72% of respondents stated yes compared to only 46% responding yes to that same question in 2021.
With this continued trend, many companies are searching for ways to increase remote employee engagement. Aside from remote work software, a fantastic method of boosting engagement is sending gifts to your employees working from home.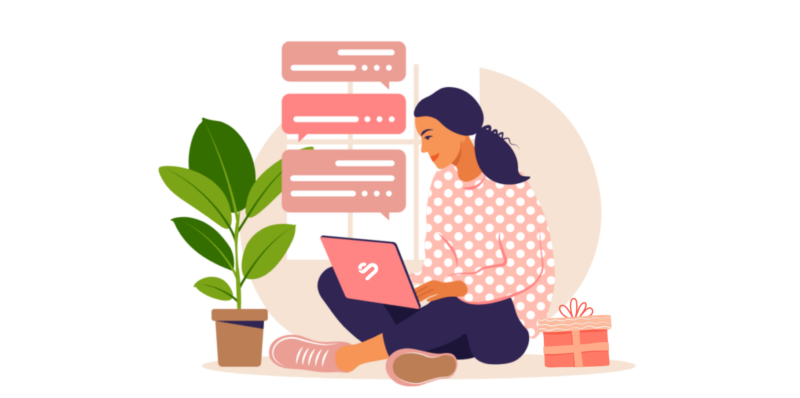 With so many remote employee gifting options in the market, it can be a bit overwhelming to find the best items, so we've done the work for you. Check out our list of the top remote employee appreciation gift ideas & custom gifts for remote workers!
Want to become a better professional in just 5 minutes?
Page Contents (Click To Jump)
List of Appreciation Gift Ideas For Remote Employees
Best for: Work-From-Home Newbies and Aficionados alike

Creating a customizable remote employee care package for your team is not only an awesome employee appreciation gift, but an effective tool to engage your remote employees. With tons of high-quality items to choose from and gifting experts at your fingertips, building the perfect remote team care package is a breeze with Goody.
Remote care packages typically include functional office supplies such as notebooks and pens, company branded swag items like coffee mugs, t-shirts, or water bottles, and employee wellness items like healthy snacks and treats.
Why remote employees will love this: Remote employee care packages arm your team with both functional and fun items that will help boost their productivity and build a sense of community & belonging and team building.
Where to find it: Custom remote employee care packages
Pro-Tip: You can either build a set care package to send employees or take advantage of Gift of Choice where employees can select items based on their unique preferences and set budget parameters.

Simply set your per-person budget, write a meaningful gift note, and offer each of your recipients the chance to select their own gift. Goody will seamlessly pack each gift with care, and deliver each recipient their selection straight to their doorsteps.
Best for: The Hard-to-Please Shopper

Let's be honest. We all have a company gift or two sitting in the back of our closet because we just simply didn't want or need that particular item. Amazon wishlists are a great way of avoiding that and encouraging your remote employees to find the ideal home office gifts that best suit their needs and style.
Why remote employees will love this: They will love the flexibility of selecting items that they truly want off their Amazon wishlist. This takes the guesswork out of finding the perfect personalized gift for your employees and puts the power of choice directly in their hands!
Where to find it: Select from their Amazon wishlist
Best for: Self-Proclaimed Coffeeholics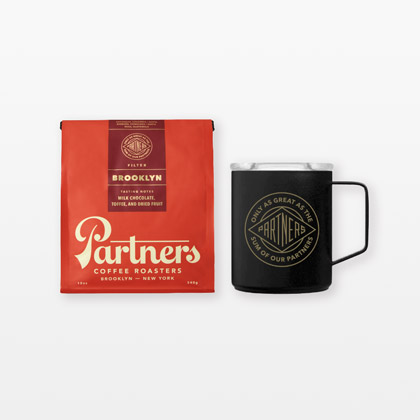 Our next work-from-home gift is perfect for your caffeine-loving remote employees! This employee gift set includes Partners signature medium roast ground coffee, Brooklyn Blend, and their stainless steel branded camp mug so your remote employees can enjoy their brew anywhere they're working. This coffee gift set is the perfect way for your remote employees to jump start their workday or put some pep in their afternoon step when the periodic 3 PM slump makes an appearance.
Why remote employees will love this: Remote staff will appreciate the added fuel to energize their day! They not only get a delicious blend to add to their coffee shelf, but also a sleek mug to enjoy their cup of joe in style.
Where to find it: Partners Coffee Gift Set
Best for: Adventurous Experience Seekers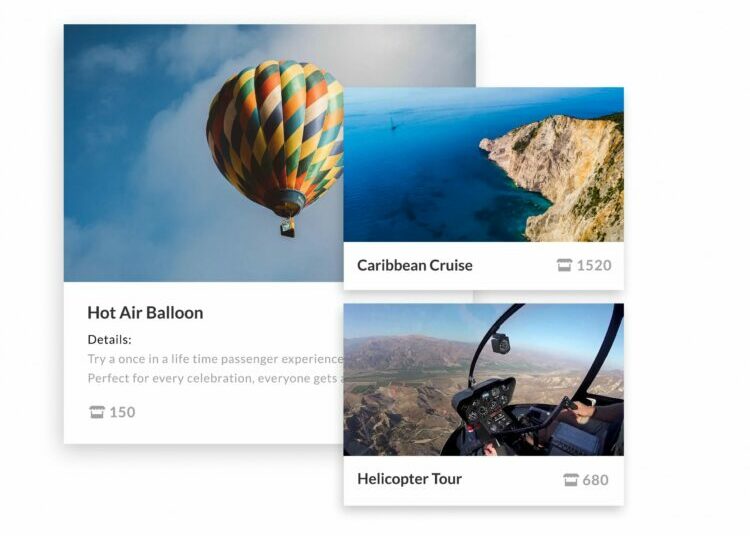 Employee recognition gifts don't always have to be physical gifts. Experiential gifts are an excellent alternative method of rewarding your remote employees uniquely and creatively. Examples of experience-based gifts include travel, extra paid time off, massage certificates, and cooking lessons.
You can also customize these experiences so that your remote employee can take their significant other, or their family, or enjoy it on their upcoming vacation.
Why remote employees will love this: Experiences are a great way to form a more meaningful connection with your remote colleagues. Tangible gifts are awesome, but experiences provide your employees the opportunity to try something new, treat themselves, and explore their interests.
Where to find it: Bucketlist
Best for: Anyone & Everyone!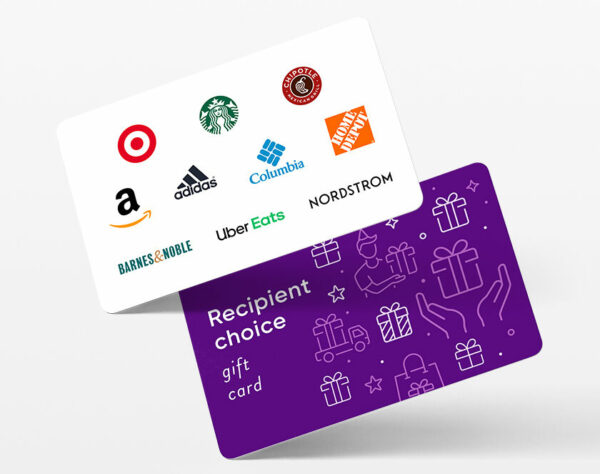 Digital gift cards are tried and true virtual gifts for employees for a reason. They're easy to send digitally (duh!) and platforms, like Goody, offer an expansive variety of digital gift cards to choose from so your employees are guaranteed to find a gift card option they love.
You can either partner with an external company to build out a rewards program for your remote employees where they earn points for digital gift card redemption. Or you can instantly implement this remote employee gift option by sending digital gift cards directly to your employee's inbox today.
Why remote employees will love this: Your WFH employees will love the ease with which they can receive and redeem their digital gift cards. If you offer a choice of digital gift card options, they'll also appreciate the flexibility in selecting which gift card is their personal favorite.
Where to find it: Digital Gift Cards
Pro-Tip: Digital gift cards are an easy yet impactful gift for coworkers to show appreciation or thanks to your remote team members.
Best for: Self-Care Superstars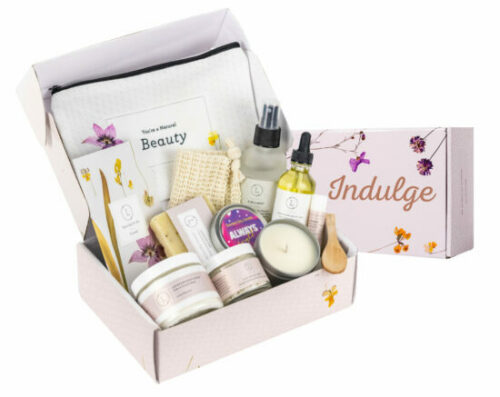 Gift your remote employees everything they need for a sensational at-home spa day! This employee wellness gift includes a lavender soap bar, body scrub, body oil, shower mist, clay mask, lip balm, soy candle, luffa and a greeting card to share a brief message. Spa Day gift sets encourage your remote employees to practice self-care and prioritize their well-being.
Why remote employees will love this: Work can be stressful at times as can maintaining a healthy work-life balance especially when working remotely. Spa day kits help your remote employees destress, relax and rejuvenate.
Where to find it: Spa Day Essentials
Pro-Tip: This gift set is a great way to celebrate a remote employee's birthday!
Best for: The Boy/Girl Scout at Heart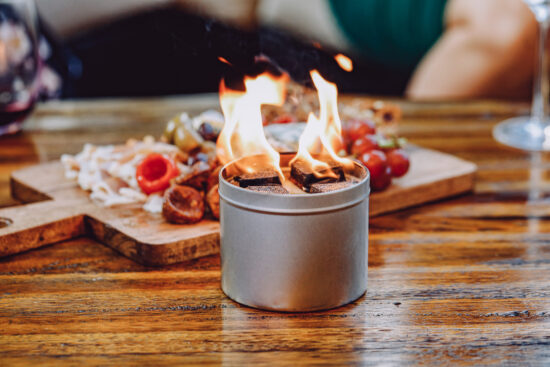 Tree-Free Fire's portable campfire makes the perfect eco-friendly gift for your remote employees looking to ignite their campsite memories anywhere and everywhere. This all-natural portable campfire is made of soy wax and peat moss and provides a whopping 4 hours of burn time perfect for roasting up marshmallows. Your remote employees can either enjoy their campfire solo or share the fun with their friends and family.
Why remote employees will love this: Your remote employees will love this unique gift because it's not only extremely convenient but a fun nod to the inner child in us all. Who didn't love making s'mores around the campfire and swapping stories under the stars?
Where to find it: Portable Campfire
Best for: That Afternoon Hangry Colleague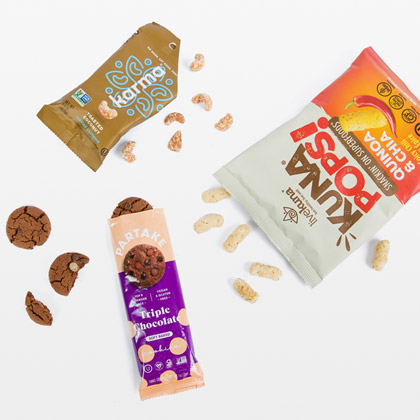 Snack boxes make a fantastic remote team gift because they provide your employees with some much needed brain food to power their day. When in-office employees are craving a snack, most companies have an office kitchen stocked with complimentary, quick & easy snack options. Give your remote employees that same convenience in their own kitchen with this Healthy Snack Box full of delicious and healthy snacks like chips, bars, sweets and more!
Why remote employees will love this: Who doesn't love having snacks on hand at any given time? Your remote employees will love that you're providing them with healthy and convenient snack options to satisfy their inner snacker.
Where to find it: Healthy Snack Box
Best for: Digital Nomads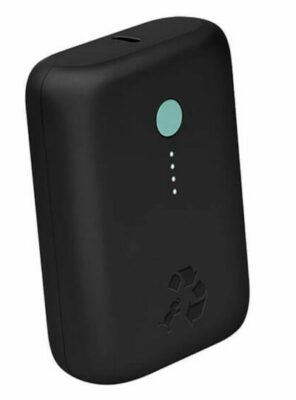 A Nimble Lite Portable Charger makes a stellar corporate tech gift for your remote employees. Don't let the compact size of this gadget fool you. This charger is small yet mighty with an eco-friendly battery pack that offers up to three full phone charges. Whether they're at home and can't find their phone charger or working out of their local café or coworking space and running low on battery, this portable charger provides your remote employees the juice needed to power their workday.
Why remote employees will love this: Remote employees will love the peace of mind of having a backup charge available anywhere and anytime they need it.
Where to find it: Nimble Lite Portable Charger
Best for: Music Lovers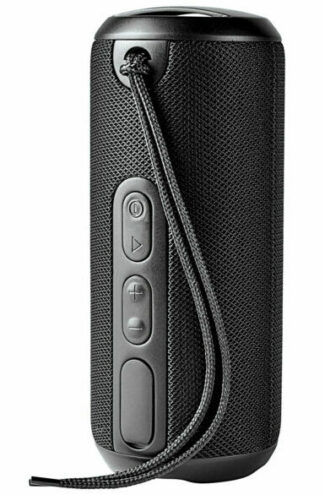 Give your remote employees the gift of music with this high-quality rugged outdoor speaker. Your remote employees can enjoy their favorite tunes such as focus music while they work or top hits while they play (and everything else in between). This speaker also has a waterproof rating of IPX6 so your employees won't have to worry about easily damaging their awesome new gift.
Why remote employees will love this: Your employees will love that they can take their favorite music anywhere they go! They can use their speaker on hiking excursions, beach trips, parties, team events, and so much more.
Where to find it: Rugged Outdoor Speaker
Best for: Commuters & At-Home Offices Alike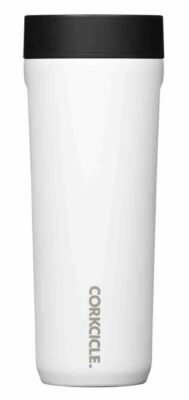 Just because your employees are working remotely doesn't mean they aren't doing some type of commuting in their lives like picking up the kids from school or driving to appointments. This commuter cup is the perfect companion for those trips because they feature a spill-proof design and the insulated stainless keeps cold beverages chilly for up to 18 hours and hot beverages warm for up to 5 – one of our favorite gifts for work from home employees!
Additionally, many remote employees tend to spend quite a few hours at a time working in their at-home office space, so having a cup that keeps their drinks at an ideal temperature comes in clutch as well.
Why remote employees will love this: Remote employees will love the sleek yet functional design of the Corkcicle Commuter Cup!
Where to find it: Corkcicle Commuter Cup
Best for: Chocolate Enthusiasts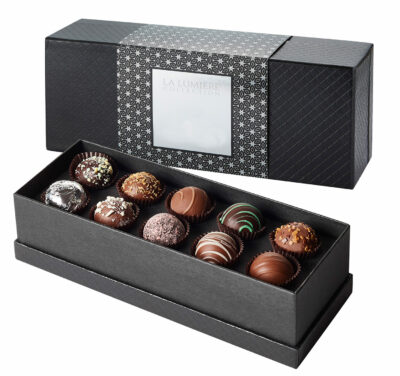 This 10-piece Belgian chocolate gift box is a delicious treat to surprise and delight your remote employees with. This gift box includes a variety of chocolate flavors that are sure to satisfy even the most discerning sweet tooth.
Why remote employees will love this: Your remote employees will love this thoughtful treat because it's the perfect afternoon pick-me-up! Although let's be honest– There's no wrong time to indulge in some tasty chocolate.
Where to find it: 10-Piece Belgian Chocolate Gift
Best for: Hikers & Backpackers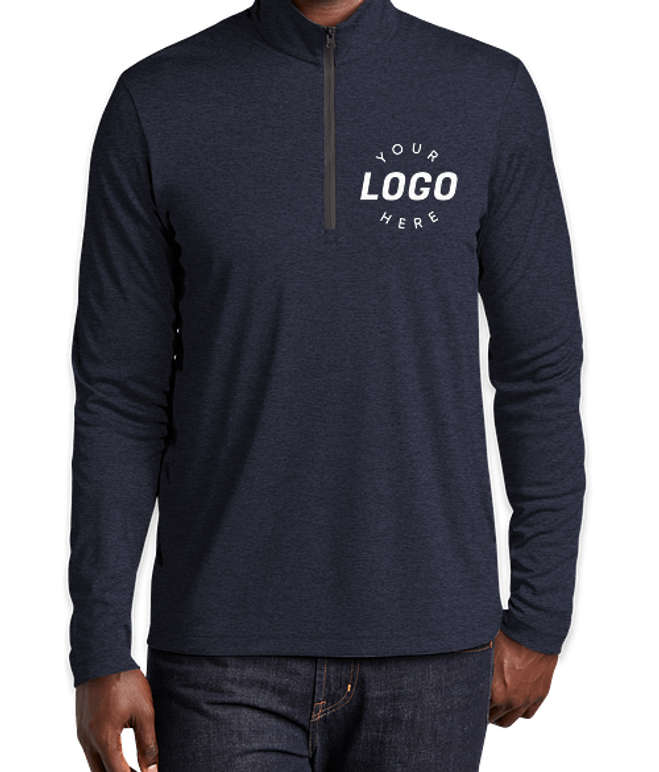 The Sport-Tek Endeavor 1/4 Zip men's pullover is a wonderful corporate gifting idea for your remote employees. This pullover features moisture-wicking technology and is super lightweight which makes it the perfect fit for physical activities like hiking or running.
It's a great way to encourage your remote employees to stay active and is a sleek way of showing some company pride with a branded pullover option.
Why remote employees will love this: Your employees will love adding a high-quality performance pullover to their closet inventory. With the branded company logo included, it's also a fun way for them to rep the company whether on the go or on a Zoom meeting.
Where to find it: Sport-Tek Endeavor 1/4 Zip Mens
Best for: Comfort-First Appreciators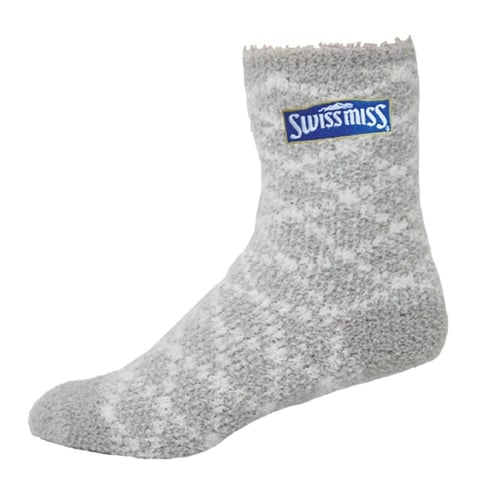 One of the best remote employee perks is the fact that on video calls, you only see the top half of participants, which means your remote employees can rock their favorite pair of sweats and these ultra-comfortable logo-branded fuzzy socks on the bottom. These branded fuzzy socks are a fun way for your virtual team to rock some company swag in style and comfort in their remote workspace.
Why remote employees will love this: Remote employees will love wearing these comfortable fuzzy socks while either working from their at-home office or binge-watching their favorite Netflix shows in PJs after a productive workday.
Where to find it: Logo-Branded Fuzzy Socks
Best for: Coffee & Tea Lovers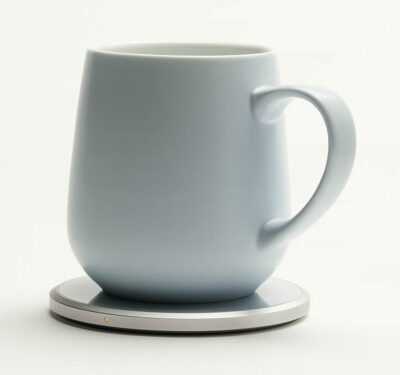 Your remote workers are likely spending long hours at their home office desks, so this self-heating ceramic mug makes for the perfect companion as your remote team hops from one virtual meeting to the next. Not only does this self-heating mug keep drinks at an ideal drinking temperature of 130F, but it also doubles as a charging base to wirelessly charge cell phones as well!
Why remote employees will love this: Your remote employees will love that they don't have to worry about their warm drinks getting cold and can enjoy their drink at the perfect temperature even when it's been sitting untouched in their workspace.
Where to find it: Self-Heating Ceramic Mug
---
Common Mistakes & Challenges to Avoid When Sending Remote Employee Appreciation Gifts
Avoiding Typical Missteps When Sending Appreciation Gifts to Remote Workers
Selecting the best gifts for remote employees can make or break your token of appreciation. It is equally important to consider shipping logistics and other similar factors. Be aware of these potential pitfalls when sending appreciation gifts to remote staff:
Choosing impersonal gifts: Opt for personalized remote employee appreciation gifts that cater to interests and needs. Avoid generic gifts that may not resonate with your team members working from home.
Skipping on presentation: An attractive and thoughtful presentation makes a lasting impression. Take time to package your gifts well and include a handwritten note, if possible.
Not considering shipping challenges: Verify your team members' most current shipping addresses, and take into account any potential customs or import regulations for international shipments. Don't let logistical issues spoil the gift-receiving experience.
Neglecting gift preferences: While surprises can be delightful, it's also valuable to ask team members for their preferences or provide a selection they can choose from. This ensures that the gift will be appreciated and used, rather than collecting dust or being regifted.
Overstepping budget constraints: It's easy to get carried away in the spirit of appreciation, but it's essential to stick to a predetermined budget. Overspending can set unrealistic expectations for future remote employee gifts or even strain the company's finances. Conversely, choosing something too cheap might come off as insincere or thoughtless. Find a balance by selecting meaningful inexpensive gifts for remote workers that align with your budget and ensure that your gesture of appreciation doesn't inadvertently create financial complications.
Overcoming Major Obstacles in Gifting to Work-From-Home Employees
Gifting in a hybrid workplace brings its own set of challenges, particularly when selecting gifts for remote employees. Be cautious of the following obstacles:
Cultural considerations: Be mindful of cultural preferences, beliefs, and traditions when choosing gifts for remote workers from different backgrounds. A gift that's suitable in one culture may be offensive or inappropriate in another.
Finding cost-effective solutions: Identify gifts that offer good value without breaking the bank. Keep in mind that meaningful and thoughtful gifts often resonate more with recipients than expensive items.
Timely delivery: Ensure that your gifts arrive on time and undamaged. Work with reliable shipping partners to guarantee a smooth delivery process that enhances the overall experience of receiving your gift.
Environmental impact: As the world becomes more environmentally conscious, consider the footprint of your gifts. Opt for sustainable, eco-friendly gifts, and packaging to show your company's commitment to green initiatives. Over-packaged or non-recyclable gifts might leave a negative impression on the recipient.
Address verification: Remote workers might have moved or could be temporarily in a different location. Before sending a gift, double-check and confirm the most current shipping address with each employee to avoid unnecessary reshipping expenses and delivery delays.
Opting for one-size-fits-all: Avoid the trap of sending identical gifts to all remote employees. While it may simplify the logistics, this approach can come off as impersonal. Instead, consider segmenting your gifts based on personal preferences, roles, or milestones achieved.
Personal data privacy: When gathering preferences or personal information for gifting purposes, it's crucial to respect data privacy regulations. Ensure you have permission to collect and use such data, and that it's stored securely to prevent breaches or misuse.
Remember, sending thoughtful gifts to your remote employees is essential in fostering good work relationships and maintaining employee engagement. Plan accordingly and take care to select the right gifts, while overcoming common challenges in gifting to remote workers.
---
People Also Ask These Questions About Gifts For Remote Employees 
Q: What are some good gifts for remote workers? 
Q: How do I find an inexpensive gift for remote employees?
A: To find inexpensive gifts for your remote employees you should first identify your gifting budget. There are tons of remote employee gift options to fit small and large budgets alike. Once your budget is set, shop around to see what products or platforms best align with your needs.
Q: What are the best kinds of gifts for employees who work remotely? 
A: The best kinds of gifts for employees that work remotely include thoughtful gift sets like a spa day or Belgian chocolate. Remote employee care packages including functional office items and branded company swag also make great gifts for remote employees.
Q: How can I get my remote employee a personalized gift? 
A: You can get your remote employee a personalized gift by partnering with a gifting platform that specializes in curated gifting options for remote employees. For a complete list of remote employee gifts, check out this article.