(Photo comes from

Dale Carnegie

)

Whats Your Favorite Employee Engagement Idea?
Managers can agree that employee engagement and retention are at the top of their priority list this year.
Many have found that an employee recognition platform helps to keep both in-house and remote employees engaged regardless of proximity.
Every company wants to attract and keep the best talent.
The problem?
Many employees in today's job market quickly feel uninspired by their work, get bored after 2 years and start job hunting for something new.
Quick turnover drains companies, both financially and creatively. Quantifying exactly how much it costs businesses to replace every employee who leaves is a challenge, but estimates are out there. Here are some highlights from a collection of estimates on the costs of employee turnover:
6 to 9 months salary. (That's well over half what you pay an employee in a year. For an employee making $100,000 a year, the cost of turnover could be as high as roughly $75,000. Ouch.)
16% of annual salary for jobs with traditionally high turnover, such as entry-level media jobs
20% of annual salary for jobs requiring mid-level experience
213% (not a typo!) of annual salary for top-level executive positions, including CEOs
All these numbers point to the same basic conclusion: employee turnover is expensive.
Outside of financial burdens, employee turnover puts a ceiling on the quality of a team or individual's work. The reason? Companies with high turnover have fewer employees with a high degree of institutional knowledge. If most employees leave a company after just a few years, then the company never benefits from that golden combination of skills, talent, and critical institutional knowledge that helps business thrive.
So we decided to speak with some of the best HR professionals and business leaders around the country to find the employee engagement strategies and best practices that they recommend. There are also some tips and employee engagement ideas that work for our company.
In a hurry? These are some of our favorite employee engagement tools & platforms:
Top 11 Best Employee Engagement Ideas & Activities:
Page Contents (Click To Jump)
1. Praise your co-workers
It shouldn't only be left to managers to praise good work. When you hear about someone's achievement, go over and personally congratulate them. It'll mean a lot to that person and they'll likely do the same for you when your big wins come through.
If part of your team is remote, activating an employee recognition software can drastically improve virtual employee engagement and make praising your co-workers a breeze to do when you can't physically congratulate them at their desk!
Make it your own: Find a way of offering recognition that works for your personality and your schedule. This will make your intentions easier to deliver on.
If you like using digital tools to make your life easier, then employee recognition platforms like Bonusly have everything you need – we've used Bonusly at SnackNation for years and love it.

Bonusly makes it incredibly fun and easy for you to recognize coworkers. (And fun + easy = a sustainable long-term employee engagement strategy!)
Choosing to write a heartfelt letter once a month to the members of your team is also another surefire way to show your co-workers that you care and know them on a personal level. This feeling of connection has a profound effect on work productivity and remote company culture.
2. Prevent the "Sunday Scaries" with Monday Fun
It's no secret that the Sunday Scaries strike many employees before they head back to work on Monday morning. The best way to prevent them? Give employees an engaging activity on Monday mornings to energize the start of their day.
At your next morning meeting, start off with a quick and easy icebreaker to shake off the scaries!
"70% of HR leaders recently reported employee morale as their top challenge. An icebreaker activity before a team meeting helps to spark conversation around the proverbial water cooler in a low-stakes, low-cost way. As the CEO of a major consulting firm told us recently… this is always something I look forward to during the week and an important source of diversion for a mental health break!"

–Collin Waldoch, Co-Founder at Water Cooler Trivia
These are some customizable Icebreaker Templates designed to engage your team and supercharge your morning meetings:
This weekly bonding session can be scheduled for Monday mornings or whenever your team needs a lift. Start battling Sunday Scaries with one of these Icebreaker Templates this week!
3. Measure employee engagement in real-time
The most important part of your efforts to improve employee engagement this year needs to start by measuring it. That said, measuring what matters – looking beyond the 'noise' of data the enterprise systems throw at you, is essential to focus on your organization's core engagement drivers.
An employee engagement tool like Motivosity helps you accurately gauge the effectiveness of your engagement efforts. Their suite of employee engagement products makes it possible to understand your company culture at every level. From job and employee satisfaction to promoting genuine recognition — Motivosity is leading the charge to fight burnout and turnover at your organization.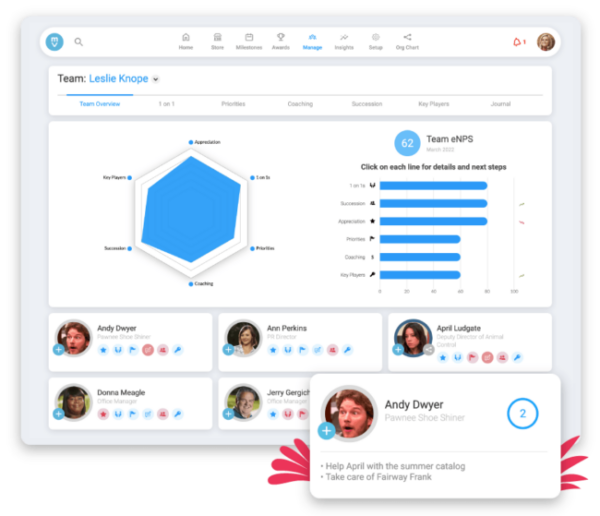 The multitude of features available on the Motivosity platform allows you to capture the effectiveness of your employee engagement program and plan the next steps to contribute to a more healthy company culture.
4. Lunch & Learns (hosted by employees)
This is another SnackNation favorite — it allows us to provide learning opportunities and recognize our team members' expertise at the same time.
Treat your lunch and learn like a skillshare. Instead of inviting in outside speakers each month, ask a different team member to host a lunch-and-learn on a subject they're passionate about. Our team's prior topics have been wide ranging — from personal finance to cryptocurrencies to persuasion.
Don't forget about the lunch part of your lunch-and-learn.
5. Incentivize goals
Create some healthy competition and reward excellent performance with incentives for successful goal achievement. Tickets to a game, dinner for two, or a personalized shoutout on your company's social recognition platform are inexpensive ideas that can help people feel more invested in their work. You can also achieve and celebrate goals by automating incentives with WorkTango.
Make it your own: Your incentive options are as diverse and varied as the employees you're rewarding. Experiment with different reward ideas and see what really gets that glowing reaction you're looking for. You can also check out WorkTango's growing library of custom employee incentive options for more ideas.
6. Encourage volunteering
Show your commitment to community and social responsibility by giving your employees a couple of hours each month to get out of the office and participate in community service.
Make it your own: Have different employees choose a cause to support every month. This helps ensure that…
Everyone can volunteer for causes they're passionate about
Everyone can share that passion with their co-workers
7. Host team lunches
Team lunches are a casual event that encourages organic conversation over organic greens — or greasy pizza. This event makes a good mid-day break in the office, but it also works for virtual teams who don't get as many opportunities to bond.
If you have a large team, organize your lunch groups by department or assign groups at random to facilitate interdepartmental networking. This can be an easy employee appreciation idea for larger companies that have both in-person offices and remote team members.
While traditional catering could help you provide in-office lunches, it can be difficult to coordinate around team members' dietary restrictions and preferences — it's also not a viable option for virtual teams. Instead, let each team member choose their own lunch by sending out virtual credit cards for simple lunch-time ordering.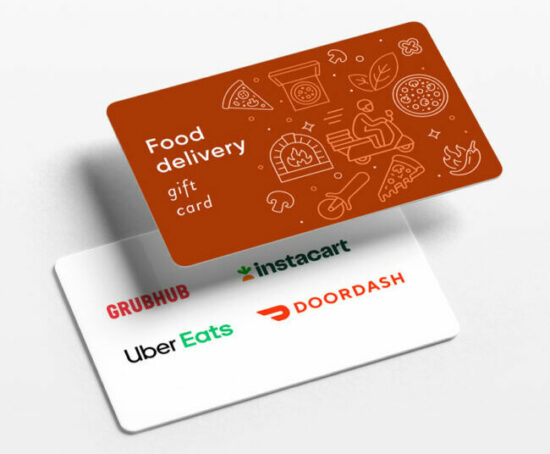 Team members will be able to order the food they want from vendors around the world, and your lunch coordinator will be able to organize it in minutes. Any money your team members don't spend gets refunded back into your budget instead of going to waste (like all those uneaten catered sandwiches).
For more information, check out Awardco to learn how to send digital lunch cards to your team in just a few clicks.
8. Send out digital gift cards
Sometimes managers want to find a team engagement idea that is quick, easy, and effective. Enter….the digital gift card.
Great for spot bonuses and spur-of-the-moment engagement, these virtual gifts can be sent to any employee's email in a matter of seconds.
Plus, many resources have large catalogs of gift card options so you can select one or let them choose which gift card they have their eye on.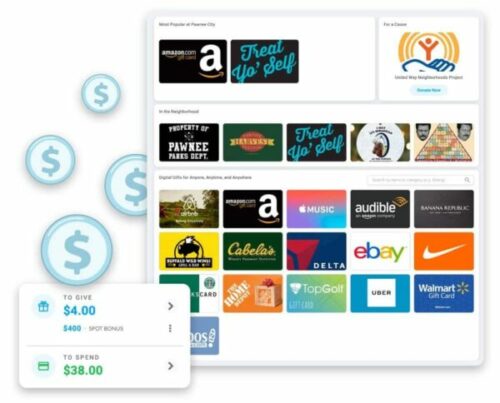 While sending gift cards at work is no revolutionary idea, it works. Plain and simple, people like gifts and they like to shop for their own gifts. Go figure.
9. Promote perks that boost mental and physical wellbeing
Perks can help make your office a more fun place to work.
JellyVision Interactive Marketing offers these awesome unique perks to their employees:
Unlimited vacation days (with the assumption this privilege won't be abused)
The ability to work from home whenever necessary or work out an unconventional schedule
On-site yoga and a free healthy catered lunches every week (Pro Tip: Check out ezCater for your office catering needs. Like their name implies, they making ordering food for your team super simple!)
Refrigerators and cupboards stocked with fruit and healthy snacks for the entire office
A yearly Wellness Day featuring free 15-minute back massages for every employee and a taste test of unusual, healthy juices
Diversity training and other activities that support inclusion in the workplace
Mustache Day (a sort of mustache-themed Halloween that culminates in a fancy lunch out)
Frequent company-wide involvement in charity fun runs
Beyond all these employee benefits, JellyVision also told us that they reduce work anxiety for their employees by 1) hiring nice, funny, talented people who become the sort of colleagues who make the day more enjoyable and 2) by nurturing a culture of transparency, humor and kindness—a way of being that is modeled by their founder, Harry, and CEO, Amanda.
Check out our list of corporate wellness ideas to give your wellness program some new life.
Employee Engagement Idea: Promote perks that boost mental and physical wellbeing
Click To Tweet
10. Have your CEO and/or President host a monthly Q&A
Monthly Q&A has been another hit at SnackNation HQ.
Our CEO (Sean Kelly) and President (Ryan Schneider) take 1 company all-hands meeting each month and use it to field any questions people have about the company.
Our team can submit questions via an anonymous Google form, or they can ask live during the 30-minute Q&A. We really value these Q&A's because it gives our leaders the opportunity to be fully transparent with the team.
11. Send out some Monday Motivation
Find an inspirational quote or page from a book and send it out to your team on Monday mornings. It's a super easy way to get people motivated and inspired and a day that's typically slow to start. A great addition to any employee bonus program, the added motivation will help any employee kickstart their week!

Photo belongs to QuotesEverlasting via Flickr's Creative Commons License
12. Have more fun
Take a half day Friday to do something fun together. Go on a scavenger hunt, play sports outdoors, go paint-balling, bowling, or whatever fun activity fits your team's personality. These social events help people bond with coworkers who they don't interact with on a daily basis and build a better sense of community within your organization.
Back in the office? Here are some of our favorite ways to have in-person fun:
Working remotely? No problem! Here are some of our favorite virtual ways to have fun worth checking out:
We played a round of Coworker Feud (AKA: 'Squad Squabble') with our friends at Design Pickle to show you how this farewell game can work… Still have no idea how 11 people said "Microwaving Fish" as an answer…
Make it your own: Choose a curated employee care package to send out for an unforgettable company outing that everyone on your team will rave about for years.
13. Send out a 360-degree review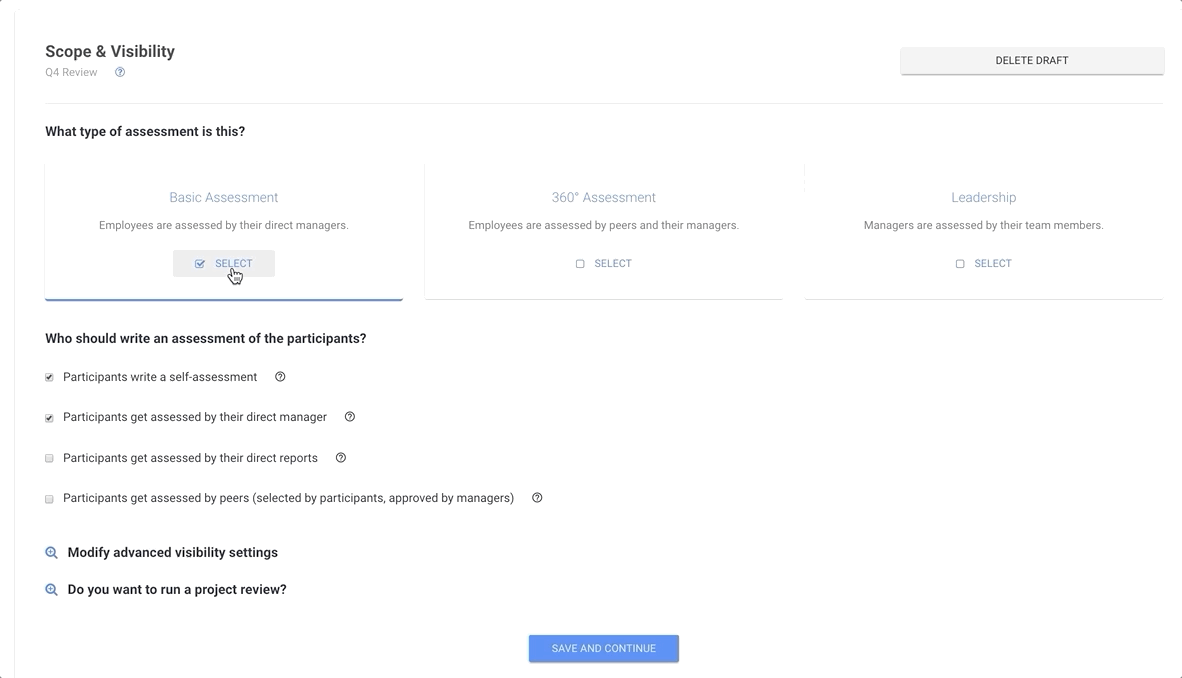 Implementing a 360 review is an incredibly powerful employee engagement initiative that has the potential to transform your organization.
You can create a culture of continuous feedback and growth where employees receive valuable insights from their peers. This diverse range of perspectives allows individuals to gain a clear understanding of their strengths, areas for improvement, and overall impact on the team.
Tip: 360 degree reviews are especially good at fostering open communication and mutual respect, while demonstrating a shared commitment to personal and team development.
Looking to set up your own 360-degree assessment form? Leapsome offers a powerful platform specifically designed for 360 performance reviews, making the feedback process efficient for organizations.
With its user-friendly interface, it enables a comprehensive collection of insights from peers, managers, and subordinates, providing a deep understanding of individual performance from different perspectives. By facilitating consistent feedback and actionable insights, Leapsome empowers companies to cultivate continuous growth and development among their employees.
14. Emphasize work-life balance
Work-life balance often seems like an impossible struggle. It's difficult to find that right balance between work and personal life to feel good that both areas are receiving enough attention.
Blake McCammon of Workology, a popular blog focused on HR and the workplace, had this to say about work-life balance's role in employee engagement:
"Work-life balance is one of the most important things employers can do to help employees not only stay healthy and fit, but keep them engaged day by day. Provide a work from home scenario and flexible hours where employees with children or adults with hobbies are allowed the freedom to enjoy life to the fullest, but still get their work done."
Work-life balance is going to mean something different for each employee, so speak with your team to see what you can be doing better as an organization to enhance it. Often times you'll find that a flexible work schedule will be the easiest way to help people feel more balanced between work and leisure.
Employee Engagement Tip: Emphasize work-life balance
Click To Tweet
15. Invest in an employee experience platform
It's probably safe to say that your company has the customer experience down to a science. But are your employees feeling the love with a well-thought-out employee experience? Platforms like Mo can contribute to a great employee experience by involving everyone in the celebration of great work. Co-workers give each other shoutouts publicly and earn rewards for going above and beyond.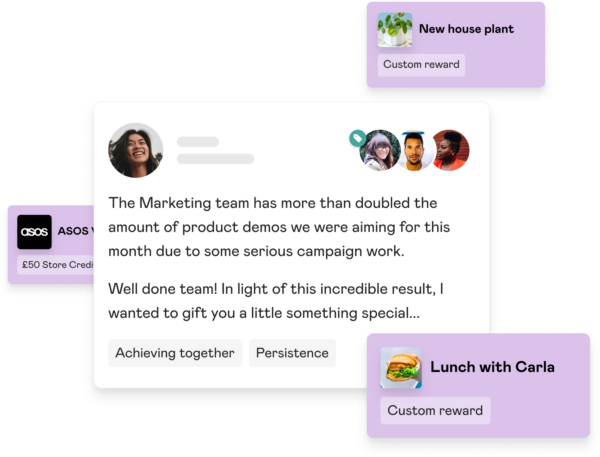 16. Send out an employee survey to get honest feedback
Sometimes it's a lot easier for employees to say how they really feel in an anonymous survey. Actually, it's always easier when it's anonymous.
Use one of these employee engagement software platforms to create a survey and send it out to your team. Surveys are one of the few ways to actually measure and track engagement, so definitely make this part of your efforts.
Ask questions like:
How are you feeling? What's the morale you see around you?
Good Idea (what one thing will make the biggest improvement in your job, your team or the organization?)
How satisfied are you with your opportunities for professional growth?
Do you have a good working relationship with your manager?
Are you satisfied with your overall compensation?
Here is a free customizable employee engagement survey template to help get you started!
17. Value-based employee recognition
While most companies have core values, few can make the claim they actually live by them. If you want to be the exception, create an employee recognition program aligned with your company core values so peers can celebrate each other for living up to them. Platforms like Nectar make it easy to design a custom recognition program centered around your unique core values.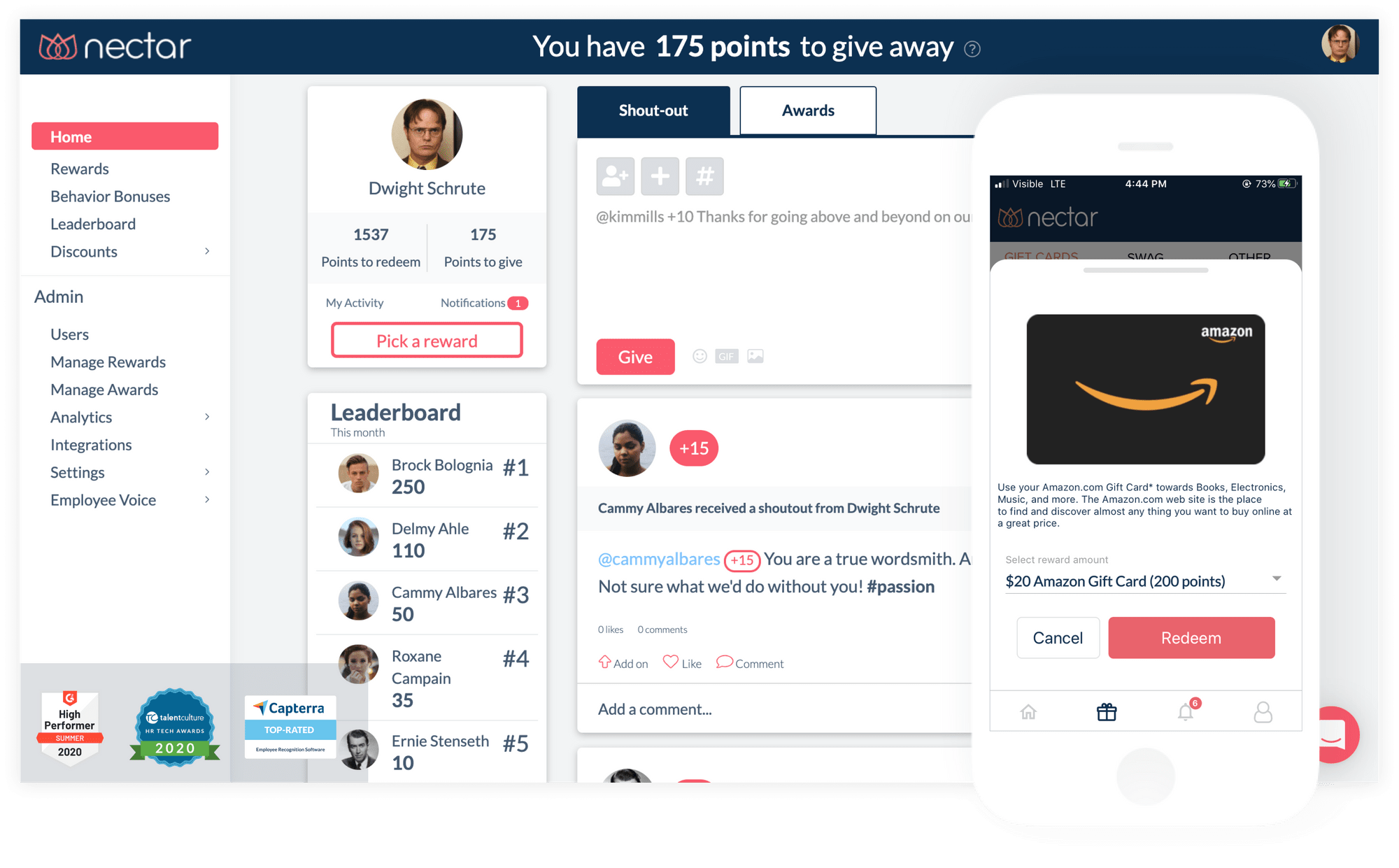 When you launch a value-based recognition program, ensure everyone on your team knows what your company core values look like in practice by pointing to specific examples of behaviors that exemplify them.
Nectar makes it easier for employees to know what to recognize each other for in the future. Recognition is a powerful tool for building culture because it capitalizes on positive reinforcement to encourage more of the behaviors you choose to recognize. So you can imagine, when recognition is used to support company core values, those values become deeply ingrained in company culture.
18. Have completely open brainstorms
Throw away that meeting rule book and schedule meetings without agendas or target outcomes. Have completely open brainstorming meetings where you throw away limitations and volley around some big ideas. Guide the discussion by throwing out an area of your business you would like to improve.
Keep these brainstorms positive by creating a few ground rules. Ask employees to keep their minds open and to avoid shutting down others' ideas with mocking laughter, negative automatic responses, and skeptical questions that could block the flow of ideas. Remind them to focus not on the how, but the what and why.
Try using this online whiteboard tool to help manage the brainstorming session and create a saved catalog of all the brilliant (and not so brilliant) ideas that you and your team members have.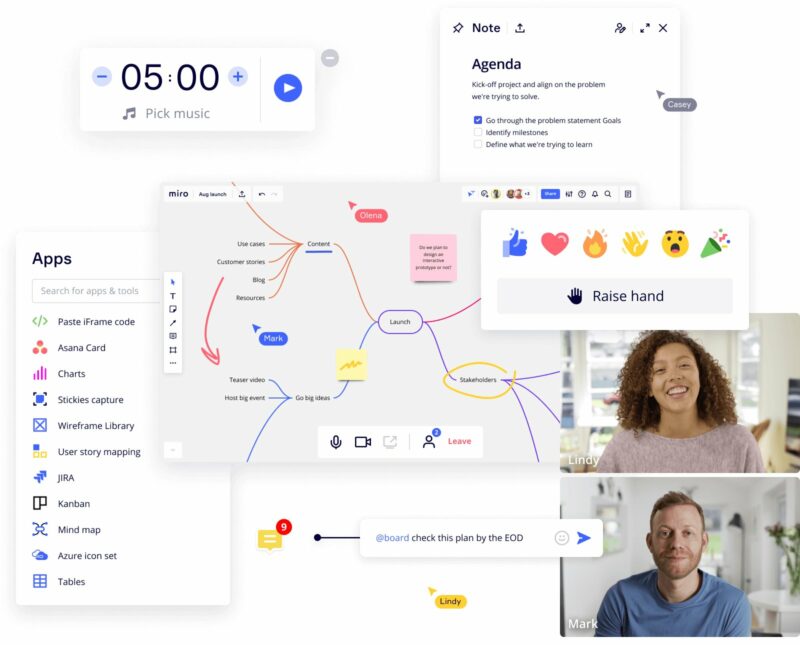 Why is it so important to keep the brainstorms open? According to LinkedIn's Inside the Mind of Today's Candidate report, 51% of employees say "having opportunities to freely express themselves" makes them feel a sense of belonging at work.
Looks like a win-win scenario to us!
To get you started, here are a few brainstorming templates and tools that can help:
19. Show employees how their job advances the company's vision
Your company has undoubtedly recorded its vision and goals for the year. Why not show employees exactly how their jobs advance the vision? This will boost each employee's investment in the success of the company instead of just feeling like a cog in the wheel.
Here are some ideas for showing employees how they contribute to the company vision:
Sit down with a list of a specific employee's responsibilities. Create a flowchart that demonstrates how those duties ultimately lead to fulfilling the company vision. For example, if the responsibility is "managing Instagram" and your company vision is "changing the way the world purchases homes," then highlight how Instagram engagement creates long-term brand recognition and has the potential to influence the way a younger generation purchases homes, especially when they're ready to take the plunge in a few years.
Ask your CEO for a quote that explains how the particular employee's role contributes to the company vision. Have the quote printed in a postcard format. The employee can pin the postcard on the wall as a constant reminder and motivator.
20. Get your health and wellness program in order
Kevin Sheridan, New York Times best-selling Author of Building a Magnetic Culture, has helped some of the world's largest corporations improve their culture and foster productive engagement.
When we asked him what companies should be doing better to improve workplace engagement, he offered us this wisdom:
"The bottom line is that anyone who knows about employee engagement is also a firm believer in instituting health and wellness programs. There have been multiple scientific studies proving that health and wellness efforts not only yield higher productivity and engagement in the workplace but will also help reduce turnover as job stress is the #1 reason people quit (along with a lack of work-life balance which is related to wellness as well)."
Make it your own: Pick and choose from wellness program ideas that suit your team. If your office is full of natural foodies, then you might consider regular market excursions. If fitness is your team's thing, then you can hold a fitness challenge. If your employees want to create custom challenges with topics and incentives that are relevant/meaningful to them, let them get creative.
The idea is to create a system that encourages participation while still having a solid structure so that you can get company buy-in. An easy employee engagement initiative to try is gamifying your wellness challenge! Numerous studies on the human brain have shown that games, competitions, and scoring activities have a positive effect on engagement and boost participation.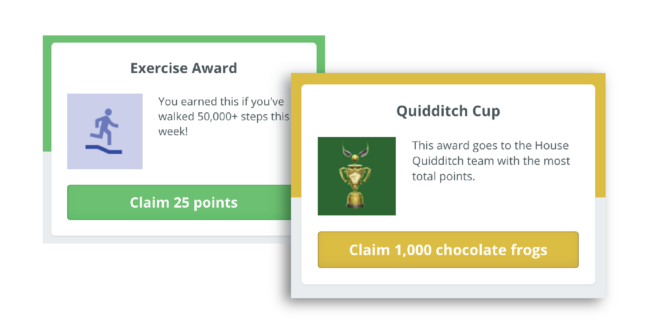 This gamification will help to solidify wellness challenges as a crucial part of your catalog of team engagement activities since they can be completed in a matter of days, weeks, or centered around an entire month.
You can easily create custom wellness rewards using this tool to generate excitement and increase team engagement for your upcoming challenge. May the odds be ever in your favor!
Coaching and mentoring shouldn't stop after an employee's initial on-boarding process. A study done by Deloitte found that retention is 25% higher for employees who have engaged in company-sponsored mentorship.
Some people in your organization will proactively seek mentors and training, while others will need it to come directly from their manager. Offer an optional weekly coaching session to discuss strategies and tactics that can help each member of the department improve in their role, and make them fun!
You can even try out a 30-day trial with a Learning Management System (LMS) like Leapsome to see if a more structure learning service benefits your diverse workforce.
For more tactics for creating a world-class Employee Experience, listen to culture expert Kelly Keegan on the Brand Builder podcast.
22. Host team lunches
Team lunches are a casual event that encourages organic conversation over organic greens — or greasy pizza.
This event makes a good mid-day break in the office, but it also works for virtual teams who don't get as many opportunities to bond. If you have a large team, organize your lunch groups by department or assign groups at random to facilitate interdepartmental networking. This can be an easy employee appreciation idea for larger companies that have both in-person offices and remote team members.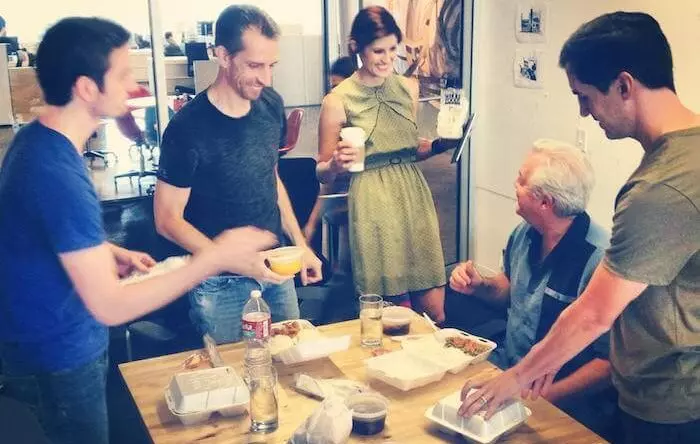 While traditional catering could help you provide in-office lunches, it can be difficult to coordinate around team members' dietary restrictions and preferences — it's also not a viable option for virtual teams. Instead, let each team member choose their own lunch by sending out virtual credit cards for simple lunch-time ordering.
Team members will be able to order the food they want from vendors around the world, and your lunch coordinator will be able to organize it in minutes. Any money your team members don't spend gets refunded back into your budget instead of going to waste (like all those uneaten catered sandwiches).
23. Make it easy for employees to focus on the work they really love
No one joins a company because they love emptying their inbox in the morning…
Administrative work is a necessary part of any job, regardless of how specialized it is. However, employees bogged down in repetitive tasks might start to forget what they love about their profession.
According to Atlassian, employees receive 304 emails per week. It takes about 16 minutes to refocus after handling incoming mail, which doesn't even include the 62 hours each of your team members spends on average in meetings every month.
With monday.com you can cut sync meetings by up to 50% and save 3 hours per employee every week. This employee engagement app lets employees offload managerial work to the platform to free up time for more meaningful work.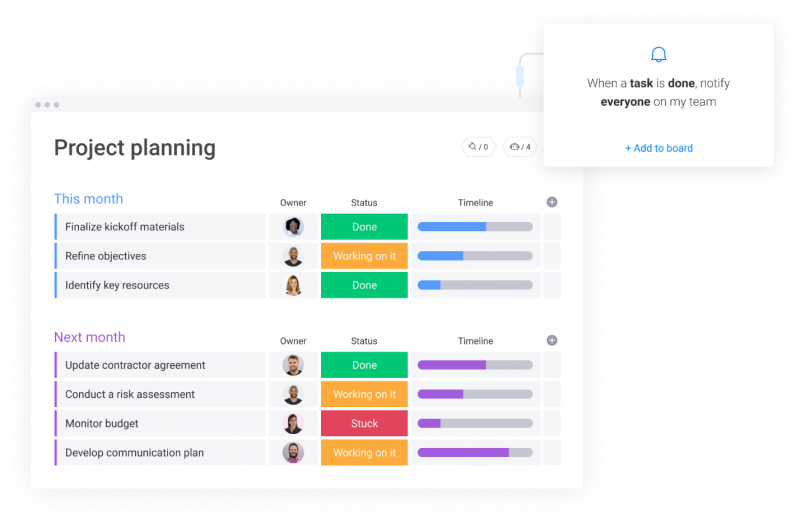 Here are some features you'll adore:
Notifications that let team members know when they can start their tasks
Project statuses that let you see where each task stands at a glance
Ownership columns that clearly display which team member is in charge of which task
Automations that let you offload repetitive tasks to focus on meaningful work
Gantt charts and calendar views that let you better prioritize tasks and stick to deadlines
Sign up for a free trial without entering your payment details
Make it your own: Slash energy-zapping meetings monopolizing your teams' mornings so that employees have the energy to concentrate on projects that really inspire them using a software like monday.com.
With the extra time they would spend chasing status updates, employees will have the opportunity to invest in the kind of strategic work that requires creativity and ingenuity. In turn, not only will they enjoy themselves more, but they'll feel more connected to the company's vision and improve employee engagement across the board.
Employee Engagement Idea: Slash energy-zapping meetings monopolizing your teams' mornings
Click To Tweet
24. Give your employees more responsibility, not just more tasks to do
Working at a company that highly values morale has given me some interesting insight on how to engage employees. I've noticed that the times my coworkers are incredibly devoted to our work, where states of "flow" seem to be abundant, are when they are given real responsibility.
This shouldn't be confused with giving your team more things or tasks to do. I'm talking about giving them important projects and initiatives to take ownership of and knock out of the park. Humans are inherently goal-oriented, so when you give them something worth achieving, I believe you'll be amazed at how much purpose and drive it gives them.
If you're a manager, give one of your direct reports an important project to be the lead on. On the flip side, ask your manager to take on a project that you think will help you grow and learn something new.
Even if it's something you have no experience doing – when you see your goal as being important to the success of the company you'll find a way to get it done. And I promise you'll feel more purpose from your work than ever.
Employee Engagement Tip: Give your employees more responsibility, not just more tasks to do
Click To Tweet
Get Your Free Guide To Modern Employee Engagement
25. Create a team mascot
Meet Rudy, our Member Success Team's mascot:
What mascot best represents your team?
26. Give your people "inside" information
Want to know some great team engagement ideas to get your staff more involved and committed?
Keep them up to date with "inside" information. These are things like the direction of the company and the challenges that the Leadership Team is facing.
Tim Sackett, HR Pro and President at HRU Technical Resources, explains this important part of your employee engagement strategy:
"The one true fact in all workplaces is your people want to be in the know, they want to be in the circle of trust. HR and leadership, in general, do a crappy job at this, and it has a huge impact to engagement. Find ways to make this happen and let your people know that it's "inside" information. Trusting your employees can handle it raises engagement."
Get Your Free Guide To Modern Employee Engagement
27. Make sure new hires get to know the whole team
An employee who feels cared for and is surrounded by people who bond with them is much more likely to feel happy and engaged at work. We all get to know our bosses and direct reports pretty well, but it's also important for new team members to build relationships with the rest of the staff.
Caroo demonstrates this point well – their "Welcome To The Team" ecards are an easy way to introduce the team to a new hire. Great for new employees who work in the office or remotely!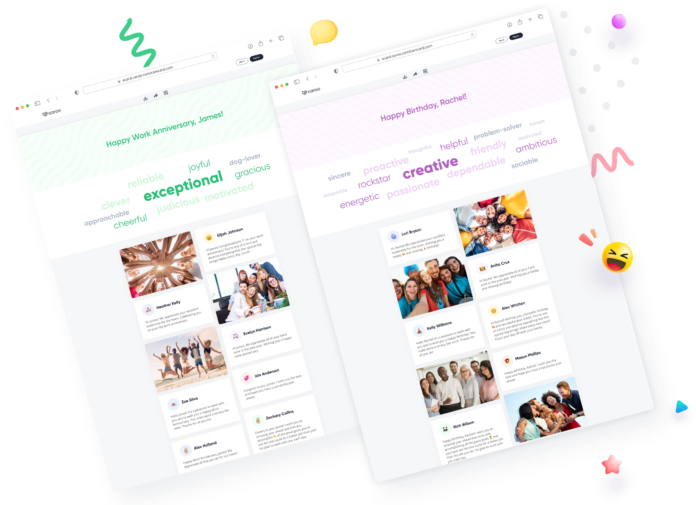 They also offer a little something extra with an "add-on" feature where managers can send a welcome gift or first day kit to make that special day even better for the new hire.
28. Stand for something your team can be proud of
Irene Becker, voted as one of the Top 100 Employee Engagement Experts Online, answers the questions of how companies can drive and sustain staff engagement activities at a time when engagement is at an all time low:
"By showing our employees that we care, that we stand for something they can be proud of, and that we offer them meaningful, purposeful work and an opportunity to grow, learn, contribute and succeed because we know that success is a me to WE equation that starts with:

1.  Personal, professional development and a structure for growth, recognition and are alive in the organization.

2.  Managers, mentors and trainers that are equipped to coach, inspire and bring out the best in their people.

3.  Communities of purpose; groups that are centered around a purpose driven business, CSR or community activity are alive, aligning shared values and mission with collaboration.

4.  Transparency of communication and the integrity of the organizations commitment to growth, recognition and the optimization of individual and collective potential is mirrored in new ways of developing team spirit and vertical/horizontal collaboration.

5.  Human interaction, social activities that engage our people as human beings in the human side of being part of a vibrant, growing, thriving culture."
Employee Engagement Idea: Stand for something your team can be proud of
Click To Tweet
29. Hand out limited edition swag
Try celebrating work anniversaries, performance achievements, and company events by offering limited edition swag. (The scarcity could make your giveaways more desirable and enhance employees' motivation to reach goals and benchmarks.)
Swag.com offers customizable products in tons of categories, making it easy for you to create "limited edition" items by simply swapping out designs on apparel, electronics, fitness gear, and more. 
Here are some ideas: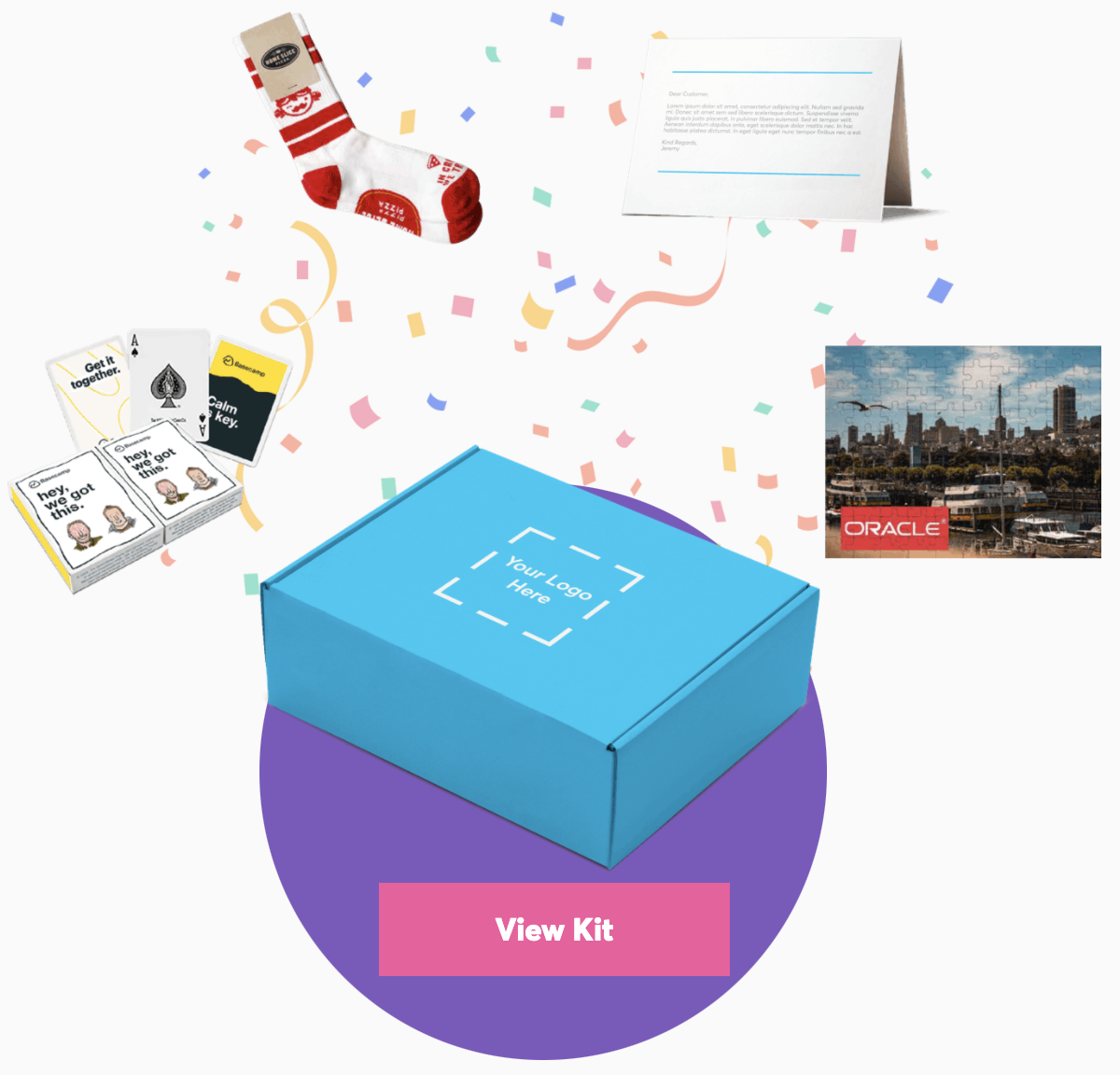 Make it your own: Focus your limited edition swag on events and achievements unique to your company. You'll love watching employees gawk enviously at a veteran employee's 2010 crepe-and-karaoke night hat or share an inside joke when they accidentally wear the same 2020 annual sock-puppet freestyle T-shirt.
Get Your Free Guide To Modern Employee Engagement
30. Know your company culture and hire by it
If you know your company culture and hire by it, you'll continue onboarding employees who want to work with the person next to them. A positive corporate culture starts with the relationships between co-workers as well as collaborative dynamics in addition to consistent messages about values and the company mission.
If you haven't already, take some time to brainstorm your company's cultural vision and even get it down in writing. Spend some time with co-workers and pinpoint the key attributes everyone seems to have in common. Once you've established a list of qualities, it will be easier to determine if an interviewee will fit into your culture. Keep the qualities specific to find the best fits.
Almost anyone will be "nice" and "personable" during an interview, so it's important to quickly go beyond the surface level with candidates in the hiring process.  There's a simple, three-word phrase to help you develop a deep understanding of the character and motivations of any candidate you're interviewing – "and then what." Constantly pushing an interviewee to provide more depth will help you quickly get to the root of his or her point of view, and help you determine if he or she possesses those attributes you identified as core to your company culture.
Bonus: Hold office hours
This is one of the most significant employee engagement programs for upper management. Holding office hours is a great way to make yourself more approachable to the entire company. Allow people to come in for office hours to give feedback, talk concerns, and explore new ideas.
31. Bring in an in-office motivational speaker
To shake up the workday, or start Monday off with some inspiration, Cooleaf recommends hiring a motivational speaker to come into the office. Maybe your team would benefit from a creativity workshop or team-building seminar to improve in-office relationships. Employees will be grateful for the opportunity to grow and learn from experts and will come out of these experiences more energized and focused.
32. Build more trust 
An overbearing boss who is constantly micromanaging might just be the fastest way to create disengagement. Trust your employees to accomplish the work you give them without checking up on them 4 times a day.
Plus, other insights suggest that trust doesn't just inspire employees to do their jobs; it might actually encourage employees to go above and beyond their assignments. Trusted employees collaborate better together, and because they're empowered, they might seek opportunities to take on even more responsibility.
Employee Engagement Tip: Trust your employees to accomplish the work you give them without checking up on them 4 times a day.
Click To Tweet
33. Run a team wellness challenge
Terryberry designs and implements wellness programs that encourage healthy behaviors and reward employees for taking steps toward improving their overall wellbeing.
This engagement idea centers around the principle that the better your employees feel, the more likely they are to participate positively in the workplace. However, sometimes team members need a little push.
Enter: the wellness challenge.
Colleagues take part in fun and engaging activities competing with themselves or against colleagues and friends – individually or in teams.
Here are some examples:
🏃🏼‍♂️ 10,000 step challenge
🚴🏼‍♂️ 30-minute bike ride
🧑‍🍳 Healthy cooking night
Progress is tracked automatically and results are posted on a virtual map or leaderboard so employees or participants can see how they're doing.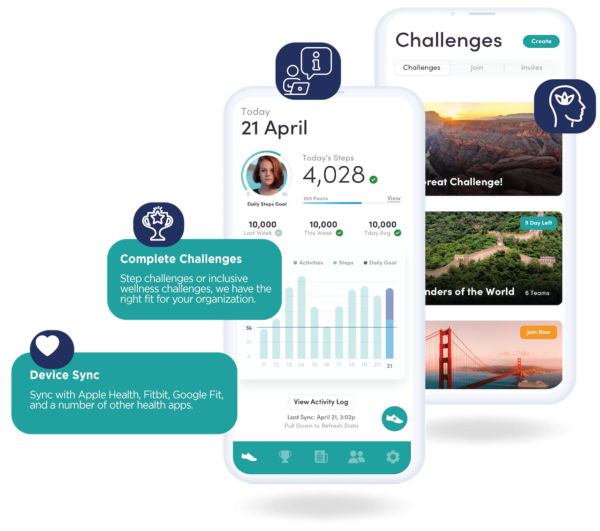 At the end of the day, this team challenge will help to create a healthier workplace where good habits are encouraged 365 days a year. For more details, schedule a demo with Terryberry to learn more about their wellness program options.
34. Start a learning club
Get your employees more engaged in their work by asking them to think big. Start a learning club where employees select books or videos related to your work for everyone to enjoy. Pick a day where everyone piles into a conference room to discuss the item and its implications for your work.
Make it your own: Change up the location of your meetings, offer different snacks, or even make group T-shirts. There are so many ways to make your learning club unique to your team. You can even give yourselves a name based on an inside joke only people on your team would understand. (Next step: Secret knocks and secret handshakes.)
35. Create a roadmap to achieve professional goals
Find out what your employees' professional goals are and make sure they're on a track to achieve those goals. Managers should sit down with their direct reports and plan the roadmap to get them to that next promotion or to acquire the skills they desire.
Employee Engagement Idea: Create a roadmap to achieve professional goals
Click To Tweet
36. Ditch the Cubicles
Whether you've seen them in employee engagement films like Office Space, or experienced them yourself, cubicles are quickly dying out. Today, the most engaged companies opt for office decor and cool office supplies that promote comfort and collaboration, not seclusion. So cut out the cubicles and replace them with spacious, open desks. The possibilities for creating an open air office environment are endless, so be creative, and have fun with it!
37. Open consistent lines of communication
Ask the managers of your organization to setup a weekly meeting to see where their direct reports need resources, any new ideas they have, and how things are going in their role. You'll find that both managers and direct reports will look forward to these meetings and use them like a strategy session to improve their department on a weekly basis. Engaged companies rely on open internal communications and remote work softwares to drive performance within teams. If you're looking for growth ideas for employees then a DR meeting would be at the top of the list.
Make it your own: There are plenty of ways to communicate in the workplace. Check out these strategies to find a method that excites you.
38. Have a weekly food day
Pick a day of the week where one employee brings in treats to share with the team. Eventually, looking forward to food day will be a major bonding moment for the whole team. Not to mention some employees will even love the chance to show off their baking prowess.
Pro-tip: When it is not super convenient to assign treats for someone to bring, it may make sense to investigate your local eateries and see if any of them make food ordering easy. An office catered lunch can be an excellent way to support a local business while encouraging everyone to socialize during a team lunch!
39. Take weekly song requests
It's Friday afternoon and your whole office is united by one thought: going home. Reinvigorate the team by taking song requests to blast over the PA system in the final hour of the workweek. Employees will love sharing their favorite songs to boost morale.
40. Send tangible appreciation that shows you care
Engage your employees with tangible tokens of your appreciation using the Caroo employee care platform. Caroo's expertly curated items are more than just cool gifts; they help employees, including those in the growing remote workforce, feel more connected to their teams and their missions.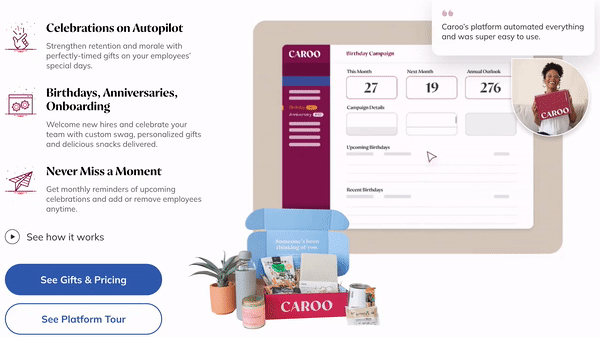 This gift sending service understands the importance of engaging with employees in 2023. With employee turnover and retention on the minds of HRs across the world, implementing strategies to celebrate colleagues is a valuable part of organization's culture.
Perfect for sending: 
Caroo's all-in-one gifting platform makes it possible to manage, order, and send employee gifts with just a few clicks.
41. Let someone else lead weekly meetings
If you're a leader at your organization, your team probably get to hear you talk…a lot. Share your responsibilities and increase engagement by asking a different person lead your meetings every week.
42. Start a newsletter
But instead of having the "head honchos" or even Human Resources send it, form a committee of employees who want to coordinate it. The volunteers will love the chance to share what they find important and the readers will love getting company news from their peers.
Make it your own: Company newsletters don't have to be boring emails. Make the newsletter your own. Do a comical video blog or maybe an old-fashioned take on a vintage newspaper, complete with cheesy headlines. Check out our guide to company newsletters to get started.
43. Ban emails for a day
Pick one day every month to ban emailing. If someone has a question, they'll have to go talk to their coworkers in person. Even if they only talk for a few seconds, that face-to-face interaction with coworkers makes priceless employee engagement moments.
Bonus: Show them the "people" results of their work
If you send recaps of company progress to your employees, don't just tell them your customers are happy, show them. Add a glowing testimonial from your customer base, clients or nonprofit constituency to the email so your employees can see how their work impacts real people.
44. Always act on feedback
Let's say you survey your employees monthly to find out how they're feeling. While some of their desires and wishes might be difficult to act on, send them updates explaining the progress you've made towards addressing their concerns, even if it's just scheduling a meeting with your CEO. Not acting on employees' valuable feedback will kill employee engagement. There are also a number of employee survey tools that now make it easy to sift through responses to find the places where you can take action immediately.
45. Use Glassdoor to your advantage
Glassdoor offers a raw source of anonymous employee feedback that might be incredibly valuable if you're brave enough to dig into it. Even if the comments seem negative, they could give you insight into how your employees really feel. As you sort through comments, revealing patterns should emerge to spotlight areas of employee relations you need to improve.
46. Let them experience a day in the life of…
Send out an Excel sheet with a list of positions in your company or department and have employees vote for a position they would like to do for a day. Let the person currently in that position give them a day of training before they launch into their day on the job.
Make it your own: Your "day in the life" can be as structured or as open-ended as you like. You could include a presentation portion where people shared what they learned with the entire group. You could have employees complete a no-pressure assignment to "test" (all in good fun) how much they really learned. You could even stage a little improv show where employees pretend to be the person they shadowed.
47. Bring in a specialist
With research showing a large chunk of the workforce does not feel engaged at work (see the featured image at the top of this post), the availability of employee engagement tools and services has skyrocketed. For you, that means you can find help if you're completely lost. For example, some companies have brought in something called a corporate anthropologist who will study your company and your employees with the end goal of improving the overall business.
48. Let them ditch a task
Ask your employees which tasks they hate above all others. Sometimes, even one dreaded task might create the feeling of on-the-job misery. Look at the list carefully and consider how you can juggle some responsibilities to make everyone happier. One employee's most hated task could be another's favorite.
49. Stop before you start
This post from the Talent Space Blog says the first step in any employee engagement initiatives is to stop. This stop gives you time to consider why you're starting the initiative in the first place and to think about barriers to success. Condense your reason for starting the initiative into a mission statement that you can use to guide you through every move, so you don't get bogged down with unnecessary initiatives.
50. Have problem-solving meetings
Everyone takes a different approach to problem-solving. Schedule meetings where you reveal a big problem facing the company with complete transparency. Let employees take a crack at explaining how they would solve it. Employees will feel more engaged in company outcomes and they might just solve a few problems while they're at it.
Make it your own: These meetings can be any format you like. You can have off-site jam sessions or in-office power lunches. You can keep it structured by outlining the entire event or jump in to see what happens. Choose a structure that mimics how your team likes to work. If you're not sure how your team likes to work, then simply ask yourself this question: Is your team full of mostly planners or pantsers (people who fly by the seat of their pants)?
51. Define what employee engagement means for your company
If you're struggling to come up with good employee engagement activities, it might be time to take a step back. The word "employee engagement" alone doesn't give you anything you can visualize. Try considering what it means for your own employees to be engaged specifically. Once you figure out what employee engagement looks like in your company, you can set your sights on achieving it.
Here are some employee engagement examples of definitions:
Engaged employees always ask what else they can do to improve the company.
Engaged employees ask questions during meetings and show up to work on time every day.
Engaged employees meet their deadlines.
Engaged employees spend half the day at their desks and half the day communicating with co-workers
Engaged employees frequently share exciting new ideas with their bosses.
Engaged employees request opportunities for personal development.
52. Put someone in the hot seat
Engage your employees with a quick bonding event at the beginning of your weekly meetings. Pick one employee and tape a "hot seat" sign to their chair. For the first minute of the meeting, other employees will shout out their favorite things about the person in the hot seat.
53. Have show and tell
Your employees probably have tons of ideas that could help the company. However, they might not have anywhere to share them. Have a quarterly show and tell where employees can present tools, information and ideas they believe might do the company good.
54. Consider Maslow's Hierarchy of Needs
Dust off that old triangle chart we all know and love from Psychology 101, because Maslow's hierarchy might have implications for employee engagement. Beyond the salary and the benefits, employees want to know that their work matters.
Try working the implications of their efforts into annual reviews instead of just focusing on their performance. While it's wonderful they completed a special project on time and within budget, go a step further and explain the project's greater impact on the company.
55. Set ground rules for emotional intelligence
It's not just company policies that make people disengaged at work. It might also be close-minded coworkers that shut down their ideas. Set an expectation that your employees follow a "yes and…" mindset. This simply means creating a culture where everyone's ideas are met with open minds, and not negativity.
56. Talk to them about their schedules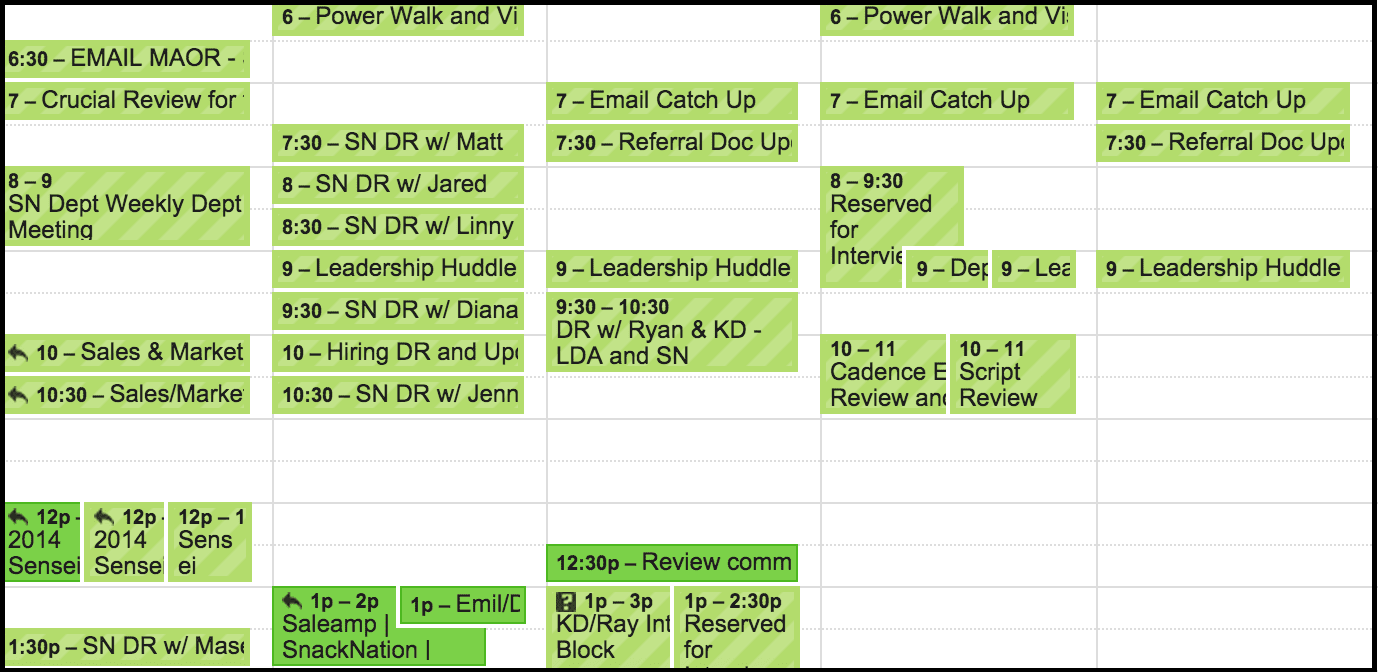 Your employees might seem distracted or disengaged, but maybe it has nothing to do with work. Let's say Karen's daughter has a piano recital every Wednesday at 4 PM and she's distant at that time, wishing she could be there. Find out what outside events might be keeping your employees distracted and work with them to adjust their schedules to accommodate their busy lives.
57. Believe in the power of explanation
When you send an employee work with changes or request a re-do, make sure those requests come along with a detailed explanation. Employees who always see their worked rejected or marked up will become frustrated and disengaged. Explaining the changes helps them understand your thought process and increases their desire to improve.
58. Offer points for taking work-related open source courses
The internet is exploding with a selection of free, open source courses from major universities. Many of your employees would probably love to take one, but simply don't have the free time. Come up with a points system in your office that offers employees incentives for taking work-related courses. Maybe they get bonus points if they give a presentation on what they learned.
Make it your own: You might list a "course of the week" based on the skills your team needs to succeed. You could also keep it completely open-ended. Will you offer to subsidize employees who want to take courses that involve certificates? Or would you rather offer your own branded certificates of completion to create a sense of ceremony? You decide.
59. Start a "distracted" jar
There will be times when your team feels like they can't possibly focus. Show them that you understand (and have a sense of humor about it) by creating a "distracted jar." Fill it with activities, jokes and even things to Google when they feel like they can't work for another minute. Help them get the distractions out of their system so they can continue on with an engaged workday.
Want even more ideas to improve employee engagement?
Here are 16 bonus ideas!

60. Form a Culture Committee
This has been one of the best ideas we've implemented at SnackNation to make sure we stay on top of doing fun things together as a company.
Here's how one of our Committee members describes it:
Culture Committee is comprised of individuals from each department who act as ambassadors. These ambassadors model our core values, and ensure the culture is steadily moving in the right direction.

Whether Communication/Hype, Events, Wellness, Philanthropy, and day to day celebrations we have a sub committee dedicated to setting up and executing events, all while tackling our ultimate goal of breaking silos between departments.

Making our office more like a home. We strive to create the "weather" of the company.

Bringing the sunshine even when/if someone feels like they are in a thunderstorm of stress.
61. Epic new-hire intros
At SnackNation, we take new hire intros very seriously.
Rather than explain with words, here's a video that shows how we do it:
[youtube id="nqJVHs04on8″ width="600″ height="350″ autoplay="no" api_params="" class=""]
62. Give people a chance to set their own goals
Create a goal setting system that gives team members the opportunity to set their own goals. People are more likely to be motivated by a project or goal that they set for themselves, versus one that was set for them by their manager.
A good starting point is to allow your team to create a list of goals/projects they want to complete for the upcoming goal period. Here's an example from a member of our Marketing Team:
Managers should then work with their direct reports to refine that list into goals/projects that align with the department's (and company's) goals.
Depending on your organization, this could be monthly, bi-monthly, quarterly, bi-annually, or annually.
Once goals have been set, employees break those bigger goals into smaller ones each week. We use a system called Crucial Results to do just that. Here's how it works.
63. Offer to pay for professional development
Is there an industry conference that someone on your team would love to attend? Perhaps your HR professional would love to go to one of the top HR conferences. Or maybe an online course that they've been dying to get their hands on? Maybe your marketing team would love to learn email marketing from the newest and hottest course.
Invest in your team's growth is one of the best you can make as a manager. It's a win-win because they get to improve on a skill, and in turn, they help your organization improve.
64. Write a hand-written note to recognize exceptional work
When was the last time you got a hand-written note?
With a world that is constantly wrapped up in digital communication, doing something "old school" like a hand-written note stands out to people.
Bonus points for cards written by someone like the CEO or President.
65. Improve collaboration with Slack Plugins
Unlock the true potential of collaboration and boost employee engagement with the power of Slack plugins.
As the go-to communication tool, Slack offers a wide range of plugins that streamline workflows, foster team cohesion, and supercharge productivity.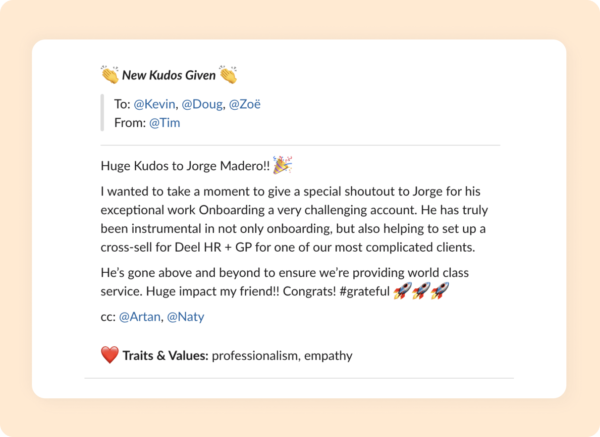 Integrating tools like Trello, Google Calendar, and Zoom allows teams to effortlessly coordinate tasks, schedule meetings, and hold video conferences without ever leaving the platform. Team members can enjoy virtual coffee breaks, encouraging inter-departmental interaction and a strong sense of camaraderie.
Experience the simplicity, interactivity, and unity that Slack brings, empowering your team and fueling their motivation like never before.
Tip: To boost collaboration with Slack plugins, it's vital that the plugin benefits the company at scale, so be sure to implement tools that help distributed teams.
Deel empowers companies to engage and retain top talent from anywhere in the world. Its user-friendly interface and diverse integration capabilities foster a cohesive work environment, enhancing employee satisfaction and commitment.
66. Allow employees to move laterally within the organization
There are times when employees (especially the younger ones) are still figuring out their career paths. If a member of your team finds something else at your company that they're passionate about and want to pursue, create a roadmap to get them there. This will help you retain some of your young talent when they might have otherwise abandoned ship.
67. Team walks
Like team lunches, taking a walk together gives your team the chance to take a rejuvenating break from work while connecting with their colleagues.
And in case you hadn't heard, people with a best friend at work are 7x more likely to engage fully in their work.
68. Promote a sustainable workplace
Companies across the globe are making sustainability a priority whether they work in a large corporate office or run a small remote startup.
This is because leading a more sustainable team can have numerous positive effects on your employees, the larger business, and your local community. Establish Environmental, Social, and Governance commitments this year and watch the impact this will have on your workplace.
The team at Evergreen combines sustainability and engagement via a report on your employees & company's carbon offset. This platform encourages staff to communicate daily whether that involves chatting, rewarding each other, peer-to-peer appreciation, and everything in between.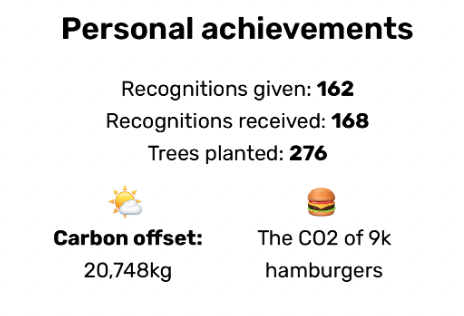 Plus, the more your employees use this engagement initiative, the more trees Evergreen will help plant through their work with Eden Reforestation Projects 🌳
Tip: Nearly 800 million people in the world lack access to clean water. Guusto has teamed up with the One Drop Foundation to donate 1 day of clean drinking water for every gift sent through their platform.
69. Play "musical chairs"
In many modern offices, employees don't technically need a permanent place to sit. Sure, everyone needs a home base when they come into work each day, but do they really need to sit in the same space for years? Consider moving employees around on a comfortable, regular basis so everyone gets the chance to sit in different parts of the office and truly get to know all their coworkers. (Let's face it: a few kitchen interactions will not bring employees closer, but six months as desk neighbors can solidify lasting bonds.)
In addition to exposing employees to people, they may not have worked with before, playing "musical chairs" also keeps employees engaged and excited for work simply by introducing change. By shaking things up, you just might give employees the shake-up they need to think of a new idea or solve a problem they've been chipping at for months.
70. Start a "vent" box
A vent box is the evil twin of the suggestion box. Encourage employees to fill the box with their complaints, but be sure to keep anonymity sacred. Your employees' deepest frustrations might also be excellent opportunities for learning.
71. Offer lifestyle spending accounts as a perk
A perk that has quickly become mainstream for its flexibility, personalization, and cost and time-saving benefits for HR, a Lifestyle Spending Account is an employer-funded account for employees to spend on perks.
With Lifestyle Spending Accounts, HR experts create a perk budget for their team and each employee gets the power to use that money to pick exactly what perk s/he/they want and need most. By personalizing your perks, you actively support your employees' individual needs which demonstrates you care and want to help them reach their full potential. And that will always increase their happiness and engagement at work!
"While employees are asking for more personalized rewards, only 8% of companies report that their rewards program is 'very effective' at creating that personalized solution (according to Deloitte HCM Trends 2018). This is where Lifestyle Spending Accounts come in. LSAs are a way for companies to address each employee's individual need, in a cost-effective and meaningful way. And our customers are seeing the positive impacts of personalization as many of their employee monthly perk participation have increased from just 10% to 80%+ on average after implementing LSAs through Compt."

-Amy Spurling, Co-founder & CEO of Compt
Make it your own: Through Compt, there are 14 different categories of perk stipends that you can choose from to best align with your company's mission, values, and culture. This way, if you want to give your employees a "Health and Wellness" stipend, you can rest assured that the perk they will spend their money on is related to the category you want your team to focus on. Plus, you'll be certain each person is getting what they need to be their healthiest self, whether it be a gym membership, yoga classes at a boutique studio, health tracker like a Fitbit, hiking boots, or a fitness app. You get all of the benefits of personalization without any of the complexity.
72. Celebrate your team
Make your team members feel special on their birthdays, work anniversaries, their first day of work, etc. Or even better, make it completely random so it's unexpected.
When you focus more attention on engaging employees, the results are higher productivity, better employee retention rates and improvements in organizational success across the board. Now it's your turn to take these simple ideas and put them into practice at your office.
73. Capture the magic of your team's "I's"
"To improve employee engagement, capture the magic of the I's in team: integrity, initiative, individual talents, and invaluable diversity. Highlight each individual's talents and how they contribute to the whole."

–Kate Nasser, The People Skills Coach™
Employee Engagement Idea: Capture the magic of your team's I's
Click To Tweet
74. Give them ownership of event planning
Who has a better handle on the events your employees will love than your employees themselves? Instead of trying to think of company outings that your whole team will love, get your team involved in the planning process. Ask for event ideas and seek out volunteers who want to coordinate regular outings.
75. Start an office design committee
While it might seem superficial at first glance, giving your employees a chance to be more invested in what they look at everyday could do wonders for engagement. Start an employee design committee to let your employees take some ownership in the place they work. Plus, the personal touches will make the office feel like home.
76. Find out what your team members are passionate about
Are they into mountain biking? Do they write a personal blog? Do they want to backpack around Southeast Asia next summer?
Know what your team is passionate about. It'll help you connect with them and show them that you actually care about their interests.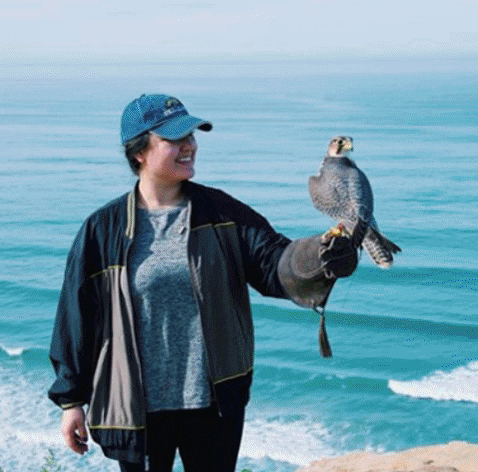 Frequently ask teammates about their passions and even try to find ways to integrate their interests into the workplace. For example, if someone does the job of an accountant by day but harbors a passion for art by night, then suggest that he or she shadows someone in the Art Department for a day. If an employee loves to play badminton and complains that she never has anyone to play with, consider forming a casual company league.
You can also put the power of choice into their hands by offering a selection of experiences they can choose from for when you want to give them something that is truly memorable. 
At Blueboard, you can set up a rewards program where employees are given time off to spend outside the office practicing a new skill, exploring a new city, or simply relaxing for a day of wellness and relaxation. 
Blueboard is trusted by Salesforce, GoPro, Glassdoor, and other leading enterprise companies with over 500 employees around the world. Request to explore the Blueboard Experience Catalog and check out a few of our favorites: 
77. Demonstrate genuine care
The Disney Institute believes consistently demonstrating genuine care makes employees feel happy and engaged. You can demonstrate genuine care in endless ways. One of the institute's ideas involves finding out what's bugging your team. Maybe they hate their office chair or would love to have some upbeat music playing while they work. In this case, it's the little things that go a long way in showing you care.
Make it your own: Think about moments in your life when you felt truly cared for. Have you had any co-workers that truly warmed your heart with their kindness? Channel these memories into recreating warm experiences for your employees or co-workers.
Bonus: Get employees involved in long-term projects
Organize employees from different departments into teams to tackle long-term projects that involve responsibilities outside of their typical scope of work. Not only will they get to know people they don't work with on a day-to-day basis, they'll pick up skills from one another as they work on important projects.
Bonus: Engage employees through gamification
Some people invest more in the games they play after work than they do in their actual work…the work that pays the bills. Why is that? Games leverage instant feedback and compelling goals to keep players coming back for more. Now, companies like Bunchball hope to bring these elements into workplaces to engage employees in ways that go beyond a regular paycheck and benefits.
---
People Also Ask These Questions About Employee Engagement Ideas
Q: What is employee engagement?
A: Employee engagement is the emotional attachment that employees feel towards their place of work, job role, and team. This is not limited to employee satisfaction, but also recognizes their commitment to quality performance and collaboration with their peers. Are you looking to start your own employee engagement program?
A: Even focusing on two or three activities to implement in your office can help to engage employees and contribute to a positive workplace experience. After making this a priority, businesses start to observe higher productivity, better retention rates, and improvements in organizational success across the board.
Q: What are some employee engagement ideas?
Q: What are employee engagement activities?
A: Employee engagement activities aim to boost participation, strengthen relationships, and help employees feel more comfortable communicating with their teammates. These can range from wellness events, team building games, collaborative brainstorms, and professional development courses. Learn more here!
Q: How do you improve employee engagement?
A: There is no one-time quick fix, but steps can be taken at any time to strengthen the relationship between employees and their work. Hiring individuals who fit your culture, listening to feedback, and taking real-steps to recognize employees are all strategies in the employee life cycle that can benefit from a coordinated effort.
Q: How do I measure employee engagement?
A: Measuring employee engagement becomes easier with a plan. It is important to set clearly defined goals and success metrics so that you know if what you implement is working. Tracking the progress over time will help you identify both roadblocks and victories. We can help you get started with our list of 77 Employee Engagement Ideas & Activities!
Q: Who benefits from employee engagement?
A: Managers and employees will benefit directly from an engagement program through the increased communication and collaboration between coworkers. The company as a whole is also rewarded by growing talent within the organization and avoiding expensive employee turnover.
Q: Are there employee engagement initiatives that improve morale?
A: Yes, there are many ways to improve morale with employee engagement. Using different types of strategies for your employee engagement initiative will help to provide your team with a positive work environment that encourages peer to peer communication and connection. From an employee's first day at your company to milestones later in their career, crafting a complete employee engagement plan will have an impact on them and help to boost morale.
Q: Where can I find staff engagement ideas for my team?
A: Finding new and exciting staff engagement ideas can help to refresh your company culture and promote a deeper connection with your team. These ideas can also help to boost staff morale by providing opportunities to relax, enjoy office perks, participate in team building events, and de-stress. If you are looking for more ways to increase staff engagement, check out our list of employee engagement ideas.
Q: What are some real-world employee engagement examples from larger companies?
A: Many startups will go on corporate retreat or weekend trips to encourage the team to bond outside of work hours. However, larger companies might plan a field day, Summer games, or company-wide party to celebrate together. Companies also try to engage with employees during the work week via peer to peer recognition tools, icebreaker games and activities, celebration of holidays, and after work happy hours.
Q: What are some good low cost team engagement activities?
A: There are all sorts of free websites and games to play with your team during video calls. These low cost engagement activities can be set up in a matter of minutes and help team members take a break from a busy meeting with their colleagues. These games can be played via multiple rounds so that everyone can have a chance to play. Plus, you can create a team leaderboard to track your results over the course of the year.
---
Tips For Planning Engagement Activities For Employees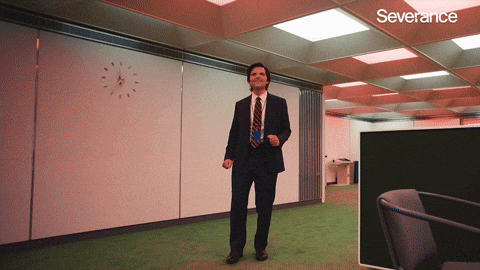 Tip #1: Start with your end goal in sight
The common adage, "If you fail to plan, then you plan to fail" helps to echo the importance of taking time to set your end goal for any engagement program or employee activity.
What are you looking to achieve? How are you going to get there?
These are questions you should mentally answer (or write down your answers) so that you have a North Star. That way, managers can determine where they can improve upon their engagement activities y knowing what they want to get out of this time.
Tip #2: Determine a budget
The ideas in this list vary from free to activities that may require a budget of thousands of dollars.
Effective engagement activities for employees can include ideas from both ends of the spectrum. What matters is how effective these activities are in boosting staff engagement and contributing to a more positive workplace. Setting a budget (or general budget) ahead to time will allow managers to narrow or widen the scope of their activity.
Planning a trip to the ballgame is a lot different than planning a park day with your team nad their families. Both are great ideas, but require a different strategy to plan, execute, and budget for.
Tip #3 : Encourage participation from other departments or high-level executives
Many companies are divided up into departments that work together on a daily basis but might not get the opportunity to engage with other departments at your business.
Planning an engagement activity for multiple departments can help to break down those barriers and allow employees to get to know their colleagues who work in other aspects of the business.
Lastly, team leaders should encourage the boss or C-level team to join since staff does not get a lot of face time with the top level of the organization and could benefit from interacting with them in a more relaxed setting.
---
What activities has your company used to increase employee engagement? Let us know in the comments below.
Employee Engagement Resources: