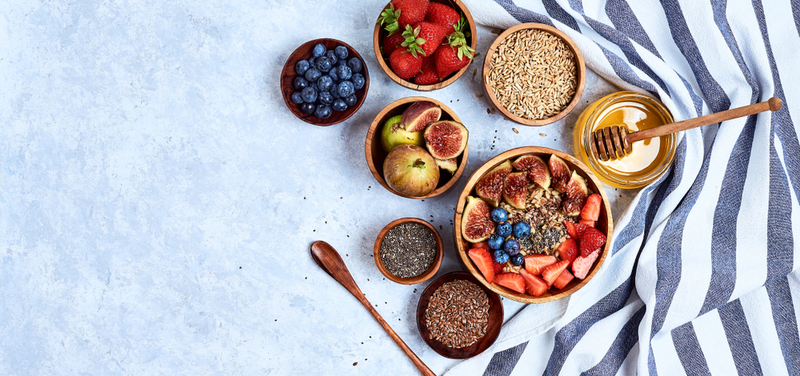 Adulting requires serious energy.
That laundry is not going to do itself, and you cannot miss another work happy hour.
Get Your Free Healthy Snack Recipes Downloadable
If you're feeling less than gung-ho about your jam-packed adult days, then the only solution is to tap into your hidden energy reserves with some revitalizing snacks for adults, snacks made from delicious and nutritious whole foods. After all, it is the adult thing to do.
We've pulled together a list of healthy snacks for adults made from some of nature's best energizing ingredients.
These treats provide clean fuel for your day and leave you with plenty of energy for fun.
Grab any of these good-for-you bites next time the stress of adult life has you craving unhealthy salt, sugar, and fat.
Want to become a better professional in just 5 minutes?
Blueberries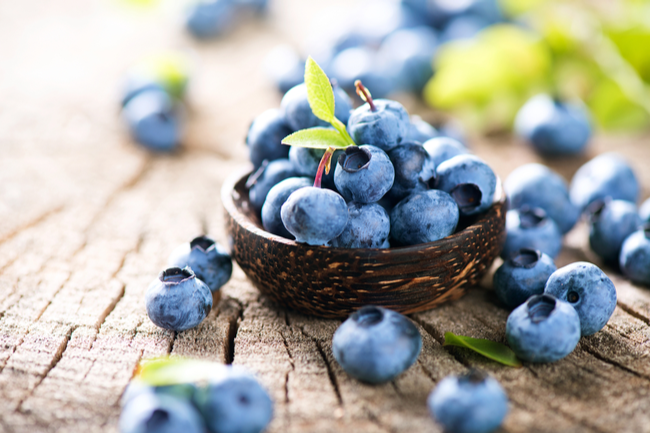 Secret weapon: Manganese
Blueberries are high in manganese, a mineral that activates enzymes your body needs to metabolize and use carbohydrates and amino acids. One cup of blueberries has 0.5 grams of manganese. That doesn't sound like a lot, but it's 25% of your recommended daily value. Blueberries also have a ton of other fortifying nutrients, including folate and vitamins C, A, and K. 
1.  Love With Food Healthy Snack Subscription Boxes
Do you want tasty & healthy snacks delivered every month?  For a limited time, Love With Food is offering 40% off your first Deluxe Snack Box! Plus – for every box you purchase they'll donate a meal to a local food bank on your behalf. Get 40% OFF your first box here!
Deluxe Snack Box Unboxing Video:
2. Blueberry Spinach Smoothie
Blend 1/2 cup blueberries, 1 cup spinach, and about a cup of your favorite milk to make an energizing green smoothie. Add a few cubes of tofu to boost the creamy factor.
3. Fresh Blueberry Salsa
We call this salsa, but you could really call it a fruit salad and eat it with a spoon. To make this fresh salsa, just chop up some blueberries, cilantro, and a small jalapeno. Then toss the entire mixture in some lime juice.
Add green onions to make this recipe a little more savory; add strawberries and a drizzle of honey to make this recipe a little bit sweet.
 Get Your Free Healthy Snack Recipes Downloadable
4. Frozen-Yogurt Blueberries
Doused in greek yogurt and frozen, blueberries turn into nutritious snack bites that will also satisfy your cravings for sweets. Get the recipe and instructions from Peanut Butter & Peppers.
Beans

Secret weapon: Fiber
Fiber keeps us full and satisfied. It delivers the kind of "delayed-release" energy our bodies need to stay invigorated throughout the day. The structure of fiber-rich foods slows your body's absorption of fat and carbohydrates, contributing to long-term feelings of satiety and energy.
Beans are the perfect way to get more fiber in your diet. According to the USDA, 1/2 cup of raw pinto beans has 15 grams of fiber, which is 60% of your recommended daily value.
5. Black Bean Smoothie
Don't write off a black bean smoothie until you've tried it. This recipe from the Conscientious Eater mixes black beans with bananas and cocoa powder, producing a smooth concoction that will give your adult body lots of fiber and energy.
Get Your Free Healthy Snack Recipes Downloadable 
6. Harvest Snaps Black Bean Crisps Mango Chile Lime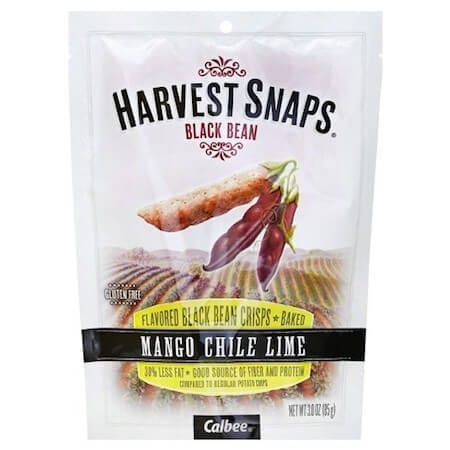 Responsible snacking is the adult thing to do. A serving of these Mango Chile Lime Black Bean Crisps has 17% of your recommended daily value of fiber.
Conclusion: Eating these crisps is definitely a smart and delicious decision.
7. Mango White Bean Smoothie
Here's another bean smoothie you have to try to believe its goodness. Fiber-packed white beans make this mango smoothie from Some the Wiser extra filling and extra creamy.
8. Black Bean Chocolate Pudding
Meghan Telpner uses unsweetened chocolate, black beans, chia seeds, and pureed sweet potato to make a surprising pudding with lots of fiber.
9. Chickpea Black Bean Snack Mix
Step aside, salty processed snack mixes. From Dizzy, Busy, and Hungry, this bean-based snack mix has all the nutrients and fiber you need for a day full of first-class adulting. 
10. Black Bean Protein Balls
Choose no-fail protein balls when you need a fast and functional snack. This recipe from Physical Nutrition mixes black beans and rolled oats, creating a satisfying protein ball to get you through your day.
Strawberries 
Secret weapons: Vitamin C, Folate, and Phenolic compounds 
Smile, you're eating strawberries! If you've ever wondered why eating strawberries make you feel so good, then you might be excited to hear that there's scientific evidence to explain where all those happy feelies come from.
According to a study published in the Journal of Agricultural and Food Chemistry, the strawberry's combination of nutrients, vitamins, minerals, and compounds creates an above-average healthful package.
Good and good for you, strawberries make the perfect base for a variety of healthy grown-up snacks.
 Get Your Free Healthy Snack Recipes Downloadable
11. Strawberries + Balsamic Drizzle
Nothing is more adult than unique flavor combinations, and the combination of strawberries and balsamic is absolutely classic. Just slice up some strawberries and drizzle them with high-quality balsamic vinegar for a sweet and savory snack that satisfies.
12. Jalapeno-Strawberry Skewers
Skewered jalapeno rounds and strawberries make a surprising and invigorating snack you can toss together in seconds. Tip: Wear gloves when you slice the jalapenos.
13. Strawberry Breakfast Bites
Strawberries, oats, and coconut flour come together in a food processor to make tasty breakfast bites that evoke childhood memories of fruity cereal. Get the recipe from My Kids Lick the Bowl.
14. Organic Living Superfoods Dried Strawberries
These dried strawberries put whole nutrient-dense strawberries into a handy package you can keep at your desk for weeks and weeks.
15. Strawberry Avocado Smoothie
Follow the lead of Oatmeal with a Fork and use sweet strawberries and creamy avocado to create an unforgettable smoothie that will help you smile while powering through a day filled with adult chores and responsibilities.
Get Your Free Healthy Snack Recipes Downloadable
Mango 
Secret weapons: Phytochemicals and vitamins
Studies suggest mangos have "multifaceted health benefits."
Mangos positively impact our bodies' chemical processes, fighting inflammation, and protecting us from free radicals. Mangos also provide a burst of healthy carbohydrate-driven energy that's way more beneficial than what you could get from a candy bar.
16. Quick Mango Oatmeal
Do what Marla Meridith does and put mango into your oatmeal to get a double-dose of nutrients and plenty of energy.
17. Organic Living Superfoods Dried Mango Slices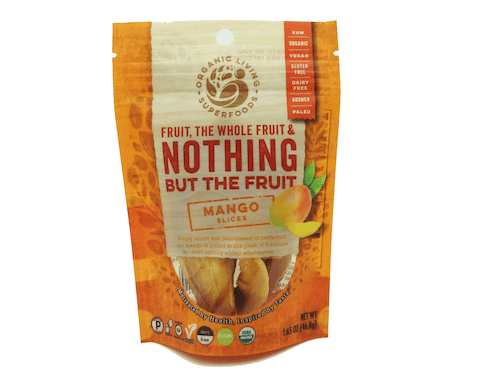 Keep these dried mango slices on hand for any situation where you need an energizing boost. Dried mangos ensure you always have access to your favorite tropical fruit, even when it's out of season.
18. Coconut Mango Parfait
You might be too busy adulting to take a real vacation, but you'll always have time for a coconut and mango parfait. This parfait from Karissa's Vegan Kitchen fortifies your body and transports you to a tropical paradise.

19. Mango Hemp Protein Breakfast Bars
Mango isn't something you often see in a protein bar, and the result is a delightful way to get your daily dose of beneficial mango. Find out how Will Frolic for Food makes these adult-worthy snacks.
20. Banana Mango Smoothie Bowls
Few things are healthier or easier to make than smoothie bowls. This With Food & Love bowl will start and end your day off right with its powerhouse combination of bananas, mango, baby kale, and hemp seeds.
Get Your Free Healthy Snack Recipes Downloadable
Spinach
Secret weapon: Phytochemicals and bioactives 
We all know spinach is good for us, but just how good is it? Really good. According to a study published in Food & Function, all the good stuff in spinach surpasses our basic nutritional needs. As it turns out, spinach might just tune metabolism, increase feelings of satiety, and help our systems reduce cell damage,
Here are some snackable, beyond-salad ways to get more spinach.
21. Green Monster Overnight Oats
Who knew it could be so delicious and easy to eat spinach for breakfast? Oh She Glows lets a creamy spinach smoothie and some oatmeal sit overnight. The result? A superfood breakfast you'll crave every day.
22. Green Smoothie Bowls
This green smoothie bowl lets you hit your daily spinach quota while taking a little break from salads. The Kitchen Confidante makes it using fresh spinach, kefir, pineapple, and more.
 Get Your Free Healthy Snack Recipes Downloadable
23. Spinach Avocado Soup
This raw spinach and avocado soup from the Rawtarian is just as easy to make as any smoothie, and you can eat it for a quick afternoon snack or even a light dinner.
24. Vegan Rob's Organic Spinach Strips
These crispy strips provide the perfect snackable way to get some spinach into your diet. The non-GMO strips provide a satisfying crunch along with fiber, iron, and protein.
Tomatoes
Secret weapon: Lycopene
Adult eating involves snacking with benefits, and the lycopene in tomatoes has been shown to provide plenty of benefits. Lycopene could reduce the risk of serious ailments, including cancer and cardiovascular diseases.
 Get Your Free Healthy Snack Recipes Downloadable
25. Tomato and Avocado Stacks
Top slices of lightly salted tomato with slices of fresh avocado to make a healthier twist on a Caprese salad that delivers good fats and plenty of lycopene.
26. Tomato, Basil, and Tofu Kebabs
Skewer up a cherry tomato, a cube of tofu, and a leaf of basil to make a flavorful, energizing antipasto treat without fatty cheese.
27. Savory Tomato Yogurt Parfait
Savory parfaits will change your adult snacking life. They're packed with vegetables, and they're fast and easy to make. We can't think of a better way to satisfy your savory snack tooth. This Robust Recipes parfait incorporates lycopene-rich tomatoes, protein-packed Greek yogurt, and good-for-you quinoa.
Oats
Secret weapon: Avenanthramides 
Studies suggest that fiber isn't the only good-for-you aspect of wholesome oats. Oats contain avenanthramides, a kind of polyphenol with antioxidant properties. The avenanthramides in oats could combat inflammation and itchiness while warding off heart disease and colon cancer.
28. Savory Kale Oatmeal
Change up your morning snacking routine with this savory oatmeal from Naturally Ella. Veggie broth, oats, and kale make a mid-morning snack that will keep you satisfied until lunchtime.
29. Health Warrior Banana Nut Chia Bar
This super bar is packed with chia seeds, rolled oats, and creamy cashew butter. It has protein and fiber to power your day, and it's the perfect way to get some more oats into your life.
30. Oatmeal Smoothie
Oatmeal smoothies are the perfect way to get a fix of avenanthramides. This banana, orange, and oat smoothie from Beauty Bites are as refreshing as it is filling. Try this recipe, and you might be tempted to add oats to all your favorite smoothies.
31. Purely Elizabeth Apple Current Ancient Grain Muesli
Packed with organic gluten-free oats, currants, dried apples, and millet puffs, this amazing muesli from Purely Elizabeth will keep you satisfied and fill you up with healthy fiber and avenanthramides.
This non-GMO, vegan snack will keep you going for hours, and it has no added sugar, so all the invigoration you feel comes from pure simplicity and not a sugary jolt that would leave you crashing.
Citrus fruit
Secret weapon: Vitamin C
We've been getting vitamin C in our vitamin capsules since we were kids, but what does vitamin C do besides fight off colds? 
According to a study published in the Journal of the American Geriatrics Society, vitamin C might help fight fatigue. In fact, the researchers observed that subjects who didn't consume much vitamin C showed almost twice the amount of fatigue symptoms than subjects who got lots of vitamin C.
32. Broiled Grapefruit
Broil grapefruit halves for about three minutes to bring out citrusy flavors you never knew existed. A grapefruit half has more than half of your recommended daily value of vitamin C, making it a wise choice for snack time.
33. Cinnamon Orange Slices
Sprinkle orange slices with cinnamon and drizzle them with honey to elevate a simple fruit to new levels of adult snacking. Getting your vitamin C just got way more exciting.
Did you enjoy our list of healthy snacks for adults? Let us know in the comment section below!
(PS – Don't miss out on 40% OFF your first Deluxe Box  of delicious & healthy snacks!)
Additional Resources