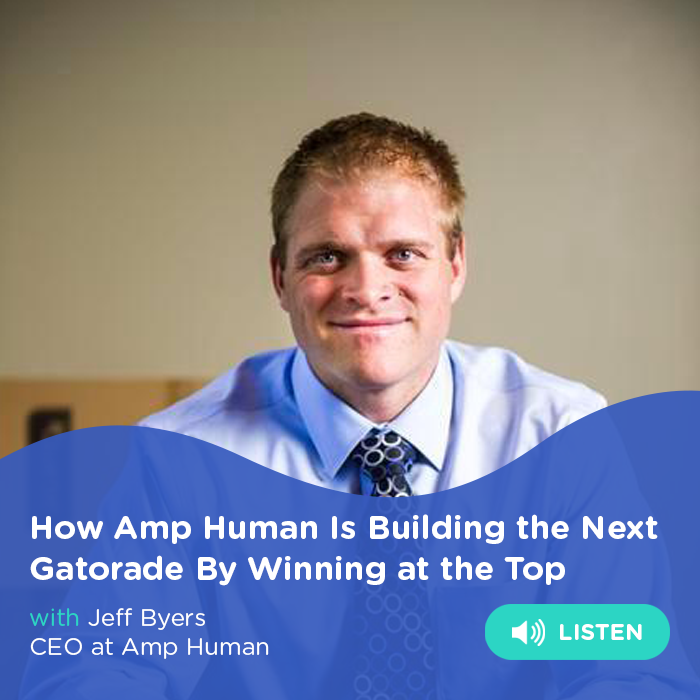 Whether you're ready or not, the ball is always snapped. It's how you react that matters. 
Business is full of sports metaphors… and some are definitely better than others. But this one carries a little extra weight because it comes from someone who played one of the toughest positions in football at the highest levels – including the NFL. 
That man is Jeff Byers, a pro-athlete turned entrepreneur who is currently building Amp Human, the next great human performance platform. Amp Human's mission is to help athletes at all levels achieve their limitless potential. And he also happens to be our guest on this episode of Brand Builder.
To achieve this audacious goal, Amp Human has adopted a strategy to "win at the top." This means validating the product with elite athletes, pro-sports teams, and institutions like the military.
In this episode we talk to Jeff about the the serious science behind their flagship PR lotion and new Vitamin D lotion, why competing everyday is the key to entrepreneurial success, and why comparisons to aspirational brands like Nike and Gatorade really aren't too far off.
This interview got us all sorts of FIRED UP… and we think it will have the same effect on you.
Links
Join our Exclusive Facebook Group!
What's your biggest takeaway from the episode? Join our invite-only, private Facebook group just for Brand Builder Community members, where you can connect with fellow entrepreneurs and founders, crowdsource ideas, share best practices (or lessons learned), and get your most important questions answered. Join now!
Facebook.com/groups/brandbuilderpod
Brand Builder is produced by Caroo.