Grab your lederhosen, dust off those steins, and get ready because Oktoberfest is just about here!
The joy that people find when they come together during the beginning of this "volksfest" is something that everyone should experience.
So why not enjoy this classic German festival at work?
We thought the same question so this guide is designed to break down the fun ways you and your coworkers can celebrate Oktoberfest at work this September.

What is Oktoberfest?
Oktoberfest is the world's largest beer festival held every year in Munich, Germany. Typically beginning in late September and running up to the first Sunday in October, this celebration includes biergartens, game stalls, rides, food vendors, and all sorts of exciting things to celebrate Bavarian culture.
Late September is just the right time for teams at any business to schedule off some time and celebrate the end of another wonderful Summer and party their way into a new Fall with their own Oktoberfest of sorts.
With this in mind, we present the best ways to celebrate Oktoberfest at work!
Want to become a better professional in just 5 minutes?
Virtual Oktoberfest Ideas For Teams
With more and more teams working from home, remotely, or via a hybrid work schedule, it may be the best call to celebrate Oktoberfest with your colleagues over Zoom. Here are some ideas to celebrate Oktoberfest virtually that are easy to set up, fun to participate in, and honor this fall occasion in style.
1. Drink german beers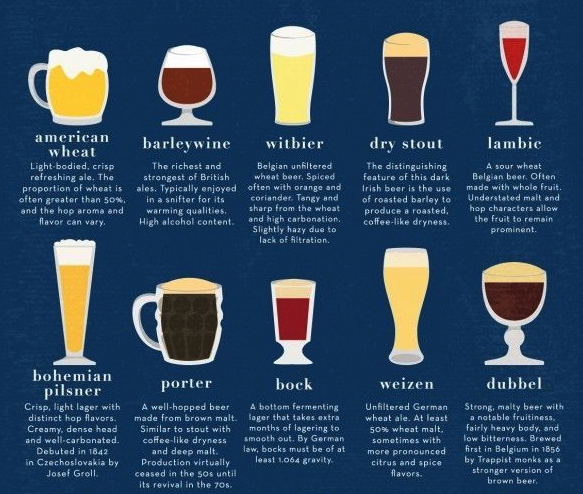 The Oktoberfest version of the classic "virtual happy hour," this online activity brings coworkers together to take part in one of the oldest Oktoberfest traditions: drinking German beer!
Simply put together a list of German beers and ask participating colleagues to pick up their favorite German beer before the virtual beer tasting. There are also Oktoberfest-themed beer boxes that you can send directly to guests so that they won't have to do shopping before the big day.
Pro-Tip: Bust out the lederhosen for your next team meeting with the Oktoberfest Beer & Cheese Pairing Experience! The folks at Unboxed Experiences work with unforgettable hosts who will entertain, educate and captivate your team as they take you through the ins-and-outs of traditional Oktoberfest beers paired with gourmet cheeses.

Unboxed Experiences will work with you to deliver this 🍻 Oktoberfest-themed beer kit 🍻 right to your employees' doorsteps prior to your virtual event. You can even customize your boxes with branded swag like pint glasses and koozies!
2. Eat Oktoberfest snacks
If you are conducting a team meeting or Friday happy hour this Fall, why not make it Oktoberfest-themed and get into the spirit of the season? Send out a selection of Oktoberfest snacks for employees to munch on during your Friday meeting or during a team building event. There are so many snacks that are perfect in the fall that you can't go wrong here!
Some traditional Oktoberfest foods include:
Pretzels
Potato Pancakes
Candied almonds
Bavarian cheese
Smoked meats
Sending out a little Oktoberfest-themed kit to your employees with some snacks to enjoy is a great way to celebrate Oktoberfest virtually and keep everyone well-fed during a busy day at work.
3. Guided beer & cheese tasting course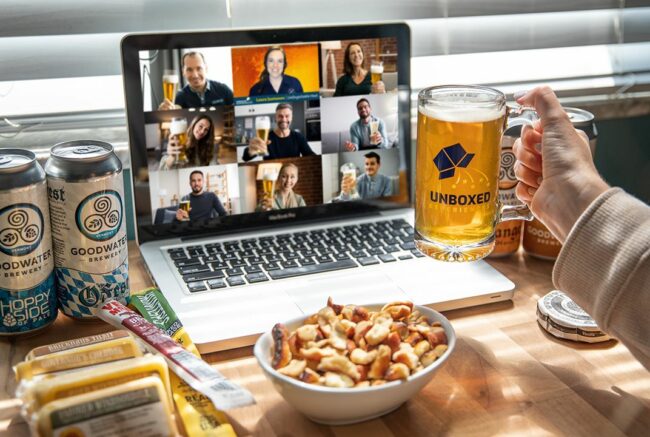 The folks at Unboxed Experiences put together a customized tour to celebrate Oktoberfest with coworkers via a beer and cheese tasting course. Along with a lively and entertaining host, guests will chat together, discuss the different beers they are tasting, and bond over a shared love of this fall festival.
Their team will even send each person a dedicated Beer & Cheese Tasting Kit with everything guests need to participate and can even include branded merchandise for you to gift employees some company swag to wear around the office and on Zoom calls. For more information, check out their Oktoberfest Experience.
 "Honestly, I can't think of a more fun Fall-themed party to throw with your group than the

Oktoberfest Beer & Cheese Pairing Experience

. We've packed all of the flavor, vibes and fun of Oktoberfest into a virtual team event complete with German beers and cultural activities. You won't find a great team event like our virtual Oktoberfest Experience anywhere else!"

– Todd Summers, Chief Innovation Officer at Unboxed Experiences
4. European history trivia

Put your team members' knowledge to the test in an Oktoberfest-themed trivia game.
All this takes is a few minutes of research to come up with questions to see which colleague in your group knows the most about German heritage, Oktoberfest culture, European geography, and everything else that goes into this European tradition.
This office trivia game can take as long as you and your guests are enjoying it, making it a great icebreaker or activity to start up after everyone has eaten their fill of festival treats.
Bonus: You can award the winner a special Oktoberfest-themed prize as a token of appreciation for winning your trivia championship.
5. Listen to German music and polka dance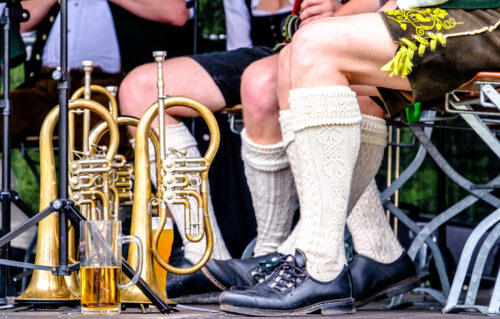 This Oktoberfest idea for work acts as an excellent icebreaker to kick off a day of video meetings or a team outing since it loosens guests up with amplified music courtesy of the German motherland. Whether you are popping on the classic "Chicken Dance" or some good ol' fashioned polka music, this activity can last as long as you want.
Queue up a few songs on Spotify and share the playlist with everyone in your meeting to "break the ice" before you get down to business.
6. Learn a traditional German dance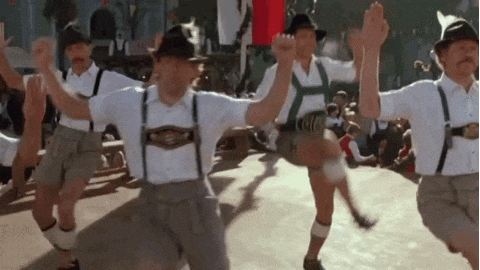 The Schuhplattler is a style of folk dance popular in the Bavarian region when Oktoberfest is held every autumn. Although dancers generally don the classic lederhosen dress, your teammates will learn one or two of the more than 150 basic Schuhplattlers. There are several tutorials available to watch with your team and learn the ins and outs of this traditional Oktoberfest dance.
7. Play Oktoberfest games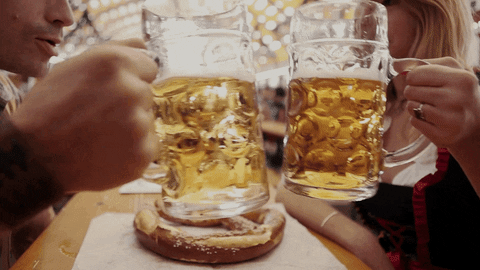 Getting together to celebrate Oktoberfest at work would not be complete without playing at least one game with your coworkers. While there are several games played at the festival (besides beer chugging) we wanted to share a few of our favorites:
➤ Masskrugstemmen – Beer stein holding during which each player must hold a one-liter stein of beer in one outstretched arm for as long as possible! After this, they can use their stein to fill up a cold glass of a German pilsner.
➤ Oktoberfest Word Puzzle – See how well you know your German with this volksfest-themed puzzle game for coworkers to compete in.
There are plenty of online group games available for small teams or entire organizations that can be customized to celebrate Oktoberfest. You can always select a game that is more familiar to your employees so you can ensure you will have a strong turnout when it comes time to play.
8. Pretzel-making class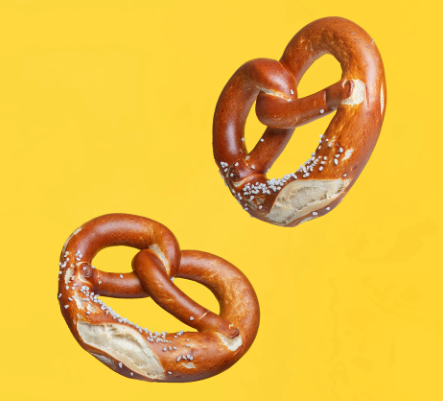 This virtual team activity takes you and your employees through a live demonstration class with an experienced baker to make 2 – 4 soft pretzels in honor of Oktoberfest. With a provided pretzel-making kit, participants will learn fun baking facts, bond with their teammates, and by the end — enjoy the delicious salty and sweet taste of a Bavarian soft pretzel. Don't forget the mustard and beer cheese!
Oktoberfest Ideas For The Office
9. Oktoberfest in the breakroom!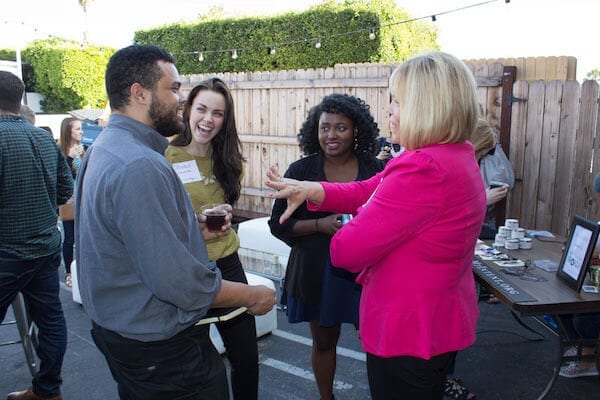 Put together a fun German festival right in the break room or large meeting space for your office to celebrate this special time of the year. You can incorporate some of the ideas in this list and put your own company's spin on it. If you plan on organizing an office Oktoberfest you can try:
Order snacks and lunch from a local German eatery
Find an Oktoberfest playlist on Spotify to play during the festivities
It is recommended to divide up a few responsibilities between the members of your party planning committee so the event can run smoothly. Plus, if your Oktoberfest party goes well, it could become an office tradition for many more Octobers in the future.
10. Oktoberfest costume party
A tradition of Oktoberfest in Munich (and most other festivals of this nature) includes wearing traditional Bavarian attire.
This most often means that men wear lederhosen while ladies wear dirndls. Donning a wool hat or a fedora might be all it takes to score a medal at this Oktoberfest activity. Letting your staff jump into the spirit of this beer festival by substituting their suit and tie for Oktoberfest apparel is a great way to spread the holiday spirit!
Plus, you can let one of your party organizers lead a costume contest to see which employees really went for it!
11. Pretzel Day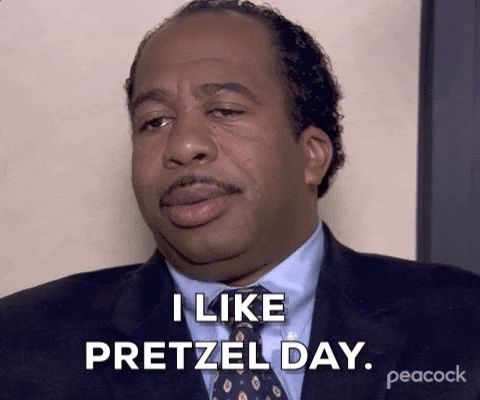 Just like Stanley Hudson and Michael Scott, the team at SnackNation thinks Pretzel Day is the best! This Oktoberfest office activity does not require elaborate planning or weeks of prep. You can order soft pretzels from a local bakery and bring them in to celebrate the beginning of Oktoberfest. Just like bringing in donuts or bagels to the office kitchen, this nice gesture will be sure to brighten your coworkers' moods with a salty treat.
Conclusion
There are no doubt more Oktoberfest ideas for work that you and your team can participate in to celebrate the world's largest beer festival. Remember to drink responsibly, plan accordingly, and don't take things too seriously! If we missed any ideas, please feel free to let us know in the comments.
This team event can be planned and executed both virtually and in-person so all employees should be able to celebrate this holiday the right way! Prost!
People Also Ask These Questions About Celebrating Oktoberfest At Work
Q: Can you celebrate Oktoberfest with remote employees?
Absolutely! All it takes is a little bit of planning, a Zoom link, and some RSVPs to get your very own virtual Oktoberfest up and running. While you can ask employees who work from home to go out and get their own supplies, it might make things easier to ship a dedicated Oktoberfest kit to them so they can simply show up and start participating.
Q: How do you celebrate Oktoberfest at work?
The first step is to plan your event around the answers to a few key questions. What kind of decorations will you have on the day of the Oktoberfest party? Will you be supplying German beer and snacks to employees who participate? Lastly, how will you generate buzz at work to get your staff excited about your upcoming Oktoberfest at work celebration? Once you answer those questions, you should have a good game plan to start planning a team event that will not soon be forgotten.