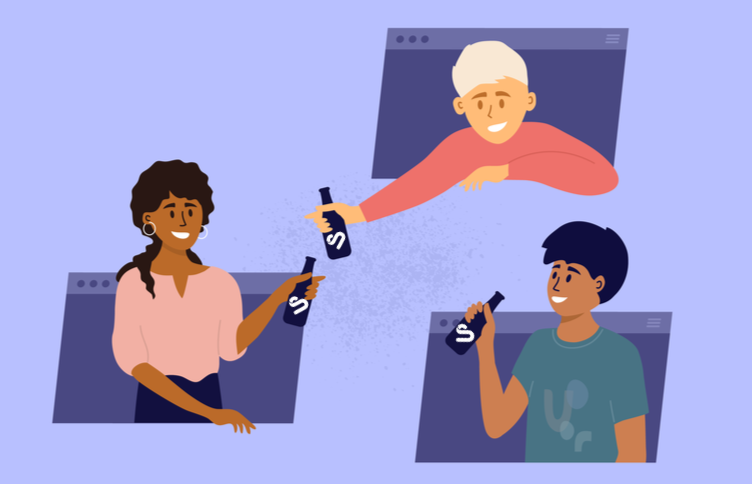 Beer has been bringing people together for thousands of years…
In fact, one beer archaeologist (yes, that's a thing) believes a thirst for beer and other fermented beverages heavily influenced human development, steering hunter-gatherers' decisions about which crops to cultivate and where to build permanent homes and also playing a key role in the development of religious rituals and art.
Today, in the era of the COVID-19 pandemic and limited in-person gathering, beer remains a great equalizer, a magical elixir that helps us transcend distance and feel united, even virtually, for shared merriment, laughter, and joy.
"When all else fails, there is music. When that fails you, there is beer." – James Hauenstein, Author
Virtual beer tasting is one of our favorite ways to harness the power of this age-old jovial juice. If you're looking for creative ways to have virtual fun or if you've been feeling disconnected, lonely, or low, then a little beer might just be the answer.
"When all else fails, there is music. When that fails you, there is beer." - James Hauenstein
Click To Tweet
Let's raise a glass to the ancient brew and to the modern technology that enables us to virtually enjoy it with our friends. Spread happiness and joy to your favorite people by hosting one of the ideas below.
Want to become a better professional in just 5 minutes?
Page Contents (Click To Jump)
Virtual Beer Tasting Ideas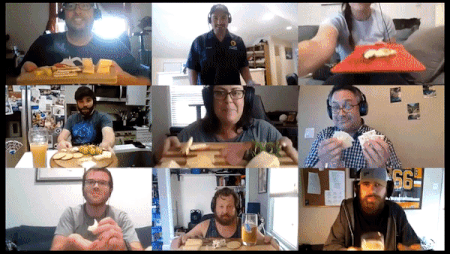 The unforgettable hosts at Unboxed Experiences consider it their specialty and their passion to deliver craft beer tastings and cheese pairings that provide transportational flavor experiences you can enjoy from the comfort of your own home.
This tasting proves there's true magic in the shared experience, even when you're not gathering in person. It delivers just as much bonding as any of those good times you spent drinking at work in-person.
You might even forget you're gathering virtually as you enjoy a shared flavor experience, laugh with each other, and learn from your expert guide. (You'll be amazed to learn how satisfying an old-fashioned "cheers" can feel, even when your glasses can't touch.)
Pro-tip: This virtual beer tasting idea also pairs nicely with Virtual Pub Quiz Happy Hour Trivia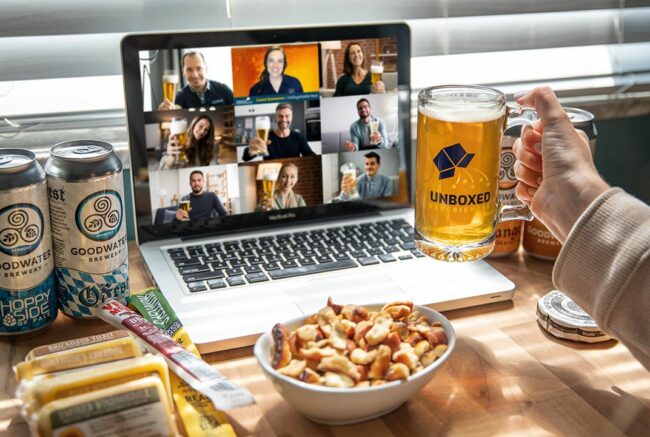 Celebrate the iconic German beer festival Oktoberfest with a special beer selection full of fun flavors and traditional European beers. The Oktoberfest Beer & Cheese Pairing Experience transports you to the beer tents of Munich for a special virtual Oktoberfest celebration featuring specially-brewed Bavarian beers and gourmet German snacks.
This beer and cheese tasting event really takes you to Oktoberfest with a variety of German beers. The box also features some brews perfect for the Fall season. The German festbier is a highlight of ours, as you get to drink a beer you'd find in a typical Oktoberfest bierhalle.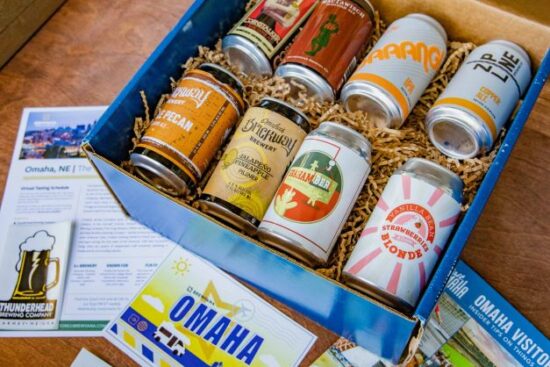 Grab some snacks, fill up the gas tank, and hit the open road with this virtual beer tasting idea that will take you and your fellow brew aficionados through a virtual road trip around the USA! Discover craft breweries along the way from big-city bottlers to hyper-local spots that pack a punch.
There is no doubt that there are an endless number of breweries out there crafting some of the best beer you can drink, so why not celebrate them with a beer tasting designed to shed some light on American breweries. If you and your friends are ready to hit the open road, talk to the team to learn more about City Brew Tours Beer Club.
If you have ever wanted to tour a brewery but do now know how to make that happen, then you should explore the National Brewery Tour.
This online beer tasting event guides your team through an informational (and fun) tour through a real craft brewery with stops along the way to sample beer (via at-home beer kits) and learn the ins and outs of the beer-making process.
Celebrate beer drinking season with a beer tasting event based on German's beloved Oktoberfest!
You can select a number of German beers to sample your way through Bavaria, or order the Oktoberfest Beer Box!
This tasting experience will guide you through five hoppy beers paired with cheeses, snacks, and activities to truly bring the magic of Oktoberfest to the Zoom screen.
6) DIY Beer Tasting: Local Brewery Edition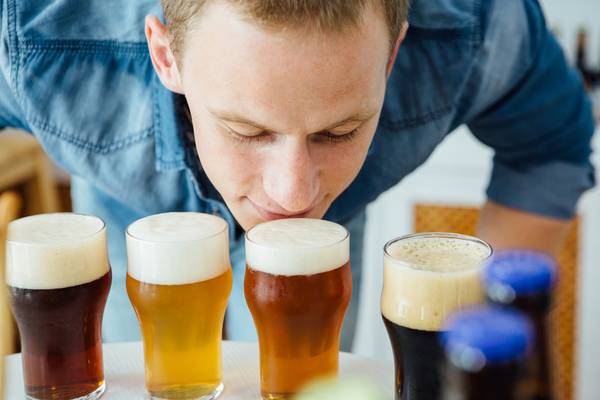 You don't necessarily need to do an expertly guided tasting to have a toast-worthy time during your virtual beer event. You can easily work the do-it-yourself model with these steps:
Choose your favorite local brewery. (If you don't have a favorite brewery, then you can find a list of your local breweries using Craftbeer.com's search feature.) While you may obviously organize a tasting with beers from multiple breweries, choosing just one provides a nice cohesive experience. Depending on the brewery, they should be able to provide a nice range of beers from lagers to IPAs to darker porters. That way your guests can try different types of beer which will help spark conversation.
Send your guests beer if shipping and delivery is an option in your area, or simply send everyone a list of beers and items to pick up before the event.
Hop on a video call, through Zoom or Google Hangouts, for example.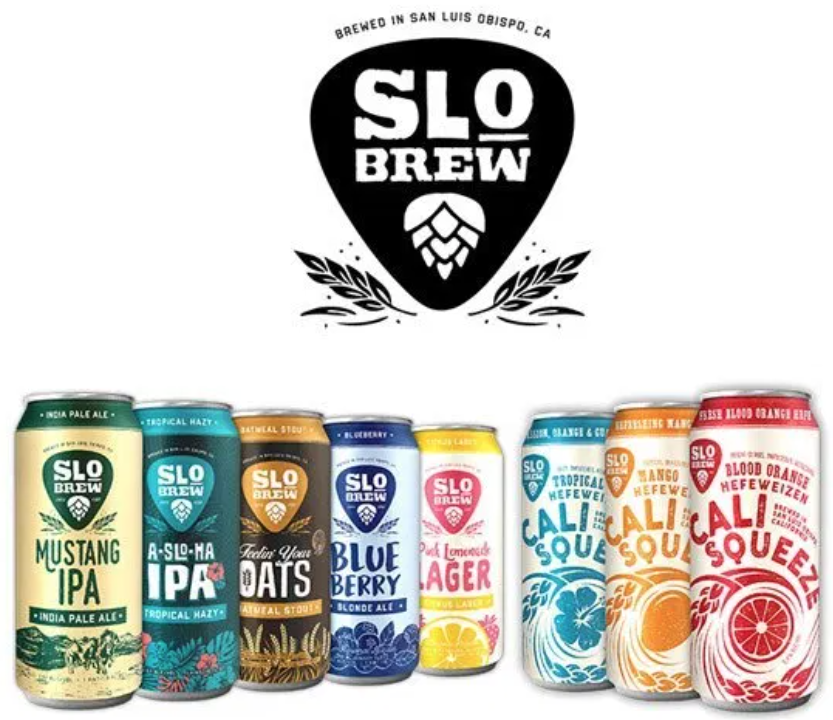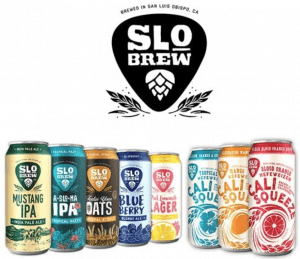 Take all of the planning out of your tasting and let Priority Wine Pass send you everything you need to host your own craft beer tasting. Priority Wine Pass takes care of all logistics and can tailor the tasting to fit your budget.
Sample handcrafted beers from SLO Brew, a California brewpub once named "Brew Pub of the Year" at The Great American Beer Festival. Enjoy their famous beers without having to leave the comfort of your couch and invite your friends to enjoy a virtual happy hour with you too. Let your virtual host guide you through the tasting and enhance your knowledge and taste buds with these microbrews.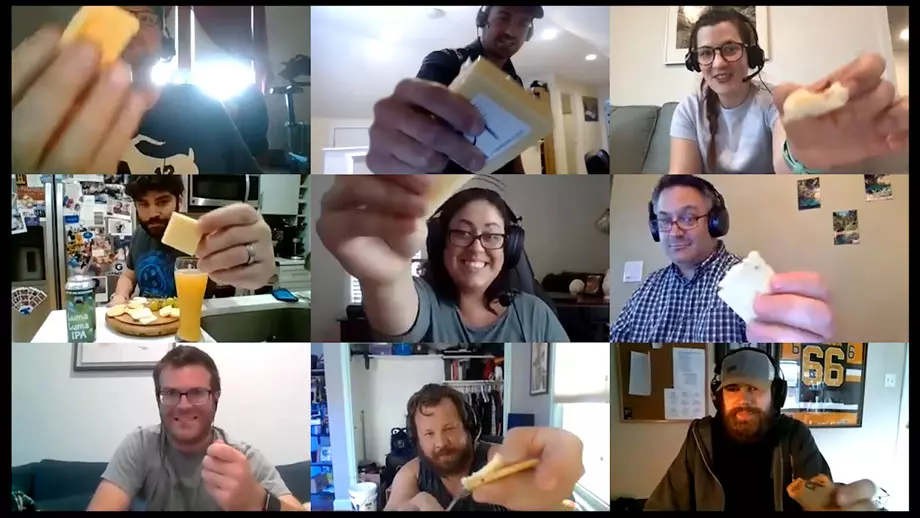 Hop up your favorite virtual happy hour experience. Unboxed Experiences' happy hour options shine a spotlight on everyone's favorite golden elixir: beer. Celebrate your guests' love of the malty, the hoppy, the citrusy, and the brews that cover the International Bitterness Unit scale from end to end.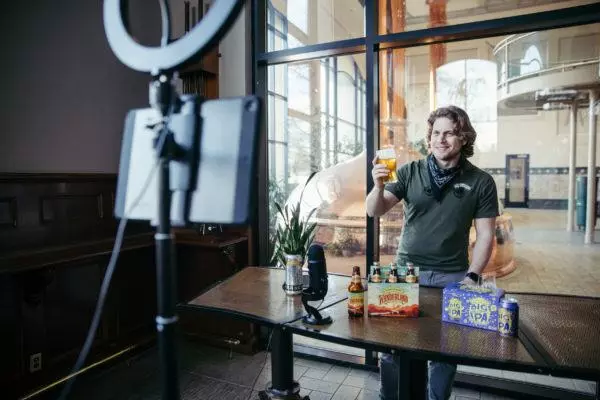 Sierra Nevada offers tastings and virtual tours you can customize to build your perfect virtual tasting experience, special event, or virtual birthday party.
Consider it the ultimate staycation, an exploration of the wonderful world of beer—an exploration you can enjoy without leaving your living room. These beer masters will give you an event to remember and toast fondly for years to come, whether you choose a private tour, a comprehensive brewery history lesson, or a straightforward tasting.
Want even more reasons to be excited? Since Sierra Nevada distributes beers widely across the United States, it will be easy for tasters in multiple locations to find the right beers, meaning you can all enjoy a unified tasting experience. (They even have a beer locator tool to help everyone find exactly what they need.)
Pro-tip: Have people in your group that don't like or drink beer? Send them a happy hour box from Caroo instead.
10) DIY Beer Tasting: Virtual Craft Beer Edition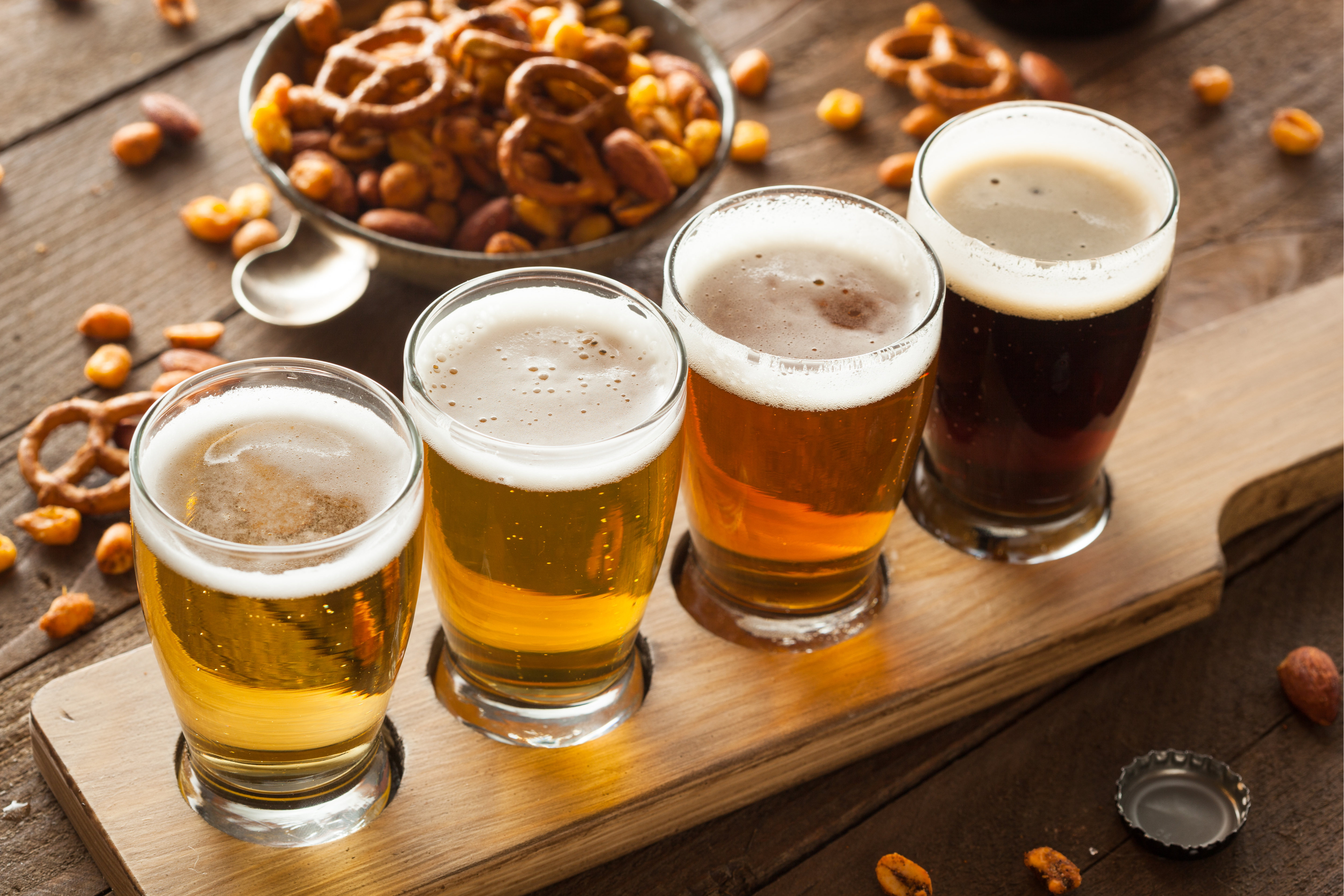 Hoping to host your own virtual event that celebrates all the joys of craft beer? You can easily adapt the steps of the "DIY Beer Tasting: Local Brewery Edition" above to quench your thirst for the most finely crafted concoctions you can find.
Like all other good beer experiences, the success of this DIY event depends, of course, on the fabulous people you enjoy it with and also on the beers you share. Here are some resources you can use to locate, and in some cases ship, craft beers that excite your taste buds and your spirit:
Hop right into beer specifics with this delightfully delicious beer tasting class!
With the help of an engaging beer expert host, participants will embark on an exciting adventure to explore the look, smell, and taste of each unique beer.
Learn all about flavor profiles and beer characteristics, followed by a fun Q&A session where your group can learn other fun facts about all things bubbly & brewed!
With Confetti, beer lovers can craft their own tasting experience, choosing from a selection of unique beer tasting kits or a BYOB option. Got a favorite brewery or a favorite type of beer? They can accommodate that! This virtual beer tasting can even have a custom beer & snack kit you can personalize to your liking.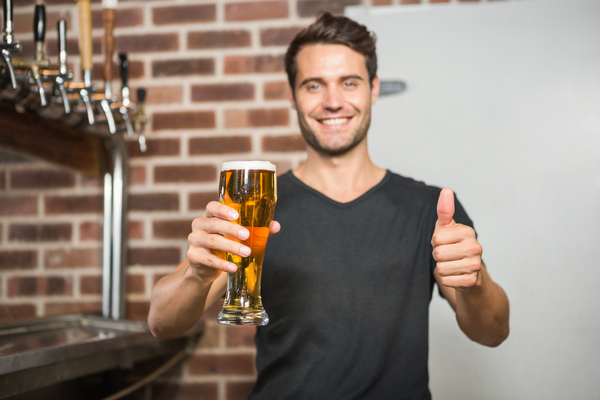 No one will mind going back to school once you tell them you're talking about beer school. This education-forward course from Craftbeer.com and the Brewers Association will teach beer enthusiasts and aspiring beer professionals everything they ever wanted to know about IPA, lager, stout, and all the other brews you know and love.
The comprehensive course packs a ton into one delightful hour. You'll learn about ingredients, signature qualities of different beers, eye-opening tasting tactics, and some essential brewing factoids.
Pass a simple quiz and you'll even get a certificate of completion that will look epic framed in your home bar or displayed on your compact bar cart.
Pro-tip: Looking for other kinds of virtual happy hours? A wine tasting perhaps? A Q&A with a sommelier? There are plenty of celebratory ideas for happy hours and other social events in this roundup of virtual alcohol tasting ideas.
Virtual Beer Tasting Packs & Brewing Kits
Beer is good year-round. We know that.
However, a crisp lager in the Summer or a hoppy ale in the Fall can taste even better due to the season you are drinking them in. Enter… the Seasonal Beer Box.
This box of beer rotates in all kinds of beer from lagers to pale ales to stouts depending on the time of the year — meaning each beer box you receive is expertly curated and never the same!
To take things to the next level, your group can set up a beer tasting event where a beer-drinking host will lead you through delicious beer pairing, spout beer knowledge, and get everyone engaged in an online atmosphere. So no matter what season it is, there is a beer for you!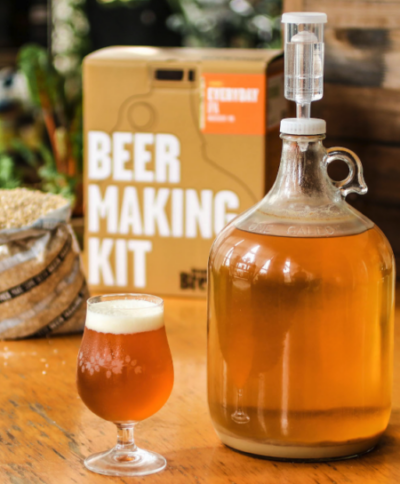 A beer making kit that provides all the necessary ingredients to craft the ultimate adult beverage at home!
For all types of beer drinkers, this kit will not only teach your group a new skill, but your friends will be on their way over to try out your very own beer! As an added bonus, most of the included equipment can be reused for future homebrew days!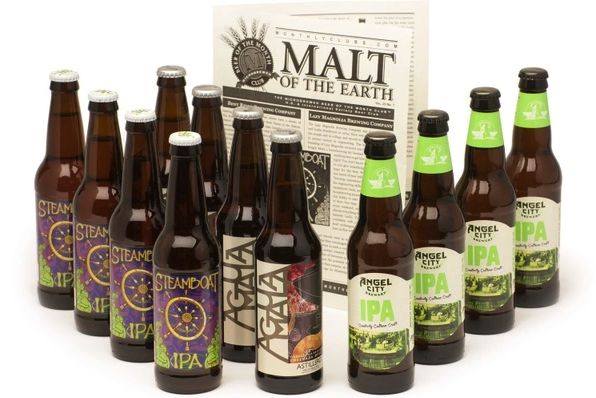 Essentially beer discovery in a box, this hoppy beer kit comes with 12 total bottles of beer, including many award winners, from several different breweries. Featuring a variety of different flavor profiles, from bright India pale ales to hearty red ales to hoppy India pale lagers.
Better yet, your tasting experience is rounded off by comprehensive tasting notes, profiles of each beer, and the entertaining history of the breweries responsible for all the glorious foamy flavors you're enjoying.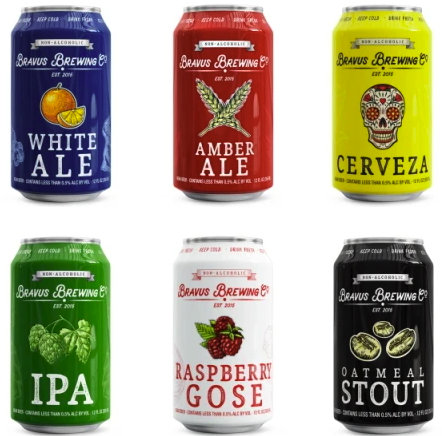 A craft brewery specializing in non-alcoholic brews, Bravus uses a special brewing process that produces rich flavor profiles that will dazzle even the most staunchly traditional beer enthusiasts.
Use their beers to create a unique tasting for non-drinkers or a new experience for beer lovers looking for a surprise. (You can even boost the fun factor by doing a blind taste test between a Bravus brew and an alcoholic counterpart.)
Build your tasting with a sampler pack filled with Amber Ale, Cerveza, IPA, Oatmeal Stout, Raspberry Gose, and White Ale, or create a custom pack with the Bravus offerings of your choice.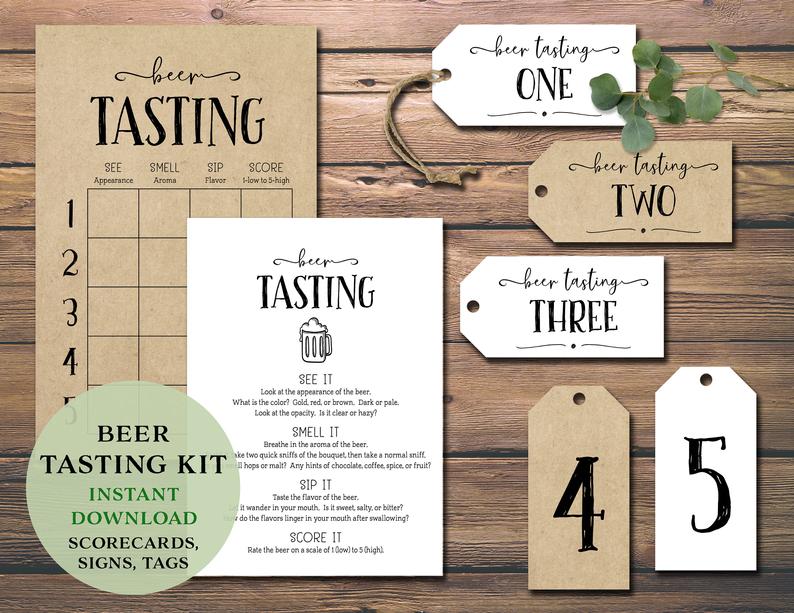 Instantly downloadable and boasting super-affordable pricing, this kit includes the extras that will make your virtual beer tasting event feel organized, professional, and perfectly planned.
It includes:
A tasting party planner worksheet you can use to wrap your head around all the beers and food pairings you want to feature
Shopping list templates you can share with your virtual guests to make sure everyone gets the right thing
Invitations for your special guests
Step-by-step tasting and scoring sheets that make it both easy and fun to track and rate all your sips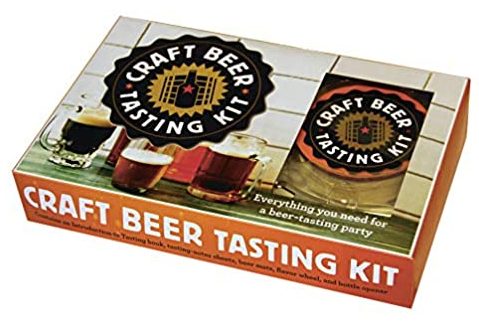 Work your way through tasting all the new beers you've ever wanted to try using this companion as your guide.
You supply the beer and any other add ons (snacks and palette cleansers, for example) and this beer gift box will take you on the voyage of beer discovery you've always dreamed of.
Fill in all 200 tasting notes templates and have a brag-worthy record of all the amazing beers you've sampled. Use a helpful flavor wheel to sound like the most informed of all beer masters as you detect layer after layer of new flavors and scents in your old favorites and new samplings.
You can even dive into the book portion to learn everything you wanted about the brewing process—building your brewery-to-bottle beer knowledge.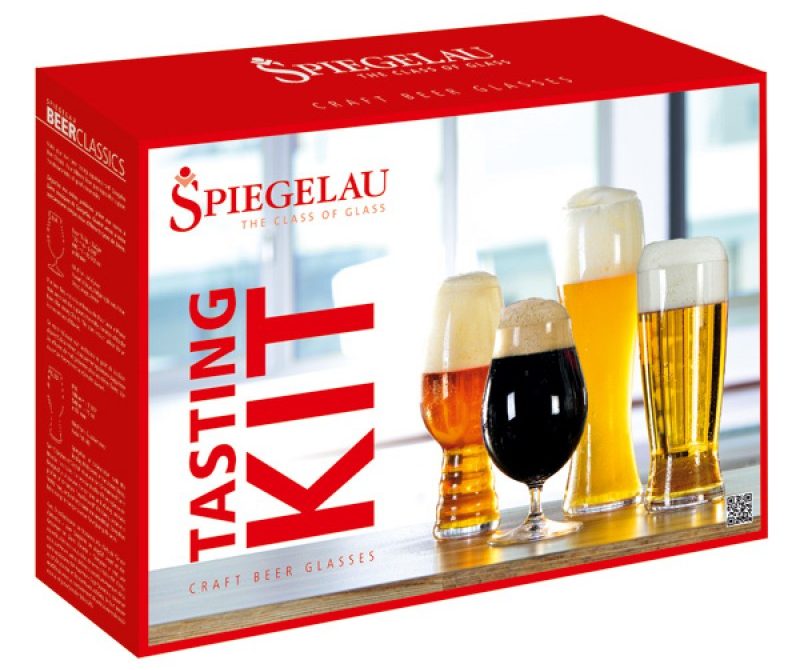 What does every beer tasting need? What's something most planners neglect or completely forget about?
The right beer glasses!
This kit includes four full-sized glasses specially designed to bring out the flavor in your craft beer. Taste new nuances in beers you only thought you really tasted before.
If you're skeptical about the virtues of the right beer glasses, the Brewers of Pennsylvania have the information you need to become a receptacle snob. They explain that the right beer glasses can optimally direct aromas, determine the size of your sips and the flavor load you get with each, and also alter the look and feel, and therefore your perception, of your beer.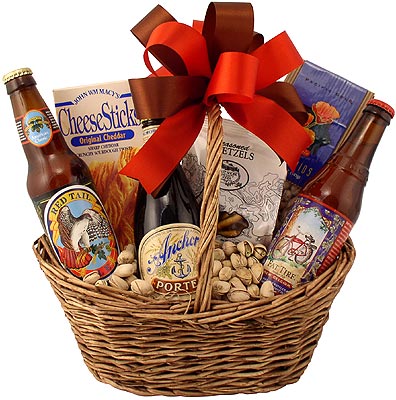 Beer enthusiasts love Independently owned microbreweries for their adventurous spirits, their flavor experiences, their experimentation with new techniques, and their passionate attention to quality.
This basket delivers the perfect sampling of microbrew magic and even some snacks to bring out all the flavors. It features three bottles of different domestic microbrews, plus pretzels, cheese sticks, and pistachios to help you reset after each sip.
All in all, this basket provides the perfect one-time tasting experience and it might just introduce you to a hidden gem of a microbrewery you would never have discovered otherwise.
Virtual Beer Tasting Games
21) Beer Trivia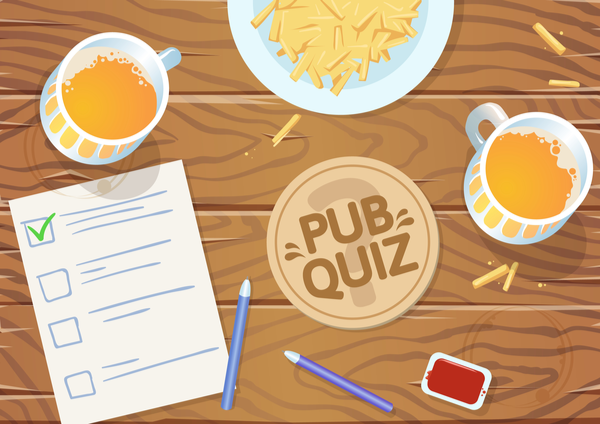 What activity compliments tasting beer better than challenging your knowledge of beer and learning far more things to appreciate about beer in the process?
Test your knowledge of beer history, your hop know-how, your command of brewing techniques, and oh so much more.
Best of all, engaging in beer trivia doesn't require any complicated online interfaces or fancy event schedules. You simply need some questions and answers.
Here are some beer trivia resources you can explore for your tasting. Swipe some questions to DIY your event or join a round of someone else's trivia night.
22) Virtual Beer Pong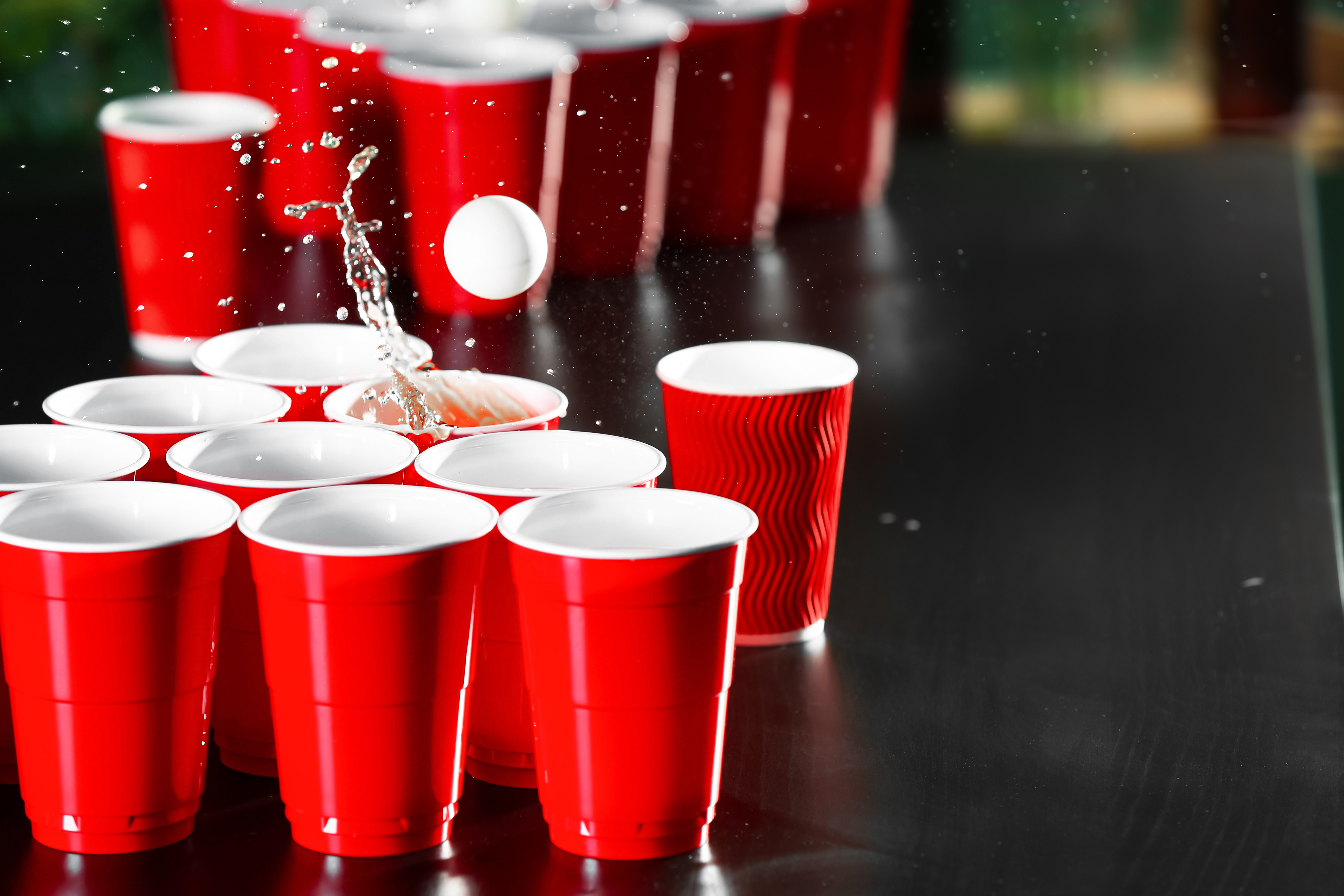 Virtual beer pong is not a physical impossibility. With a little creativity and determination, you can turn this incredibly physical game into a virtual experience. Easy to learn, open to anyone, and a great game to get into your competitive spirit — this activity can be added to any virtual beer tasting or game night to get your group hyped up.
You can play virtual beer pong on Zoom or by playing Game Pigeon's Cup Pong via iMessage.
Open your mind to adapting to the virtual format, and you'll be laughing and bonding in no time. Pong is the perfect way to start, end, or extend your virtual beer tasting.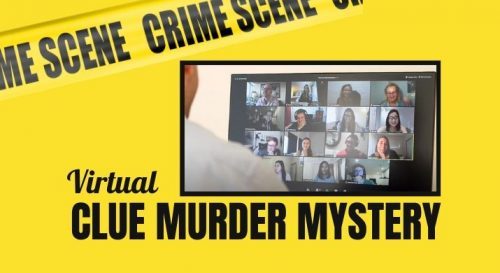 Are you up for the challenge of solving a murder mystery? And doing it virtually? And doing it in between sips of delicious beer?
We like your ambition!
The experts at Outback Team Building will whisk you away (figuratively) for an immersive escape of virtual intrigue. You'll examine clues. You'll study case files. You'll build on your colleagues' ideas and instincts to, with hope, crack the case of a horrific crime. In a recent testimonial from a team at Facebook, their team lead wrote,
"Our rep provided top-notch customer service by reaching out to me immediately after booking, as well as following up with me several days before our event, and after our event. I also loved just how easy it was to pay for our event and get all the details to self-host it!"
This virtual event combines video conferencing and a specially designed app to make every aspect of solving the mystery, from examining clues to reviewing case files, flow perfectly. You might just forget it's all happening virtually. (You might just forget it's all made up.)
Pro-tip: If you're feeling particularly invigorated after fighting crime during this event, then you might just enjoy one, or all, of these other virtual murder mystery ideas and events.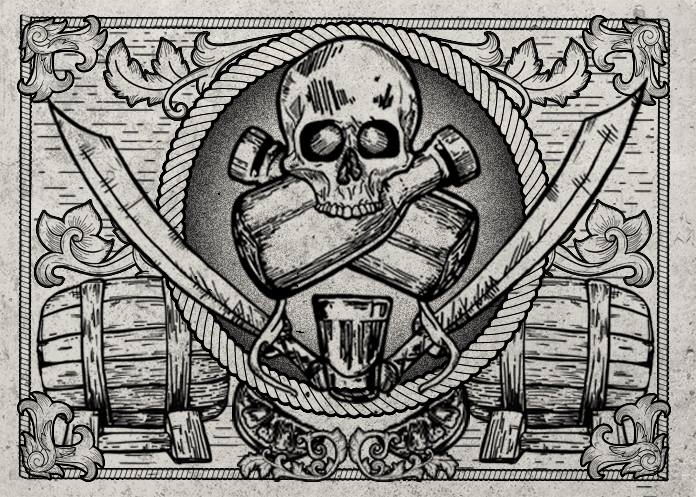 Arrrgh! This no-fuss, easy-to-launch, free digital game presents a series of card-based challenges that usually lead to, as you may have guessed, you and your guests taking a drink.
Add as many players as you like. Play for as long as you like. It's that easy.
Also, talking with drunk pirate accents will elevate the gameplay every time.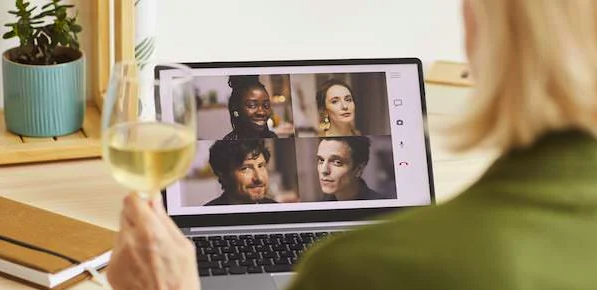 Your delicious beers deserve a side of adventure, don't you think? Look no further than a virtual scavenger hunt.
A Let's Roam virtual scavenger hunt will launch you into a shared adventure that gets you competing against (or collaborating with) your friends and co-workers across any distance. Their app makes it easy to romp around your own home, completing challenges and uncovering layers of fun you never knew you could find in your old living room.
This activity works well as either an epic start or an epic close to your virtual beer tasting. Just imagine what doing a scavenger hunt before or after beer looks like to make your decision on when to play.
Pro-tip: Love the thrill of the hunt? We have plenty of other virtual scavenger hunt ideas where this one came from.
26) Wizard's Staff / Open-Ended Beer Building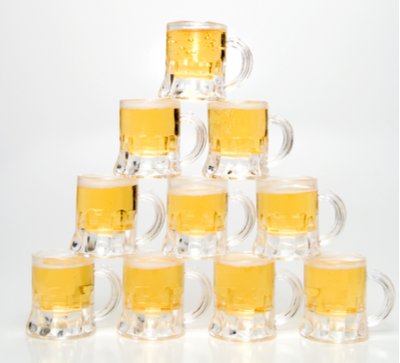 Drinking games don't get much easier than this. As you drain beer cans, stack them to create a tower, or a wizard's staff if you will.
If you've got bottles, you can always try making pyramids. And if you're not drinking enough to use your empties as materials, then simply grab a stack of cards and see how your beer tasting affects your coordination, building skills, and creativity. Just remember to drink plenty of water since no one wants to see you trying to cast spells in your office.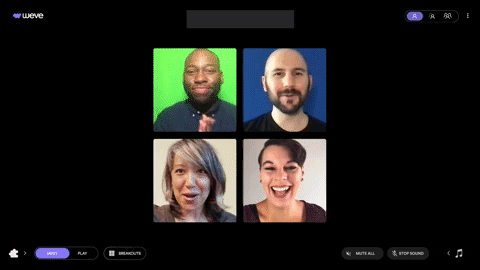 Perfect for year-round virtual team building and even special events like holiday parties, this all-in-one virtual events and meeting platform allows you to plan and host a memorable online experience for your team. Their ultimate virtual event has it all: pub trivia, Giphy challenges, a ridiculously hilarious drawing game, and so much more.
This virtual event really stands out when it comes to the event hosts. You decided to plan your virtual beer and game night to bond with your friends and co-workers, and your Go Game host will do everything they can to help you do exactly that. They will lead you through games and ask questions and follow-ups to keep everyone engaged and laughing.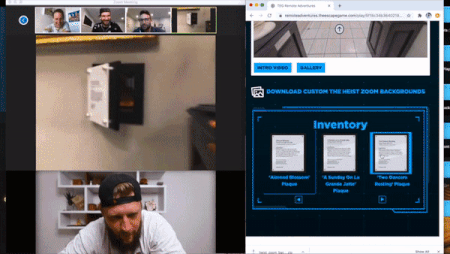 You can put your beer down, can't you? Just for a second? What if we told you a thrilling adventure was involved?
The good news is you can work through the challenges of his virtual escape room at home, and probably with a beer clutched in your hand.
The Escape Game's format allows you to virtually investigate a room using a game guide and a live camera feed that provides a 360° view of the environment. You'll get all the thrills of exploring ruins, seeking lost gold, and even breaking out of prison.
Pro-tip: Living to escape another day? Check out these other online escape room ideas.
Are you game for more games? Challenging games? Fun games? Immersive games? We've got everything you need to plan your next virtual game night—beer optional.
How To Host A Virtual Beer Tasting Event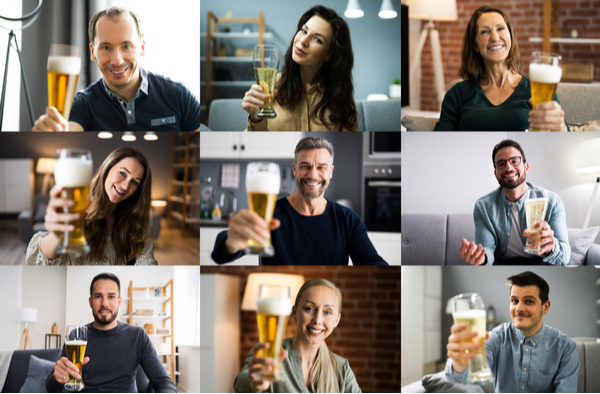 Step 1: Make your guest list. This will help you figure out what communication technology to use and also what beers to get.
Step 2: Choose the beers you want to taste. Going with one brewery will give your tasting a satisfying sense of unity while mixing it up provides an eclectic sense of adventure.
Step 3: Select your games and activities.
Step 4: Choose your venue, a.k.a. video chat/conference call service.
Step 5: Send your guests beer if shipping and delivery is an option where you live. You can also just send everyone a shopping list with the beers and food pairings you want to try.
Step 6: Gather and distribute your props and materials, such as tasting sheets, beer lists, and flavor wheels.
Step 7: Hop on your video or call, make a toast, and start tasting. Be sure to use your best beer snob voice as you discuss the nuances and flavors and colors of everything you sample.
---
People Also Ask These Questions About A Virtual Beer Tasting
Q: How do I host a virtual beer tasting?
A: Host a virtual beer tasting by choosing some beers, sending a list to your guests, and blocking off about an hour to hop on a video call to taste and discuss the brews. You can also take advantage of one of the expertly guided virtual beer tastings available.
Q: What do I need for a virtual beer tasting party?
A: All you need to host a virtual beer tasting is some beer, some fellow tasters, and a virtual communication platform where you can socialize and discuss your tasting experiences.
Q: Are there virtual beer tasting kits that I can order?
A: Yes, there are a variety of virtual beer tasting kits you can order from vendors such as City Brew Tours, Crate Joy, and Bravus Brewing Company. Find a list of ready-to-ship beer tasting kits in this guide.