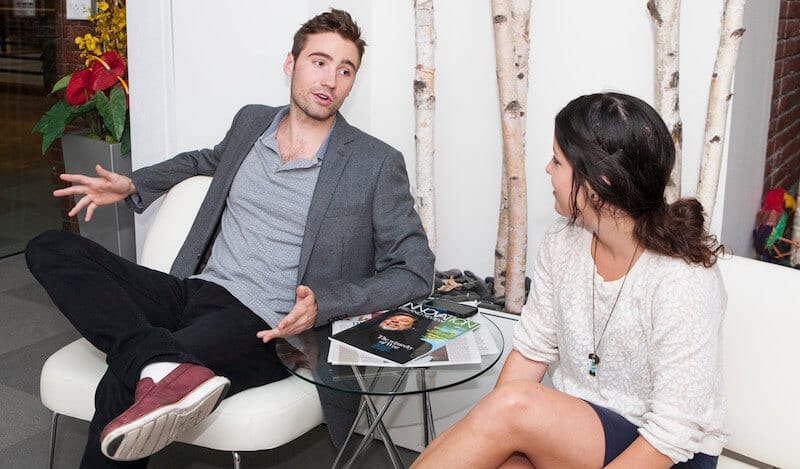 If you've had a boss who doesn't believe in regular one-on-one meetings, then the following excuses will probably sound pretty familiar:
"That's a lot of time on my calendar. I just can't commit to it every week."

"I'm not a micromanager. My team is capable of managing themselves."

"If my team needs me, they know how to reach me."
The problem with this line of thinking is that it misses the point completely.
To dismiss the one-on-one meeting is to do so at your own peril. As we lay out below, these meetings serve several critically important functions, not the least of which is to set your team up for success and overcome challenges before they become full blown problems.
Not to mention that if your team only engages with you when there's a crisis, your role becomes reactive rather than proactively supportive.
Our data suggests that managers who underestimate the importance of DRs are, unfortunately, rather common.
In our State of Company Culture Report – an in depth study of company cultures from a wide swath of industries across the U.S. – more than 60% of respondents said that they didn't receive feedback from their manager on a weekly basis.
And that's a shame, because regular one-on-ones are among the best tools in any good manager's repertoire.
Here's why.
Want to become a better professional in just 5 minutes?
The Case For One-on-Ones
In business, saying that meetings suck is kind of like saying that water is wet or the sky is blue. No one's going to argue with you.
But our general disdain for meetings also stigmatized the one-on-one or "Direct Report" (DR) meeting. As a result, most of us are neglecting this all-important management tool.
To be fair, committing to a 30 minute (or longer) meeting with all of your direct reports can take up a lot of valuable calendar real estate. So what makes the one-on-one worth it?
Funny you should ask…
They Save Time
It may seem counterintuitive, but it's true. A standing meeting with your boss or direct report enables you to solve problems as they arise or – even better – get ahead of them before they start.
They Create a Feedback Loop
A regular meeting helps create a dialogue between you and your direct report that provides critical data for managing your team. The team member will learn where they need to focus, and likewise, the manager can also adjust strategy based on the employee's input.
They Help Your Employees Prioritize
Your team's time is a finite resource – no different than the other resources you manage, like budget.
Just like you have to make choices about where to invest your budget, you have to prioritize how your employees invest their time. As a manager it's your job to help your direct reports determine the highest leverage activities and allocate their efforts accordingly.
They Help Employees Track Back to Objectives
For some employees, it's all trees and no forest.
That is to say, it's easy for employees to get bogged down by the details of daily execution. One-on-one meetings are a great to take a step back and make sure that their efforts are adding up to a bigger whole.
They're An Opportunity for Growth and Learning
By surfacing challenges, you and your direct report can work together on strategies to overcome them, and augment her skillset in the process. It's also a great idea to reserve some time for (or devote a whole session to) professional development, a critical piece of employee engagement.
They Help with Retention
Growth opportunities, communication, and tracking to higher goals are all ways to set your team up for success, which is a big factor in retaining employees.
But beyond that, one of the biggest benefits is that these meetings simply help demonstrate that you care.
By making the meeting a priority, you are saying that they are a priority, and reminding your direct report that you are there for their support.
This feeling goes a long way to creating a more dedicated, engaged team, one that's more likely to stick around for the long haul.
The Art of the DR
Now that we can all agree that one-on-one meetings are the bee's knees, it's worth noting that they are ONLY effective if you conduct them the right way.
Because different teams have different needs, we've sought out sage advice from three distinct manager types – The Sales Manager, The Director, and The C-Level Executive – to help you hold better one-on-ones.
Here's what they had to say.
Laura – Sales Manager
Laura is a Sales Manager at SnackNation, overseeing a team of consistently stellar sales account executives known as "The Wolf Pack." Here are her top tips for holding killer one-on-ones.
Consistency
One of the best things you can do is to hold yourself to the commitment on your calendar.
"Weekly meetings, scheduled at the same time, rain or shine, allow both parties to come prepared with questions on both sides and allows for brainstorming."
The regularity of one-on-ones enables deeper insight and more structured conversation than if her reps just grab 5-10 minutes of her time during the day.
Focus
According to Laura, it's important to keep in mind what one-one-ones are NOT. They aren't meant to be broad status updates. After all, there are more efficient ways to track metrics. Rather, one-on-ones should be about going deep on a few specific issues.
This means that preparation and focus are paramount.
"Coming prepared and not trying to do too much is the key to getting the most out of your one-on-one.

I try to focus on only a handful of opps to ask my reps about (versus the whole pipeline), so we have enough time to make progress on each."
Format
Laura advocates a half hour session broken out into 3 sections of roughly equal time – metrics, pipeline, and strategy.
Personal Touch
"It's also important to use each weekly one-on-one as a check-in.

It's helpful to connect and touch base with how they are feeling before we get into any of the metric driven conversation."
Biggest Mistake to Avoid – A Monolithic Approach
Laura warns that a one-size fits all approach is something to avoid in your one-on-ones.
"Each rep has different strengths and abilities.

It's important to identify them as a manager, so you can build upon them, while supporting them with any areas causing a bottleneck."
Brendan – Director of Member Success
Brendan manages a team of six on SnackNation's Member Success Team that includes managers and individual contributors. He meets with each of them at least once a week. Here are his best practices.
Give Direct Report's Ownership
It's hard to separate Brendan's one-on-one's from his management style – a servant-leader model that Brendan describes using his trademark sense of humor.
"I tell all my reps the same thing, that my job can be summed up by the line that Bono gave during Bruce Springsteen's Rock and Roll Hall of Fame induction ceremony. They call him The Boss, but he works for us.'"
In the context of a one-on-one, this means that he is there primarily to address their concerns and offer support.
This also means that it's up to the direct report to set the agenda. While Brendan comes prepared with a deep knowledge of their performance metrics, the focus is always on their needs.
Format
Brendan has six DRs a week, and limits them to either 30 minutes or an hour based on the position. But they always start and end the same way.
"I always start by asking 'How are you feeling?' and end by asking 'Is there anything else I can do for you?'"
According to Brendan, the first question helps him direct the conversation. If the rep is worried about something, that tells him where to focus first. The last question helps reinforce Brendan's role as a servant-leader, as well as provide additional support once the action items have been outlined.
Biggest Mistake to Avoid – Not Following up
According to Brendan, the only way to ensure these sessions are valuable is to turn your conversation into action.
"It's super important to follow through on the items that were discussed in the one-on-one.

Make sure to check-in on the progress of a certain area that was discussed and point to the improvements or similar behavior."
This imperative goes both ways:
"If it's a request that you need to follow-up for them you better have an answer or explanation.The one-on-one is to develop trust between both parties and you need to do your part too.

As The Boss says, 'Two hearts get the job done.'"
Ryan – President and COO
Ryan is SnackNation's President and COO. He meets with every department head at the company, mostly VP and Director level employees. Here's his advice for the C-Level exec.
Set Direct Reports Up for Success
In Ryan's view, providing your direct reports with the support they need should be the number one goal for all of your one-on-one meetings.
"The top reason to hold one-on-one meetings is to ensure that every member of my team feels like they are in a position to achieve their goals and have the game plan to be successful.

No team member should feel like they are spinning their wheels or under water. This is the opportunity to ensure they have a plan that they are confident they can achieve and good direction to move forward – with my full support."
Agree Upon the Agenda
Instead of requiring his direct reports to arrive to the meeting with talking points, Ryan believes it's important to agree upon the agenda beforehand. To make sure this happens he has his team send him their top line items ahead of time so he can make sure their meeting is focused on exactly the right things.
"I request that my direct report provide me with an agenda prior to the meeting so that I can be best prepared to help address their issues or provide answers to their questions.

I will sometimes send the agenda back with additional issues that I believe are important for us to review."
It might take a little back and forth, but this exercise helps you both focus in on the most important items and maximize your time together.
Listen and Ask Questions
For Ryan, it's important to remember that your direct reports know more about the challenges they're facing than you do, since they're the ones living and breathing them. For that reason, it's best to listen to what they have to say.
"Don't assume you know everything that's going on or what they have or haven't already done relating to a specific issue or topic.

Make this an opportunity for them to be the thought-leader and identify ways to more successfully achieve their goals."
Armed with all of the information, you can now move forward together towards a solution.
Push Your Team to Grow
Another less obvious benefit of one-on-ones are the growth opportunities they provide. Because you are constantly reviewing challenges, there's never a scarcity of opportunities.
"The other main reason for one-on-one meetings is to push my team to think outside the box and really strive to meet and exceed their goals."
Ryan takes a Socratic approach to his team's growth. Rather than provide answers, he has his direct reports dig deeper by asking pointed questions.
"I use this time with them to ask probing questions and to get them to see things that they might not have seen by themselves.

This isn't the time for me to come in with all the ideas – rather it's a way to use the conversation as a guide towards identifying better and innovative solutions."
Biggest Mistake to Avoid – Don't Assume You Know Better
Since Ryan's primary role in these meetings is to provide the support his direct reports need to solve their problems and hit their goals, the biggest mistake he sees managers make is acting like they always have the right answers.
"Too often managers try to be the 'smartest person in the room' and simply give their own answers or solutions, instead of engaging the other person to help them come up with the answer or solution to move forward.

In my position, I'm working with a team of VP's who are the real experts – not me. They are the ones that know how to run their own team or department.

The value I can most often provide is to best understand what obstacles are preventing them from achieving their goals and objectives."
Sample One-on-One Agenda
As you can see, best practices for one-on-ones can vary depending on the situation, but there are few common threads that run throughout. Here's a sample template agenda with the basics for a 30 minute meeting. Feel free to modify it to fit your needs.
30 Minutes Total
1. Personal Check-In (~2 minutes)
Start by gauging how the week is going for you direct report. Are they stressed? Excited? Wary? A question like "How are you feeling?" is a great way to help direct the ensuing conversation.
2. Topline Items (~20 minutes)
Have your direct report come prepared with three of items to discuss. These are the things that they need help with or need you to weigh in on.
This is your chance to brainstorm, troubleshoot, and come up with solutions for the problems they are facing. Remember, your job is to help them eliminate the roadblocks that are impeding their progress.
This doesn't mean giving them the answers. Often, it's listening and asking pointed questions that help your direct report arrive at the right solution.
3. Goal Completion/Crucial Results for the Week (~5 minutes)
Now is your chance to briefly check in on how your direct reports are tracking against their goals and make sure that they know exactly how they are going to make progress for the coming week. Help them identify and prioritize the three highest leverage activities. This time is also a chance to remind them to take a step back and take stock of the bigger picture.
4. Action Items (~2 minutes)
Once the way forward is clear, now's the time to assign action items and set deadlines. Make sure you're clear on responsibilities, there should be no ambiguities.
5. Ask, "How Else Can I Help You?" (~1 minute)
Finally, take a minute to ask this simple question. Doing so ensures that you're always providing your direct report the full support they need to be successful.
How do you make the most out of your one-on-one meetings? Let us know in the comments below.
Motivating & Managing Employees Resources: