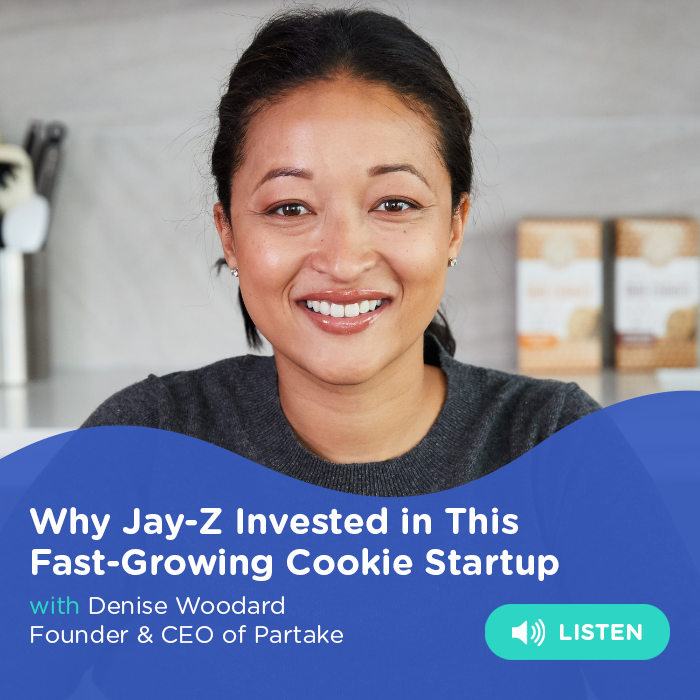 How many grammy winners can you name as investors? 
If it's zero or one, Partake Foods has you beat. Because this great tasting, allergen-free cookie brand counts both Jay-Z and H.E.R. as marquee investors. 
And it's not just celebrity investors who are taking notice. Today Partake is available in more than 2,700 stores (including major retailers like Whole Foods and Target), and has been featured everywhere from Forbes to the Today Show.
Not bad for a brand that launched out of an apartment barely three years ago. 
So how did Partake do it? To find out, we sat down with Denise Woodard, the CEO and founder of Partake Foods. 
One reason Partake has resonated so deeply is the idea of inclusion that's core to the Partake story. Denise's daughter suffers from a rare combination of food allergies, and her initial goal was simply to create a treat that her daughter, and kids like her, could actually enjoy. 
Partake was also one of the inaugural brands in SnackNation's Amplify box, a special curation highlighting and celebrating BIPOC- and women-founded snack brands.
The idea of inclusion extends to Denise as a leader too. Like any founder, Denise feels the pressure to do right by her customers and investors. But she also describes a deeper responsibility she feels to pave the way for women founders and founders of color through Partake's success. 
You can tell from speaking to and learning about Denise that she is a skilled leader, and she tells us about the leadership style that she's honed over the years, first as an executive at Coca-Cola, and now as the leader of a high-growth startup. 
Denise also shares when it's time for your business to take venture money (and when not to), Partake's early re-brand, plus the mindset brand founders need to build their brand in a pandemic. 
Links
Join our Exclusive Facebook Group!
What's your biggest takeaway from the episode? Join our invite-only, private Facebook group just for Brand Builder Community members, where you can connect with fellow entrepreneurs and founders, crowdsource ideas, share best practices (or lessons learned), and get your most important questions answered. Join now!
Facebook.com/groups/brandbuilderpod
Brand Builder is a co-production of SnackNation and ForceBrands.