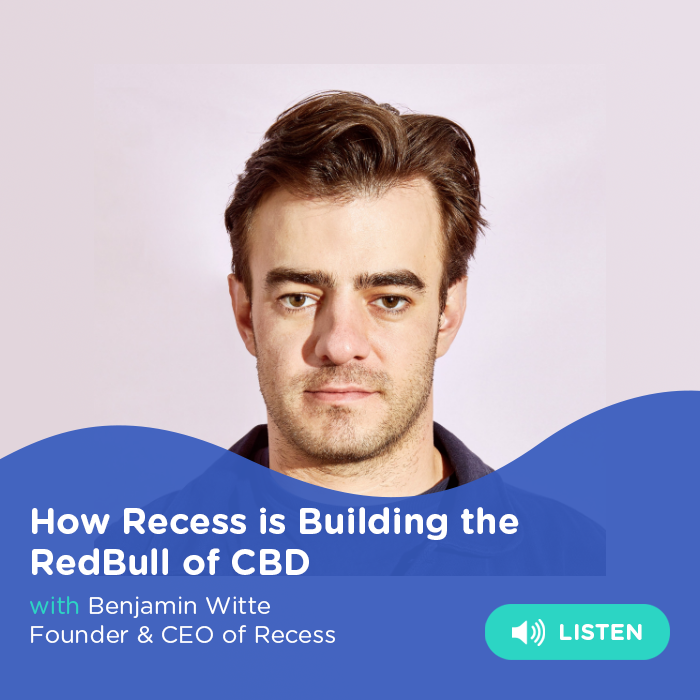 Recess is a CBD beverage brand that almost never talks about CBD.
How is this possible? Because founder and CEO Benjamin Witte knows that the best beverage brands don't focus on an ingredient… they convey a feeling. 
Case in point: Redbull. You may have noticed that with all their talk of energy, action sports, and giving you "wings," Redbull never mentions caffeine. Because in the beverage space, the feeling is more powerful than the ingredient.
So why should the CBD category be any different? 
Founded in 2017, Recess is a consumer wellness brand creating products and experiences designed to help people feel balanced, centered, and inspired so they can be their most productive and creative selves. They make sparkling water infused with calming hemp extract and adaptogens for balance and clarity.
Benjamin and the Recess team have their sights set on becoming the next Redbull. To do that, they're building their brand around the feeling of calm and tranquility – aka, "taking a recess." 
Recess also recently did something pretty unexpected – they launched an apparel collection called "Reality Wear." In this episode, you'll learn how this all ties back to Ben's philosophy on brand marketing. 
On top of that, you'll learn what every CPG brand should borrow from Silicon Valley, and why the era of building a brand by doing demos in Wegman's is over (plus what to do instead). 
Links
Join our Exclusive Facebook Group!
What's your biggest takeaway from the episode? Join our invite-only, private Facebook group just for Brand Builder Community members, where you can connect with fellow entrepreneurs and founders, crowdsource ideas, share best practices (or lessons learned), and get your most important questions answered. Join now!
Facebook.com/groups/brandbuilderpod
Brand Builder is a co-production of SnackNation and ForceBrands.