Around the country, something is happening.
Chalk lines are being laid out on immaculate emerald fields. Portable gas grills are heating up in truck beds and in stadium parking lots. Grown men and women are painting their faces in bright colors. It can only mean one thing.
Football is BACK.
But this glorious time of year brings a temptation to indulge in some seriously unhealthy eating.
Greasy pork rinds, fried chicken wings, and calorie-laden pizza are all staples of football tailgates and Sunday viewing parties. For the health conscious among us, it can be a challenge to keep health and nutrition goals on track while still enjoying the fun of football Sundays.
Luckily you don't have to sacrifice taste on game day. There are tons of amazing healthier alternatives that punch above their weight in the flavor department.
Here's our secret playbook featuring the best healthy snack alternatives for game day.
1. Instead of Wings, try… Field Trip Jerky
Tender, juicy, and packed with protein, Field Trip's artisan crafted jerky is a satisfying, all-natural alternative to typical game day fare like wings.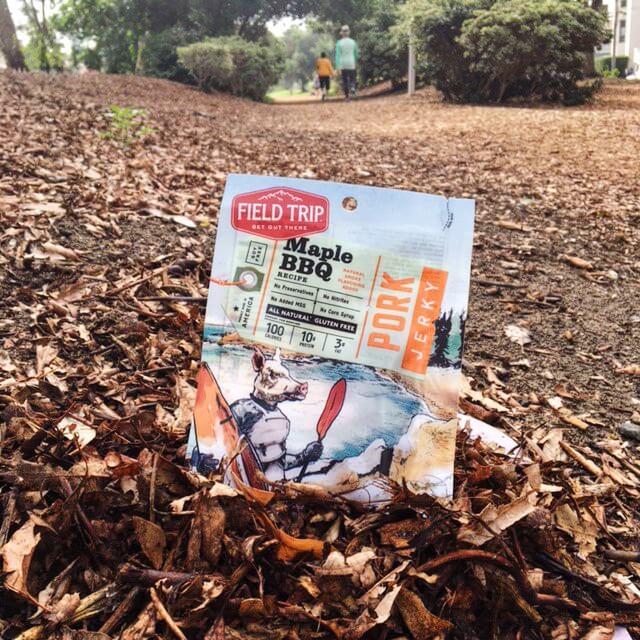 The best part about Field Trip's jerky is that it's chemical free – no preservatives, no Nitrites, and no MSG. Even their sweeter varieties (like their delicious Maple BBQ Pork) are made with pure maple syrup and a touch of natural brown sugar – never with high fructose corn syrup.
Signature flavors like toasted sesame beef and cracked pepper turkey will satisfy even the pickiest carnivores.
2. Instead of Potato Chips, try…  Dippin' Chips Veggie Dippin Chips
These chips are certified gluten free and made with a blend of delicious veggies, like carrots, spinach, and kale. It doesn't get healthier than that.
And Dippin' Chips isn't just a clever name – their concave shape enables maximum dippage. Try them with tzatziki, salsa, or guac for next level football snacking.
3. Instead of Tortilla Chips, try…  Maya Kaimal Naan Sea Salt Chips
First introduced to India by Persians more than 700 years ago, Naan has become a staple of Indian cuisine. Maya Kaimal have recreated the classic Indian flatbread in this tender, versatile chip.
Light and flame-baked, Maya Kaimal's naan chips are made with whole grain flour and topped with a hint of all-natural sea salt. Great on their own, or paired with hummus, cheese, or guacamole.
They call it bliss in a chip – take a bite and see why.
4. Instead of Cheeseballs, try… Rob's Brands Popcorn, chips & puffs
Whenever you see the Rob's logo on one of their many products, you can be sure of a few things – you know it will be certified Gluten Free and Kosher; you know it will contain only natural ingredients; and of course, you know it will be absolutely delicious.
Rob's Vegan is the brainchild of gourmet snack food visionary Robert Ehrlich, who long ago decided that you don't need to compromise bold taste in order to make a healthier snack.
Try their Cauliflower puffs for a better-for-you spin on the classic cheesepuff.
5. Instead of Nacho Chips, try… Lundberg Fiesta Lime Rice Chips
Organic rice flour makes Lundberg Fiesta Lime Rice Chips gluten free. A hint of lime and salt makes them delicious.
Use these chips to make nachos or to add a little crunch to soups, salads, or chili.
Try this recipe for cucumber salsa with honey and lime for a zesty and refreshing halftime pick me up.
6. Instead of Party Mix, try… The Good Bean Chickpeas
The Good Bean is all about the humble, incredible chickpea. These versatile legumes are famous for their nutty, buttery flavors, and are probably most familiar in dishes like hummus and chana masala. By roasting them to a light crisp, TGB has come up with a completely new way to enjoy this protein-packed snack.
Their roasted chickpea snacks come in a variety of irresistible flavors, including Mesquite BBQ, Cracked Pepper, Smoky Chili, and Sea Salt.
Each serving packs 4 grams of protein and fiber in just 90 calories, so you can snack all game long. Plus, all Good Bean snacks are certified non-GMO, vegan, and gluten, nut, and soy free.
7. Instead of Starburst, try… Torie & Howard Chewies
Former all-pro running back Marshawn Lynch is famous for eating Skittles during games, but he probably would've been better off with these all natural Chewies from Torie & Howard.
These 100% organic fruit chews contain all-natural ingredients, and never any additives or preservatives. That means no artificial dyes, nuts, GMOs, or corn syrup. It's as clean as candy gets.
Choose from a variety of flavors, including meyer lemon and raspberry, pomegranate and nectarine, or blood orange and honey.
So there you go. Seven awesome snacks to make this football season the most delicious yet.