It's safe to say that the average employee doesn't truly appreciate how much work goes into throwing a company retreat.
Let's face it, most employees see a company retreat as a day off. To them it's just a chance to get to know their co-workers, participate in a few team-building activities, and maybe down a glass of rosé (or five).
If only they knew.
For the Office Managers, Executive Assistants, Admins, and HR staff tasked with throwing these events, it's a much, much different experience.
"It can be a lot of pressure," says Liza Goldberg, former SnackNation Vibe Manager turned Event Marketing superstar. "Whether it's a planning session for executive leadership or a fun celebratory getaway for the company, it can feel like everything rests on your shoulders."
And to be clear, it's the Office Manager, the Executive Assistant, or the Admin who are most often tasked with planning these offsites.
According to data from our recent State of the Office Manager and State of the Executive Assistant reports, 84% of Office Managers named event planning as one of their major responsibilities, while a whopping 90% of Executive Assistants told us the same.
When they go well, company retreats can provide a ton of value. Getting out of the office and into a new setting can inspire fresh ideas, and bringing people together from different sides of the org helps break down silos and spurs new collaborations. Plus, retreats provide opportunities to create and strengthen social bonds between team members, an essential ingredient of employee engagement.
But when they fail, they tend to fail epicly. And everyone will let you know if they're unhappy.
In order to make sure your next company offsite is a smash with your team, we've enlisted the help of our resident retreat experts – that's the aforementioned Liza and our current Vibe Manager, Alexis Norman.
Together they've thrown a string of memorable and productive company retreats, and they're here to share the secrets of their success.
Clarify Objectives from the Get-Go
Company retreats take a lot of planning and can get expensive, so it's a good bet that most companies don't do them just to do them. There's usually a specific goal in mind.
The reasons for coordinating one are many and varied.
It might just be to blow off steam or celebrate after hitting a milestone. It might be to brainstorm for a very specific project or upcoming challenge.
It might be to foster team bonding or increase interdepartmental communication. It might be to reinforce company values and culture.
It might be a combination of all those things!
The earlier you figure out what that goal is, the better. Clear objectives will help guide all your decision making as you plan and execute this event.
While that might seem obvious, you'd be surprised how often executives assume that you're on the same page in terms of goals without actually discussing them with you. Meanwhile, you're left guessing.
As with so many other problems, the solution lies with communication. As soon as your boss raises the idea of a company retreat, ask pointed questions:
Is the goal for everyone just to have a good time?
What are we looking to get out of this? A bunch of new ideas for Q3?
Is this about structured team building? Or more like casual social bonding?
If there are multiple objectives (very possible) make sure you and your boss identify the priority. That way if you have to make a tough call about budgets or time, you can make the right choice.
Liza elaborates:
"For one of the offsites I planned, it turned out that brainstorming was a much more important part of the event than I had initially realized. We provided some paper and pens, but not enough, and no one brought their computers. A lot of the notes people took got lost."
This could have been avoided if Liza had a clearer sense that walking away from this retreat with some solid ideas from this brainstorm was a top priority.
Zero in on a Budget
Let's get real for a second. When it comes to retreats, odds are your boss will ask for a Rolex, but give you the budget for a Casio.
Budgeting will be one of the biggest challenges you'll face when throwing your first few company retreats. Again, prioritizing helps:
"No matter what, you're going to have work within a tight budget," Liza explains. "Knowing your priorities will help you determine if you need to skimp a bit on lunch in order to book that lavish event space, or vice versa."
Another key part of working within a tight budget – managing expectations. Sometimes it might feel like your boss stepped right out of "My Super Sweet 16." You can't have the Ferrari cake and the diamond tiara. Being realistic about what you can pull off within your budget will prevent major disappointment.
Another tip – read the fine print!
"Definitely make sure that you go over all the line items in the contract – especially when it comes to food and alcohol," says Alexis. "Venues are masters at sneaking in additional charges that somehow blow up your budget."
Book a Venue ASAP
Booking a venue should be one of the first things you do. Where you hold your event can be a make or break decision in terms of how it's received. For this reason, it's super important that you book as early as possible to avoid getting stuck with a setting that just doesn't work. Plus, the earlier you book, the better the deal you'll get.
How do you know you have the right venue? The size of your gathering will determine a lot, but again, it really comes down to goals.
Choose a venue that supports the activity you want to encourage. If it's all about bonding, you'll need a space with activities and places to eat and socialize.
Pro-Tip: If your team includes members who live in other parts of the country, think about ways in which you can foster an engaging virtual retreat for remote teams who may not be able to attend the event in person.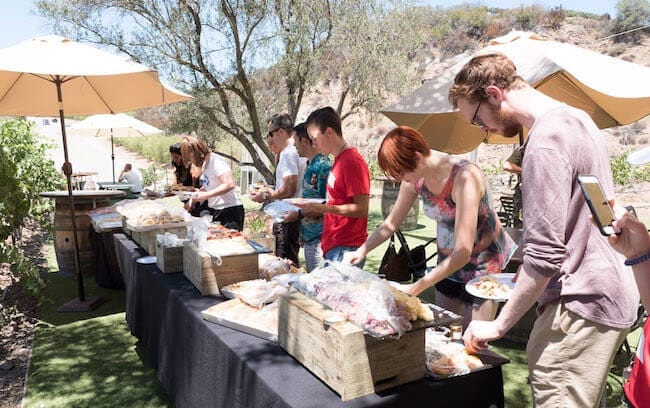 If focused work like brainstorming is more the point, a poolside venue, for example, might not be the best choice. Instead, make sure your venue has some quiet space that's relatively distraction-free.
Liza also advocates taking advantage of the unique things that your city or region has to offer.
"We're based in LA, and a lot of our team hails from the midwest," Liza says, "so we make it a point to hold our offsites at venues that let our team experience the awesome things about California. That might mean going to the beach in Santa Monica, a house in Malibu, or a local winery so people can experience the great weather."
If you live near the mountains, consider an off-season getaway at a local ski resort. If you happen to be near a thriving downtown, takeover a hip restaurant or an art space. Find the things that make your area unique, and highlight them.
Another factor – a venue that has experience hosting company events.
"I can't tell you how helpful it is to work with a venue that has done a retreat before, especially if it's your first time planning one of these," Alexis explains. "Look on their website and see if they have staff who specializes in company events. Look for a 'Corporate Event Coordinator' or 'Corporate Services' contact. These are the people who can lend their experience to help make your event a hit."
Visit the Site Beforehand
If at all possible, do a walk through to get the lay of the land. It will help you avoid a litany of potential pitfalls that you hadn't even considered.
Here's Liza again:
"If there's one thing I wish I did before throwing my first offsite, it would be to visit the site on my own in advance, just to get the lay of the land," she explains. "It would've prevented a few of the headaches that we ran into, like buses getting lost or not knowing where to park."
Connect Your Retreat to Your Company's Purpose
Sometimes getting your team excited about an offsite is harder than you think. Even though these events are meant to be fun and relaxing, there will be a few people on your team who see it as a distraction from the work they should be doing, or would rather just have a day off.
Drive internal buy-in by making your retreat purpose driven.
"At our most recent retreat, we put people together in teams, and had them compete for a charity of their choosing," Alexis explains. "Giving people a purpose and a cause to rally around really helped get people excited and engaged – it didn't seem like a waste of time to anyone."
Appoint a Safety Officer
Going off site for a retreat does entail a little more risk than your ordinary day-to-day.
True, it's unlikely that you'll be putting your team directly in harm's way, but you will be in a new environment and the potential for injury or other calamities is heightened. (Especially if you throw alcohol in the mix.)
It's a good idea to plan for the worst just to be safe. That's where a safety officer comes in.
Your safety officer should:
Agree to stay sober throughout the day so he or she can drive in an emergency.
Know the location of the closest hospital.
Bring an office first aid kit.
Know CPR.
The safety officer shouldn't be you. That way, if your safety officer does need to drive someone to the hospital, you're still there to help run the event.
Please the "Influencers"
No matter what you do, you can't please everyone – so be strategic.
"Part of it just comes down to knowing your team," Liza explains. "At every company there are a handful of 'influencers' whose opinion will rub off on others."
Basically, if they're not happy, no one's happy. Figuring out who your influencers are and doing the little things to keep them bought-in is essential.
Arrange Transportation
Having all your team members take their own cars is usually not an option. It's too chaotic, you probably won't have enough parking onsite, and everyone will arrive at different times and throw your schedule out of whack. (If you live in a city with good public transportation, most of your team might not even own cars.)
The Swoop app is one great option that we've used in the past to get people to the office and back safely.
"We used a great service called Swoop to get our team to the site," Alexis explains. "The best thing about going with them is that they partner with a lot of the event spaces in town, and actually had a lot of advice about how to make the event a success."
Plan the Day to a T, but Build in Buffer Times
Supply your team with an itinerary. This will help the event run smoothly, but build in buffer times like water breaks, cocktail hours, and socializing. There will always be unforeseen delays, so baking in that flexibility will help keep your event on the rails.
Be Sensible About Alcohol
To drink, or not to drink?
Whether or not your offsite includes drinking is up to management, and therefore outside of your control. But if your company is providing booze at your retreat, make sure to have plenty of water available. A good rule of thumb is to have as much water as alcohol. So if you have 15 bottles of wine, have 90 bottles of water on hand too (assume six glasses per bottle).
Another key – don't forget to serve food before you bust out the alcohol. Drinking on an empty stomach is a recipe for disaster. (And for the record, jello shots do not count as food.)
And of course, whenever people are drinking, no driving. It's never worth it. No exceptions.
Check out our post on drinking at work for more tips.
Enjoy Yourself
Finally, keep in mind that company retreats are for the benefit of the entire team. And you know who's a super important part of the team? You!
Sure, easier said than done. As the person running the event, you'll inevitably feel a greater sense of responsibility. But you should still make it a point to participate in activities, sample some of the food, and connect with your teammates.
Liza elaborates:
"Whether it means hiring a cleaning crew so that you're not stuck at the venue until midnight cleaning up, or if it's just taking twenty minutes for yourself to breathe, enjoy some of the food and have a glass of wine, you need to make sure you get something out of the event too. Remember these events are for the entire team – and that includes you."
What are the most important things to keep in mind when planning a company retreat? Anything we missed?
Let us know in the comments below.
Want to become a better professional in just 5 minutes?
Office How To's Resources: