The holidays has arrived, along with the season's most beloved treats, sweets and big feasts. It can be tough for even the most determined healthy eaters to stay on track but a mindful holiday can be the key to staying on track with your health and wellness goals. Swap your holiday favorites with better-for-you options that leave you glowing bright and enjoy a holly, jolly holiday without the guilt.
Our SnackNation snack experts scour hundreds of delicious, healthier snacks every month to curate SnackNation's monthly snack boxes. We've asked them which grab-and-go options they're excited about this holiday season and rounded  up our favorite holiday-inspired snacks and treats that you can easily make at home. Gather your family and friends and turn your healthy holiday snack prep into a seasonal tradition! 
Holiday Snacks: On-the-Go Bars
Snack bars are a great way to pack serious nutrition into an easy-to-grab snack. Plus, they're a perfect make-ahead solution for an extra busy holiday season. Whether you're shopping for your loved ones, prepping for holiday festivities, or even just heading to work, these bars are our top picks for satisfying hunger on the go.
SnackNation's Grab-and-Go Pick: Best Bar Ever
For such a bold name, Best Bar Ever really lives up to the hype. Their Peanut Butter Crunch bar is packed with 10 grams of premium whey protein and naturally sweetened to create a delicious lower calorie bar. Unlike most bars that use artificial ingredients and fillers, Best Bar Ever uses a unique mix of real food ingredients like chicory root and roasted peanuts.
Maple Cinnamon Oatmeal Breakfast Bars
With so many things on your holiday to-do list, don't make breakfast duty one of them. Prep these Maple Cinnamon Oatmeal Breakfast Bars from Iowa Girl Eats at the start of your week and look forward to a comforting treat that's naturally sweetened, gluten-free and dairy-free.
Healthy Pumpkin Chocolate Chip Oat Bars
With only 128 calories per bar, these Healthy Pumpkin Chocolate Chip Oat Bars from Ambitious Kitchen will have your home smelling like the holidays – without the guilt! Made with oat flour and absolutely zero butter, these bars harness the benefits of pumpkin like high Vitamin A and high antioxidants. Plus, they're vegan and gluten-free!  
Apple Cinnamon Energy Bars
These Apple Cinnamon Energy Bars from Bake.Eat.Repeat are touted as a healthy snack for kids disguised as a treat, and we couldn't agree more! The indulgent apple pie flavor comes from real apples and cinnamon spice, and the flax meal and dates add serious hunger-satisfying fiber.
Cranberry Almond Protein Bars
If you're looking for a bar with crunch, these Cranberry Almond Protein Bars from Gimme Some Oven are the perfect choice. Packed with whole nutrient-rich almonds and antioxidant-boosting cranberry, it takes just 30 minutes to make these gluten-free snack bars.
Holiday Snacks: Sweet Treats
With cookies, pies and holiday treats abound, it can be hard to resist indulgent sweets during the holiday season. If your sweet tooth is hankering for festive desserts, opt for these better-for-you options that seem naughty but are actually packed with clean ingredients.
SnackNation's Grab-and-Go Pick: Awake
Energy-boosting chocolate? Dreams really do come true! AWAKE bites combine decadent milk chocolate with power-packed caffeine to create the ultimate sweet-treat-pick-me-up hybrid. Plus, the small size keeps portion control in check so you can satisfy chocolate cravings with just a few bites.
Holiday Spiced Pecans
Did you know that pecans are heart healthy, great for reducing cholesterol and help improve digestion? These Holiday Spiced Pecans from The Real Food Dietitians harness the benefits of pecans with a festive combination of maple syrup, cinnamon, ginger, cloves and nutmeg. Offer these beautifully-roasted pecans after your next holiday dinner or make batches as holiday gifts for family and friends.
No-Bake Gingerbread Cookie Stars
What's better than a gingerbread cookie during the holidays? Chewy and indulgent gingerbread cookie dough! These Gingerbread Cookie Stars from Raw Manda are safe to eat, gluten-free and vegan. It takes just ten minutes to form these into decadent truffle balls or festive stars and brighten any holiday dessert table.
Pomegranate Dark Chocolate Bites
All you need to make this elegant festive treat is three simple ingredients and 10 minutes of prep time! These Pomegranate Dark Chocolate Bites from This Healthy Table combine the antioxidant power – and bold flavor – of juicy pomegranates with rich, creamy dark chocolate for a fruity dessert worth raving about.
Healthy Cinnamon Carrot Cookies
These Healthy Cinnamon Carrot Cookies from Baking Ginger taste just like carrot cake, without the guilt. Vegan and gluten free, these cookies are packed with fresh, antioxidant rich carrots and rolled oats for a deliciously soft cookie that's perfect for a midday snack or breakfast bite.
Holiday Snacks: Late Night Noshing
During the chilly holiday season, nothing quite beats curling up at home with a classic holiday movie and your favorite snacks. Dive into satisfying crunch with these better-for-you snacks that deliver delicious flavor.
SnackNation's Grab-and-Go Pick: Popcorners Kettle Corn Chips
This popcorn-chip hybrid from Popcorners combines everything you know and love about kettle corn popcorn with better-for-you, all natural ingredients. Salty, sweet and made with just four ingredients, these vegan, gluten-free and non-GMO popcorn chips make it easy to finally indulge in your favorite carnival classic!
Crunchy Roasted Chickpeas
Chickpeas are loaded with clean, plant-based protein and rich fiber. Plus, their addictive crunchiness and nutty flavor make them the perfect alternative to less healthier options without skimping on flavor. These Crunchy Roasted Chickpeas from JoyFoodSunshine are gluten free, dairy free and sugar free and their salty flavor comes from natural spices you can find in your pantry.
Baked Veggie Chips
Eating healthy doesn't mean skipping out on your favorite snacks, it means making your favorite snacks healthy! These Baked Veggie Chips from Wholefully come together with just a few ingredients like sweet potatoes, zucchini and summer squash while still delivering the salty, savory crunch of your favorite potato chip.  
Apple Nachos
These Apple Nachos from Trail and Eater turn the classic cheesy appetizer on its head with a healthy, dessert-style rendition! Apple slices as tortilla chips, peanut butter instead of salsa and chocolate chips in place of cilantro, this fruity combination is a must-try. Plus, it's vegan, gluten-free and takes just five minutes to make.
Peanut Butter Banana Cups
Bananas are loaded with potassium, fiber and a range of nutrients, and their naturally sweet flavor make them the perfect sweet snack substitute. These Peanut Butter Banana Cups from Honestly Yum combine naturally sweet banana, salty peanut butter and rich dark chocolate for a deliciously sweet snack trifecta.
Holiday Snacks: Party Favorites
The holiday season is the perfect time to gather friends and family for celebrations complete with laughs, memories and, of course, delicious food. These appetizers guarantee a memorable spread for all your moments of entertaining. We've picked the best better-for-you options that leave guests glowing.
SnackNation's Grab-and-Go Pick: Nora's Seaweed Snacks
Combine tasty vitamin-rich seaweed with the savory crunch of tempura and you get Nora's Seaweed Snacks. This puffy chip alternative is bound to be a conversation starter with a texture and flavor that is truly one of a kind. Plus, seaweed is high in vitamins A, B6 and B12 as well as protein, iron and fiber. But the main reason we love these? They're delicious.
SnackNation's Grab-and-Go Pick: Harvest Snaps Wasabi Ranch
Harvest Snaps are the real deal – made from wholesome green peas, red lentils and black beans straight from the farm, they're transformed into crunchy, savory puffs that are bursting with flavor. Their Wasabi Ranch flavor is a crowd favorite for being creamy, zesty and altogether unforgettable.
Cashew Chicken Lettuce Wraps
Thai flavors, crunchy cashews and fresh lettuce come together in these Cashew Chicken Lettuce Wraps by As Easy as Pie. It takes just 10 minutes to assemble these taco-style wraps and the leftovers – if you're lucky to have any – are perfect for lunch or dinner.
Sweet Potato Chips with Garlic Aioli
Sweet potato has made its mark as a potato alternative – and for good reason! Just one cup provides nearly half of your daily Vitamin C and 400% of your recommended Vitamin A. These Sweet Potato Chips from Life Tastes Good are crunchy, sweet and vitamin-rich while the garlic aioli dipping sauce offers a bold kick.
Caprese Salad Christmas Wreath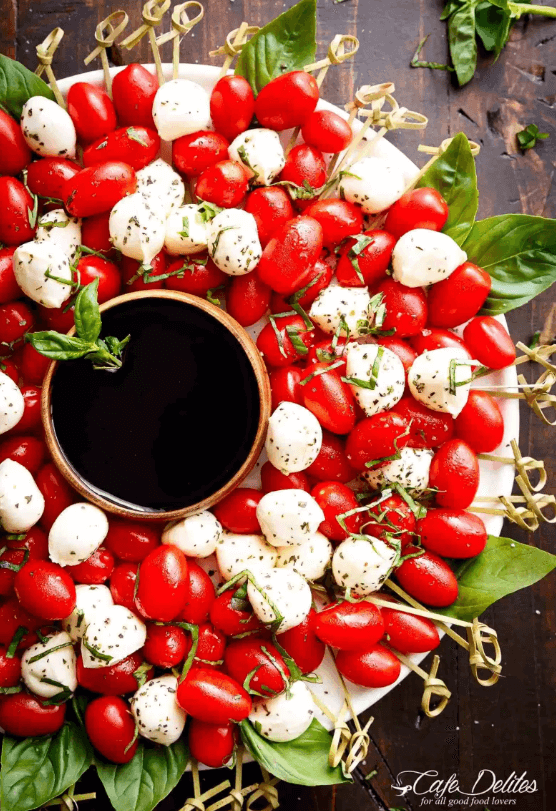 Delight your guests with an appetizer that looks as great as it tastes! This Caprese Salad Wreath from Cafe Delites combines refreshing grape tomatoes, dried Italian herbs and fresh mozzarella for a light appetizer that beautifully displays the season's classic colors.
Pumpkin Sage Hummus
Hummus is a crowd favorite dip that boasts serious plant-based protein, high fiber and inflammation-fighting ingredients. This Pumpkin Sage Hummus from Two Healthy Kitchens gives the popular appetizer a holiday twist with pumpkin and fresh sage.
What are your favorite holiday-inspired healthy snacks? We want to know! Let us know in the comments below.