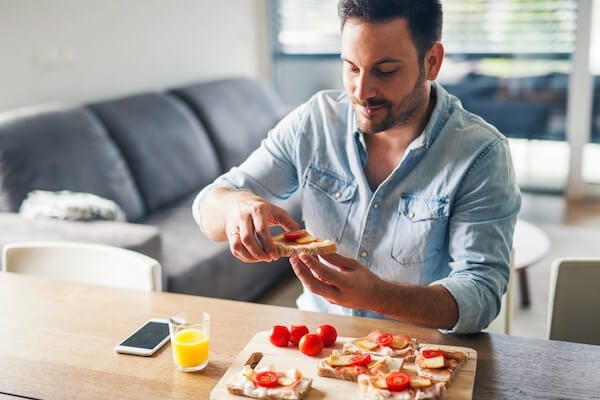 Healthy and savory – seems like a bit of an oxymoron, doesn't it?
Well, it doesn't have to be!
Get Your Free Healthy Snack Recipes Downloadable
Maybe you're trying to watch your sugar intake and are tired of sweets and treats.
Perhaps you don't have much of a sweet tooth and need something new to snack on.
Hey, we hear you! At SnackNation, we believe people should be empowered to eat whatever keeps them energized and satisfied, all the while maintaining a healthy lifestyle.
The good news? There are tons of salty and spicy snacks out there whether you're looking for salt, spice or a bit of a both. Finding the right healthy savory snack is all a matter of preference, so we've gathered some of the best salty and spicy snacks to help you find your new favorite.
Below is our list of healthy savory snacks ranging from grab-and-go options to salty snacks you can prep at home. This list of snacks can serve as some much-needed motivation and inspiration to try something new.
With that, let's dive in!
Want to become a better professional in just 5 minutes?
Grab-and-Go Savory Snacks 
Most savory snacks are already considered "grab-and-go," easy to bring along to the office while requiring minimal prep time.
But some snacks are better than others when it comes to being both savory and portable. That's why we put together our list of healthy savory snacks you can take with you anywhere. With these guilt-free options, you can keep hunger at bay at a moment's notice.
Meat Snacks and Jerky 
Beef sticks. Turkey jerky. Salami and pepperoni. The list goes on and on.
The number of dried meat snacks out there is seemingly never-ending. In fact, these days you can even find combinations like bison-and-fruit bars which are surprisingly tasty.
On that note, there's no shortage of flavors and meats to experiment. From spicy and hot to tangy and sweet, if you can imagine a type of meat and flavor profile, chances are there's a jerky to match.
Also consider that fresh meat and cold-cuts you pick up from the deli can also be convenient snacks, too. Granted you opt for nitrate-free options and keep your meat fresh with a cold pack, meat snacking doesn't have to require cooking a full-blown meal before you head off to work.
Get Your Free Healthy Snack Recipes Downloadable
Nuts and Seeds
High in protein and healthy fats, nuts and seeds are healthy savory snacks that represent the perfect pick-me-up. Much like jerky, there are tons of off-the-wall almond flavors (toasted coconut or habanero, for example) that can keep your snack routine interesting if you're otherwise bored of plain nuts.
We'd also recommend keeping a few nut bars handy for the sake of having something more substantial available at your desk. Doing so can help you avoid mindless snacking or otherwise giving into cravings. Nut bars pack in some serious protein and flavor, great for supplementing your lunch or fighting that 2:30 PM sluggish feeling.
Corn and Tortilla Chips
Although traditional potato chips might understandably be viewed as junk food, tortilla and corn chips are healthy savory snacks in our book.
How so? For starters, it's easier than ever to find simple, limited-ingredient chips that are more or less just corn and salt with no weird additives. The key to keeping it healthy with chips is to mind your serving sizes.
Plus, such chips are perfect for pairing with healthy sides as guacamole, salsa or hummus – all of which are savory in their own right. Combine these dips with varieties such as jalapeno lime chips and you have a lot of different flavors to play with.
Veggie Chips 
If you love savory flavors and know that you just aren't getting enough greens, don't despair!
Healthy savory snacks such as kale and asparagus chips are all the rage right now for satisfying snackers' junk food cravings minus the guilt.  Much like regular potato chips, veggie chips come in a number of flavors (sriracha, anyone?) that are surprisingly addictive.
Get Your Free Healthy Snack Recipes Downloadable
Avocado 
With the exception of tomatoes, avocados are one of the few naturally savory fruits out there.
Avocados are delicious as part of a savory guacamole, but they're also a great snack on their own.
Filling? Check.
Brimming with healthy fats? Double-check!
A pinch of salt and pepper can make plain avocado instantly palatable, as can a dash of your favorite hot sauce. For anyone who wants a savory and sweet flavor combination, some salt and honey can make it happen.
Avocados are also notable because they're one of the few healthy savory snacks with a creamy texture. If you're bored of crunchy and cripsy, the mighty avocado has you covered.
Popcorn 
Popcorn is a favorite among savory snackers, but butter-covered theater corn is obviously bad news for your health.
That's why we recommend air-popped, flavored popcorn that doesn't have any needless fats or excessive calories. If you want to pop your own popcorn but find it boring plain, you can always add in a bit of sea salt and olive oil to spice it up. You can buy bulk kernels for next to nothing and an air-popper is likewise a smart investment if you're regularly bringing the stuff to work.
Crackers 
Much like corn chips, crackers are an awesome vessel for your veggies and healthy dips. Additionally, you can make mini-sandwiches consisting of crackers, meats and cheeses if you're in search of something more substantial.
Again, the key with crackers is to watch your serving sizes.
And if plain crackers sound dull to you, sriracha crackers might be the sort of bold flavor you're looking for.

Rice Cakes 
Rice cakes get a bad rap due to their status as a boring, old-school health food.
Luckily, times have changed!
For example, you can find a wide variety of rice cakes and mini rice crackers which are a far cry from cardboard-style fare you'd find in the grocery store. Additionally, pizza-flavored rice snacks are totally something you should try.
If you're savvy in the kitchen, you can likewise make your own savory rice cakes with chives and garlic.
Pretzels
Pretzels are a classic snack for satisfying your saltiest cravings.
And yeah, they can be pretty addictive if you aren't careful.
That's why we recommend portion-controlled mini pretzels that allow you to get your salty goodness in without going overboard. Pretzels can also be used like crackers and chips to dip in the likes of guacamole or hummus.
Potato snacks 
Chances are if you're looking into healthy savory snacks, you've probably made peace with the fact that potato chips are probably a thing of the past, right?
Well, that doesn't necessarily mean that you should give up spuds entirely. Sweet potatoes, in particular, are a well-documented superfood due to their high nutritional value. You can find plenty of natural sweet potato chips out there just like you can find additive-free corn chips. Also, roasting your own potatoes at home is a smart way to get in more healthy carbs.
Get Your Free Healthy Snack Recipes Downloadable
Cheese snacks 
Don't forget your dairy! High in protein and surprisingly filling, the right cheeses can qualify as healthy savory snacks if you choose 'em wisely.
Look for low-fat, pre-portioned cheeses that can be found at any given supermarket. If you're looking for a savory cheese as opposed to something creamy, start with something like a sharp cheddar.
Oh, and don't forget about cottage cheese, either. Although it may be plain or off-putting on its own, you can make it savory with some chives and olive oil. Don't knock it until you've tried it!
Simple Savory Recipes 
Given that restaurants and grocery stores often offer fare that's packed with excess salt or processed ingredients, many of the best healthy savory snacks are the ones you prep from home. Below are some ideas to get you started on some options you can enjoy at home, regardless of your experience level in the kitchen.
Grilled Eggplant and Cilantro Dip 
Eggplant is an underrated savory savory snack when paired with the right seasonings and flavors. This recipe from Healthy Green Kitchen can be paired pita chips, crackers or even your favorite veggie.
Homemade Tomato Chips 
As noted earlier, tomatoes are a rare, naturally savory fruit. This recipe from Running to the Kitchen is quite literally two ingredients (tomatoes and salt) but don't skimp in the flavor department. It's worth experimenting with different types of tomatoes with this recipe: just make sure you slice them thin.
This dish does double-duty of being a great side for your meal or something you can bring along to work.
Get Your Free Healthy Snack Recipes Downloadable
Raw Seaweed Crunchies
Getting more greens should be a goal of any snacker, and those looking for healthy savory snacks are no exception. This recipe from The Rawtarian provides the blueprint for making awesome seaweed snacks at home. In addition to being savory, these snacks have a hidden sweet side thanks to the subtle notes of raisin, lemon and apple cider vinegar. Definitely a complex flavor profile!
Crispy Curry-Roasted Chickpeas 
Roasted chickpeas are another example of a superfood-turned-snackable. They're not just good for you: they're binge-worthy when prepped the right way. This recipe from Epicurious offers a spicy, curry twist that can be quite the kick depending on how much you curry powder you sprinkle on.
Get Your Free Healthy Snack Recipes Downloadable
Asian-Flavored Snack Mix 
This snack mix recipe is akin to a classic Chex Mix with a tasty Asian twist. The combination of soy sauce, nuts and popcorn are enough to satisfy just about any savory snack fanatic.
Spicy Guacamole 
Like we mentioned earlier, guacamole can be paired with crisps or veggies if you want to keep your snacking on the lighter side. The serrano chilies in this spicy recipe might cause you to slow down while eating it and hey – that just gives you more time to savor the flavor!
3-Ingredient Arepas 
It's always nice to have some simple, go-to recipes in your cooking repertoire.  These arepas from the Minimalist Baker only have three ingredients and only take 10 minutes to prep. Don't let this low-hanging recipe fool you, though: these arepas might end up being your favorite snack if you give 'em a try.
Easy Vegan Coleslaw
We're all about healthy habits around here and that means more veggies in your diet! This vegan coleslaw is a great side-dish for sneaking more in, although you could easily bring it to work to serve as your lunchtime salad.
Get Your Free Healthy Snack Recipes Downloadable
Health Notes for Savory Snackers
Let's round off this post with a few health reminders for our savory snackers out there!
If you consider yourself a salt lover, you need to be especially mindful of what kind of salt you're getting on a regular basis.
Most people don't think twice about this; however, avoiding iodine deficiency is especially important for people who frequently cook at home. In short, make sure you're using iodized salt in at least some of your home-cooked meals (versus just sea salt) to give yourself peace of mind.
Also, note that constantly craving salty foods can be a sign of dehydration. If you aren't regularly drinking water and partaking in some physical activity to get your blood flowing, make it a priority! Eight glasses of water per day are considered standard, but salty snackers should plan on getting more.
Finally, bear in mind that there's a lot of debate out there over sodium intake and what's considered "safe." If you have a family history of high blood pressure or heart issues, it never hurts to take it easy on the salt from time to time and instead opt for more naturally "salty" tasting foods such as olives or tomatoes. We don't mention this stuff to worry you, but rather guarantee that you're putting your health first!
Which of Our Healthy Savory Snacks Are on Your List? 
The number of salty and spicy options out there for savory snackers is staggering.
With a bit of experimenting and creativity, you can pick and prepare snacks that will treat your body right while also tasting great!
We are SnackNation are all about switching things up to ensure that you never get bored with your snack options. If you haven't already, make sure you claim your free sample box to try some of our healthy savory snacks for yourself!