Do the words "high-fiber snack" make you think of bran muffins, aggressively crunchy crackers, or chalky supplements?
Get Your Free Healthy Snack Recipes Downloadable
Then it might be time to rethink everything you know about high-fiber snacking. 
You don't need to use additives or force down flavorless grains to get more fiber from your snacks; you simply need to know which delicious snacks and ingredients come already rich with fiber.
Why is fiber good for you?
The experts at Fiberfacts.org say that you can consider fiber, or more specifically, dietary fiber, a "complex carbohydrate that is neither digested nor absorbed in the small intestine." In addition to promoting regularity, fiber may also help with weight management and cholesterol control. Good sources of dietary fiber include fruits, vegetables, whole grains, legumes, and nuts.
There are two types of fiber: soluble and insoluble. Soluble fiber dissolves in water and forms a gel-like substance. This type of fiber can be found in oats, barley, legumes, some fruits, and vegetables. Insoluble fiber does not dissolve in water and helps add bulk to stool. This type of fiber is found in wheat bran, whole grains, seeds, and vegetable skins.
Key knowledge: Most plant-based foods contain both types of fiber. The amount of each type of fiber varies depending on the food. (Any non-plant fats, meats, or dairy products that claim to have it have been supplemented.)
While it may seem counter-intuitive, eating more of a substance that our bodies don't absorb or digest can provide plenty of health benefits. Fiber can…
Do you need more fiber?
If you found the benefits above compelling, then you might be wondering if you need to get more fiber. How do you know for sure if you need more fiber?
Here are just a few signs you may need more fiber in your diet:
You always feel hungry, even if you eat plenty of food.

You experience energy spikes and crashes. (By slowing the absorption of energy-producing fats and carbohydrates, fiber can keep your blood sugar and energy stable.)

You're not eating enough produce or whole-grain foods.
The fix: Know how much fiber you need and track your intake to make sure you're getting it.
Your targets:
If you have no idea how much fiber you eat, then try using a calorie- or fiber-tracking app. Nutrition labels list fiber content, so you can also simply write down the fiber content in everything you eat throughout the day.
You'll have to look up the fiber content in your unlabeled foods, but over time, you'll start to remember these figures without looking them up
Get Your Free Healthy Snack Recipes Downloadable
High-Fiber Snacking 101
If you only remember one thing from all the info in this post, then remember the key knowledge we dropped earlier: You'll only find fiber in plants.
Use that principle as your guiding light when you're choosing snacks.
Key ingredients in high-fiber snacking:
Jicama (32 grams of fiber)

Pear (7 grams of fiber)

Avocado (5 grams of fiber)

Almonds (3.5 grams of fiber)

Popcorn (8 grams of fiber in 2 ounces)

Oat bran (14 grams of fiber)

Wheat germ (18 grams of fiber)

Whole-grain bread (3 grams of fiber)

All beans and legumes (About 20 – 50 grams of fiber, depending on the variety)

Quinoa (5 grams of fiber)
High-fiber snacking tips and tricks:
Eat your fruit with skins to get all the fiber the plant offers.

Drink plenty of water! According to the

Academy of Nutrition and Dietetics

,"If you consume more than your usual intake of fiber but not enough fluid, you may experience nausea or constipation." That's because dietary fiber acts like a sponge as it moves through the digestive tract, and it needs water to pass through smoothly.

Eat all the produce you can.

Read labels carefully.

Take oat bran or wheat germ with you and use it as your favorite topping for salads, soups, yogurt, etc. (Thanks to

UCSF for this pro-tip

!)

Sweeten cereal, oatmeal, and baked goods with

dried fruit

.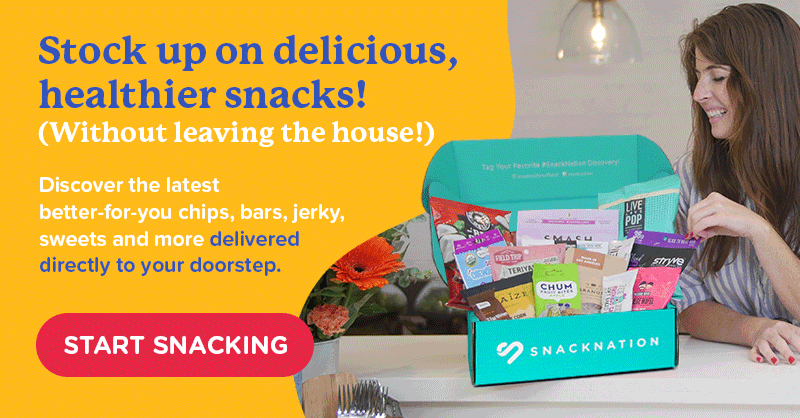 Grab and Go High-Fiber Snacks
Portable high-fiber snacks take advantage of naturally fibrous ingredients that don't need to be refrigerated.
Fiber content: Varied based on the current snacks in rotation – all snacks are high in protein, beneficial fats and fiber
Best for:

Anyone that wants to try a monthly rotation of new high fiber snacks that will leave you satisfied and full.
Fiber is the ultimate superfood. While there are many ways to get fiber into your diet, a superfood snack delivers a healthy dose of fiber in a flavorful snack bite. To make it easy for you, we suggest The Snack Bomb Box that delivers three packages of snack bombs straight to your doorstep.
2. The Perfect Granola Coconut Cranberry Granola Bar
Fiber content:

3 grams (12% of the recommended daily value (DV))
Best for:

That moment you remember you have an after-work event, and you won't have time to grab a quick dinner.
Featuring cranberries, oats, brown rice, and sunflower seeds, the ingredient list for this bar makes it easy to understand why people call it perfect.
3. Bakery on Main Bunches of Crunches Coconut Cacao Grainola
Fiber content:

3 grams (10% of the DV)
Best for:

When you're craving sugary cereal.
This snack tastes just as good as any dessert or sugar-dense cereal, but it also does the body good with ingredients such as amaranth, brown rice, and almonds.
4. BIENA Sea Salt Chickpea Snacks 
Fiber content:

4 grams (14% of the DV)
Best for:

When you get a case of the mid-afternoon munchies and you don't want to eat potato chips.
Crispy roasted chickpeas dusted with sea salt make savory high-fiber snacking a quick and easy delight.
5. Popcorners Flourish Harvest Kale Veggie Crisps
Fiber content:

2 grams (7% of the DV)
Best for:

When you're on the road and a fresh field greens salad is nowhere to be seen.
As if we needed another reason to love chickpeas! Light on the calories and high in the fiber, chickpeas makes the perfect base for a healthy crunchy chip that won't leave any greasy residue on your fingers.
6. Bada Bean Bada Boom Sea Salt
Fiber content:

5 grams (20% of the DV)
Best for:

When you need a crunchy evening snack that will keep you full until breakfast.
Expertly seasoned fava/broad beans roast to crispy perfection before they make it into each convenient snack pouch.
Fiber content:

2 grams (7% of the DV)
Best for:

When you're in the mood for a sophisticated snacking experience that's also incredibly healthy. 
Snackable packs of artichokes bring the flavors of your favorite antipasto platter to your fingertips for anytime snacking.
8. BRAMi Italian Snacking Lupini Beans
Fiber content:

5 grams (21% of the DV)
Best for:

When you're going to a wedding and you know you won't be eating until about 8 PM.
Pickled and packaged lupini beans make a fiber-filled power snack for anyone who's hungry on the go.
9. I Heart Keenwah Almond Quinoa Clusters
Fiber content:

2 grams (8% of the DV)
Best for:

When you've just gotta have something a little crunchy with your morning cappuccino.
Lightly sweetened to please your taste buds and fiber-rich to fill your stomach, these powerhouse clusters provide an anytime fiber fix.
10. Harvest Snaps Barbeque Black Bean Snack Crisps
Fiber content:  

3 grams (12% of the DV)
Best for:

When your savory snacking cravings kick in with a vengeance.
Big barbeque flavor features in crispy sticks made from black beans.
11. Popcorn Indiana Sea Salt Popcorn
Fiber content:  

3 grams (12% of the DV)
Best for:

When you're munching during some after-dinner star-gazing.
Premium popcorn and sea salt make a pure and simple snacking combination that's as classic as they come.
12. Lark Ellen Farm Sweet & Salty Trail Mix
Fiber content:

3 grams (12% of the DV)
Best for:

When you need to power up before a mid-morning meeting.
Lark Ellen Farm calls this mix "heaven in a pouch," and it's easy to see why. This fiber-filled trail mix includes cherries, raisins, and maple-kissed nuts and seeds.
13. Eden Foods Spicy Berry Mix
Fiber content:

2 grams (7% of the DV)
Best for:

When you need some quick energy before dinner with your fam.
Seeds spiced with garlic and cayenne meet plump, sweet berries in a mix that will surprise your senses and fill up your stomach.
Get Your Free Healthy Snack Recipes Downloadable
High Fiber Snack Recipes
These high-fiber snack recipes incorporate creative flavor combinations to highlight high-fiber foods in delicious and easy-to-prepare ways.
14. Citrus Herb Jicama Chips from Running to the Kitchen
Fiber content:

10 grams per serving
Best for:

When you're starving during the mid-afternoon but you don't want to completely spoil your appetite for a big dinner out later.
Rosemary, thyme, and lemon kiss fiber-packed jicama to make one interesting and delicious chip.
15. Raw Jicama Fries from One Green Planet
Fiber content:

8 grams per serving
Best for:

When you can't stop thinking about eating real french fries.
These raw "fries" require no frying and no potatoes!  
16.Avocado Oatmeal from Eat by Chloe
Best for:

When you need a super-filling breakfast for an action-packed day.
Two fiber-rich ingredients—avocado and oatmeal—come together to make a super-snack that will make your hunger disappear.
17. Oat Bran Power Bowl from the View from Great Island
Best for:

When you know your day is so packed that you won't have time for a proper lunch.
Mix oat bran in with a massive list of wholesome ingredients to make a powerfully fibrous bowl.
18. Cottage Cheese + Wheat Germ + Honey from Shutterbean
Best for:

When you think you want an ice-cream sundae.
Honey-kissed cottage cheese and wheat germ make an indulgent high-fiber snack that tastes like a dessert.
19. 3 Ingredient No-Bake Peanut Butter Oat Squares from Cookies & Cups
Best for:

When you need a healthy dessert that has more than just empty calories.
Peanut butter and oats send your cravings for empty-calorie cake packing.
20. Prune Power Balls from Kim's Cravings
Best for:

When you need to fill up in between any meal of the day.
If you've never explored the virtues of prunes, then you've been missing out on a fiber-rich snacking experience. These power balls turn prunes into a stylish snack.
21. Tomato and Lentil Breakfast Bruschetta from Jar of Lemons
Best for:

When you need a fancy breakfast for friends who keeping saying they're absolutely starving.
Add lentils to classic bruschetta to up the fiber factor and make a dish that's more filling than the classic appetizer.
22. Crunchy Spicy Lentils from Mary's Test Kitchen
Fiber content:

4 grams per ¼ cups
Best for:

When you want a surprising, but delicious, evening snack.
When crisped to perfection, lentils make a handy snack you'll love just as much as chips.
23. Superfood Popcorn Snack Bars from Wildly Organic
Best for:

When you want to find a new way to experience popcorn.
We're used to seeing popcorn loose and on its own. But when it teams up with seeds and berries to make these bars, it dazzles us with its whole new snacking profile.
Get Your Free Healthy Snack Recipes Downloadable
What are your favorite high-fiber snacks? We'd love to know! Let us know in the comments below.