Say hello to a new decade and goodbye to the confusion of old and outdated office filing systems. Since it has become easier to find the best way to organize paper files and incorporate new filing technology at work, it is now the perfect time to get organized!
We have laid out a number of important steps for any size business trying to incorporate an office filing system. From computer file management to easy-to-do office hacks, welcome to the go-to office guide.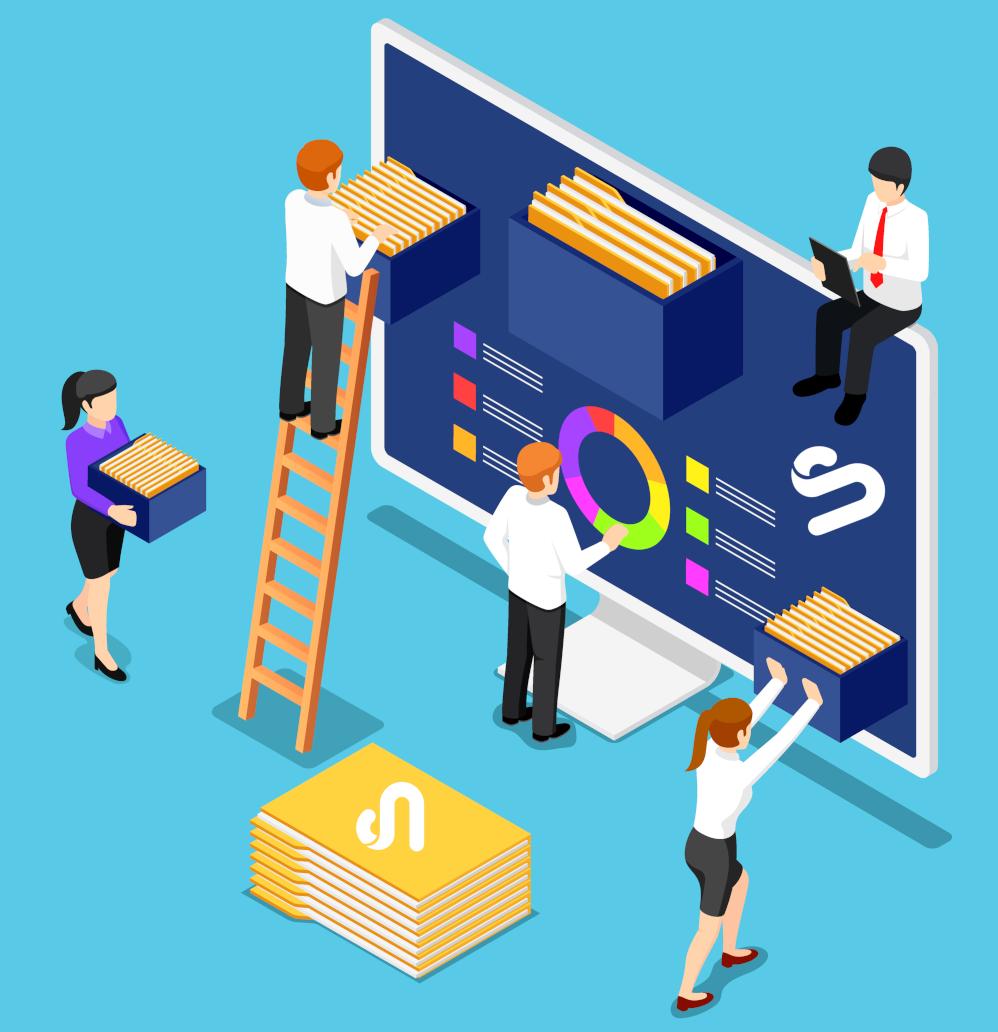 The prospect of starting, organizing, or cleaning up an office filing system has the power to make even the bravest among us hide behind a list of other, more important, "to-dos." You don't have to hide anymore! These field-tested tips will help you get—and keep—your office filing system in precise working order.
Many of these tips came straight from our Facebook group of Office Managers! See what nuggets of wisdom our community has to offer and jump into the conversation. Join the group here.
Office Filing Tips Quick Search:
Want to become a better professional in just 5 minutes?
Color code
People have been color coding since office paperwork—and the office filing systems to organize it—became a fact of life decades ago. The tried and true technique of color coding never fails, and it's relatively quick and easy to pull off, even if you have a particularly complex filing system. Color coding will inspire you to sort files into sensible categories, find files quickly, and add some fun to the filing process.
This organizational technique is the perfect way to turn piles of paper into orderly packages that are predictable in the best possible way. Best of all, color coding works on both physical and digital files, and if you need to organize both types of files, you can easily use the same color coding system for each.
How to:
Take a look at all the files you need to organize and establish a few organizational categories. (It may take a few passes to really recognize patterns and outline your categories.)
Assign each category a color. (Some categories include financial, human resources, contracts, and facilities.)
Review the categories with your teams and executives. The color coordination won't work if no one understands the categories you've chosen.
Gather materials for color coding. (These might be colored folders to place on a bookshelf or simply pieces of colorful washi tape to stick on filing cabinet drawers.)
Swag.com

offers tons of organization products in bright colors that are perfect for color-coding. 

These choices have a leg up on other options because you can have them printed with your company's logo or other designs. 

Check out these customizable office organization goodies: 

Do the color coding! Sort your files into color-coded categories and feel the organizational zen zen with every file you drop (or drag and drop) into a neat, color-coded vessel.
Create a quick-reference rules sheet to make the color coding process easier on yourself (as you add new files) and anyone else who will help you organize the office filing system in the future. 
Why it works:
Color coding is similar to the learning process known as "chunking," defined by the eLearning Coach as "…the strategy of breaking down information into bite-sized pieces so the brain can more easily digest new information."
When you color code a mountain of paper, you turn a haphazard mass of information into chunks that you and your brain can easily sort when you need to find something specific. If you need to find an invoice in a pile of paper, then you might become overwhelmed and give up, but if you need to find an invoice in your new color-coded system, then you'll know to look for the green flag that denotes "Financial Paperwork."
Digitize
When you digitize files, you essentially creating a paperless filing system. Many people find it much easier to organize a digital filing system over a paper filing system after every paper file has been converted to a digital format. If you choose to digitize your files, you will need to start by scanning and converting your old files, a process that can be time- and labor-intensive.
How to:
Special thanks for Francisco from our Facebook Group for outlining these pointers!
Decide how to organize files digitally. Will you use an out-of-the-box software solution, a network drive maintained by your own IT (information technology) group, or a free cloud platform like Google Drive?
Use a reliable and efficient scanning machine. (Francisco used a Richo machine with the ability to scan documents and send them to pre-assigned folders on the network.)
Francisco also recommends:
"Determine if you have cloud storage backup space for your documents. This is especially important if you handle documents that, if lost, could pose a huge detriment to customers, clients, or other business operations."
Determine who will have access to both adding and organizing files in your system.
Develop a standardized naming convention for scanned files. This will make the files easy to find and search for in your paperless system.
Francisco recommends adding dates (or at least years) to the file names, so it will be easier to know when to delete or archive them. Penn Libraries has a wonderful list of file naming best practices to get you started.
Create a map of your future digital filing system. Make this mockup as precise as possible so you'll be able to anticipate any problems with your organizing scheme. Update the map when you've finished the project to incorporate any changes you made along the way. When you're done, this map will help you easily find things as you get to know your new system.
Scan your documents:

Use a stamp or stickers to mark physical files that have already been scanned into the system.
If your digital file system allows, add keywords to each document to make files easier to find.
Take your time to avoid mistakes. Even a simple error could one day make it impossible to find a file you need. Scanning documents into your new system is a time-consuming process, but remember: You will be done eventually!
Why it works:
Digital filing systems automate the "finding files" aspect of your office filing system. Instead of flipping through folders and stacks while risking papercuts and headaches, a digital system will allow you to search a few keywords or sort files into an alphabetical list and easily find what you want.
Digital systems also make it easy to add new files and even share filing responsibilities across teams. The setup requires a lot of work, but the time and stress you save afterwards is well worth it.
Set an expiration date
This may seem like a cheat, but one of the best ways to organize an office filing system is to reduce the files you need to organize. Weeding out files by content can get tricky as it's hard to determine which files need to be saved and which files can be tossed, but discarding files by age presents a safe, standardized way to decide what you can toss.
How to:
Establish a "throw-away" age for your files—1 year, 5 years, 10 years…whatever seems appropriate for the files you keep and the kind of business you conduct.

If you fear you may need the files again, simply move them to an "archive" box or folder organized by year. (This at least keeps your main file system from getting cluttered with out-of-date documents.)

Create a recurring meeting in your calendar—possibly the first week back in the new year—to do a massive file purge.
Why it works:
Discarding old files keeps your system clean, organized, and relevant. It also saves you time keeping the system in working order, and helps you avoid wasting time organizing files no one will ever need again.
Divide and conquer
If the files you need to organize are relevant only to specific departments, ask a person in each of those groups to organize their files while you create an overarching file management structure.
How to:
Create a organization structure based on department instead of using categories that group files based on overarching topics, such as finance or human resources.
Divide the files accordingly.
Take the files to a subject matter expert from each department, preferably someone you know has amazing organizational skills. Ask this volunteer to logically organize the files and create a key for your reference.
Collect the organized departmental files and add them to your overarching system.
Why it works:
By asking the people who will understand—and need to access—the files to take on part of the organizing process, you ensure your system will work.
Organize Files on the Walls
Mount file holders right on your walls instead of using a filing cabinet or shelf.
How to:
Establish your organizational categories and define what types of documents would fall under each category.
Mount spacious wall holders in one of your office's common areas. (Get attractive holders that fit your company's brand to make this effort double as an office-design initiative.) Label each holder by main category and then specify what types of files should go in each. Consider how you can make the label easy for busy employees to understand in a few seconds or less.
What files go here?
Invoices
Receipts
Reimbursement requests

Email everyone in the company to explain your process. Instead of bringing files to you, people can add them right to the holders.

Clean up the files once a week if needed. 
Why it works:
Office files are collective resources, so it makes sense that organizing them should be a collective responsibility. While you may have ambitious plans for keeping the office filing system in a perfectly organized condition, everything could fall apart if, and when, you get busy. This system ensures files stay organized by category instead of piling up in a haphazard heap.
Organize by Importance
Anyone who has ever searched through files understands the burning desire to find exactly what you need instead of finding 100 things you don't need. For example, try organizing your office files in order of importance to make document retrieval more enjoyable for everyone.
How to:
Survey employees and ask what office files they needed to find or access throughout the year. (Make this survey mandatory and enlist the help of management for enforcement if necessary.)
Scour through responses and group file types into tiers according to access demands. (The top tier would be the five most commonly accessed file types according to your survey.)
Organize your system, digital or physical, according to these categories. Be sure to categorize and label subfiles as well. For example, you might label your top tier files, "Crucial Files," and include separate labels for "receipts," "contracts," and "survey results."
Why it works:
Everyone wants a file system that seems to anticipate exactly what they're looking for. By organizing your system based on "majority rule," you have the best chance of creating a file system that actually does deliver just what people need.
Plan to organize on a regular basis
Even the best office filing system won't stay organized by itself. It's best to keep this in mind and plan to do a little bit of work keeping the system organized on a weekly basis. Contributing a little effort on a recurring basis will feel much less overwhelming than trying to clean up a year's worth of mismanaged files all at once.
How to:
Set up a recurring calendar reminder and remember to keep this task sacred. Enlist the help of some co-workers to keep yourself accountable and to make the weekly event fun. (You might also establish a reward to increase your organizational motivation.)
Why it works:
Keeping a system organized is way more realistic and manageable than organizing a system from scratch once a year.
Separate Ongoing Work from Completed Work
This genius tip from Mind Tools simplifies the entire filing system. You can still organize files for completed projects, but separating them from files related to ongoing work will make finding files much faster and more efficient.
How to:
Keep any existing categorization technique that worked for you, but add two overarching categories: "Completed" and "In Progress."
Add timestamps or labels to group files by completion date, expected or actual.
Add any expected completion dates to your calendar so you'll know when it's time to go in and do some organizing.
Why it works:
Files related to work in progress are logically the ones people will need to access the most, and organizing a filing system by the urgency and frequency of access is one of the best ways to make sure your filing system is perfectly practical in addition to being efficiently organized.
Bonus Tip: Find a way to make organizing your filing system fun, or at least doable. Maybe that involves getting beautiful organizing supplies that will make the work enjoyable or recruiting a co-worker to help you out so you can share quality conversations during organization sessions.
Simply figure out a way to make the task of organizing files work for you—that's the best way to make sure the important task of file organizing doesn't become one of dread.
Can you ever have too many organizing tips? We think not! Share your tips below so we can all enjoy super-organized offices!
P.S. Many of these tips came straight from our Facebook group of Office Managers! See what nuggets of wisdom our community has to offer and jump into the conversation. Join the group here.
Office How-To Resources