There's a reason USA Today called office snacks "the key to happiness at work."
Whether you're trying to impress new recruits, make a splash with VIP guests, or just keep your team fueled for maximum productivity, a supreme office snack game helps create the culture your company needs to succeed.
Here's the thing – buying the right snacks each month is the obvious first step, but it isn't all there is to it.
How you present your snacks is nearly as important as the snacks you offer, and a next-level Office Snack Station can be your company culture's secret weapon.
Luckily, we know a thing or two about creating a jaw-dropping office Snack Station. We've compiled some of the coolest examples from around "The Nation" – our amazing community of SnackNation member offices.
Before we get to the nuts and bolts for organizing the snacks in your office, here's a quick reminder of office snacking best practices.
Free bonus: Want to get an amazing office snack station that everyone raves about? Get a free box of healthy snacks, jam-packed with America's most delicious snacks, delivered right to your office.
Designate a Snack Master
Office snacking shouldn't be a ton of work – in fact, we created SnackNation to save the person in charge of office snacks time and energy. But you should designate a point person to make sure your office snacks are being displayed in a way that works for your team. (Plus everyone loves the person in charge of the snacks.)
This means shutting down snack hoarders (a big no-no in snack land), rationing snacks so you don't run out, or simply modifying your order to fit your office's true snacking needs.
The Office Snack Master is likely your company's Office Manager, Vibe Manager, Admin, or HR Manager. (And if you're reading this article… it's probably you!)
Keep It Healthy (or at least, healthier)
The last thing you need are snacks that inhibit your team's performance. Avoid sugar-filled treats like candy, processed foods, and chemical-laden beverages like diet soda – all of which can cause energy crashes, sluggishness, or depressed mood.
Instead, choose snacks that are high in protein, fiber, and healthy fats. They keep you fuller longer, support cognition, and help regulate mood.
The funny thing is, your team won't miss that junk food. They want healthier options. It's the reason that Nestle is reportedly looking to sell its U.S. candy business, and that companies like PepsiCo are relying on healthier food sales to drive their earnings.
Healthy is trending, and there are tons of healthier alternatives to satisfy any office craving.
Focus on Personal Connection
It's no coincidence that the figurative meaning of "breaking bread" is "establishing trust."
Food has a way of bringing people together and creating social bonds.
The same holds true for your Office Snack Station. Sure, you want to neatly display snacks, but the real outcome is to create a space where people across the org can experience serendipitous encounters. Your team will be more engaged and have a better understanding of your business when you get this right.
And of course, here are a few things to avoid when setting up your snack station.
Hiding or hoarding – Snacks are about sharing the love and bringing people together. Don't stash them in your desk or a cupboard without a public display.
The Open Box Free For All – on the flipside, don't just rip open the shipper box and leave it out. You'll turn your mild-mannered team into a pack of wild hyenas.
The Bird Feeder Approach – people hate these. The food gets stale, and your kitchen will have that "continental breakfast at a cheap motel" vibe.
Open Bowls – there's a reason we only include single-serve snacks. Open bowls of nuts, trail mix, or chips are just plain unhygienic. Imagine all those hands reaching into snack bowls during cold and flu season. Sick!
With that said, here are some ideas for creating the ultimate Office Snack Station.
The SnackNation Display Box
You can't really go wrong with the tried and true cardboard display box that comes with every SnackNation membership.
It might appear simple, but a lot of thought went into this setup. We switched from green to a fade-resistant slate gray for a longer lasting, more professional appearance. Plus there's a built-in bar holder, and we added additional dividers so you can neatly display and organize more snacks.
At 25 inches wide and 19 inches deep, this display is perfect for large break room and kitchen tables, foyers, and waiting areas.
The SnackNation Premium Wood Display
This premium wood option is the way to go if you need to elevate your display. Featuring a nested second tray and high-end look, this compact display is designed for kitchen shelves, side tables, executive offices, or conference rooms. An interchangeable sign means it's customizable too.
Jars and Baskets
Here's a great example from Naritiv, a social media content agency based in Venice, CA.
This hip company organizes their monthly shipment in drawers, but keeps a daily allotment in jars and baskets on their kitchen shelf. This tactic helps make the box last through the month, and forces team members to interact as they go for some mid-day nourishment.
Here's the team in action.
Whimsical Snack Trees
These creative desktop photo frames are a clever way to create a "snack tree" display in your office.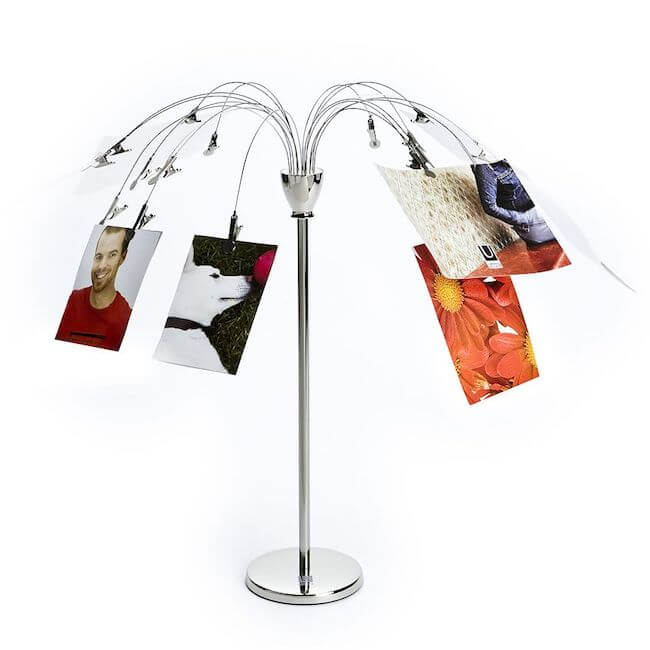 Buy ten and create an enchanted snacking forest.
Acrylic Mailboxes
Mail call!
SnackNation member CIP not only has a fantastic mission (the organization offers support services for young adults with Autism spectrum, ADHD, and other learning differences), but they've come up with an utterly unique office snack display.
These acrylic mail boxes make it easy to see what snacks are available and which need replenishing. Strategically placing the snacks next to the company suggestion box also means you're more likely to get critical insights from your team.
MEI also keeps things light by hiding toys in the snacks baskets that sit in their conference rooms.
Honor Box / Charity Tip Jar
There's a pretty obvious healthy snacking Catch 22 – when your snacks are better for you and taste amazing, they tend to disappear quickly.
One way to keep your snacks from flying off the display is to add a little friction by requiring an action – liking putting a dollar in an "honor box" or tip jar.
You can either use the money to help defray the cost of the snacks, or better yet, donate the money each month to a charity of your choice. And since we donate ten meals to a family in need through our partnership with Feeding America, you'll be doing good deed double duty.
Require Engagement
In a similar vein, MEI Solutions came up with an ingenious strategy for simultaneously curbing snack depletion and boosting employee engagement.
The Minnesota-based company asks team members to answer a question of the day and post their answer to a quote board before taking a snack. It's a fantastic way to encourage team members to get to know each other and connect.
I know we've probably just scratched the surface. What creative snack display ideas are you using? Let us know in the comments below.
Free bonus: Want to get an amazing office snack station that everyone raves about? Get a free box of healthy snacks, jam-packed with America's most delicious snacks, delivered right to your office.