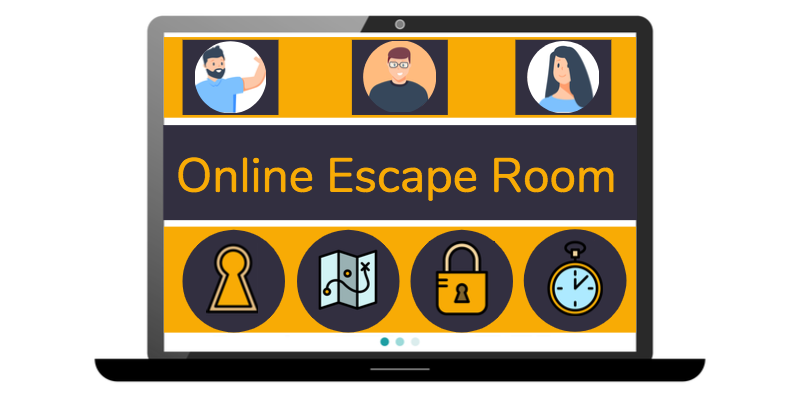 The COVID-19 pandemic lockdown has many of us all feeling like we're trapped in a perpetual escape room, or really, inescapable room. Well, we've thought of a remedy for anyone feeling a little bit trapped: busting out of an online escape room.
As you're unraveling clues and wearing the shoes of a bank robber or treasure hunter, you'll forget all about those tiny problems—what virtual game to play tonight, for example—that seemed so big about an hour ago.
Some of you may be scratching your heads about now. An online escape room? Don't you have to be trapped in a room, like a real room, to escape it? Usually, yes. But thanks to the wonders of modern technology and a slew of innovators adapting entertainment options in the wake of the novel coronavirus, virtual escape rooms have arrived to save the bored, the claustrophobic, and the cabin-feverish among us.
An online escape room is a compilation of clues, challenges, puzzles, and visuals delivered online and designed to inspire remote players to use the theater of the mind to imagine escaping a room or situation.
Like their real-life counterparts, virtual escape rooms encourage problem-solving and team building, but they also come along with their own unique benefits. An online escape room can help players develop group problem-solving and listening skills and also build better communication skills for remote collaborations.
Are you ready to help your friends, family, and co-workers escape reality? Keep reading for all the secrets.
Want to become a better professional in just 5 minutes?
Page Contents (Click To Jump)
Virtual Escape Room Games For Online Team Building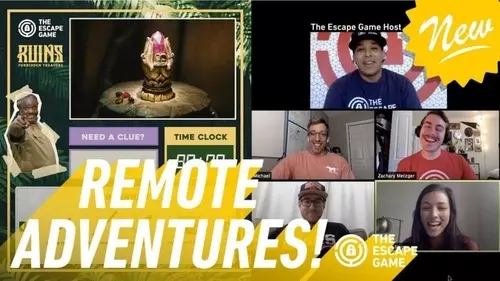 The escape room experts at The Escape Game have mastered the virtual version to make you feel the thrill of escape without ever leaving your own home. They can accommodate large groups of up to 500, and they'll empower you to investigate a physical room by using a human game guide—wearing a live camera—as your eyes and ears.
What makes their rooms the best virtual escape rooms? The feeling that you're not playing an online game. You'll feel as though you're actually hunting for gold, swimming among ancient ruins, breaking out of an infamous prison, and so much more.
Check out some of their original themes: 
---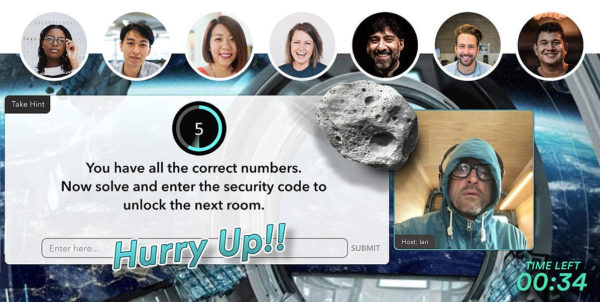 "Houston, we have a problem…"
You and your team of space cadets are en route to Mars when your ship is overtaken by a mysterious artificial intelligence. So begins a race against time to work together to solve challenges and unlock a series of puzzling rooms to regain control of the ship. Your event host, aka Space Commander, will guide you, but only your team can successfully complete: Space Escape.
Capable of moderating your online escape room experience with 5 to 100 players, The Go Game is designed to run well-executed virtual events while letting your team bond the entire time.
Want a sneak peek? Check out this quick video to prepare your team for their own Mission To Mars:
---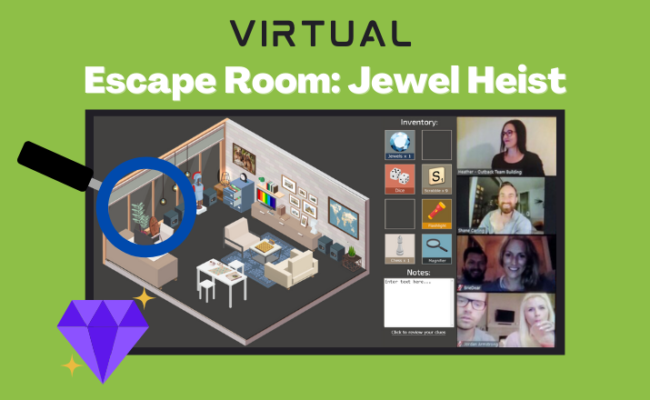 Where are the diamonds?!
A mysterious burglar has planned the heist of the century by nabbing a priceless collection of precious jewels. Will your team be able to discover clues, solve challenges, and recover the missing jewels before they are lost forever?
This virtual escape room experience is an excellent blend of corporate team building and workday fun that will have you and your colleagues communicating, problem-solving, and having a great time. Plus, who doesn't love to solve a crime in the process?
Get a free price estimate by getting in touch with the virtual hosts at Outback Team Building.
---
This fast-paced virtual activity blends together the best parts of real-life escape rooms and scavenger hunts.
You've been hacked!
A mysterious hacker is stealing people's embarrassing photos and turning them into viral memes. You and your team have sixty minutes to work together to solve riddles, find hidden clues, and catch the hacker before it's too late.
Perfect for any sized group with pricing starting at $10 per person – get started here! 
---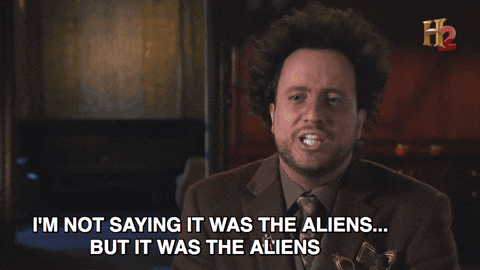 A bet and a dare led you to climb the Great Pyramid…you're almost to the top, and then…your whole team is abducted by aliens! Can you work together to get out of this intergalactic pickle and escape the ship?
Book your professionally-hosted virtual escape room adventure with Let's Roam today!
---
Race for the Lost Tomb is the ultimate online escape room experience that asks the question: do you have what it takes to escape?
Put your team's brains together to solve the ancient riddles and clues of sunken Atlantis to escape the lost city in under sixty minutes.
Team work makes the dream work. And you are going to need it. Especially if you and your team decide to turn up the heat with Confett's competition mode [complete with a customized leaderboard]. No limit on participants—book your trip to Atlantis here.
---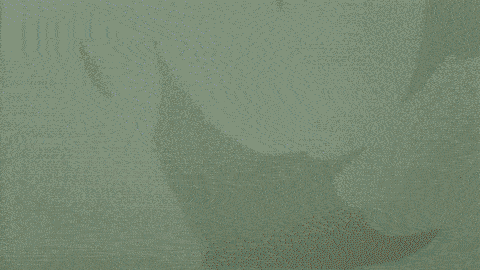 Take part in a real-life escape room from the comfort of your desk chair! This online escape room transports your team to old California when gold flowed through the hills and crafty types tried their best to swindle your fortune away from you!
Your host will be in a real-life escape room as you and your team use a live video feed (acting as your eyes, ears, and body) to navigate through the escape room to beat the clock and strike gold
---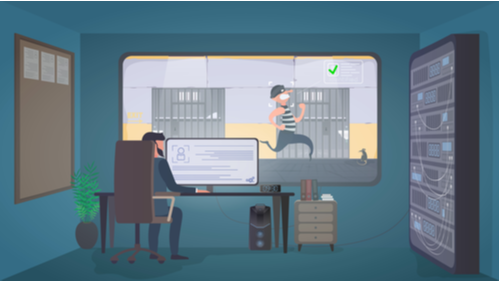 In this online adventure, you must make your way through a series of complex puzzles, clues, doors, and secret passageways to break out from a high-security prison. Can you clear your name in time?! Prison Break is the type of zoom escape room that promotes creativity, critical thinking, and problem-solving in a fun environment!
---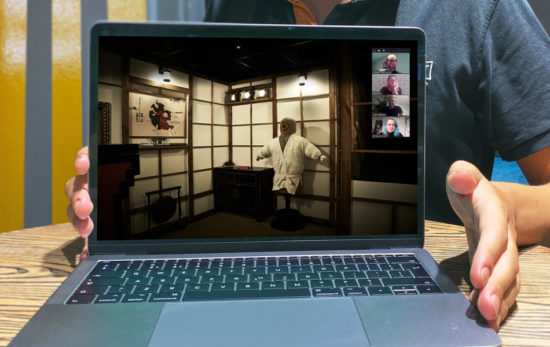 Go totally digital as you and your team take your pick of adventure with Escape Hunt. Your team will work together via Zoom to navigate through a physical escape room to get out before time expires — or work together to save a city from a bomb threat. Whether you're competing with your colleagues or working alongside them, a memorable team building experience is ensured.
Find out who the office brainiac is as your communication, negotiation and emotional intelligence are put to the test, no matter where in the world you are. Escape Hunt's corporate team building experiences can be booked online or over the phone, give them your numbers and they'll give you a quote!
---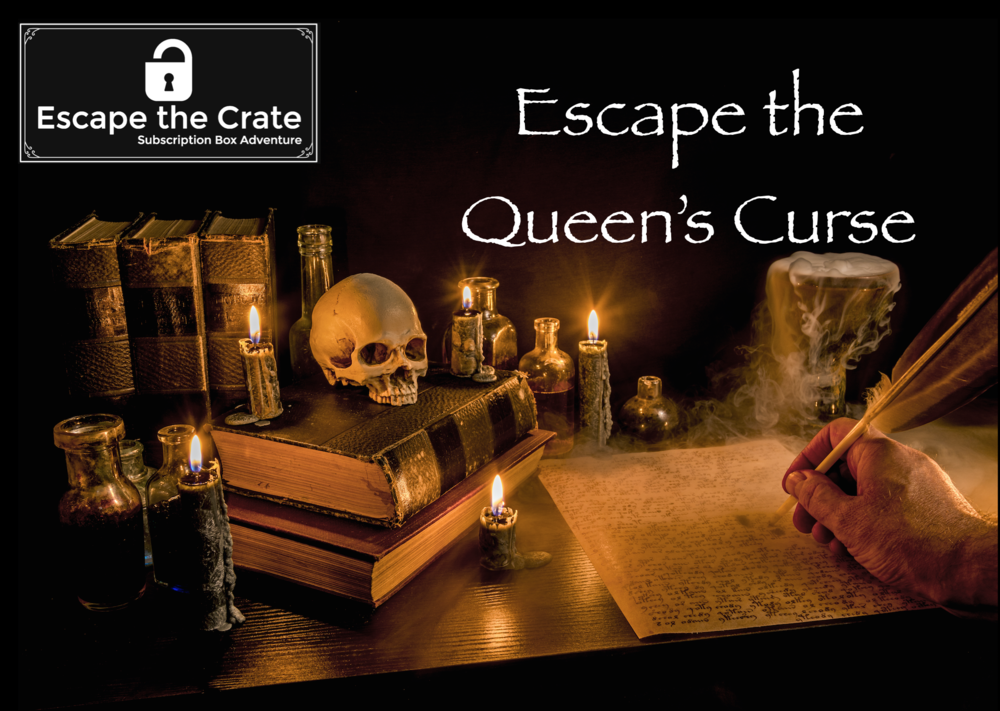 Guess what? Escape rooms now come in a box for your adventuring convenience. Get a monthly box packed with everything you need to have all the puzzling, code-cracking, mystery-solving fun of an on-site room. Just get your escape room box, pop into a Zoom meeting, and work through the clues to swashbuckle your way off a pirate ship and so much more.
---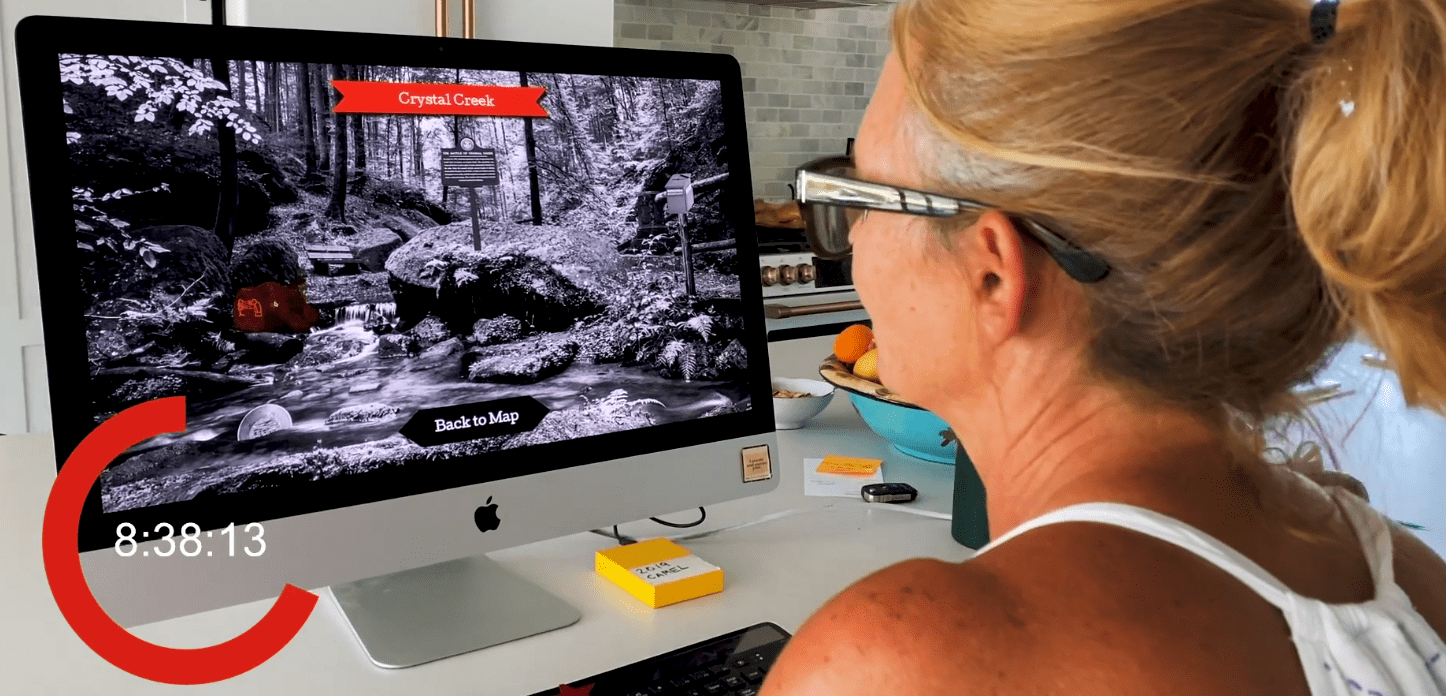 Few online experiences achieve the complete immersion of Treasure Mountain. Stunning graphics create a realistic mountain environment—the environment you'll scour to be the first to escape with a legendary treasure that has been hidden for 300 years.
---
The year is 2097 and your team has been selected to unlock the next chapter in Space Exploration. This virtual experience will have you and your team racing from Earth to Pluto while solving a variety of riddles, challenges and puzzles. To make things even easier for your group to get started — you can play with an unlimited number of teams on the video conferencing platform of your choice!
With 200+ 5 Star Reviews from corporate teams of all sizes, Escape To Alpha Centauri will unlock the adventurer in you. This virtual escape room starts at just $10/person so the more the merrier!
---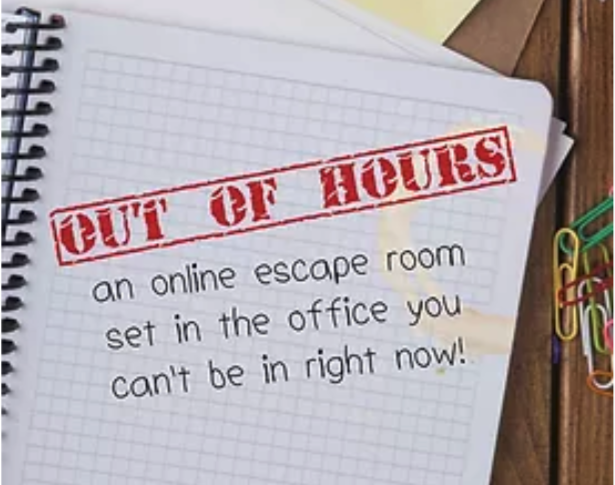 Are you an online escape artist or is this your first time? Trapped in the Web has an appropriately leveled challenge for all players. Blast through text-based clues supplemented by immersive videos to bust yourself out of school, find your way off an empty cruise ship, or escape a space station with oxygen to spare.
---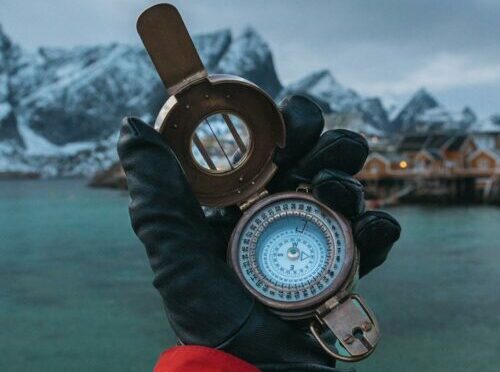 Rather than using your mind to escape the virtual room, this virtual activity centers on a safe, inward journey to explore hypnosis and reveal some of the hidden truths (and myths) about this notorious phenomenon. 
Master Hypnotist and storyteller Jason Akel harnesses imaginations to relax, inspire, foster open thinking, creativity, and motivate participants to overcome challenges. Go on an adventure with your online group in a nice setting with a true master of the craft.
Virtual Escape Room Themes For Online Team Building
12) Treasure Hunter Virtual Escape Room Theme

Unleash the treasure hunter in you! We've all day dreamt of discovering a vast fortune of gold. What happens when the walls of the hidden temple start to crumble and you have to escape? This theme will have you and your escape room team members adventuring from the comfort of your desk chair.
Pro-tip: Luckily for you and your treasure-hunting team, The Escape Game has devised an online escape room adventure that you will not soon forget. Fortune favors the bold. Will it favor you? Start your hunt here.
---
13) Harry Potter Virtual Escape Room Theme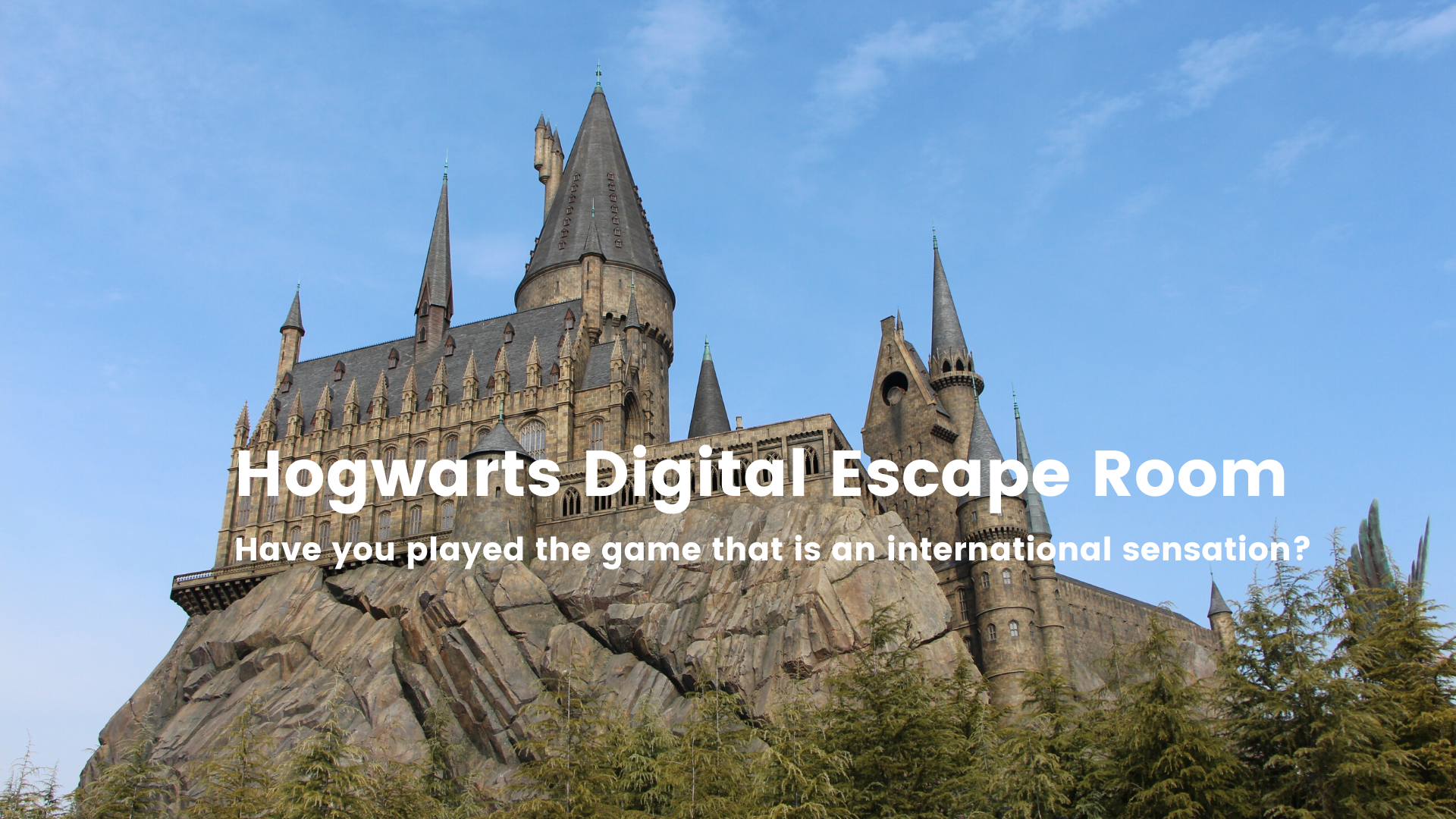 As they say on their website, the Peters Township Public Library in McMurray, Pennsylvania had little idea their Hogwarts Digital Escape Room would be played by 225,000 people in just two weeks.
We're not surprised. Harry Potter is a perfect theme for a virtual escape room. Bust out your dress robes, pour yourself a butterbeer, and make this theme your own.
---
14) Murder Mystery Virtual Escape Room Theme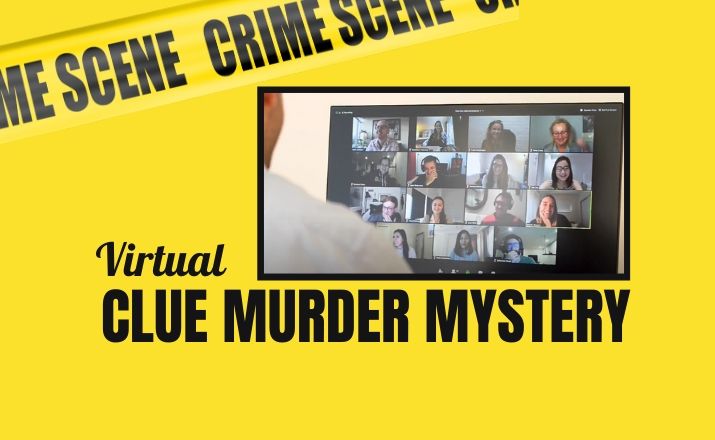 If sky-high interest in true crime shows is any indication, people can't resist the chance to couch-solve a crime. That's why a murder mystery, the ultimate crime, makes a captivating escape room theme.
Pro-tip: Can't get enough murder mysteries? Outback Team Building has you covered with a Virtual Clue Murder Mystery. This enthralling team building activity wasn't just adapted for online formats; it was designed with remote teams in mind. Outback makes it easy to gather your crime squad virtually to examine clues, Sherlock a variety of scenarios, and ultimately catch a killer. Start solving today.
---
15) Breaking Bad Virtual Escape Room Theme
Get in the mindset of everyone's favorite anti-hero, Walter White, to escape from a devious drug lord's basement or steal a file from a crime boss's palatial mansion.
Costumes will be easy for this theme; everyone can wear yellow onesies.
---
16) Fantasy Virtual Escape Room Theme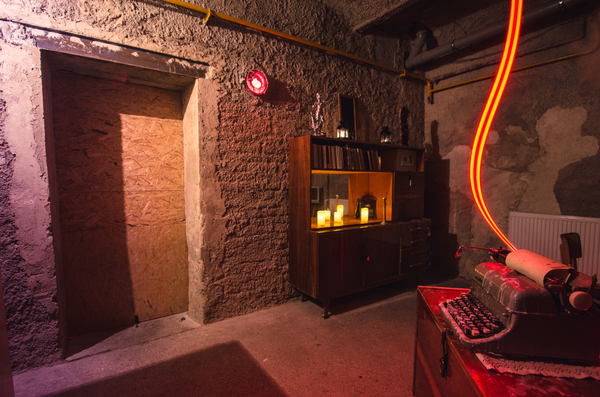 Escape from an enchanted forest, repel from the tower of a dragon-guarded castle, or steal an ancient spell from a wizard's own bedchamber. A fantasy escape room theme gets your guests' imaginations churning like no other.
---
17) Zombie Virtual Escape Room Theme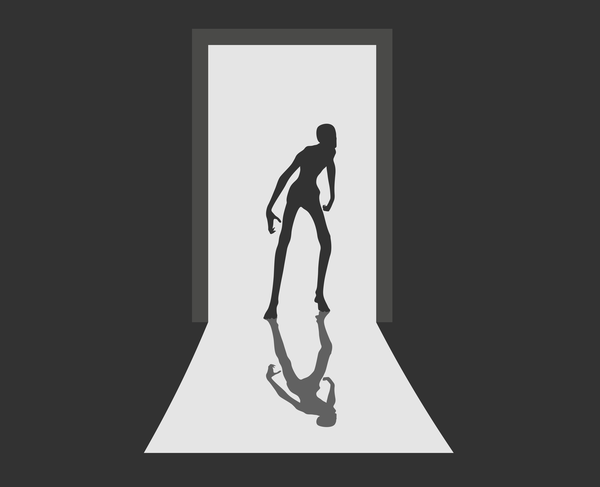 Cater to the Walking Dead fans in your group with a zombie escape room theme. Go with this idea, and you won't just have to escape an imaginary room; you'll have to escape it without becoming zombie food.
Pro-tip: Plan an event that goes off without a hitch by making the escape accomplishments a series of online team-building games instead of a series of clues. Use your imagination to come up with an escape room scenario and Let's Roam will handle all the details of the captivating virtual games. Each completed game, including charades and trivia, will get you and your team closer to escape. Start plotting your escape.
---
18) Space Exploration Virtual Escape Room Theme
An escape room in space comes along with high stakes. Will you escape your enemy's craft only to float away into a zero gravity void, shoot into a black hole, or stumble into the eight fuzzy arms of an overzealous alien?
---
19) Bank Heist Virtual Escape Room Theme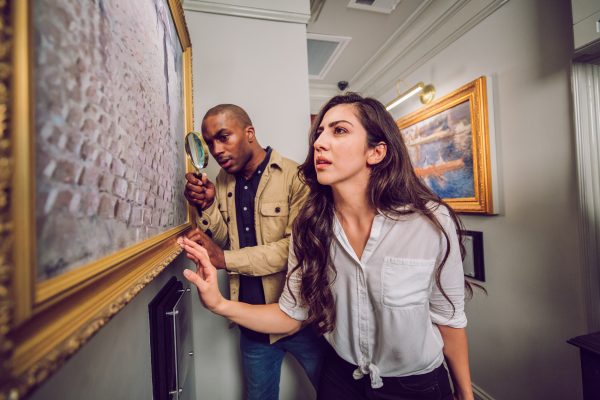 You and your team are part of a world-class espionage outfit that has placed you inside a prestigious art museum. A priceless masterpiece was recently stolen and is presumed to be hidden in the office of the museum's egotistical curator, Vincent Hahn. With the help of your intelligence team on the outside, you will have to recover the artwork and slip away before Hahn and his security team return.
To start planning your heist today, check out The Escape Game.
---
20) Escape from New York / Los Angeles Virtual Escape Room Theme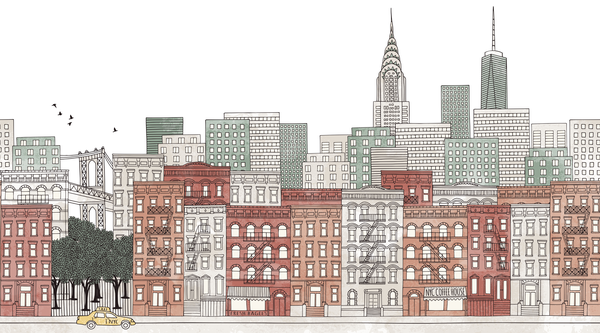 Base your great escape on one of the John Carpenter classics, Escape from New York or Escape from L.A. Create a high-stakes adventure with just enough reality to be thrilling and chilling.
---
21) Mystery Novel Escape Room Theme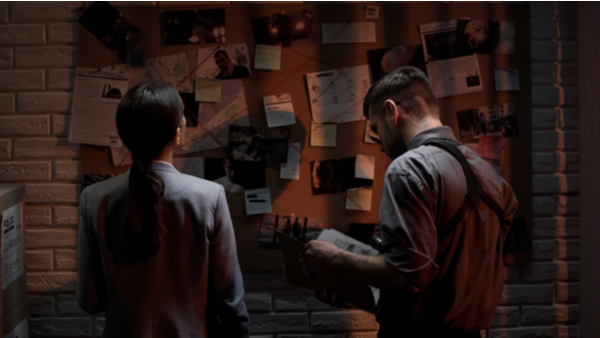 If you're a fan of the classic mystery novel, then theme your escape room around your absolute favorite. Whether you like Nancy Drew or Sherlock Holmes, you'll find plenty of inspiration in even just one synopsis.
Virtual Escape Room Ideas For Online Team Building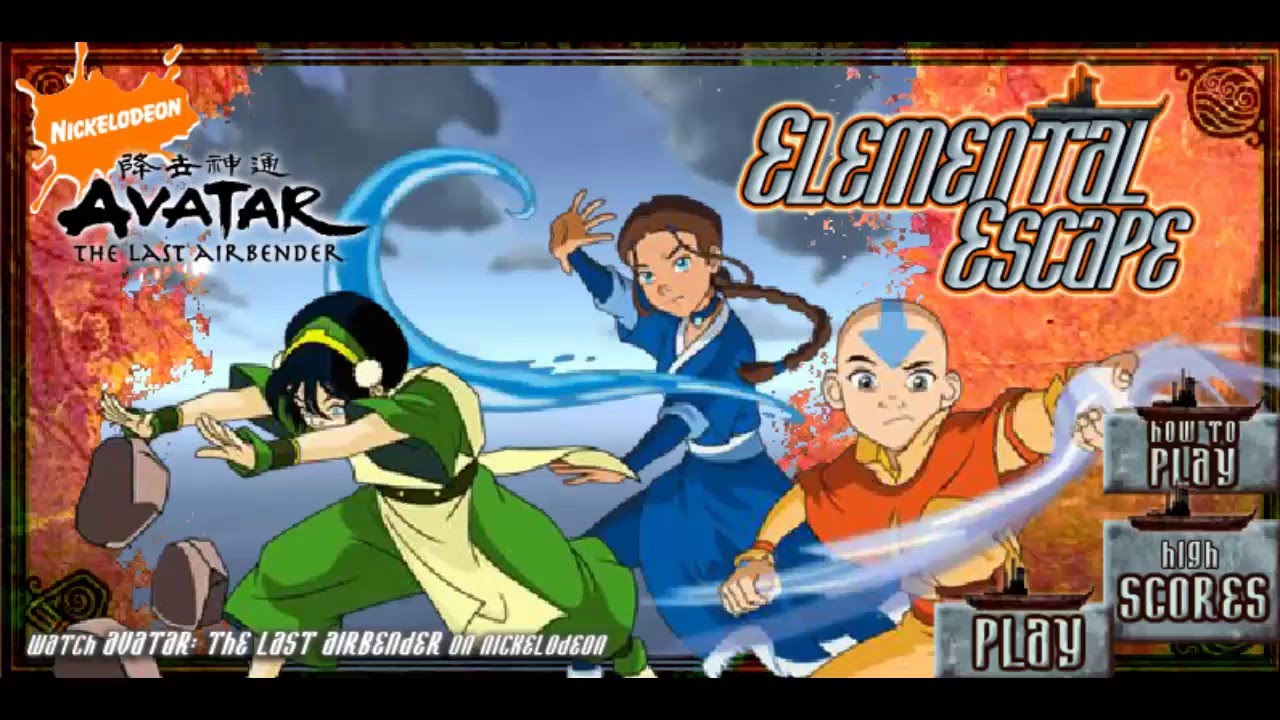 Fans of the Avatar series will love this free online game that has players helping their favorite characters escape from a Fire Nation prison.
---
23) DIY Escape Room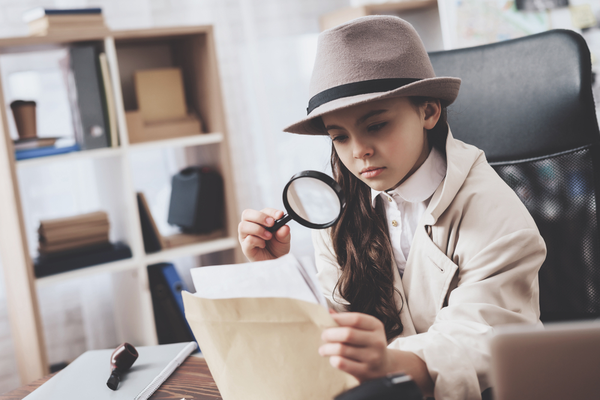 If you have no budget for your escape or if you just really want to do a 100% personalized experience, then the DIY route might be for you. To create your own escape room, simply:
Create a narrative to encompass your escape and help your players imagine a room or scenario
Develop a series of puzzles and riddles players must crack
Bring everyone together on an online video platform to collaborate, solve, and escape
Find even more tips and tricks for hosting your own virtual escape room from National Citizen Service Trust.
---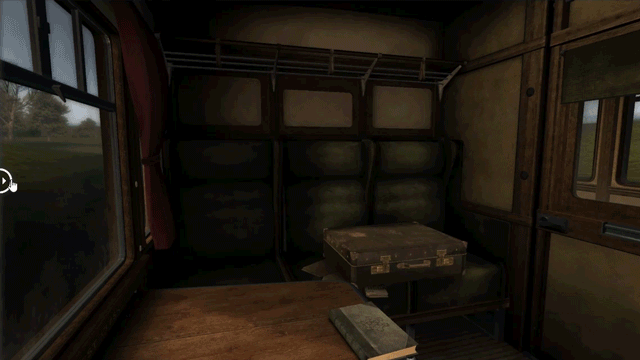 Combine the graphics you love from your favorite video games with the fun of an escape room and you've got The Room. Search the room to slowly unravel a delicious mystery.
---
Fans of Minecraft and maybe even newbs will enjoy this online escape room created by a youth services librarian at the Regency Park Library in New Port Richey, Florida.
---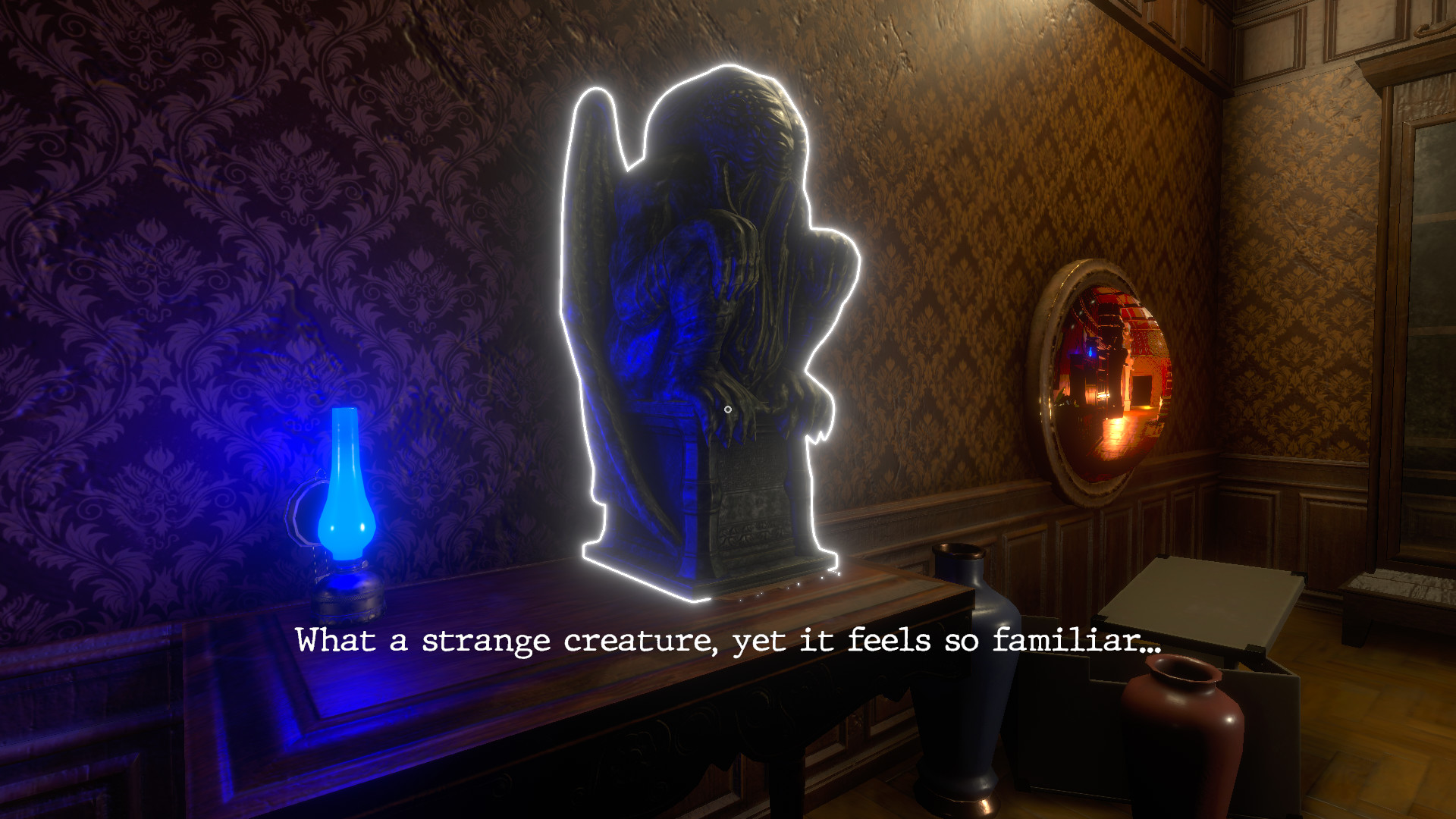 One of most immersive team-focused escape room games available, Mad Experiments will have you interacting with clues and uncovering secrets as you romp through an opulent mansion.
---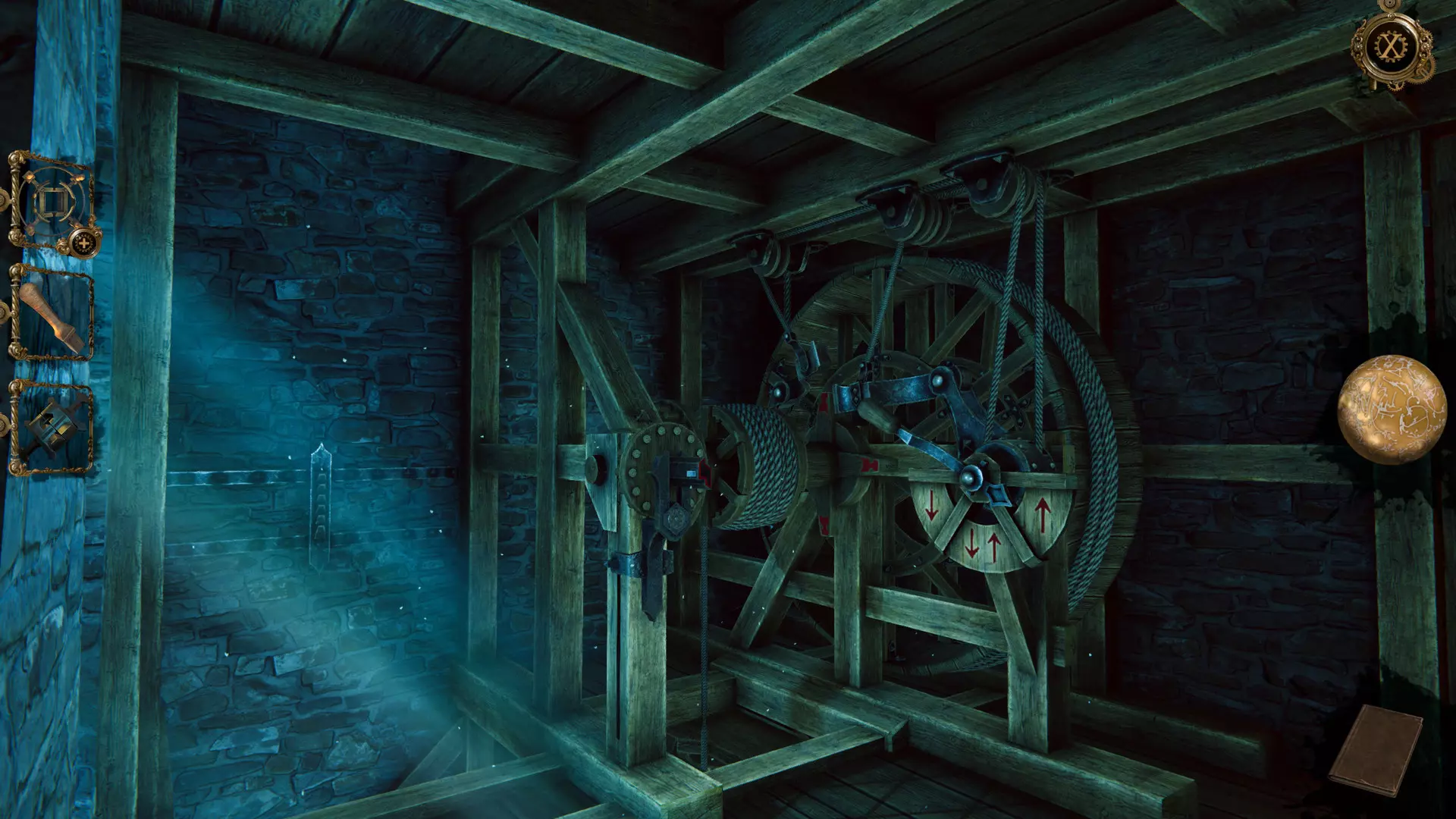 This escape room experience has you solving online puzzles you could imagine Leonardo da Vinci himself sketching up. A narrated story adds extra immersion.
---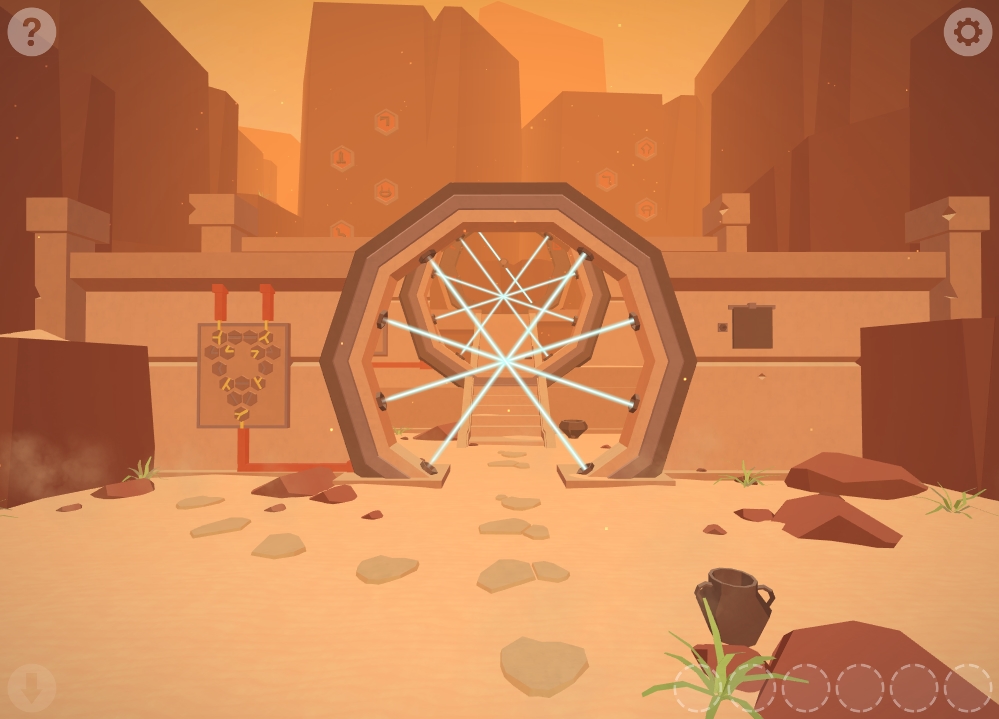 Better than your favorite board games, this puzzling escape room will have you sifting through ancient ruins for any clues that might help you escape.
How To Host A Virtual Escape Room For Work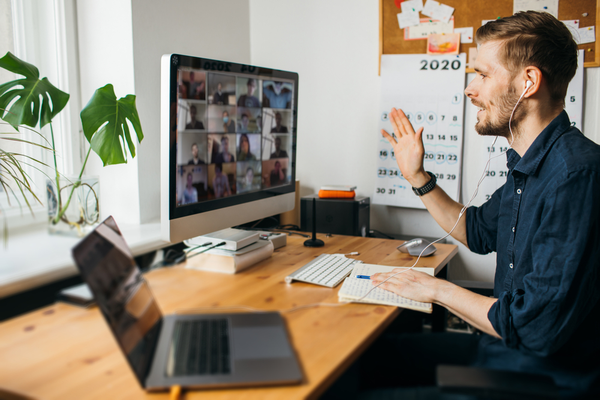 1) Choose your online escape room. Select from the themes, paid ideas, and virtual escape experiences above, or opt for a completely DIY experience.
2) Set a time limit to add even more stakes to your already exciting game.
3) Select your virtual gathering venue, usually a video conference call service, where all your players can meet to discuss the clues and puzzles you've set.
Some virtual event venue options include:
Zoom
Skype
Houseparty
Facetime (Apple)
Google Hangouts
4) Recruit your A team.
While you can force the entire group to participate, it can often be more effective to build interest and send out some feelers to see who might be the best fit to engage in a virtual escape room. once your A team is assembled, be ready to build anticipation for the event!
"A virtual escape room gives you a shared experience that pulls you out of the normal day-to-day. It's best experienced when you organize your people into teams and make it a fun competition!" – Michael Dean, Director of Corporate Partnerships at The Escape Game
5) Send Snacks. Send a surprise SnackNation snack box to give your team all the energy they need to escape your room and live happily ever after.
6) Get a costume ready and encourage everyone to do the same.
7) Send reminders and tutorials on the day of the event. Virtual events can be easy to forget about since they don't involve travel time. Make your guests' lives easier by sending event reminders several hours before you plan to make your escape.
People Also Ask These Questions About An Online Escape Room
Q: How do you create an online escape room?
A: Create an online escape room by:

Developing a story that helps players imagine escaping a room or situation
Inventing a series of puzzles or riddles players must crack in order to escape
Bringing everyone together on an online video platform to collaborate, solve, and escape
Get more tips for creating or hosting an online escape room in this guide.
Q: How do online escape rooms work?
A: Online escape rooms work by incorporating a mix of clues, challenges, puzzles, and visuals that help players vividly imagine escaping a room or situation.
Q: How do you play a virtual escape room?
A: You play a virtual escape room by interacting with an online environment to find and solve clues that build and ultimately lead to you escaping or resolving the challenging scenario at hand. Find a variety of virtual escape rooms to try in this post.
Q: How to create a virtual escape room with Google forms?
A: Create a virtual escape room with Google forms by adding clues and challenges you've created into the form as a survey. You can even set up surveys so players receive special keys or codes as they complete challenges, slowly progressing until they make their escape.
Q: What are the best virtual escape rooms to try with my team?
A: The best virtual escape rooms to try with your team include a Harry Potter virtual escape, Treasure Mountain, and the Escape Game's online offerings. Check out this roundup to find a complete list of virtual escape rooms to try.
Q: What are the benefits of an online escape room for team building?
A: The benefits of an online escape room for team building include sharpening cooperation and listening skills, developing group problem-solving capabilities, and refining your communication skills. Get all these benefits by finding an online escape room to try now.
Q: Can an online escape room be used for work?
A: An online escape room can be used for work. These virtual experiences are perfect for working on team building and problem solving skills. Plus, they help your coworkers or employees form lasting memories of adventure.
Q: Where can I sign up for a virtual escape room experience?
A: Sign up for a virtual escape room experience with the Escape Game or Expedition Escape. Find out more about participating in the adventures they offer in this blog post.
Q: How many participants can play an online escape room?
A: Up to 500 people can play an online escape room if you work with a premium vendor, such as the Escape Game.
Q: Where can I learn more about virtual escape rooms?
A: You can learn more about virtual escape rooms by reading this guide on escape room themes, services, ideas, and hosting tips.