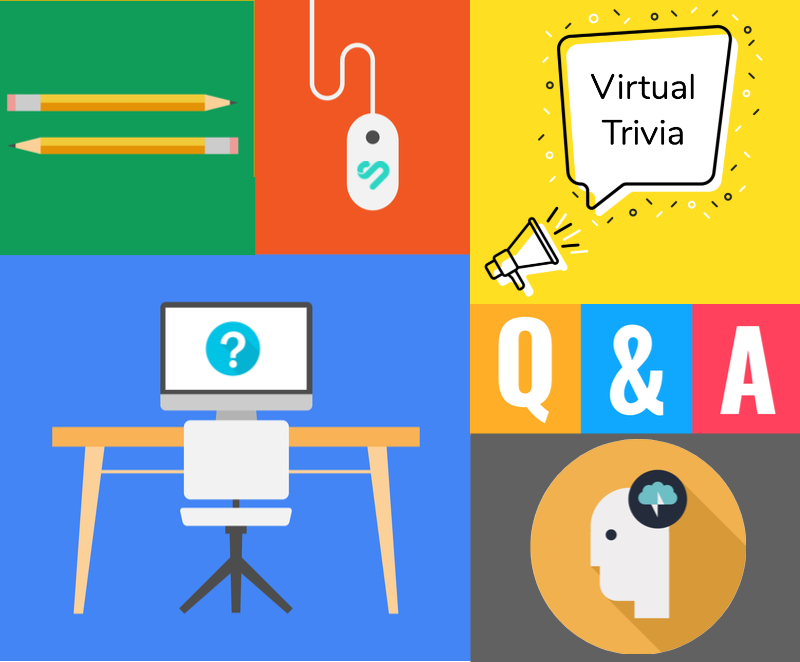 Question: What breakfast food was used to make explosives during World War II?
A) Eggs
B) Oats
C) Bacon
D) Sausage
[Answer at the bottom of the article]
If you enjoyed that little exercise, or the general idea of trying to answer questions that test your knowledge of things both practical and ridiculously random, then a virtual trivia night could be just what your social (distancing) life needs.
The best trivia games offer:
Exercise for your brain's frontal cortex and a subsequent rush of feel-good brain chemicals
Competition and connection to the people you're playing with
Safety for yourself and your friends and family during pandemic times when even a small weekly happy hour presents a public-health risk.
Flexibility that allows even more friends and family who live in any location or time zone to attend with no trouble.
Memories that are easy to capture via screenshots and screen recordings.
Plus, it's fun to guess the answers and also learn lots of random things as you get questions wrong. (If you get everything right, then it's also fun to validate your genius!)
Are you ready for some brain-tickling fun? Below is everything you need to know to plan a virtual trivia night.
Pro Tip: Use "Command + D" to bookmark this list – we update it often with new content.
Want to become a better professional in just 5 minutes?
Page Contents (Click To Jump)
Virtual Trivia Games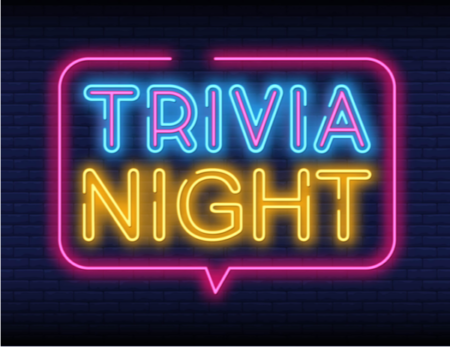 Join an engaging Quiz Master through 4 exciting rounds of trivia madness. Divide your group into teams and face off to crown the ultimate virtual trivia winners of the office.
You can choose from a wide selection of trivia themed activities from the more "classic" version of pop culture, history, sports, etc. or choose a special theme for your next virtual event. These themed virtual trivia games range from Totally 90s Trivia, Women's History Month Trivia, and Black History & Culture.
👉 You can also try the newly released Virtual Jeoparty Social and work together to put your collective trivia knowledge to the test!
---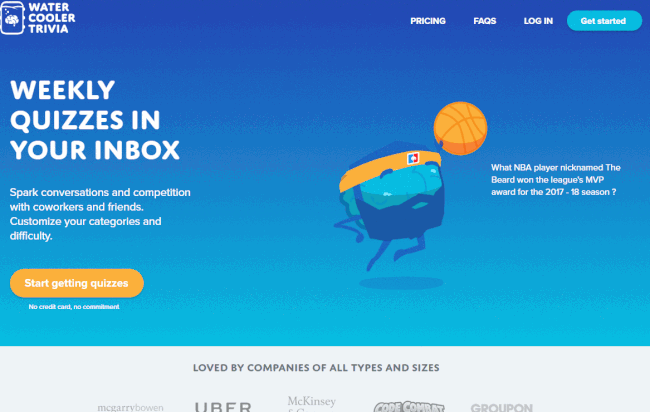 Dazzle your guests with trivia that is both entertaining and bond building. Find out who has a photographic memory for science facts or who keeps up with current events.
Water Cooler Trivia provides an online trivia interface you can use to create and distribute quizzes you and your guests can blast through during your event.
This game will feel like attending a trivia night where you and your guests are the star subjects.
---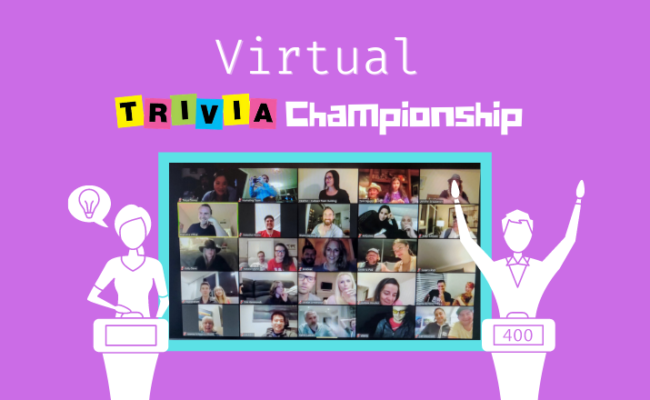 Who amongst you and your group knows the most about fun facts and obscure pop culture? Find out with Virtual Trivia Championship — the online trivia game where all that stuff you somehow know has an opportunity to shine.
Compete with your colleagues, collaborate with your teammates, test your trivia knowledge, and conquer the leaderboard with this virtual trivia activity for remote work groups.
---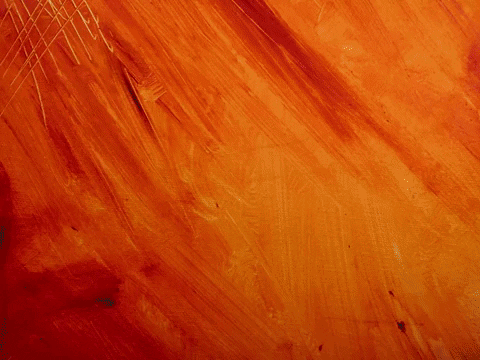 Get started with Trivia By The Decades. This 6-pack of trivia games is the perfect virtual trivia game bundle for seeing who has the most random facts savvy, ranging from 1950 to the 2000s. Now your team can face off with one another and work through a variety of questions based on movies, music, history, world events, and more!
The best part is that all you have to do is download and print as many copies as you'd like or send these playable printables to your remote trivia group and have them print out as many as they need or play directly from their screens!
---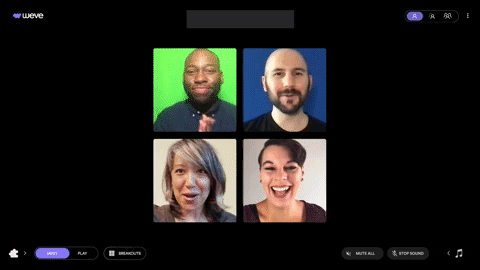 The trivia experts at Weve bring you a new trivia activity each month to provide fresh and fun experiences every time your group sits down to their trivia challenge.
Choose from 30 minute, 60 minute, and 90 minute versions to find the optimal trivia event and hop into a game show-styled activity filled with timely trivia, rapid fire rounds, & music and art identification.
---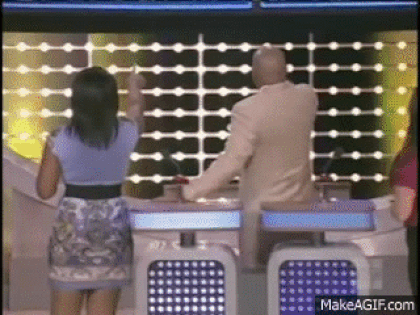 Survey says! It's time to play a work version of the classic trivia game show – Family Feud. With this trivia activity, two teams compete to name the most popular answers to survey questions. Rather than compete family to family, you'll be split up into teams to see which side will take home bragging rights.
Your team must guess the 5 most popular answers to win points for the whole round. If your team gets 3 strikes, the opposing team gets a chance to answer. At the end of Coworker Feud, the team with the most points wins!
We played a round of Squad Squabble (Virtual Coworker Feud) with our friends at Design Pickle to show you how this virtual icebreaker works… Still have no idea how 11 people said "Microwaving Fish" as an answer…
---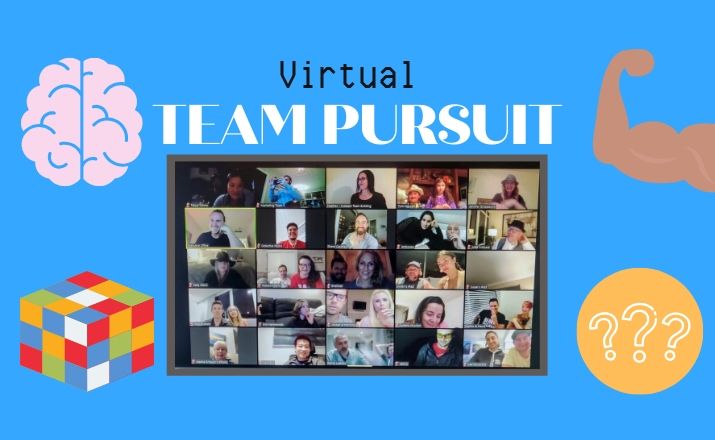 Outback's event experts will connect you to friends and teammates during a 100% online, immersive experience. Virtual Team Pursuit is basically the bonding game to rule them all.
Engage your friends, family members, or coworkers with a variety of challenges and questions that help everyone learn more about each other. Best of all, both correct and incorrect answers lead to lasting memories and lots of laughter.
---

How well do you actually know your coworkers? You know…The people you spend your entire week with! With Team Hunt Trivia you will take a fun spin through a virtual experience with your coworkers that will test what you know!
Facts about your coworkers will be revealed one at a time, while everyone tries to guess which facts and stories belong to whom. Sit back as the host reveals the answers, and find out who knows their team the best!
---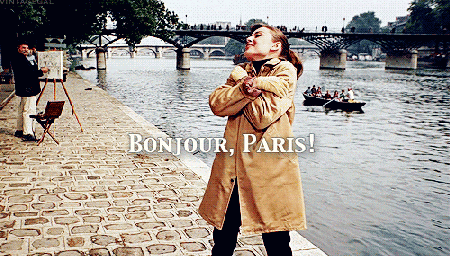 Virtual Trivia Party In Paris is a virtual city tour that will take you and your colleagues on an interactive journey through the French capital.
With an assortment of storytelling activities, French vocabulary games, brain-boggling Parisian trivia, and much more – this is a virtual trivia event that your group will not soon forget.
---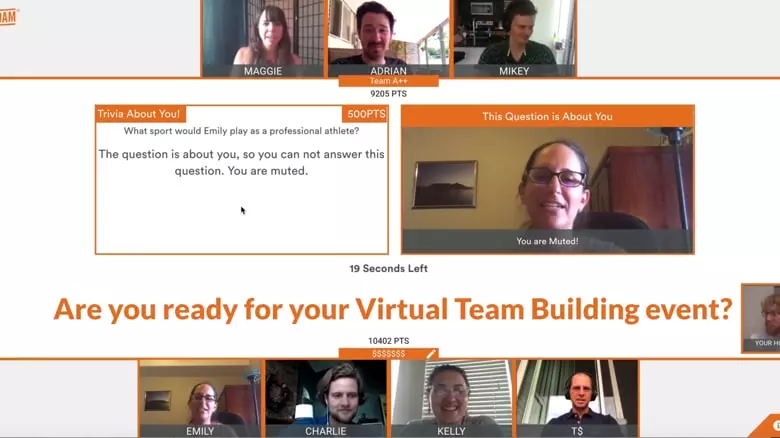 A Let's Roam virtual trivia game night is an hour of professionally planned and expertly executed bonding and merriment.
First-class event planners will handle all the details and logistics, and you can even customize your trivia questions so everyone can learn more about the other players during game night.
---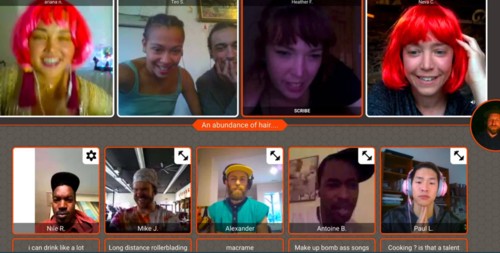 The Go Game is a virtual event company that offers a fun fest packed with a variety of trivia-night mainstays, including buzz-in pub trivia and a fun-fact match.
If you go with The Go Game, then you're going to fall in love with your virtual event host.
They're charming and will keep your event on-pace, making your guests laugh as you all blast through fascinating factoids and obscure tidbits.
---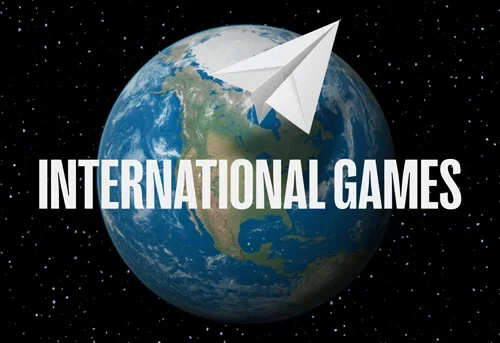 This office trivia game focuses on international questions that will test just how much you know about this big rock we all live on.
Check our some of these exciting rounds the next time you play the International Trivia Show:
🌏 Where In The World – Can you identify these locations based on these landmark photos?
🧠 Brain Teasers – Try your hand at puzzles and riddles that will take your entire team to solve!
🗺 Country Customs – Prove how much (or how little) you know about traditions, holidays, and customs of international countries in this trivia round
---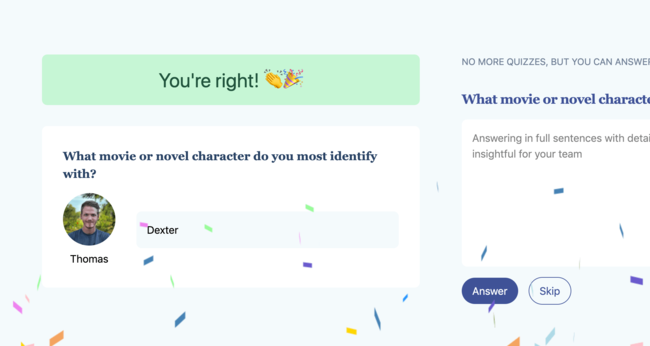 Make your virtual trivia night even more fun by theming trivia questions around the people you know and love—your very own friends and family.
QuizBreaker provides all the tools you need to plan rounds of trivia questions about people you know. And you know what? You'll get to know these people you know even better and maybe learn a few things that surprise you, crack you up, or just put a massive grin on your face.
---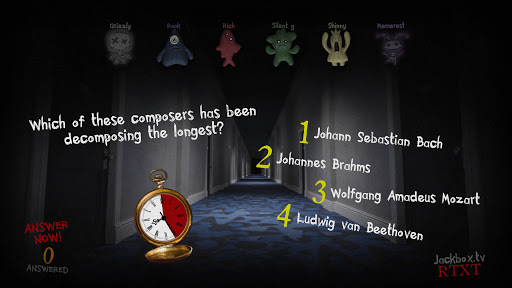 This game brings virtual trivia together with the creepy factor of a murder mystery. Your virtual party guests will love the high stakes of the game; only answering questions correctly will stop you from becoming a ghost.
Virtual Trivia Themes
Virtual Trivia Theme – Pub Quiz Night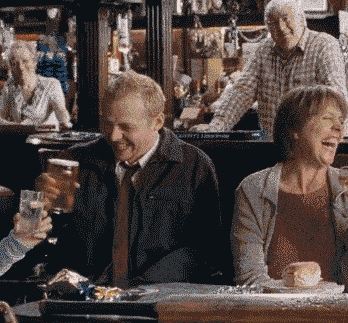 Your local pub, and all the magical trivia and happy hours it once offered, may be off limits during the COVID-19 pandemic, but that's okay. You can adapt. You can use a video conferencing software to create your own thriving virtual neighborhood bar trivia scene.
Ask everyone to bring their favorite pub drink and send everyone a box of healthy pub snacks, by way of SnackNation. Get a fun video background to really turn your space into the pub of pubs.
Pro-Tip: To kick off your virtual trivia night in style, start with Unboxed Experiences Beer and Cheese Pairings.
---
Virtual Trivia Theme – Jeopardy Style
Have guests dress up as though they were actually Jeopardy contestants for an online jeopardy game. (Definitely ask one volunteer to dress up as the ultimate trivia host extraordinaire, Alex Trebek himself.)
Of course, everyone must answer trivia in the form of a question.
You can even design your trivia questions around our favorite Jeopardy categories, including Before and After, Potpourri, and World Origins. [Check out the Virtual Trivia Ideas section below to find an app that makes this easy!]
---
Virtual Trivia Theme – All About Sports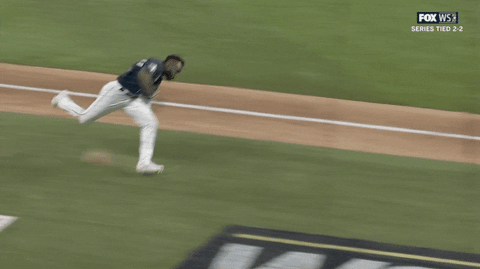 Gather your list of sports trivia questions and put on your best game face. This trivia night is going to be big.
Ask everyone to come dressed in a jersey, make your favorite healthy party snacks, and create a list of your favorite athletic bloopers to play when someone answers a question totally wrong.
---
Virtual Trivia Theme – Teletrivia Mania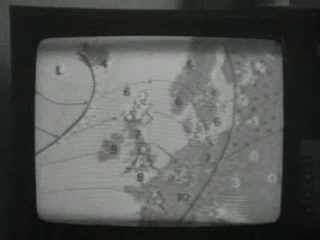 Ask attendees to tell you their favorite TV show of all time and make at least ten trivia questions for each. Mix things up by adding some trivia questions about your guests. (Who says the Office is their favorite TV show of all time? Bonus points if you know if it's the UK or US version.)
---
Virtual Trivia Theme – Disney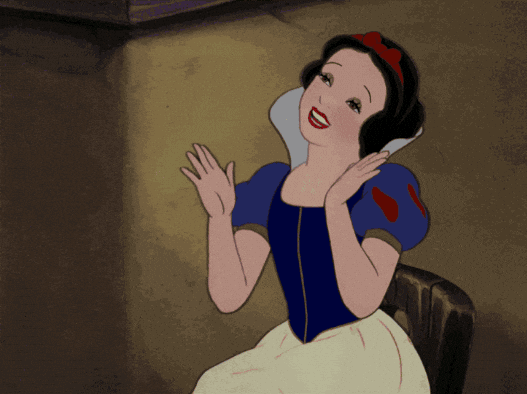 Dress up like your favorite Disney character, make a playlist of your favorite Disney songs, and of course, get ready to answer some of the most fascinating and obscure Disney trivia questions you can find.
Keep things interesting by adding trivia questions about Disney parks, Disney resorts, and even questions about the magic man himself, Mr. Walt Disney.
Pro-Tip: Talk to the virtual trivia experts at Let's Roam to design a customized Disney trivia experience that even the Cheshire Cat would enjoy. Just don't invite the Mad Hatter!
---
Virtual Trivia Theme – Please Don't Stop The Music
This focused trivia theme revolves around one topic: music. But even the most knowledgeable musical expert you know will find satisfying challenges in this kind of trivia tournament.
For example, you might…
Play a cover of a popular song and have guests try and name the song title.
Play an instrumental version of a song (such as Journey's Don't Stop Believing or Can You Feel the Love Tonight? from the Lion King) and have guests name the song.
Play a song and have guests name the movie it was featured in.
Show an album cover (with the band name edited out) and have guests name the band and list one hit song.
List band member names and have everyone guess the band.

Example: Band member names: Jimmy Page, John Bonham, John Paul Jones, Robert Plant
---
Virtual Trivia Theme – Tipsy Trivia
Pick a signature cocktail and ship/deliver ingredient kits to your guests beforehand. (You can simply share the recipe if you don't have the bandwidth for bottle service.)
You might also make things easy by using an alcohol delivery service such as Saucey. They'll deliver to your doorstep with a wide selection of beverages and spirits to serve to your guests.
Pro-Tip: Double down on your tipsy trivia night with a virtual escape room! The experts at Escape Game can create a drinking game to customize your experience while you solve the puzzle.
---
Virtual Trivia Theme – Does The Team Want To Be Millionaires?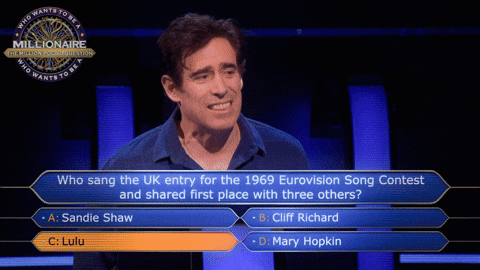 In this Who Wants to Be A Millionaire? spoof, guests (divided into teams) have to openly debate over the answers to trivia questions. Their answer can only be final when they have (almost) total consensus.
This theme will get a lot of laughs, and it also promotes cooperation, team building, active listening, and teamwork.
Virtual Trivia Ideas
DIY Virtual Trivia Night: Family Edition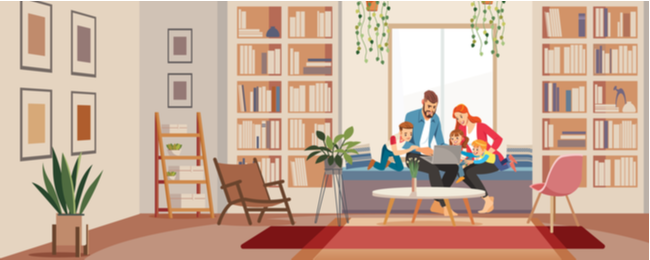 Create a custom trivia experience filled with questions only your family can answer. Instead of traditional trivia categories, you can just make each family member a category.
If your family is generally low-tech, then you can simply create a PowerPoint with questions to share via email or simple screen share.
Example questions include:
What was Carly's first-grade teacher's name?
Where (state, city, and location) did Mom and Dad get married?
What sorority was Mom in?
What was the name of Trevor's pet frog?
In what year was Grandpa born?
What did Grandma do before she retired?
---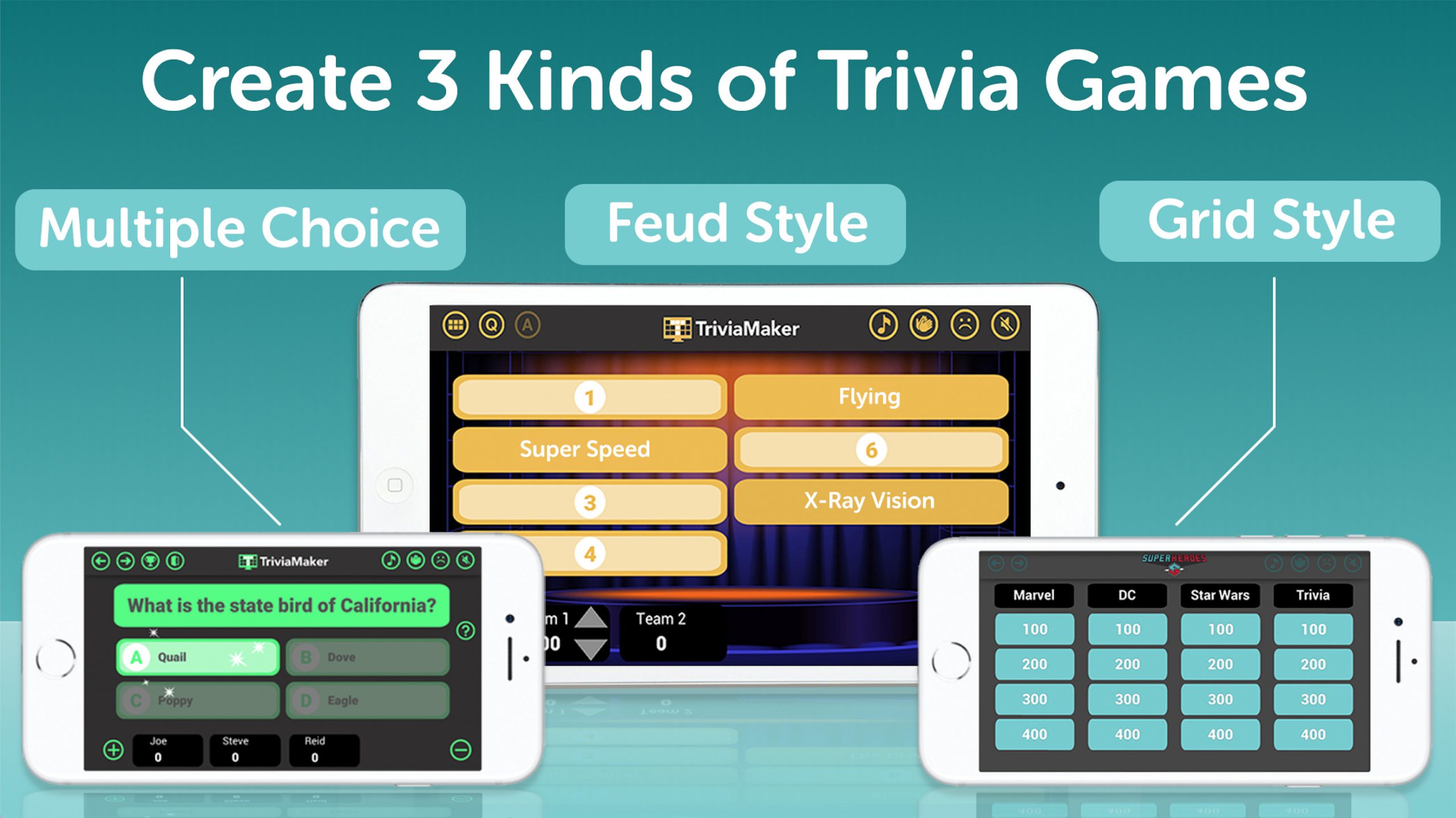 Use this tool to create, stream, and customize your very own trivia games. You can even choose from different game styles, such as wheel or list style.
---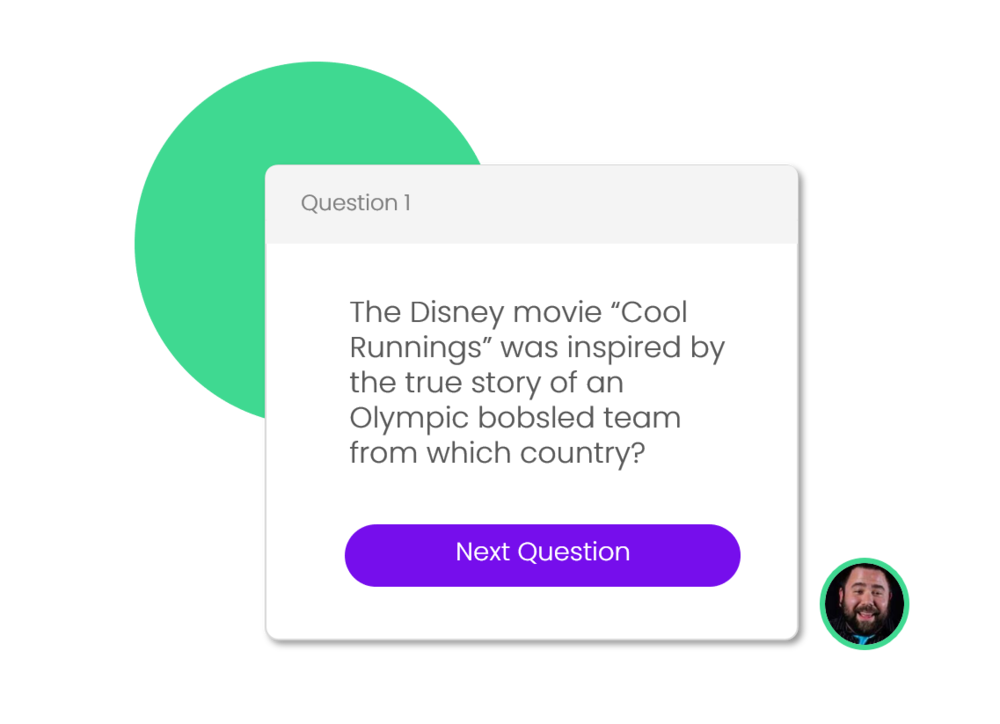 TriviaHub Live is an all-inclusive platform that provides everything you need to easily host a virtual trivia night. This platform provides your questions, a handy online scoring system, and even a mobile platform your guests can use to participate in trivia on the go.
---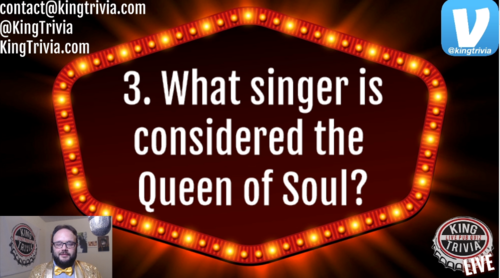 Instead of trying to plan your own virtual trivia night, you could simply join a live trivia experience run by the experts and hosted by engaging personalities you'll love immediately.
King Trivia happens every Sunday and Wednesday at 7PM PST. Simply coordinate with your guests to get their handles and screen names before you play. (These events are open, so it will be more than just you and your guests playing; you'll want to be able to spot each other.)
---
Swipe Ideas from Trivia Podcasts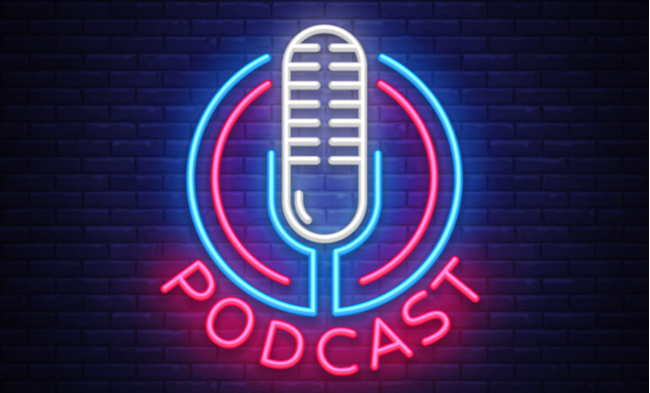 Get enough inspiration to develop thousands of trivia questions by listening to fun-fact podcasts or even old trivia rounds and tournaments. This list of trivia podcast options will get you started.
---

Join Quizmaster's pub quiz trivia every Tuesday and Thursday night, and really make it an event by downloading and distributing their answer sheet pdf to your guests. You can tally everyone's scores and name a winner from your group.
You and your friends will love Quizmaster's themes, including Lord of the Rings, Friends, and 90s Movies and Music.
---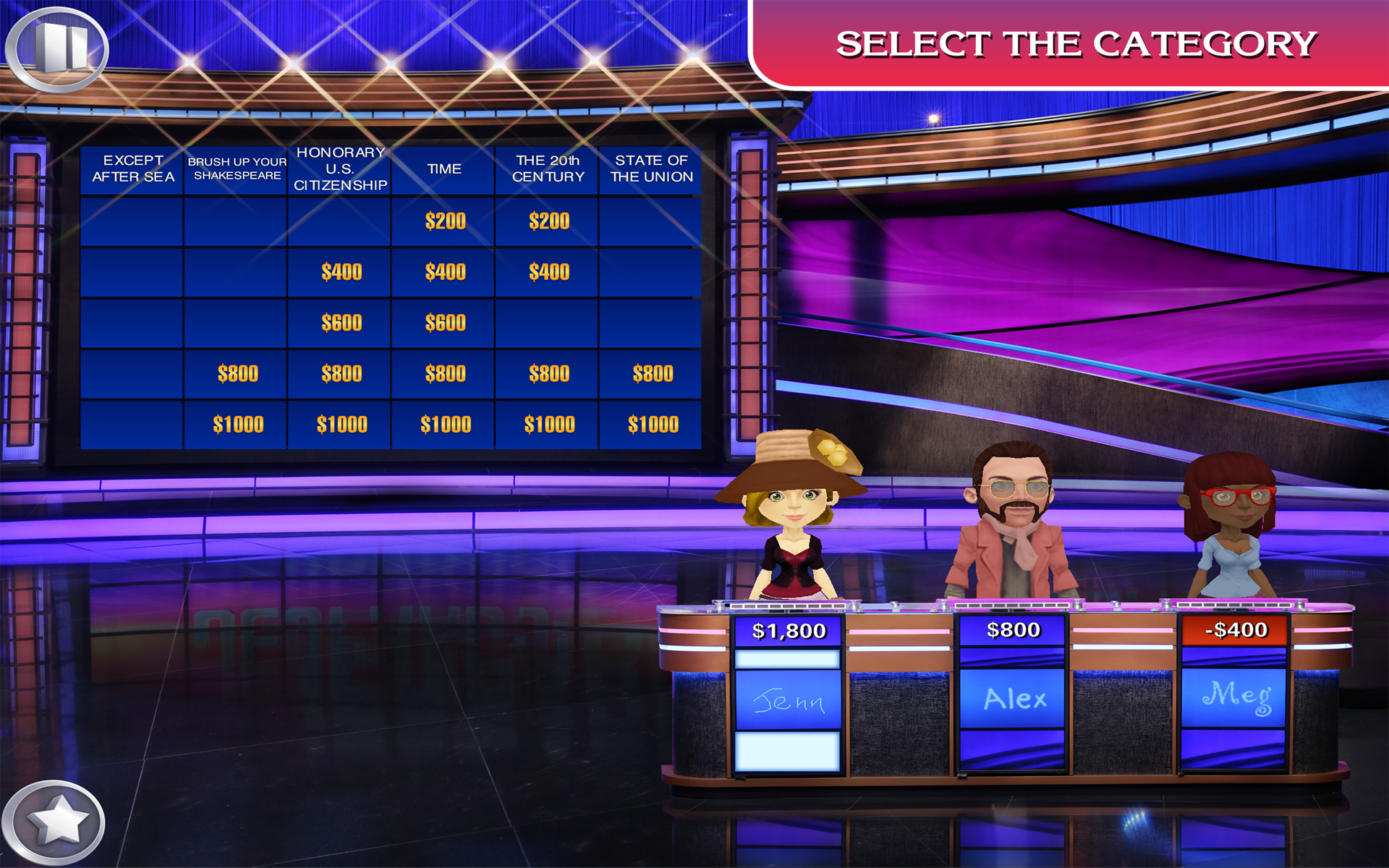 Get an authentic Jeopardy experience during your trivia night with an app featuring real Jeopardy clues. The World Tour app even lets you challenge guests to a friendly competition. (Not to mention the app makes it easy to get a virtual trivia night up and running in seconds.)
---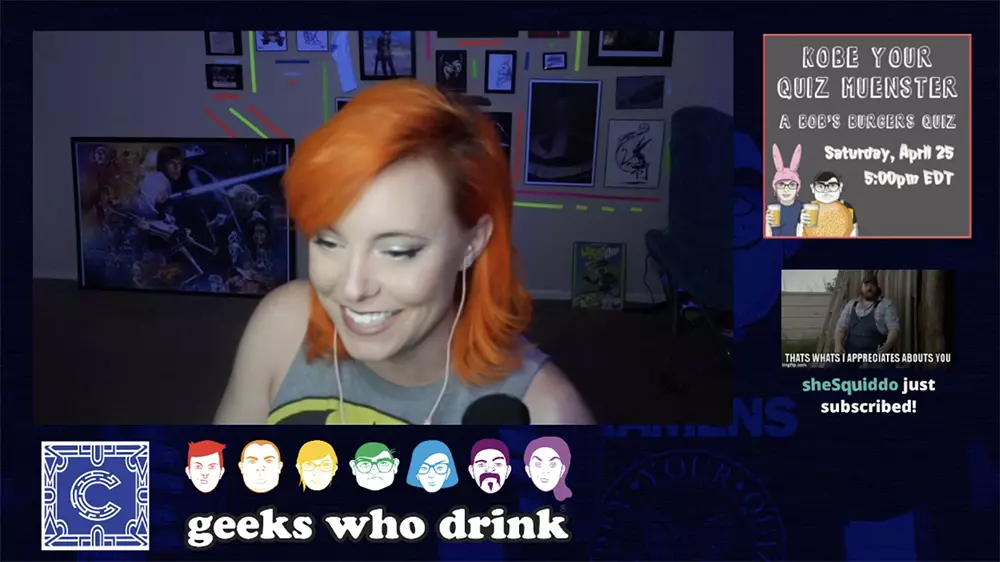 Another live stream to join instead of planning your own trivia night, the Geeks Who Drink stream will satisfy even the most advanced trivia buffs on your list.
Join a live stream at 9PM EST every Tuesday night. You can also reserve a spot on a specific team or even get the Geeks themselves to help you plan a private event.
---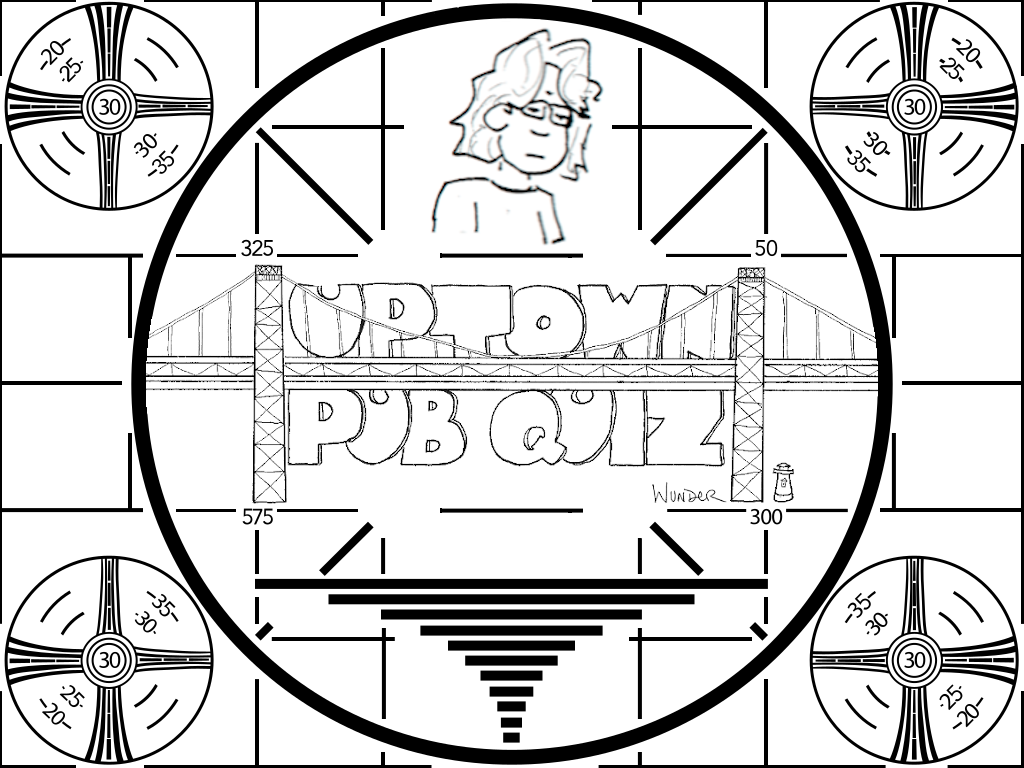 You and your virtual trivia night crew can follow this page and join a free pub quiz that starts Wednesdays at 8PM EST.
---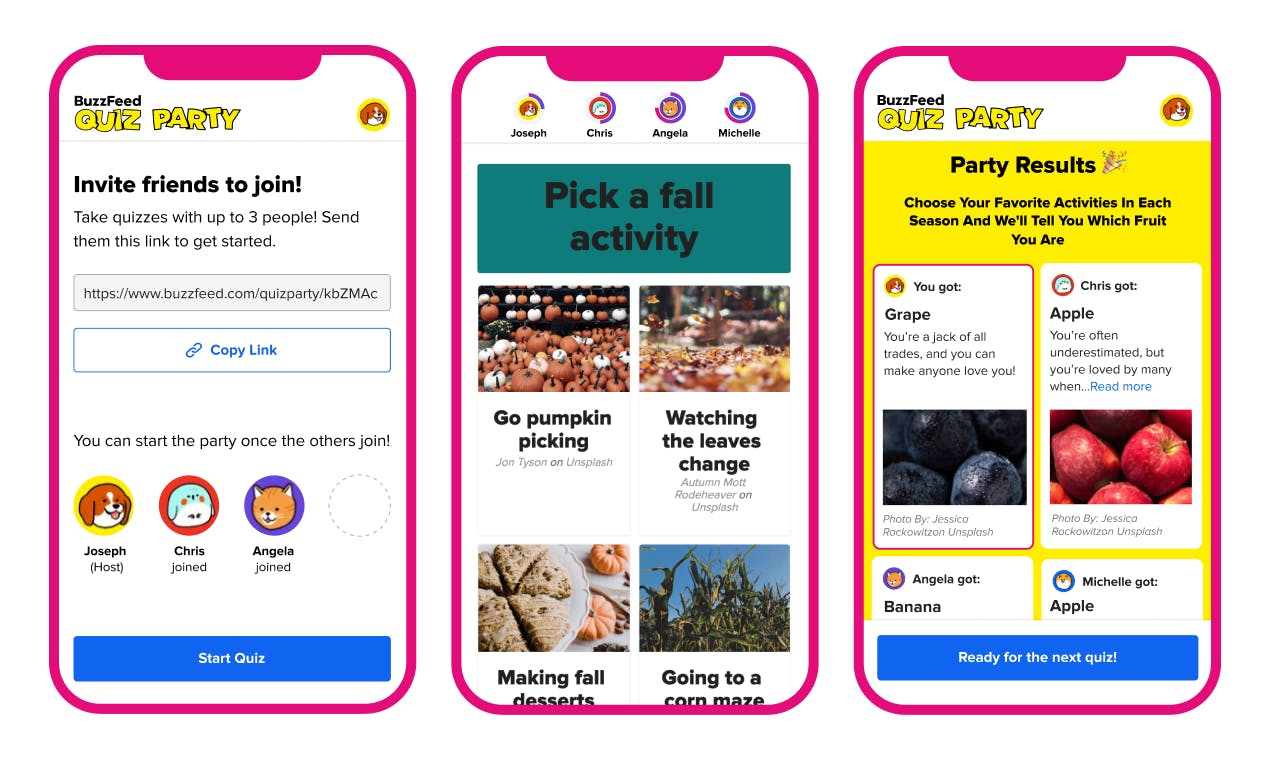 Most people are familiar with the surprisingly addictive and satisfying Buzzfeed quizzes. (We must all just love finding out how much we really know about Dwight Schrute or how old we are on the inside based on our choice of cupcake.
Use some of these multiple-choice quizzes as inspiration for your trivia night questions, or plan a night based on rounds of quizzes and results-sharing using Buzzfeed's Quiz Party feature.
---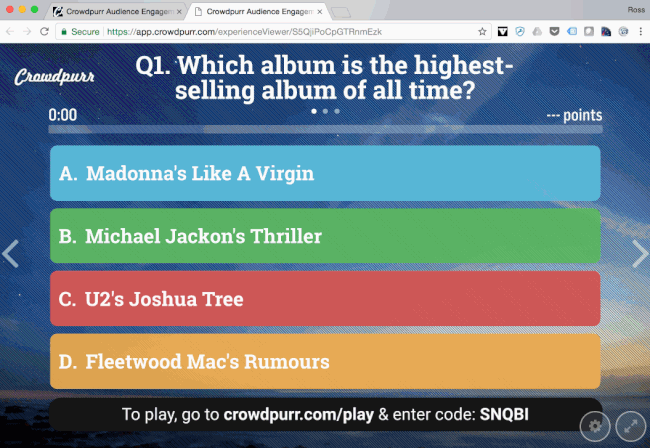 Crowdpurr's live crowd trivia feature makes it easy to plan a professional virtual trivia night experience. Choose from HQ or points-style competitive trivia matches and post the results so everyone can see where they stand and who they need to take down.
Your guests can even enjoy seamless gameplay on their mobile devices.
---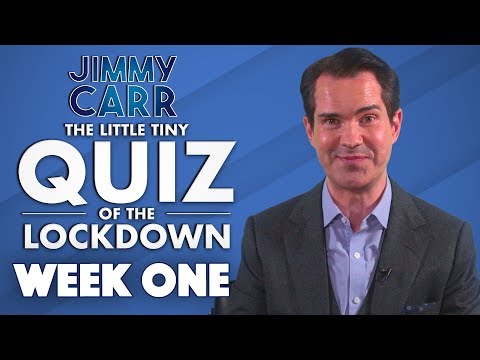 Create or download a handy answer sheet and group-stream one (or several) of Jimmy Carr's question segments. When everyone's ready, move on to the corresponding answers video to see how everyone did.
These videos may be fast-paced for some, so be prepared to pause if necessary.
---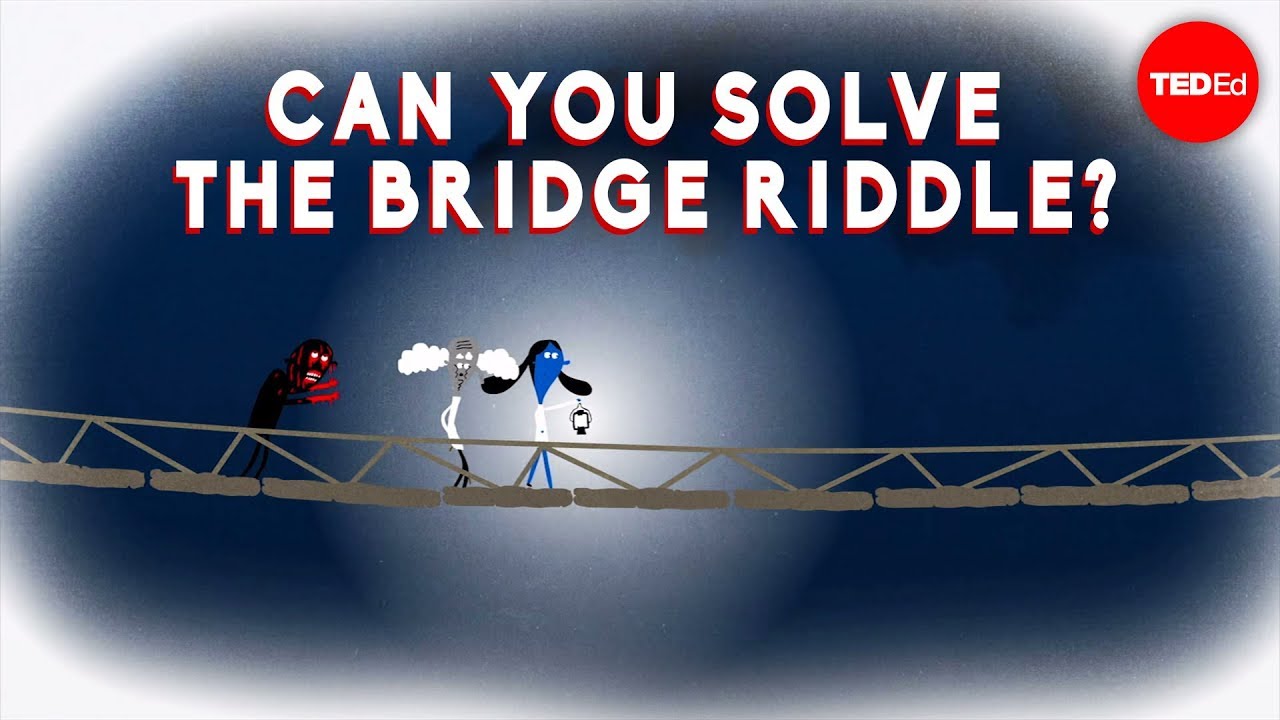 If you think your virtual trivia night guests might prefer a series of in-depth reflections to fast question-and-answer rounds, then TED-Ed's engaging premade riddles might be exactly what you need.
Simply group-stream the riddle video, pause to deliberate, and then see how close your solution is to the official answer.
Examples:
How to Host a Virtual Trivia Night
Hosting a virtual trivia night sounds like a lot of fun but it does require some planning and work to execute the event successfully. To get you started and make sure your night is a hit, we want to send you our verified tips and tricks that will help you be a master virtual trivia host.
Make your guest list. This will help you figure out how many questions you'll need to create and also how many teams you might need to split into.
Ask or hire someone else to be your trivia host if you're taking the DIY route. If you're planning trivia because you love trivia, then a third-party host will allow you to stay in on all the fun, making wild guesses along with everyone else.
Consider your event flow ahead of time. Will you announce answers after each trivia round or wait for the end of the event? Will you assign people to teams or let them divide themselves up and give themselves team names? Create an event outline to make sure your event vision actually makes sense.
Add a few questions that cater to your audience. If you and your coworkers or friends bond over your love of football, then add some quality football trivia to your list.
Send links to downloadable answer/scoring sheets to make it easy for guests to keep track of everything.
Choose a costume and a virtual or physical backdrop to match your trivia night theme.
Choose and test a video chat/conference call service if you've selected a trivia idea that doesn't include a turnkey platform. Some popular options are:
Send virtual invitations or create events on social media and collect RSVPs. Include the event length and a brief outline and description of your virtual trivia format.
Send snacks. Send a surprise SnackNation snack box, packed with delightfully delicious health- and energy-boosters. The perfect snacks can really tie an in-person event together, and they do the same thing for virtual events, adding a sense of ceremony and celebration.
Get prizes. Use Swag.com to order a bunch of custom items to ship or deliver after the event. For example, you could have custom velcro patches or enamel pins printed with your own "trivia master" design.
Send reminders and tutorials on the day of the event. Virtual events can be easy to forget about since they don't involve travel time. Make your guests' lives easier by sending event reminders several hours before virtual trivia night.
Question: What breakfast food was used to make explosives during World War II?
Answer: C) Bacon
People Also Ask These Questions About Virtual Trivia
Q: What is virtual trivia?
A: Virtual trivia is a competitive question-based knowledge test you can play online with friends, family, and even strangers. Virtual trivia is usually played in rounds, with questions organized by categories such as nature, pop culture, geography, and music.
Q: Why is playing virtual trivia important?
A: Playing virtual trivia is important because many in-person trivia hot spots, such as bars and restaurants, have closed or limited operations to control the COVID-19 pandemic. With these in-person gathering places closed, virtual trivia gives enthusiasts a chance to connect with friends, test their knowledge, learn new facts, and maintain a social life. Find your complete guide to participating in virtual trivia here.
Q: What makes a virtual trivia game fun?
A: Interesting questions, easy-to-use technology, likeable participants, and well-planned pacing make a virtual trivia game fun. Find all the tips and tricks you need to make your own virtual trivia game fun in this guide.
Q: How do you host a virtual trivia party?
A: Host a virtual trivia party by creating questions, developing your event flow, and finding prizes for your highest (or maybe even lowest) ranking players. Find your complete hosting list, as well as game ideas, in this post.
Q: What categories are good for a virtual trivia night?
A: History, popular culture, and music are all good categories for a virtual trivia night. Find tons of other trivia ideas in this complete guide to virtual trivia nights.
Q: How many people can attend a virtual trivia night?
A: Up to 300 people can attend a virtual trivia night if you use a premium vendor such as Outback Team Building. If you host your own trivia night, you should consider how many people you feel comfortable engaging with as the trivia host. Generally, around 25 people can engage fully and actively in an hour-long virtual trivia night.
Q: What are some virtual trivia games for a small group?
A: Some virtual trivia games for a small group include Quizbreaker, Buzzfeed's Quiz Party, and trivia on Houseparty. See this list for a comprehensive list of trivia games and ideas.
Q: What are some virtual trivia games for a large group?
A: Outback Team Building's Virtual Team Pursuit, Let's Roam's Virtual Game Night, and the Go Game Remote are all ideal virtual trivia games for a large group. Find even more trivia games and other tips and tricks for making your virtual trivia a success in this guide.
Q: How do you play virtual trivia on Zoom?
A: Play virtual trivia on Zoom by creating a few rounds of trivia questions, building an answer key, and sending blank answer sheets to your guests. After that, simply bring everyone together on Zoom and play trivia host. Read the questions, allow time for answering, and then announce the correct answers at the end of each round.
Q: What are some virtual trivia night themes?
A: Some virtual trivia night themes include Jeopardy, Disney, and sports. To find even more trivia themes, see this massive list of trivia ideas.