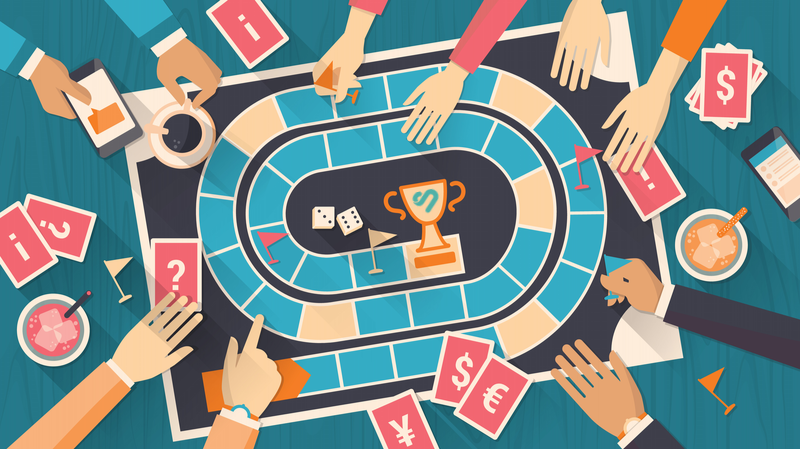 What brings people together while keeping them apart?
What takes you to tons of new places with zero travel time?
That's right. A virtual game night.
A virtual game night is an evening of shared delight provided by online games that include anything from professionally hosted virtual trivia nights to classic board games that just got virtual makeovers.
Want to become a better professional in just 5 minutes?
Page Contents (Click To Jump)
Benefits Of Hosting A Virtual Game Night
Games make prime candidates for virtualization. Some mobile versions of classic board games streamline gameplay and include in-app instructions that make following the rules easier than ever. (That means you and your guests can spend more time goofing off and less time reading instruction booklets.) Other benefits include:
Safety for yourself and your friends and family during pandemic times when even small gatherings present a public-health risk.
The flexibility that allows even more friends and family who live in any location or time zone to attend with no trouble.
Memories that are easy to capture via screenshots and screen recordings.
Healthy competition. (Who doesn't love winning?)
Transportation and immersion as guests pursue exciting objectives while pretending to be fascinating characters.
Keep reading to find all the details you need to host a virtual game night packed with side-splitting fun.
Make your next virtual game night with coworkers extra special and send them a little surprise in the mail. Talk to the curation experts at Caroo and learn how they can help each employee feel like a winner — even if you hold the crown for Mario Kart in the office!
---
Virtual Game Night Ideas & Activities
Good virtual game nights keep guests engaged with the game and socializing with friends and loved ones. You can maximize engagement by making sure the games and technologies that you choose run smoothly.
The ideas below will help you host a game night that goes off without a hitch or hiccup.
Virtual Game Night Ideas For Work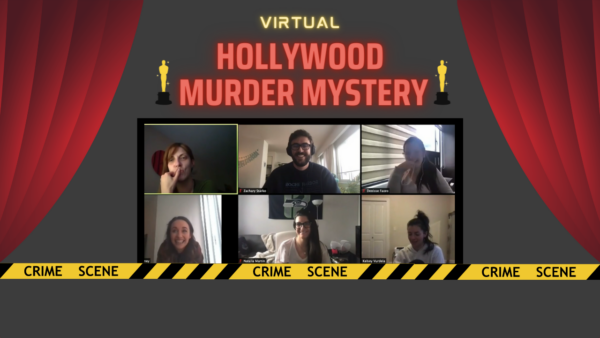 You and your distant team of detectives need to investigate the death of an up-and-coming actress in her hotel room, the morning after she attended an awards show. With sharp analytical skills honed by experience, you must analyze any available evidence, identify potential culprits, and determine who committed this heinous crime – as well as their motive. Let's get cracking!
Why we love this: This virtual game night option is a perfect combination of virtual interaction and mystery solving! It's an engaging way to work on team-building and problem-solving skills while having fun. Additionally, the virtual platform allows remote teams to come together to take part in the game.
Where to start playing: Head over to Outback Team Building to get started with a virtual Hollywood Murder Mystery!
2) Virtual Game Night Challenges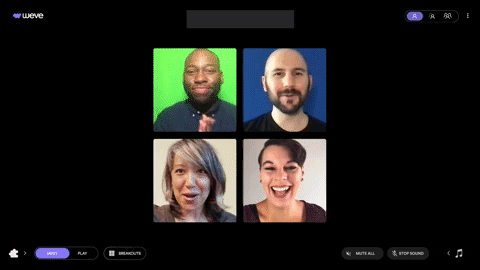 This virtual game night option is perfect for those looking for a larger group challenge. Gather your virtual team on Zoom and take part in the virtual Team Challenges, from virtual scavenger hunts to virtual cooking competitions. It's a great way to engage the entire team and bring out their competitive side!
Why we love this: These virtual team challenges offer a great way to bond and collaborate with virtual teammates. Also, they can help to improve communication, problem-solving, and virtual team-building skills.
Where to start playing: Liven up game night with these virtual team challenges…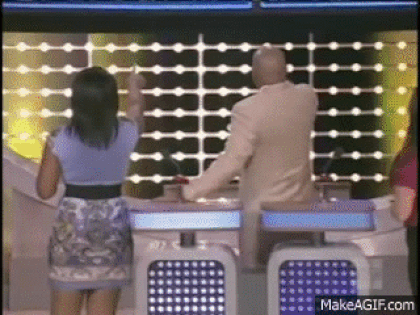 Just like being on the classic game show! An entertaining host will lead contestants through multiple rounds in this fun and fast-paced digital take on Family Feud.
Why we love this: This virtual game for work comes with a digital buzzer that allows contestants to compete like they're on the actual game show. You can even request custom questions based on a theme for an added price!
Where to start playing: Book here!
We played a round of Virtual Coworker Feud aka Squad Squabble with our friends at Design Pickle to show you how this virtual game night activity works… Still have no idea how 11 people said "Microwaving Fish" as an answer…
This virtual game night option is a great choice for those who love trivia! Create an online version of the popular Jeopardy Game Show, complete with virtual categories and virtual clues. It's perfect for groups of all sizes, as every player can answer questions from their own screen.
Why we love this: Jeopardy is a classic game that everyone is familiar with, so it's easy to set up and play virtually. On top of that, the virtual version allows for more creative categories and custom questions, so you can make this virtual game night unique to your team!
Where to start playing: Get ready for a thrilling experience with your very own Jeo-party.
5) Get Expert Hosting from The Go Game
Don't you just wish you could ask your best, most-charming friend to host your virtual game night so you can have fun with your co-workers? The Go Game will make this wish come true and then some.
When the experts are in charge of your virtual game night, it will feel like your most entertaining friend is leading you through a night of the best games, laughter, and quality conversations. During your game, expert event hosts lead and listen, finding and feeding conversational sparks every chance they get.
Why we love this: Their expert approach to virtual events doesn't just lead to fun; it also encourages "authentic connection, spontaneous interaction, and creativity."
Where to start playing: Learn more about The Go Game's Virtual Game Show here.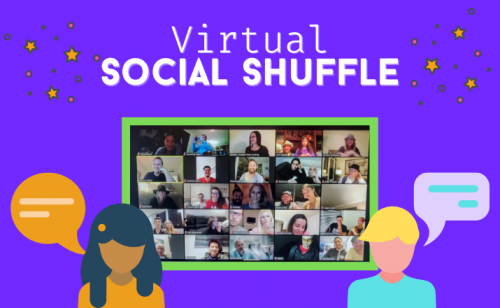 Get to know your colleagues and build better connections with this ultra-social virtual game night activity for remote teams. Your group will learn fun facts about one another as you tackle a series of themed challenges together and engage in exploratory conversations.
Why we love this: This activity sets the stage to see the other side of your coworkers in a fun and care-free online environment. Every challenge is designed to inspire conversation and help build bonds between teammates. Since you spend all day with these people. You might as well get to know them!
Where to start playing: Get custom pricing for your group to plan your next Social Shuffle game night.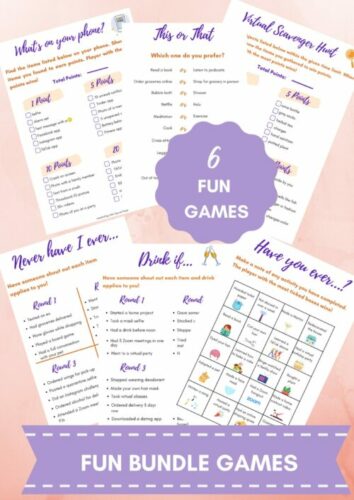 Do you remember those adolescent games like "Never Have I Ever" or "Truth or Dare"? Who says you have to grow out of them? Perhaps life can continue to be all fun and games with this Fun Bundle For Adults!
Why we love this: The Fun Bundle For Adults contains 6 smartly curated and beautifully designed downloadable PDFs for your next virtual game night. It's as easy as downloading them and printing them off for you and your coworkers, employees, friends, or family to enjoy together. Now, your virtual game night will be as full of intriguing conversations and questions as it is fun.
Where to start playing: Learn more about the Fun Bundle For Adults here!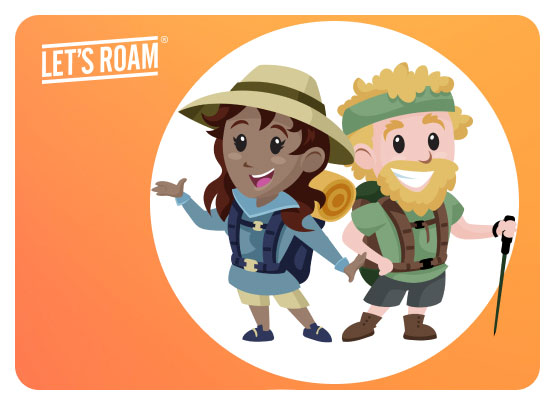 Distance doesn't matter when you're completing a Let's Roam scavenger hunt. Their expertly designed events will turn your friends, family members, and loved ones into a unified group of adventurers bound by one singular noble mission.
Why we love this: Let's Roam plans all the details of your virtual scavenger hunt, so you can focus on socializing and having fun at work.
Where to start playing: Start your ideal virtual scavenger hunt run by Let's Roam.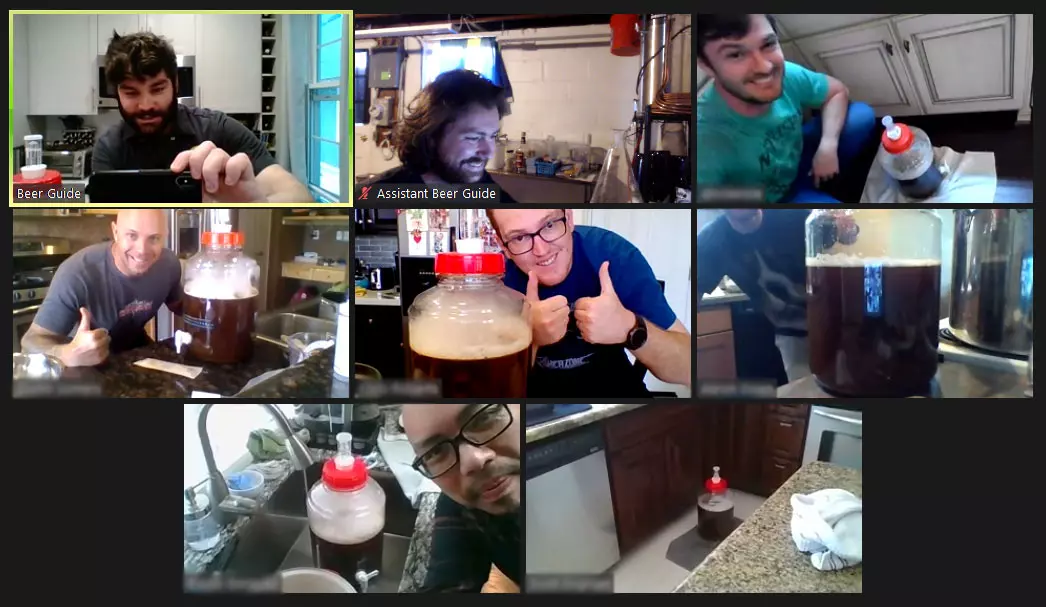 If your work friends aren't really gaming types, then you can treat them to everyone's real favorite game: drinking beer.
Unboxed Experiences can help you host a virtual beer and cheese pairing night or online home-brew experience. No matter which event you choose, you and your guests will either be brewing or appraising beer like experts by the end of the night.
Tip: Gamify this idea by downloading some beer trivia to sprinkle throughout your event.
Why we love this: You don't have to be in the same place to bond over the mutual joy of drinking and learning about beer.
Where to start playing: Virtual beer events are hosted through Unboxed Experiences.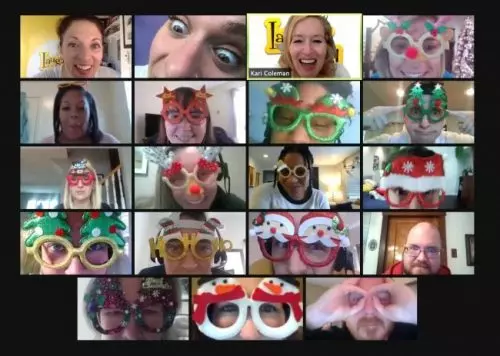 Laughter On Call knows exactly how to tickle the funny bone if you're feeling stuck "safer at home." Professional comics run a series of virtual games where you'll not only find yourself giggling, but you'll sharpen your listening skills, learn about storytelling, and some fun details about each other you never knew!
Having run 60+ international laughter events for groups ranging from Fortune 500 companies, to family holiday parties, to 7 execs on an island, they know exactly how to make laughing together feel like exactly the adventure we need.
Why we love this: LOC is unique in its commitment to creating connection for people through shared laughter. Being encouraged to laugh out loud with people and play virtual games where you share funny stories (or make them up together) will leave you feeling more connected.
Where to start playing: Talk to Laughter on Call to get laughing as soon as today!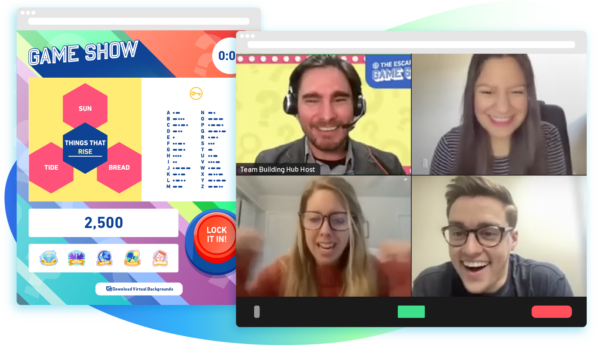 Having hosted hundreds of thousands of players from companies of all sizes, The Escape Game offers a variety of games that are not only super fun, but include enthusiastic hosts to lead your team through a virtual game night!
Why we love this: They provide an immersive virtual game night where you and your group can choose from a number of engaging Zoom-based games including…
Virtual Escape Rooms – With  several themes including a prison break, a submarine expedition and an art heist
Puzzle Game Show – Your game show host will lead your team through a series of game rounds like Puzzle Pyramid, Phrase Craze and Code Breakers
Mystery Games – Teams of 7-8 "secret agents" race to solve a crime first by reviewing evidence, cracking codes and connecting the dots!
"We were blown away! It was so organized, clever, detailed, and we also laughed so much along the way!" – Myra T, Zappos
Where to start playing: Plan your next game night!
Virtual Game Night Activities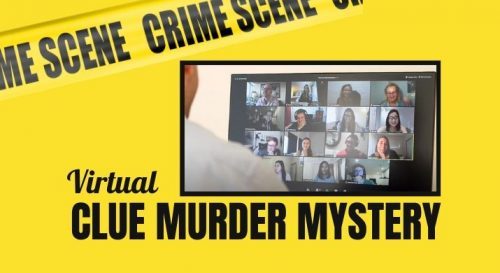 Can one be an expert at having fun? Just meet the team at Outback Team Building to come up with your answer. (It's an unequivocal "yes!")
Outback's event experts have perfected the art of connecting people and building immersive bonding experiences you can enjoy 100% online.
Outback has even leveraged their expertise to create a virtual clue murder mystery that combines video conferencing and a specially designed app to make every aspect of solving the mystery, from examining clues to reviewing case files, flow perfectly.
Tip: Debrief after the mystery and assign everyone funny "superlatives" based on what they contributed to the solution.
Why we love this game: Outback's custom app provides a brilliantly simple way to distribute and study clues.
Where to start playing: Learn more about your virtual clue murder mystery and get custom pricing at Outback Team Building.
2) The Good Natured Identity Thief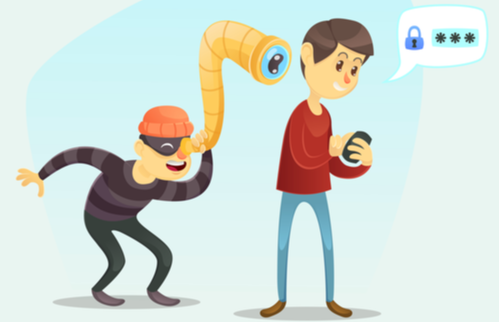 Assign all your guests a different guest to act like. Divide your group in half to create two teams. One team will be the guessers and the other team will be the imitators.
The objective is to imitate the other guest so well that the guessing team figures out who you're supposed to be first.
But the teams don't switch just because someone wins. The guessers have to figure out who everyone is imitating before they become the imitators.
Tip: Up the stakes by asking the imitators questions. (e.g. What is your favorite outfit? What would you say if someone challenged you to a backward horseback riding race? etc.)
Why we love this: This activity helps guests solidify (and laugh hysterically at) knowledge about their friends. Plus, players learn new things about their favorite people and poke a little good-natured fun at character quirks and tendencies.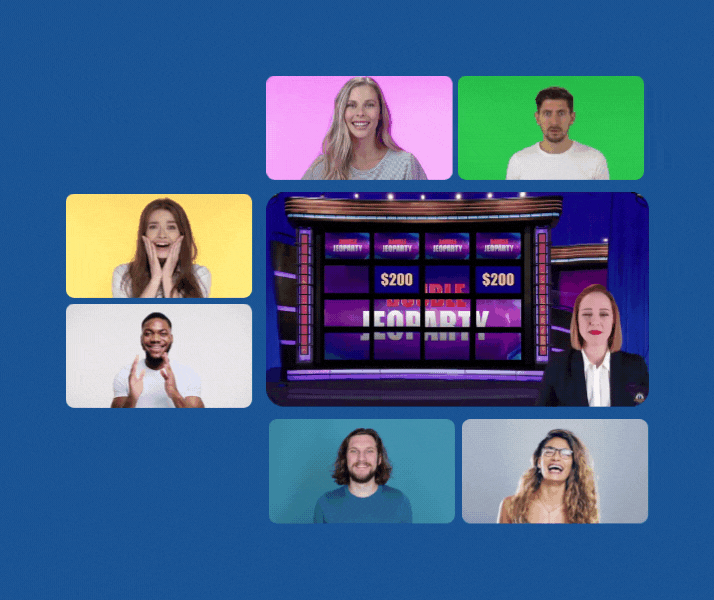 Show what you know in this digital version of the classic game show.
In traditional Jeopardy-style, the game master will quiz participants during this online jeopardy game on a variety of pre-customized topics, culminating in the ultimate Final Question wager.
Why we love this: Their host handles all of the organizing and facilitating and will even create a custom quiz or round just for you. A truly incredible virtual game show experience.
Where to start playing: Get your game on here.
Tip: Take your virtual game night for work to the next level with a curated one-of-a-kind employee care package through Caroo!
4) Virtual Netflix/Hulu Drinking Game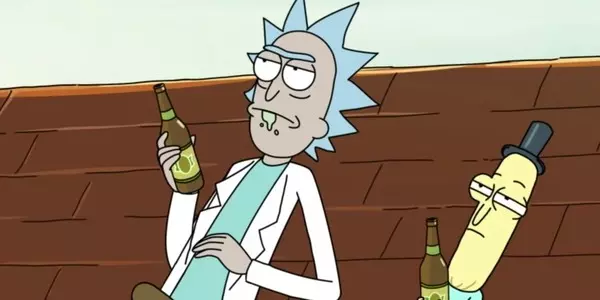 This easy-peasy activity is a real crowd-pleaser. You don't even have to make up your own game. Here are just a few options that are ready to go:
Find drinking games for practically any show or movie at DrinkWiki.
Why we love this: It's effortless fun that's easy to plan and easy to explain.
Where to start playing: You can sync up your viewing party using Netflix Party.
Tip: Talk to Priority Experiences to create unique cocktail kits inspired by your virtual Netflix/Hulu drinking game and deliver them straight to your friends' doorsteps.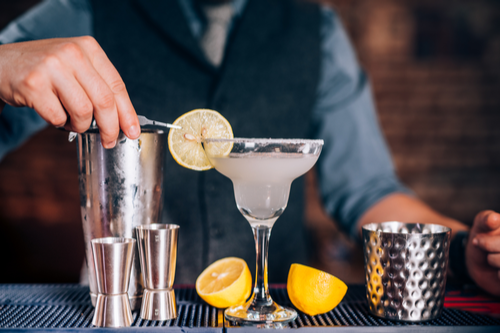 A great way to start your online game night off right is with a virtual mixology class with Priority Experiences. You and your virtual game night guests will each receive a perfectly portioned mini cocktail kit that provides everything you need for happy hour without tons of unwanted leftovers or waste. You'll also get a live demonstration showing you how to expertly mix all your ingredients into a picture-perfect cocktail.
Why we love this: This unique virtual experience caters to the guests. You don't have to make a trip to the store or order special ingredients. Everything you need for your big "cheers" moment arrives right at your door and you get to learn how to mix drinks like a pro – which will come in handy at your next in-person game night.
Where to start playing: Virtual Mixology Experience
6) Get Sporty with Homecourt Practice with Matching "Uniforms"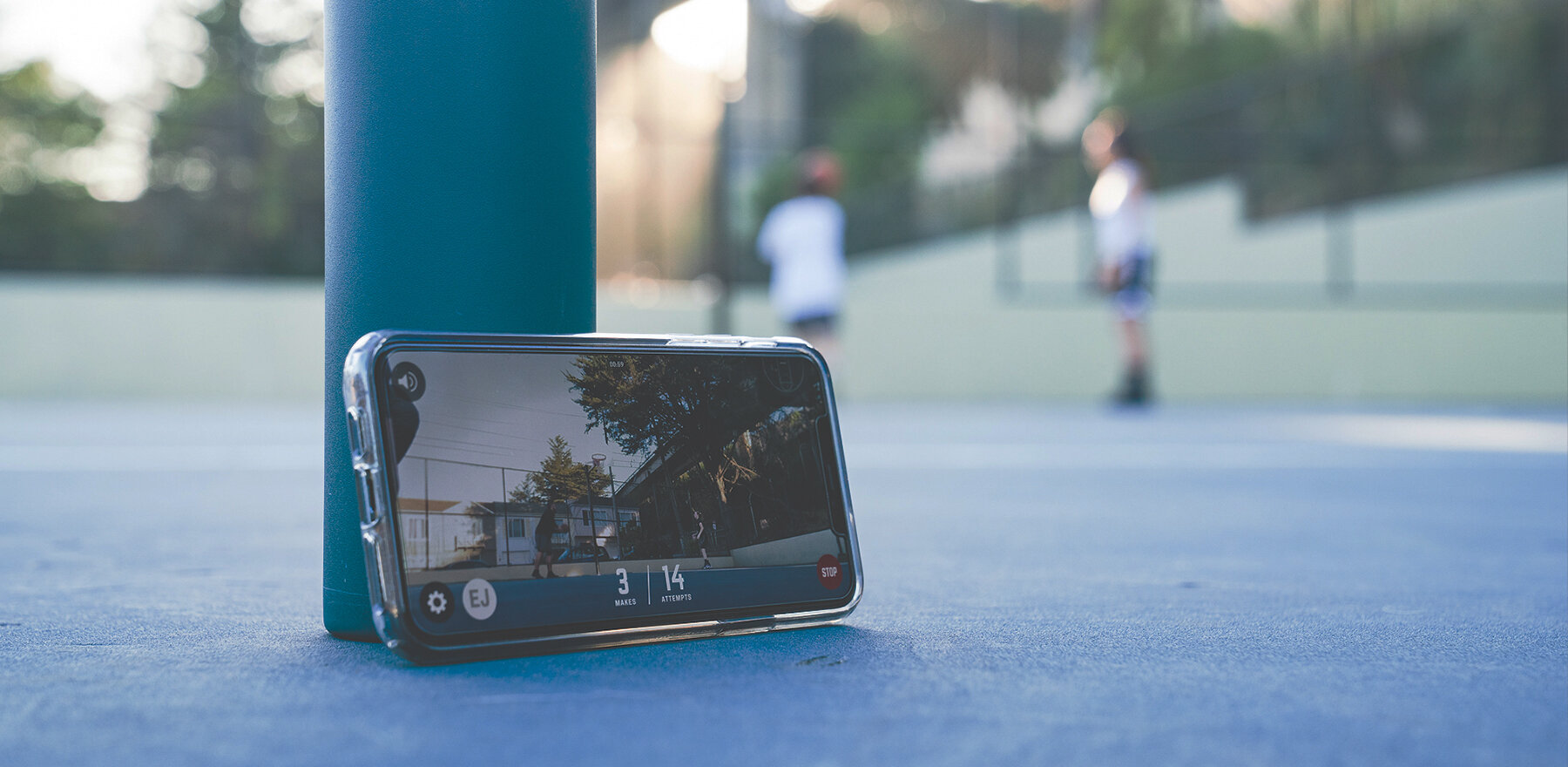 Use Homecourt to get sporty with your work team. Choose from interactive drills that will make team members of all skill levels feel like professionals. You can even use Homecourt to set up an official team and watch each other develop over time.
Get some "uniforms" from Swag.com to tie this event together. Your "uniform" can be anything, as long as it's matching and customized with your team or company name and logo. Swag.com makes that part easy. Choose from t-shirts, hats, tank tops, or hoodies—all ready for customization and color-coordination.
Why we love this: Your uniform will really help your distributed team feel as unified and bonded as possible.
Where to start playing: You can find the best interactive drills for your team at Homecourt.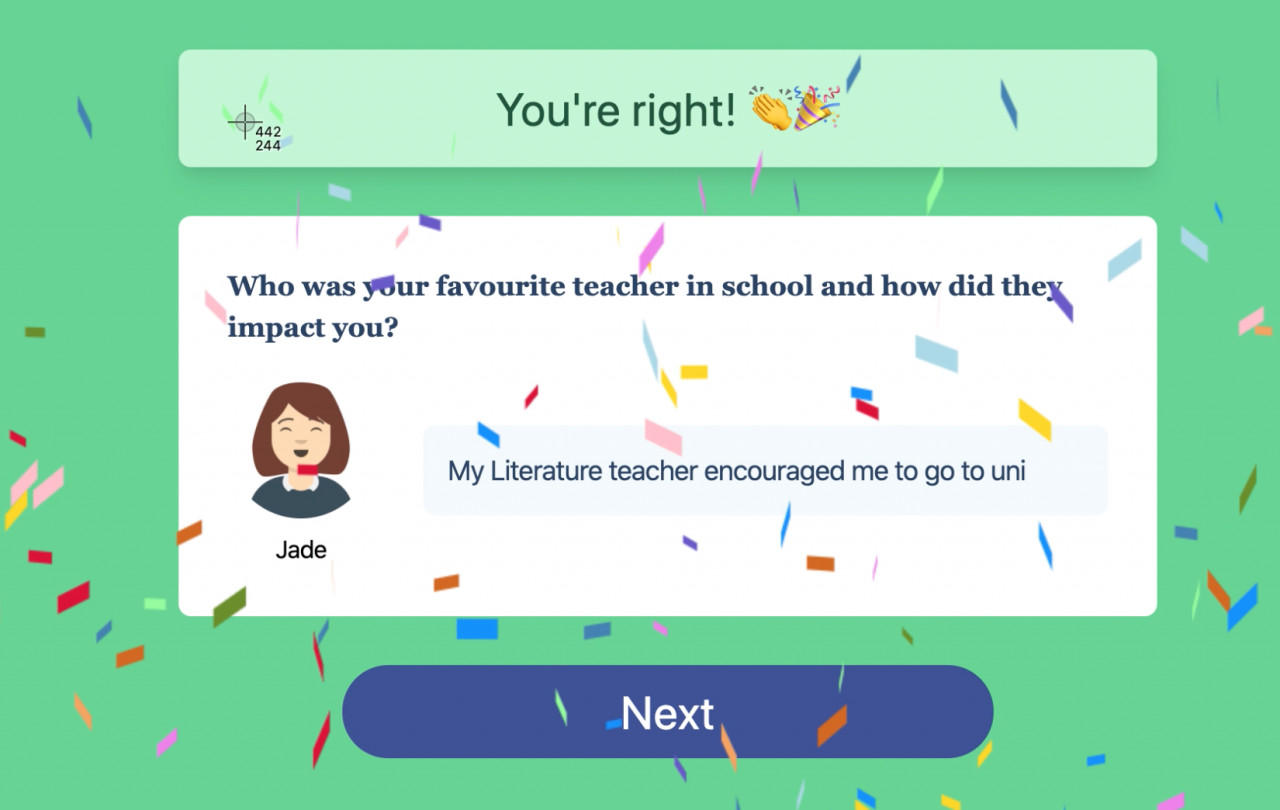 Trivia is more fun when you know about the subjects. Online trivia is exceptionally fun when you know the subjects personally—when the trivia subjects are your very own friends and family.
QuizBreaker helps you build and distribute quiz-format virtual trivia games about people you know. You'll get to know them better and maybe even learn a few things that surprise you.
Why we love this: This activity helps you learn and absorb knowledge about the most important people in your life. Some info will be useful. Some info will be useless. But all the info will be funny and rewarding to learn.
Where to start playing: Try QuizBreaker for free.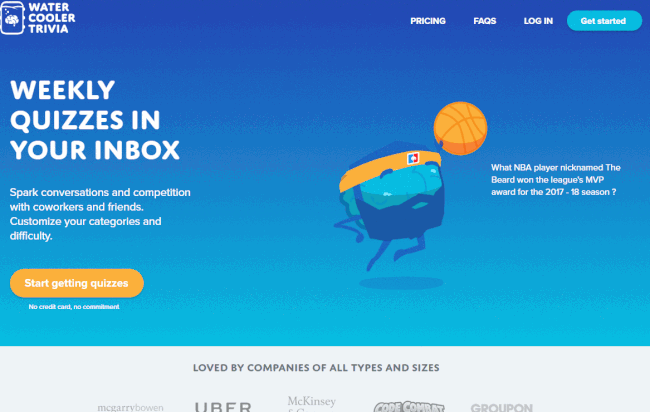 Dazzle your work friends with team-building trivia that entertains your team as it makes them stronger. Simply use Water Cooler Trivia, an online trivia interface, to create and distribute quizzes and then peruse the results to learn fun facts about co-workers.
This game will feel like attending a trivia night where you and your teammates are the star subjects. Who wouldn't love that?
Why we love this: Teams who trivia together stay together, or at least learn a lot about each other. Find out who has a photographic memory for science facts or who keeps up with current events.
Where to start playing: Find the best option to start your trivia challenge at Water Cooler Trivia.
9) The Dream Team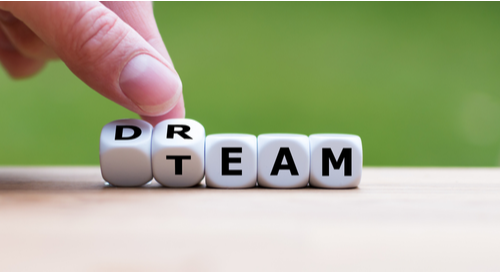 Have all your guests create a "dream team" for completing an arctic exploration, taking over the world, building the world's biggest snowman—the objective is totally up to your imagination.
Simply pick your objective and create a list of essential roles that match your number of guests. For example, if you expect seven guests at your virtual game night, and you've chosen "discover a new planet" as your objective, then your list might look something like this:
Spacecraft technician
Chief navigator
On-board chef
On-board entertainment specialist
Pilot
Security/Disaster manager
Extraterrestrial relations specialist
Why we love this: It helps everyone consider the strengths and talents they love in their friends in new ways. Players might even acknowledge abilities they never saw in their friends before. (E.g. you might suddenly realize you have 100% confidence in Luther's ability to effectively charm any intelligent life you encounter on your journey.)
Virtual Game Night Online Board Games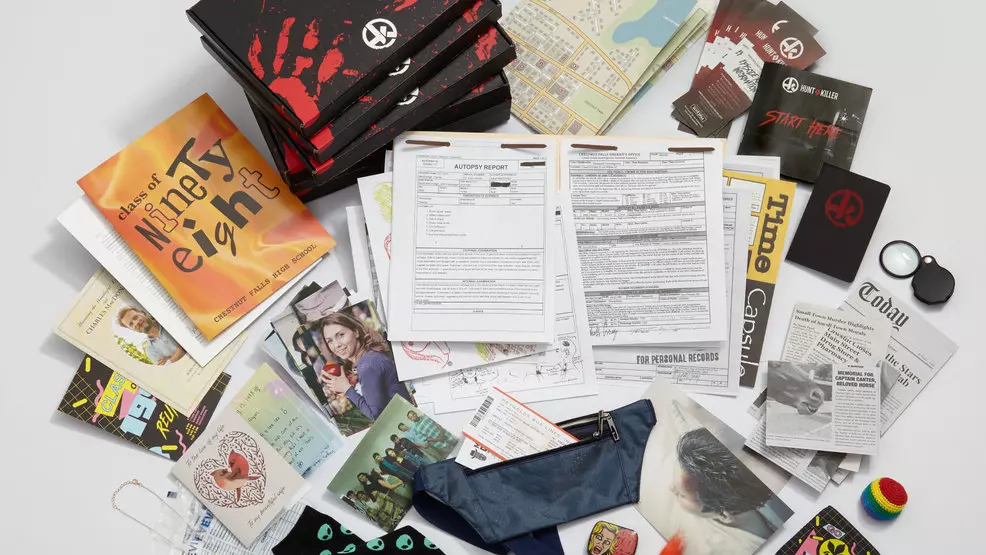 For your virtual game night, play the high-stakes game of catching a killer.
Hunt A Killer immerses you and your guests in the captivating experience of solving a murder mystery, slowly but surely, over a few months.
Why we love this: Hunt A Killer sends you new clues every month. (It's a long-running murder mystery party you and your guests will never want to leave.)
Similar content:
Where to start playing: To start your murder mystery game night head over to Hunt A Killer to gather the necessary supplies.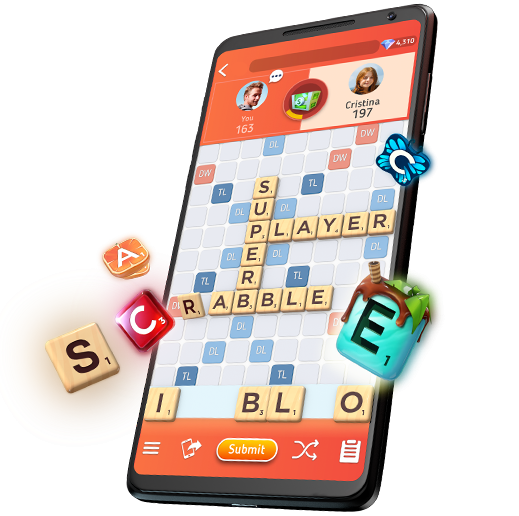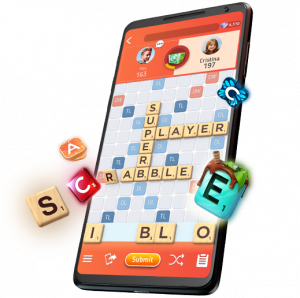 The classic board game Scrabble has delighted millions of people by immersing them in hours of word-building fun. Fun fact if you're already a Scrabble lover: the inventor actually started creating Scrabble as a way to uplift spirits at the end of the Great Depression.
Why we love this: The fun of Scrabble has nothing to do with the tactile aspects. A game board and those wooden squares are nice, but you'll be amazed at how engaging the online version is without them.
Similar content:
Where to start playing: Download the free app from the Hasbro official website.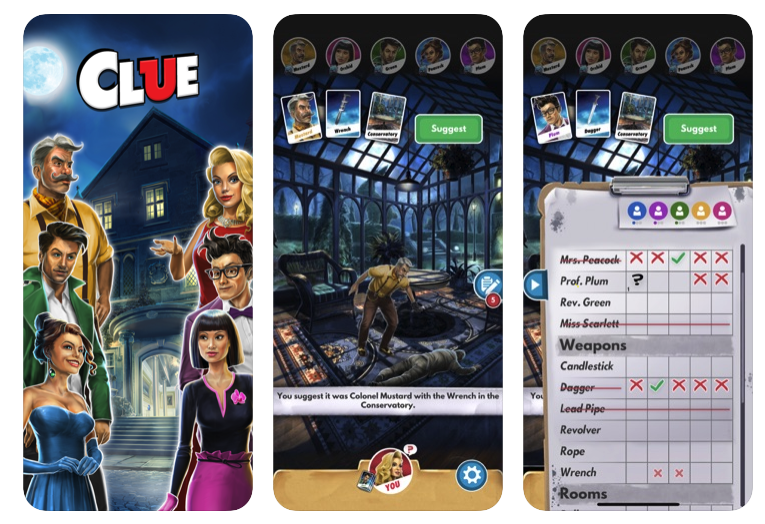 Adapted to an online format, everyone's favorite murder-mystery board game will bring your virtual game night guests plenty of spine-tingling intrigue and sinister storylines they'll talk about for months.
Why we love this game: Most people know and love the physical version of this Hasbro classic, so it should be easy for them to get into game-play right away.
Where to start playing: The Clue app is available only on the App Store for iPhone and iPad.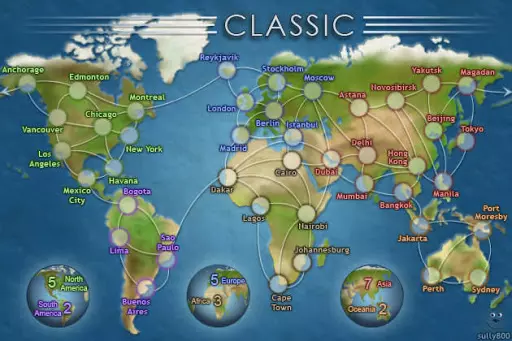 If your game night guests are extremely competitive, then this is the game for you. As a player, your objective is to conquer the world. (It doesn't get much more competitive than that!)
Why we love this: This game is strategic, exciting, and turn-based, so it creates a competitive, yet decidedly orderly, game night experience.
Similar content:
Where to start playing: It's free to play. Just register at conquerclub.com.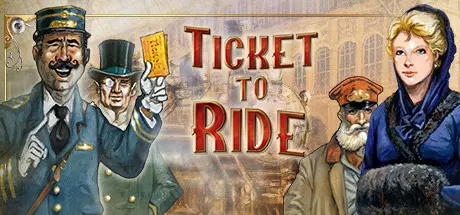 Another virtual adaptation of a classic board game, Ticket to Ride will have you racing across the railway system, coming up with strategies that get you to your destination before the other players. There's no gold-standard strategy to apply every time; the fun of this game comes in finding new creative ways to "beat the system."
Why we love this: It combines vintage railway vibes with a fast-paced race, creating a game that's both charming and captivating.
Where to start playing: Ticket to Ride is available on Steam here.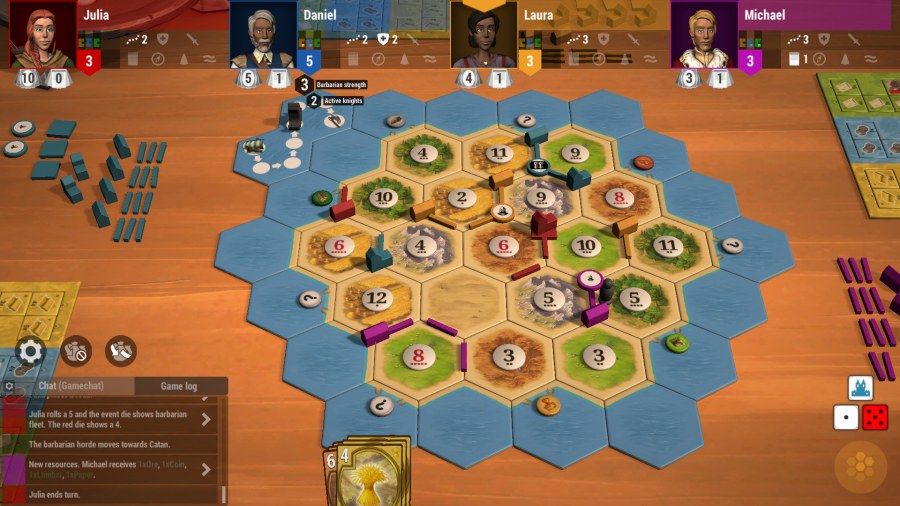 This game brings everything you love about the classic version of Catan into a digital format. During your virtual game night, your guests will create settlements and roads, using finite resources to create the best possible world.
Why we love this: This expertly designed game immerses your guests into a different world that feels real and engaging in the best possible way.
Where to start playing: Available to play through the Catan Universe.
Virtual Game Night Apps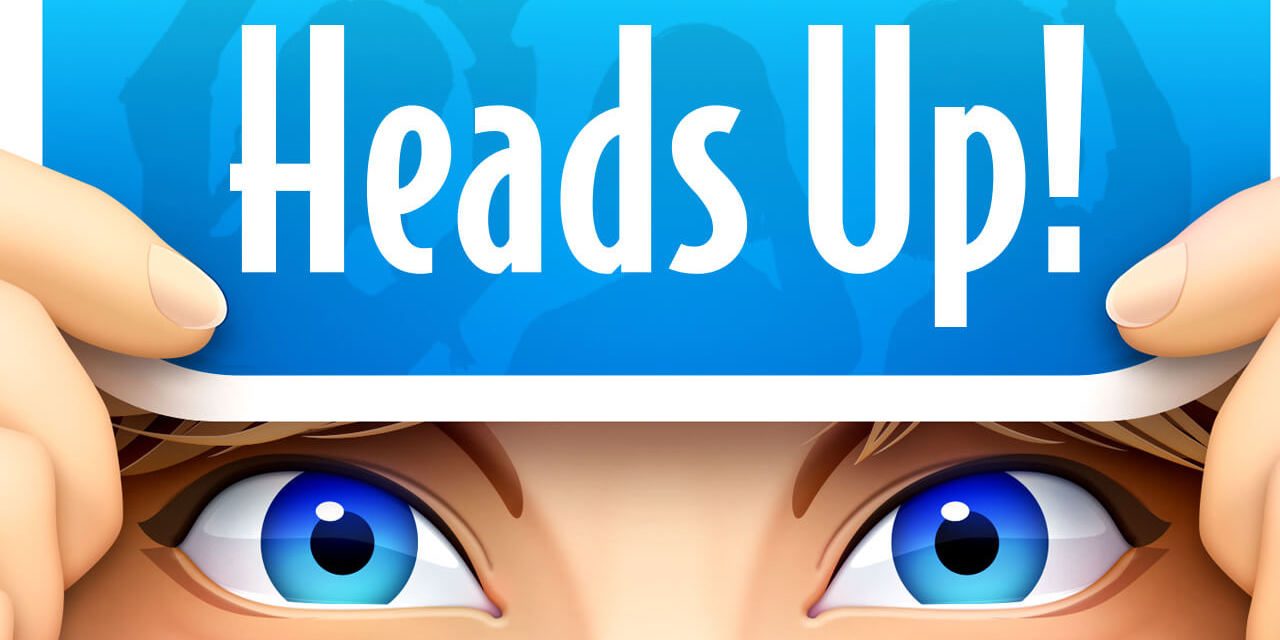 Brought to you by the fun-loving Ellen DeGeneres, Heads Up takes a simple guessing game format and makes it hilarious by having players keep their cell phones on their heads.
Social-distancing game night with Heads Up! features technology within technology. You'll have to view all your guests on your video call technology (set to gallery view so everyone can see everyone at once) and then play the game on your cell phones.
Why we love this: You can take videos of your game to extend the hilarity of your game-night for days or even weeks.
Similar content:
Scattergories, everyone's favorite fast-thinking category board game now comes in a mobile app that allows you to challenge friends to duals and even track your progress (a.k.a. track who's winning) over time.
Why we love this: The app provides a comprehensive gaming experience. You need only the app to play with friends. (Of course, you can always connect to your video chat if you want some face-to-face socializing.)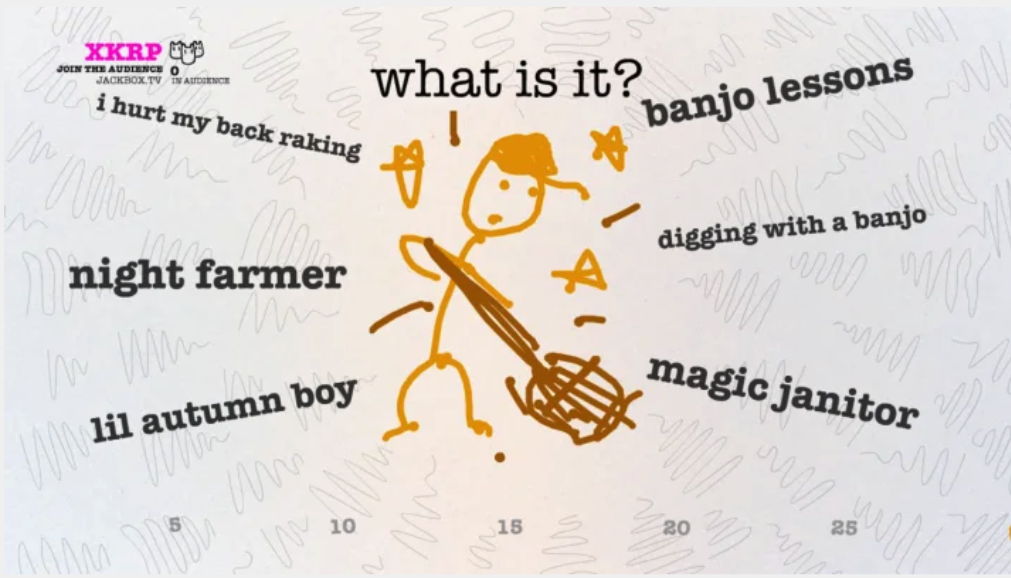 Jackbox Games, the heroes of social distancing party games and creators of the virtual party pack, have recreated their virtual gaming success again with Drawful 2.
This game raises the stakes on the classic drawing and guessing game by requiring guests to create their drawings on their mobile apps or tablets. (If you thought drawing with a mouse was challenging, then just wait to see the masterpieces you make during this game. They're not worse per se; they're just a totally different kind of bad.)
Why we love this: It creates hilarity, and unlike most virtual game options, it frees guests from feeling like they have to be glued to their computer for the duration of your game night or company holiday party. (They can easily walk around the house, make snacks—whatever!)
Similar content:
4) Go Fish Mobile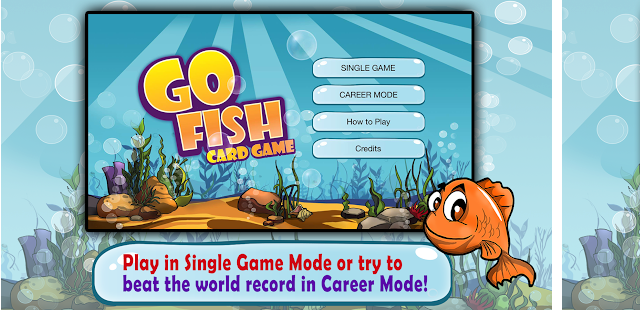 Many people remember Go Fish fondly as the first card game they really understood how to play. Like actual fishing, Go Fish on mobile devices is a slow, easy game that's perfect for non-gamers.
Why we love this: The slow nature of this game makes it easy to have plenty of socializing during your virtual game night.
Similar content: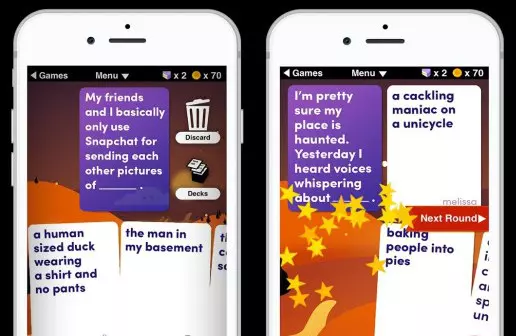 A fill-in-the-blanks game for anyone with a good sense of humor or a powerful sense of restrained irony. Time will fly as you pull compelling card after compelling card and see all the creative ways your friends filled in the blanks to make outrageous sentences and side-splitting jokes.
Why we love this: Intellect and humor are the only skills you need to make playing this game a glorious experience. Plus, this game will be totally different each time you play.
Similar content: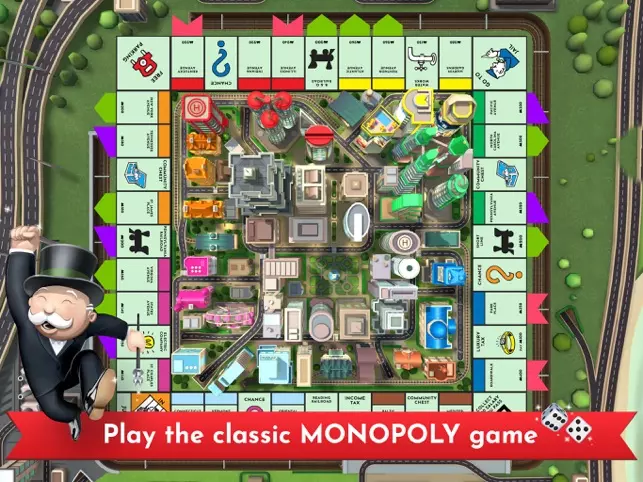 Aspiring real-estate tycoons face off in this mobile version of the classic board game. Enjoy all your favorite properties and classic game features in a freeing format that lets you play Monopoly anywhere and anytime.
Why we love this: The new format makes a game most people have played at least 100 times feel completely new.
---
Virtual Game Night Themes
1) Virtual Casino Night
Flashing lights, high-stakes, and maybe even a little glitter will transport guests to Las Vegas for one night only.
Why we love this: It makes virtual game night guests forget they're stuck at home as they enjoy that classic "night out" feeling in an online casino environment.
2) Virtual Trivia – Jeopardy Style
Everyone must answer trivia in the form of a question and compete to do the best Alex Trebek impersonation.
Why we love this: This is Jeopardy! Need we say more?
3) Virtual Summer Camp
It's time for s'mores, ghosts stories, classic pranks, and perky counselors. Get some customized camp t-shirts from Swag.com and, of course, pick out a mix of exciting and embarrassing virtual games for your campers. (We've got plenty of ideas above.)
Why we love this: Just thinking about summer camp produces waves of healthy nostalgia.
4) Virtual Dinner Party
Brush up on your table manners. Select the classiest piece of classically classical music you can find. This virtual game night theme encourages guests to show up dressed for dinner, and we mean the kind of "dressed" that doesn't end at putting on big-kid pants.
Why we love this: This sophisticated theme provides plenty of opportunities for those dinner-party conversations we all miss so much.
5) Virtual Luau
Wear a necklace of flowers. Drink out of a coconut. Maybe even bust out that grass skirt if you're feeling adventurous.
Why we love this: This isn't just a virtual game night theme; it's a mini-vacation to a place where you want to drink the sunsets and swim in crystal blue waters all night long.
6) Virtual Music Festival
All you really need to have a music festival is good music, and we're sure you have that part covered. Find the best Zoom chat background you can get your hands on. Dig out those outfits you bought for the fest that never happened last spring. It's time to let your hair down with your closest friends.
Why we love this: Music is powerful. It can transport you to different places, call up old memories, and uplift your spirits. A music festival theme can turn your virtual game night into the refreshing evening everyone has been craving.
7) Virtual Disney Night
Disney decorations, Disney costumes, Disney snacks, and the list goes on and on. Basically, just make sure you and your guests are as Disney-fied as possible. You can even identify the biggest Disney fan (as measured by streaming activity) by playing a version of Bingo where the squares are Disney+ shows.
Why we love this: Lighthearted fun, upbeat songs, and happy endings are never a bad idea. A virtual game night themed around these concepts will leave guests feeling just a little happier ever after.
---
Virtual Game Night Tips
Select a familiar video chat technology. If you're not using an all-inclusive video and game platform solution, then be sure to pick a video chat technology you and your friends know and love. (We've listed some popular options in the next section.)
Follow your interests. Focus on games that align with what you and your friends already like to do.
Bring in the professionals. If you, as the event host, want to have just as much fun as your guests and skip all the stress, then consider using a professional event host. Our favorite event professionals include:
Encourage everyone to dress up!
Send food, recipes, or swag to bring unifying tactile elements into your virtual event.
---
How To Host A Virtual Game Night
1) Make your guest list. This is especially important for your video or conference call technology decision. Headcounts matter as much for virtual events as they do for in-person events. Your guest count determines what kinds of games you can play.
2) Select your online games and your themes.
3) Choose your video chat/conference call service. (Even if your game choice doesn't require face-to-face interaction, it's good to see everyone's face outside the game.) Some popular options are:
Zoom
Skype
Houseparty
Facetime (Apple)
Google Hangouts
4) Test your video chat/conference call service.
5) Send virtual invitations and collect RSVPs. Include the event length and a brief outline and description of the game you plan to play.
6) Send Snacks. Send a surprise snack box, packed with delightfully delicious health- and energy-boosters. The perfect snacks can really tie an in-person event together, and they do the same thing for virtual events, adding a sense of ceremony and celebration.
7) Get your costume ready and encourage everyone to do the same.
8) Test out all the games and activities you plan to play.
9) Read the rules carefully and create a quick narrated tutorial video to orient your guests.
10) Send reminders and tutorials on the day of the event. Virtual events can be easy to forget about since they don't involve travel time. Make your guests' lives easier by sending event reminders several hours before game night.
---
People Also Ask These Questions About Virtual Game Night
Q: What is a virtual game night?
A: A virtual game night is an evening of shared delight provided by a variety of online games that include anything from plan-it-yourself virtual games to professionally hosted trivia nights to mobile versions of classic board games.
Q: Why is hosting a virtual game night important?
A: Hosting a virtual game night is important for maintaining strong and natural connections with friends and loved ones you can't see in person due to physical distance or social distance necessitated by the COVID-19 pandemic. Online game nights have different formats from traditional game nights, but they still provide plenty of laughter and bonding.
Q: What are the benefits of hosting a virtual game night?
A: The benefits of hosting a virtual game night include:

Safety for yourself and your friends in the family during pandemic times when even small gatherings present a public-health risk.
The flexibility that allows even more friends and family who live in any location or time zone to attend with no trouble.
Memories that are easy to capture via screenshots and screen recordings.
This post provides all the steps and ideas you need to host your own virtual game night and take advantage of all these benefits.
Q: What are the best virtual game night activities to play with friends?
A: The best virtual game night activities to play with friends include trivia, murder mysteries, and virtual versions of classic board games. Find the best virtual game night activities for you and your friends here.
Q: What do I need to plan for a virtual game night?
A: To plan for a virtual game night, you will typically always need at least your guest list and either a professional virtual game night host or the technology and ideas you need to host your own event. Find everything you need for either option in this article.
Q: How do I host a virtual game night?
A: Host a virtual game night by first making a guest list and then selecting your games and your themes. Find all ten easy virtual game night planning steps here.
Q: What makes a virtual game night a success?
A: Healthy competition, good friends, memorable moments and quality time make a virtual game night a success Facilitate joyful experiences and plenty of memories with these themes, activities, and apps.