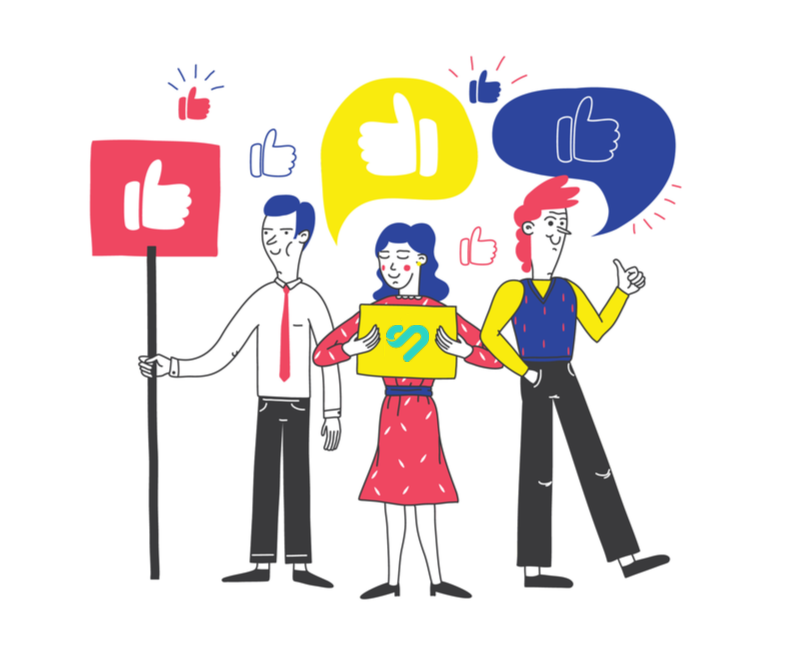 Can you remember the last time a peer complimented your hard work or your talent?  
How did it make you feel?
If you're like most people, then it probably made you feel absolutely fantastic. Someone —someone who isn't your boss or your mom—noticed your work. And they were so impressed they felt the need to let you know that you're a czar of conditional formatting, a brilliant orator, or a genius travel planner.
One of our favorite employee recognition quotes describes the feelings perfectly:
"When a manager recognizes an employee's behavior, personally and sincerely, both feel proud, gratified, and happy. There's a human connection that transcends the immediate culture to create a shared bond. The power of this bond is stronger than you might think; indeed, it's the power that holds together great organizational cultures." – Erik Mosley and Derek Irvine
And it gets better. The bliss of recognition runs much deeper than a mere human love for being complimented; it might also fulfill a deeper need for meaning.
In a hurry? These are some of our favorite HR-approved peer-to-peer recognition tools in 2023:
Page Contents (Click To Jump)
What Is Peer-To-Peer Recognition?
Peer-to-peer recognition is a demonstration of appreciation or praise between equals—team members who don't manage or report to one another.
This kind of recognition happens organically in collaborative environments, but by leveraging employee engagement tools like the ones below, companies can facilitate it, making it visible beyond the parties involved and creating lasting cultural moments that motivate employees. Authentic recognition teamed up with incentives and perks can help create a dedicated, supportive, and resilient team.
Leverage the tools and ideas below to launch or strengthen your peer recognition program while also finding creative ways to reward your employees.
What Are The Benefits Of Peer-To-Peer Recognition?
A peer-centric employee recognition program empowers your employees to champion your workplace culture and company values as they applaud each other's great work. Peer programs offer benefits similar to those of other employee recognition ideas and initiatives, but because employees drive these programs, they also carry added enhancements for teamwork and camaraderie.
Peer recognition can…
👉 Get Your Free Guide To Modern Employee Recognition
Peer-To-Peer Recognition Solutions & Examples
"Infuse peer recognition into everyone's day-to-day mindset."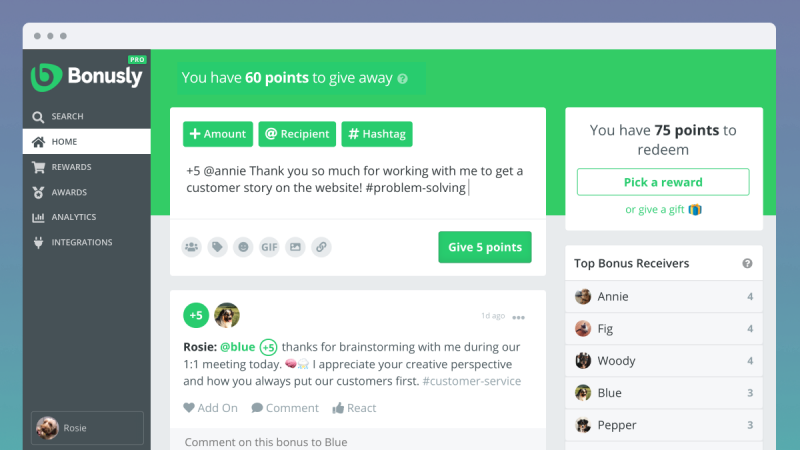 This standout employee recognition software enables companies to give users a monthly allowance dedicated to peer recognition. This creates a "use it or lose it" mindset that keeps doling out constant peer recognition top of mind.
Best for: Mid-sized companies
Notable companies using this peer-to-peer recognition tool:
ZipRecruiter
Chobani
Assent
Testimonial from G2:
"In Bonusly, I love the familiarity of the communication options and I love how easy it is to use. I love how I can shout out anyone anytime. First time using the system, but I highly recommend it."
Get started: Request a demo with Bonusly
"Build culture and boost productivity across your workforce!"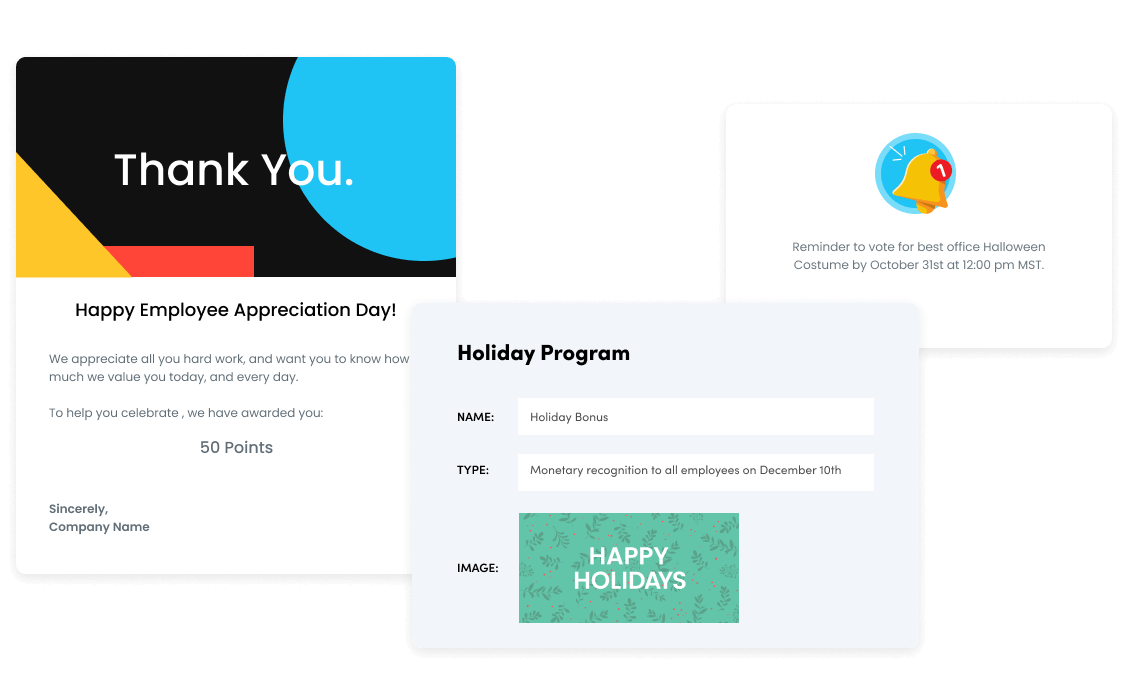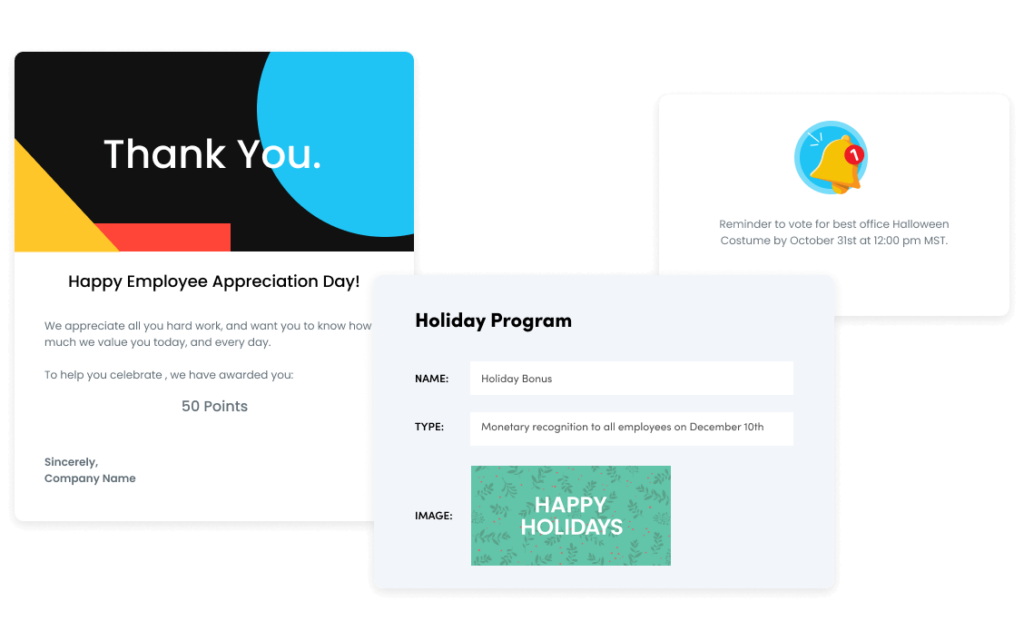 Awardco is an innovative cloud-based platform that revolutionizes employee recognition and rewards programs.
With strategic partnerships with industry giants like Amazon, Awardco empowers employees to receive meaningful rewards from a diverse range of high-quality products. By prioritizing peer-to-peer recognition, the platform cultivates a positive work environment where employees feel genuinely valued and appreciated by both their colleagues and management.
Best for: Large enterprises
Get started: Send a team email with Awardco
"Take your recognition program to new heights with a personal touch!"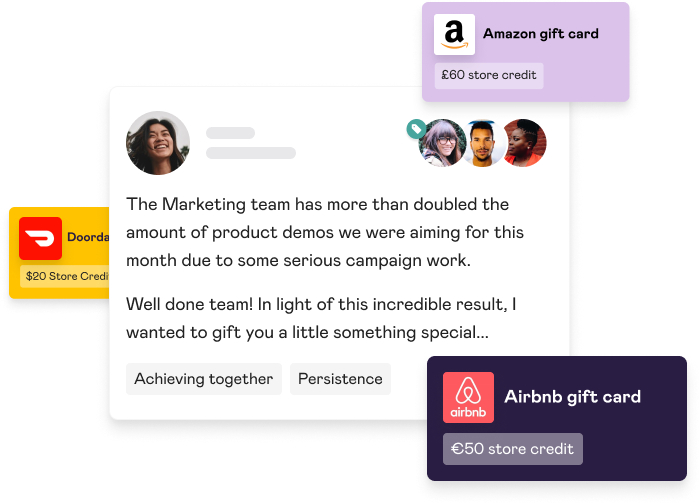 Mo makes recognizing and rewarding employees easy as can be with a perfectly suited set of features for the modern hybrid workplace. Now, you can celebrate your team members in meaningful ways that create a lasting impact.
Best for: Medium-sized companies
Get started: Use Mo to recognize a team member with a digital trophy
"Recognition without borders."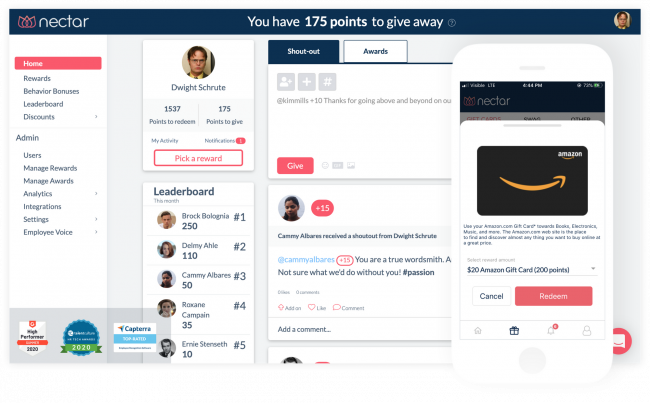 Nectar makes it easy to design, implement, and manage peer-to-peer recognition programs that can thrive equally in both in-person or fully distributed workforces. It features a recognition feed, similar to a social media news feed, that allows employees to see what's happening at any time and in any place, and more importantly, get inspired to join the recognition bliss.
Best for: Mid-sized / large companies
Notable companies using this peer-to-peer recognition tool:
Oracle
1 800 Contacts
Canopy
Testimonial from G2:
"I really like the ability to give my coworkers a shoutout that actually means something. The points earned can be traded for awesome swag and gives lots of reason to be vocal about a job well done."
Get started: Book a demo with Nectar
"Send a token of appreciation that speaks louder than words."

Caroo offers a dazzling selection of themed care packages that provide recognition and pampering in one. Send someone an employee care package to show how much you appreciate their extra help on a difficult project or maybe choose a delicious box of snacks to tell someone they inspire you.
Best for: Companies of any size
Notable companies using this peer-to-peer recognition tool:
Testimonial:
"They curated speciality work-from-home wellness boxes, that we were able to send to our team members as a surprise. The boxes were not only filled with a variety of some really great snacks, but each box purchase also gave back to the Feeding America organization."
Get started: Build a recognition box with Caroo
"Help employees wear their recognition with pride."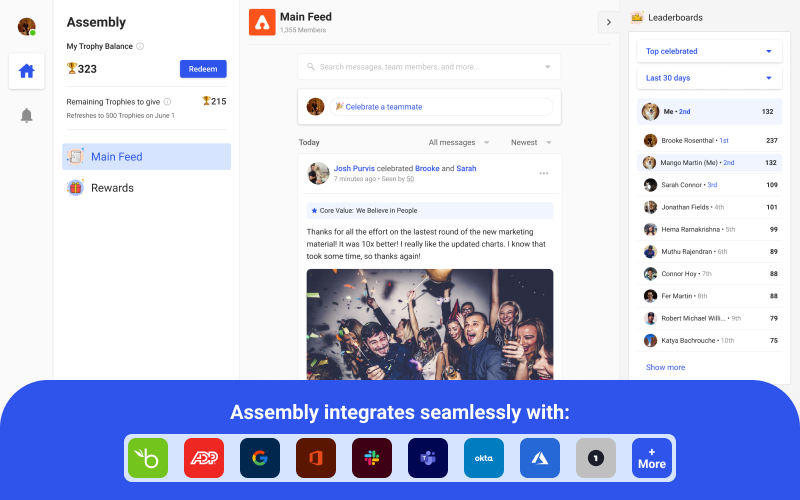 One of our favorite company culture software offerings, Assembly provides an engaging real-time peer-to-peer recognition feed that doesn't just enable recognition for good work, but it also creates a lasting culture of recognition with features such as badges and integrations that create long-term habits.
Best for: Companies of any size
Notable companies using this peer-to-peer recognition tool:
Amazon
Coca Cola
Quest Nutrition
Testimonial from G2:
"I love that it's easily accessible through Slack. Giving a public thank you or shout of appreciation takes less than 3-5 minutes (depending on if you're looking for the right GIF) but you'll get pinged if someone sends you pickles (ours are pickles) and everyone can scroll through to see what's going on."
Get started: Book a demo with Assembly and start for free!
"Put recognition at the heart of your company culture."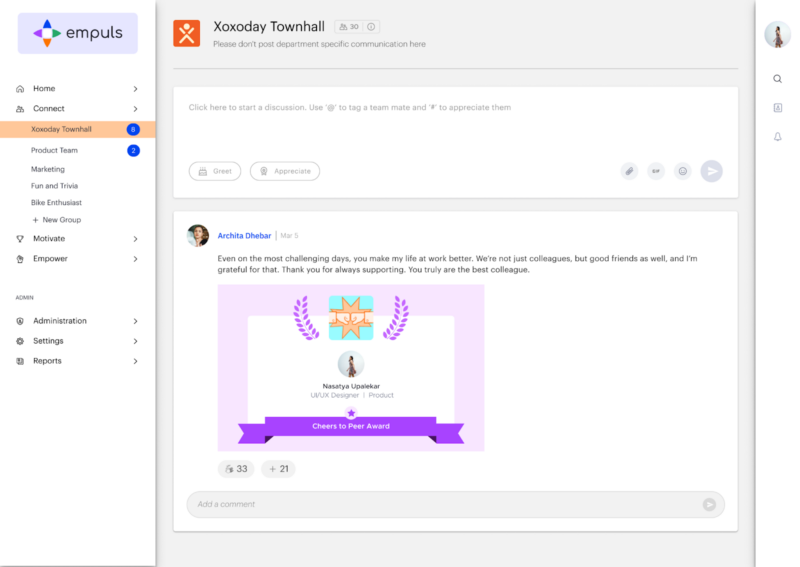 Empuls is one of the best employee reward and recognition platforms that makes peer-to-peer recognition frictionless, candid, social, and fun. Additionally, it provides updates in a feed that helps in building a culture of recognition in the organization. Empuls empowers employees to make appreciation frequent, meaningful, and visible by reinforcing good behavior and connecting recognition with core company values.
Best for: Small to Mid-sized companies (50 – 2000 employees)
Notable companies using this peer-to-peer recognition tool:
Testimonial from G2:
"The best thing about this platform where they recognize the employee with the amazing title and achievements like "Powerplayer, Gamechanger" once I am rewarded, we get the notification in real-time. this is such a nice feature in this platform."
Get started: Book a demo with Empuls
"Experiences that send good vibes rippling through your entire organization."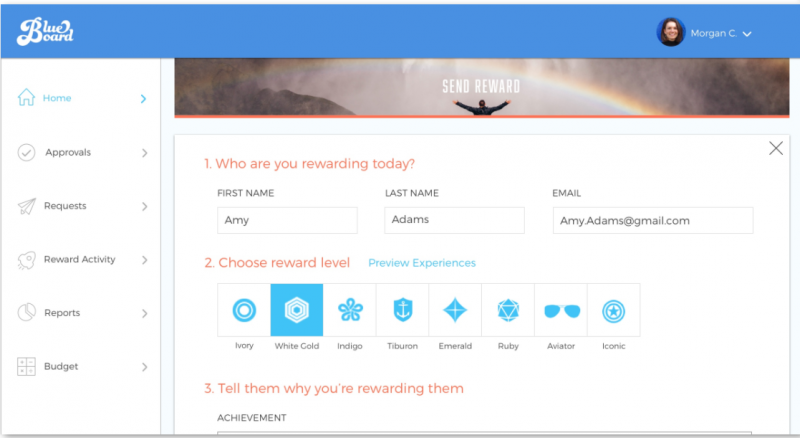 Blueboard provides recognition experiences. Reward coworkers with an unforgettable experience, say for their virtual birthday party, and then share the experience right on the platform so everyone can feel inspired to share the love.
Best for: Mid-sized / large companies
Notable companies using this peer-to-peer recognition tool:
Pinterest
Keller Williams
Guidewire
Testimonial from G2:
"I really like that you can choose your own adventure and the employees at Blueboard set up the rest!"
Get started: Explore rewards with Blueboard
"Social features make recognition a cultural mainstay."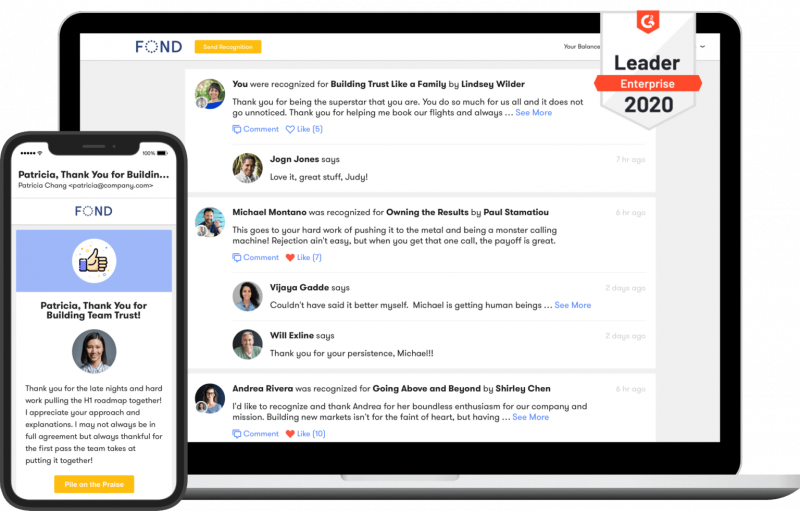 Beloved by HR professionals for its ease of use, Fond puts the keys to an impactful peer-to-peer recognition program at your fingertips. It boasts a suite of social features for views, likes, and comments that can engage employees of all ages, from Millennials to Boomers.
Best for: Large companies
Notable companies using this peer-to-peer recognition tool:
Lyft
Salesforce
Exter Finance
Testimonial from G2:
"I like the ability to give credit and recognition to fellow team members for the good work they put in. Whenever someone on my team does something praise-worthy, I use Fond to send them either a recognition, or some Fond Points so they can redeem for points. This gives the team member credit for a job well done, and incentivizes the rest of the team to emulate the good behavior."
Get started: Request a demo with Fond
"Give recognition and plant trees."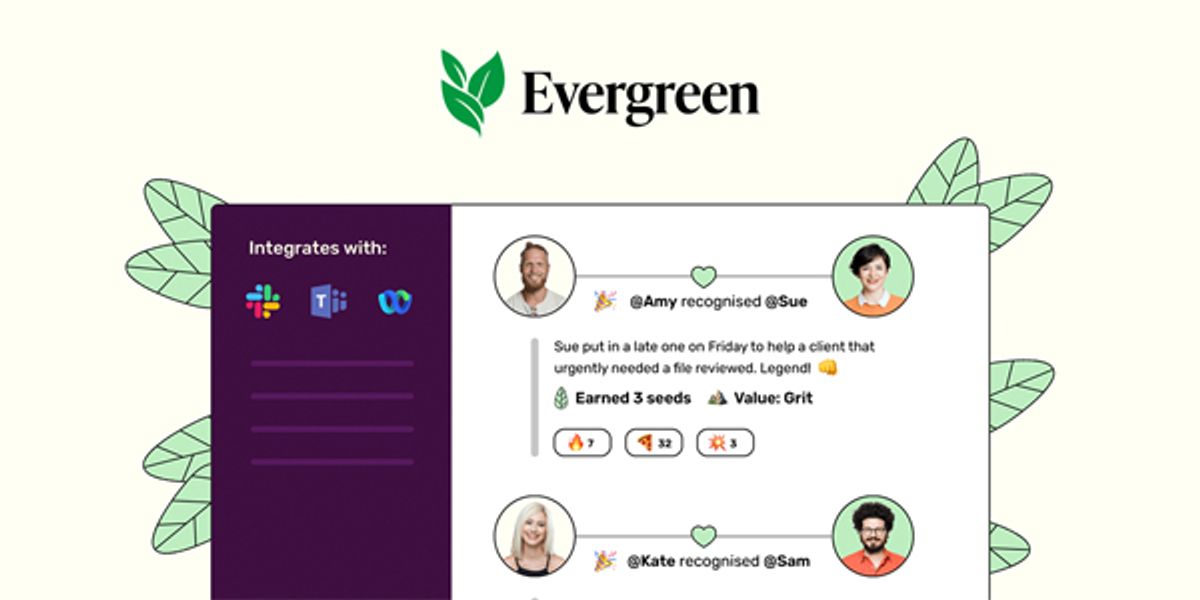 Evergreen is the only peer-to-peer recognition app that lets teams recognize a job well done, while planting trees for the planet. For the ultimate positive, feel-good team culture. Integrates with Slack & Microsoft Teams.
Best for: Mid-sized / large companies
Notable companies using this peer-to-peer recognition tool:
Octopus Energy
Harvard University Employees Credit Union
Coverwallet, an Aon company
Testimonial from G2:
"I love that the entire program is operated in Slack – this is where my team lives and works. It doesn't require another platform or log-in. We have SO many that this is much appreciated. From a personal standpoint, the best part of Evergreen is the focus on sustainability through tree planting. SO much better than earning points/rewards/gifts."
Get started: Trial it free for 14 days
Peer-To-Peer Recognition Ideas & Awards
"A simple way to celebrate your peers"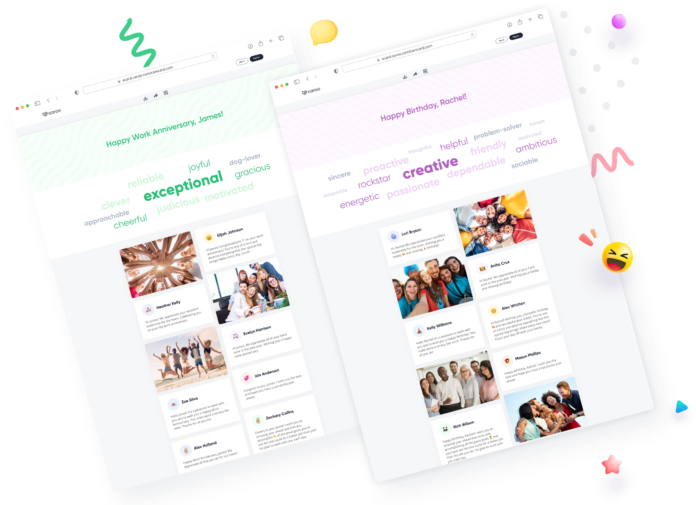 Care Cards are a top tier way to quickly recognize employee milestones and successes with a personal touch. Care Cards are digital cards that can be created, personalized, and sent in mere moments. The perfect solution for busy teams wanting to show their appreciation without the associated costs of physical awards.
Best for: Small & Medium-sized businesses
2. Send recognition points virtually
"Celebrate success instantaneously"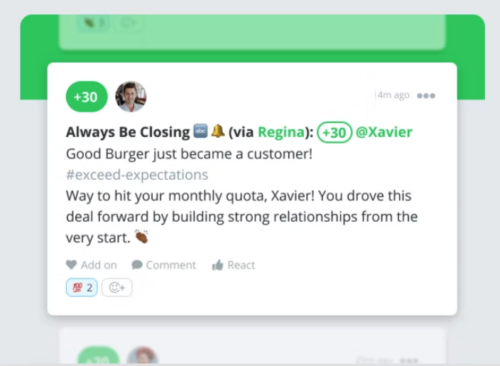 Sending recognition points virtually is an easy and cost effective way to recognize employee achievements. Each employee can be rewarded with virtual tokens or credits that can be used for various rewards such as online gift cards, ticket discounts, or other rewards.
Best for: Company of any size
3. Buy employees lunch
"A bite of appreciation"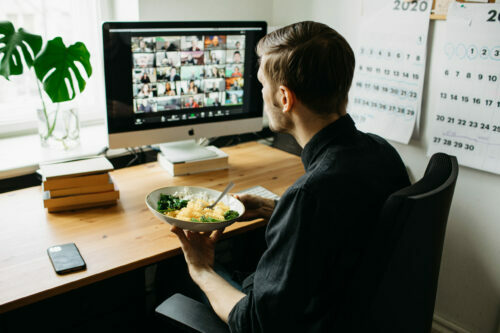 Sometimes the best recognition comes in the form of a free meal. Nothing says "Thank You!" like having your team buy each employee a delicious lunch to show their appreciation. This simple yet thoughtful gesture can go a long way and foster deeper employee relationships at the same time. You can use a reward platform to help manage the lunch orders or gift cards for them to select their favorite lunch spot!
Best for: Small-sized teams
4. Coworker Appreciation Day
"Give yourselves a round of applause."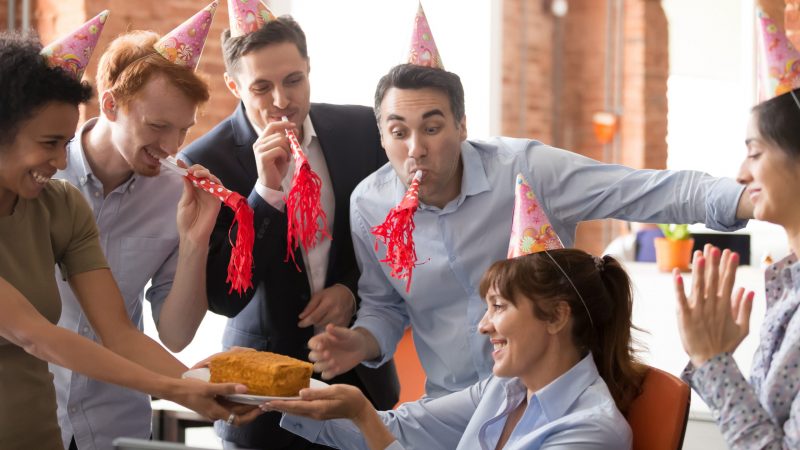 This idea is similar to an employee appreciation day, but it's planned for coworkers, by coworkers. Give employees budgets to plan happy hours, office birthday parties, and even DIY awards ceremonies for the people who make coming to work every day an absolute joy.
Best for: Small companies
"Recognize peers by backing up their skills."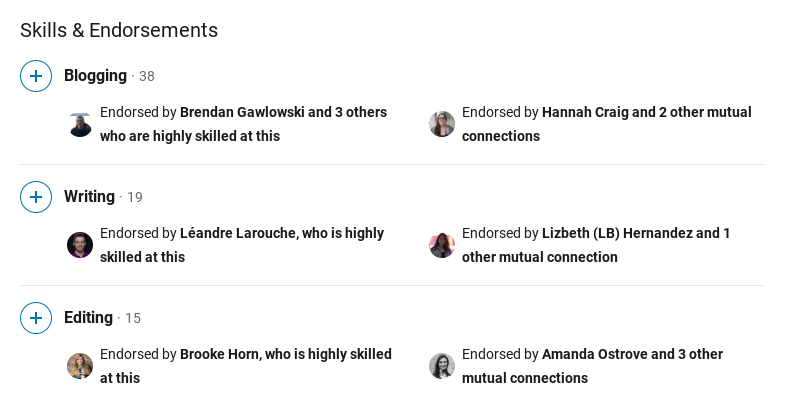 Create a work environment that benefits from all the goodness of mutual respect and admiration. Vouching for a peer's skills will give them an immediate rush of satisfaction and also potentially bolster their long-term feelings of career fulfillment.
Best for: Companies of any size
"Informal and effective peer-to-peer recognition."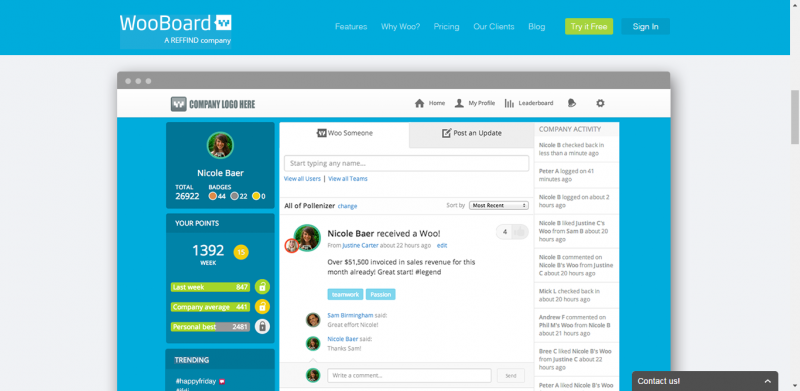 This tool is based on the "woo," that little universal exclamation of excitement. Social sharing and gamification features get your entire team deeply involved in celebrating one another's accomplishments.
Best for: Mid-sized companies
Testimonial from G2:
"This was a great way to connect with other people in the same company across the nation. It was great to see recognition tools and communication from the corporate team."
"Digitize the benefits of a classic high-five."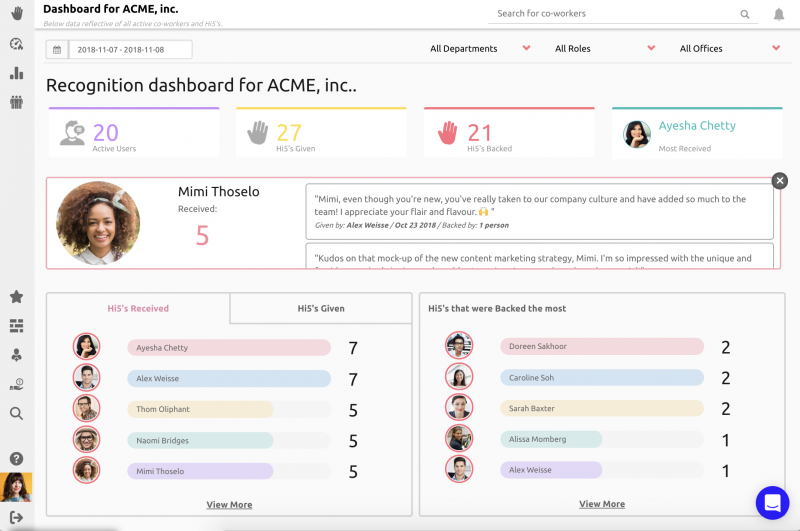 This recognition app allows peers to help each other meet key goals. Simply assign goals and have everyone rate their coworkers' progress. This focus ensures everyone gets not only feel-good recognition, but constructive recognition that helps them meet long-term objectives.
Best for: Small / mid-sized companies
Testimonial from G2:
"It is an excellent application for the interaction and communication of the employees of a company, allows to know their abilities, skills, hobbies and customs. Something that does not happen very often, with this application it is possible to know and recognize each other and can openly express what they like or dislike about each of their co-workers…"
8. Coworker of the Month
"Coworkers celebrating coworkers."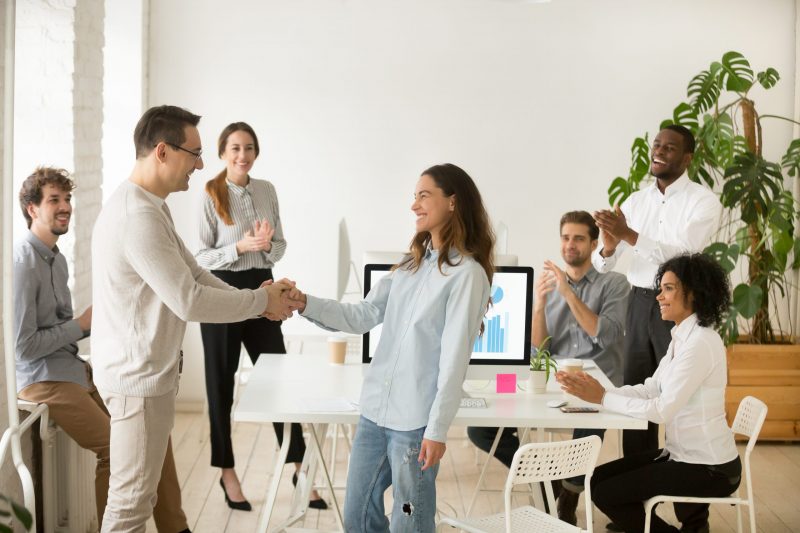 This is like a classic employee of the month program, except all awards and superlatives are designed and bestowed from coworkers to coworkers. Your team's coworker of the month could be the person who comes up with the best small-talk topics or never fails to send the best Slack GIFs.
Best for: Companies of any size
9. Coworker Roast
"Kudos with a little zing on the side."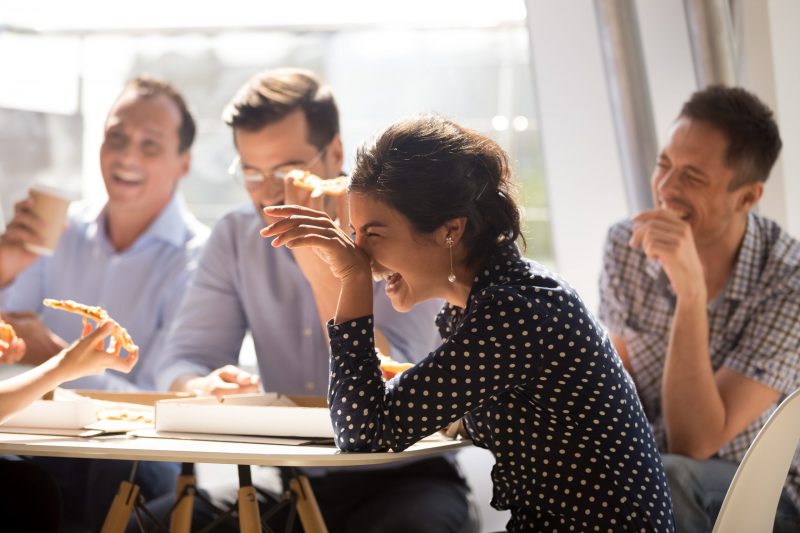 This idea turns the old employee appreciation speech on its head. Simply pick a coworker to honor and then spend some time giving them authentic compliments, but mostly making a little good-natured fun of them. (Is laughter the language of peer-to-peer recognition? Maybe.)
Best for: Small / mid-sized companies
10. Coffee Break
"Buy anyone a cup of coffee."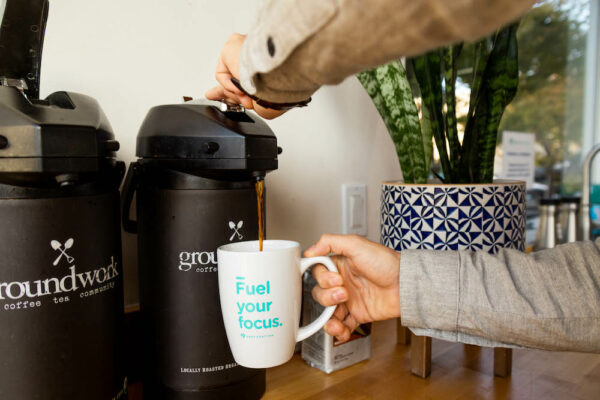 Perfect for casual recognition, a coffee break with a coworker allows peers to connect over a comfortable setting and a hot beverage. If you want to thank someone or tell them you appreciate their positive attitude, simply chat up your coworker and find a good time to get a cup of joe.
Best for: Companies of any size
"Peers making peer wishes come true."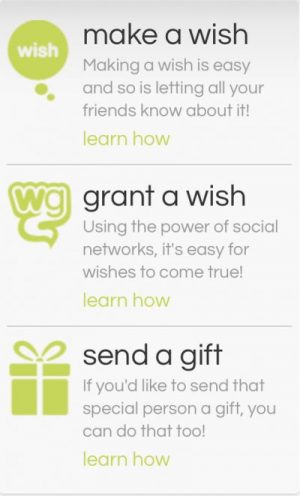 This platform operates on a beautifully simple premise: People input what they want and other people come along to give it to them. Set your entire team up so you can be sure they get exactly what they want when a recognition moment rolls along.
Best for: Small companies
"Ecards for absolutely anything."

Punchbowl offers a massive library of free ecards remote employees can use to recognize and celebrate one another for absolutely any occasion. Send a funny card just to say "hello" or distribute a spiffy invitation for a virtual party.
Best for: Companies of any size
13. DIY Gratitude Graphics with Canva
"Designer recognition to make a lasting impression."

Use Canva's friendly design platform to create graphics and banners featuring employee recognition words, phrases, or quotes. The personalized design adds an extra touch. Peers may even want to display their designer recognition in their cubicles and on their fridges.
Best for: Small companies
14. Word Cloud Superlatives
"One-word recognition that goes a long way."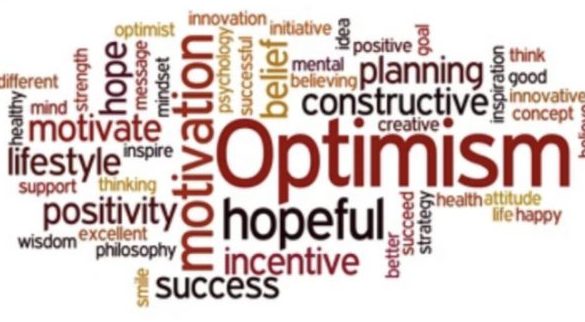 Select a person to recognize and ask your team to send at least one word they would choose to describe them. Turn all those words into a little word cloud. Pop the honoree's photo at the top and send it along to see all the smiles.
Best for: Small / mid-sized companies
15. Coworkaversary
"Celebrate how it all started."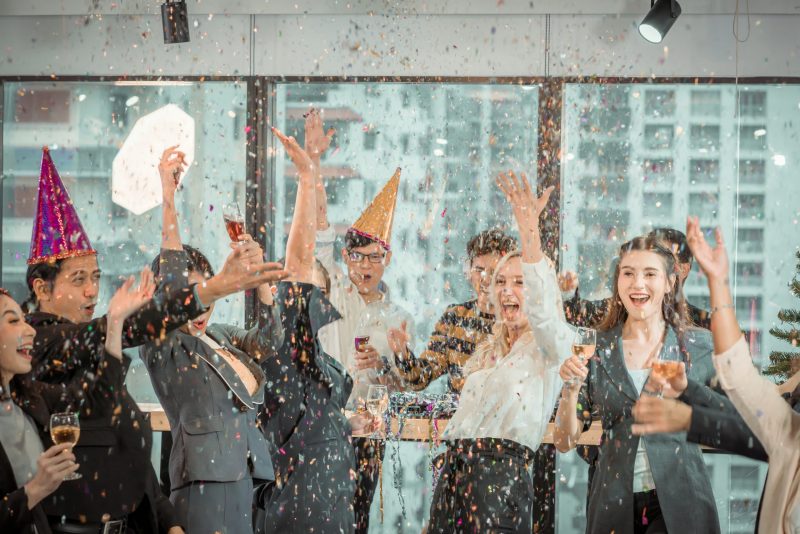 Peers pick a memorable bonding event—one that had a positive impact on their relationship—to commemorate and celebrate. Like a work anniversary, they'll celebrate it every year and even inspire other bonded coworkers to follow their tradition. There are so many peer to peer recognition ideas that can be used to celebrate coworkaversaries — from parties to team lunches. Get creative and start showing the love!
Best for: Small companies
16. Stock your office kitchen with snacks
"The key to your employees' heart is food."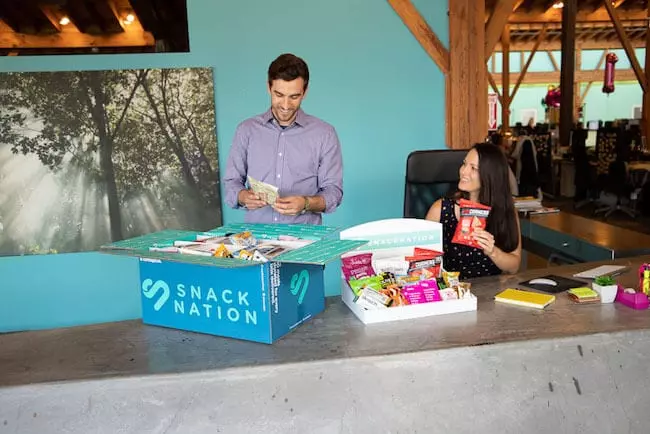 Providing small perks at work is a great way to recognize your employees for their contributions. Even setting up a monthly snack delivery order can give them just a little "thank you" for coming into the office and giving it their all. A snack delivery service provides an additional incentive for employees to show up to the office, bond with their team members, and stay energized during a busy day.
Best for: Companies with a physical office space
How To Set Up A Peer-To-Peer Recognition Program At Your Company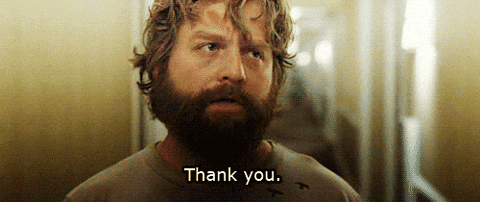 1) Identify what you want to accomplish with your program in measurable terms. (For example, I want to increase by 15 points the percentage of surveyed employees who report feeling adequately recognized.)
2) Select tools, software, and ideas to facilitate a recognition program targeted to your desired outcome.
3) Outline the costs and benefits associated with the tools and receive leadership buy-in for budgets.
4) Develop a plan. A well-thought out recognition program should cover all aspects of implementation, promotion, and communication.
5) Roll out the program, answering user questions and troubleshooting issues as they arrive.
6) Track performance against the metrics you selected in step 1.
7) Use analytics to come up with ways to make your program more effective, if necessary.
8) Constantly monitor program success and implementation. (For example, if overall program adoption remains low, you may need to enlist a team of recognition advocates to create buzz and sign up new users.)
Challenges To Setting Up A Peer-To-Peer Recognition Program
1) Buy-in
It is extremely important to encourage your entire organization to get on board. When you have some employees participating and others disengaged, it can hurt the entire program.
It is vital to a healthy peer to peer recognition program that employees from the owner and CEO to the newest team members are excited to recognize their peers when the time calls for it.
2) Variety
There is no one-size-fits-all all approach to running an effective peer to peer recognition strategy. Whether you are utilizing an online platform or celebrating with verbal praise, the best programs implement a variety of options for employees to use.
Leaving out note cards for a quick hand-written note or gifting employees a recognition budget can help spur participation from your staff. After a few weeks or even a few months, managers should be looking for ways to keep their program fresh!
---
People Also Ask These Questions About Peer-To-Peer Recognition
Q: What does peer recognition mean?
A: Peer to peer recognition refers to the organic or facilitated display of appreciation or praise between equals—team members who don't manage or report to one another. Managers can encourage or facilitate it with employee recognition software and ideas.
Q: Why is peer-to-peer recognition important?
A: Peer-to-peer recognition is important because it empowers your employees to champion company culture while solidifying trust and teamwork. It can improve job satisfaction, strengthen morale, and boost your retention rates.
Q: What are some examples of peer-to-peer recognition?
A: Examples of peer to peer recognition include using Assembly to send someone a superlative badge or saying "thank you" by sending someone a Caroo care package.
Q: How do I encourage peer-to-peer recognition on my team?
A: You can encourage peer-to-peer recognition on your team by providing a user-friendly recognition platform that highlights activity with social feeds and inspires everyone to participate.
Q: How does fostering peer-to-peer recognition improve company culture?
A: Fostering peer-to-peer recognition improves company culture by enhancing key cultural drivers, including teamwork, trust, collaboration, respect, and admiration.
Q: How to introduce a peer-to-peer recognition program at your company?
A: You can introduce a peer-to-peer recognition program at your company by getting start-to-finish support from a tool like Bonusly or Nectar or even trying a one-off idea, such as sending someone coffee through Nack.
Q: What is social recognition in the workplace?
A: Social recognition in the workplace is recognition that takes place through a public digital venue, such as Fond, and allows all employees to see, learn from, and amplify the recognition event.