With everything on your plate, it can be tempting to let anniversary celebrations fall to the wayside.
But neglecting them can turn out to be a costly cultural error. That's because celebrating work anniversaries isn't just a nice gesture for your employees or coworkers – there's a strong business case to be made for making work anniversaries a priority at your company.
Work Anniversary Recommendations: 

Blueboard makes it easy for companies to gift employees on their anniversaries with personalized experiences, from guitar lessons to virtual life-coaching to kid-friendly STEM kits (fun for the whole family!). No matter the employee, companies can give them an experience that is relevant to them right now that will remembered forever.

(Favorite Work Anniversary Idea: Bucket-List Experiences)

Nectar takes the manual work out of celebrating work anniversaries by automatically distributing points and recognition anytime an employee passes this milestone. Peers can chime in with congratulations via a company-wide social feed, and employees can cash in their points for thousands of rewards.

(Favorite Work Anniversary Idea: Celebrate Hiring Classes)
Sound strange? It all comes down to the fact that our emotions and our performance are intimately linked.
Dr. Glenn Fox leads program design at USC's Performance Science Institute, and is an expert on the ways that emotions like gratitude and optimism drive performance. In his view, the ability to regulate emotions is the number one predictor of success in life.
This is just as true in the workplace as anywhere else. Since gratitude and optimism affect performance, companies who proactively foster these positive emotions via a culture of recognition have an automatic leg-up on those who don't. Bonusly's Automated Anniversary Award shares bonuses show your employees or coworkers that they are cared for and appreciated, and helps create the emotional connection upon which all highly engaged, high performing teams are built.
Plus there's the fact that work anniversaries have a relatively high ROI – you get an outsized return for not much time or money. All it really takes is a little planning, some creativity, and genuine appreciation.
But it only works if you do it right. Here's our top tips, tactics, and company anniversary ideas for employees to help you make the most of work anniversaries.
To make it easier, we've broken down these work anniversary gifts by year, since every anniversary has slightly different considerations.
Unforgettable Work Anniversary Ideas:
1 Year
The Gen Xers at your workplace probably scoff at the idea, but celebrating employees who make it to the one year mark is a vital retention strategy.
According to the Harvard Business Review, a study of more than a million respondents found that voluntary turnover peaked one year after their start dates. Celebrating that first anniversary re-engages employees at a critical juncture, and provides an emotional lift right when employees are most likely to see if the grass really is greener elsewhere.
That said, you don't have to go overboard. There are plenty of budget and time-friendly ways to keep your team engaged at this critical juncture.
Creative Workshops to Unlock Their Passions
About 50% of U.S. adults have unredeemed gift cards, and cash bonuses are typically allocated toward rent, groceries, or other life expenses. Sure, these are quick, budget-friendly options to send. But they're also easily forgotten and highly unshareable. People don't excitedly talk about their shiny new gift card, or how they spent their bonus.
What they do talk about are art lessons, cooking classes, and fun science projects with their family. They get hyped about an experience, especially one they get to choose for themselves. Local and in-home experiences from Blueboard are perfect for one-year anniversaries—they're engaging, easy to share with others, and creative. Plus, Blueboard has a personalized Concierge service to handle all the experience logistics and heavy lifting.
Want to surprise and delight your team with personalized experiences like these? Visit Blueboard to learn more!
A Customized Box Full of Care
If you think meaningful moments of care can't be delivered, then think again! Caroo's expertly curated gift boxes make it easy to send memorable tokens of your care and appreciation to your clients and teammates.
Celebrate Hiring Classes
If you're part a growing team, celebrating work anniversaries can quickly blossom into a daunting task.
For example, at SnackNation it's not unheard of for us to onboard a hiring class with 15 or more people – all of whom will have the exact same work anniversary every year.
So instead of an elaborate celebration for every employee in this group, celebrate the group as a whole and give each of them their anniversary trophy.
We actually encourage our hiring classes to name themselves and forge their own identity. (That's how we ended up with groups named "SnackNasty," "Young Money," and "The Wolf Pack.")
Encouraging your hiring classes to develop their own identities not only makes celebrating anniversaries more manageable, it also creates another opportunity to develop a culture of fun and togetherness, and creates for people across the org to get to know you each other. The entire office can get behind it and you'll see people in multiple departments congratulating the new class and even sending funny work anniversary memes and other fun messages.
Pro Tip: Automate Work Anniversary or Years of Service bonuses through an employee recognition and rewards platform like Nectar. Employees can cash out these points for a gift card of choice or company swag.
If you are onboarding remote employees, you can plan to reward them on their special day with a gift or experience that they can enjoy from the comfort of their homes/community.
Hand Written Note
Never underestimate the impact that a handwritten note can make.
This low-tech idea is simple but super effective. The fact that it's handwritten demonstrates a level of care that your team will appreciate.
When you draft this note, be sure to think about all the things that you appreciate about this person. Be specific – is she a hard worker? A fierce problem solver? Does she spread joy and optimism throughout the office? Call it out and let her know!
A Rare Piece Of Company Swag 
Not all swag is made the same…
You'd be surprised how often employees would actually prefer to rock a unique piece of swag. This becomes like a badge of honor that loyal/happy employees will gladly wear in public – arguably the best type of marketing too!
The key to this gift is it should be something highly unique and hard to get:
Prize Wheel
Get a prize wheel (they're readily available on Amazon) and offer your employees the chance to spin for prizes like gas cards, amazon or restaurant gift cards, books, or free car washes. Do it during a large company or team meeting to really get everyone involved. (It's also an easy way to inject some excitement into an otherwise dull meeting!)
Puppy Party
Hanging with puppies is fun and good for your health. Animals in the office have been proven to relieve stress in the workplace.
If your office isn't normally dog friendly, work with a nearby shelter to bring puppies to you just for the day. One such shelter is Puppies for Rent based in Utah. They use a "puppy party" model to introduce animals from no-kill shelters to local dog lovers (i.e., potential adopters).
For more (like 117 more) year one celebrations ideas, check our mega list of employee reward ideas.
A $100-$200 Snappy Gift
For one year anniversaries, Snappy suggests a gift that's between $100-200 dollars. Some of Snappy's favorite gifts within that budget range include a Waterford Wine Tasting Set, a nice backpack, or a popular tech gadget such as a JBL Clip Waterproof Bluetooth Speaker,  Fitbit Versa 2, Kindle, or wireless headphones. 
This budget range is perfect for that initial work anniversary because there are many top-trending options to choose from, but it is also easier to budget. Snappy found that 77% of employees would rather choose their gift than have a gift picked for them. By giving employees a range of exciting options, your team will feel excited with the opportunity to choose something they actually want.
"Thank you so much for thinking of me and sending a link to choose a gift for my one-year anniversary. This is so awesome and the gifts to choose from were ALL phenomenal! This made my day and I'm so grateful for the kind thought. What an awesome company to work for!" 

-Tomika, Snappy gift recipient
Career Planning Session
Young employees (or even simply new employees) often leave companies after their first year. It's not that these employees don't like their companies. Many new employees simply get bored or restless in their roles. They want to try something new.
Many company policies support horizontal movement, but it can be hard for young professionals or new employees to instigate conversations about changing things up. They may not know how such conversations would be accepted. They might imagine that revealing an interest in exploring other opportunities would put their current positions in jeopardy.
That's why companies should consider celebrating one year of service with a no-holds-barred, company-centric career planning session. During this session, invite employees into a totally open-ended conversation where they can discuss anything and everything they might want to do in the company. Make sure employees know they can talk about any area of the company, even those they have no training or experience in.
This anniversary celebration will excite and energize new employees, and it also gives companies the chance to show they value and acknowledge each person's unique personality, skills, intelligence, and work ethic.
In other words, this idea gives companies the chance to demonstrate a deeper level of acknowledgement that goes beyond appreciation of the mere tasks and processes each employee "executes."
2 Years
Two years is a big deal, especially if your workforce skews younger. For people between the ages of 21 and 23, the average tenure is barely over a year, so hitting that second anniversary is definitely a cause for celebration.
Just like getting through year one, hitting the two-year anniversary marks another critical juncture in any company-employee relationship. At this point, people who decided to stick with the company for another year to see how "things would go" might be reevaluating their long-term plans and goals.
Employees might decide to sever their relationship with a company after two years for the same reasons many experts say lovers choose to end relationships after two years:
The excitement wears off. After a few years, even eager employees may start admitting their current job is not the dream job they expected.
They stop wanting to make it work. Two years is plenty of time to perform an honest assessment of compatibility. Things you could deal with at the 6-month mark suddenly become dealbreakers.
Things get real. Both bosses and employees stay on their best behavior during the first few years on the job. When both parties start to relax, problems might arise. Maybe the boss isn't as easy going as she pretended. Maybe the employee isn't as ambitious as he pretended.
Experiences Centered Around Growth And Development
Did you know that career development ranks as one of the single most important reasons an employee decides to stay with a company? People want challenges that push them to grow both personally and professionally. The two-year anniversary is the perfect time for companies to show they're just as committed to that same sense of growth and development.
Leadership coaching can help employees develop better managerial skills, improv comedy classes levels-up public speaking abilities, and painting classes can encourage outside-the-box creative thinking. Blueboard's experiential rewards can help companies when it comes to providing employees with engaging opportunities for their two-year anniversary. Show them you care about their day to day, but also their future.
Want to surprise and delight your team with personalized experiences like these? Visit Blueboard to learn more!
Achievement Timeline
If an employee has spent two years with your company, it's a safe bet they've made some important contributions. Recognition platforms like Fond make it easy to not only recognize employees in the moment, but keep a historical log of all the valuable contributions an employee has made. At the two year anniversary mark, it can be extremely meaningful to revisit all the recognitions an employee has received throughout their tenure with the company. Compiling all those small notes of appreciation will deliver a big emotional impact, and employees won't soon forget this ultra-personalized gesture.
Gift A Day Off Or Remote Day
Here's something you might not know: your team craves flexibility, but probably could use a little more of it. Which is why remote work is a perfect gift.
That's according to the SnackNation State of Company Culture Report, which parsed thousands of data points from our national company culture survey. In the report, we found that "flexible work hours" was rated the third most important perk (87% of respondents said it is "important" or "very important" to them), yet only 46% of respondents said that this perk is available to them.
The two year mark is the perfect time to gift something that won't cost you much but that your employees will definitely love you for.
Framed Photograph
A recent Globoforce survey revealed that employees who don't have close friends at work said they would be more likely to accept a job offer than employees who have several close friends at work. While you can't give employees friends for their anniversaries, you can help them celebrate the relationships they have formed.
Find a picture from a company outing or party with the employee smiling with co-workers. (If you don't have one, it looks like you need to schedule an impromptu party!) Print and frame the picture to help the employee stay mindful of fulfilling work friendships.
Identity Mug
Ask people around the office to describe the celebrated employee in one word. Use those words to create a customized word-cloud mug. Employees will love hearing all the words their co-workers used to describe them, and they can use the mug, a constant reminder of their office identities, every single day.
A $200-$300 Snappy Gift
For two year anniversaries, Snappy suggests sending a gift that is between $200-300 dollars. A few anniversary gifts in our collection that are popular in this budget range include an espresso machine, a nice piece of jewelry, a luxury gym membership, and a 3-piece luggage set.
Increasing the price range for anniversary gifts each year builds anticipation for the employee, and lets them know that you recognize they are growing and learning with the company. Letting your team know how much you value them is an integral part of being a manager, but continuing the practice is even more important.
"Thank you so much for this awesome 2-year work anniversary gift! I love this. What a fun, great way to show appreciation to employees. I was so impressed by the quality and selection of items from which to choose, too."

– Colleen, Snappy gift recipient
The Five Minute Journal
Based in positive psychology, The Five Minute Journal makes it incredibly easy for your team to start their days focused on gratitude. Recipients use the journal to name the things they're grateful for, name their long and short term goals, and pause for reflection.
We love this gift not only because it's simple and affordable, but because it helps reinforce the importance of personal growth and development, and signals to your team that you are invested in their success.
3 Years
Three years is the time to remind your employees why they love working at your company, so really focus on making things fun, personalized, and social.
Experiential Rewards That Foster The "Whole Self"
Most people will stay at their job for a minimum of two years. It's enough time for them to learn new skills, build qualifications, and show ambition for growing a career. If you want to retain them for that third year, and beyond, you need to show that you understand their life outside of work with what fuels their happiness and whole self. Who are they? What do they like to do? What excites and motivates them?
That means no one-size-fits-all approaches for the three-year anniversary (or any anniversary). Blueboard helps employers send personalized anniversary rewards to employees, at scale, with their Anniversary Awards Engine. You get valuable time back in your day, and tons of extra kudos from employees who come back from their experience refreshed, recommitted to their work, and glowing.
Check out some of the top three-year anniversary awards Blueboard offers:
Want to surprise and delight your team with personalized experiences like these? Visit Blueboard to learn more!
A Seat At The Table
After 3 years, many employees want a stronger voice in the company, and they might be ready for it, too. Instead of handing out a tangible anniversary gift, try handing out an invitation that conveys trust and recognition better than any gift.
Consider what meetings the employee might be ready to attend, especially those where people make key decisions or exchange strategic ideas. If you want to make sure the employee has a gift to open, offer a handwritten card that explains all the reasons you believe the employee is ready to be part of the meeting.
A Few Paid Months Of A Trendy Fitness Class
Perks that benefit employees' lives in more ways than one boost employee loyalty. Make it easier for employees to work out, and they'll want to stick around for a few more years. This anniversary gift adds true value to employees' day-to-day routines and overall lives. Employees who were looking to "shake things up" might just find new fitness journeys more compelling than looking for new jobs.
Fat Head Or Custom T-Shirt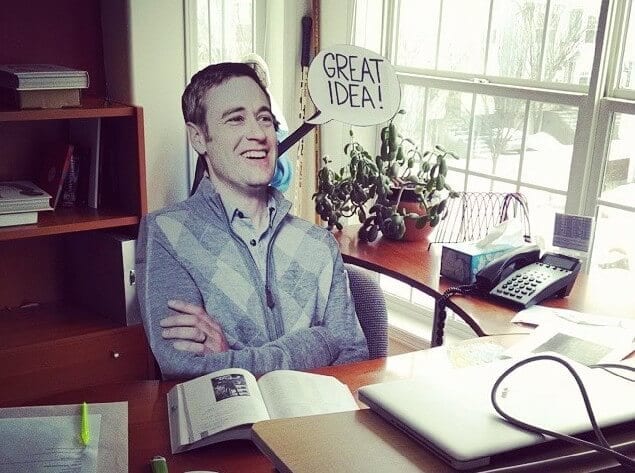 Let your senior team members know you care about them by giving them the gift of… themself.
Have a life sized cutout or Fathead of the person made and surprise them with it by hanging it near their desk to discover. Alternatively, have your team wear custom T-shirts adorned with the person's face. Either way, it's a hilarious option that they won't soon forget.
Make A DIY Custom Video
This is an idea we've used for big birthdays here at SnackNation, but it also works perfectly for work anniversaries.
It involves a little extra time and effort (and requires basic video editing skills), so it's probably best to reserve this idea for milestone anniversaries (we're thinking three years or more).
But definitely consider it. A custom video is personal, funny, and shareable, and people really do love it.
Here's an easy formula to create a video that celebrates your employees' unique personality and all the ways they contribute to your company:
Come up with a list of funny questions to ask a group of 5-10 people who work with the recipient and know him or her pretty well.
Ask each person your questions and record their answers with your phone or video camera. Important – make sure you conduct the interviews separately so that people aren't influenced by previous answers. You want genuine, off-the-cuff responses.
Edit the responses together using your video editing software of choice. (Here's a list of the ten best mobile video editing apps.)
Debut the video during a big team or department meeting. This is key – the idea is to extend the celebration to the larger team.
Here are few sample questions to get you started:
What is _____ most known for around the office?
What was _____'s first thought when he woke up this morning?
If _____ didn't work at this company, where would she work?
What's the weirdest part of your first interview with _____?
If _____ was on a deserted island, what three things would he want with him?
What do you like most about working with _____?
Flash Mob / Slow Clap
At SnackNation, we're all about celebrations that get the whole company involved, and there's really none better than the office slow clap.
Here's what you do – at a designated time, get everyone in your team or department to gather around the recipient's desk. Start with a long, drawn out group clap that picks up in speed and intensity. Within about thirty seconds, this slow clap should be a roar of applause. Spontaneous whistles and high fives are also par for the course.
The slow clap is a fun way to surprise and delight the entire office while also celebrating the individual. Plus, clapping and high fives release oxytocin, one of our brain's feel good chemicals that helps reinforce social bonds.
A $300-$400 Snappy Gift
For three year anniversaries, Snappy suggests giving a gift that is between $300-400 dollars. Some popular Snappy gifts within that budget include a virtual reality gaming headset, a supersonic hair dryer, noise cancelling headphones, and a smart watch. 
A recent survey found that 89% of workers at companies that support well-being initiatives are more likely to recommend their company as a good place to work (American Psychological Association, Work and Well-Being Survey, 2016). So it's important for managers to continue recognizing their team even after the first couple years. Employees can bring valuable references to your company, and they will be more inclined to bring their talented friends in for an interview if they know the company has a track record of continually appreciating everyone who joins the team.
"Thanks for the 3-year anniversary gift. This has to be the coolest thing any employer has ever done on my anniversary."

-Jennifer, Snappy gift recipient
Black Belt Or Badge Of Expertise
Celebrate employees by making a token (a belt or a badge works perfectly) of appreciation and acknowledgement for a skill or subject area that person has mastered or just really enjoys.
Take a moment to consider why this idea works. It's this person's 3rd anniversary; this person has probably spent 3 years honing one primary skill, and they would probably love some recognition of just how good they've become at that one particular thing.
While employees appreciate recognition of the time they've spent at the company, most would really love to be recognized for the expertise they've gained in a specific area.
4 Years
Step up your gift game at year four. All the same concepts apply, but really up the ante to make your appreciation known.
Your 4-year employees have proven their loyalty by sticking around; they've clearly found a long-term work home at your company. A heartfelt anniversary gift helps employers send clear messages of gratitude that will keep dependable employees happy and engaged at work.
Experiences Designed for Mastery
Staying in a job for four years is a long-term investment by employees in their work, teams, and company's future. How are you investing in their other long-term passions? After all, increased fulfillment outside of work leads to higher employee engagement, productivity, and success for your company. It's a win-win situation.
Maybe they've always wanted to truly master, not just learn, the art of delicate, beautiful French cuisine. Plant lovers might dream of building their own backyard greenhouse for herbs, vegetables, and exotic flowers. Whatever they want to do, Blueboard's experiential rewards menu can bring those dreams to life. And Blueboard's Concierge team will work with your employees every step of the way with white-glove service (plus, they're really cool people).
These are a few samples from the Blueboard menu, and they're sure to get everyone talking and excited about their upcoming experience:
Want to surprise and delight your team with personalized experiences like these? Visit Blueboard to learn more!
Standing Desk
Standing desks will run you about $200, so four years or more is an appropriate benchmark to justify a gift that costs a little extra.
The best part about this one is that you'll be giving your team the added gift of enhanced health and wellbeing. Multiple studies have shown that the sedentary nature of office work has harmful long term health effects. Standing desk help alleviate these effects by engaging your legs and core while you work.
A $400-$500 Snappy Gift
For four year anniversaries, Snappy suggests a gift that is between $400-500 dollars. Popular Snappy gifts in this budget include free air travel, a 50-inch Smart TV, Apple Ipad Air, Google Pixel, Indoor Rowing Machine, Xbox One with Kinect, and an Inflatable Hot Tub.
Taking into consideration that companies with a high-engaged workforce are 21% more profitable (Gallup, How Employee Engagement Drives Growth, 2013), it's no secret that appreciation leads to motivation and engagement. For employees celebrating 4 years at a company, there may be a feeling of familiarity that managers should take the opportunity to build upon. Customizing the gift and reminding the employee that they are more than just a generic gift card is recommended. Personalization goes a long way with employees; simply letting them know you care for them creates a long lasting impression!
"Thank you so much for recognizing my anniversary! I had such a fun time picking my Snappy gift! I really enjoyed being able to have so many options to choose from."

-Lyle, Snappy gift recipient
Charitable Donation
Purpose-driven companies perform better. A Deloitte study found that your ability to communicate your company's purpose has a direct link to how engaged your team is (and therefore affects their performance).
Use work anniversaries to remind your team about the bigger picture by making a charitable donation in their name. Align the charity to your company's mission, or with a cause that's close to his or her heart. For instance, if you know that your employee is an animal lover, donate to a local animal shelter.
And let's face it – most of us have enough stuff. Not all of us need or want another hoodie or water bottle, but there are many of us who have causes that are close to our heart. Plus, having a mission is a big part of creating an engaged team, and focusing on giving helps reinforce and clarify that mission.
5 Years+
In our era of job-hopping Millennial employees, average job tenure in the U.S. for workers in every industry (and of all ages) is just 4.4 years. Keeping someone around five or more years is definitely cause for celebration. Here are a few employee anniversary gift ideas to make your office veterans feel the love.
"Treat Yourself" Bucket-List Experiences
It's no small potatoes when an employee stays with your company for 5 years or more. To match the grandeur of this achievement, the anniversary award should be meaningful, unforgettable, and exciting. Most importantly, it should be something they can share with their loved ones—the people who support them through the good days and bad.
Think big here, like chasing the Northern Lights, building their dream living space with a personal interior designer, or embarking on a meditation retreat. Even in today's current COVID climate, Blueboard offers tons of options to help your employees check off their once-in-a-lifetime bucket list items in a way that's comfortable to them. Your employees will come back from their adventure with a renewed sense of love for your company, and tons of memories they'll keep with them for a lifetime (and share with everyone else)!
Want to surprise and delight your team with personalized experiences like these? Visit Blueboard to learn more!
Samurai Swords
Ok, it doesn't make sense for every company to give their employees samurai swords, but for LA-based mobile gaming studio Scopely, it makes perfect sense.
For Scopely, work anniversaries are just another chance to express their fun, irreverent, and utterly one-of-a-kind culture. They do this by gifting employees hilarious, often absurd gifts, including custom made samurai swords and personalized oil paintings.
While this approach is certainly tongue-in-cheek, there's a serious strategy behind the practice. Doing has helped earn Scopely a reputation for being a great place to work, which has helped them recruit and retain the talent they need to keep cranking out hit mobile games year after year.
Take a cue from Scopely and treat work anniversaries as an opportunity to reinforce the things about your culture that make it unique.
Stock Options
Consider giving your veteran employees some skin in the game. Tons of privately held companies are using Employee Stock Option Programs (ESOPs) and other equity programs to give employees who have been with them a while a real sense of ownership.
Not familiar with ESOPs? Here's a quick primer:
ESOPs give employees the right (but don't require) to purchase future shares in the company at current valuations. Because of this, they are usually deployed in growth-stage businesses, where there is the potential for big upside. With a decent lawyer and the right incorporation type, they are relatively easy to set up.
They might not be right for every business, but these types of programs give employees a real ownership stake in the company, which will make them more engaged and more personally invested in the success of your business.
Paid Sabbatical
Sabbaticals are another increasingly common way for companies to reward their employees.
A great example is found at Media Temple, an LA-based domain and hosting service provider. At Media Temple, employees who have made it to the five year mark are encouraged to take a paid month off to either learn a new hobby, participate in a local service project, or experience a new culture abroad.
And when we say that they take a month off, we mean it. Employees are forbidden from checking work emails or working on company projects during this time.
Media Temple isn't alone. Tons companies are gifting up to five weeks of time off for five years of employment.
If you think that you couldn't possibly afford to lose your best employees for a solid month at a time, consider that after five years, five weeks is just 2% of an employee's tenure.
The benefits tend to outweigh any of the perceived costs. Not only is it a great recruiting tool (Media Temple employees cite the sabbatical practice as being the main reasons for joining the company), but employees return from these trips with new ideas, new perspectives, and a renewed energy to tackle their next big projects.
Leadership Training
Employees that have been with your company for several years have certainly earned a gift that could help them take the next step in their careers. This anniversary gift has several beneficial layers. It will make the employee feel valued as a key member of the team. It also gives veteran employees (who clearly have an interest in sticking around to advance along with the company) the resources they need to effectively convert their years of experience into leadership skills that generate all-around growth.
A $500+ Snappy Gift
For five year anniversaries, Snappy suggests giving a gift that is $500 or more. Popular Snappy gifts within this budget range include a Home Theatre, 3D Printer, Peloton Bike, Shiatsu Massage Chair, and In Ground Basketball system. 
For employees who reach really impressive work anniversaries, Snappy suggests going above and beyond to express your appreciation for their commitment to the company. Some of Snappy's most exquisite anniversary gift options include a mystery travel tour, a Thailand culinary experience and paradise vacation, a Louis Vuitton bag, a 7-day Caribbean cruise, a hot air balloon ride, and more!
Snappy's platform also gives you the opportunity to write a personalized note for the recipient to make sure they know how much you appreciate them for all they do. Appreciation goes hand in hand with gratitude, so giving your team a space to say thank you goes a long way! These notes also act as great conversation starters. An employee leaving a thank you note to their manager for their new Kate Spade bracelet is an easy way for the manager to spark up a discussion and engage with them.
"What a wonderful surprise to receive this gift option for 20 years of service. I really appreciate the recognition and look forward to many more years with the company. It's generous gestures like this that make a difference. Thank you from the bottom of my heart."
Dinner At The CEO's House

One special night with the top official of the company could make a more memorable anniversary present than a handful of other work anniversary gifts. Carefully plan the dinners to make sure you don't overwhelm the CEO. Depending on the size of your company, you might only need to plan a dinner party once every few months.
Have A Good-Natured Comedy Roast
During a comedy roast, everyone tells jokes about a guest of honor. (Pop culture roasts have a reputation for getting nasty and sometimes escalating into hurtful territory, but your anniversary roast doesn't have to include ridicule to be entertaining.)
Start planning the anniversary roast at least a month in advance. Invite everyone in the company to submit rough "scripts" of what they plan to talk about during the roast. (Feel free to ask for stories and memories as well as jokes and impersonations.) Remind everyone to keep their "roasts" good natured, but be sure to read through all the submissions before the event to watch for anything that might legitimately damage someone's feelings. Send along links to some roast examples with your request to help everyone warm up their comedic chops.
Tip: You can roast multiple anniversaries during one event.
Host the event after hours, preferably in a location where people can enjoy a few drinks if they wish. Be sure to tell the anniversary guests of honor what to expect during the event so they can come with their game faces.
Give Them A Place Of Honor
Show your long-term employees that their contributions to the company will go down in company history
If you don't already have one, start a wall of honor featuring employee photos, names, and titles, or create a company yearbook (physical or digital).
When employees hit that big anniversary, add them to the wall of honor or include them in a "company history" section of the yearbook.  
Have mini induction ceremonies each time this happens. Toss some confetti, pop some bubbles, and applaud hard-working employees as they take their rightful places in company history.
There you have it—the basic anniversary roast. We encourage you to remix to fit your company culture.
We hope you learned new ways on how to celebrate a work anniversary! What creative ideas does your company use to celebrate work anniversaries? We wanna know! Tell us in the comments below.
People Also Ask These Questions About Work Anniversaries
Q: What is a work anniversary?
Q: Why should I celebrate an employee's work anniversary?
Q: How do you celebrate your work anniversary?
Employee Recognition & Appreciation Resources: