Pride Month is quickly approaching!
Although the LGBTQIA+ community deserves celebration all year long, Pride Month is an excellent time to highlight the history, culture, and triumphs of the LGBTQIA community.

What Is Pride Month?
Pride Month is a whole month dedicated to uplifting the voices of LGBTQIA people and celebrating LGBTQ culture and history. But before being a celebration, Pride started as a protest against LGBTQIA discrimination.
The Stonewall riots, which many recognize as the roots of Pride Month, sparked a new era of fighting for LGBTQ rights. Even with the celebrations today, Pride Month keeps that momentum going.
When is Pride Month in 2023?
Pride Month takes place every June, and 2023 is no exception. Why June?
That's when the Stonewall riots occurred, the 1969 protest against LGBTQ discrimination. This month is in honor of the individuals who fought (and continue to fight) for LGBTQIA+ rights!
Is your team hybrid or fully remote? We've got you covered:
| | |
| --- | --- |
| | Virtual Ways To Celebrate Pride Month At Work |
| 1 | 🔥 Virtual Jeoparty Social: Pride Edition – Celebrate Pride Month this June with your fellow LGBTQIA+ allies with this spin on the classic Jeopardy game show format. Part quiz show, part social party, 100% fun and informational for your entire team. |
| 2 | 💃🏻 Drag Queen Bingo – Bingo has had a fresh coat of paint, and it's gorgeous! Join this interactive Pride Month game and performance to unleash your inner diva. |
| 3 | 🌈 Celebrate Pride Month – Bringing the best of Pride Month to your desktop with a Pride activity that is sure to get everyone's spirits soaring. Includes fun Pride trivia games & team activities. |
| 4 | 🦄 Pride Month Mini Games – This Pride Month experience lets your group choose which mini games you want to play in a fast-paced virtual game night. With activities ranging from "Pride Instant Meme", "Where in the World" and "Queer TV Characters Match Game" there will literally be no stop to the fun! |
| 5 | 🏳️‍🌈 LGBTQIA+ History & Culture Trivia Printable Bundle – To represent the LGBTQIA+ community in a fun way, this printable game bundle uses categories that are about Pride history and culture. |
Why should you celebrate Pride Month at Work?
Celebrating Pride Month is a great, fun way to show your support for your LGBTQ employees and the LGBTQ community as a whole. But as an added bonus: when you host fun Pride Month activities, you're helping people outside the community learn more about LGBTQ history and culture.
By showing your support and helping others learn, you'll bring your team closer than ever before.
Want to become a better professional in just 5 minutes?
5 Fun Pride Month Activities For Work
1. LGBTQIA+ History & Culture Jeoparty
"A virtual Pride Month spin on the classic game show!"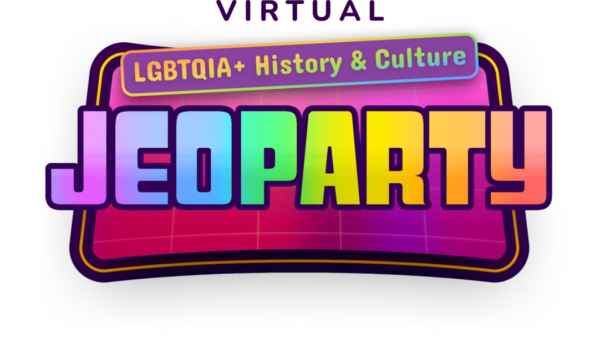 LGBTQIA+ History & Culture Jeoparty is one of the best Pride Month ideas for work! This digital, Pride-themed take on the classic game show, Jeopardy, is highly engaging and educational.
Your team will test their knowledge about LGBTQIA+ pop culture, history, and more. And if they don't know something, you can be sure their lively host will be there to teach them.
Why this is a great way to celebrate Pride month at work: LGBTQIA+ Jeoparty turns an educational experience into an interactive game show, making it the perfect way to learn about the LGBTQIA+ community!
How to get started: Find more details, availability, and pricing all right here.
Pro-Tip: Send out an employee care package to celebrate Pride Month with Caroo's Pride Tote + Notebook Bundle!

This limited-edition Pride tote bag and lined notebook & pen bundle is a great gift to kick off June with a Pride-themed event or activity.
2. LGBTQ Pride Experience
"Celebrate Pride Month in style!"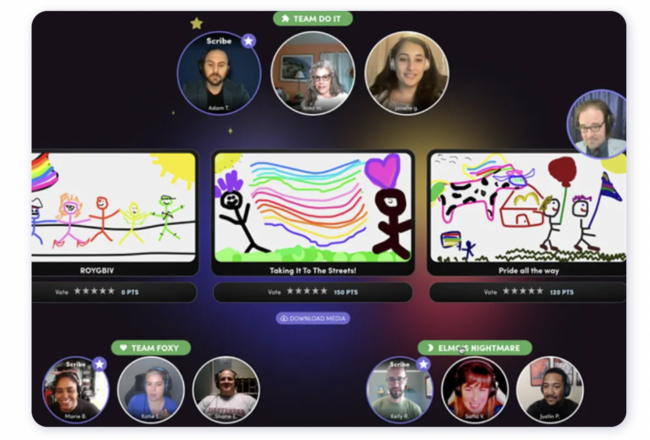 This virtual Pride Month activity divides your group into teams to participate in a themed game that celebrates LGBTQ+ culture via interactive competition. The event experts at The Go Game have created a one-of-a-kind experience that can be planned anytime in June to foster team building, coworker bonding, and recognition of Pride & LGBTQ communities.
Why this is a great way to celebrate Pride month at work: The Pride Experience bounces around a variety of game modes including trivia, Finish the Lyrics, Pride celebration identification, and a few mystery games!
How to get started: Check out Pride Experience to book your next event.
3. Pride Month Trivia Party
"Ain't no Pride party like a Pride trivia party!"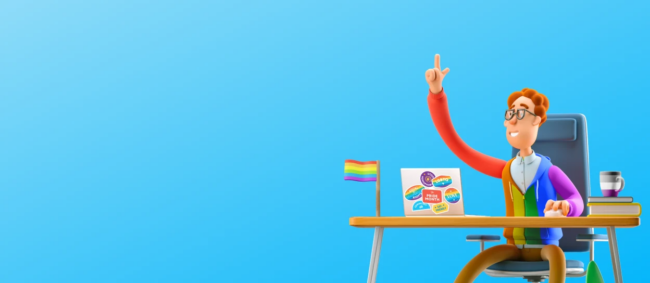 If your team likes a little competition mixed with fun & education, LGBTQIA+ trivia is one of the best Pride Month games for work. In a virtual Pride trivia party, your team members will compete against one another to test their knowledge of LGBTQIA history and culture. Be prepared for questions on music, movies, famous figures, and more in this fun team building activity!
Why this is a great way to celebrate Pride month at work: Pride trivia is both engaging and educational. Your team will learn something new while also scratching their competitive itch.
How to get started: It's easier than ever to throw a Pride Month trivia party.
4. Queer Art Storytelling Tour
"Encounter the stories, secrets, trials, and triumphs of LGBTQIA+ artists throughout history."
This lecture-style virtual tour uses incredible visuals and historical storytelling to take you through the history of LBGTQIA+ art. In this virtual event, your team will explore the progression of queer art through the 20th century, encountering everything from how queer art was censored to its liberation! It's easily one of the best Pride Month activities for work.
Why this is a great way to celebrate Pride month at work: It's the perfect way to learn while gaining empathy & a richer understanding of LGBTQIA artists!
How to get started: Learn more & book in a matter of minutes with Confetti's Storytelling Tour!
5. Drag Queen Bingo
"Comedy? Glamour? Camaraderie? Drag Queen Bingo has it all."

Out of all the virtual Pride Month ideas for work, this one is all about embracing pure fun. Drag Queen Bingo is led by a rockstar drag queen who will gift your group with stellar performances and tear-shedding laughter in between rounds of bingo.
Why this is a great way to celebrate Pride month at work: Drag has a rich history in LGBTQIA+ culture – this event is the perfect way to support drag performers & embrace a form of artistic expression unlike any other.
How to get started: You can read all about Drag Bingo to start planning an event for your group.
Pro-Tip: Support Pride Month with the award winning Lemon Superfood all-in-one Rescue Butter Moisturizer by Dr. Botanicals found in Caroo's Pride Box.

Kick off Pride Month with a little treat for your team to enjoy! The Caroo gifting platform offers a whole catalog of corporate gifts that support LGBTQ-Founded brands and businesses.
6. Celebrate Pride Month In Virtual Barcelona
"Grab your glow-sticks, glitter up, and head to virtual Barcelona for Pride with Woyago."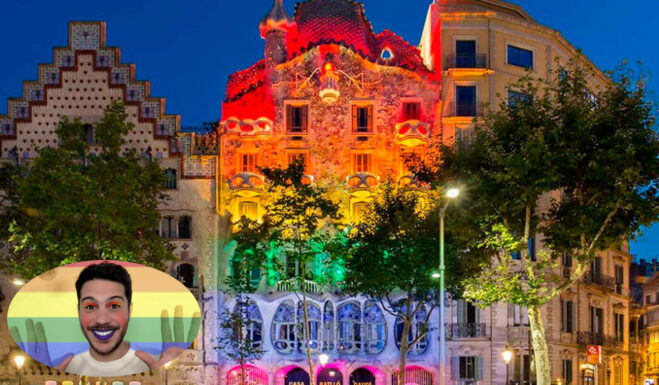 We know that not everyone can make it to Barcelona for Pride, so we're bringing the best of Barcelona to your desktop with a live Pride Party that is sure to get everyone's spirits soaring.
PS: don't forget the tapas.
Why this is a great way to celebrate Pride month at work: Visit a few LGBT spots from Barcelona, fun trivia games, and exclusive information from LGBT hosts. With this Pride Month event for work, you'll get the chance to experience all the excitement of Spain's biggest LGBT celebration without having to leave your office.
How to get started: Talk to Woyago and put on your dancing shoes for an event that will have your team smiling for weeks!
7. Rainbow Bagel Making Class + Pride Experience
"The most delicious Pride Month experience!"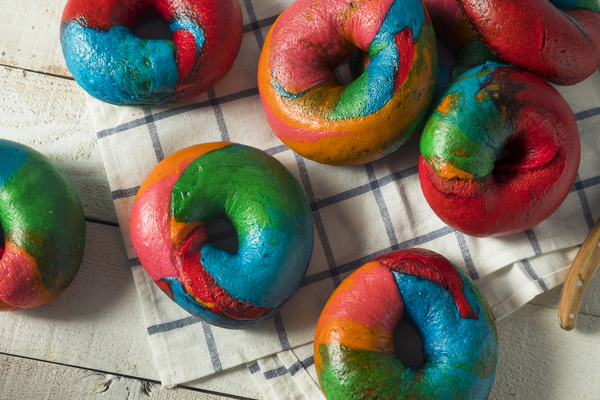 When you choose the Pride Experience for Rainbow Bagel Making, your team will learn how to make their own bagel dough while learning LGBTQ history. This experience is run by an LGBTQIA+ baker who's excited to share his passion and knowledge with you! And yes, the bagels will actually be rainbow-colored.
Why this is a great way to celebrate Pride month at work: You'll be supporting and learning from an LGBTQIA+ baker!
How to get started: Learn more about making Rainbow Bagels with your team here.
Bonus Pride Month Ideas For Work
8. Host an Inclusion Workshop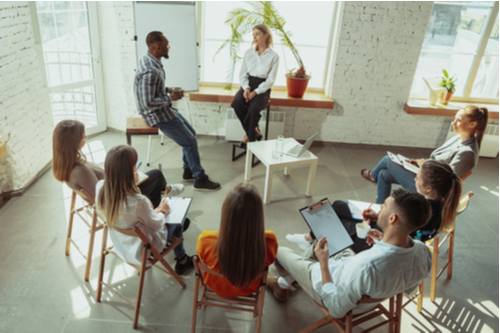 If you're looking for Pride Month ideas for work, hosting an inclusion workshop is always a safe bet.
You can invite LGBTIQ thought leaders, artists, and educators to speak on LGBTQIA+ inclusion in the workplace. These individuals can share their own experiences and help your team gain a more empathetic understanding of the importance of inclusivity.
Plus, an inclusion workshop can assist the company as a whole and introduce ideas for making a better workplace for the LGBTQIA+ community.
9. Curate a Spotify playlist full of LGBTQIA Artists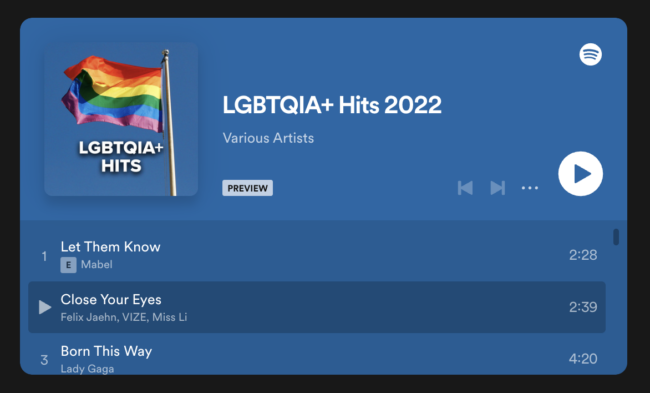 In honor of Pride Month, create a Spotify playlist chock-full of LGBTQIA+ artists. You can include the more famous musicians, like Elton John or Janelle Monaé. But it's also a fantastic opportunity to support and introduce your team to up-and-coming or indie queer artists, too!
Music is an empowering and inspirational tool — why not have LGBTQIA+ musicians doing the empowering and inspiring?
10. Plan a Donation and Fundraising Drive
Giving back to the LGBTQIA+ community is always one of the most effective Pride Month activities for work. Choose a charity or non-profit organization dedicated to the rights and well-being of the LGBTQIA community.
If you're unsure where to start, we suggest asking your team what charities they support in their personal lives! You'll celebrate Pride while ensuring your team connects with where they're donating. It's a win-win for everyone.
11. Commission an office painting by a local LGBTQIA artist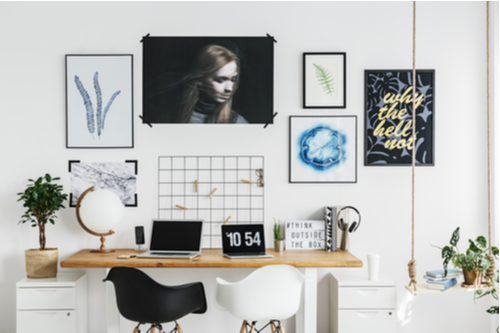 Commissioning artwork from an LGBTQIA artist directly supports the community while also adding extra flair to your workspace.
You can even work with your team to find a local LGBTQIA artist for the job. You'll be supporting your work community while also supporting the local LGBTQ scene!
We hope you're as excited for Pride Month as we are!
All the best virtual team ideas for work are right here for you. If you're not sure how to celebrate, be sure to refer back to this list.