The new curations are shipped directly to employee homes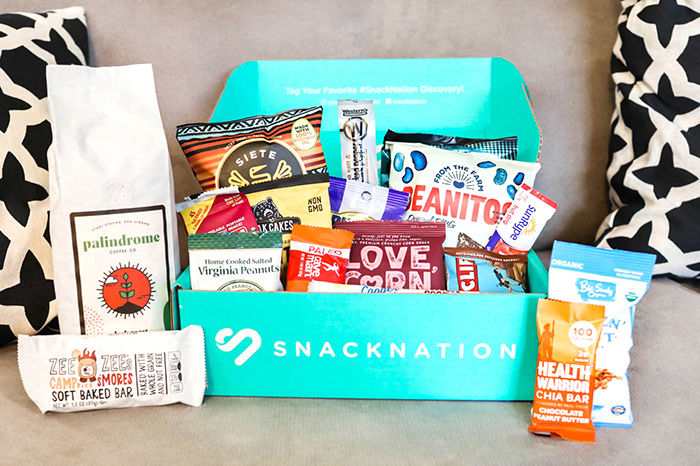 LOS ANGELES, CA — March 17, 2020 — SnackNation, the country's leading provider of better-for-you snacks, drinks, and coffee for the office, today announced the launch of their Work-from-Home Wellness Boxes, a new product offering specially curated to help energize, nourish, and inspire remote teams. Available now, Work-from-Home Wellness Boxes can be shipped directly to employee homes.  
"Companies across the U.S. are facing extraordinary challenges without a playbook, and we knew we had to act quickly," said SnackNation CEO Sean Kelly. "Our Members told us that they are struggling to maintain a sense of continuity and business-as-usual during this period of disruption and uncertainty. Our Work-from-Home Wellness Boxes are designed to do exactly that, helping companies stay connected to their teams while fueling employees to continue to do great work no matter where they happen to be." 
Companies need only to set their budget, and employees can then easily and directly enroll. New and existing SnackNation Members can choose from two Work-from-Home offerings:  
Snack Box
A selection of 15-snacks, including better-for-you bars, chips, jerky, granola, trail mixes, and healthier indulgences. 
Snacks + Coffee Box
A selection of 12 snacks and a 12-oz bag of premium, third-wave coffee.
Additionally, existing SnackNation Members can elect to have their in-office snacks donated to local food banks while their team is working remotely. To date, more than 100,000 snacks have been donated. SnackNation is also donating an additional 500,000 snacks to food banks in affected areas who are currently experiencing decreased donations and product distribution challenges coupled with increased demand. 
For more information on SnackNation's new Work-from-Home Wellness Boxes, visit SnackNation.com/wfh.
About SnackNation
SnackNation is the country's leading Workplace Experience Services company, fueling breakrooms in thousands of workplaces across America. Founded in 2014, SnackNation curates and delivers great tasting better-for-you snacks, fresh fruit, coffee, tea, and ready to drink beverages to more than half a million people in thousands of member offices in all 50 states. The company also uses machine learning to optimize curations and provides emerging brands the insights they need to scale faster. SnackNation is committed to helping fight hunger outside the office too, donating more than six million meals to families in need via their partnership with Feeding America. SnackNation was twice named to the Inc. 500, their annual list of the fastest growing private companies in America. The company has offices in Los Angeles and Chicago. To learn more, visit SnackNation.com.
[/fullwidth]